Ubud is a town in Bali, Indonesia – mostly famous for its green landscape, numerous temples, rice terraces, waterfalls, arts and cultures. Almost everyone traveling to Bali visits this scenic town and spends their sweet time. This is your ultimate travel guide for Ubud.
When you will visit Bali in Indonesia, you might think of idyllic and pristine beaches along with an expansive ocean. You are not wrong at all. There are so many things to see and do in Bali and surroundings – from staying in Bingin Beach to relaxing in the neighboring Gili Air or exploring islands like Nusa Penida, Nusa Ceningan and Nusa Lembongan. Even you can go to the nearby Lombok to enjoy more relaxing stays in Kuta Lombok, Senggigi, Sekotong or even Ekas.
All the names I wrote above offer pristine beaches and coastline. Ubud is an exception to all of them. It's located in the middle of Bali and does not offer any beach. So, why would you go there? Because Ubud is the cultural capital of Bali. Ubud offers so many things to do and experiences including arts, designs, culinarians, temples, waterfalls, rice fields – you might end up spending more times you planned during your trip.
Campuhan Ridge Walk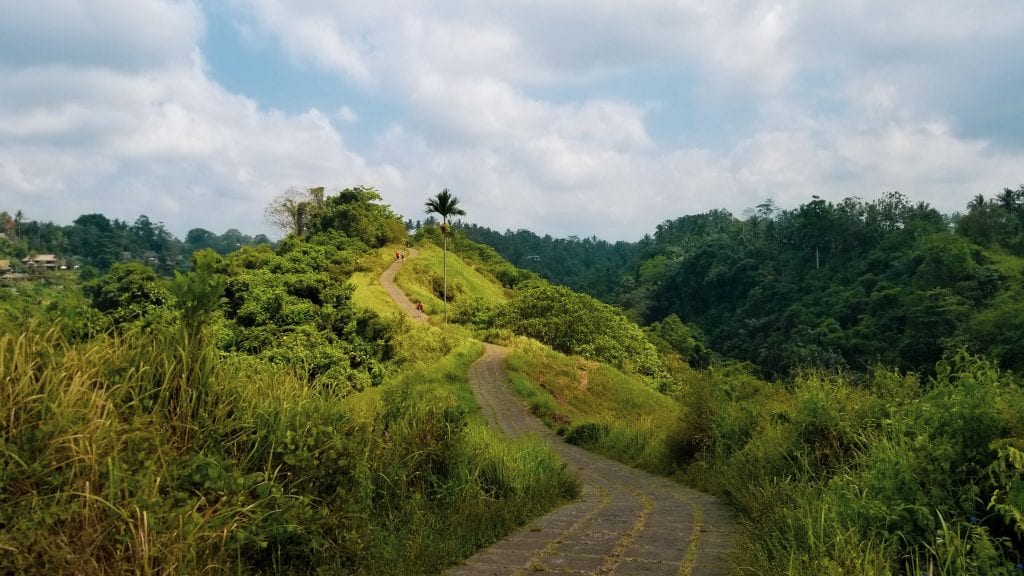 Imagine yourself in the middle of a lush green valley. The game between sun and clouds bringing golden rays to the earth – when it is reflecting on those greeneries, it's creating a game of shadows. You are marching forward on a paved curvy road, your eyes are at the horizon but you can't really see beyond a point because the road went uphill blocking your views.
A gentle bridge is providing you a much-deserved respite after a warm day. The leaves of the palm trees and small shrubs are swinging with joys – maybe they are happy to see you and welcoming you to this unpolluted nature. Maybe, they are singing and playing – who doesn't want to be in such a beautiful place?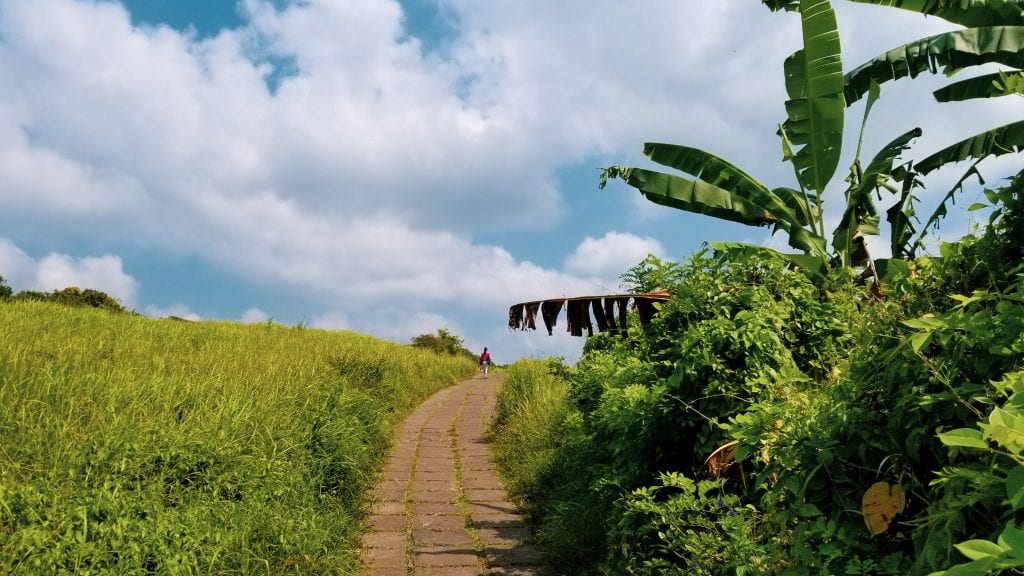 This is an easy trail, anyone who is fit to walk can do it. This trail looks amazing during sunrise and sunset but you can do it anytime.
Interestingly, the Campuhan Ridge trail lies between two rivers named Wos and Cerik. The word Campuhan means – "Where two rivers meet."
How long is the Campuhan Ridge Walk trail?
Campuhan Ridge Walk trail is only 2 Kilometers/1.25 miles.
How much time needed for the Campuhan Ridge Walk?
Less than an hour. I believe you will stop and take a lot of photos, keep that in your mind while planning.
Where to start the Campuhan Ridge Walk?
Go to the driveway of Warwick Ibah Luxury Villas. You will find the starting point of Campuhan Ridge Walk.
Tegenungan Waterfall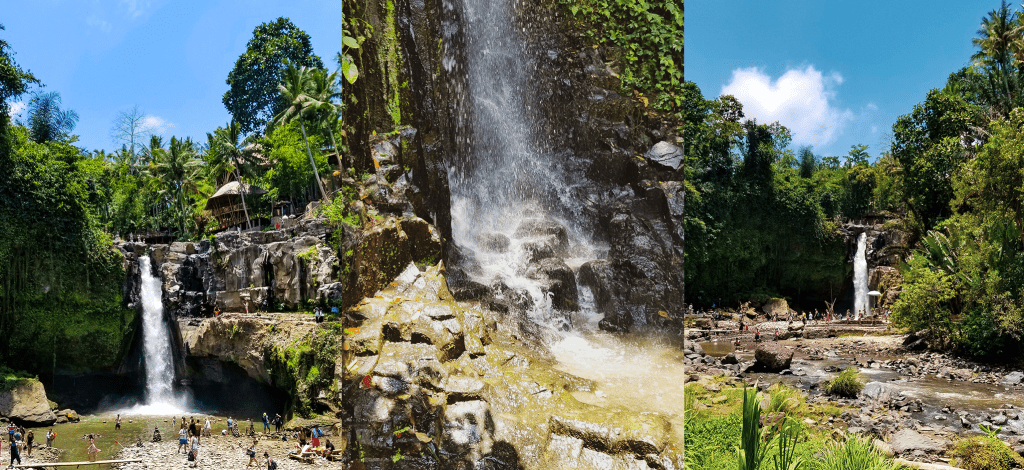 Ubud is blessed with several popular waterfalls. You can go to Kanto Lampo Waterfall, Tibumana Waterfall. All of them are decent waterfall. I chose none of them, I went to Tegenungan Waterfall. The place was organized and touristy. Quite a lot of people were enjoying their time.
There were some designated places to take your photos with banners made of woods. You can get down to the water near the waterfalls to take a bath. There are some smaller sections where you would see a part of the fall. I could see some lizards roaming around, don't be surprised if you meet some of them.
Visiting Rice Terraces of Ubud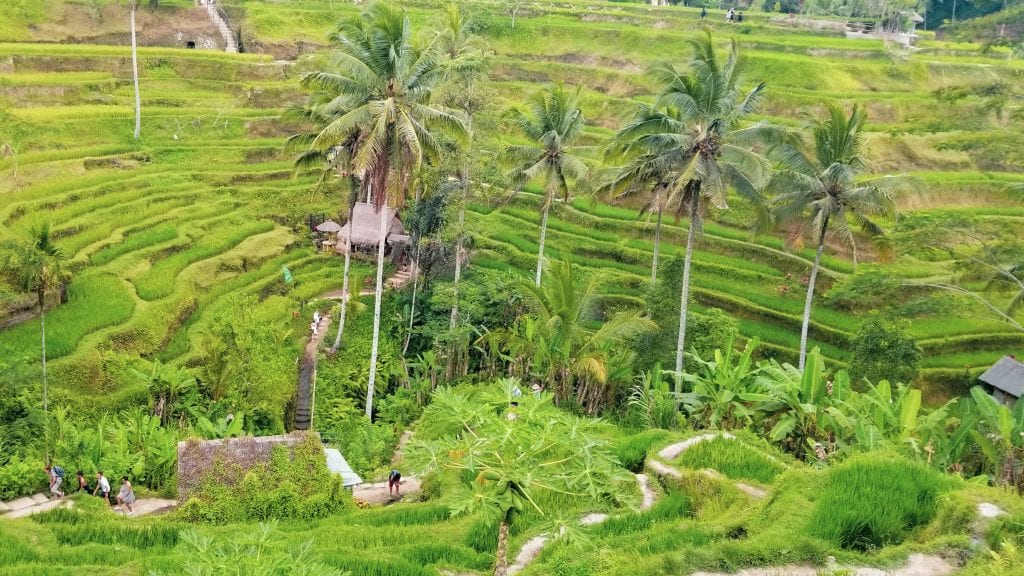 Indonesia is one of the largest rice producers in the world. But, that's not the reason behind the huge popularity of the rice terraces in Ubud. Because of a specific type of irrigation technique, the paddies are planted in a pattern. It makes kind of a slope and it looks wonderful.
As long as you can see, it's only waves of greens. The coconut trees only add beauty to it. You can walk on the terrace to explore it and it will reward you with a view of the irrigation system where water flows from one channel to another through bamboo.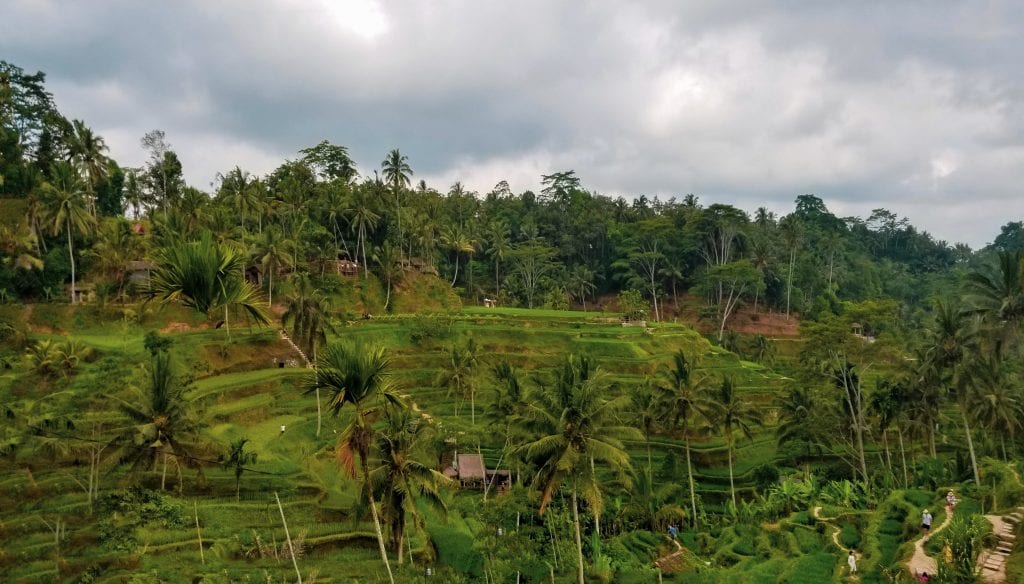 There are several rice terraces in Ubud. Among them, Jatiluwih rice terraces are the most famous. These 600 hectares big rice terraces got recognition as the UNESCO World Heritage Site. That is why it gets crowded. If you do not like a lot of people, an alternate is the rice terraces of Sidemen.
It's a bit far from the city center but worth visiting because of its emptiness. Go there during sunrise to enjoy the beautiful scenery. The first ray of the sun glittering through the waves of green is something worth sacrificing your morning sleep.
Book Tegalalang Rice field and Sacred Monkey Forest tour
Visiting Countless Temples of Ubud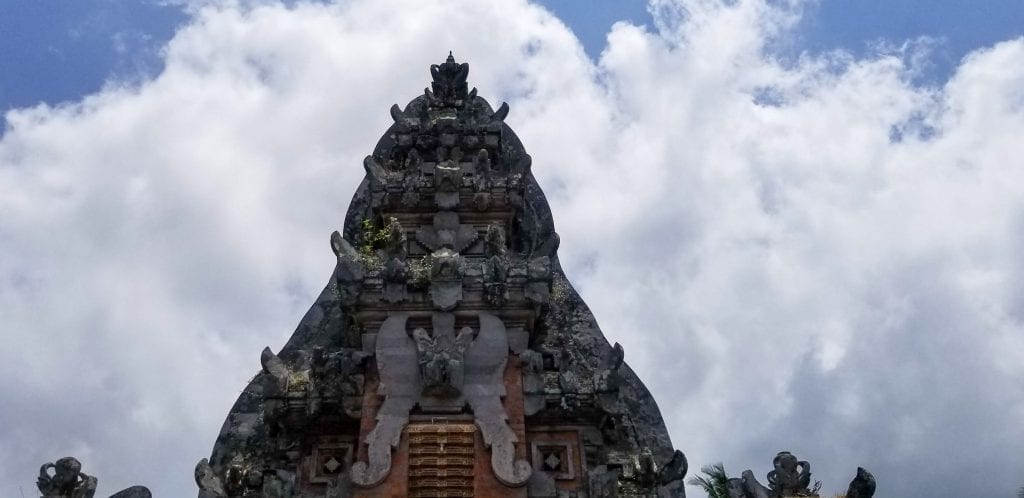 Although Indonesia is an Islamic country, the majority of Bali are Hindus. They practice a special type of Hinduism named Balinese Hinduism. That's why you can see countless temples in Ubud.
Among them, the most popular ones are Goa Gajah, Gunung Kawi, Pura Tirta Empul, Pura Taman Saraswati, Pura Gunung Lebah, Pura Dalem Agung Padangtegal, Pura Ulun Danu Bratan.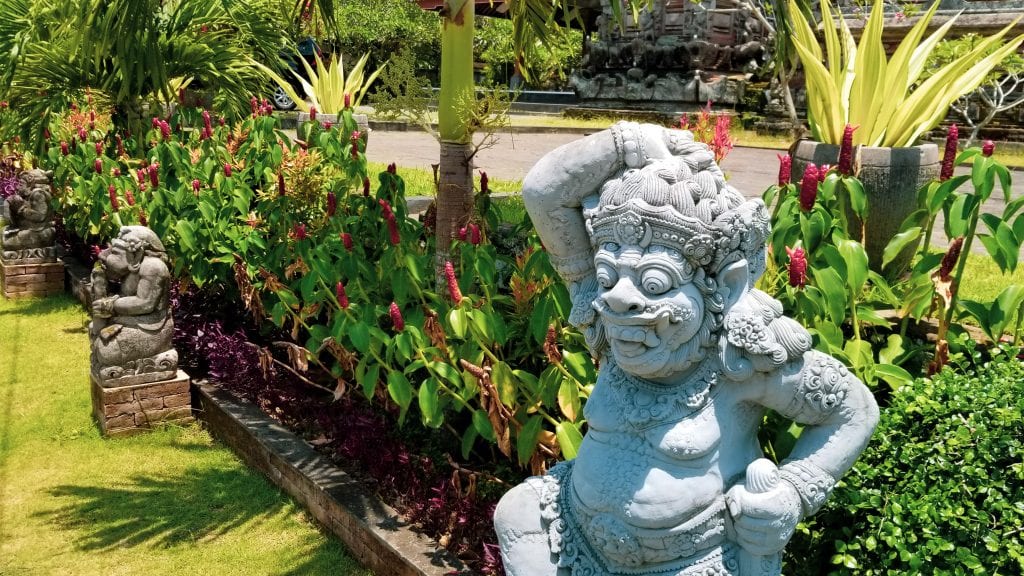 It's not only about the bigger and significant temples if you look around, but you will also find idols, and sculptures in different places. Most of them are placed as part of religious activities. I found them beautiful and interesting.
Enjoy a local Drama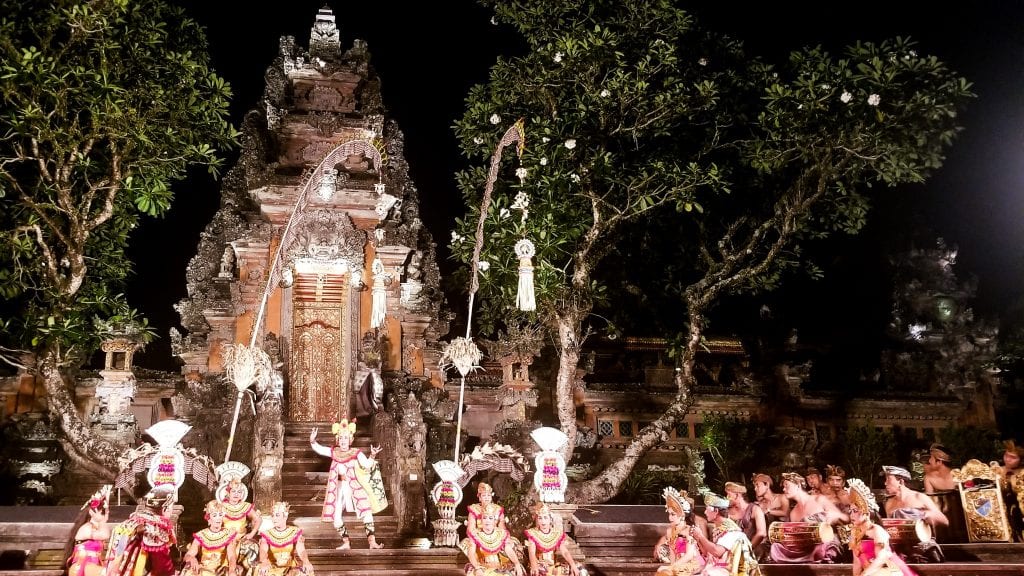 Although you won't understand the language of these dramas as they are staged in the Indonesian language, it's worth watching one. You should be able to follow it if you watch carefully. I came across such a performance. It took place just beside the Starbucks in Ubud in front of Saraswati Temple.
I thoroughly enjoyed the expressions of the artists, their costumes and overall performance. It was fascinating to watch. You can buy a ticket before the starting of the show from the venue. Even if you don't buy one, you can see it from far, you won't get any seat in that case.
Explore the green countryside with a bike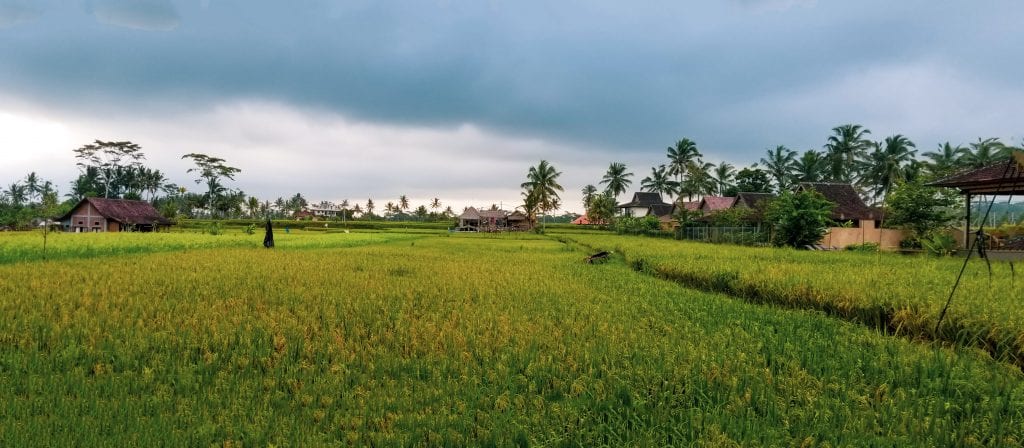 The traffic of Ubud can get bad. It's a relatively large region. Although I mentioned some specific places, it is a lot of fun to get lost in Ubud as every corner offers something pretty.
You can rent a car but it won't take you to all the places as roads are often not passable. Renting and riding a motorbike will give you the ultimate freedom of exploring Ubud.
Book an electric bike tour in Ubud
Never forget to buy travel insurance before your trip, see my bike accident incidence in the Philippines. I suggest Worldnomads for travel insurance, they are reliable.
Ubud Monkey Forest
Visit here, if you love monkeys! Ubud monkey forest has over 600 monkeys with grey hair and long tail. This is placed in a lush green jungle with three temples (opened only for the worshippers).
Although the monkeys are cute, they can snatch items from you and even bite you. It's suggested to be cautious and avoid eye contact with them. And, never try to feed any food, it can be dangerous.
Neka Art Museum
If you are interested to learn about Balinese art, this place will be heaven for you. Balinese Painting Hall is a collection of rooms and mighty impressive. Apart from this hall, don't miss the Lempad Pavillion.
Ubud Accommodation
Ubud Hotels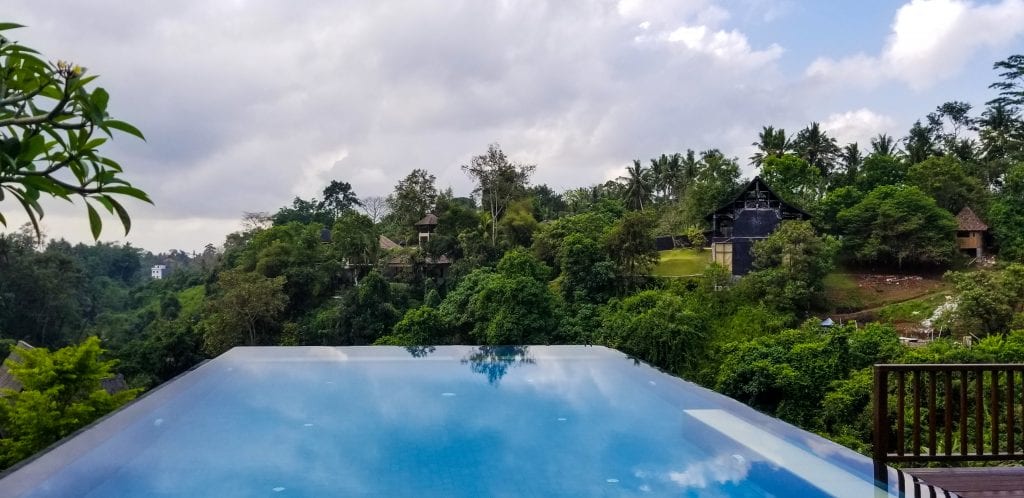 Ubud offers some fantastic accommodation options ranging from luxurious 5 stars hotels to boutique stay. Below are some of the best hotels in Ubud considering different price ranges.
Four Seasons Ubud
If you can afford it, this hotel is simply the best in Bali. The architecture of Four Seasons Ubud is so mind-blowing, it could easily make it to the top things to see in Bali list.
Amori Villas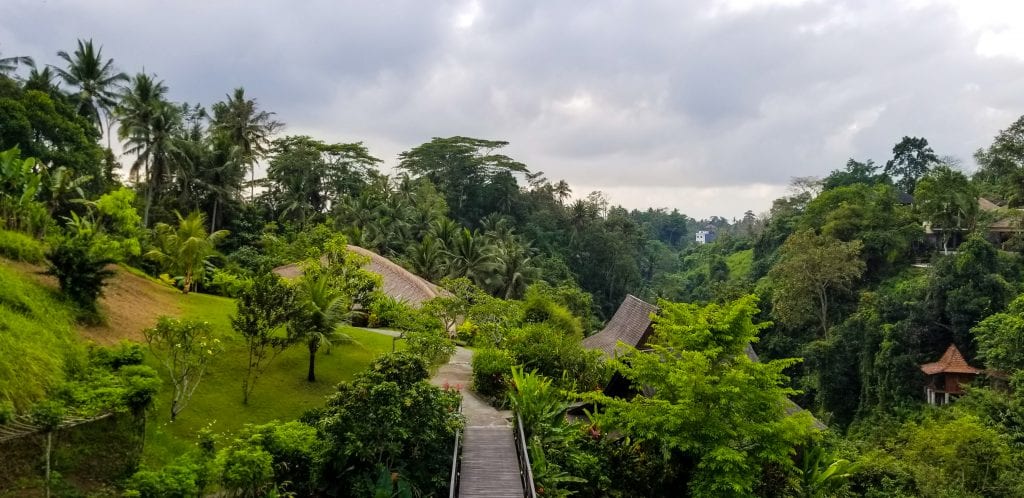 My stay in the Amori villa was fascinating. As soon as you will enter through their main gate, you will be astonished by the amount of green soothing your eyes. When you will extend your eyes, you will experience a tranquil background full of trees on small hills,
A bridge connects two part of the villas where you will find several cute little huts. There is a big space for yoga sessions, too. Overall, you will be amongst nature at its best. They have restaurants and bars, too, albeit a little more expensive than outside.
Alaya Resort Ubud
This hotel has 60 rooms and located in downtown Ubud. It's clean, intelligently decorated, and peaceful. The breakfast they serve is delicious.
The Kayon Resort by Pranama
The Kayon Resort by Pranama is arguably the best hotel in Ubud. Perched on a hill amidst lush green jungles, this 5-star boutique resort is everything you can ask for – sublime views, great hospitalities, fantastic amenities.
The Udaya Resort and Spa
Spa, flower bath, infinity pool, sparkling clean, quietness, and welcoming staffs – these sums up the Udaya Resort and Spa. This is also one of the very best hotels in Ubud.
Ubud Airbnb
If you do not want to stay in a hotel and wanna experience staying with locals, Airbnb is a great option. If you do not have an Airbnb account open on using this link, you will get US$50 credit! In many places, my Airbnb experience exceeded far and those were much better than staying in a hotel. Below are the links to the top 5 Airbnb in Ubud which I curated by going through their reviews. You can book any of them, I hope, you won't regret it!
Best Restaurants in Ubud
Kafe – Organic menu with vegan/veggie options. Nice decor, serves Indonesian, Balinese cuisine.
Monkey Legend Restaurant & Bar – A small restaurant serving both international and local foods. Try their lemongrass pannacotta, satay, rendang, and pasta.
Kojin Teppanyaki Restaurant – Best Japanese restaurant in Ubud
The Grill @ Luxe – Do you wanna have a steak or grill? This is your go-to place. Fine dining.
Kepitu Restaurant – Delicious food, unbeatable ambiance, one of the best fine dining options in Ubud.
Taco Fiesta – Best Mexican food in Ubud, their Tacos are unbeatable.
Sun Sun Warung – One of the best options for cheap Indonesian food in Ubud, a must-go place for your food.
Room4Dessert – Serves the best dessert in town, hands down.
Pica – A south American delicacy in Ubud serving specifically Peruvian, and Latin food.
Simply Social – Lovely place, open-air seating options, serves full meal as well as fantastic desserts.
How to go to Ubud?
How to go to Ubud from Bali Airport.

Ubud is 38 Kilometers from Bali Airport and it takes 1 hour to reach there if there is no traffic. Book your airport transfer to Ubud. You can also buy a bus ticket, however, it will double your journey time.

How to go to Ubud from Kuta, Bali?

Ubud is 34 Kilometers from Kuta, Bali, and it takes an hour to reach Ubud from Bali.
Liked the Article? Pin It!