El Nido is a beautiful place in the Palawan island in the Philippines. This is a story of an unfortunate event that took place there.
Let me tell you about an unfortunate story about my trip to El Nido in Philippines. You may call it a story of stupidity! I am happy that, I survived (and repeating the same mistake again).
Audacity
"Did you ever ride a bike?"
"Well, I have a driving license in Canada, I can drive." – Janarthan replied with a wry smile.
"But, what about driving a bike?"
"Yes, I rode bikes, too,"
Umm. for me, it was a distinct tale. I can't drive a car, I never rode a motorbike in my life. However, I have been riding a bicycle since 1993. I thought all the two-wheelers would be the same.
"I am driving it" – after a pause of silence, I threw this to Janarthan.
"Did you ride before?" – This time, Janarthan started questioning me.
I smiled. It can mean anything.
"I am from Asia, I understand how traffic works here, it's not the same like Canada."
I was not wholly truthful. In Bangladesh, where I live, we drive on the left-hand side. In the Philippines, they drive at the right.
We were in a tiny island paradise named El Nido in the Philippines, and I didn't think that I had to tell a story that is not so comfortable. I met Janarthan yesterday when we were hanging outside of the airport with the hope to reach the town cheaply. He is a tall guy, roughly double the size of me in height, looks 10 years younger than me, does not look like a Canadian I commonly see except for his accent, and always laughs.
The Adventure (or stupidity)
When he hopped onto the bike as a pillion, I lost control, but with all my strength, I tried to be on the ground. I pretended like the motorbikes in the Philippines are so different, making my life harder. It felt amusing to kick start.
Finally, the bike moved forward. I grinned and tried to be normal outside. Inside, I was reciting all kinds of verses from our holy scriptures; I recalled.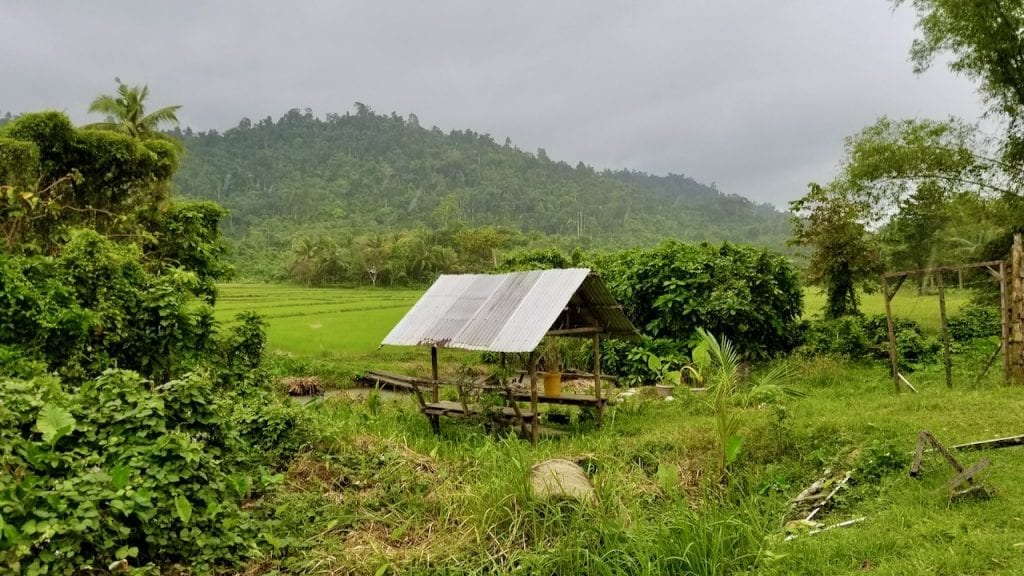 That is how the first bike journey in my life started with a pillion double the size of me. The scenery on both sides of the road was beautiful. The major road was narrow but in excellent condition. Lush green trees on both sides of the street along with the paddy fields made it a painting of van Gogh.
The thick colored clouds as white as milk hovering in the blue sky took me in a colorful dream. Suddenly the hue of the sky changed. It would start raining at any moment.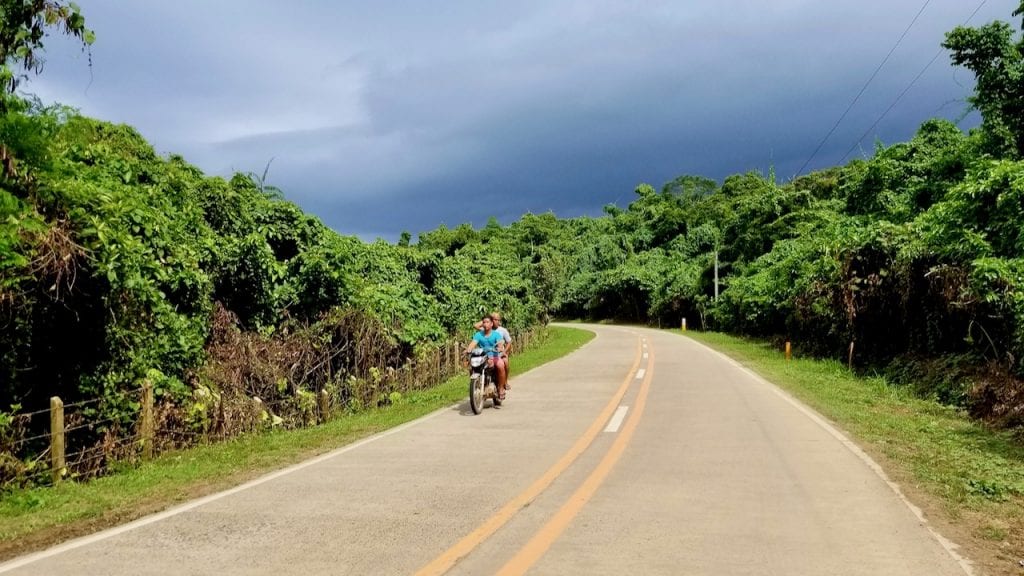 Who told you that darkness can be gloomy? Just before the rain arrived, the atmosphere became out of the world – it turned into the most beautiful road in the entire world.
The rain caused the track slippery. Moreover, the course had more spirals than a snake's body.
Tough Time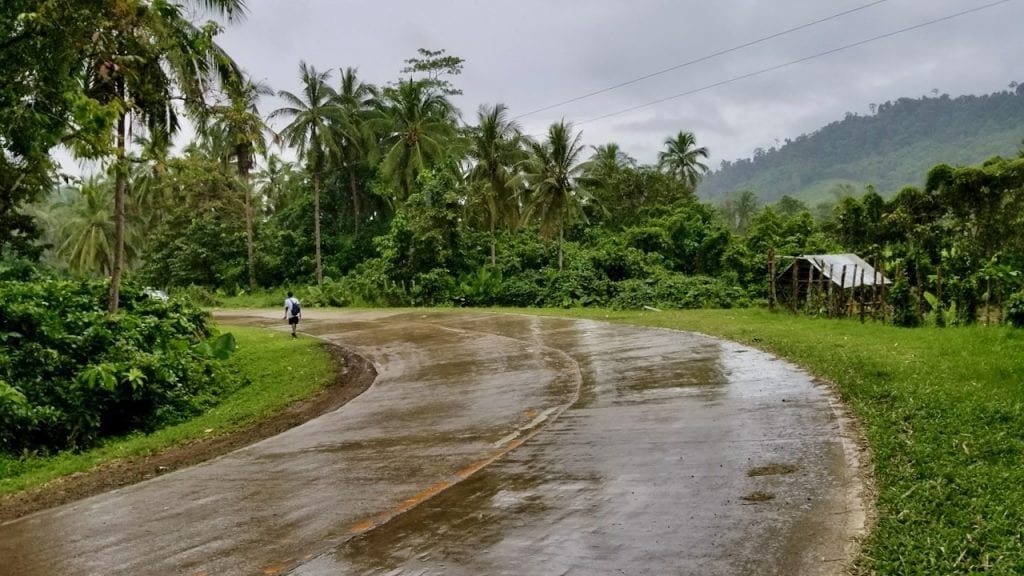 We wished to arrive at the dreamy Nacpan beach before it poured down. So, I sped up and hearing Janarthan cheer me up to go faster (An illusion?). Then appeared a curve only I would appreciate in a girl's body, I realized I was heading straight towards heaven. The loud scream of Janarthan broke my eardrums. I floated like a bird, fell down on the road, bounced several times and all became dark.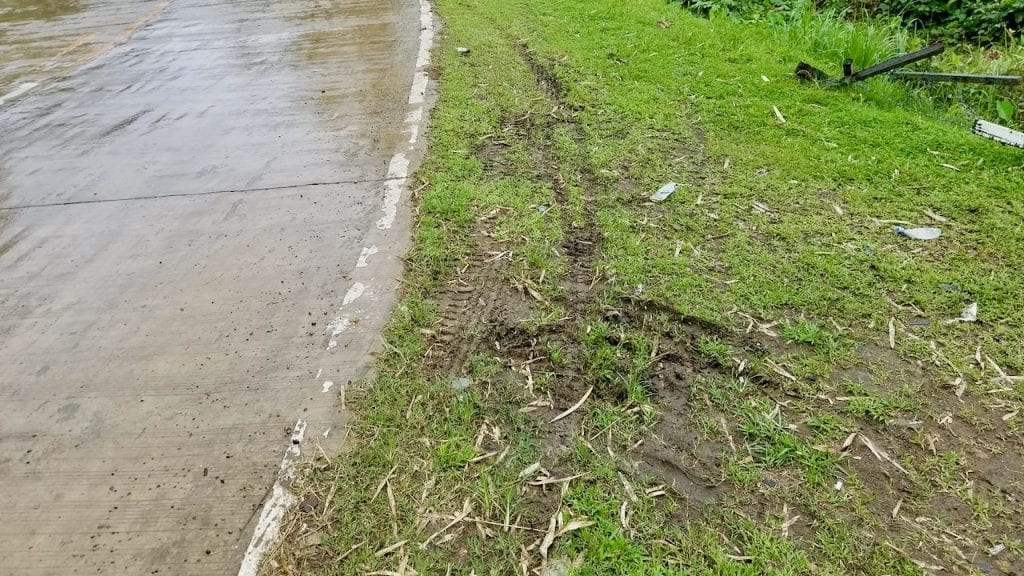 When I gained consciousness in 10 seconds, I wish to go to sleep again. I failed to identify the origins of my anguish, but my entire body was burning. Luckily, I was wearing a thick baggy pant. Although it could not save my knee completely, it gave me some protection. When I stared into my palm, I noticed a pebble placed firmly cutting my skin like it had any intention to remain there forever. I gathered the courage to shutter its craving and pulled it out. Then I found another one, and the cycle continued.
I could recognize Janarthan's voice. He jumped off, abandoning the ship before I lost control. He tried to understand if I was alive. I saw several unknown faces, too.
Friends in Need
A German couple and two Filipino hawkers were going to Nacpan beach. They came to our rescue. The German lady, being a nurse, checked my vision. My head was spinning badly. I read in my childhood that pride goes before destruction – I sought to keep my pride high and conveyed to everybody that I was okay. I tried to stand up and fell down instantly. With all the spirits, I tried to tell them to enjoy their day. They won't leave like that until I proved it to them. I murmured – "danke schoen", the one German word I knew.
I don't remember how long I sat there to regroup myself, but I was certain that I can't drive immediately. You can't detect any transportation there except for a couple of bikes. I refused an offer for an ambulance, but we need someone to ride us somewhere. I mentioned to you about two Filipino gentlemen earlier. They were riding a bike of their own. One of them reached our bike and accepted me as his pillion, and other of them welcomed Janarthan.
"Nacpan Beach, please!" – I mumbled.
"What! Are you sure?"
"Yes."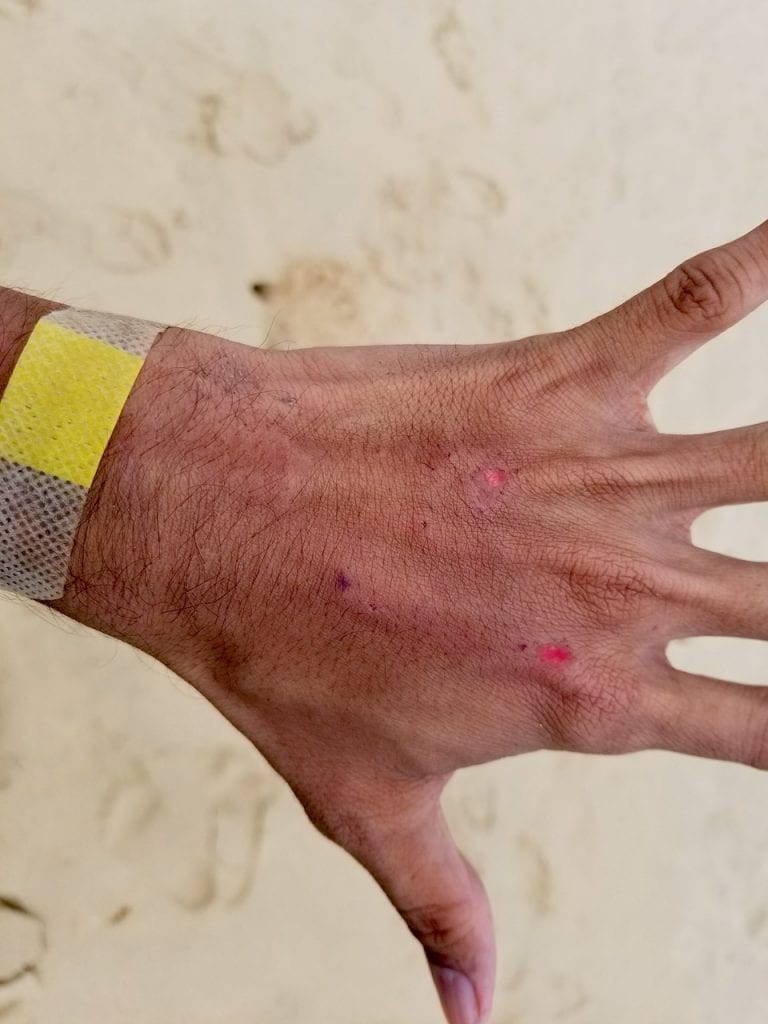 Then our journey started again. When we encountered a grocery shop, we stopped, took some fast aid from them, and did some cleaning with alcohol and bandages.
The Nacpan Beach in El Nido Philippines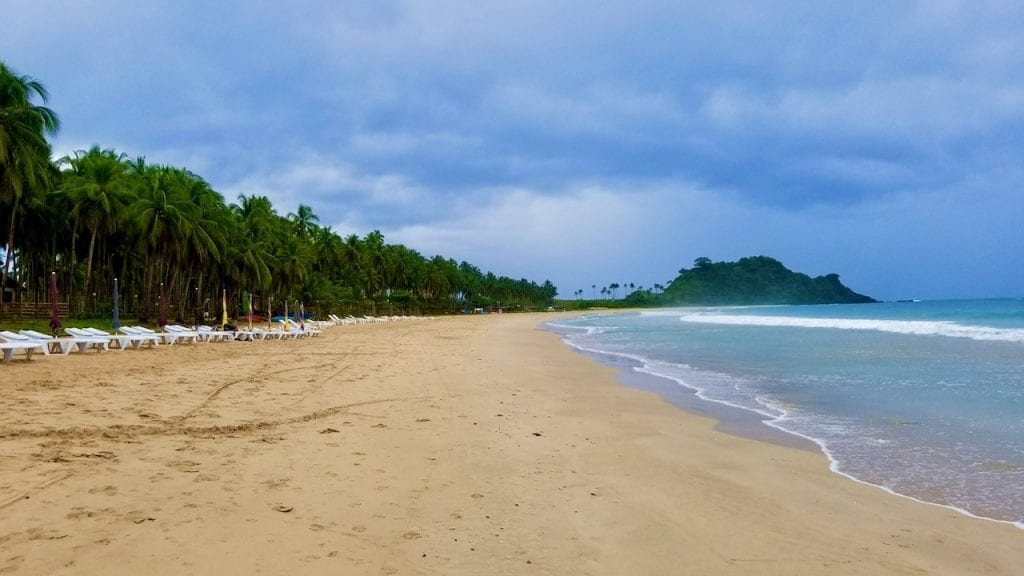 The major road does not go to the Nacpan beach directly. We had to take a secondary road in a miserable condition made of bricks and muds. It was a powdery, secluded beach. We gave the Filipinos a lot of thanks, purchased some gifts for the home from them, and waved them goodbye. They saved us that day; I am expressing my sincere gratitude to those kind-hearted souls.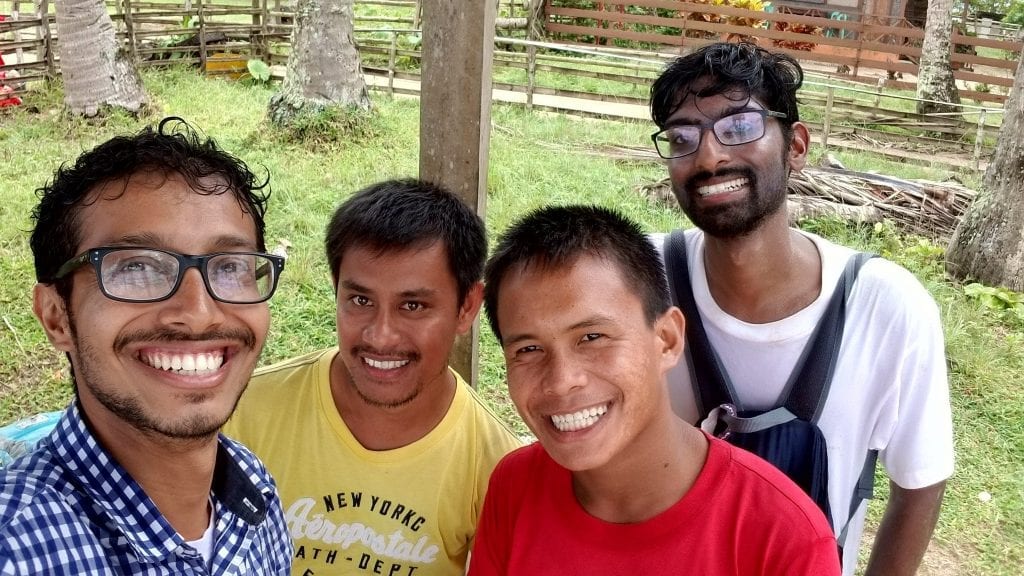 I tried to enjoy my time on that beautiful beach. Sadly, I looked into my body more than I was savoring the sea. It was hurting all over the body. I was not certain. How can we go back to the town which is so far away? We had a ticket to Puerto Princesa at 4 in the evening and we had to catch that.
Book a trip to Nacpan Beach
The Road back to El Nido Town
I was so stupid on that day; I drove again. I didn't know if I broke anything, I couldn't bend my knee, I had to take an aid of my hand to do it, I could barely grip anything as my palms got battered. Someone can easily identify the blood and a glimpse of flesh. On that muddy, slippery road, I slipped twice with slightest spirit. I offered Janarthan to seize the bike. While I stumbled twice in 5 minutes, he sipped thrice in two minutes. So we switched our position again.
Then the rain came, not the rain we encountered two hours back during our accident. Heaven literally opened up. I pushed the bike forward. The visibility went almost zero, Janarthan kept wiping my glass – both the goggles and the rearview mirror. At one moment, I thought the wind will take us away, so was the intensity of the rain. My head stopped working, the only thing I did was to hold the handlebar tightly and keep moving.
The unimaginable happened after an eternity. We arrived at our destination – in the town of El Nido. We got soaked up like a crow. I requested Janarthan to smile in front of the camera so that we can celebrate it after a decade. He is a splendid boy; he posed.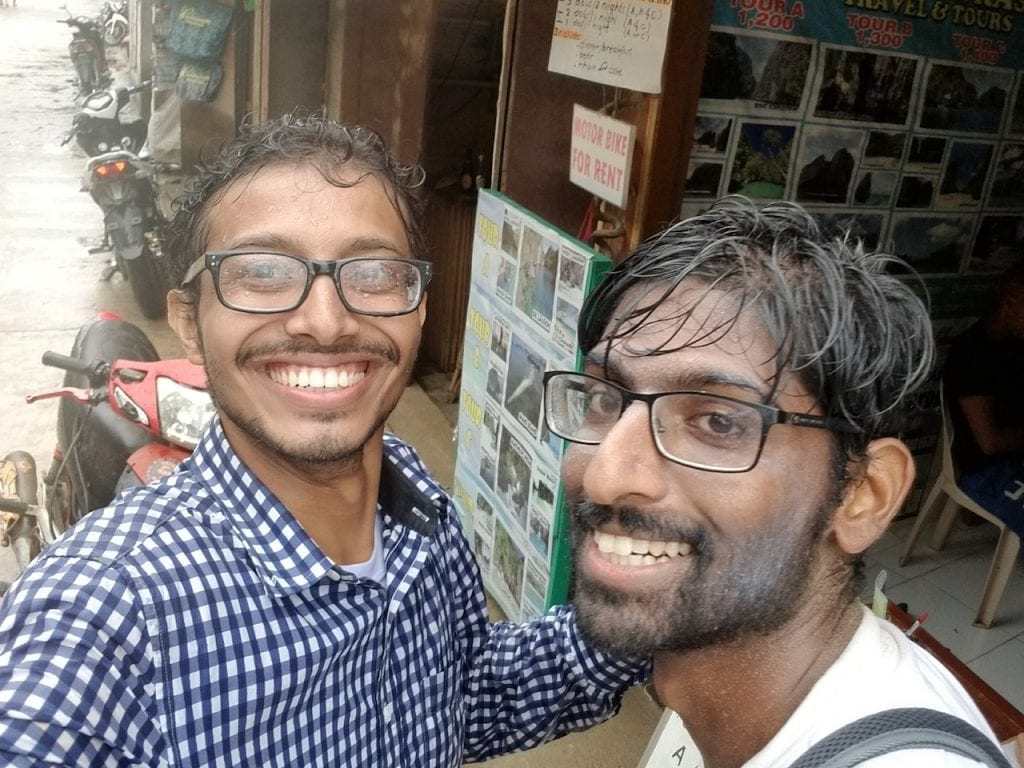 When I flashback to the past, I feel bad for Janarthan. Although nothing happened to him, I hold myself responsible for whatever injury he suffered that day.
We stuck together till our journey ends. He agreed to visit places with me again. We decided upon going to Australia together (although it didn't take place because of COVID-19). We didn't settle for who would drive the next time we met.
They tell you that you get wonderful friends on the road. They also tell you that you can learn a lot of things while traveling.
I found Janarthan on the road.
However, I did not learn the lesson from that day, I rode motorbike again in my subsequent trip and the trips after that. I encountered two more accidents on the road. But I enjoy doing it.
One thing developed, though.
When someone asks me now –
"Can you ride a bike?"
I smile like before, but I speak with confidence this time.
"Of course, I can. I am a professional of riding a bike in South East Asia."
I hope they won't find this story of El Nido of Philippines.
NB: I in-fact rode a bike again through some difficult roads in Indonesia.
Moral of the Story
Don't be stupid like me; Rent a bike on foreign soil only if you are an expert biker. Otherwise, you might encounter troubles like me. It took me roughly two weeks to recover and the journey back home alone was painful. I suffered a lot.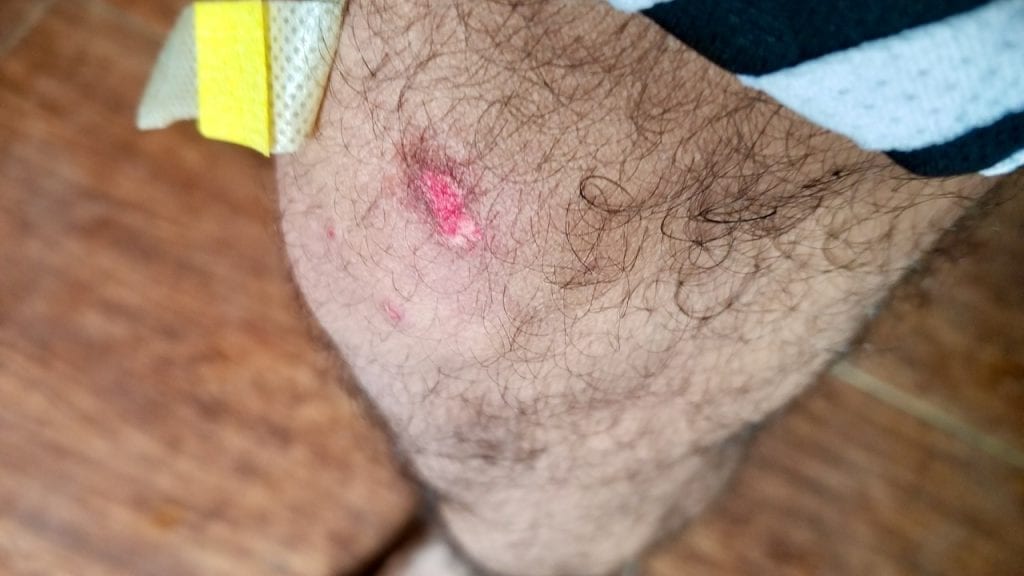 So, you know what to do, right?
Never forget to buy a travel insurance before your trip, see my bike accident incidence in Philippines. I suggest Worldnomads for travel insurance, they are reliable.
Liked the story of El Nido in the Philippines? Pin it!