Nusa Ceningan is a small island located to the south of popular Bali in Indonesia. It has been gaining more popularity over the past few years because of its beautiful landscape and mellow vibe.
There are three Nusa islands in Indonesia near Bali which is absolutely beautiful. Nusa Ceningan is the smallest of them and sandwiched between its neighbours Nusa Penida and Nusa Lembongan. Most of the people visit here as a day trip and leave the island afterward. Nusa Ceningan is hilly, so, if you can ride a bike, you will be gifted with amazingly stunning views!
How to reach Nusa Ceningan?
You cannot reach Nusa Ceningan directly, however, it's not a problem at all. It is connected with its bigger neighbor Nusa Lembongan with an iconic yellow bridge. From Nusa Lembongan, you can take a bike or walk, cross the bridge and arrive at Nusa Ceningan easily.
Book day trip to Nusa Ceningan from Bali
Things to do in Nusa Ceningan
Blue Lagoon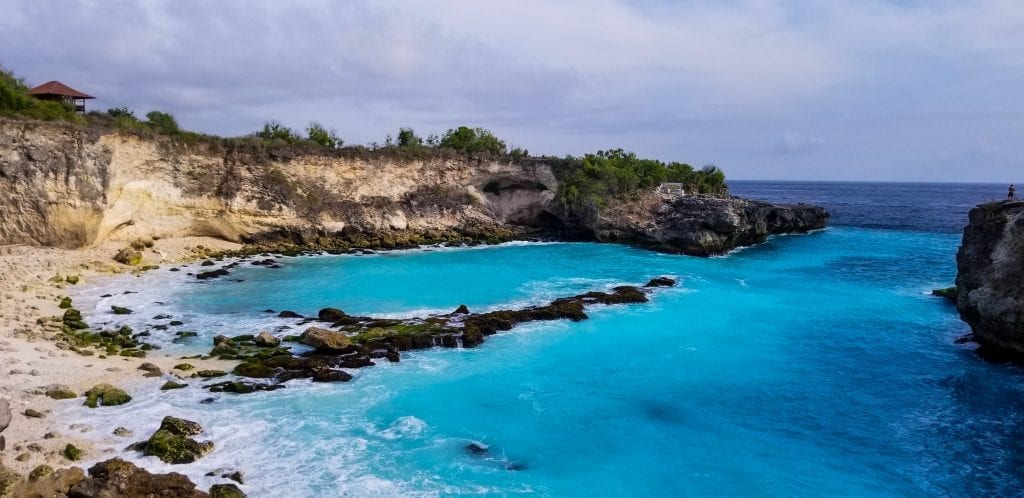 Blue Lagoon is one of the most underrated places in Indonesia. It's so beautiful, you won't be able to take your eyes off. The moment I arrived at the Blue Lagoon, I decided not to go anywhere else. You will be on top of a cliff (you don't have to climb, the roads are hilly on this island, so, you can reach there directly) and get unobtrusive views of the ocean. The color of the water has different shades of blue which looks out of the world.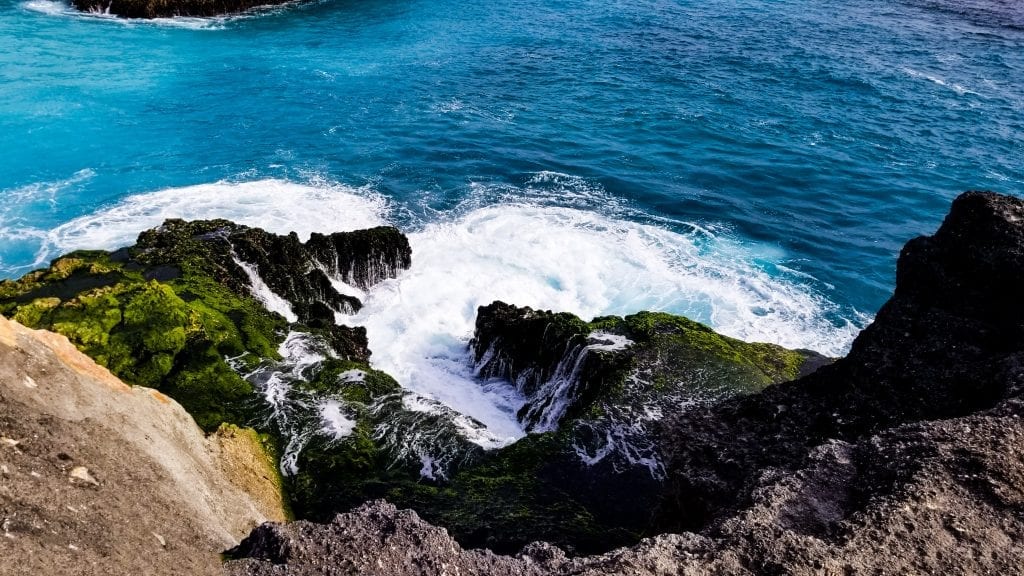 When the turquoise water crushes vehemently against the rock, it makes a giant splash and the color of the water becomes white instantly – just like the purest of kinds of milk. It then turns sedate, goes back to the ocean again, and comes back later with more vigor. This beautiful game of sound and color continues the entire day keeping you a spectator on top of the cliff which works as a gallery. It will be hard for you to resist the temptation of jumping into the ocean. Only the brave ones can do it, ask the locals about any potential rock beneath the surface and the condition of the tides beforehand.
Jumping from Mahana Point Cliff
Unlike the Blue Lagoon, the Mahana Point is safer for a jump from the cliff. Because of this reason, this place is becoming popular for adventure seekers. This place is just opposite the Blue Lagoon. A restaurant will charge you for jumping off the cliff. You will find two platforms there, one is 14 meters high while the other is 5 meters. As usual, be aware of the tide, people often get injured jumping during the low tide. You can grab your food from the no-frills restaurant and enjoy the view of surfers as this place is popular to them.
Riding bike along coastal areas and explore beaches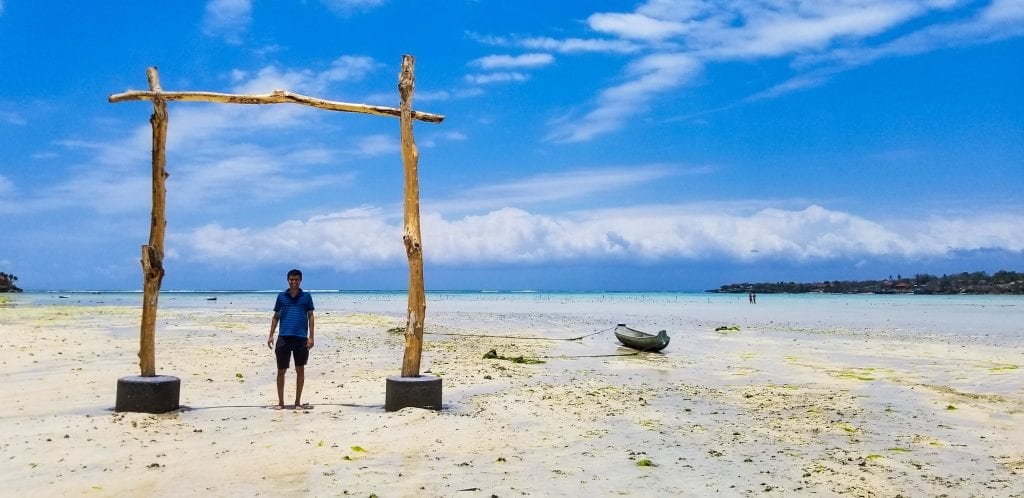 When you will ride a motorbike in Nusa Ceningan, for many parts of your ride, you will do it along a coastal road. It will be such a pleasure to your eyes, you are bound to stop at times. During low tide, water goes away and you can walk on the beach. Many people go as deep as they can because the color of the water along with the green lush jungle at the back provides a perfect backdrop for having a romantic photo.
Never forget to buy a travel insurance before your trip, see my bike accident incidence in Philippines. I suggest Worldnomads for travel insurance, they are reliable.
Secret Beach
Secret beach in Nusa Ceningan is not secret anymore and on top of everyone's list. However, the name remains the same and many people visit there. I did not find this beach anything special. It's a small one and you will find many other beautiful beaches nearby. If you are short on time, you can skip it.
Visiting Driftwood bar and enjoy Zip lining
With an infinite pool on top of a cliff, Driftwood Bar presents sublime views of the island. On top of that, you can take a short zip line by paying a small amount of money. The zip line experience is exhilarating and not for the faint-hearted.
Nusa Ceningan Hotels
Most of the tourists stay in Nusa Lembongan as Nusa Ceningan is easily accessible from there. However, like me, you can stay in Nusa Ceningan too as it offers some decent accommodation options. Below are some of the best Nusa Ceningan hotels handpicked for you.
Beautiful villa on the edge of BLUE LAGOON/Avia Villas – This beautiful villa with a private swimming pool is located just beside the blue lagoon. You won't get any view of the blue lagoon from inside, but, a minute of the walk will take you there.
Le Pirate Beach Club
Important Facts about Nusa Ceningan
How big is Nusa Ceningan?
It's a small island, only 3 square Kilometers/1.15 square miles.
What to keep in mind in Nusa Ceningan?
Water supply in Nusa Ceningan is scarce. Moreover, the water is salty there. Use the water wisely and if possible skip your shower here.
Why should I visit Nusa Ceningan?
Bali might sound romantic, but, overrun with tourists. Nusa islands are comparatively less touristic and like a 20 years older version of Bali.
Liked Nusa Ceningan? Pin It!
Book Air Ticket or Hotels with Expedia