Sekotong peninsula is a hidden paradise on the island of Lombok in Indonesia. It is located in the southwestern part of Lombok and considered as an off the beaten track destination. From an enormous desolate beach of Pantai Mekaki to the jaw-dropping views of the ocean from Mekaki hill along with the secret Gillis, Sekotong has so many things to offer. Take a breathtaking road drive along with the coastal areas and visit Sekotong before the tourists go.
I was in a grand mood of exploring the gorgeous island of Lombok. I went on a beach bumming spree on some of the most beautiful beaches of Kuta in Lombok during my first visit. It made me come back again to Lombok. This time, I planned to go to some off-beaten track routes. Sekotong in Lombok was one of them.

I am so very glad that I visited Sekotong. It offered me one of the most amazing scenic roads drives in my entire life! Whenever I close my eyes and think about Sekotong, that heavenly road pops into my mind straight away.
Road to Sekotong
After spending some warm days and enjoying amazing sunsets in Ekas, I started for Sekotong. I could not manage any Bluebird taxi in Ekas, it was so remote!. I did not have any option but to rent a car.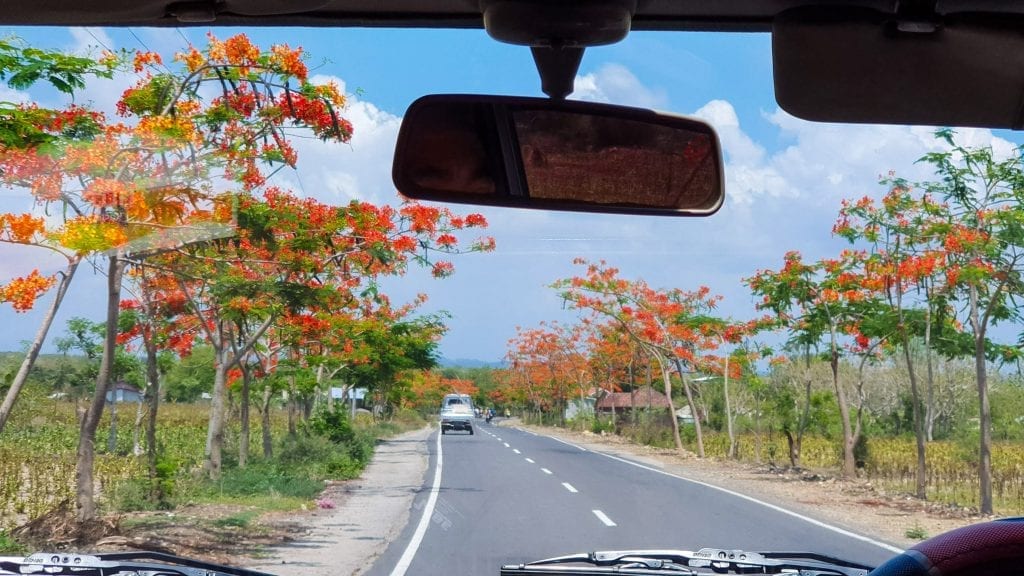 I traveled all the way from the southeast of Lombok to the southwest of Lombok. It was almost 120 Kilometers and took us about 3 hours. The roads were in good shape. During the last leg of our journey, we were driving through the coast. Red coloured Gulmohar trees welcomed us to Sekotong.
Splendid Hotel in Sekotong Lombok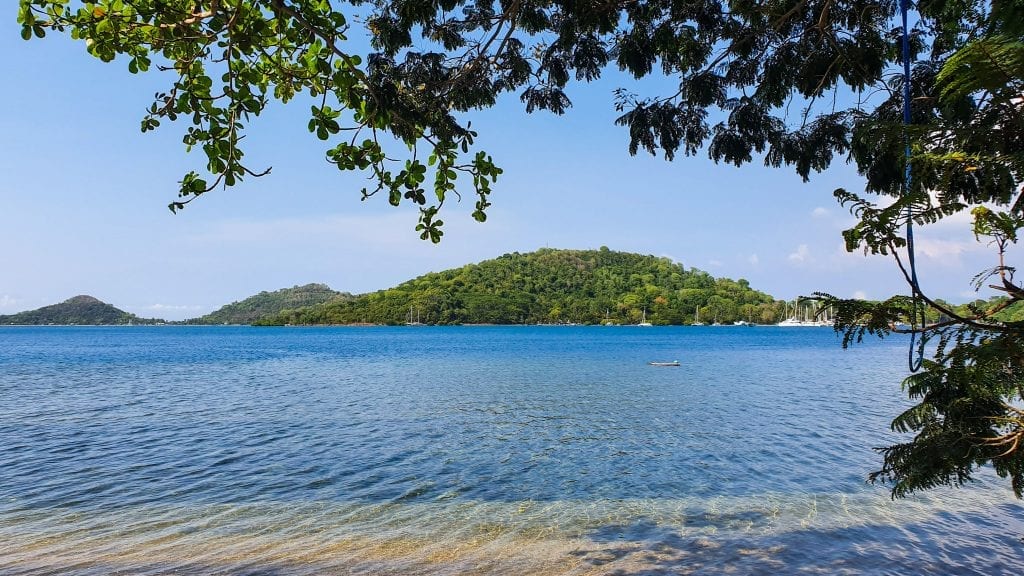 My hotel in Sekotong was Palmyra Indah Bungalows. I read many excellent reviews about it before. The moment I arrived, I fell in love with it. Although the check-in process was not smooth (they missed my booking somehow and could not find it), I got a room. It was just a couple of meters away from the ocean. There was a small stretch of sand. Just on the horizon, I could see an island with green mountains. That's Gili Gede – the lesser-known Gili in Indonesia.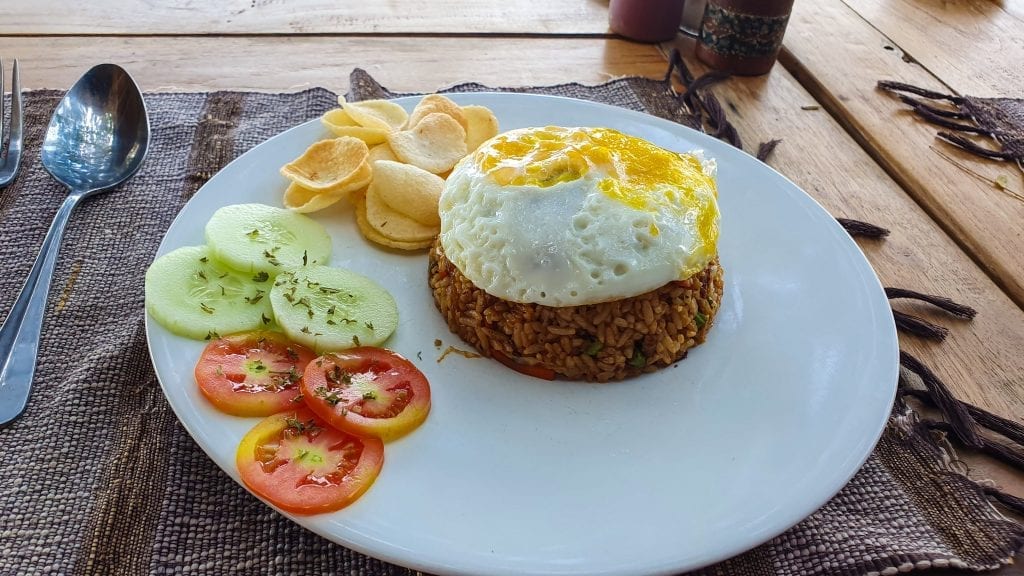 I was hungry by this time. I went to their restaurant and ordered my lunch. The food was expensive for my liking. However, there was no alternative option as I was far from any alternate restaurant. The restaurant was open to the ocean. You have an unobtrusive view of nature. You will find snooker board, chessboard, Jenga, mahjong, and other kinds of indoor games (I do not know their name to be honest) there.
Things to do in Sekotong, Lombok
Visiting Mekaki Beach during Day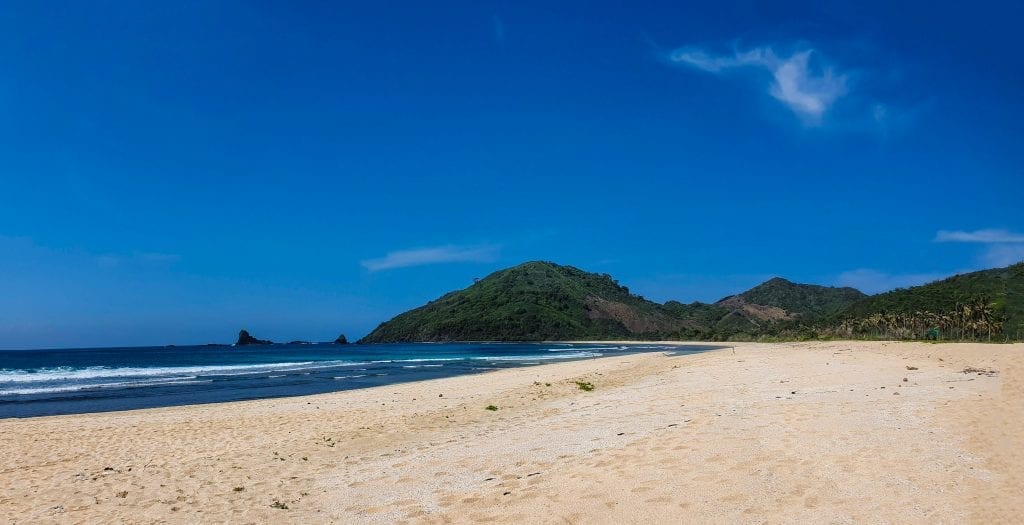 The first thing to do is to rent a bike, take out your mobile, and route to the Mekaki beach (aka Pantai Mekaki). Mark my word, if you spend your entire time in only Mekaki beach during your entire stay in Indonesia, you won't regret it. It's a huge, desolate, white sugar beach. The waves of the ocean are perfect for the surfers and you will enjoy fantastic breaks.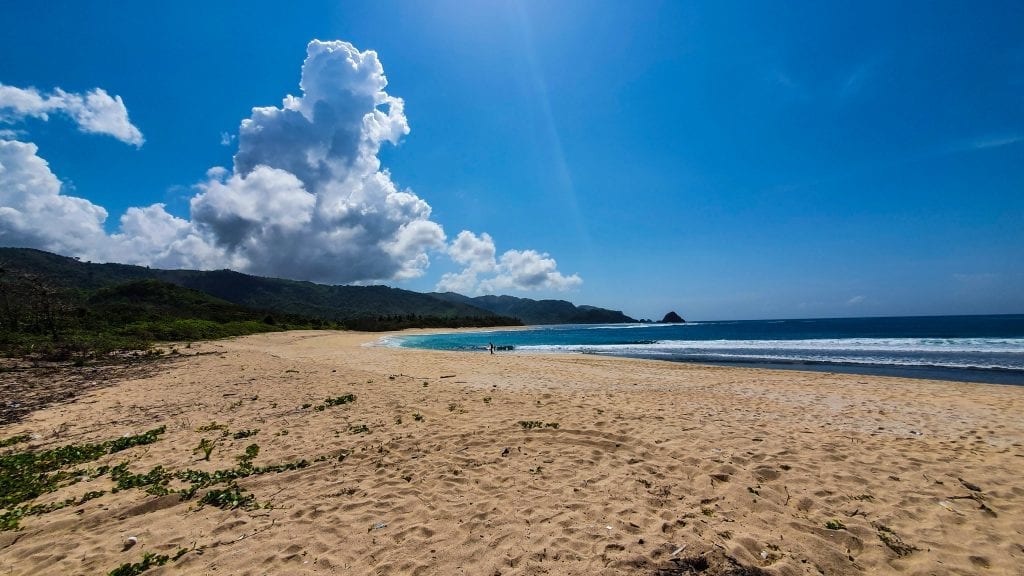 Thank God, people are still busy in Kuta, Bali, or Pattaya, Thailand. They do not know about Lombok or Sekotong. So, this beach was private to me. Pantai Mekaki reminded me of Mawun beach near Kuta, Lombok. Mekaki beach was even quieter. There is absolutely no development here. You can't find any shop selling food or even water. So, bring your own food and water with you.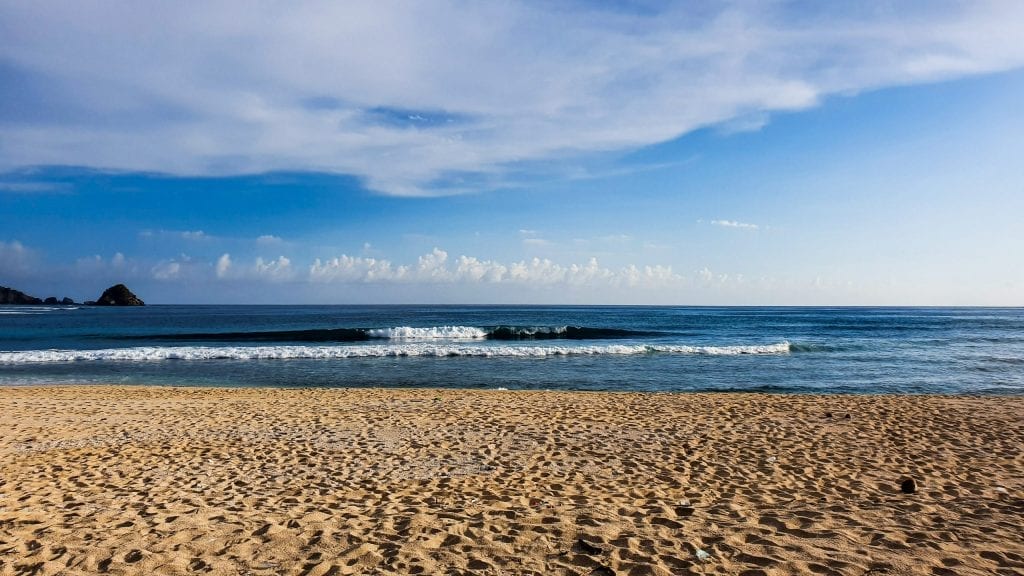 If you come from the Palmyra Indah Bungalow, which is the north side of the island, you will be going up the hill with a good road. You will find a fork, one will go the left further up, and another will go to the right. Take the right-hand road, which will go down. Before taking the right do not put your brake as you will be on the verge of an uphill and your motorbike will go backward and you will fall down (happened to me). The road towards Mekaki beach is not for the faint-hearted. You will get an astounding view of the ocean and have to go to some serious downhill (means some steep uphill on your way back). Do not forget to bring your own shade and sunscreen lotion as there is no shadow there. I spent quite some time and vowed to come back before sunset, so, let me keep some words for later!
Never forget to buy a travel insurance before your trip, see my bike accident incidence in Philippines. I suggest Worldnomads for travel insurance, they are reliable.
Mekaki Hill & Spectacular Road Journey in Sekotong
From Mekaki beach, I headed towards the main road. About 10 to 15 minutes' journey brought me there. Now, I went to the right. It was going uphill. My next destination is Mekaki hill.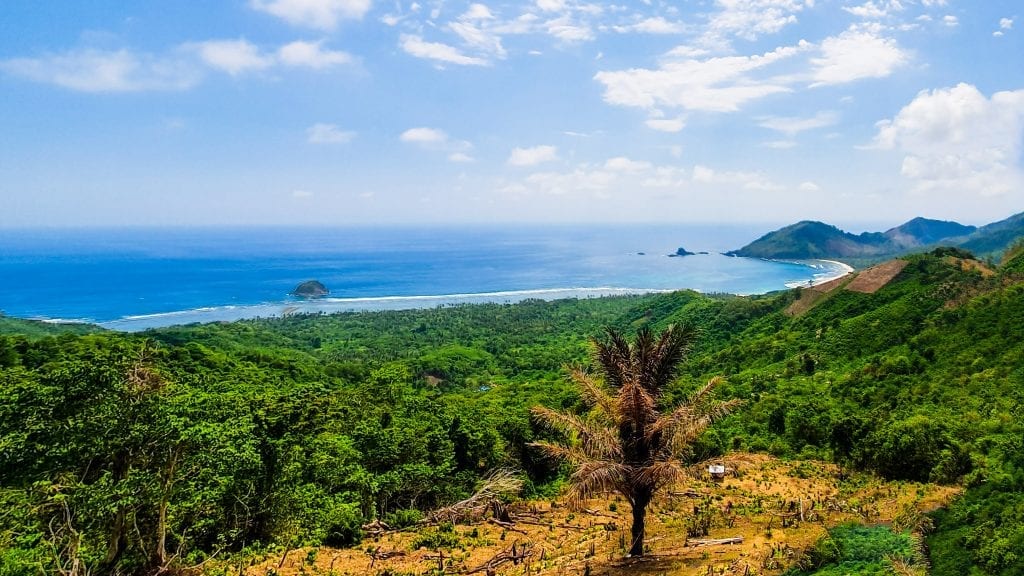 I was struggling to keep control of the bike due. I could not stop looking at the right side from my bike. Just 30 minutes back, I was on the Mekaki beach. Now, I can see Mekaki beach far away. Still, the long stretch of sands was visible. The rolling green of Mekaki hill was soothing for the eyes. There, the vast infinite blue Indian ocean was turning into deep snow towards the shore. I struggled to park my bike as there was no flat land. I came to the right and explored the hill. You will get plenty of viewpoints there, just choose one of them.
When I had enough of the views from Mekati hill, I continued my journey. Suddenly the rain started. I was not sure what lay ahead in 100 meters. The roads were spectacular, but if you are a driver, it's not a lot of fun. I continued my journey to the east towards Lembar. I wanted to go as far as I could.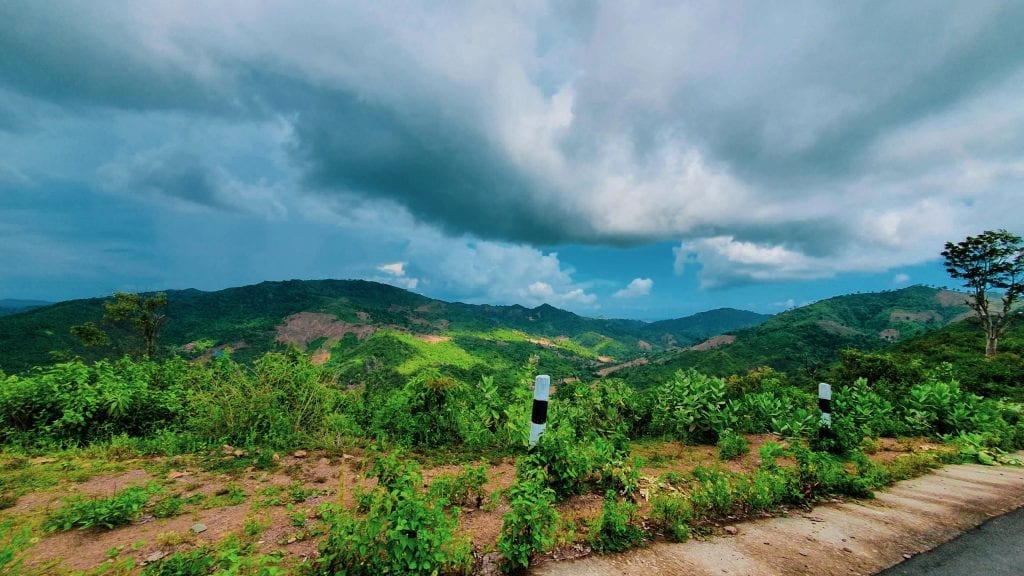 The landscape changed a bit for a while. Instead of the ocean, I saw some mountains. Those were green and soothing for my eyes. The dark clouds always loomed above my head. A splash of showers here and there was making the road slippery and hence my life more difficult. I drove for an hour and suddenly realized that I am going too far from my base. So, I came back and go to Mekaki Beach again to watch the sunset. When I turned the bike and returned, the complexion of the journey changed completely. Now, I was going downhill. I was so nervous, my hands were shaking vehemently. Still, I could not keep my eyes from the left – the unbelievable panoramic views of the ocean from the top!
Visiting Mekaki Beach during Day
You might raise your eyebrow at this point, and tell – "What? Why are you taking us to Mekaki beach again? Haven't we been there in the morning?".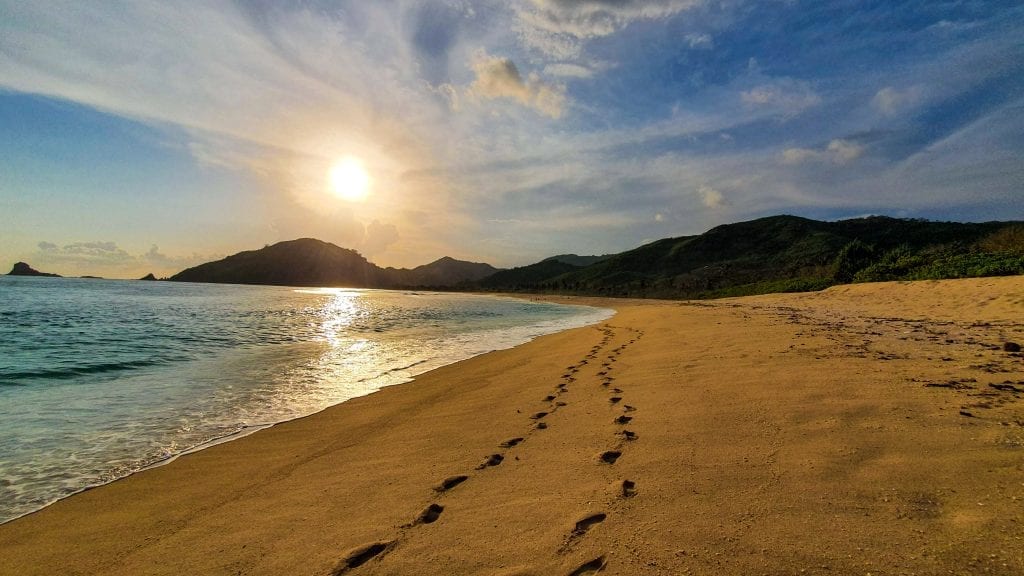 Wait, please, I have a valid reason for doing that. Mekaki beach in the evening looks lovely. You can just walk from one end to another end in the gentle breeze. The sand is so smooth and sugary; Put your shoes off. I don't think you won't be able to walk the entire area, it's so big. This sand stretched all the way around the bay and ended near a cliff.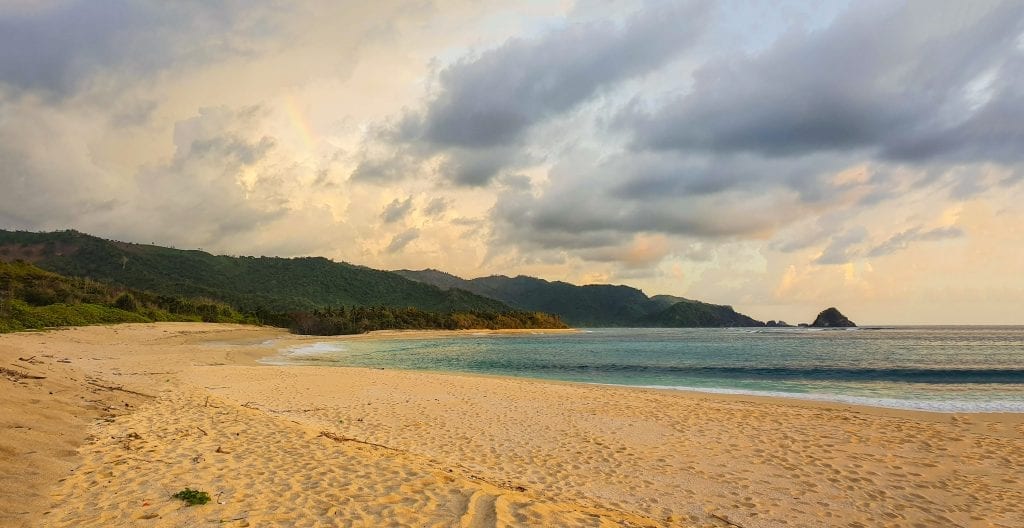 While the sun was setting in the west, let's take a look at the west. The color of the sky resembled the color of the sand. The current of the water was not as strong as it was in the morning. From the sand, I went to the water and continued my water. The time stood still on the Mekaki beach, and I found a sense of eternal peace.
Pantai Elak Elak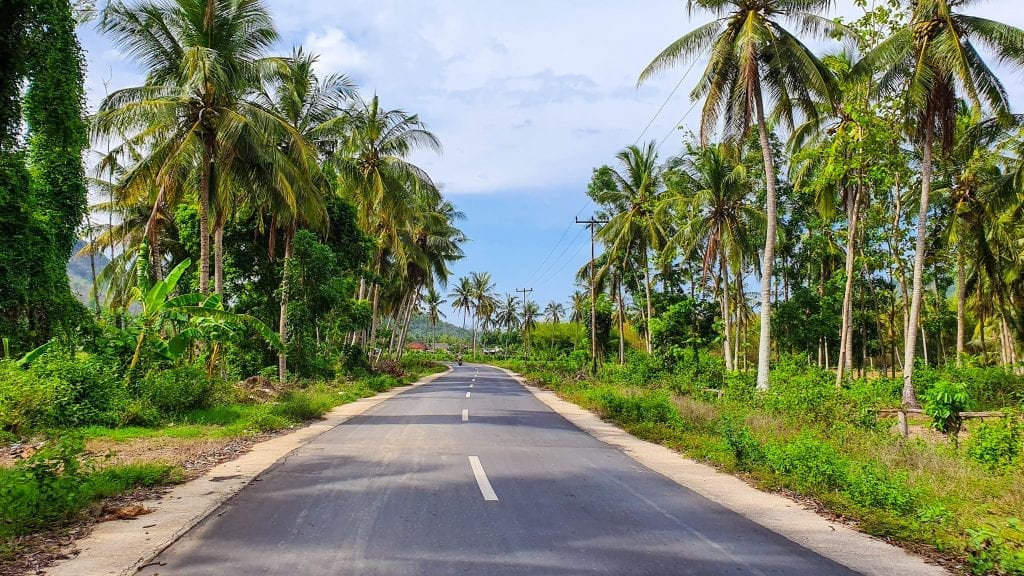 On the next day, I went out to visit the famous Elak Elak beach, locally known as Pantai Elak Elak (it's a funny name, isn't it?). This time, the road was plain. I did not need to climb any hill like the previous day. It did not make the road less beautiful. There were coconut trees on both sides of the road. I was enjoying the ride.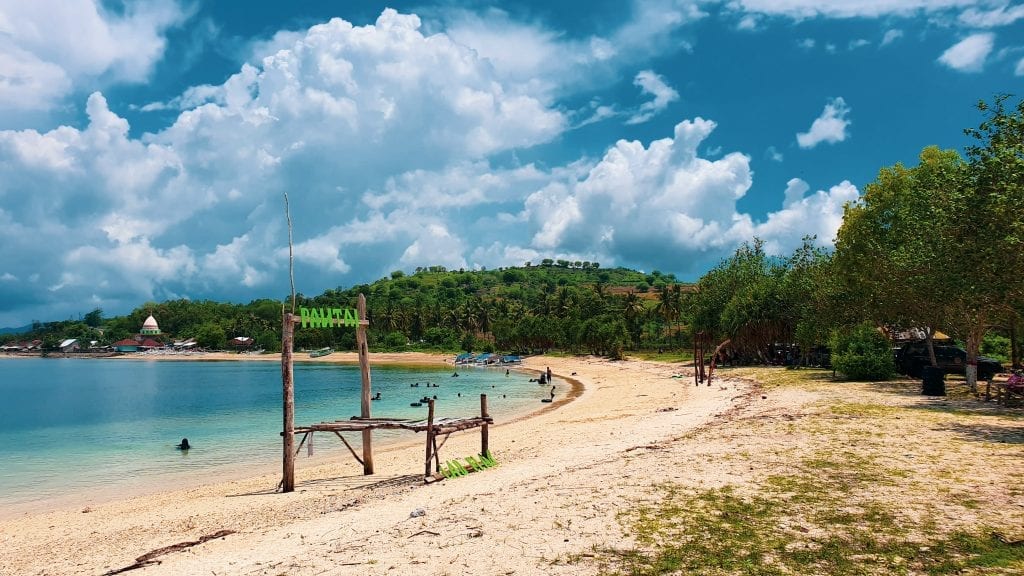 Pantai Elak Elak was easily accessible. It was just beside the main road. I had to go further to park my bike though. I was a tad disappointed to see the Pantai Elak Elak. It's not the fault of the beach itself, it was a decent beach. The problem lied with me. I filled my head with the views of Mekaki beach, so I could not love the Pantai Elak Elak that much.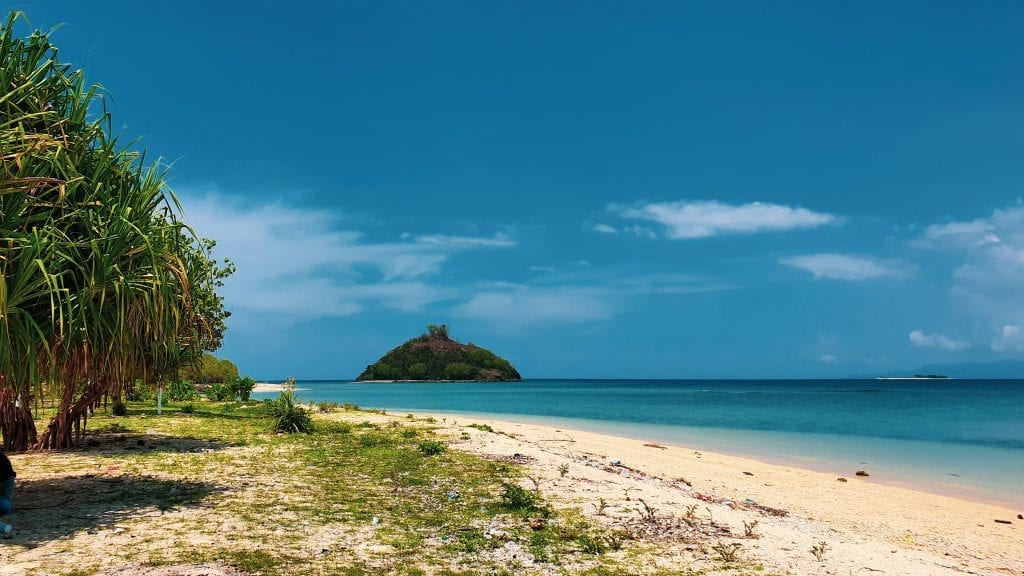 The water in Pantai Elak Elak was suitable for swimming. It was lively with people. Kids were swimming, snorkeling, and enjoying their time. You will find couples who came here for a date or a group of people with an intention of doing a picnic. There were temporary stalls selling traditional Indonesian food.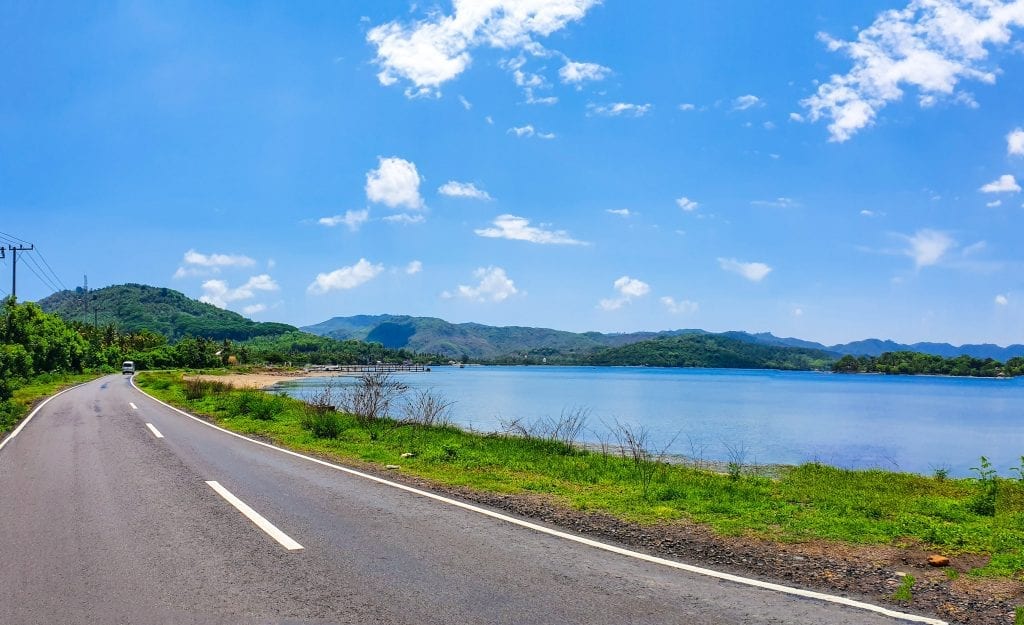 My way back to my hotel from Pantai Elak Elak was a scenic drive. The ocean is directly to my right. The roads were flat and in sublime condition. My dream of driving right along a coastal area came true several times in Sekotong, Lombok.
Kayaking to Gili Gede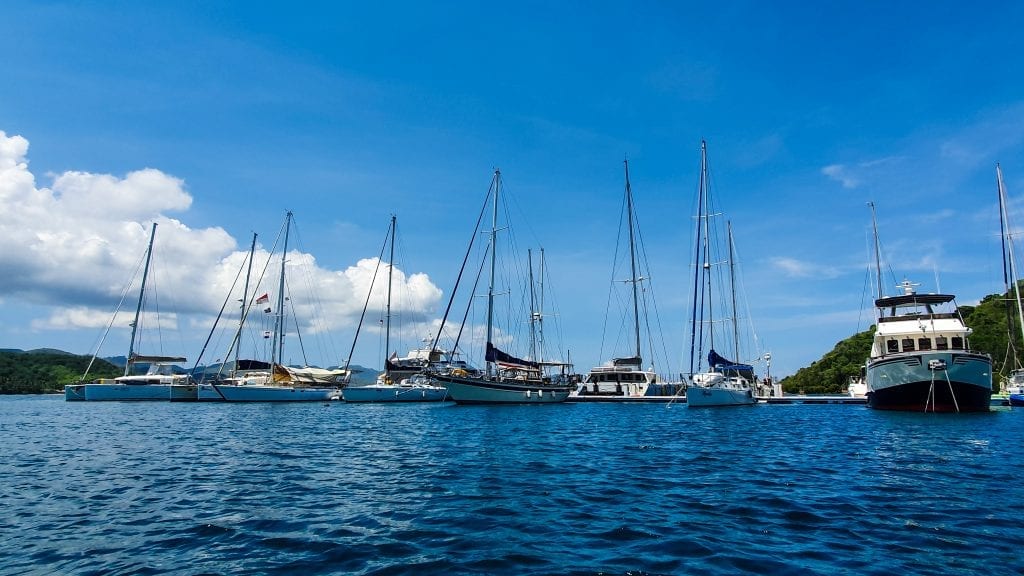 Almost everyone knows about the Gili Islands. It's a group of 3 small islands named Gili Trawangan, Gili Meno, and Gili Air–near Lombok. These have become popular among tourists. That's why many of the travelers are seeking an alternative to them for a peaceful vibe and originality. Gili Gede in Sekotong can offer you exactly that. I mentioned earlier that, from my hotel room in Palmyra Indah, I could see Gili Gede. I took the kayak boat from the hotel for free and started for the island. Although the water looked calm, it was pretty strong. Within 20 minutes I arrived at this island.
If you want to stay in Gili Gede, you can. They have a lovely resort and several boutique options to chose from. However, you can circumnavigate it within a couple of hours. There are only 5 villages in the Gili Gede and the total population is only 1000. So you will have some food and water on the island. You will find corals and sandy beaches on the north side of the island while the west side comprises mangroves. You can enjoy snorkeling as the water is calm. I just sunbathed there and relaxed my entire time.
Maps of the Places I visited in Sekotong
Best Hotels in Sekotong, Lombok
Palmyra Indah Bungalows
My first choice to stay is Palmyra Indah Bungalows for its fascinating surroundings, peacefulness, spacious room, free indoor games, and free kayaking option for going to Gili Gede which is very near to this hotel. My stay there was superb, and I would love to come back there!
The only downside of choosing this hotel can be its distance from the main road. Besides, this one is far from the other accommodation options.
Krisna Bungalows and Restaurants
This one is the top-rated inn in Sekotong and quite popular with the backpackers because of its lucrative price and amenities it offers. It has a small pool, free WiFi and 24 hours front desk. You can opt-in for a sea view, too.
Cocotinos Sekotong
This is a boutique beach resort and spa in Sekotong. Set amidst a coconut grove in a peaceful location, this resort has a private beach, too.
Wyndham Sundancer Resort Lombok
This is the most luxurious resort in Sekotong. If you want to enjoy the utmost comfort along with the beautiful sceneries of Sekotong, you should go to this resort. However, pay higher than the above hotels. But it's not that much high for the comfort they will offer.
Ko Ko Mo Resort Gili Gede
If you stay in Gili Gede and want to relax lavishly, this will be your ultimate choice. This resort offers one and two-bed villas. Each villa has a private pool. Some rooms have a beachfront view. You will get many amenities like kayaking and snorkelling for free. It will be a good idea to stay there for two nights and do nothing but to explore the small island.
If you drive from Lembar, you will find Krisna first followed by Cocotinos and Wyndham. You need to go further from them to reach Palmyra Indah.
Location of the Best Hotels in Sekotong, Lombok
Sekotong Airbnb
If you do not want to stay in a hotel and wanna experience staying with locals, Airbnb is a great option. If you do not have any Airbnb account open on using this link, you will get US$50 credit! In many places, my Airbnb experience exceeded far and those were much better than staying in a hotel. Below are the links of top 5 Airbnb in Sekotong which I curated by going through their reviews. You can book any of them, I hope, you won't regret!
Restaurants in Sekotong, Lombok
You will not find many restaurants in Sekotong. Having your food in your hotel or other hotels are the major options. You can find one or two Warung which you might not like. Besides, the people from the shop might not be able to understand English. However, if you visit one of them, you should be able to save some bucks.
Leaving Sekotong for Kuta, Lombok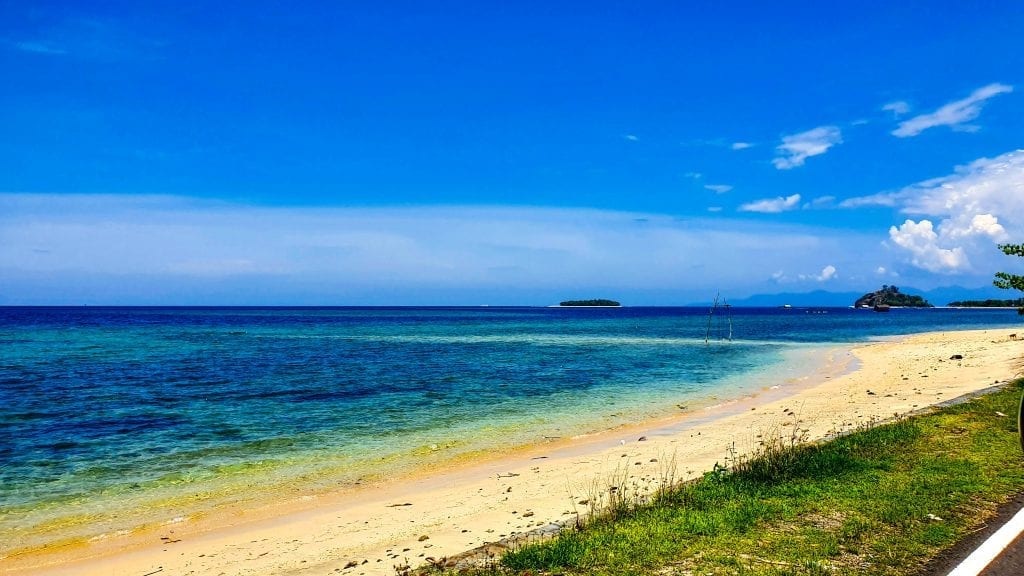 I didn't want to leave Sekotong; I wanted to go back to Mekaki beach and spend more time. But my time for Sekotong ended. Kuta in Lombok was waiting for me. I was feeling sad, and I vowed to come back to Sekotong one day. As my car was approaching Kuta on a beautiful road, I glanced out of my car window once again. The turquoise blue and green ocean was just a handshaking distance. I wanted to stop. II didn't. Human nature is to move forward, so did I.
Did you like Sekotong, Lombok? Pin it!