Ekas is a hidden gem in Indonesia. Sunshine, wave, surfing, cliffs and beaches – these five can describe this sleepy remote village. Situated to the southeastern coastal area of Lombok (just half an hour flight from popular Bali), Ekas should be on your travel list if you want to go off the beaten track in Indonesia. This is an ultimate travel guide to Ekas in Lombok.
I love to seek tranquility in nature. While everyone heads towards Bali in Indonesia, I like to travel to the nearby Lombok. To me, Lombok is the most splendid beach destination on Earth! Lombok is regarded as a remote island. However, most of the tourists go to Kuta (not to be confused with the Kuta in Bali) when they hit Lombok. During my second visit to Lombok, I settled to go somewhere distant, even in Lombok, and I discovered Ekas on the map!
Where is Ekas?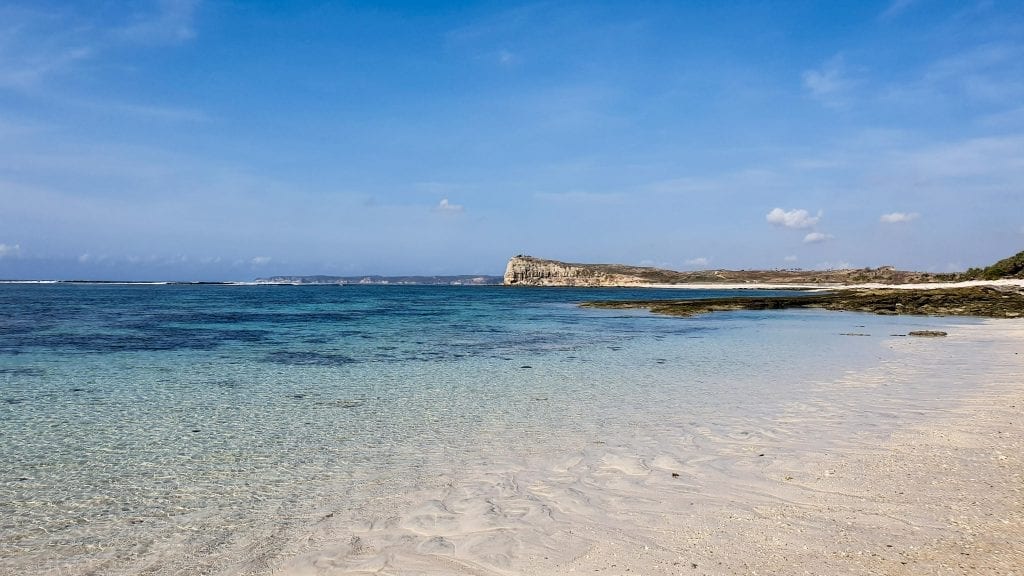 Ekas is on an island named Lombok, Indonesia. Lombok is adjacent to Bali, which is the most prominent tourist destination in Indonesia.
Ekas is placed to the southeast corner of Lombok. It's an underdeveloped suburb distant from the center of Lombok. The distance between Lombok airport to Ekas is about 70 Kilometers and it takes over one and half hours to get there.
How to go to Ekas in Lombok?
Fly from Bali to Lombok

Lombok is a 30 minutes flight from Bali and you will reach Lombok even before knowing anything. You can also fly to Lombok from Singapore and Malaysia directly as this is an international airport. You won't find a great deal of flight options, so put some effort on flight search to make good timing.

Take a Bluebird Taxi to Ekas from Lombok Airport

Although it's not difficult to take a Bluebird taxi from Bali airport, it's tricky. I thought that would not be the case in Lombok. Sadly, the same thing happened to me. When a Bluebird taxi dropped a passenger in Lombok Airport, I approached him, and some people from the taxi mafia came to the cab driver and started shouting. So, I walked out of the airport. Even then, the taxi mafia chased me and was offering a higher price. I finally got hold of a Bluebird taxi from a roundabout which is 500 meters from the Lombok Airport. Why did I choose the Bluebird taxi? Because it's metered, the quality of service is high and it offers the cheapest price.
Journey from Lombok Airport to Ekas
During the initial phase of the journey, the road was good. During the midway of the journey, a wrong turn would take us to Kuta, the most famous tourist hub for Lombok. I found mostly shops and trees on both sides of the streets. As we were nearing Ekas, less developed places got revealed with a few shops.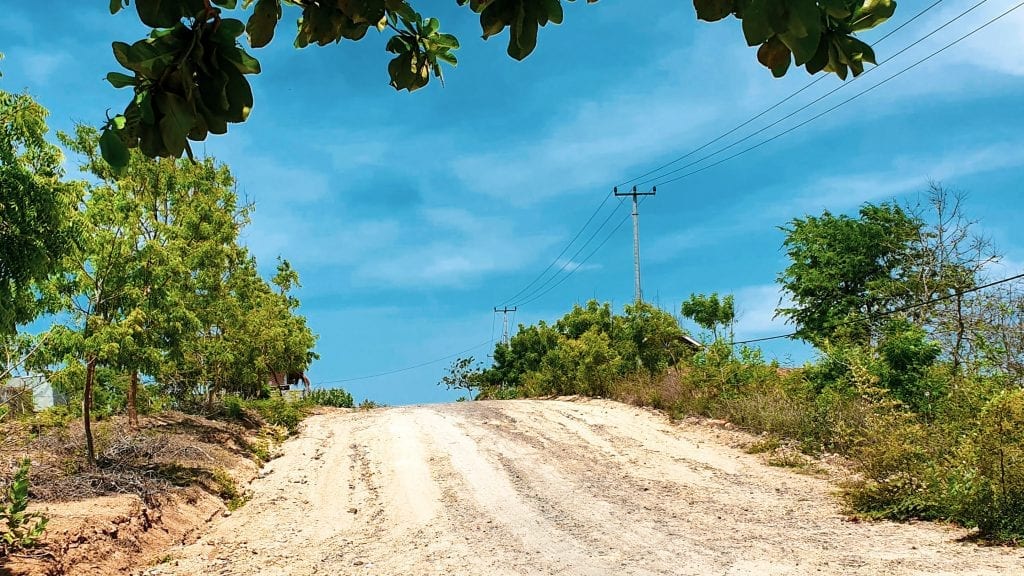 During the last leg of the journey, the road became horrible, and we lost a proper road. Our car struggled through a narrow, muddy road with loose pebbles until we arrived at our destination on the southern side of the village. It took me less than 2 hours to reach Ekas from Lombok airport.
First Impressions of Ekas
As soon as I arrived in Ekas, I had two unpleasant experiences. I rented a place in Airbnb. When I entered in the property, I found that it's is under renovation; the owner is outside of town and they are not aware of my visit. So, I did not have a place to stay. Mind it, Ekas is a remote village in Indonesia and you won't find many hotels like other places.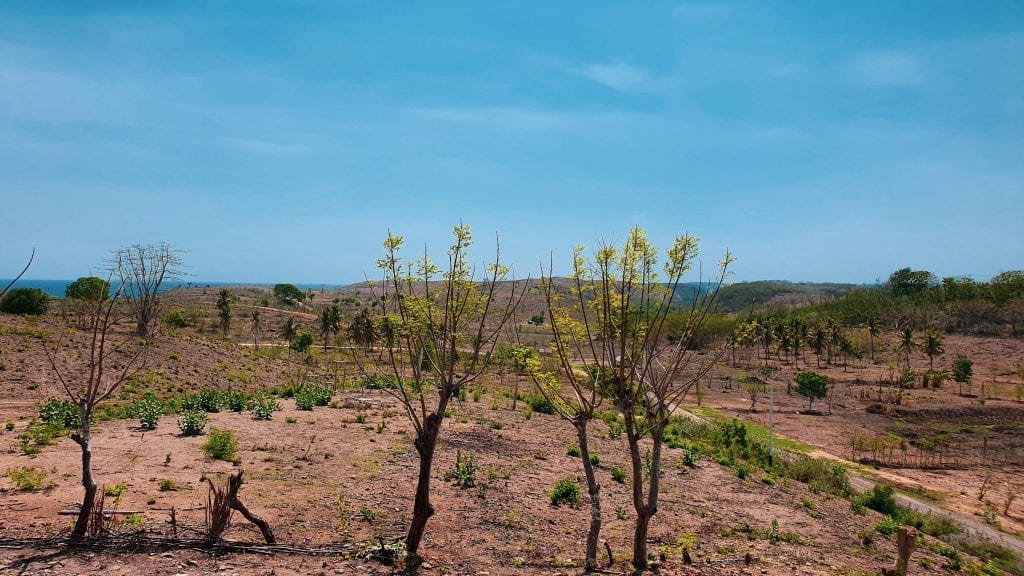 On top of this, I found Ekas hot. One reason might be the lack of vegetation in the area. I did not find many alive trees and no shades at all. Ekas was a long barren area. Later, during the night, I found a lot of insects in the area.
Things to do and see in Ekas
Surfing
The most popular thing to do in Ekas is surfing. You will find two kinds of waves, Ekas outside and Ekas inside in Ekas bay. The wave is suitable for all kinds of surfers. A professional surfer can enjoy the fantastic view of the surroundings. It's also possible to learn to surf in Ekas. Although Ekas is a round the year surfing destination, you will find the best swells between April to November.
Paradise Beach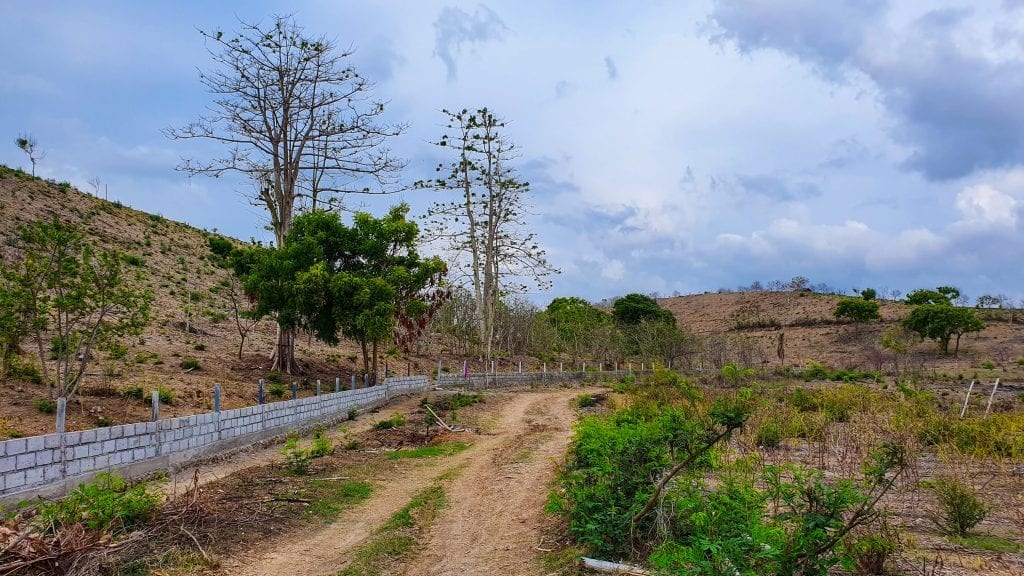 You might find it difficult to reach Paradise Beach but don't give up. I took my motorbike and lost my way a bit. Ekas is a place where you will witness dramatic cliffs. In order to reach Paradise beach, you need to go down, not up to the cliff.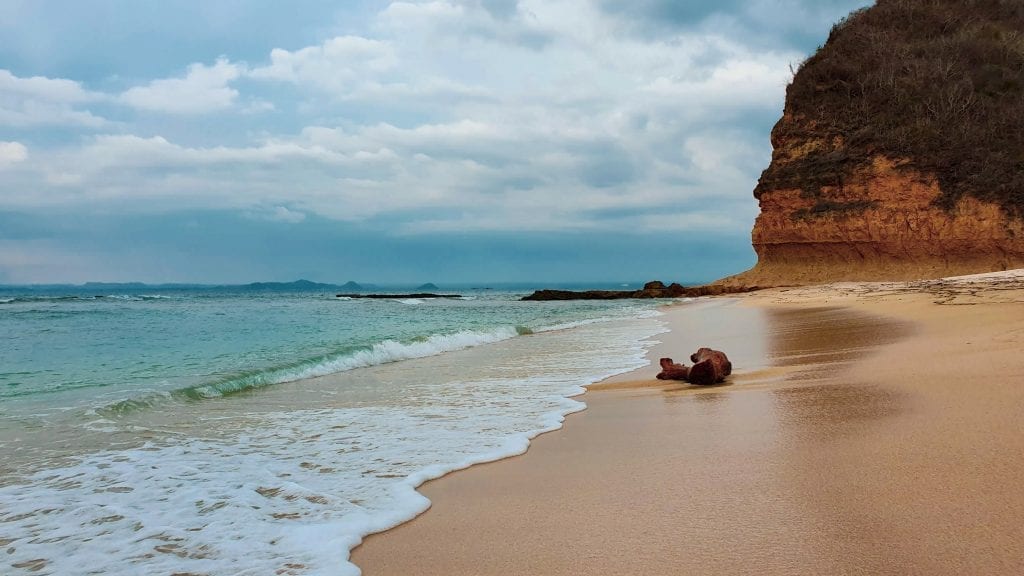 As the name implies, it's truly paradise. You will not find a soul to this wonderful undeveloped beach. The sand is small but pristine; I felt like lying on it and taking the smell of the sand.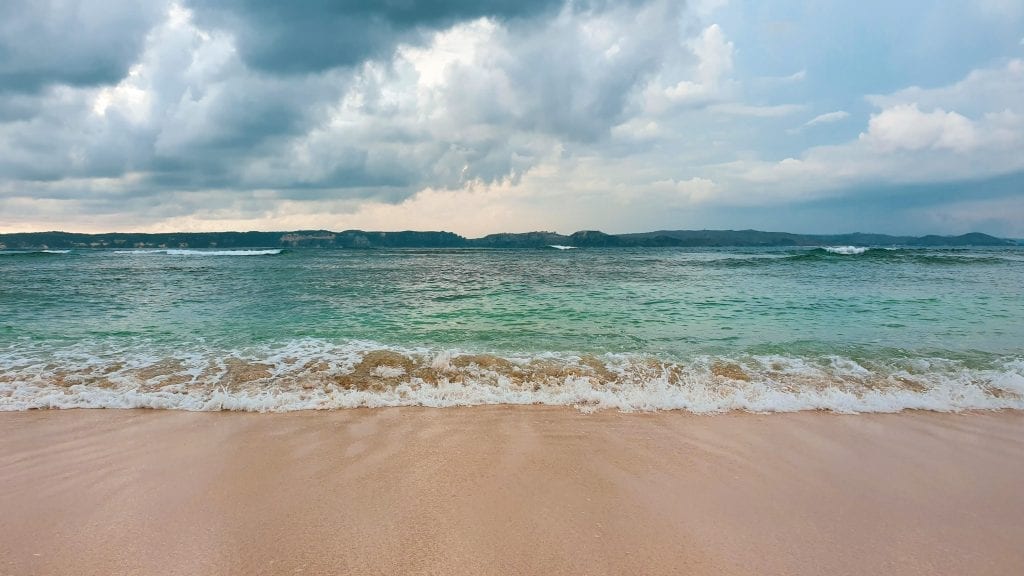 The ocean was not sedate at all. I was standing at the edge of the sea where gigantic waves were embracing me with beautiful greening turquoise water. No wonder people love to surf in Ekas. But, it's not a place where you should swim. The current is strong in the ocean.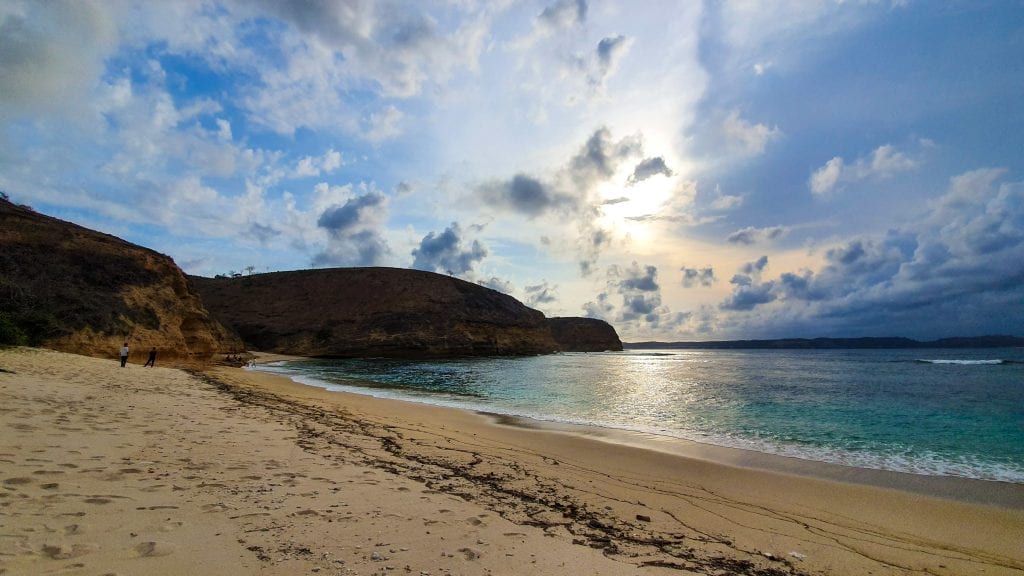 The beach was surrounded by large mountains on both sides. From the bottom you can look at the cliff above. If you climb up, you will discover the vast ocean at the bottom. Ekas resembles Uluwatu in Bali, the difference is, Ekas is more beautiful, and untouched with zero crowd.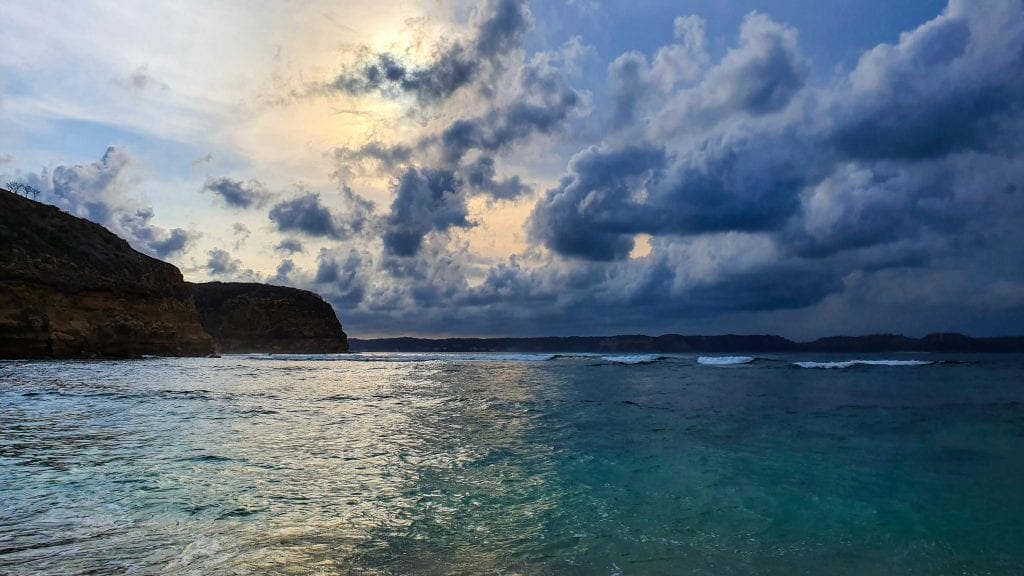 I just sat beside the ocean as the time passed by. I lost count about how many times the sky changed its color. The clouds in the sky were the purest – thick and beautiful. The game of shadows, rays, and clouds made the color of the ocean different. One could sit in such a gorgeous setup for eternity.
Pantai Batu Dagong to Kaliantan Beach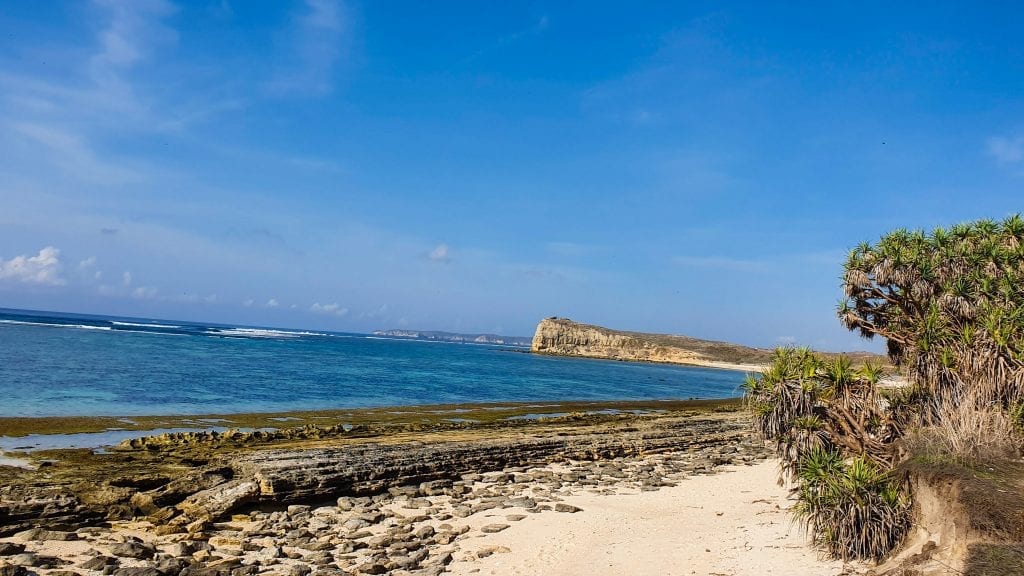 The word Pantai means beach in Indonesia and Malaysia. You will encounter Batu Dagong beach and Kaliantan Beach close to the Paradise beach. These two beaches are connected with each other. They are huge in size. You can start your trail on the beach of Batu Dagong and head towards Kaliiantan.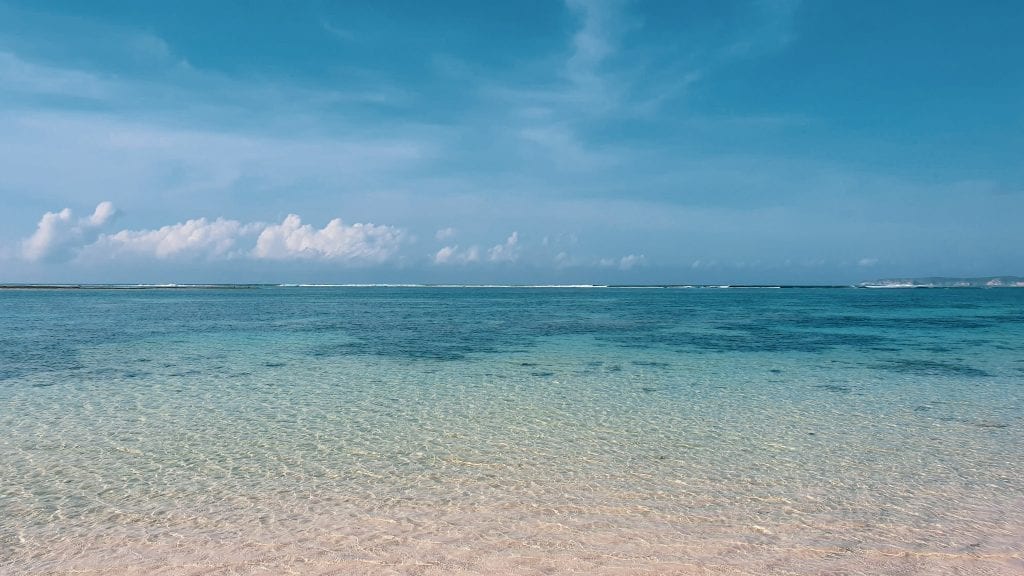 The hue of water in the ocean was so transparent, I could look at my feet clearly. You could correlate it with the postcard perfect Caribbean Islands. Every place is unique and possesses its own charm. Indonesian islands can beat many of the Caribbean Islands in terms of elegance with a portion of the price.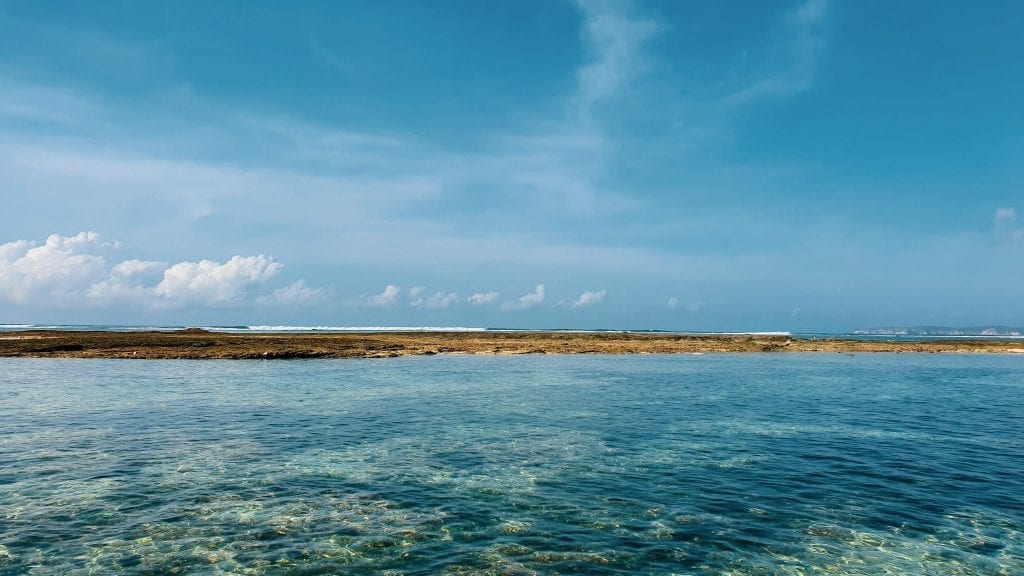 If you visit there in the morning like I did, you will catch the shallow water. I strolled on it. I could detect an island in the distant, my aim was to reach there to watch the waves. It was not an easy walk, there were a lot of sea urchins and some of them did not suit well with my skin. However, it was a rewarding walk; My eyes caught several small sea creatures. When I reached the small island, I could enjoy the famous waves of Ekas. This island goes under water during high tide.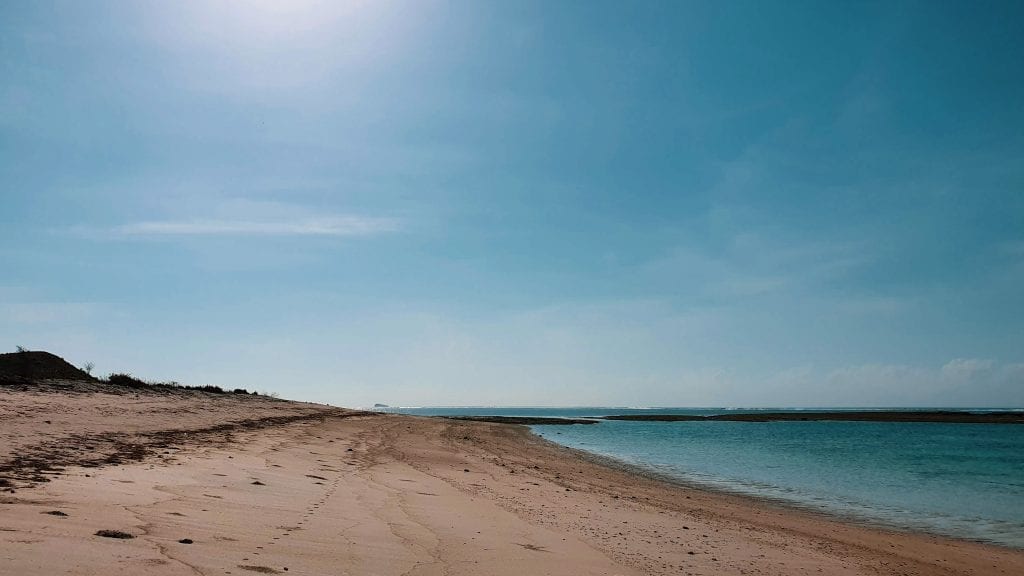 After a while, I came back from that little island and strode towards Kaliantan Beach. It was a vast stretch of sands and much wider than Dagong. Had it been in Thailand, you would receive a plethora of crowds. Here, there was nobody, not even a shop. If you become hungry or thirsty, you need to consume from your reserve. I treasure this raw beauty of Indonesia!
Pink Beach in Ekas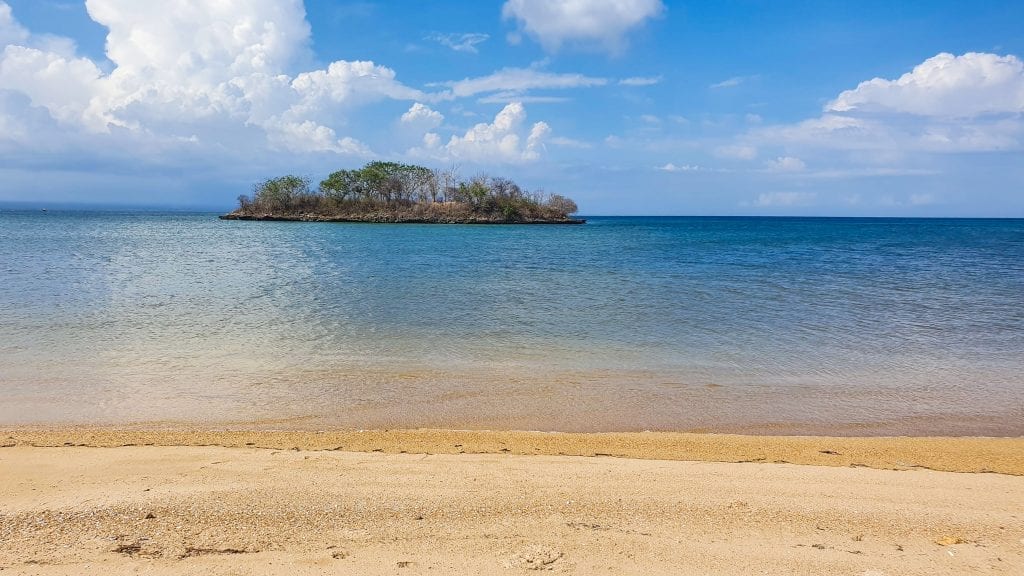 Pink beach is far from the area I stayed (southern site of Ekas). I had to hire a car to reach to the pink beach. I read a lot about how the beach looks pink and put in some extra bucks for getting there. When I arrived in that area, I saw several pink beaches marked on Google Map. So, I got confused. One of them was a small one and people were selling tickets to go there. It was a scam, so I avoided it.
When I made it to one of the bigger pink beaches (following Google), I found nothing pink. So, I was in pursuit of it and sought other visitors. I learned that the beach looks pink during early morning, something to do with the light. It turned into a sandy beach by the time I was there. This made me a tad disappointed as I came quite a long way to see the pink beach and now, there is nothing. I spotted a shadow and slept for a while looking over some smaller desolate islands. Don't get me wrong, I am not discouraging you to visit the pink beach, just visit early in the morning. I am sure you will see it!
Biking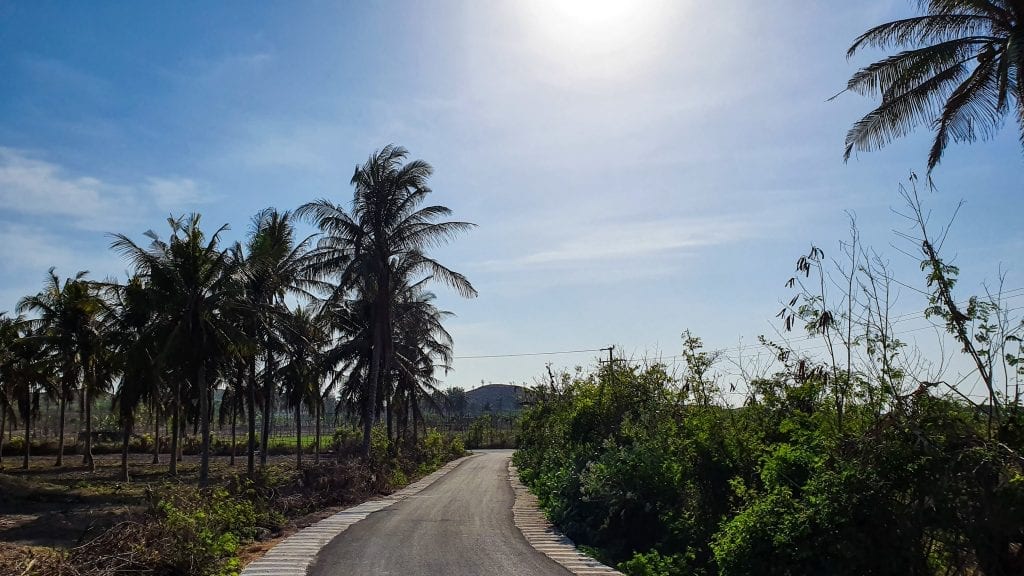 There is no public transport system in Ekas. So, you require to rely on either a private car or your feet if you don't prefer to rent and drive a bike. The road on the above picture is from Ekas, you might consider that you can ride a bike easily.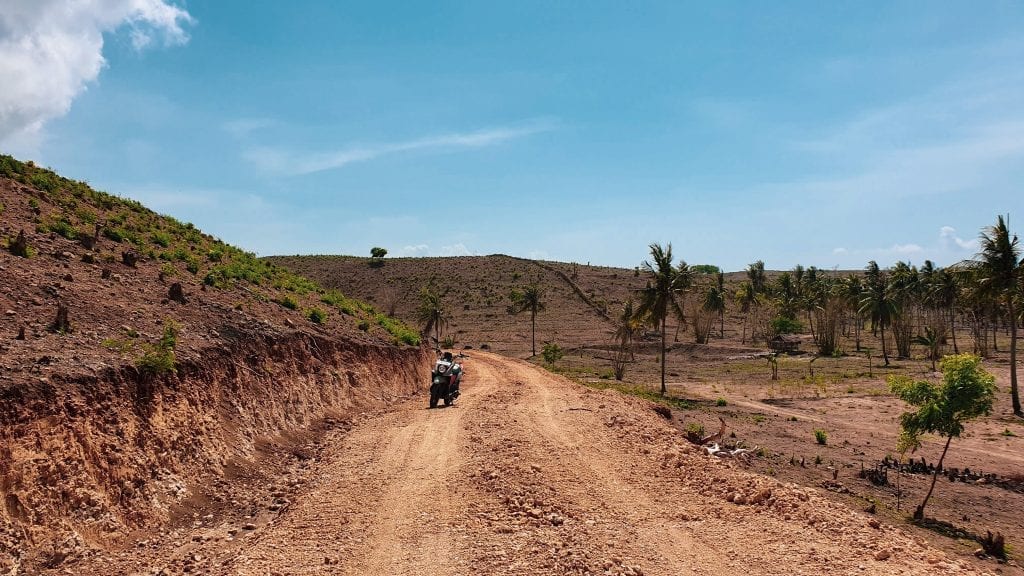 Sadly, the road you saw previously is only a part of Ekas. A considerable part of the village does not have any marked road. Even worse, those are hilly areas and you need to go down or up sharply at times. However, nothing will give you more freedom than going with a bike in Ekas. You just need to be extremely careful and cautious. A single mistake can break several bones.
Never forget to buy a travel insurance before your trip, see my bike accident incidence in Philippines. I suggest Worldnomads for travel insurance, they are reliable.
Amazing Sunset in Ekas
I saved the finest thing to do in Ekas for the last! I experienced some delightful sunsets in Ekas. Those were so gorgeous, it made me think like I was residing on another planet.
Sunset in Ekas from Kaliantan Beach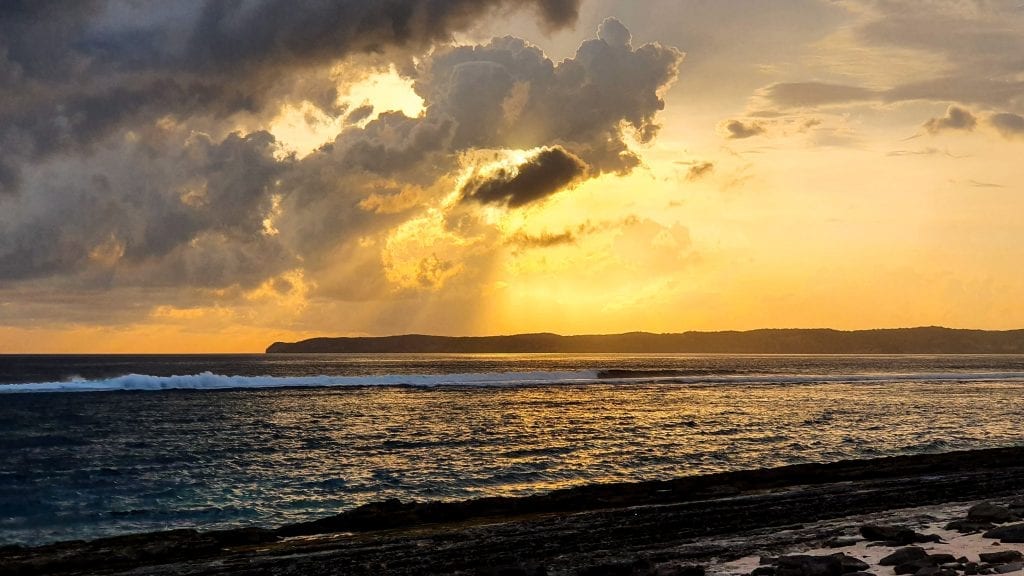 Ekas awarded me with the most exquisite sunset in my life. On the first day, I went to Kaliantan beach to enjoy the sunset. Like most of the places in Ekas, there was hardly anyone on the beach to see this amazing sunset. The last ray of sunshine was beaming through the dense clouds in the yellow sky.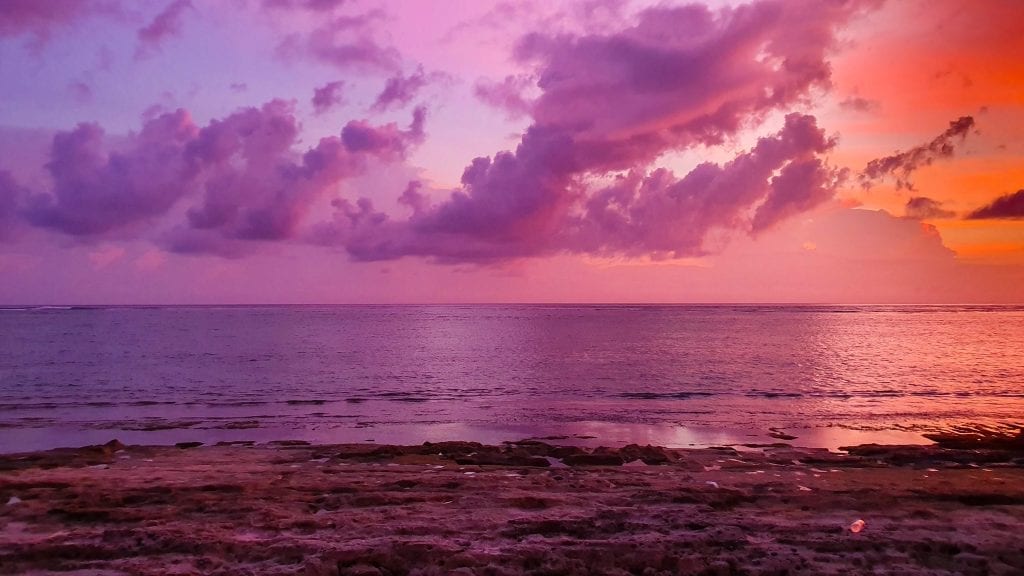 As the time moved, the sun gave up most of its strength. The yellow sky changed into orange, pink and some other colors I can't express. But the atmosphere and surroundings were out of the earth.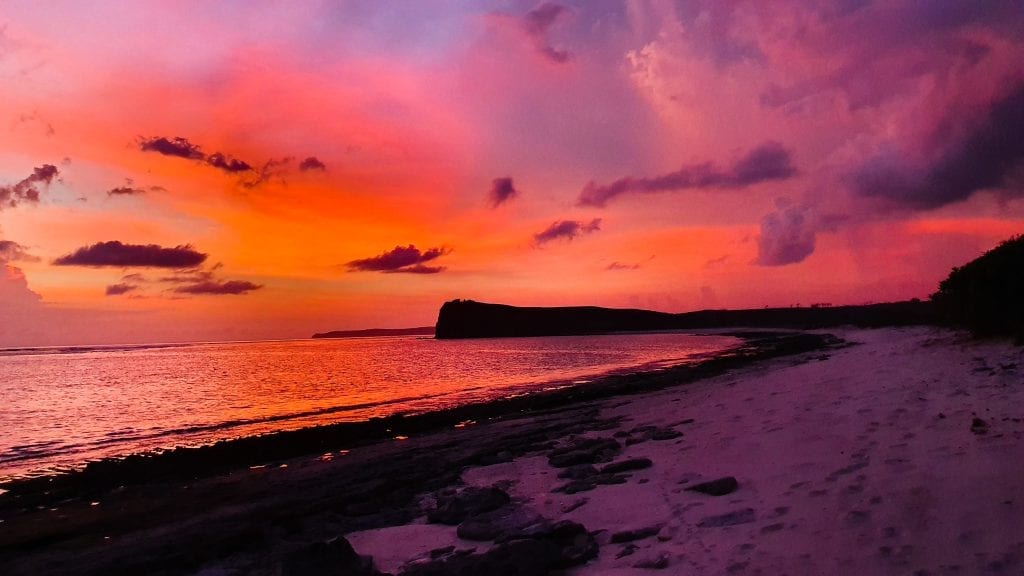 I was not certain about where to look at – I continued whispering – "It's pretty! It's wonderful!!". I sought to seize this breathtakingly stunning sunset through my camera lenses, I could not do it properly, but I have stored it in my brain through my own lenses.
It was an extraordinary evening, I can go to Ekas some other time simply to enjoy the sunset there.
Sunset from a cliff in Ekas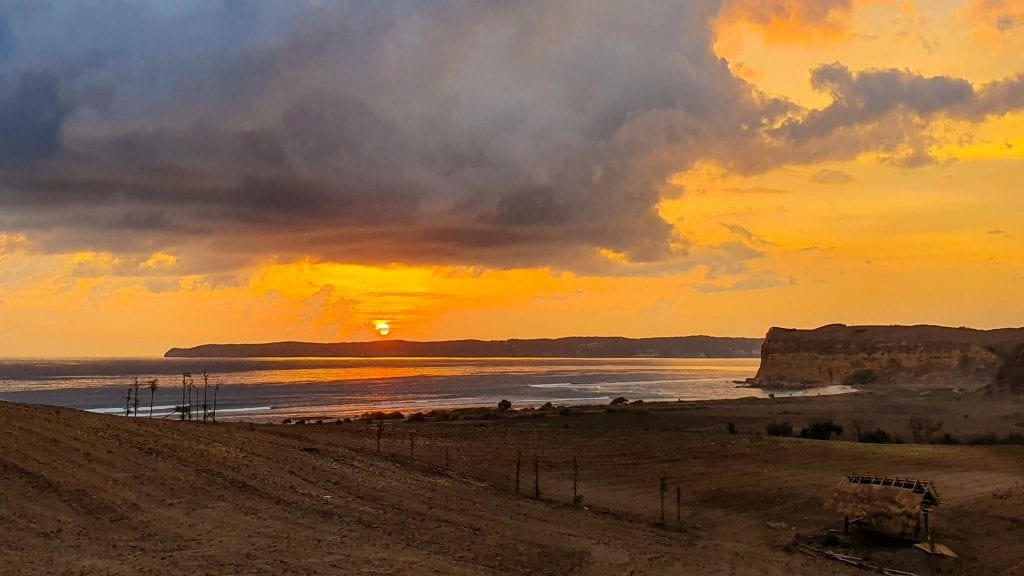 On the second day, I wanted to enjoy the sunset from top. That's why I didn't choose any beach. I was riding my bike, keeping the sea on one end. When the sun was about to set, I stopped the bike, walked a while and sat on top of a cliff. When you will be to the south side of Ekas, you will find wealth of spots like this to have a panoramic, unobtrusive view of the ocean.
I was presented with the endless ocean in front of me. To my right, I was greeted by a vast expanse of mountainous cliff. The sun was setting in front of me. It was an imitation of the previous day. At first the sky changed into yellow, and then crimson. Only difference was, I had more freedom of choosing my view. I could encompass a larger angle with my eyes. Oh! It was sublime!
Ekas Lombok Accommodation
Ekas is a backward area. The accommodation choices are very limited here.
Ekas Breaks
Ekas breaks is the most popular place to stay in Ekas. It is curated for the tourists and has amenities like a swimming pool, restaurants, and WiFi. This resort offers various types of bungalows with thatched roofs having air conditioning systems.
Ekas Surf Resort
This is also a very popular place to stay in Ekas, having a swimming pool, and restaurant with a bar. If you want to stay there, book ahead, their 6 rooms get filled pretty quickly.
I stayed here, and it was a gem! Spacious room, a massive dining area along with a swimming pool. It's not a hotel (you won't get any restaurant), but a house having two double bedrooms with an ensuite bathroom in each room. You will have to climb to reach there. It became so quiet at night, I became afraid of the ghosts. I absolutely loved the experience. It was a private place in an uncrowded place.
Aqh Bungalow
This is a moderately priced, relatively new bungalow. You will get a restaurant, front desk and WiFi here. Private bathroom is included with each room.
Ekas Beach Guesthouse
Ekas beach guesthouse is near to the Ekas bay beach. This guesthouse faces the beachfront. There is no air conditioning system, and the bathroom is very basic, however, you get what you pay for which is a meagre amount.
Location of the Hotels
Restaurants in Ekas
Ekas Surf Resort
The restaurant of Ekas surf resort is the most vibrant among all. During night, when Ekas becomes ghostly and there is nothing to do, most of the people go to Ekas surf resort to enjoy their time. It buzzes with noise during each night. The restaurant has a bar in case you need to consume alcohol. They serve English breakfast in the morning. The food is pricier than the conventional warung, but it makes sense, you pay the little for the ambiance.
Ekas Breaks
Ekas breaks serve excellent food with fresh ingredients. You can pre-book fish and they will grill it for you. Ideally, you should notify them a day earlier or in the morning if you want to have dinner. The fish I had there was delicious. You can also try their vegetables.
Warung Rizki
This is a small family-run restaurant in Ekas. I took my food several times from here. They might not have everything on their menu, so check it before you order. There were a couple of pet dogs in the restaurant in case you are allergic (or a lover) to dogs. This restaurant is cheaper compared to Ekas surf resort and Ekas breaks.
Important Facts about Ekas
Is there any money exchange in Ekas?
I didn't find any. You should exchange your currency from Lombok or Bali.
Is there any public transportation in Ekas?
No.
Is there any convenience store in Ekas?
No. Only some local shops.
How can I roam around in Ekas?
The best option is to rent a scooter. If you don't want to ride a bike, rent a car. Either way, you need your own transport to explore Ekas.
What is the best way of going to Ekas?
You can take a Bluebird taxi from Kuta or any other major town of Lombok to reach Ekas. However, on your way back to town, you have to rent a local car.
Did you like your time in Ekas?
Yes and No. Ekas is barren and hot. I did not like the weather. Apart from that, if you love tranquility, beautiful beaches and waves, this is a hidden gem for you.
Liked the Article on Ekas Lombok? Pin it!