Located to the spectacular Bukit Peninsula in Bali, Bingin Beach is a perfect place to relax in the lap of vast and endless ocean of Indonesia.
My dream became true in the Bingin beach of Bali.
Whenever I go out for a vacation to an island or near to an ocean, I always search with the following terms:
Hotel with a sea view.

Hotel with a beach view.
Most of the cases, one of the following happens considering my moderate to low budget:
I get a hotel which is (just) 500 meters near the beach.
I get a hotel which is near the beach, but my room is not.
A hotel in front of me obstructs the view of the beach and ocean.
The list can go on. This time, when I read reviews about having an unobtrusive view of the ocean from a hotel balcony of Bingin beach in Bali, I was skeptical as usual. However, I was not disappointed this time!
Ocean view from my room in Bingin Beach, Bali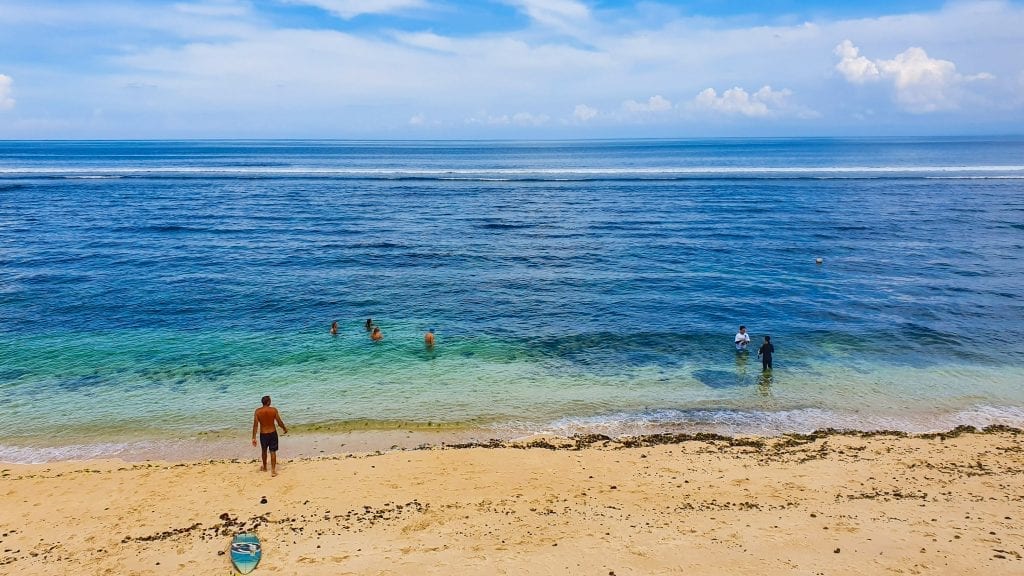 Good morning!
I greeted myself!
I was tired from the journey of the previous day. So, I overslept. When I woke up, I could see the vast blue ocean right from my bed. I did not want to get out of the bed, I was lazy. In fact, I didn't need to move anywhere else, I was already in trance.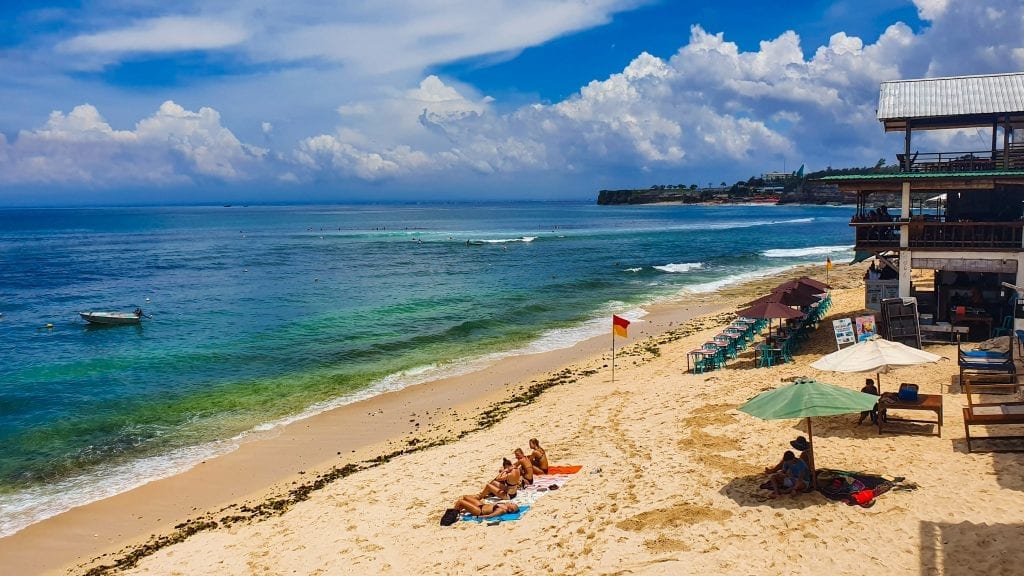 After a while, I got up and went to the balcony attached to my room. When I laid my eyes to the right, I had a good view of the beach. A bunch of people was sunbathing on the golden sand. It was calm and quiet everywhere. I could have jumped from the balcony to reach the beach, I forgot if I really did that!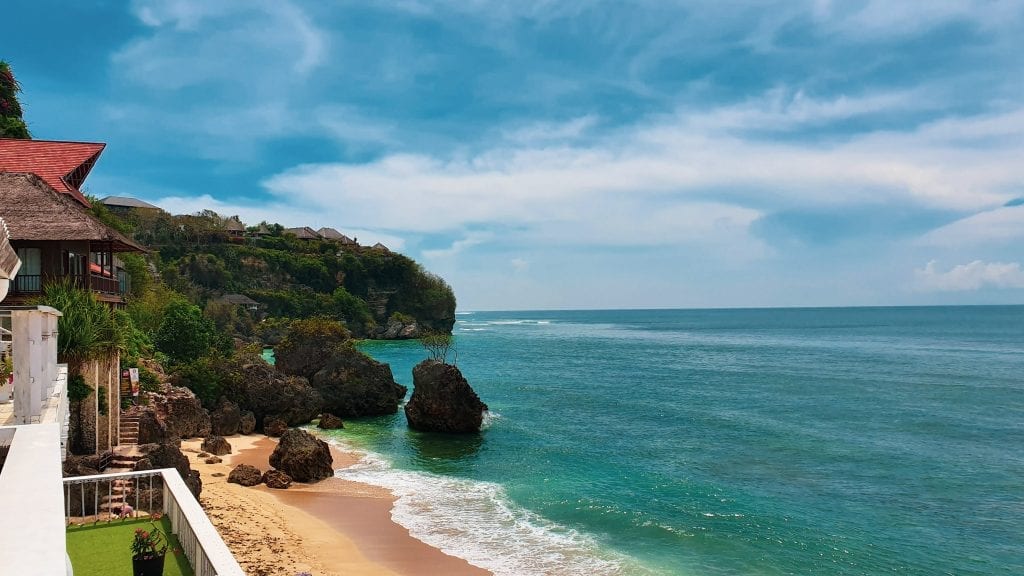 I have already shown you to my right, let me guide you through to the left. There was not much space to my left as I was staying almost to the leftmost side of the beach. You can see a limestone cliff and open ocean.
Bingin beach is also known as Pantai Bingin.
Things to do in Bingin Beach
There are mostly two things to do here. You can just sit back and relax like I did and enjoy the amazing view.
If you are a surfer, this is a paradise for you. May to October is the best time for enjoying surfing in Bingin. You don't need to bring your surfboard, you can rent it from the shops located right on the beach. Depending on the type of boards, you can rent it for around 60,000 IDR (US$4) for two hours. May to October is the best time for enjoying surfing in Bingin.
How is the Sunset in Bingin Beach?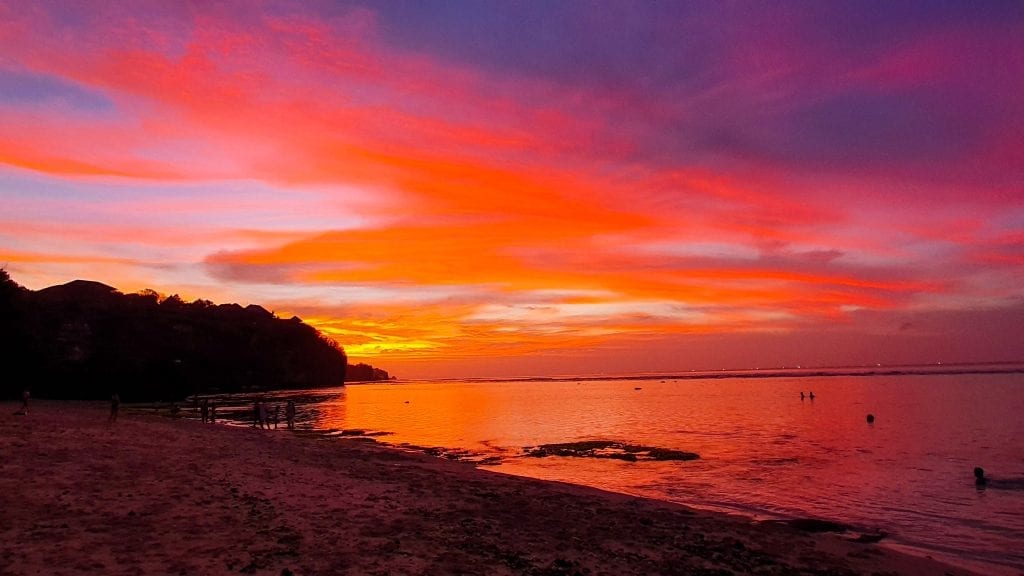 Sunset is absolutely stunning in Bingin beach. The water becomes shallow in the evening. The weather starts to cool down after the entire day's heat. That's the time when I went down to the beach. The sky started to change its color as the sun set. It became yellow, red, crimson and some other kind of colors, I can't explain. Even if you don't stay there, you can come to Bingin beach to enjoy the sunset.
Where is Bingin Beach?
Bingin beach is located on the west coast of the Bukit peninsula of Bali in Indonesia. The area is named Pecatu.
Bingin beach is only 5 Kilometers from the famous Uluwatu temple.
Bingin beach is 12 Kilometers from Jimbaran beach.
Bingin beach is about 24KM from Kuta.
Bingin beach is 20 KM from the Bali Airport.
You can go to some small but beautiful beaches like Padang Padang beach from Bingin beach, they are close to each other.
How to go to Bingin Beach?
How to go to Bingin beach from Denpasar Bali airport?

If you want to go to Bingin beach directly from the airport, take a Bluebird taxi from the airport. You will arrive there in 35 minutes.

How to go to Bingin beach from Kuta?

From Kuta, it will take about one hour to reach Bingin beach. It's always best to take a Bluebird taxi in Bali. It will save you money and give you convenience.
The taxi won't be able to drop you at the Bingin beach directly. The road ends in a much higher place than the beach. You have to get down through narrow streets and stairs to the beach.
If you are not staying at Bingin beach, you can reach there by renting a scooter. You need to pay for parking at the top of the cliff.
Bingin Beach Accommodation
Most of the accommodations in Bingin beach are not conventional hotels but home-stays or boutique hotels. So, many of them might not have a name, but, I am telling you the way of booking it.
Claire Denise's Ocean Studio
The villa hosted by Claire Denise on Airbnb is the best place to stay in Bingin beach. That's where I stayed and you can enjoy the ocean view right from the bed. The entire house will be at your disposal, so you can cook if you want to. A word of caution is, you won't get a restaurant as it is an apartment. But, don't worry, you can find several restaurants walking for only 5 minutes.
The Sun & Surf Stay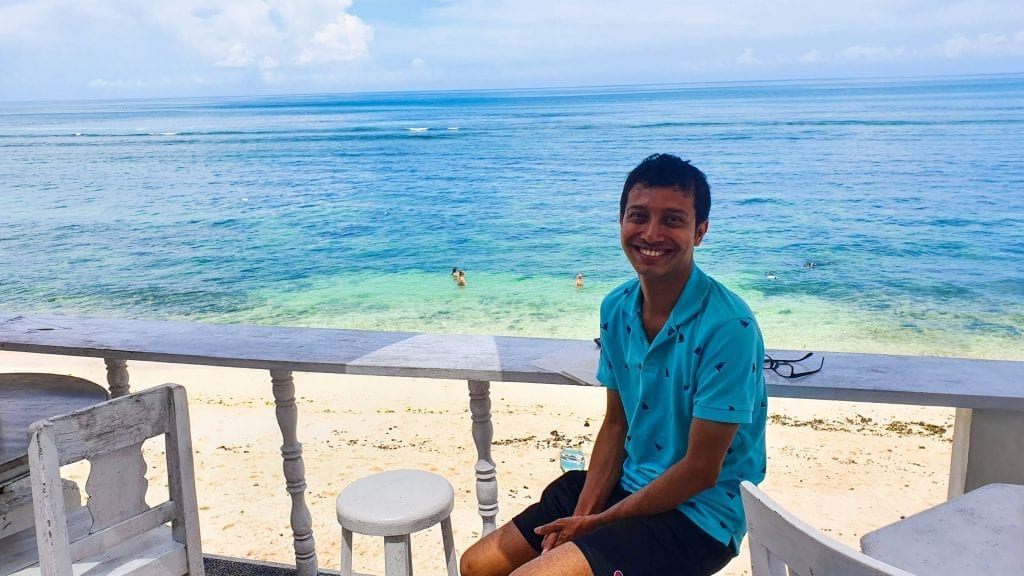 The Sun & Surf Stay is also a fantastic place to stay. It's a boutique hotel, so you will be able to eat food from their restaurant and enjoy drinks from the bar. They have several rooms to choose from. Check the characteristics of them before booking to suit your need.
Boho Bingin Beach Bali
This popular hotel near Bingin beach is not on the beach. It's about a 5 minutes walk from the beach. However, as it sits on the top, it offers a great view of the ocean. Unlike the beachside boutique hotels, this is a proper hotel with good amenities like a swimming pool. The rooms are big, the staffs are friendly and the restaurant serves good food. Make sure to book a sea view room.
Temple Lodge Bingin
This one is also not on the beach but set on the cliff. Temple Lodge is artistic and beautiful. You will get a sublime view of the ocean from the top. They also have an infinite swimming pool from where you can enjoy an unobtrusive view of the ocean.
Where to eat in Bingin beach?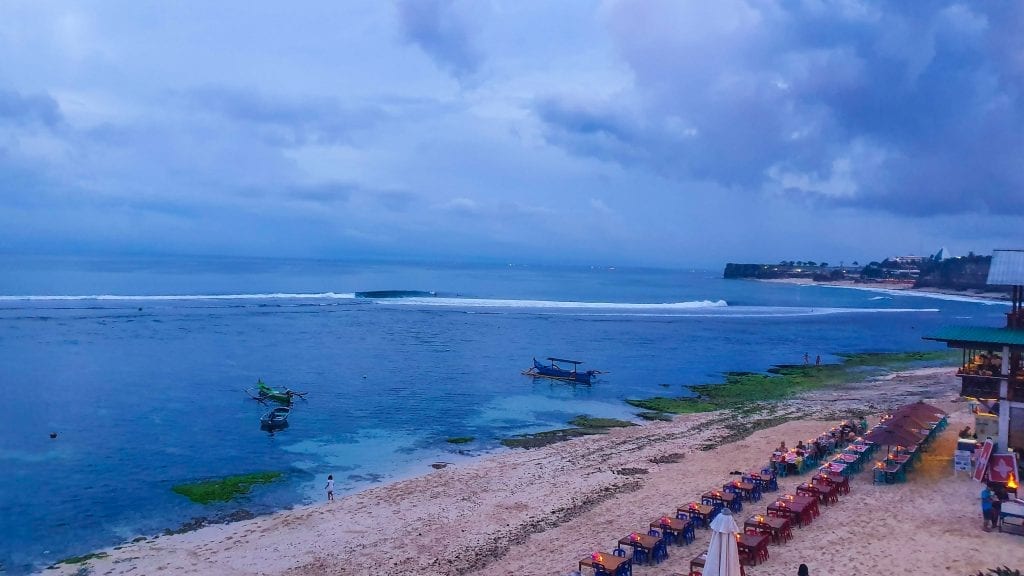 When the light of the sun fades away, Bingin beach gets ready to receive guests on the beach. Most of the restaurants set a romantic ambiance by placing tables right on the beach and offering candlelight dinner.
You do not have a lot of options to eat if you stay in Bingin beach.
Lucky Fish Seafood BBQ
This is the most popular place to grab your food. You can select from a wide array of fishes. They will serve you delicious Barbecue fish. You can choose to eat on the beach or go to the first floor where you will find an open deck with a view of the sea.
Bingin Ombak
Just beside the Lucky Fish Seafood BBQ, you will find Bingin Ombak serving the same type of food. In fact, it's difficult to distinguish among the restaurants on Bingin beach as they are so close to each other. The menu is almost the same, only the price tag is different.
Kelly's Warung
You will find it in front of the Bingin Surf Break. They have a good collection of food at a relatively cheaper price.
Is Bingin beach right for you?
Bingin beach is right for you if you want peace, and tranquility in the lap of the ocean and literally on a beach. You should stay here if you want to relax. The accommodations here will offer you one of the most spectacular views of the ocean in Bali.
However, Bingin beach is not very big, it's comparatively small. You need to reach there with a steep descent. It means that, while you will be back from here, you have to ascend. If you tend to explore other areas the entire day and come back here at night, you should think twice before staying here. Besides, Bingin beach can become very busy at times, especially during the night time when a lot of tourists visit to have their food in a romantic ambiance.
If I were you, I would have stayed at least three nights in Bingin beach without doing anything just to enjoy the view. We visit a long way to enjoy such a beautiful place, and you will stay right there. Do not think like missing out on anything if you just stay here for a couple of days without doing anything. It's worth it!
Are you going to the Bingin Beach?
Wanna explore around Bali?
What about –
Did you like Bali Bingin Beach? Pin it!