Nusa Lembongan is a beautiful small island in Indonesia as part of the three Nusa Islands. It is easily accessible from Bali and has been growing as a popular tourist destination over the last few years.
If you go towards the southeast of Bali, you will find three beautifully dotted islands. While Nusa Penida is the largest of them and Nusa Ceningan is the smallest, Nusa Lembongan offers the perfect size to explore on your own without getting bored. Beautiful beaches, open ocean, amazing diving spots, and exciting surfings – those without crowds like Bali – Nusa islands are getting more popular with the tourists. Here is your ultimate travel guide for Nusa Lembongan including a list of things to do and accommodations suggestions.
How to Get to Nusa Lembongan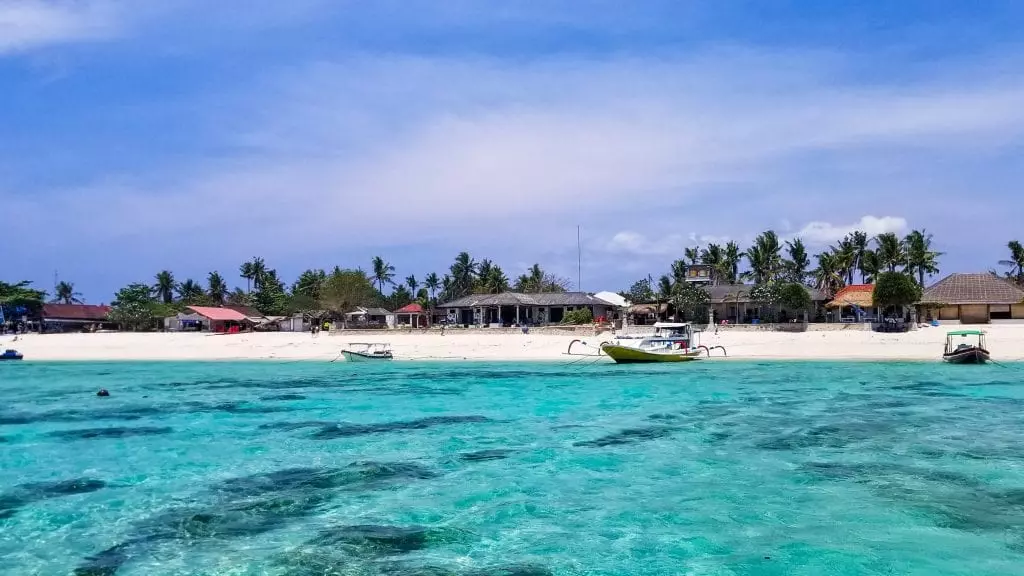 Arrive at Bali in Indonesia

The first step for arriving at Nusa Lembongan is to arrive at Bali. Bali has an international airport, you can fly there from many countries directly. Domestic flights to Bali are also widespread.

Go to Sanur

Sanur is a harbor in the southeast of the island of Bali. The boats to Nusa Lembongan leaves from here.

Get into a boat

Wait in the Sanur harbor for other passengers to join you. About 30 to 40 minutes journey in the sea will take you to Nusa Lembongan.
Book your Bali to Nusa Lembongan trip online including free hotel pickup
Things to do in Nusa Lembongan
Dream Beach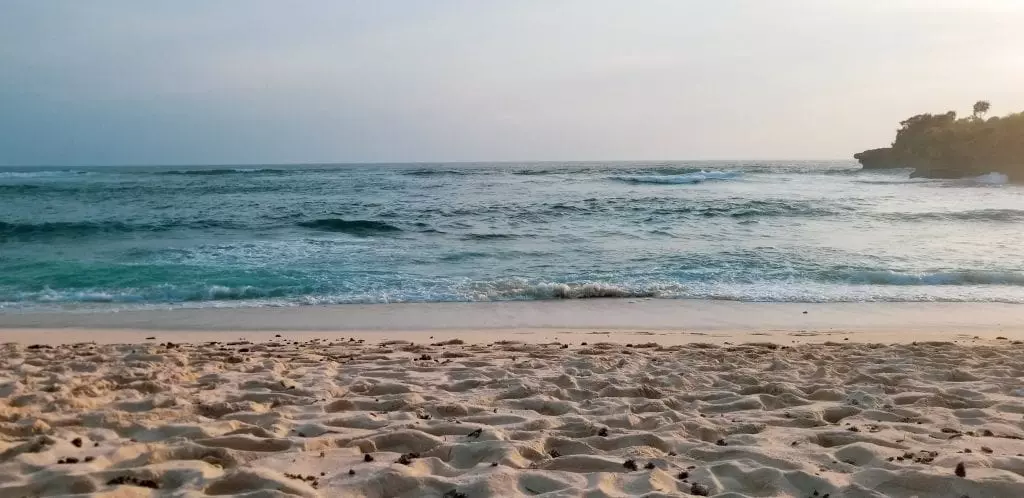 Dream beach is the most popular beach in Nusa Lembongan. This small 150 meters deep pocket beach can get crowded as most of the tourists want to have a piece of it. The beach has white sand and turquoise blue water. There are surfing spots here with a good break. For me, it was a good place to spend some time, it looked lovely from far, however, the development right on the beach with hotels and restaurants were more than my liking.
Devil's Tear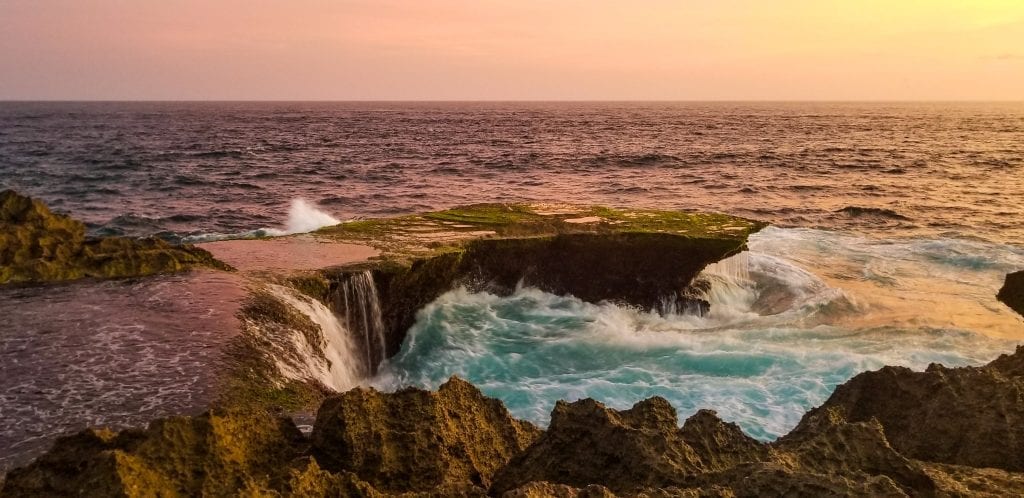 Devil's tear is a fascinating place to be and my favorite on the entire island. You have to be there to feel the magic of the place. This is an outcrop at the edge of an ocean. There is nothing around except the vastness of water. The outcrop has sharp edges with moss formations. In some way, it looks like a diving board.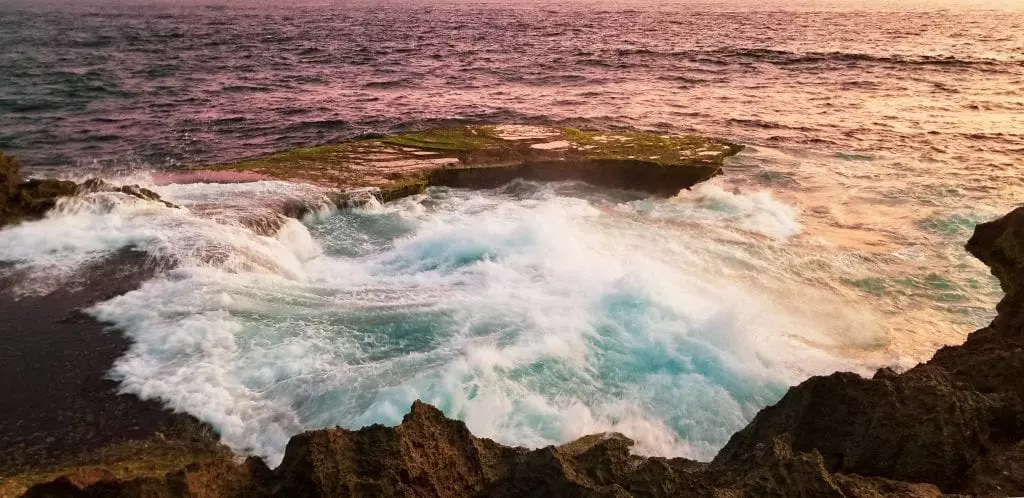 The main magic takes place when the water comes from far and hits the rock formation. It creates a thunderous boom, the water splashes and tries to jump out of the ocean with all its strength as if it wants to get free forever and meet the rest of the world. This is named after the tear of the devil and hence the place gets its name – devil's tear. I am not sure why they brought devil's name here, it could easily be something else – it's so beautiful. I called it an angel's tears as it creates rainbows at times during the splashes. The tumultuous wave, the color of the water, and the sound – I wanna go there again!
The best time of visiting the devil's tear is just before the sunset. The softness of the sun creates different colors and the unpolluted sky gets painted with numerous shades. You can just sit there, look at the sky, the ocean and the devil's tear will make sure to take your concentration from time to time.
Surfing
Nusa Lembongan offers some fantastic diving spots. The most popular of them all are Playgrounds, Lacerations, and Shipwrecks. April to September is the best season for surfing.
Diving and Snorkelling
The underwater world of Nusa Lembongan is no less beautiful than the island itself. You can do both diving and snorkeling. While the neighboring Nusa Penida has a strong current which makes snorkeling a bit more challenging, Lembongan offers ease. If you go to the areas off the north coast of the island, you will find some good snorkeling spots. Just charter a boat, they know where to take you for snorkeling, just focus to go from Bounty Pontoon or Tanjung Sanghyang.
For diving, the northern side is a good place. Head towards Jackfish point and blue corner and swim with sharks, manta rays, turtles, and Mola Mola fish.
Book your Scuba Diving Trip to Nusa Lembongan and Nusa Penida
Book your Snorkelling day trip to Nusa Lembongan
Circumnavigating the Island with a Bike
This is my favorite thing to do in most of the places in Indonesia. As the island is only 8 square kilometers, it's very easy to circumnavigate the island with a motorbike. The journey is scenic through the diverse landscape of the island. You can enjoy the view of the ocean as well as lush jungles. Going to Nusa Ceningan is also easy as an iconic yellow bridge that connects the two islands. It's also possible to explore the island on foot.
Never forget to buy travel insurance before your trip, see my bike accident incidence in the Philippines. I suggest Worldnomads for travel insurance, they are reliable.
Nusa Lembongan Accommodation
Nusa Lembongan Airbnb
If you do not want to stay in a hotel and wanna experience staying with locals, Airbnb is a great option. If you do not have an Airbnb account open on using this link, you will get US$50 credit! In many places, my Airbnb experience exceeded far and those were much better than staying in a hotel. Below are the links to the top 5 Airbnb in Nusa Lembongan which I curated by going through their reviews. You can book any of them, I hope, you won't regret it!
Nusa Lembongan Restaurants
Green Garden Warung
Mushroom Espresso
Hai Bar and Grill
Kayu Lembongan
Deck Cafe and Bar
Cloudland Bar Lembongan
Hai Ri Zen
Dhipa Warung & Shop
Cookies Coffee Shop and Foods
Nick's Place
Looking to start your travel blog? I recommend Siteground as WordPress managed hosting.
Loved Nusa Lembongan? Pin it!