Dotted with countless unspoiled, uncrowded, humongous beaches with turquoise blue water and surrounded by green mountains, Kuta in Lombok is one of the most stunning places to visit in Indonesia – especially, if you are a beach lover and love tranquility. This is your ultimate travel guide for beaches in Kuta, Lombok.
We humans are attracted to nature. Who doesn't love to go to a mountain or beaches? Whenever I get an opportunity, I go to such places. I am fortunate enough to visit many wonderful countries in the world. Indonesia is one of them. Before visiting Indonesia, quite naturally, I searched for the most beautiful beaches in Indonesia. Not surprisingly, most of the beaches in Bali came to #1. Bali is beautiful, I must admit. However, when I went to the neighbouring Lombok, I was blown away by the beauty of it. To me, the beaches in Kuta Lombok are the best in Indonesia.
Where is Lombok?
Lombok is an island of Indonesia. It's only 25 minutes' flight away from the more famous neighbour Bali.
How to go to Lombok?
You can go to Lombok in several ways.
Arriving Lombok by Air

Lombok has an international airport. However, the number of international flights are limited from Singapore and Kuala Lumpur. If you want to take domestic flights to reach Lombok, the best option is to take a flight from Denpasar Bali (25 minutes). You will find plenty of cheap flights to Lombok from Bali. Flying from Jakarta is also an option, it takes 2 hours.

Arriving Lombok by Public Ferry

You will get the public ferry from Bali to reach Lombok. The journey takes over 4 hours.
Places to go to Lombok
The Size of Lombok is 4,725 km². It's 1,000 km² smaller than Bali. You can go to any place and explore some fantastic places. But tourists mostly visit the following area in Lombok.
Kuta (do not get confused with Kuta of Bali, it's different)
Rinjani
All the places above except Rinjani have fantastic beaches. I will only focus on the beautiful beaches in Kuta area and surroundings of Lombok in this writeup.
Book beach discovery in South Lombok with Lunch
Best Beaches in Kuta Lombok
Kuta is in the southern region of Lombok. It only takes thirty minutes from Lombok airport to go to Kuta. The city center of Kuta has a big and beautiful beach. However, the major draw is the series of surrounding beaches accessible from Kuta town. I did not find any public transportation in Kuta. My favorite thing was to rent a bike and explore the infinite number of beaches around Kuta. You can rent a private car for visiting there.
Kuta Beach Lombok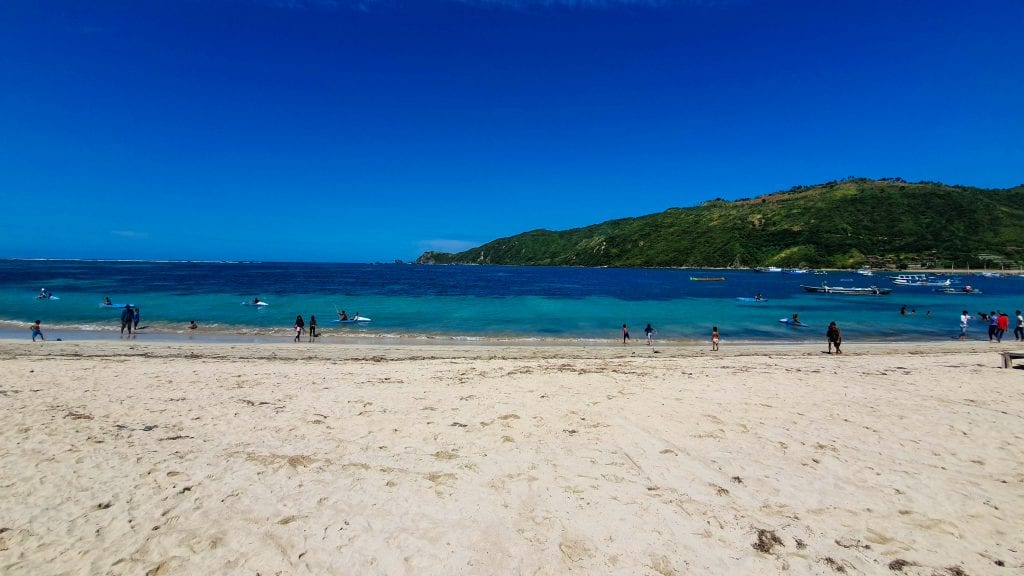 Kuta beach is in the city center of Kuta, Lombok. The beach gets the name from the town itself. There is a promenade in front of it. Once you get past, you will see quite a big size beach. You will see a mountain on one side of it. Most of the people stay in the hotels and homestay in Kuta city. So, this beach can get a bit crowded with people and locals. If you are tired of seeing the desolate beaches of Lombok, Kuta beach can be a delightful change for you. It's a lively beach.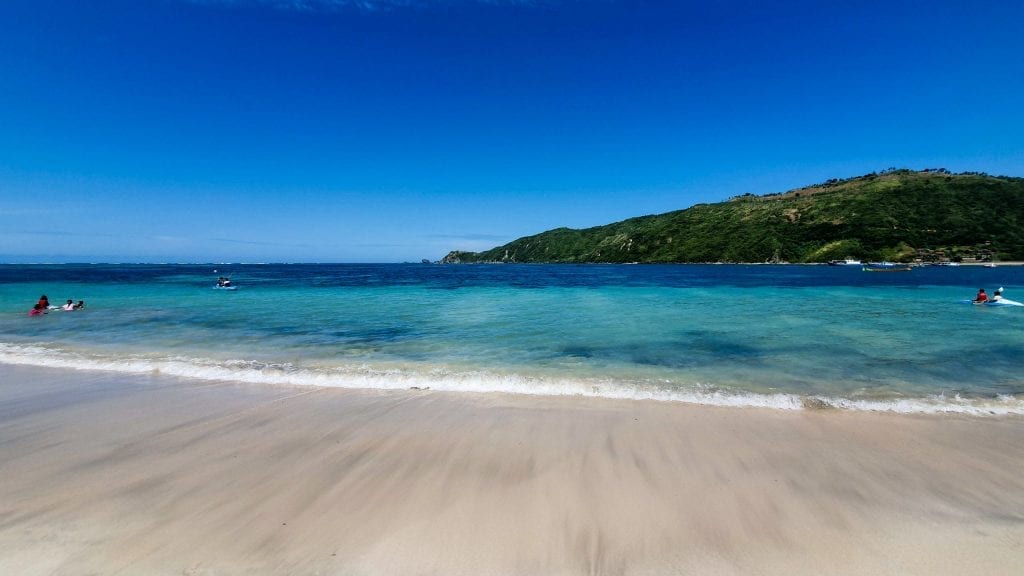 The water of Kuta beach is calm compared to its rivals, and it makes it a good place for swimming. You will get plenty of swings on the beach if you are into it.
You will find a convenience store nearby. So if you are thirsty or hungry, you can grab something. There is a big parking lot nearby in case you bring a bike or car with you.
Kuta beach is the easiest to reach and the most accessible beach in Lombok.
Are Guling /Areguling Beach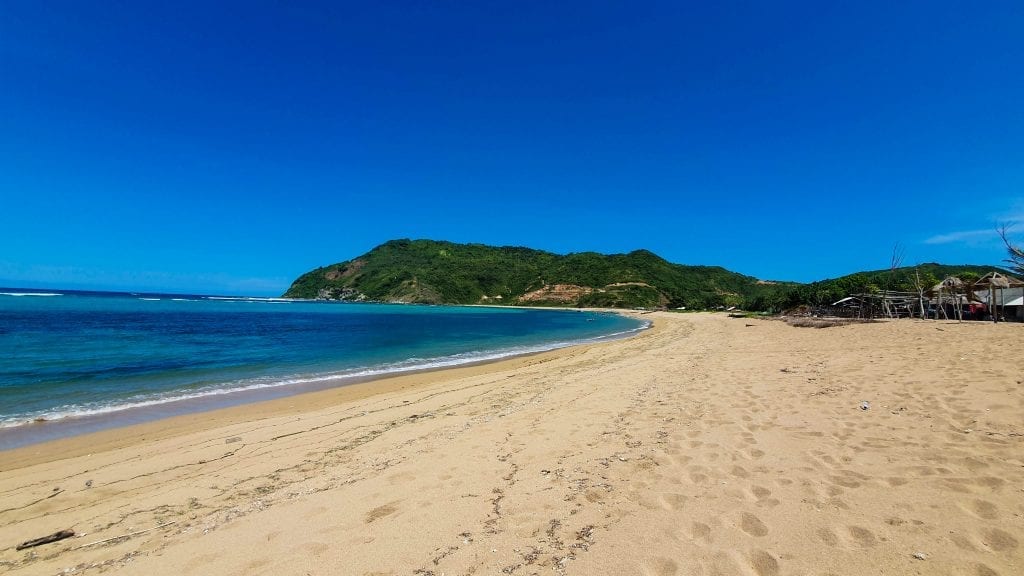 From Kuta, if you go towards the west, you will encounter a dot of large, unspoiled beaches. The first one you will see is Are Guling (also known as Areguling). This is a humongous beach with turquoise blue water.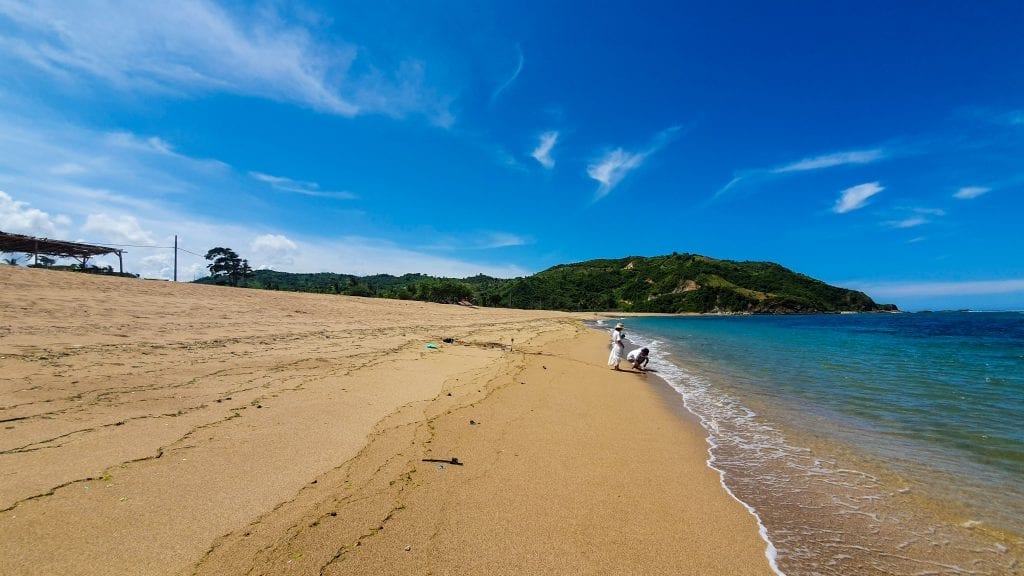 If you are a surfer, you will enjoy two breaks. You will find some bungalows to stay near Are Guling beach. After spending quite a lot of time on the beach, I found two tourists. I would love it to stay like this, however, a lot of developments are going on in Lombok. Maybe you won't find this quietness in the next couple of years.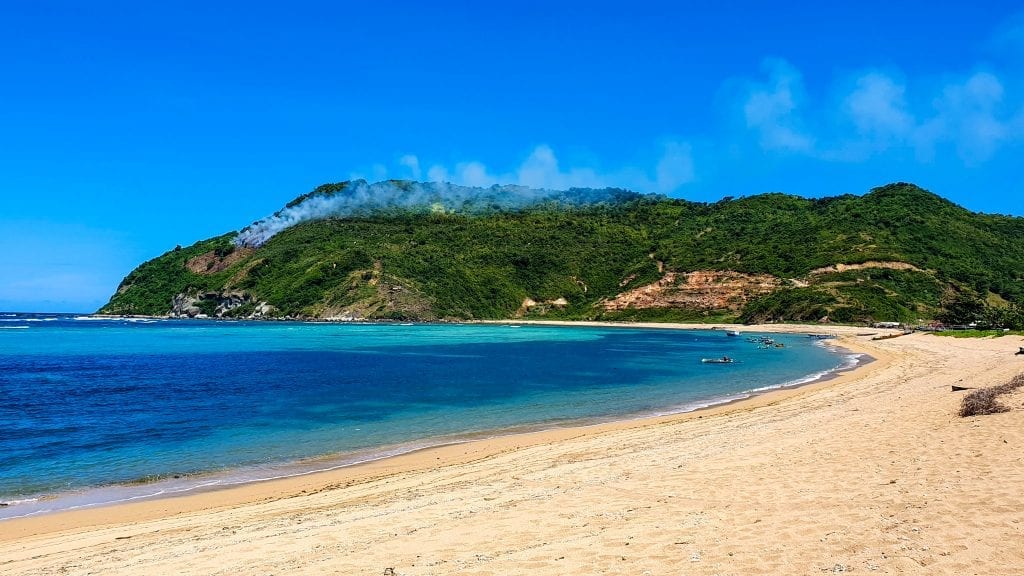 Are Guling is near to a village named Tumpak, and the villagers own this beach. You can rent a villa on top of the hill and enjoy a breathtaking view of the area.
Mawun Beach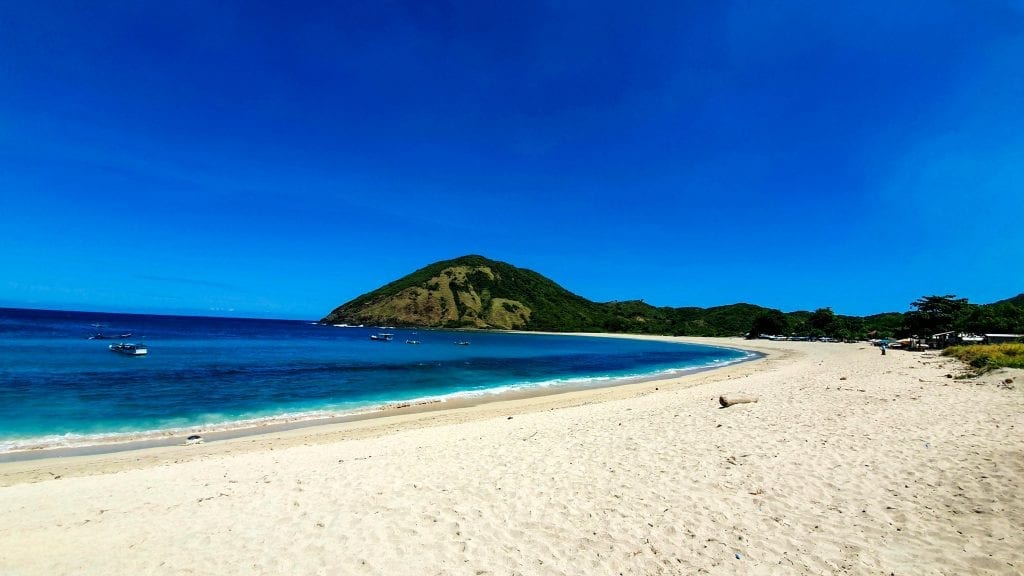 Our next destination is Mawun Beach. It's a short bike ride from Are Guling beach further to the west. I did not want to get back to the main road again. I tried to take a shortcut, which is parallel to the beach. The road was rugged and muddy. It was difficult to get a grip on this road. However, it was a lot of fun. We saw a lot of bison grazing in the field. They blocked our way several times, and we had to be extra cautious.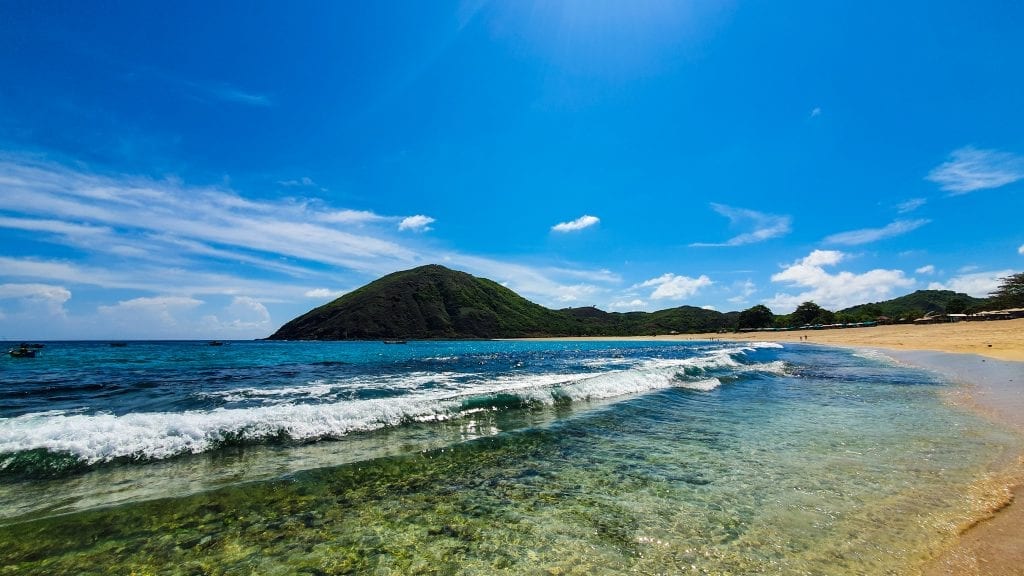 Mawun beach in Lombok is absolutely stunning. It's a crescent-shaped beach and one of the most beautiful beaches I have ever been. There are mountains to the both sides of the beach, the one to the right-hand side is prettier. You can pack an entire football stadium on this beach.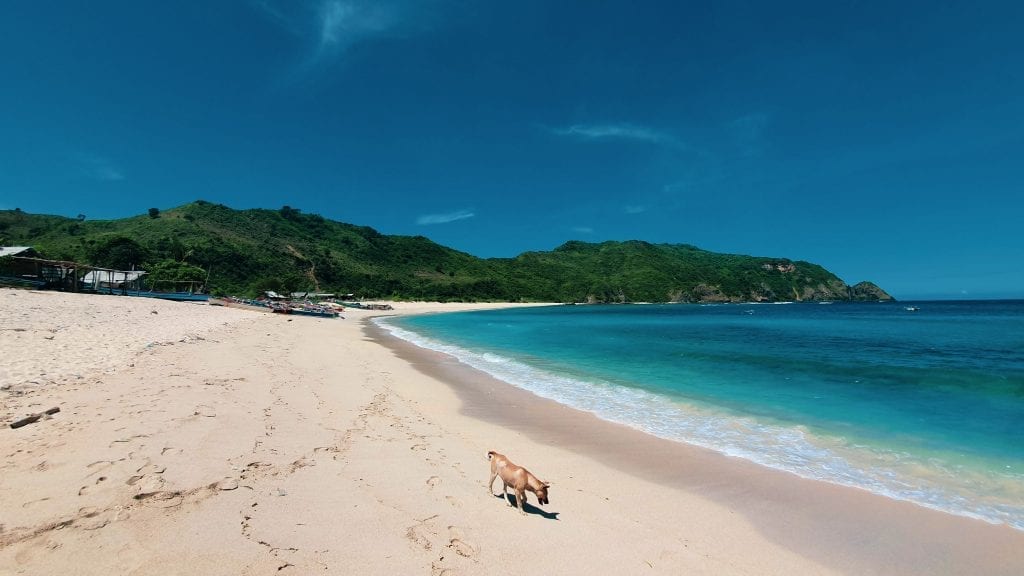 Although it is humongous, I found it empty during my several visits to Mawun beach. You need not go further once you will be in Mawun beach, you can spend an entire day there relaxing and counting the waves. During my first visit to Mawun beach, I did not find any restaurant. During my second visit, I found a small boutique one serving homemade food. There were also some chairs to relax.
Mawun beach is the best beach in Kuta for tranquility.
Lancing Beach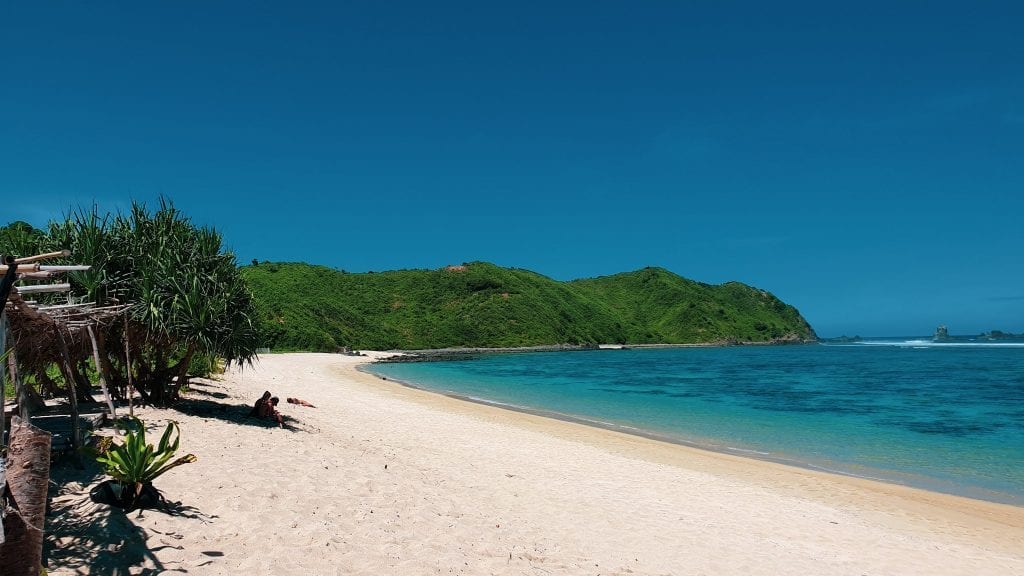 I could have spent the entire day in Mawun beach. However, the insatiable desire of the human mind made me explore further to the west. Hence I reached Lancing Beach which is short of Tampah beach.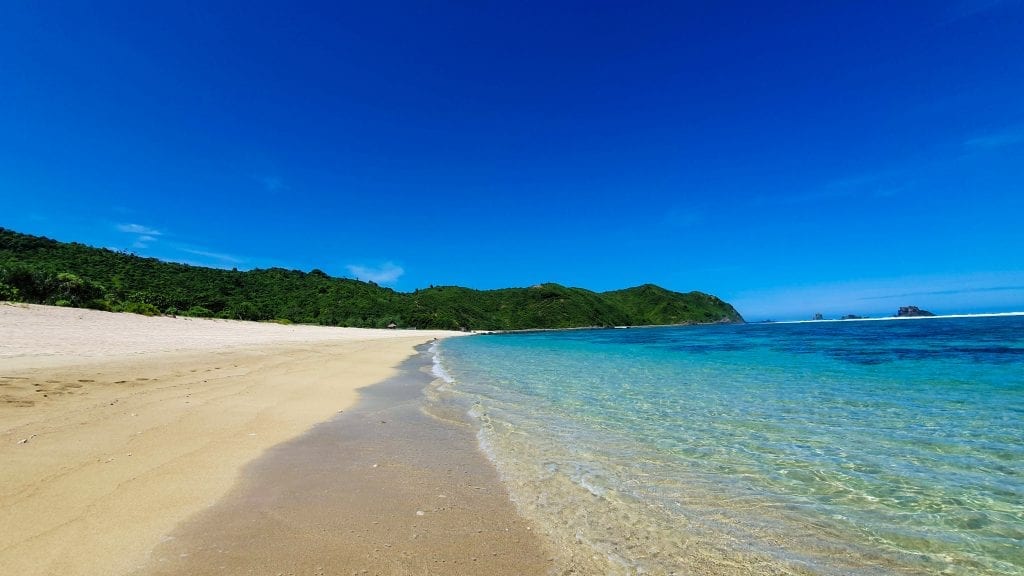 Lancing beach is another gem of a beach. Right at this point, I don't know how to describe the beauty of these. All looked similar to me. Turquoise water, beautiful waves, surrounded mountains and without a soul. I didn't find any restaurants or any short of establishments there, so you need to bring your own supplies. The water was shallow but don't get fooled with it, the current was reasonably strong.
I found two interesting things in Lancing beach. There is a swing just near to the ocean. You can own it depending on the crowd which was none when I went there. Another is a roofed platform made of woods where you can rest. I found it a perfect place to take my photo. I have been using it in many places, so if you by chance wonder where I took my profile photo, it's in Lancing beach in Lombok 🙂
Lancing Beach is a fantastic beach to take your photo.
Selong Belanak Beach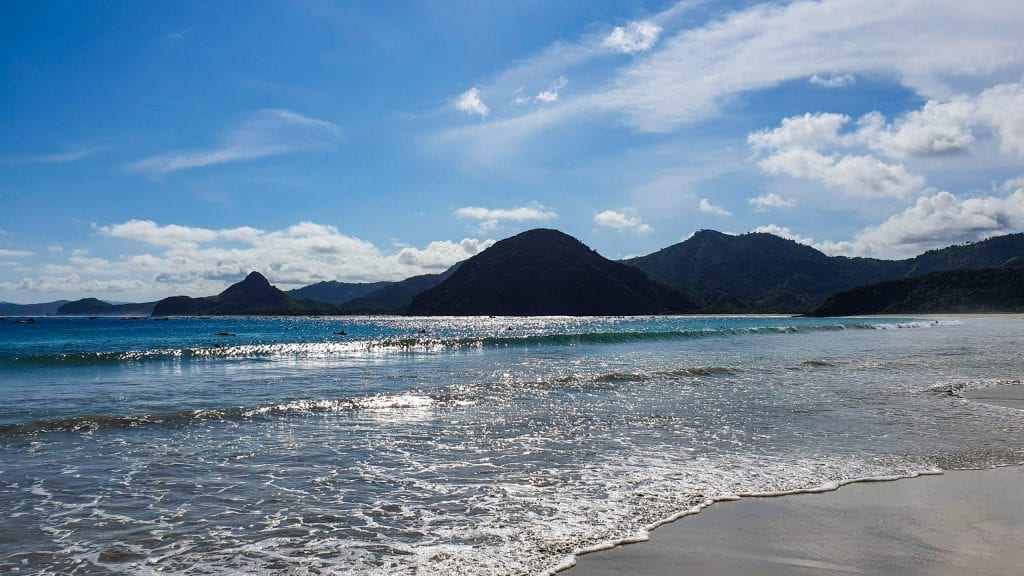 From Lancing beach, I drove 10 Kilometers west to reach one of the most popular and advertised beaches in Kuta Lombok. Unlike some beaches I mentioned above, this beach had infrastructures and establishments. You will find several restaurants and hotels to stay here. Most of the warung/restaurants will offer you to teach surfing.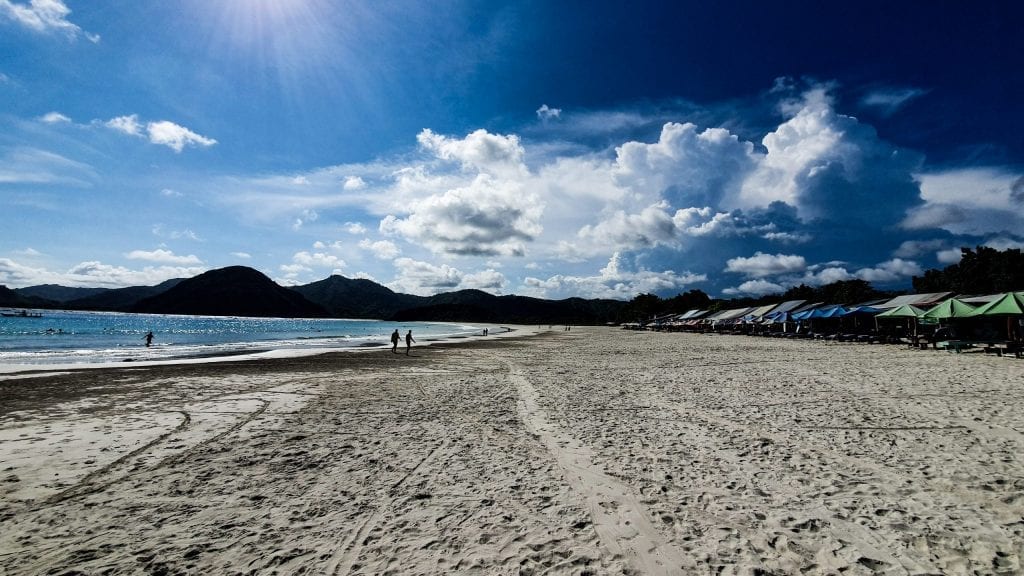 Selong Belanak has amazing sugar colored sand. The sand of Tanjung Aan was whiter than Selong Belanak but it's pretty in its own sense. This beach was lively and a lot of activities were going on. People were surfing, walking, sunbathing, kite surfing, and swimming. It reminded me about Bali with more beautiful but lesser crowds. Although Selong Belanak is about 25 Kilometers from Kuta and one of the furthest accessible beaches from Kuta, it's well worth the drive. If you are in Kuta, Lombok, you cannot miss Selong Belanak.
Selong Belanak is the best place for swimming and learning beginner level surfing.
Tanjung Aan Beach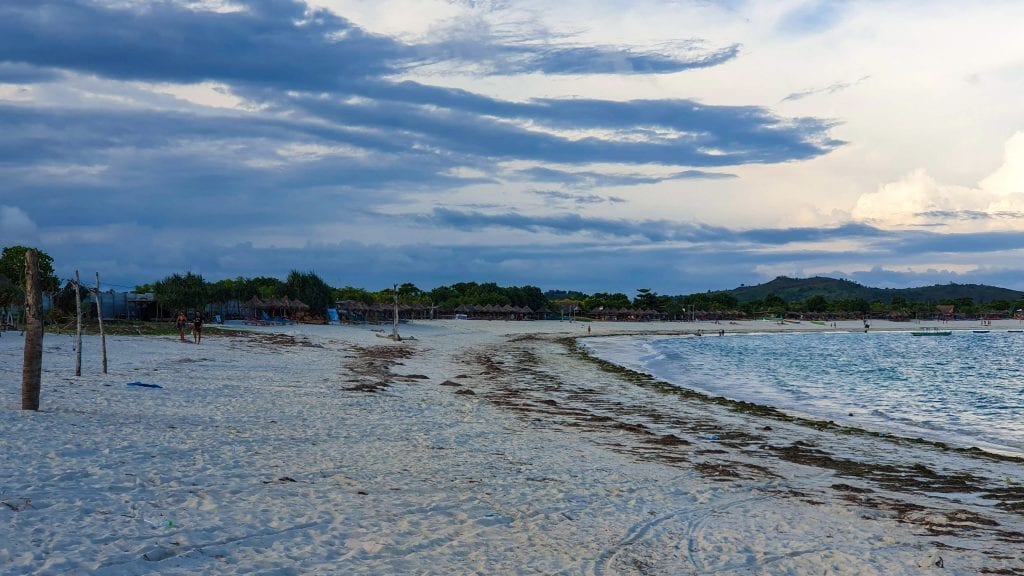 Selong Belanak was my last point to the beach exploration to the West. I came back to Kuta, Lombok, and headed towards Tanjun Aan. By the time I reached there, I had seen enough of the beautiful beaches in Lombok and my eyes were hurting with the beauty of them and my head was full of memories. Even then, Tanjung Aan took my breath away.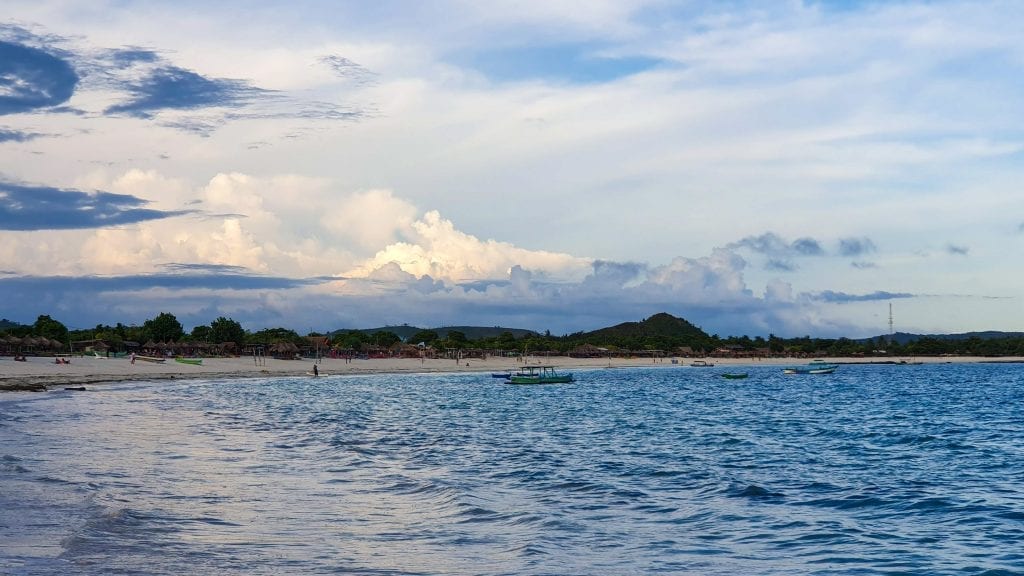 I have never seen such white powder anywhere in the world. Not to mention, it was the whitest in Lombok. At one point I thought someone might have painted the sand with white color. The beach was so huge, I could not walk the entire one. Later I learned that Tanjun Aaan stretches for over 2 Kilometers with no break.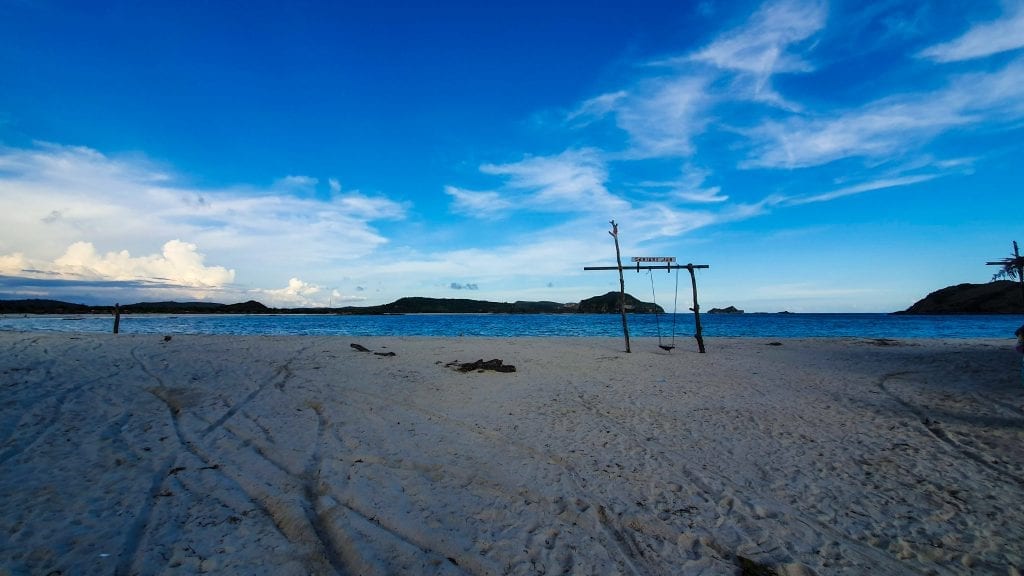 A part of Tanjung Aan beach was very busy with restaurants. I walked to the part of Merese hill. I found not only it quiet but also a swing to enjoy some time of my own. If you love to surf, Tanjung Aan is the place to go. You will have an amazing time there. Overall, this is a piece of heaven on earth.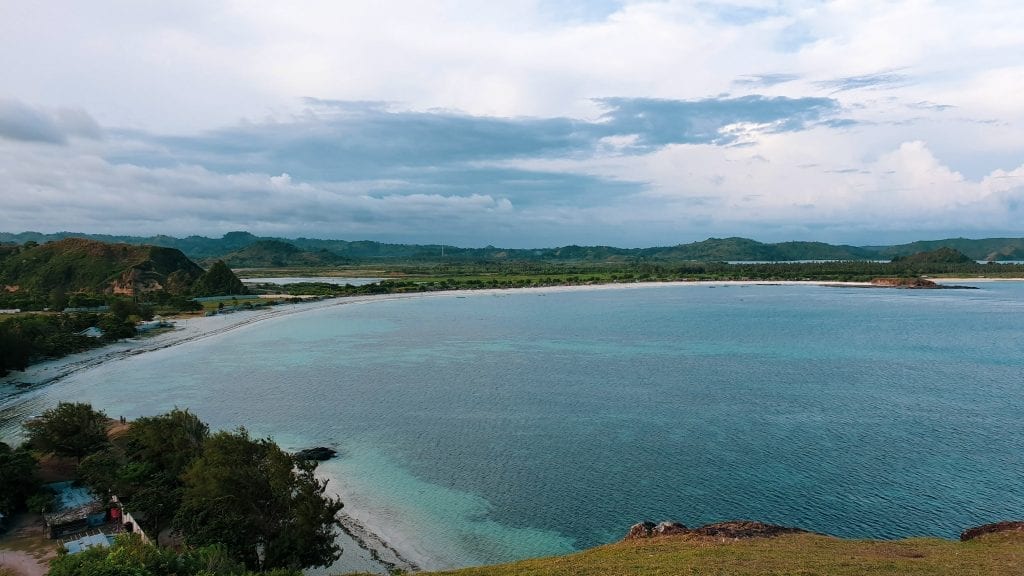 If you want to get an idea about how big the Tanjung Aan is, you can see the photo above. I took this photo from Merese hill. The arc you can see is the beach. Still, I could not capture it in full. There was a large portion to the right. Next time I go there, I need to take an ultra wide angle lens!
Tanjung Aaan beach is the best beach in Kuta for the color of the sand and surfing.
DO NOT MISS: Sunset from Merese hill which is adjacent to Tanjung Aaan Beach.
Did I miss any beach?
If you are not happy with the beaches I mentioned above and hungry for exploring more, you can go to Mawi Beach and Semeti Beach.
How to get around in Kuta, Lombok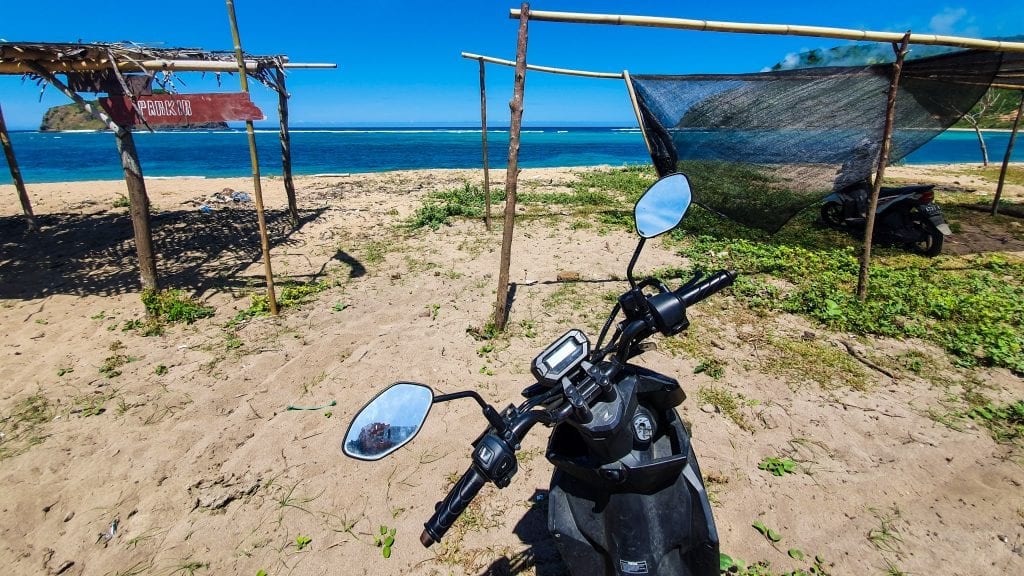 The motorbike is the best option. It will give you utmost freedom and fun. When you head towards the beaches to the west, you will drive through a good road. The beaches are dotted to the left or right. Each approaching road from the main road will take you to a beach as the ocean runs in parallel with the main road. The approaching roads are not always good. Some of them are challenging, so ride your bike with caution. I saw people injured on the road.
Another option is to rent a car or hire a bike with a driver. If you choose the second option, you will sit at the back of the bike. Think if you will be comfortable with this arrangement.
Never forget to buy a travel insurance before your trip, see my bike accident incidence in Philippines. I suggest Worldnomads for travel insurance, they are reliable.
Cost for renting bike in Kuta
It will cost you between IDR 50,000 to IDR 80,000 (US$3.50 to US$5.50) per day to rent a bike. You need to buy extra fuel. You will get them in the shop along the streets apart from the petrol pumps.
Where can you rent a bike in Kuta?
You should be able to rent a bike in Kuta from your hotel. Make sure that the bike they offer is of good quality (brake works, front light exists). If you are not happy with the bike offered by the hotel, just go to the city center and shop around. You will get plenty of options.
Tips: Put the bike under a shade while parking it on a beach. If the parking lot does not have a shade, find something and keep your bike there. Otherwise, your ass might get fried once you will move to the next destination. Keep a towel with you to put on your seat, it will give you protection from the heat.
Best Hotels in Kuta Lombok
Based on my experiences and reviews, I have listed 6 recommended hotels below to stay in Kuta Lombok. You can pick any of them for your stay.
Keep in mind that, in Kuta, you will not find any beachside hotels like Bingin in Bali. That means, Kuta, Lombok, things are not commercialised it and you will get the raw beauty of the beaches that way.
Kuta Cabana Lodge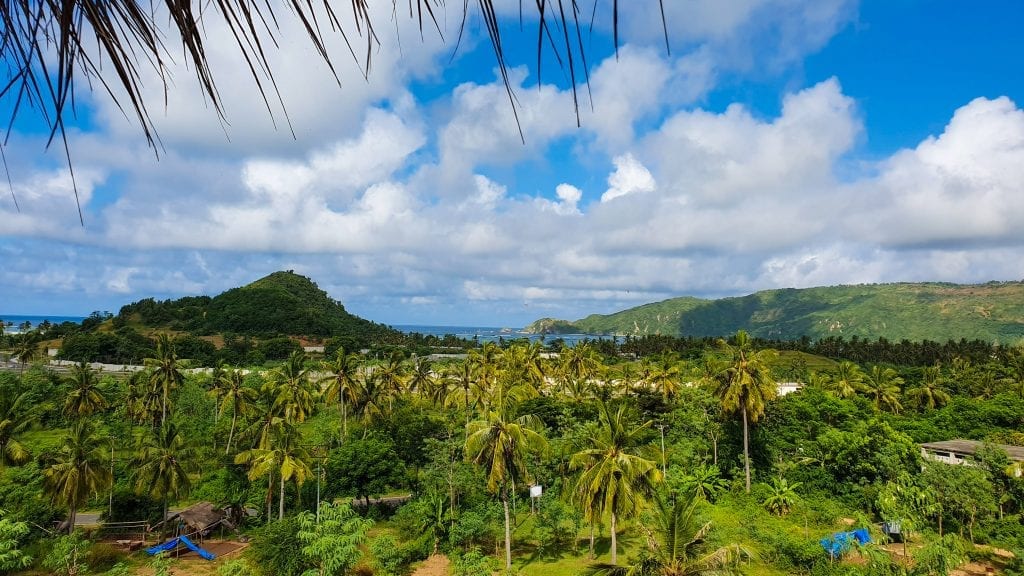 This boutique lodge is not in the Kuta City Center but on the way to Tanjung Aan – the east side of Kuta city center. Perched on a hill, you will get a good view of the surrounding greeneries.
Pros: Kuta Cabana Lodge is affordable, it's located in a quiet setup. It has a restaurant serving quality food. You can participate in Yoga class on the top floor. The review of this hotel is good.
Cons: It's not in the city center, so, if you are looking for a variety of restaurant options or relax on the beach at night, you need to travel for 3/4 Kilometers. It's on a hilltop, so you need to walk uphill if you don't have a car. When I stayed, the Air Conditioning system did not work properly and it was pretty warm at night.
Price range: US$18 to US$25 per night
Novotel Lombok
Novotel Lombok is the most luxurious and upscale hotel in Kuta, Lombok right now. This 102 rooms 4 star resort is built on Sasak theme.
Pros: It has a spa, bar, several pools, and a beautiful beach.
Cons: It's about 3KM from the city center, if that is a problem for you.
Price range: US$65 to US$145
Hi5 Kuta
This is a wonderfully furnished apartment in a corner of the city center of Kuta. I stayed there and was happy with my stay.
Pros: Not expensive, have a big room with attached bath, balconies, sofas. You can rent a good quality scooter. The location is great, you walk 200 to 300 meters and reach the major hub of Kuta, Lombok.
Cons: This is not a hotel. Although, there is a caretaker downstairs, you won't receive much service. But, it should not be a problem.
Price range: US$25
Livingroom Hostel
This is a brand new hostel in Kuta, Lombok and within a short period it has become one of the best hostels.
Pros: Beautifully designed, right in the city center, close to the beach. Have a vibrant bar buzzing with life.
Cons: It's a hostel, so you can expect a lot of people and noise.
Price range: US$10 to US$20
Origin Lombok
This 4 star hotel is so beautiful, you won't want to leave the area!
Pros: Pools with beautiful settings, spacious and fully equipped room. Strategically located between Kuta beach and Tanjung Aan.
Cons: None of the beaches are close. So, you need to drive for several Kilometers for reaching to reach any of the beaches.
Price range: US$25 to US$60
Jivana Resort
One of the best luxury resorts in Kuta, Lombok. Highly rated across different booking platforms.
Pros: Scenic gardens, pools, clean, spacious. Kuta beach is 1 Kilometer walk from here. Located in a quiet side street.
Cons: From the main street, you need to walk for about 200 meters. The WiFi can be a bit patchy at times.
Price range: US$50 to US$100
Where to eat in Kuta Lombok
Warung Flora – Cheap eats, fantastic food. I went there several times and recommend it if you are on a budget. See the location of Warung Flora from here.
Le too much – This cheerful French owned restaurant has amazing seating on the first floor and serves very good food including cake. See the location of Le too much from here.
Maps of Beaches in Kuta Lombok
Important Points about Kuta Lombok Beaches
If I have to pick only one beach in Kuta, Lombok, which one should I pick?
Pick one from Mawun Beach or Tanjung Aan.
Which place is the best to enjoy sunset in Kuta, Lombok?
Head towards Tanjung Aan beach and hike to Merese hill (Bukit Merese) lombok hill for enjoying the best sunset in Kuta, Lombok.
Is there any entry fee for visiting the beaches in Kuta, Lombok?
You will find a group of people or individuals standing on the approaching road to the beach. They sell tickets by telling parking fees (although there is no proper parking facility)/entry fee. I don't think it's official, but the price they ask for is not a lot – between IDR 5,000 (US$0.35) to IDR 10,000 (US$0.70). So, I didn't challenge anyone. On one occasion, I did not want to visit one more beach because of this ticket; I was annoyed with it.
Which Airlines fly to Lombok?
Silk Air (Singapore)
Air Asia (Malaysia)
Lion, Wings, Garuda, Batik (Indonesia)
Why should you visit Lombok over Bali?
Lombok is less crowded.
Lombok has an infinite number of beaches.
Lombok is cheaper than Bali.
Liked the Beaches of Kuta, Lombok? Pin it!