Coxs Bazar aka Cox's Bazar is the most famous beach town in Bangladesh. In the lap of the sea, the bay of Bengal, this is the longest uninterrupted natural sea beach in the world.
You will find more beautiful beaches in the world in terms of sand color, even Saint Martin's island nearby is prettier. You get to see pristine turquoise water elsewhere in the world. However, you won't find any beach in the world other than Coxs Bazar (or Cox's Bazar) which is more lively, and crowded. The beaches of Cox's Bazar are claimed to be the longest natural uninterrupted beach in the world with a length of 120 Kilometers (some claim it as 150 Kilometers).
Why should you visit Coxs Bazar?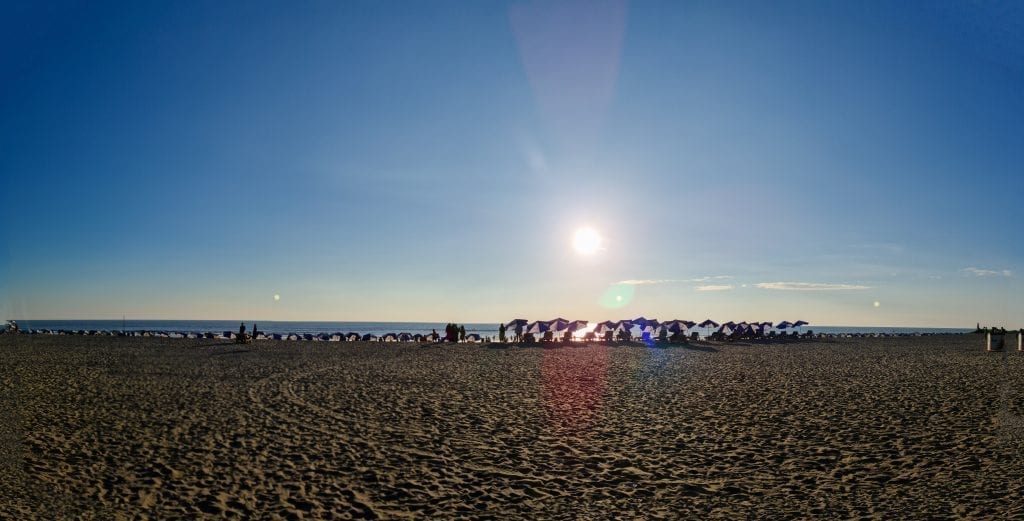 You will get several unparalleled things in Cox's Bazar. The sea beach here is so big and uninterrupted, your eyes cannot catch all of it together. Similarly, the ocean is vast and expansive! I saw oceans with more beautiful colors and stronger current in Indonesia, however, I didn't see such a vast ocean with a combination of large sandy beaches. In many popular beach destinations, I saw the oceans lose their fizz at times. The sound of the sea here is thumping and always reminds you that you are just beside a sea.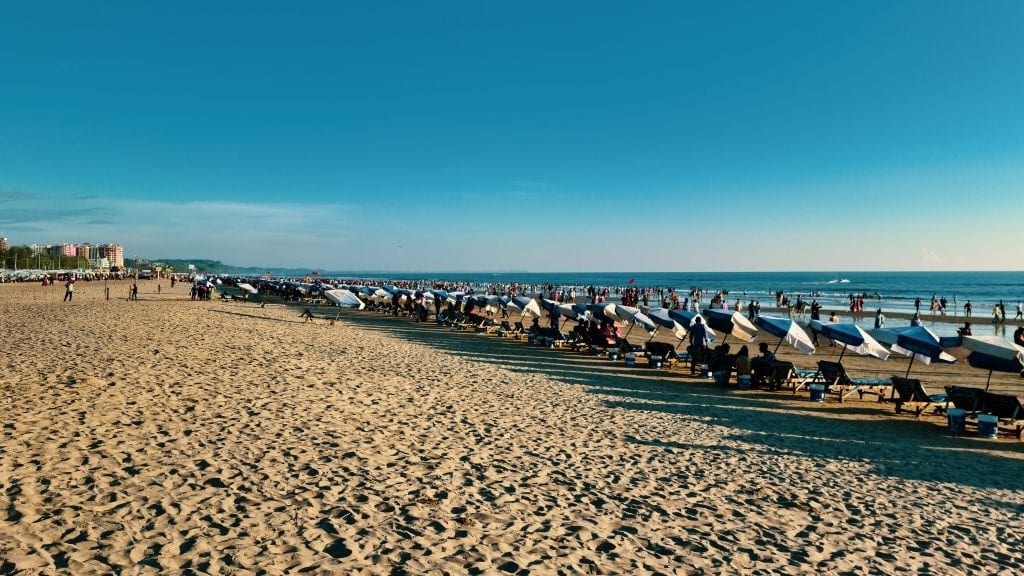 Bangladesh is not a popular tourist destination. Many people visit India and go to either Nepal or move toward Thailand, Vietnam, or even Myanmar in Southeast Asia. They mostly overlook Bangladesh which has direct air connectivity with Kolkata (40 minutes), Delhi (2 hours), Bangkok (2.5 hours), and land connectivity with Kolkata. So, you can visit here easily during your trip to India without adding any extra hassle.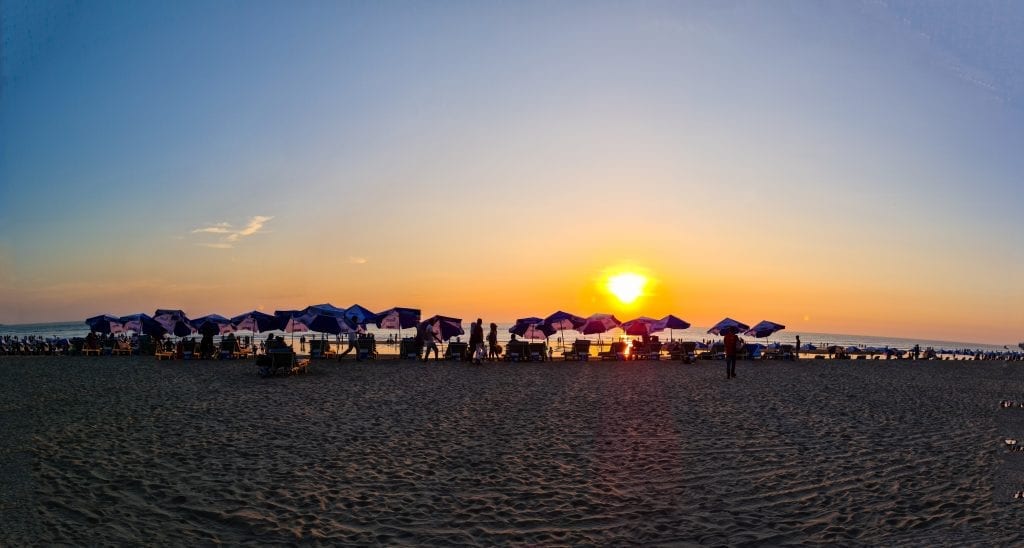 Bangladesh is densely populated, it's a country of 160 million people in small land size. Coxs Bazar is one of the most popular tourist destinations in Bangladesh. That means, it can be crowded. Take me as an example. I have been there 8 times although it's quite far from where I live. Such is our passion for the place, whenever someone gets a vacation, the first place that comes into their hand is Coxs Bazar! The newlyweds who can't afford to go abroad end up going to this place. You cannot separate a Bangladeshi from this amazing place!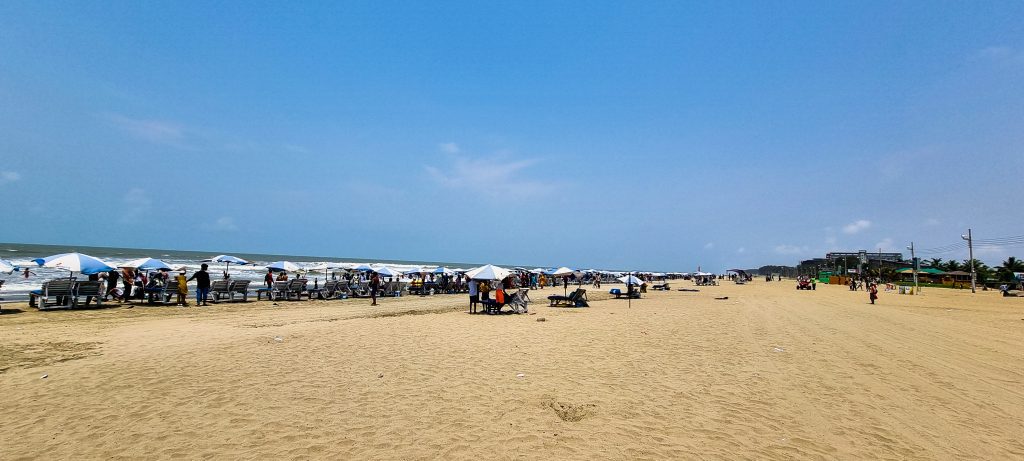 Usually, the weather in Bangladesh remains sunny round the year. It doesn't mean that, it's as hot or humid like Malaysia. You can rent an umbrella on the beach, it's around a dollar for 2 hours. Abundance of sunshine without being too hot – you gotta visit this place specially you are depressed with long cold winter.
Tips: Visit Coxs Bazar during the off-season (April to September) when the beaches get fewer visitors.
What to expect from Coxs Bazar Beach?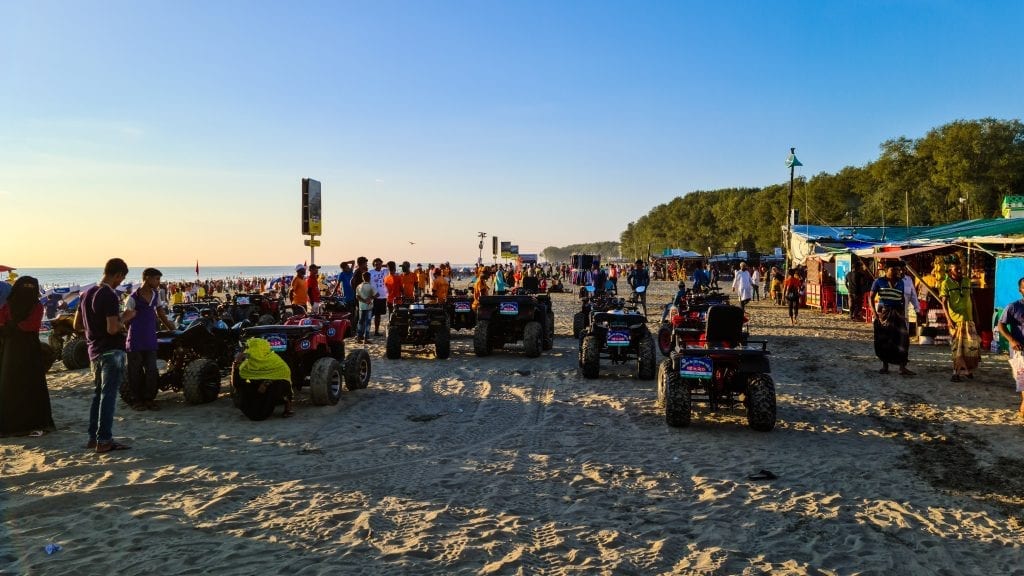 Colorful people! That's the first thing you can expect here. You will find almost half of the people of this universe there. Jokes apart, a single stretch of beach has a different name as you will walk. From the north to the south you will see Kolatoli beach, Sugondha beach, and Laboni beach. Those are the most popular ones in Cox's Bazar.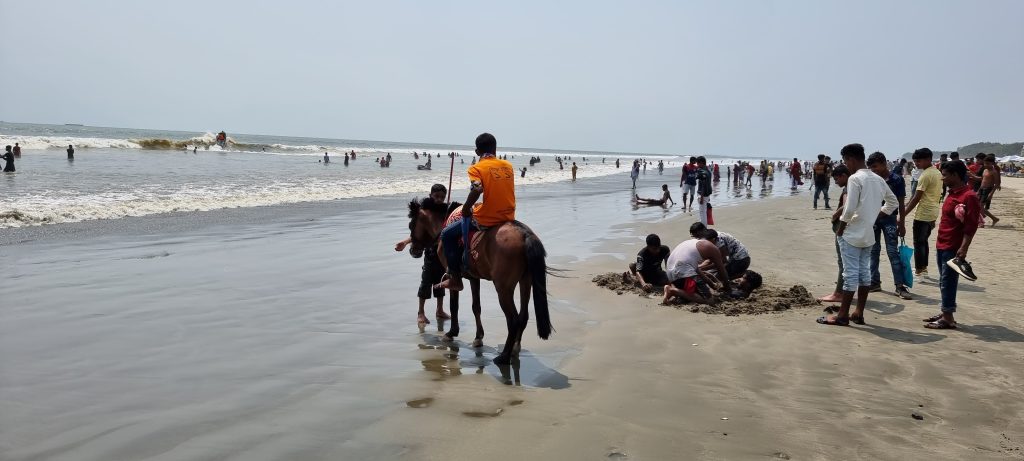 You can spend a several days here without getting bored – this is such a happening place. If you have good eyes, you can always pick some interesting things. Let's pick the photo above – you can see a bunch of people putting one of their friends under the sand. Some of the strangers are watching them. In the meanwhile, someone is looking for a new ride in his horse. We can see a man sitting on the sand – the water could not distract him. A bunch of people are enjoying their time in the ocean.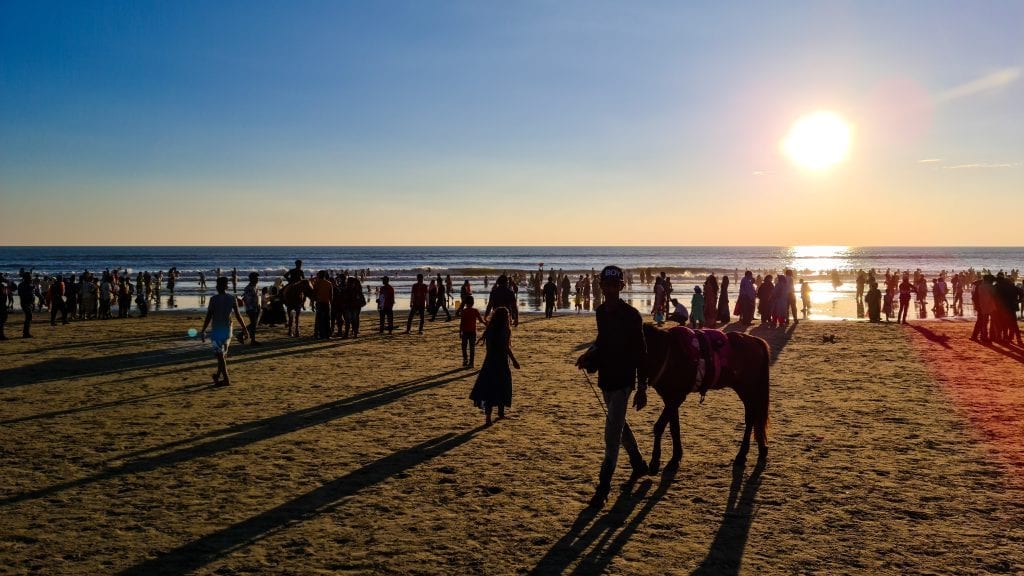 You can do different kind of actividies like horse riding, driving, and even parasailing. In the water, you can ride on a scooter. My favorite one was to rent a round tube and float in the water. When the waves come, it will throw you away into unexpected places.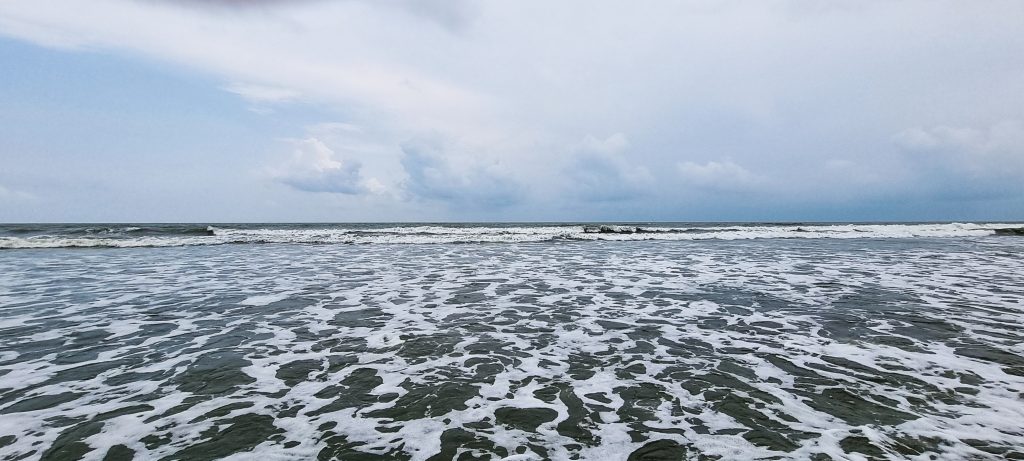 Cox's Bazar is a good place to swim during high tide. The waves are of the right size to enjoy a fascinating bath there.The water is not like the dreamy turquoise but murky. The sands near the ocean are also blackish. However, it feels so soft under your feet, you can stay there forever. I hate those beautiful oceans, where, I cannot walk due to the sharpness of corals or hard sands – definitely not the case here in Coxs Bazar.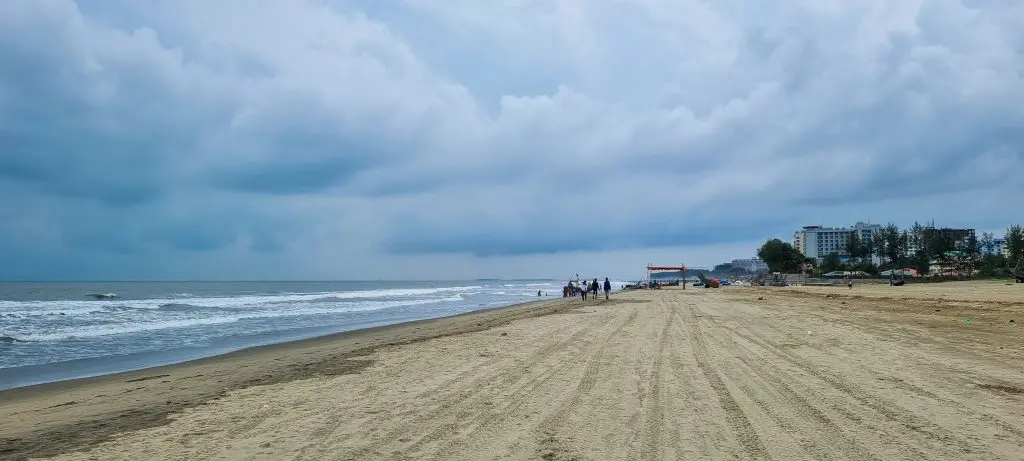 As you will walk towards north or south the crowds will get a little slimmer. Usually, people flock together in the most famous beaches because of their accessibility. However, if you walk further to the south, you will find places without any crowd.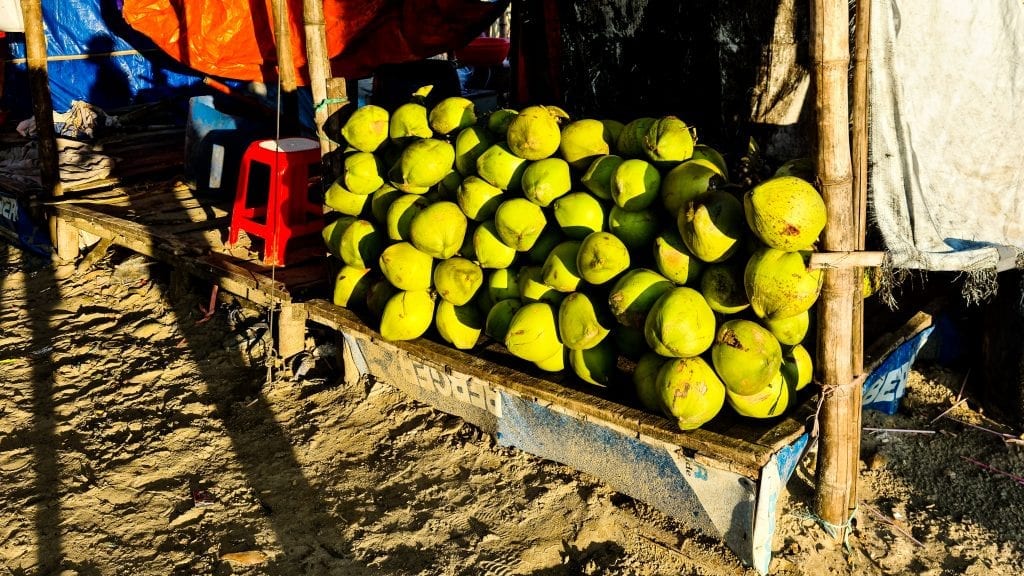 Bangladesh is a predominantly Muslim country, so, you won't find any bar for consuming alcohol at the seaside. However, it shouldn't deter you to satisfy your thirst. You will get coconut on the beach. Grab as many as you want to from there.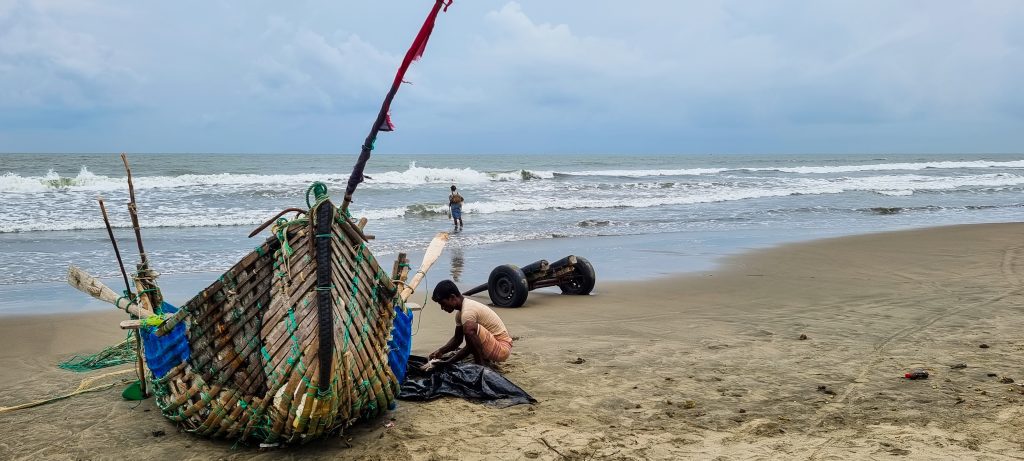 While we enjoy the pleasure of exploring the beaches as tourists or travellers, for many, this place is the source of their existence. There are thousands of fishermen, who bet their life everyday to go into the sea with their non motorised tiny little boat. You can see a structure with two wheels above. They place the boat on it, carry towards sea and venture to the unknowns. You will find them preparing the nets and getting them ready for the journey in Cox's Bazar.
Wanna Try Dried Fish in Cox's Bazar?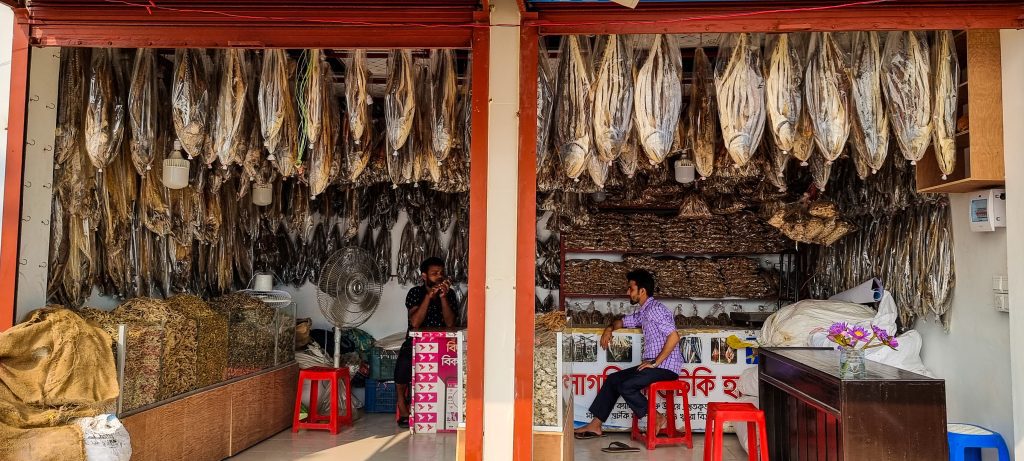 If you can tolerate the smell, and cook properly, dried fish tastes delicious! Whenever, we visit Cox's Bazar, we get requests from our relatives and friends to bring some dried fish – so much is their popularity. You buy it or not, don't miss an opportunity to visit one of numerous shops selling dried fish.
Sunset in Coxs Bazar Beach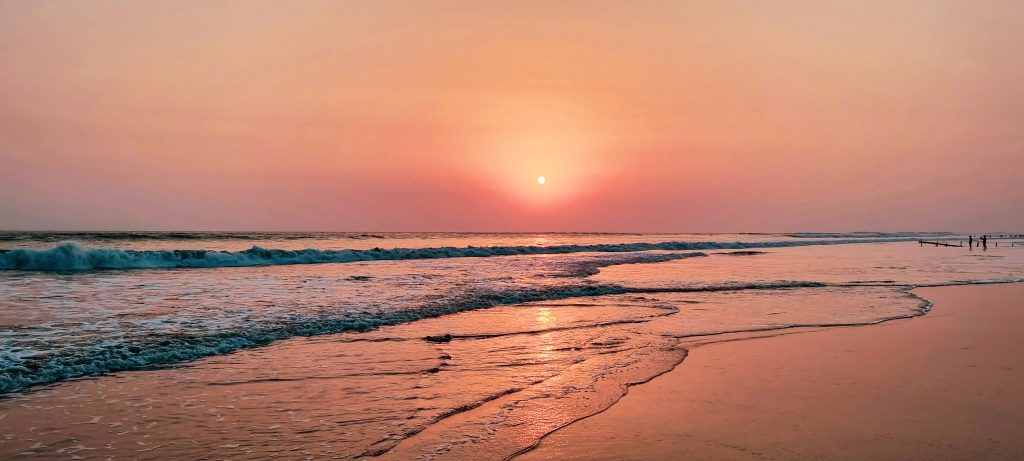 If the weather is good, Cox's Bazar will bemuse you with a wonderful sunset. In many places in the world, the sky turns colorful. Here I observed another paradigm. The size of the sun you can see becomes stunningly huge.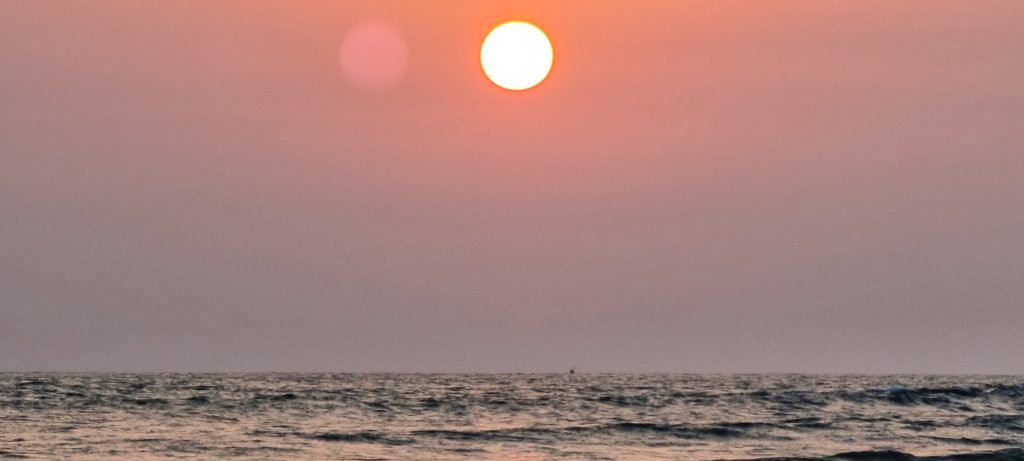 You will see a big yellow plate just like an egg yolk going down during the sunset. At one point, it will disappear inside the sea.
Tips: Go to the Laboni beach to enjoy the best sunset view.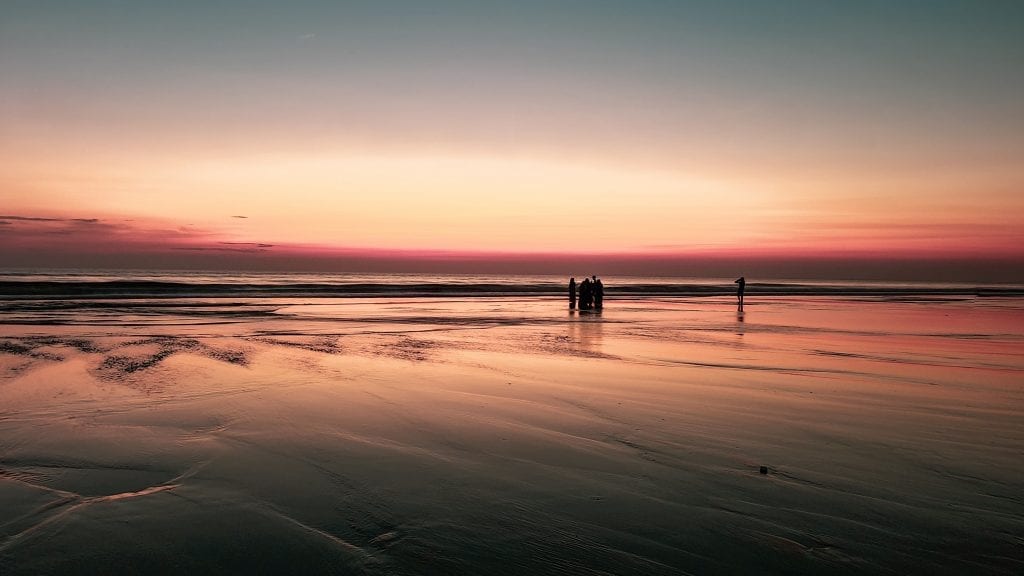 If you go to popular beach destinations in Southeast Asia like Thailand or Indonesia, you will always see a beach surrounded by limestone karst or mountains. They work as a sweet backdrop and I must say, they look beautiful.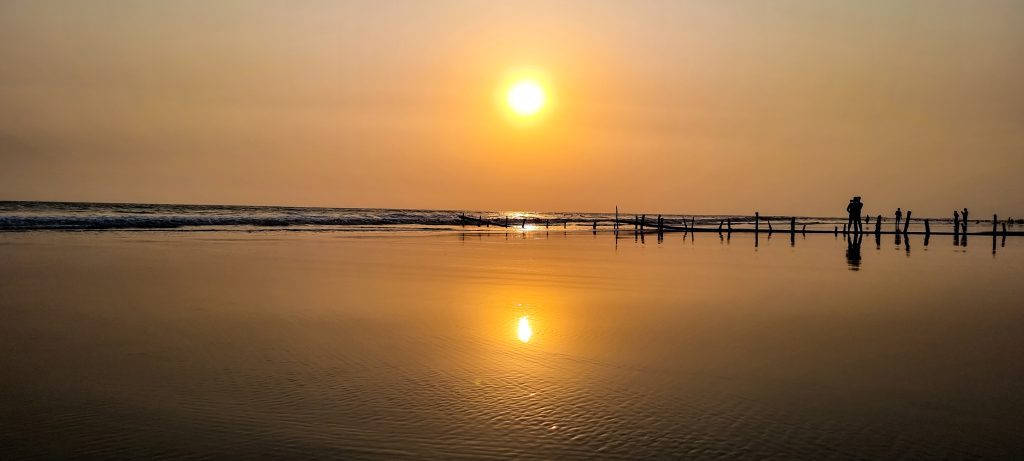 There is no such thing in Cox's Bazar, all you have is an infinite ocean. It makes it perfect to gaze into the sea during the twilight hour and enjoy some unparalleled sceneries.
To enjoy the sunset without crowd, you should start walking from Kolatoli beach keeping the ocean to your right hand side and walk as far as you can.
Driving through Marine Drive and explore untouched Beaches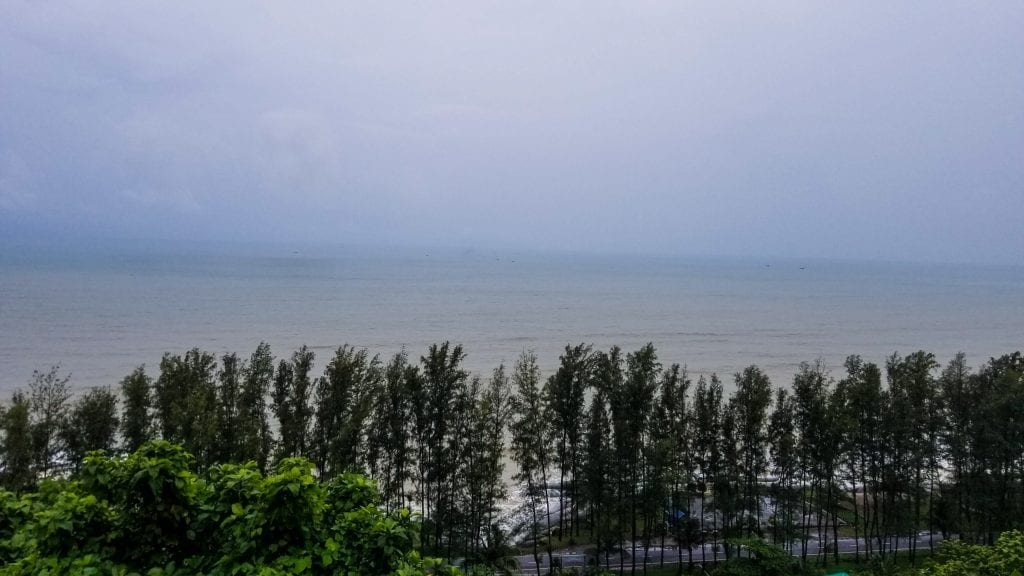 Marine Drive is a road that goes from Cox's Bazar to Teknaf along the coastal road. It is 80 Kilometers long and the world's longest marine drive. Just rent a car, three-wheeler or motorcycle and take a drive on this road.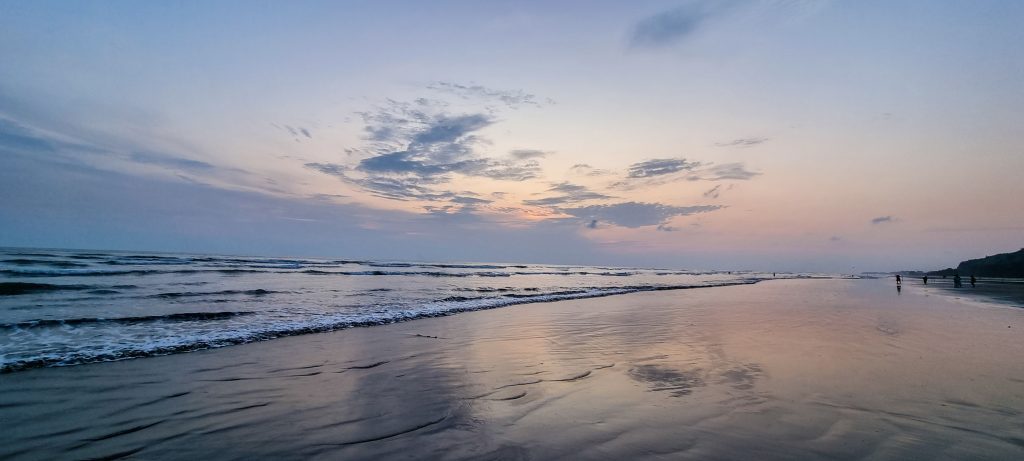 You will find quietness and beauty all the way through. If you like to trek or hike, you can walk the distance, too. It will be multiple days of walk depending on your speed and have to sleep in a tent. My suggestion will be to stop on your way. You will find many secluded beaches along your way to spend some quiet time.
Hiking to Himchari Hill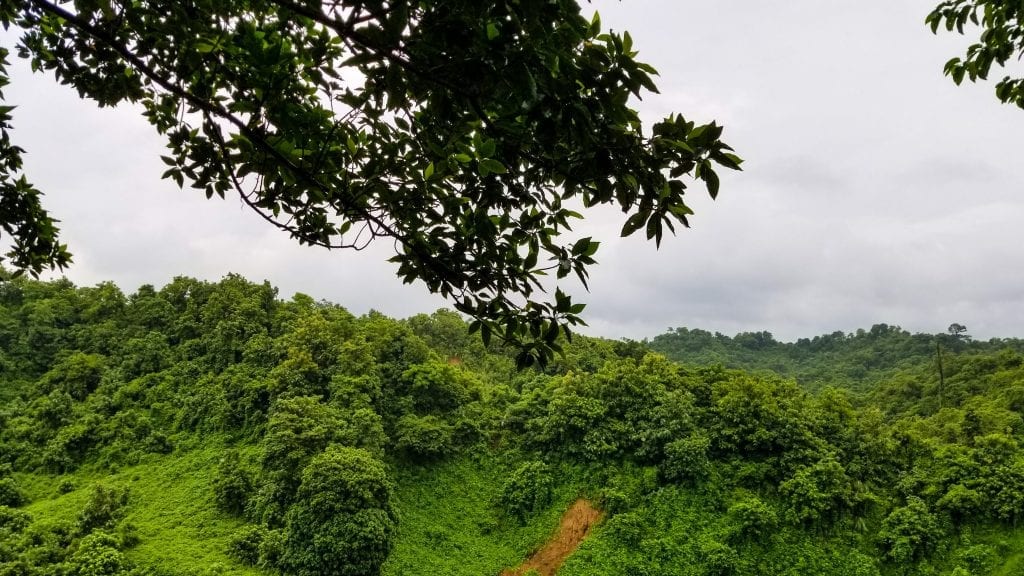 Just 20 minutes drive from Cox's Bazar will take you to a place named Himchari. You can hike to a small hill there. It's full of greenery. Bangladesh is mostly flat land. The tallest mountain is 1000 meters there. So, don't expect it as a tall one. It's full of green trees. You can also chase a waterfall depending on the season.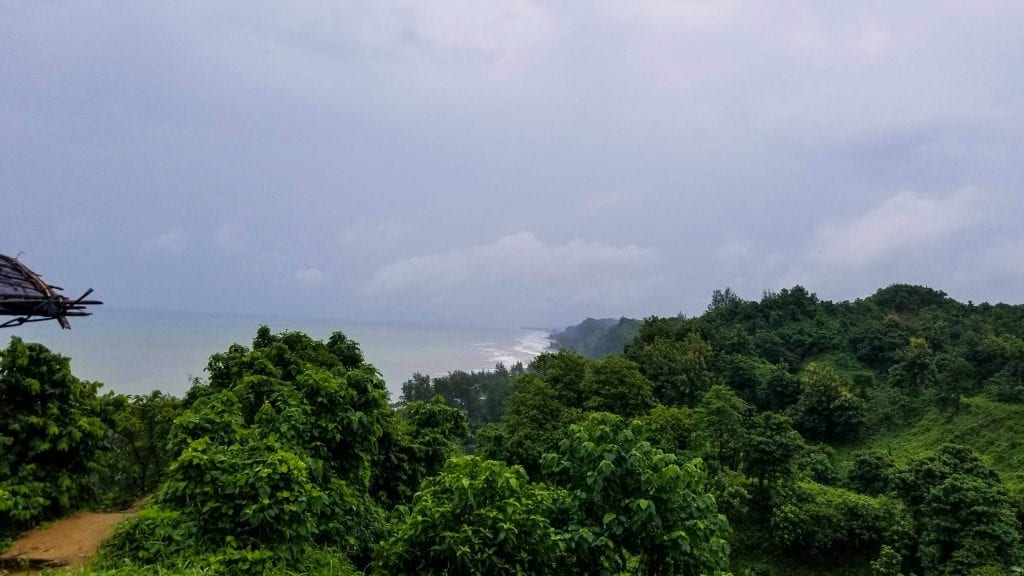 But you didn't climb the hill to enjoy the greeneries only. You will get a panoramic view of the Bay of Bengal from the top of Himchari. You can hear the thundering sound of waves from there. The foamy water hitting the shore is a treat for the eyes.
Inani Beach
If you go further south from Himchari along the marine drive (15 Kilometers), you will reach Inani beach. As it is far from the main center of Cox's Bazar, it's not that crowded like other beaches. Besides, Inani Beach is clean and wide. The color of the water is better than other parts. You will find a lot of corals here on the beach. While enjoying this beach, you need to be careful as the sharp corals can cut your foot especially if you are barefooted.
Coxs Bazar Hotel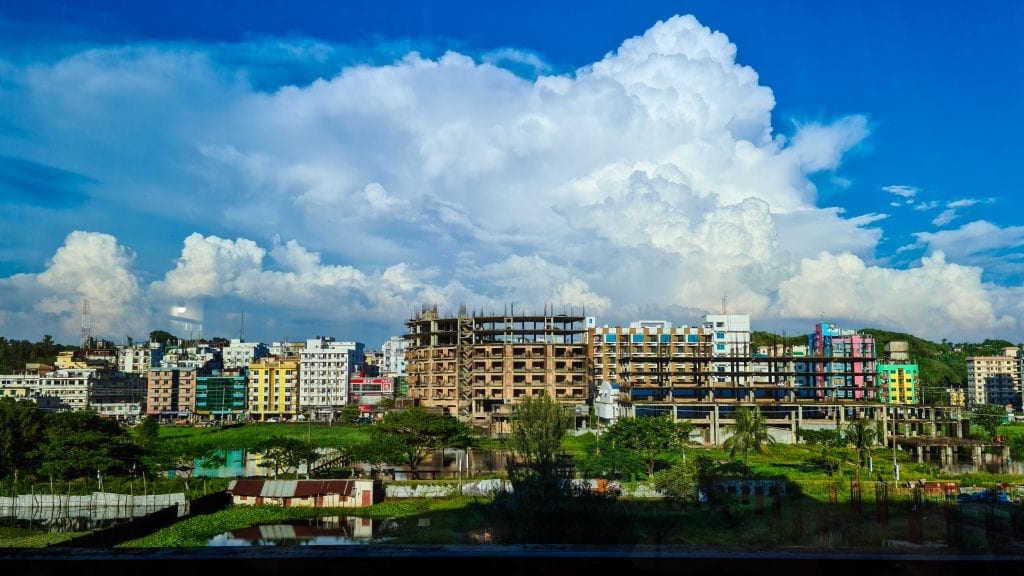 There are plenty of hotels in Coxs Bazar, however, still, you wouldn't get any empty room during peak season if you don't book ahead. Season or not, if there is any national holiday along with the weekend (which is Friday and Saturday in Bangladesh), this town will overrun. A lot of unplanned construction is going on all over the town.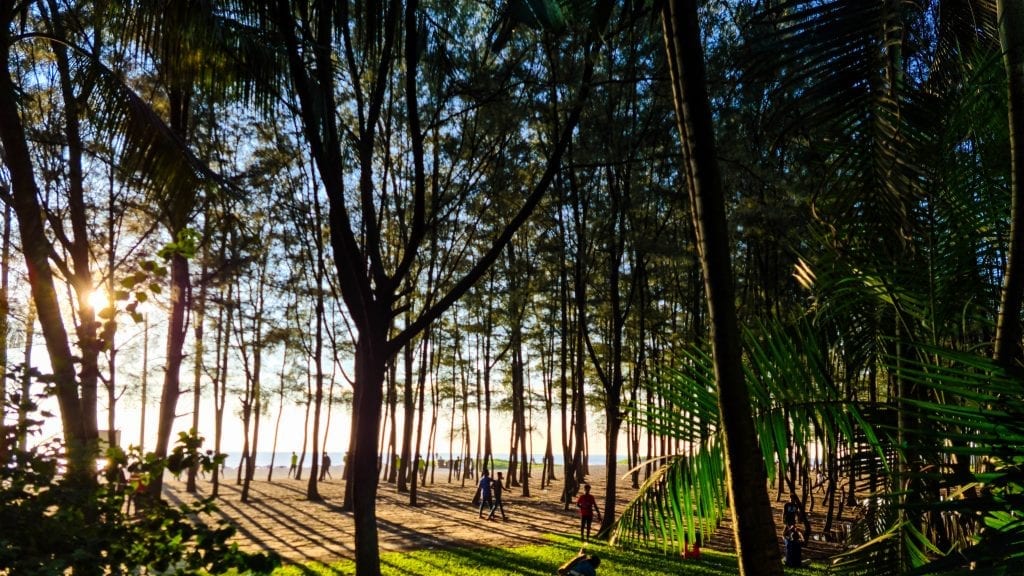 However, you will find some decent beachfront hotels. When I say beachfront, don't expect an unobtrusive view of the oceans from Laboni Beach. That is because a set of Tamaricaceae trees are placed before the beach starts. It gives nice greeneries but obstructs the direct beach views. However, in Kolatoli beach which is a bit more crowded, you should get a beachfront view.
Hotel Sea Crown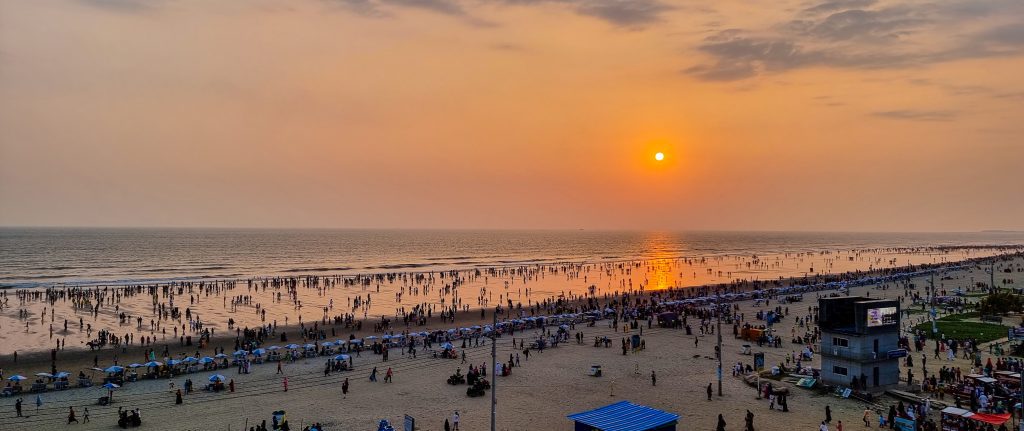 This is a beachfront hotel in Kolatoli beach and a popular option. Sea Crown is one of my favorite hotels in Cox's Bazar because its location is superb and not very expensive. However, if you are looking for amenities like pools, this should not be your option. You will find this hotel just beside the Sayeman Beach Resort. So, the views you will be getting here is identical with less price.
Ocean Paradise
This is not a beachside hotel but you can reach the Kolatoli beach from there in less than 5 minutes. They have a swimming pool and some of the rooms offer ocean views.
Mermaid Resort
Mermaid resort is located in Himchari which is about 20 minutes from the cox's bazar center. One of the perks of staying here will be to climb the Himchari hill and get a panoramic view of the ocean. This is a highly rated and recommended hotel. They serve buffet breakfast, have swimming pools and are famous for their service.
Long Beach Hotel
When it comes to the quality of the room, this hotel excels. However, compared to its competitors in the list, they are located a bit away from the beach. They also have all the amenities like a swimming pool and serve buffet breakfast.
Royal Tulip
Royal Tulip is near Inani beach which is far from the popular, overcrowded cluster of beaches in Cox's Bazar. If you want to enjoy the peace and don't bother about the lack of facilities out of your hotel, Royal Tulip will be a fantastic option for you. Most of the rooms here are sea-facing.
Hotel Seagull
This is a popular and big beachfront hotel having 181 rooms in front of Laboni beach. They have all the amenities including bars, spas, swimming pools, and even shops inside to buy souvenirs. They also serve buffet breakfast every day which has a decent collection of foods.
Sayeman Beach Resort
Sayeman is one of the very best hotels in Cox's Bazar located in Kolatoli beach. It was the first private hotel in this area which received a revamp recently. They are famous for their great customer service.
Restaurants in Cox's Bazar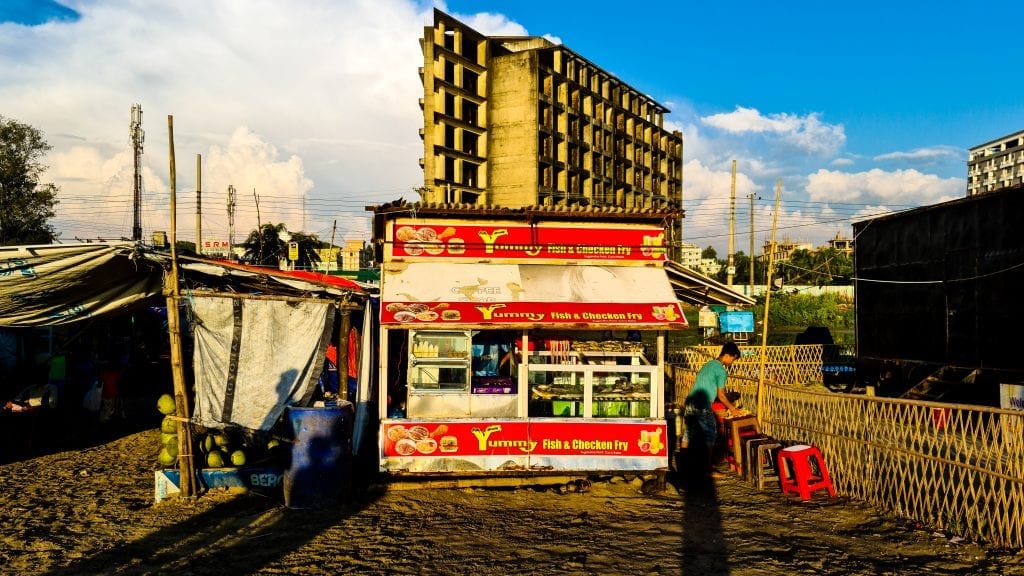 You will find different kinds of restaurants in Cox's Bazar. Some of them will serve you snacks from temporary shopping carts.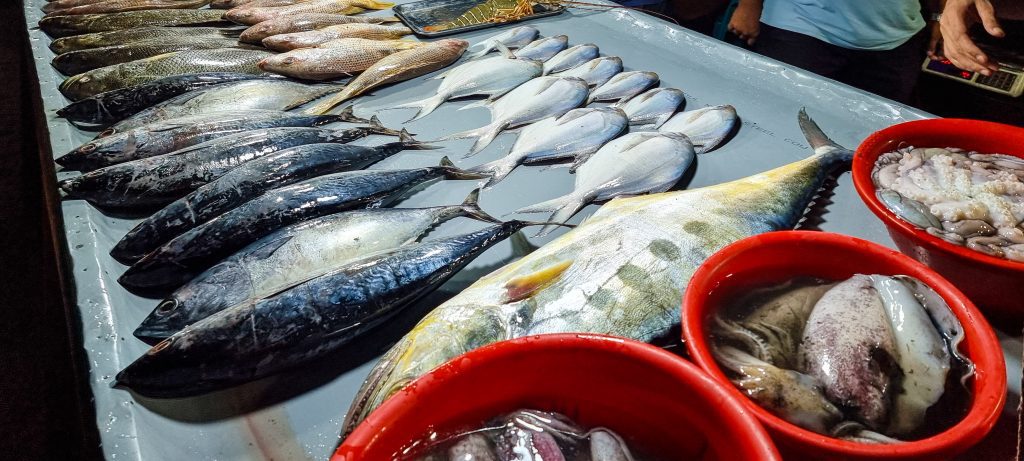 If you love to eat, wait till the night to come. You will find fishes in display beside streets. You just need to pick fishes, and they will make you Barbecue fishes.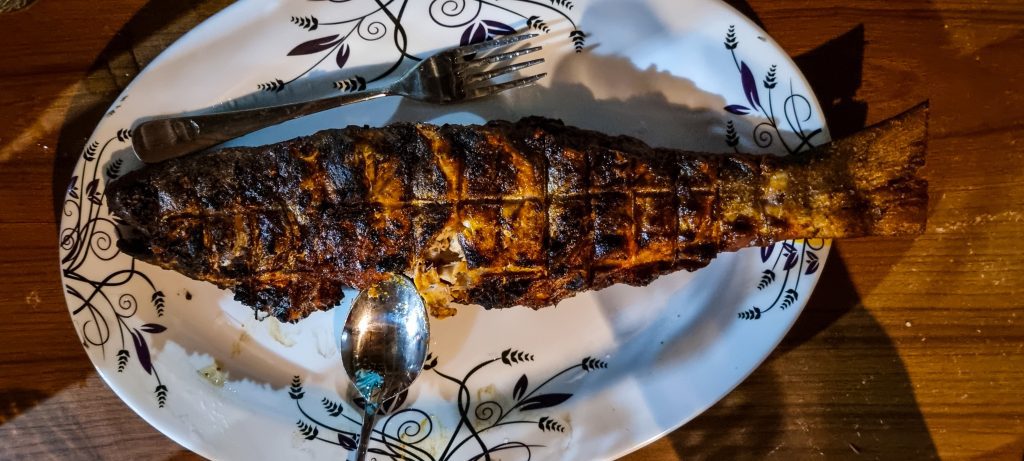 They will charge you according to the weight of fishes. It does not matter which kind of shop you chose, the fish will satisfy your palate.
If you look at the above photos carefully, you will understand the demand for having a barbecue. Most of the people visiting Cox's Bazar lookout for something barbecued or grilled. So, you will find a lot of restaurants serving this.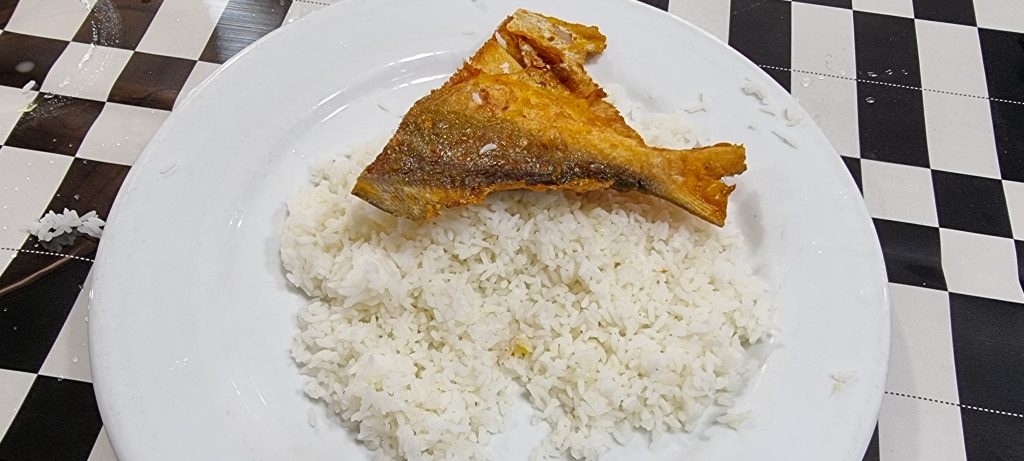 This doesn't mean that they don't serve anything else. If you want to have a local cuisine like plain rice, fish or meat curry and lentils (Daal), they will serve it as well.
Besides, foods of the following restaurants are tasty and moderately priced.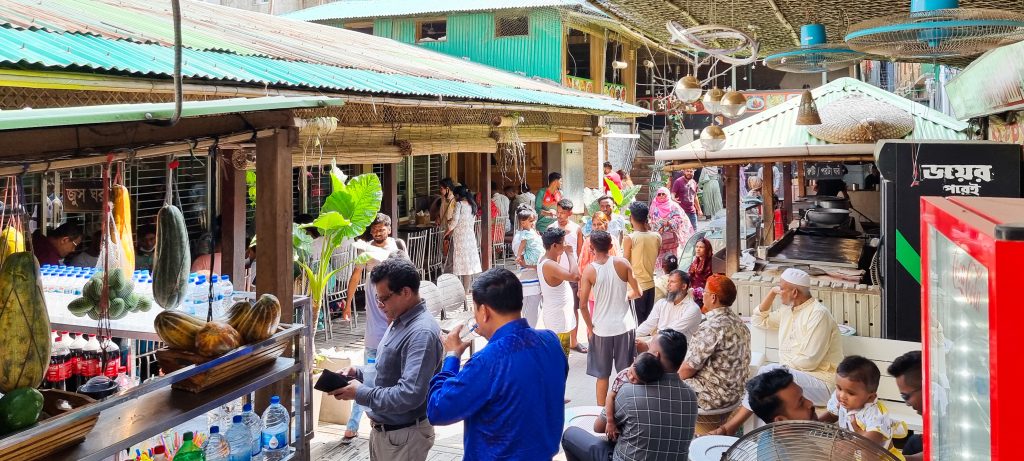 Poushee Restaurant – Serves one of the best Bangladeshi cuisine.
Shalik Restaurant – Opens 24×7 – serves a verities of foods including rice, meat, and barbecued fishes. Situated near the Dolphin square which is the central point. They accept credit cards as well.
Mermaid Cafe – Offers seafood as well as western foods like pizza and pasta.
Jhaubon Restaurant – Serves Tasty local food.
Prasad Paradise – Serves fantastic Barbeque.
Tips: Ask for Rupchanda fish fry, and Loitta fish fry while placing your order. They are delicious!
Cox's Bazar in a Day
Start the day at Sugandha sea beach in early morning. Walk towards Labony beach. Continue your walk to Kolatoli beach. You will find Sayeman hotel. Don't stop there, continue your walk until you reach to a point where you don't find a soul. Enjoy your Take a stop there and enjoy. After that, turn around, walk till Kolatoli beach, exit the beach, and go to the dolphin square. Enjoy your lunch at Shalik restaurant. From there take a three wheeler for going to Inani beach. Stop at Himchari and climb the hill to enjoy a panoramic view of the ocean. Enjoy the sunset in Inani beach. Come back to Dolphin square and enjoy a barbecue dinner from a restaurant on the beach.
How to go to Coxs Bazar?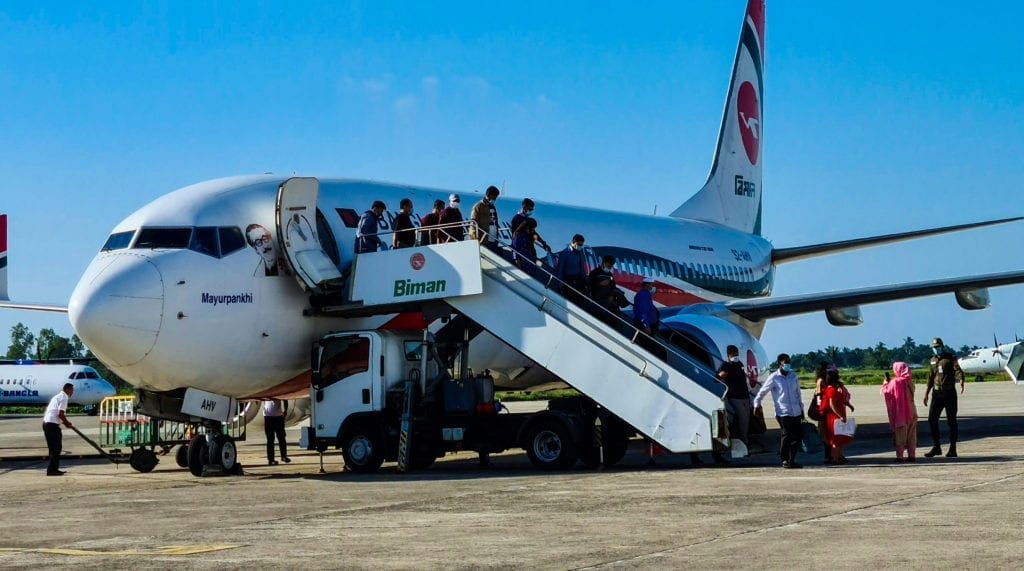 Cox's Bazar is located in the southern part of Bangladesh, a small country in South Asia bordering India and Myanmar. 

Dhaka to Coxs Bazar by Air

My preference is to fly from Dhaka to Coxs Bazar. There are several daily flights of Biman, NovoAir, US-Bangla Airlines, and Regent Airways. It's a 40 minutes journey. My preference will be to catch the Biman – they usually operate Boeing in this route. Depending on the season, a one-way ticket will cost you about US$50.

Dhaka to Coxs Bazar by Bus

This is an economical option. However, depending on traffic, the journey will take about 13 hours. Some luxury buses operate on this route and will cost about US$18.

Dhaka to Coxs Bazar by Train

There is no direct train to Cox's Bazar. However, you can take a train to Chittagong (a major divisional city). From Chittagong, it's a 4 hours bus ride.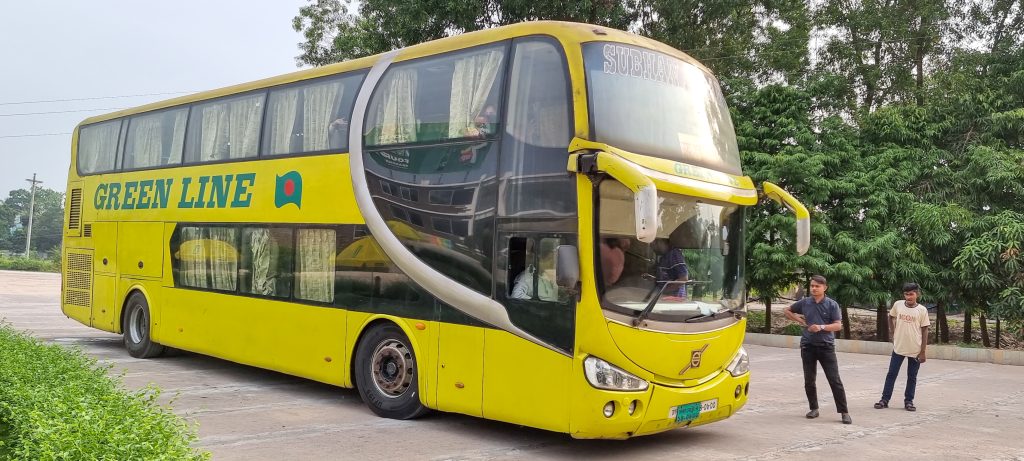 Wanna Explore more of Bangladesh?
Loved Coxs Bazar? Share it by pinning!