Nikko is a small but beautiful city in Japan. It is located in Togichi prefecture in a mountainous setting and is a popular tourist weekend gateway from Tokyo. This photo guide will tell you about a list of things to do in Nikko.
I love nature.
A remote scenic village attracts me more compared to a megacity. Yes, I know, a city like Tokyo has many things to offer – amusements, nightlife, foods, people – however, I would prefer to sit beside a quiet lake on a backdrop of a snow-capped mountain over a nightclub any day.
So, whenever I visit Japan; I try to run somewhere from Tokyo, somewhere scenic.
The dilemma is, charming places are in distant places. You require traveling for 8 hours by train, then change your train to a smaller one for 2 hours then take a bus for 3 hours and a car for 2 hours to reach your destination. In between, you need to take some ferries. Most of the time, if you only have 2 days in hand to spare, what we call a weekend getaway, a nature lover like me finds it challenging to go near nature.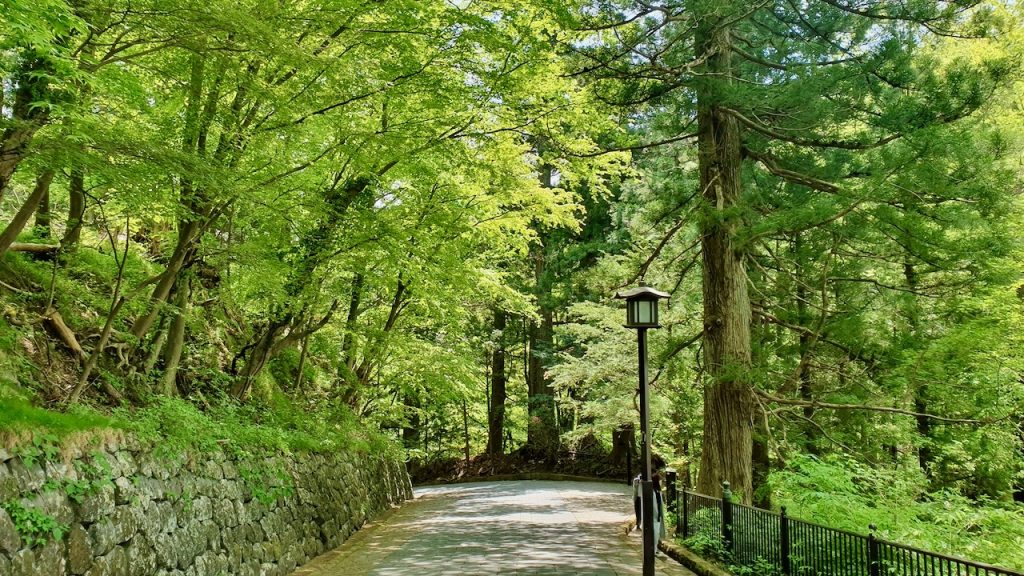 Nikko is a refreshing exception to this. It's hard to believe that you will arrive at such a pretty little place within 2 to 3 hours of the journey from Tokyo. That's also using a train! On top that, there are so many things to do in Nikko, you will never feel bored for a single moment.
So, when I boarded on a train on Friday night from Tokyo to Nikko, I was not sure about what to expect. I came back to Tokyo on the subsequent Sunday night with a number of sweet memories. Nikko didn't dishearten me, Nikko made me ecstatic.
Nikko on Day 0
Tokyo to Nikko by Train
There is frequent train connectivity between Tokyo and Nikko. There are many combinations for getting there. The ticket price ranges from JPY 1900 to JPY 6000. The lesser cost tickets mean you need a longer time to reach there. If you wish to travel quicker, you are required to pay higher. However, the time length differs from a little over 2 hours to 3 hours.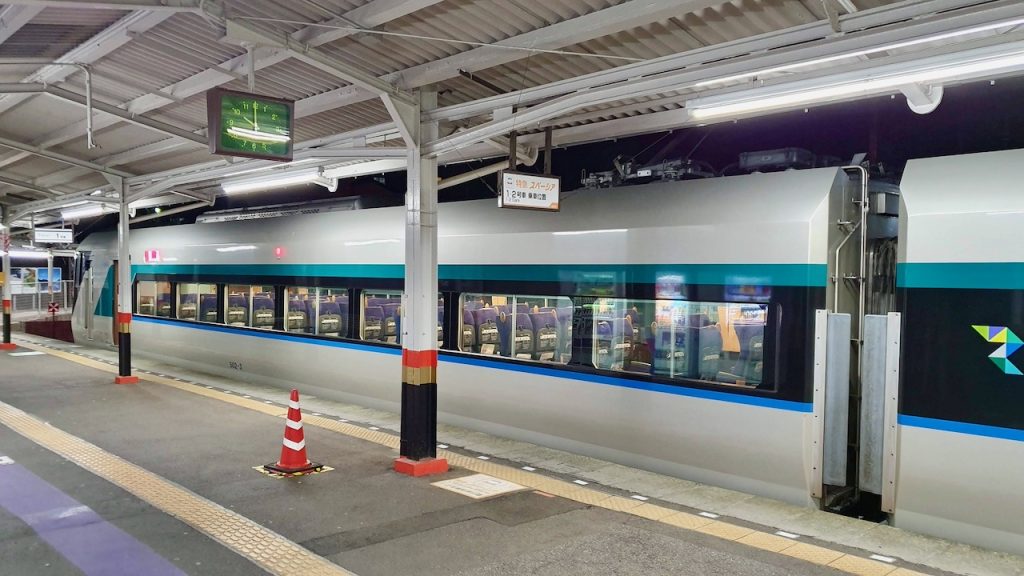 I arrived at Nikko at 10 PM. It was quaint and spooky at night.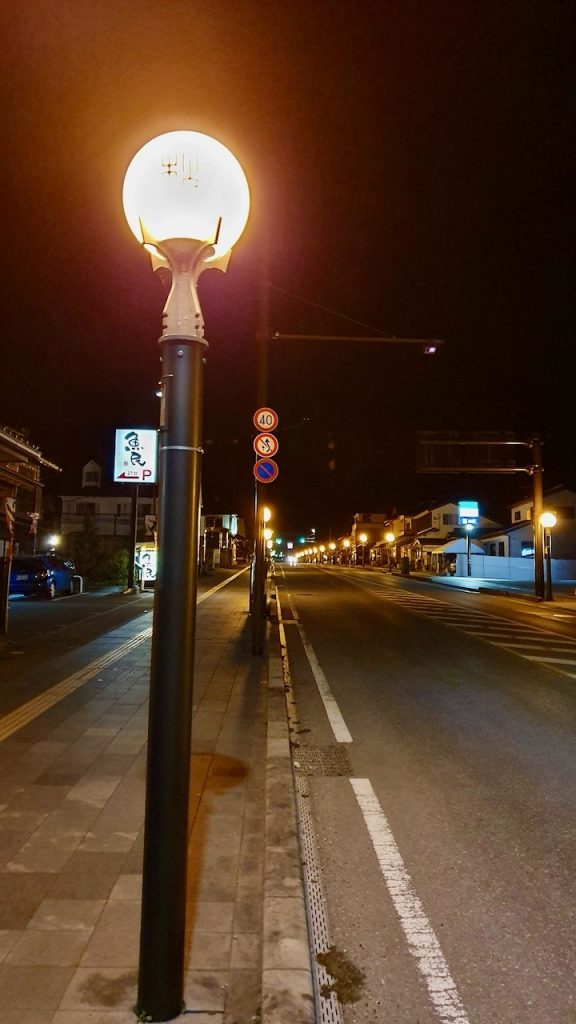 Hotel
We stayed in Nikko Station Hotel II by paying US$72 per night for two persons. It was just 400 meters from the station. So, when we alighted at 10, we did not need to grab any taxi, we just followed the map, walked with our luggage and made it there in 10 minutes. The check-in went like a breeze, and we were satisfied with the accommodation. 
I would recommend you to stay in Nikko Station Hotel II.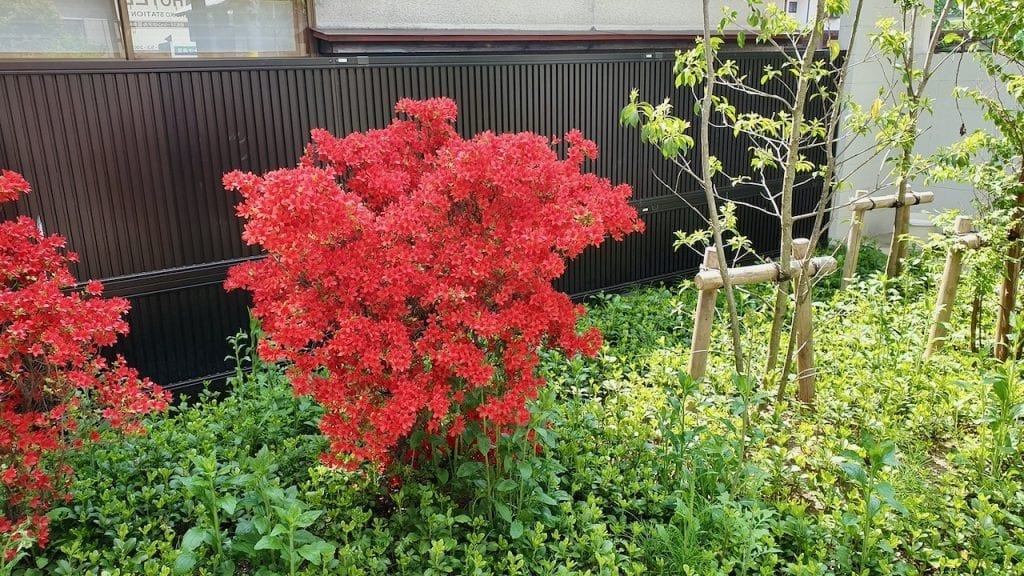 Things to do in Nikko on Day 1
We commenced our exploration early in the morning. We obtained a two days pass straight away (See below for further information) and waited for our bus to appear in front of the Nikko Train Station.
Shinkyo Bridge
We started an expedition to this city with this iconic bridge. In English, Shinkyo bridge means sacred bridge. It belongs to the Futarasan Shrine. This bridge is a part of the UNESCO World Heritage Site.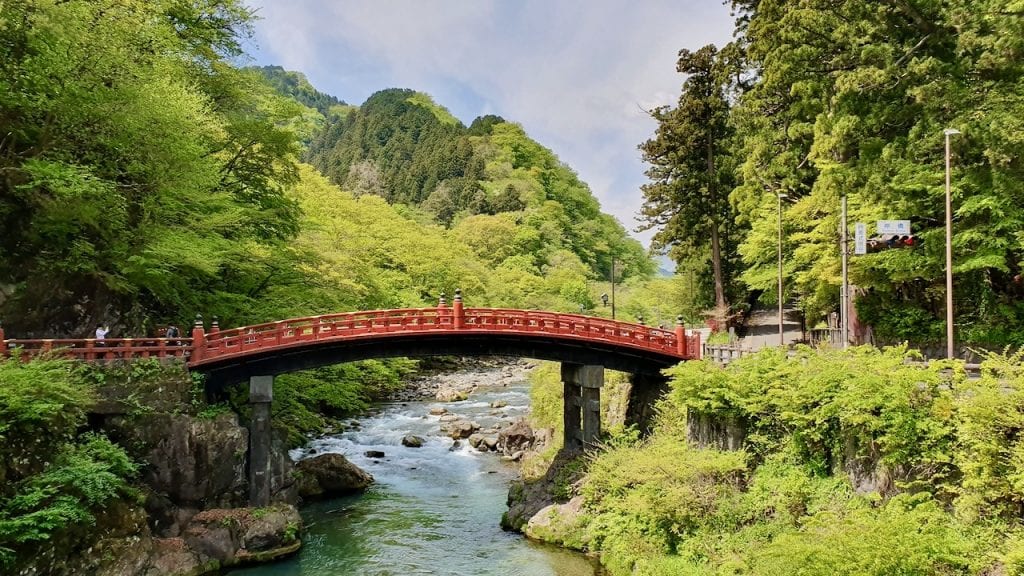 I loved the composition of the bridge, its vermilion color, the arch, and surrounding greenery made it one of the most magnificent bridges in Japan. The Daiya River below the bridge had a strong current with transparent color and massive rocks. You need to wait there for a while to take a wonderful photo as many people want to do the same. To avoid the rush, go there early before the hordes of day-trippers arrive from Tokyo.
1300 years back, in 766, a priest named Shōdō came here with his disciples. The Daiya River was even more powerful that time and the priest could not cross the river. He prayed to God and God appeared with two twisted snakes in his arms. When he released the snakes, they formed a rainbow colored bridge, and Shōdō crossed the river.
It's a strange story but fun to believe. The bridge you are seeing is not the original one. They reconstructed the bridge many times since its incorporation. However, the design remained the same each time.
I watched the bridge from fresh angles and moved to my next stoppage.
Shrine Complex and surroundings
Crossing the bridge took me to a wonderful passage. I could see a stair pointing towards Shrines and Temples of Nikko, which is a UNESCO World Heritage Site.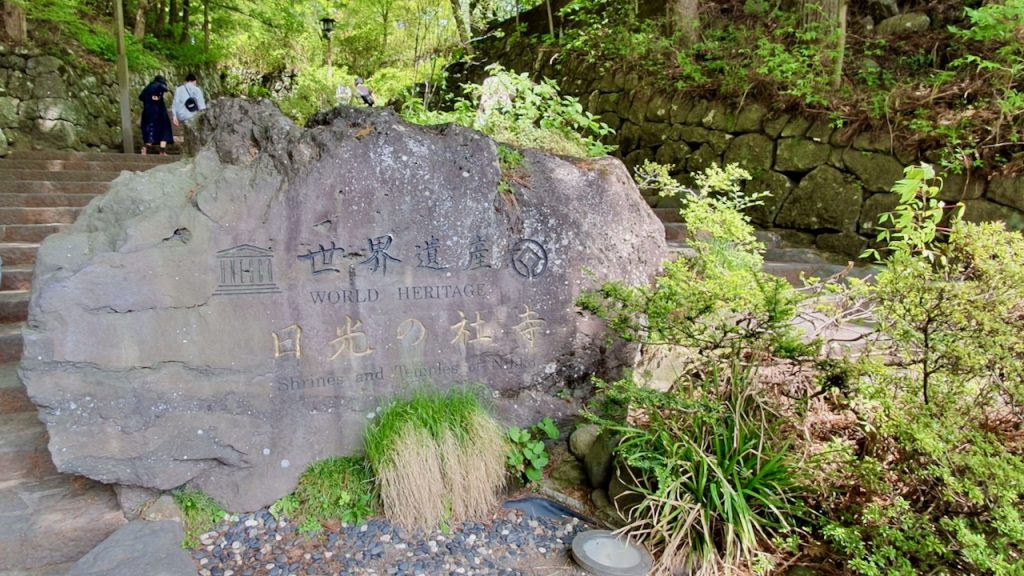 I extended my walk. It was an ascend through stairs. The greeneries on both sides of the avenues were charming. Colorful flowers added more charms to the greenery. I found a beautiful fountain, too. A dragon was spitting water instead of fire.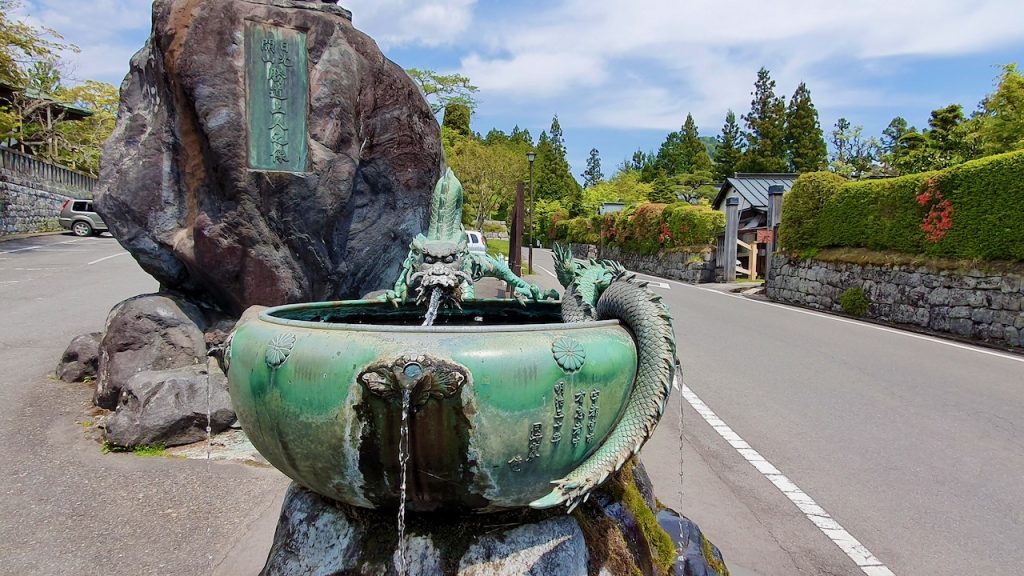 The shrine looked splendid from outside. However, I did not step inside as there was an entrance fee. You might call me a fool, but I preferred to be among nature rather than going inside. I had been to the shrines of Kyoto and had a glimpse at shrines from inside.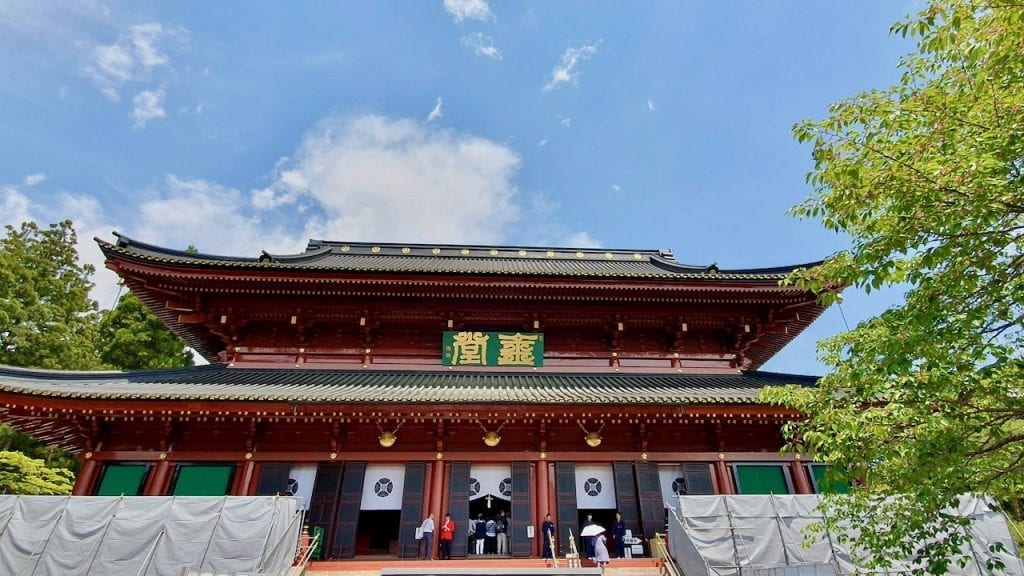 However, if you are a temple lover, and not a frugal like me, look inside of Rinnoji Temple.
Hike to Karikomi Lake
We used our day pass and got into a bus towards Yumoto Onsen. An hour of scenic drive dropped us to the base of Yunoko Lake. The place is a sleepy, tiny village named Okunikko. Our intention was to hike to Karikomi lake. So, we didn't bother stopping at the Onsen this time. There was a restaurant near Yunoko Lake which satisfied our hunger. While searching for the entry point of the trail, we crossed a marsh named Yunodaira. Nasty smell of Sulphur from the marsh almost caused me to puke. We proceeded up through a trail, found a road, and crossed it. Then our trek to the Karikomi lake began.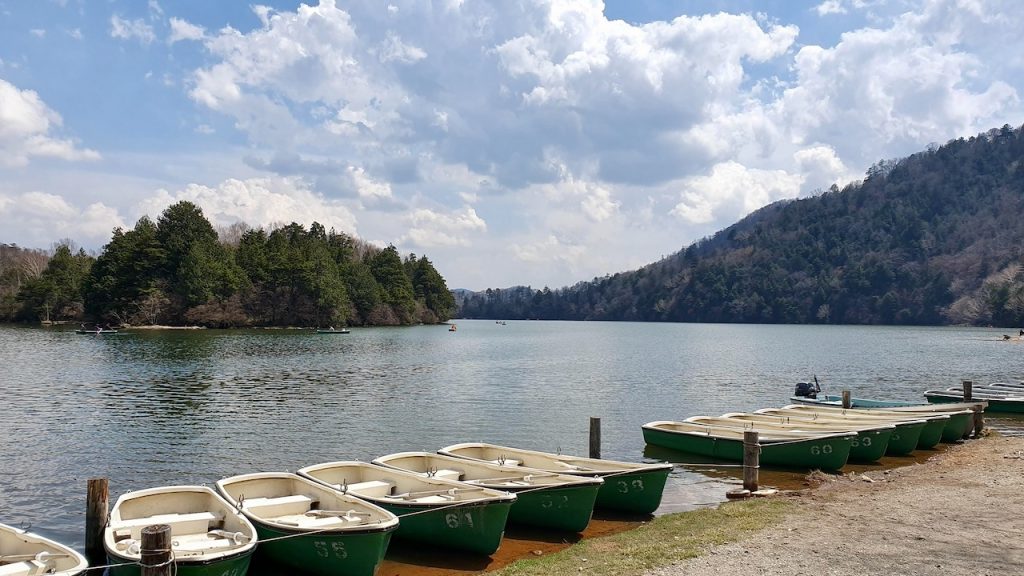 A 2 hours of hike through forests and snow took us to the base of the Karikomi Lake. This was undoubtedly the most memorable part of my trip in Nikko.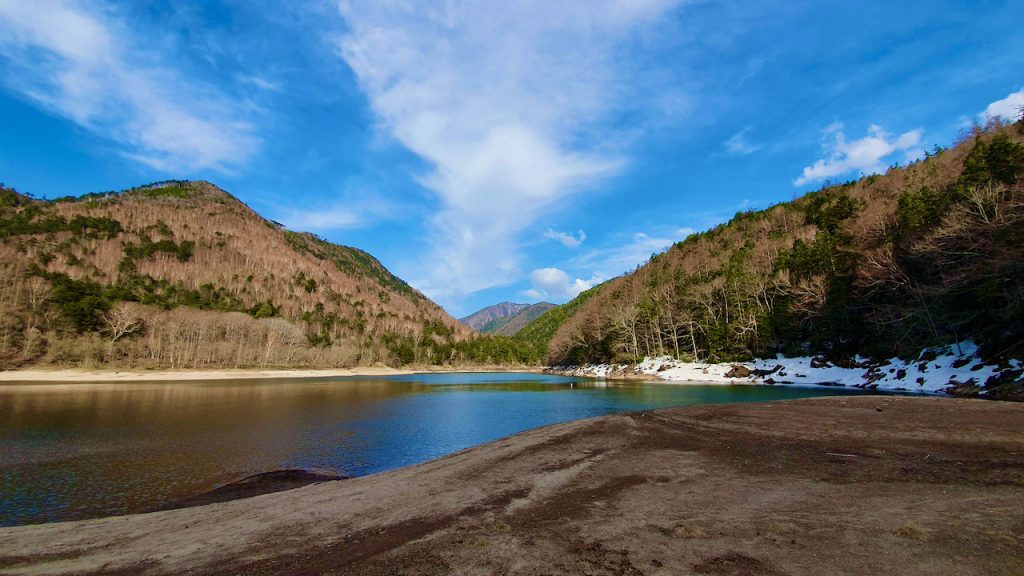 To read details about our hike to Karikomi Lake, visit this link. I hope you will love our short expedition there.
Yumoto Onsen
We got back from Karikomi Lake before the sun set. When we reviewed the bus schedule, we noticed that there was still some time in hand and proceeded to the Yumoto Onsen.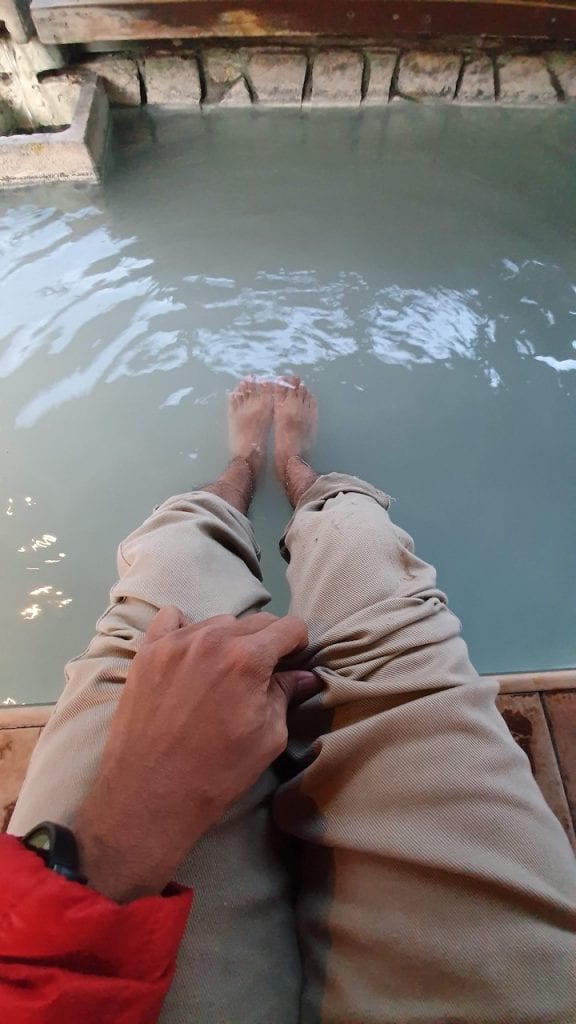 The footbath was free, and we experienced it. The word Yumoto means 'origin of boiling water'. We put our feet into the water. It was hot enough to burn my foot. So, I placed it on water, kept it there for 2 seconds, and withdrew. Then again, put it down for 5 seconds and retreated. I tried to increase the time gradually. When my body became used to, I could hold my foot inside of the hot water for a longer period.
The result was an overcooked foot.
If you hike to Karikomi Lake, this onsen will grant you a sweet relief. If you don't hike, still experience it after an interminably tiring day.
When our bus appeared to pick us up, the sun had already gone down. An hour of journey took us to the town. Nikko became silent at night. It was our time to be silent, too. We were tired, and I called it a day.
Things to do in Nikko on day 2
Akechidaira Ropeway
Our second day started with visiting the Akechidaira Ropeway. If you hop into a Tobu bus from Nikko to Lake Chuzenji, you will find it on your way.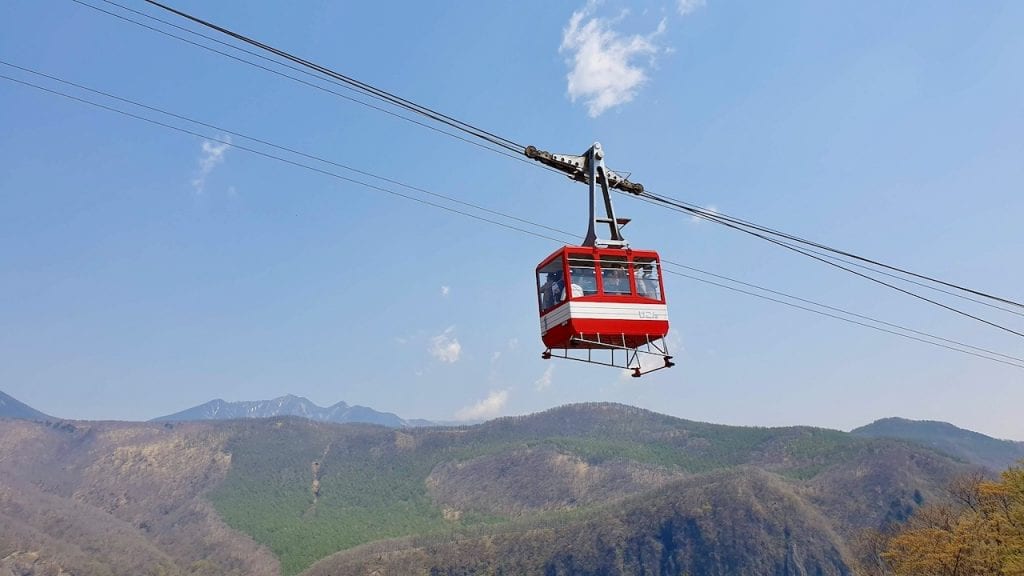 The cable car ride was very short and cheap (JPY 730). We bought a one-way ticket. Within 5 minutes, we reached the observation deck. The deck will give you an opportunity to enjoy panoramic views of the surroundings. We could see the Kegon Waterfall and Lake Chuzenji from far.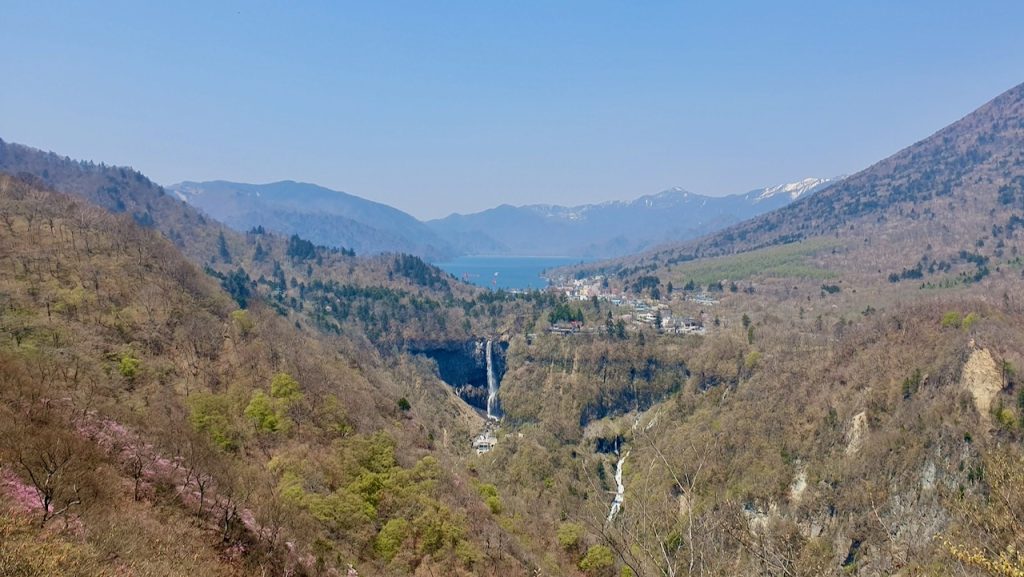 But what we liked most there were the forests with cherry blossoms. Most of them did not have any leaves, but whatever we had pleased our eyes.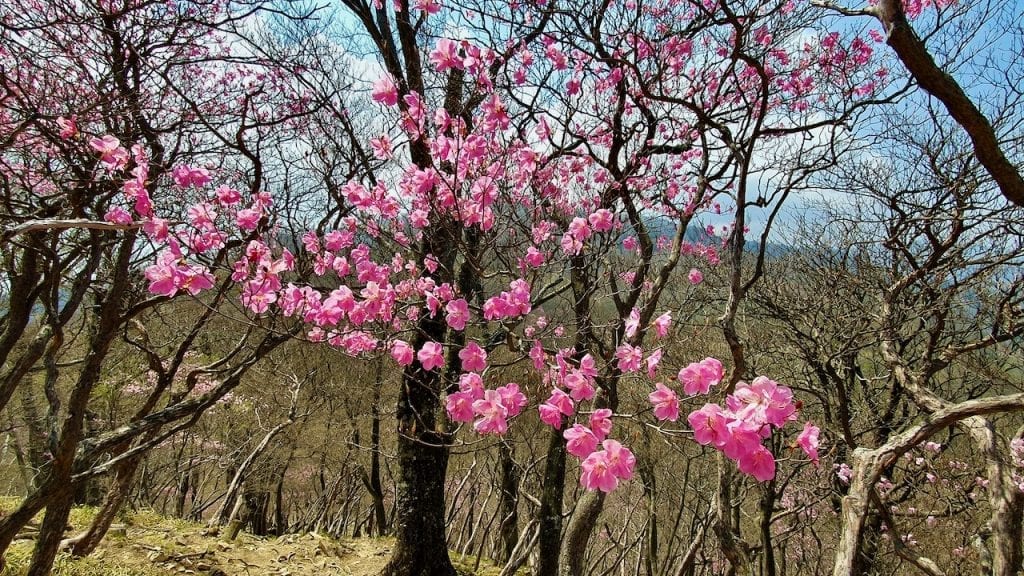 There was a hiking trail to the waterfall. We strolled a long way and decided not to continue and turned back.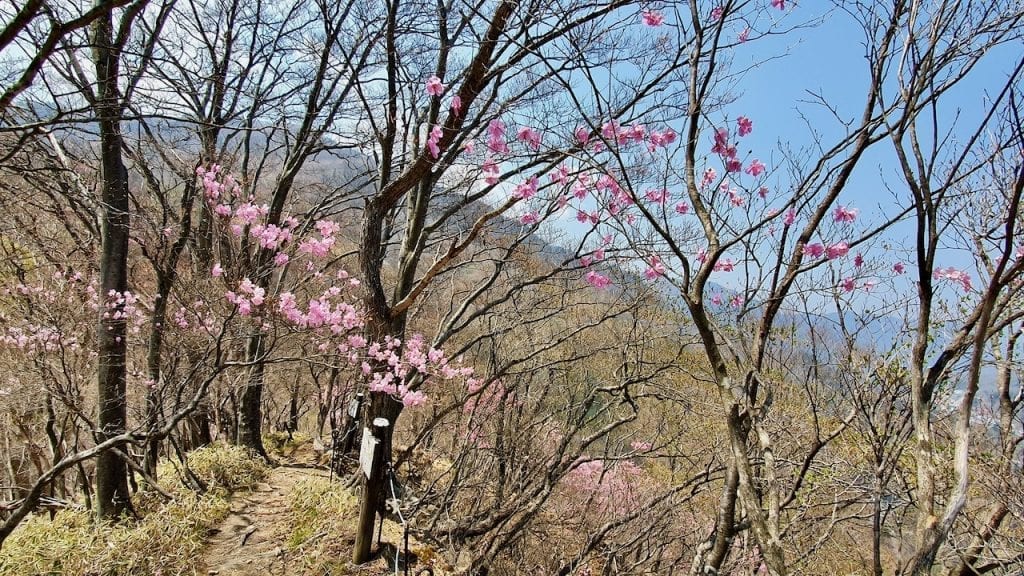 Kegon Waterfall
Kegon Waterfall is a brief ride from the Akechidaira Ropeway. Get down at Chuzenjiko Onsen bus station to reach there.
There are many waterfalls in Nikko, and this one is the most visited one.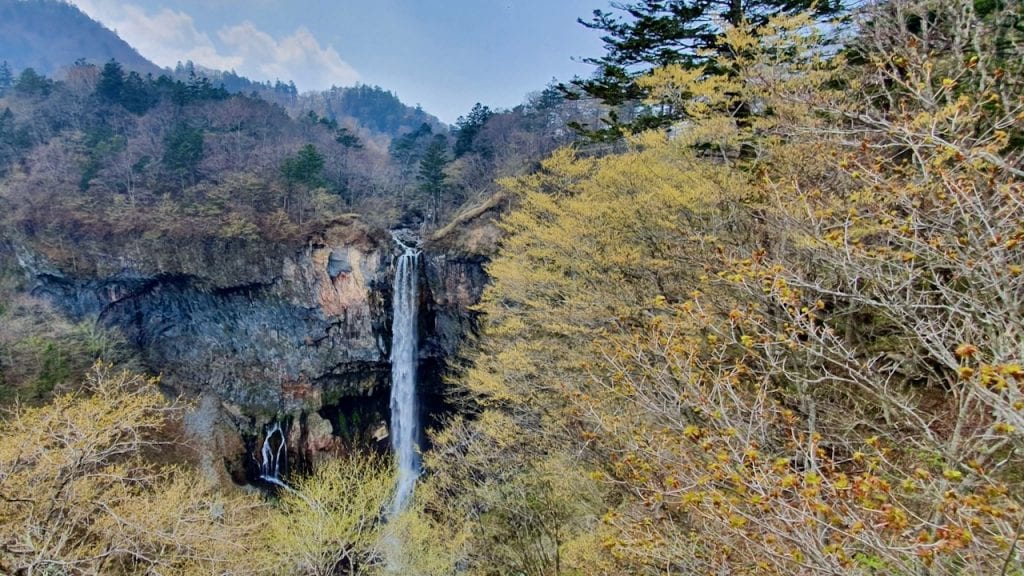 The origin of the water is Lake Chuzenji. This 100 meters waterfall is one of the top three waterfalls in the entire Japan.
The discharge of the fall was heavy.
There are two observation decks to view Kegon. One is free and you can see the waterfall from far. If you want to take an elevator to go to the base, you need to pay a fee.
We got a fantastic view for free and enjoyed our time there.
This beautiful fall is also a popular place to commit suicide in Japan. I don't understand why someone would take his life when he has such a tremendous place to enjoy!
Bike Ride around Lake Chuzenji
A brief walk from Kegon Waterfall took us to Lake Chuzenji. You can rent a bike in lake chuzenji, we rented a Docomo Bike there. It was an electric bike made of a rechargeable battery. I downloaded an app, entered my credit card information. With the help of the app, I could unlock the bike.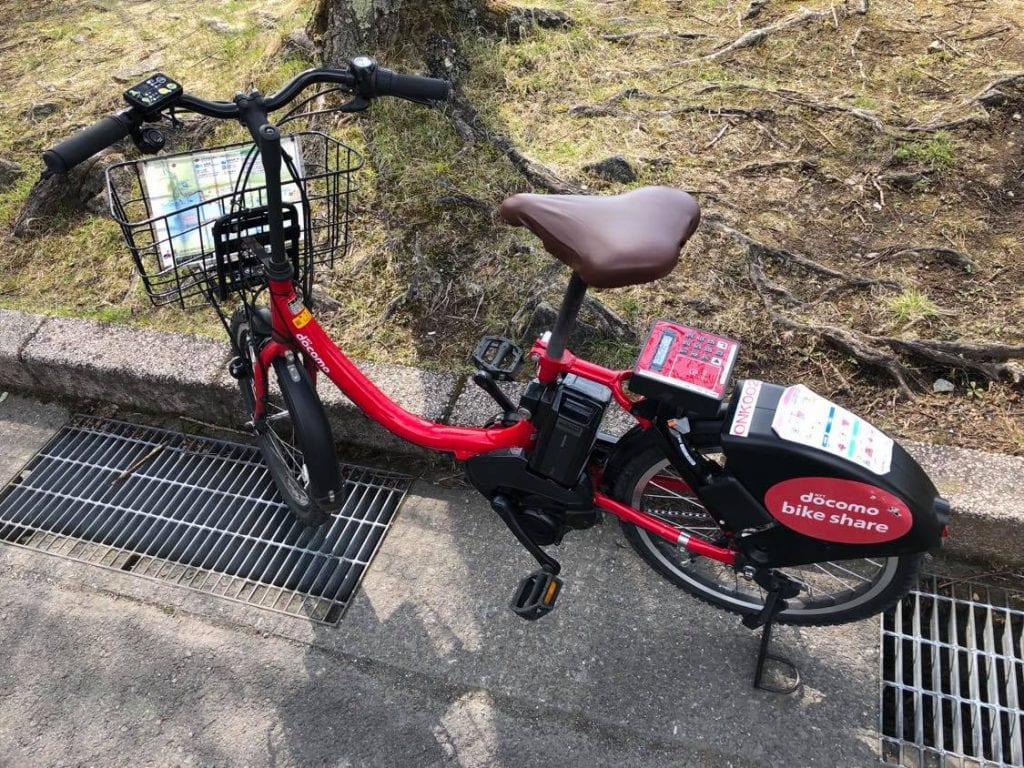 It was an enjoyable ride round the lake. As it was an electric bike, I did not need to pedal much. A little press, and it flew.
There was pavement right beside the lake. When we wished to walk, we just got down from the bike, parked it somewhere and enjoyed our time.
You can ask about the suggested routes for getting the best view while renting the bike at reception. Japanese are so helpful everywhere, they will spend a lot of time helping you.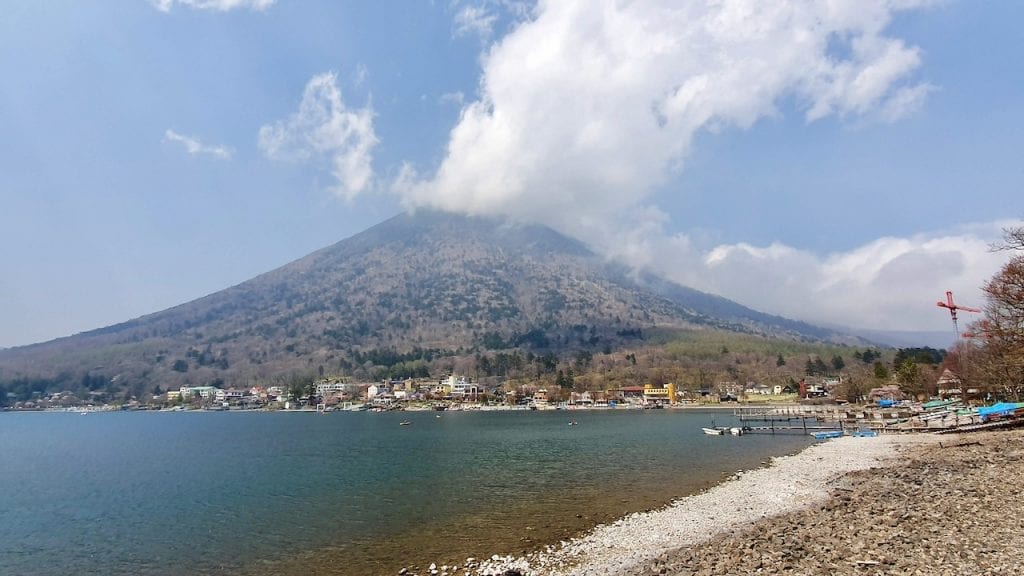 We rode the bike all the way to the Italian Embassy Villa Memorial Park. I was doubting what's there in an embassy. Interestingly, the ride towards the Italian Embassy was fantastic and the view of the lake from there was great. Long ago, they developed Chuzenji lakeside as an international summer resort. This one is one of those resorts. A part of the resort with a museum was open for the public. I found some cafes there, too. I thought they were expensive, so I didn't try their food.
Never forget to buy a travel insurance before your trip, see my bike accident incidence in Philippines. I suggest Worldnomads for travel insurance, they are reliable.
Kayaking in Lake Chuzenji
We circumnavigated a part of the lake with a cycle. When we became tired, we were sitting on a bench to look the surroundings. During that time, we could not avoid the temptation to ride a boat. So we rented one and started rowing.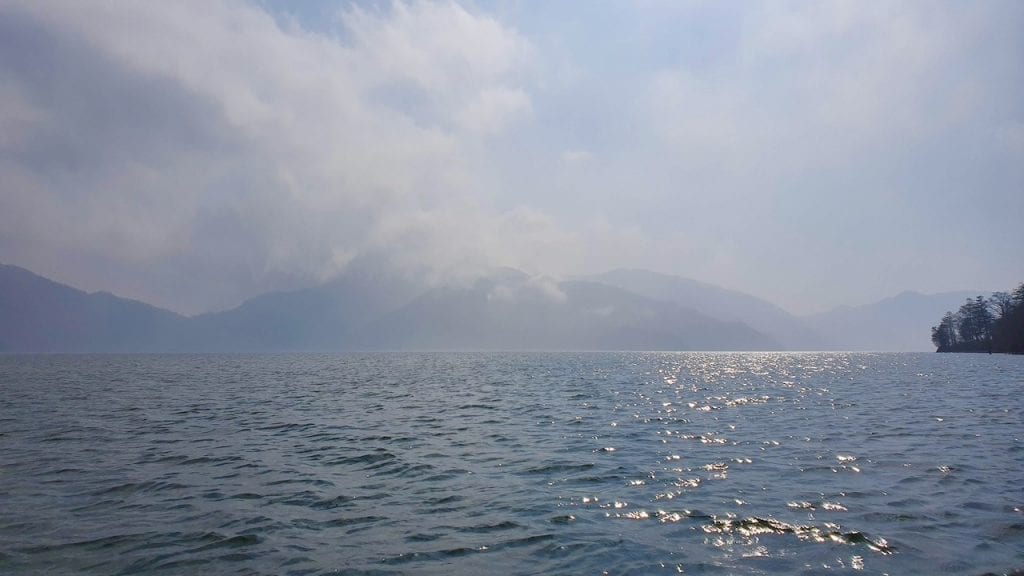 The current was strong. It was misty in the middle. We got a view of Mount Nantai. Many people call Mount Nantai as mini Fuji as it also has a conical shape like Fuji. This volcano from the mountain erupted 20000 years ago and blocked a part of the river. Because of that, this lake was created.
We canoed to the middle of the lake and delighted with the surroundings, calmness, and the excitement of rowing. The lake is bigger than it looks. We spent an hour before coming back to the shore.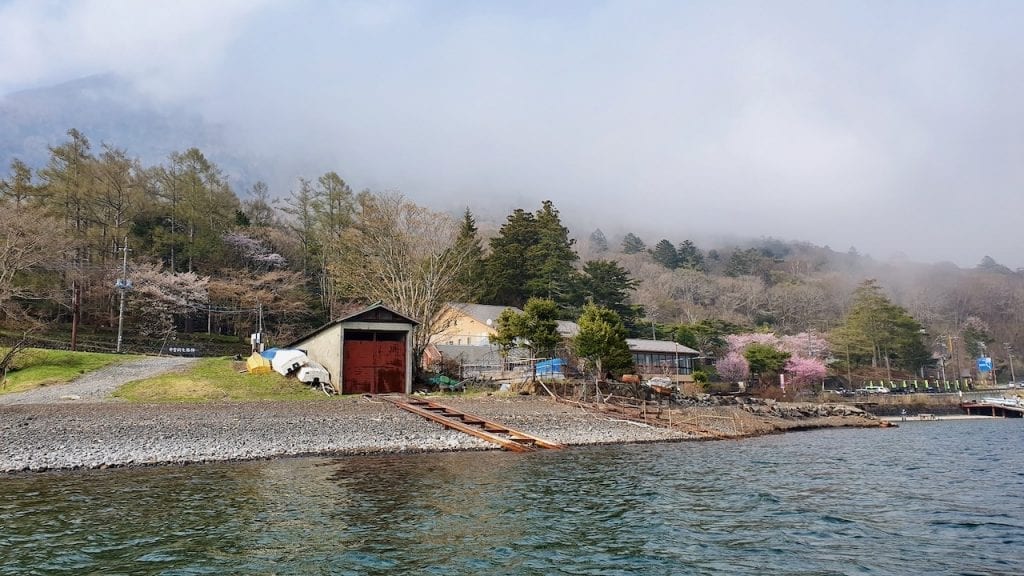 You can also get into a double-decker boat to explore the lake, however, if you want some experiences, rent a kayaking boat as we did. We despised those double-deckers while kayaking, the waves created by them made our journey difficult.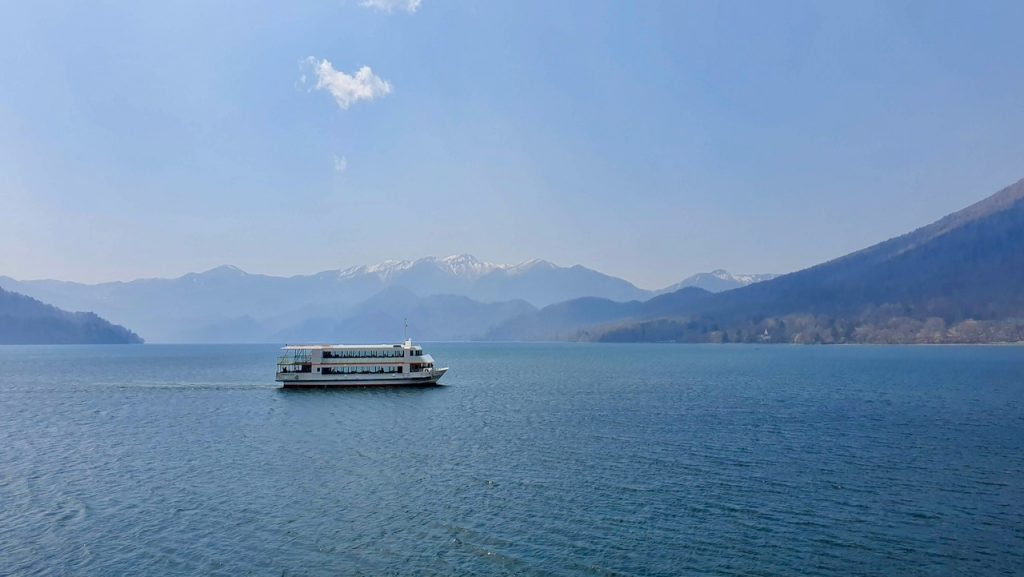 Chūzen-ji Temple
It's already evening. We returned the boat to the boat owner. Just opposite of the highway, we found a stair which led us to the Chūzen-ji Temple. We did not get into the temple, but we loved the park next to it.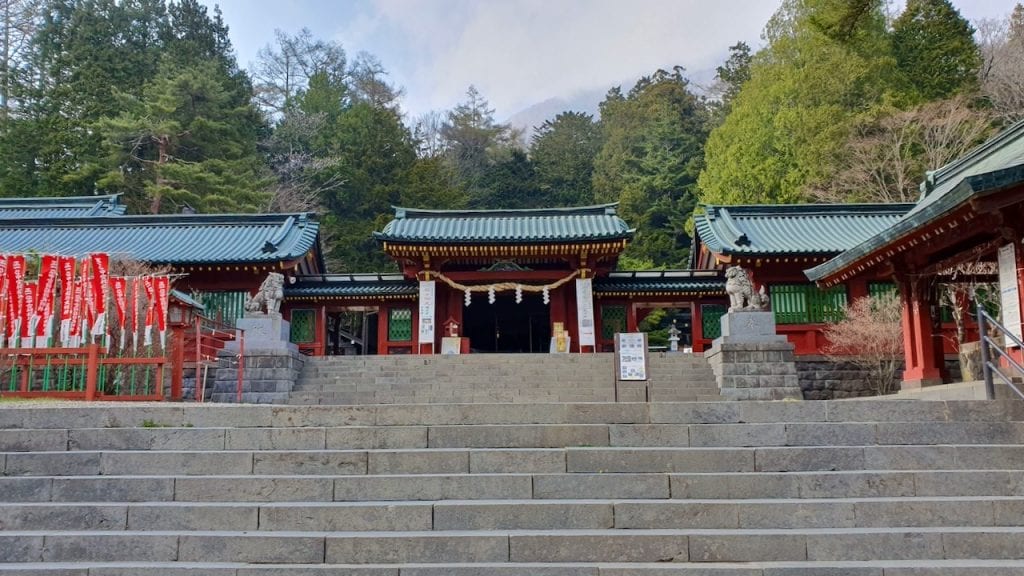 Cherry blossoms and a pretty colorful bench made me take a picture.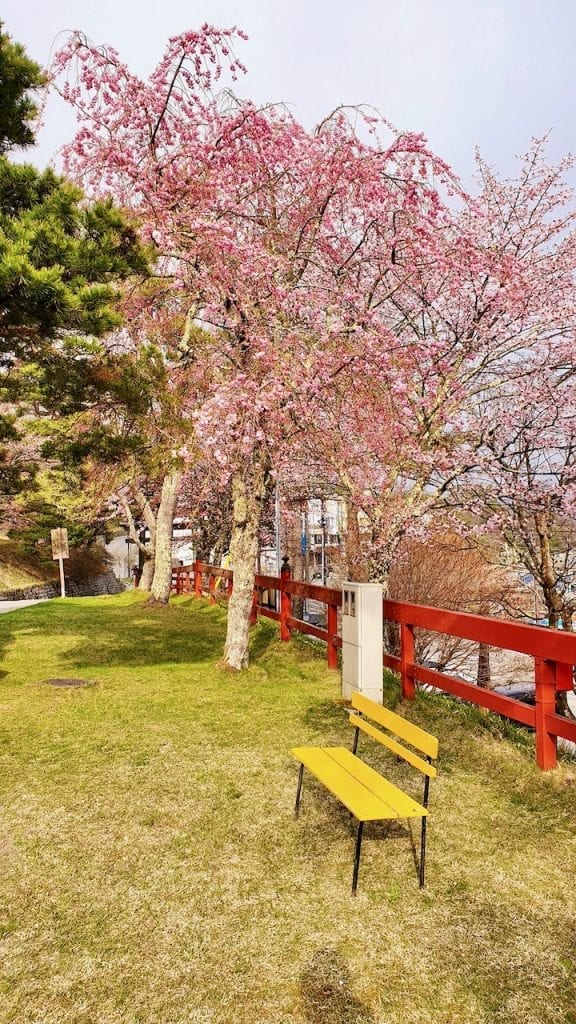 I was feeling sad, as our time in Nikko was ending. When our bus was taking us back to Nikko station through a winding road, I tried to recap our adventures for the past two days. That moment, I decided to visit Nikko again in a different season. I saw some photos of Nikko during other seasons. The color of nature transforms depending on the period of the year. The places I visited looked different and extraordinary.
It was an adventure worth remembering, a memory worth contemplating.
Food in Nikko
When we checked in at the hotel on the first night, it was already 10:30 PM. We were starving and craved for food. Nikko is a compact town and sleeps early. When I got out in pursuit of food, we noticed everything closed.
However, we didn't give up. We hammered all the restaurants on the street and got the reward of our dedication. The discovery of a restaurant which served that late lightened our face like a 100-Watt bulb. They welcomed us to a private room where we relaxed on the floor. The traditional Japanese restaurant had a variety of cuisines to choose from. We ordered a lot of food.
That dinner was delicious, we went back there the next night, too. I want to show you some photos of them to make you feel jealous!
Notes
This itinerary covers UNESCO world heritage sites.
Lake Chūzenji, Kegon Falls, Yumoto Onsen are part of Nikko National Park.
The bus route from one point to another in Nikko is superb. It will take you through mountains and forests. However, there are many spirals and turns on the road. If you have motion sickness, plan accordingly.
I visited there during the second week of May
Although I did the abovementioned things in 2 days, you can easily extend this itinerary to Nikko to 4 days
Nikko Pass
In Tobu Nikko Station, I bought a 2-day pass for unlimited rides between Nikko and Yumoto Onsen. It costs me 3000 yen. This is a pass for a bus whose coverage is extensive in Nikko. I deemed it a good value for money. The pass gave us a lot of freedom. Naturally, it will cover the places touched on the itinerary of this article.
Nikko Travel Map
I have put the places I described in this blog on a Google Map. You can use this map to navigate and plan your trip.
Liked the Blog? Pin It!