Sajek valley is located among a range of mountains to the southern part of Bangladesh. Although the height of the mountain range is nothing remarkable, it's a beautiful place to visit and one of the most popular tourist destinations in Bangladesh. Here is your ultimate travel guide for Sajek Valley.
Another ordinary day in office; I was working hard to meet some deadlines. But, deep inside, I knew it would not stay a typical one anymore. I took a printout of the document I bought online from my laptop, not an air ticket but a bus ticket. I am leaving for the Sajek Valley as the last person in Bangladesh.
It has become so popular, tourists flood the pages of travel-related groups with photos of their Sajek tour. Each moment I looked at those photos; I wanted to go to Sajek. Now is my time, and I am excited inside.
Dhaka to Khagrachari
My bus was 10:30 at night, close to my office. The traffic of Dhaka is notorious even that late. I should have started earlier, however, it's me after all – a lazy, stupid chap. The bus almost left without me, I forgot how I got inside.
Read: Best places to visit in Dhaka
I had been reading a lot about how to go to Sajek in the most productive manner. The public transportation will not take you there. So, you just can't catch a bus and set your foot in Sajek. What makes things more interesting is, the valley is in a southern district in Bangladesh named Rangamati. But the most efficient way of reaching Sajek is through another district named Khagrachari by a public bus and taking a jeep afterward.
You cannot go to Sajek on your own. Two military vans – one in front and other in the back in a pre-scheduled time will guard all the jeeps to take you to Sajek. The hilly area of Bangladesh has a history of conflict. This is to provide safety for the tourists, although I never heard of any mishaps. I won't blame you if these sound complex to you. The same happened to me. But after finishing the journey, I know that it's easy.
I arrived at the bus terminal just in time. It was a basic one – connecting district in Bangladesh with a non-air-conditioned coach. The first leg of the journey progressed smoothly. The bus was sprinting through the four lanes Dhaka – Chittagong highway. I have huge respect for the drivers of night coaches. They drive like a superman – as if the driver is playing a video game-like Need for Speed, overtaking every bus or truck on their way, and avoiding the trees on both sides of the road by a whisker. I thought it would be my last day on earth. Thankfully, it didn't happen.
The bus stopped midway in a restaurant. It gave me an opportunity to freshen up in the toilet and go through an unnecessary food fiesta. I can't sleep in the bus, however, I dozed off for a while. I realized that I had arrived at my initial destination – Khagrachari.
An hour in Khagrachari
When I got out, I enjoyed the first ray of the morning. The place was a bazaar. I could see residential hotels, restaurants, shops, bus counters, mosques, and people. There were also a handful of jeeps waiting to take the passengers to Sajek. My immediate intention was to find a toilet. I found it difficult, unfortunately. I was on the verge of embarrassment. Suddenly I noticed one. I stormed into it and spent some time there. The next mission was to satisfy my endless appetites. A rather simple task for me – I took omelets, parathas, and teas.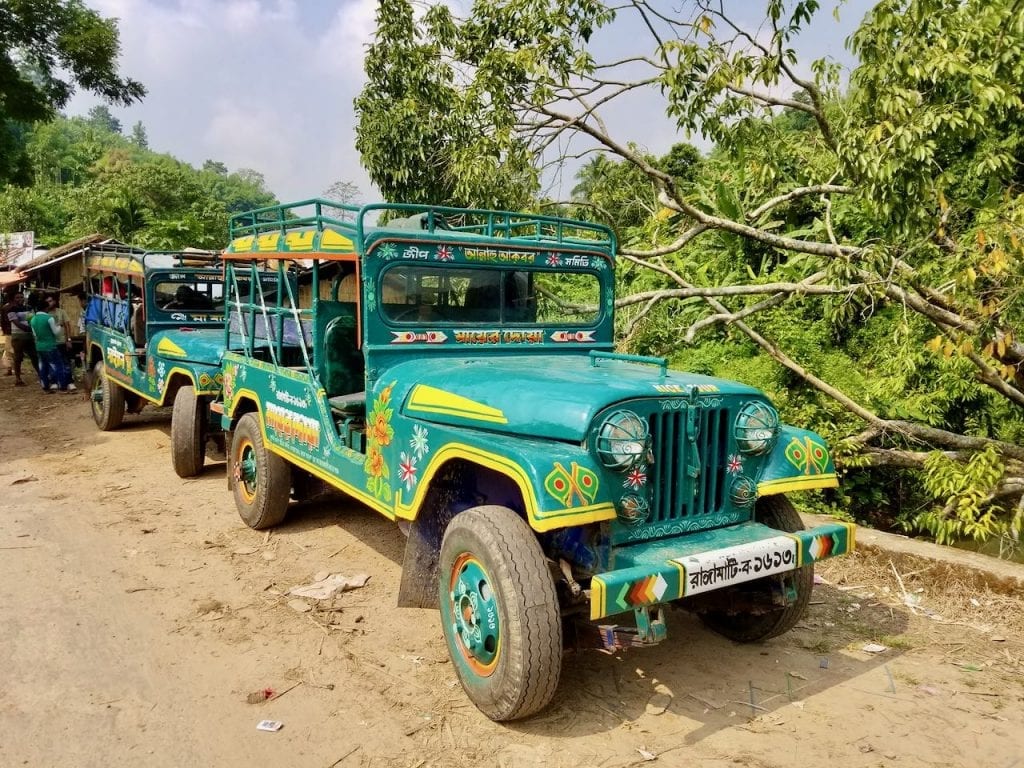 The next challenge is to negotiate a Jeep for going to Sajek. The vehicle that takes tourists is a four-wheeler with a powerful engine capacity. Its local name is "Chander Gari". It can accommodate over 12 passengers. If you want to reserve it, you can. However, I did not want to spend a lot on transportation. So, I started looking for companions who can share the vehicle with me. I encountered a group of individuals haggling with a Jeep driver. With my charming smile, I convinced them to include me with their team. It helped me to cut back my cost of that trip by a whopping 85%!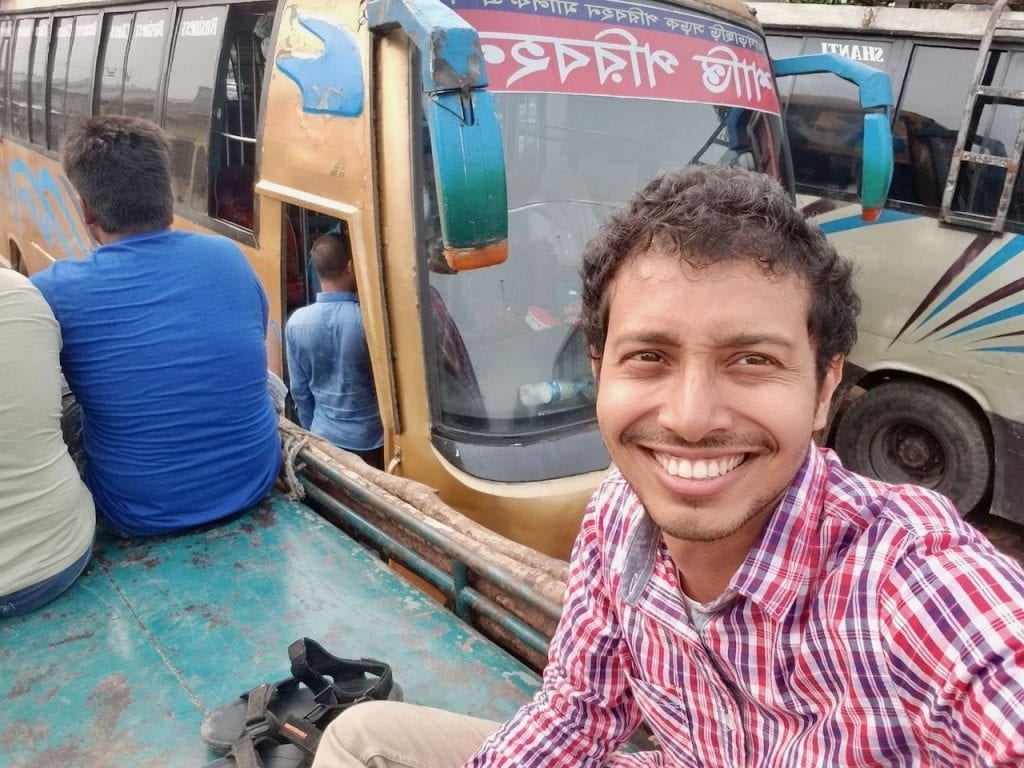 Now a little intro about "Chander Gari". It's a jeep, you already know about that. There is a roof and a frame with two parts – one for the driver and another for the passengers. The sitting arrangement is not comfortable. Two columns of bench face each other. You require to seat there adjacently. Despite having seating arrangements inside, many of the passengers like to move to the rooftop to enjoy the views. I followed the trend.
Journey from Khagrachari to Sajek
The journey began at 7:30 in the morning from Khagrachari. During the starting of our journey, we got past some villages. In Bangladesh, if you travel through the countryside, you will enjoy a lush greenfield of paddy with occasional patches of waters.
Hajachara Jhorna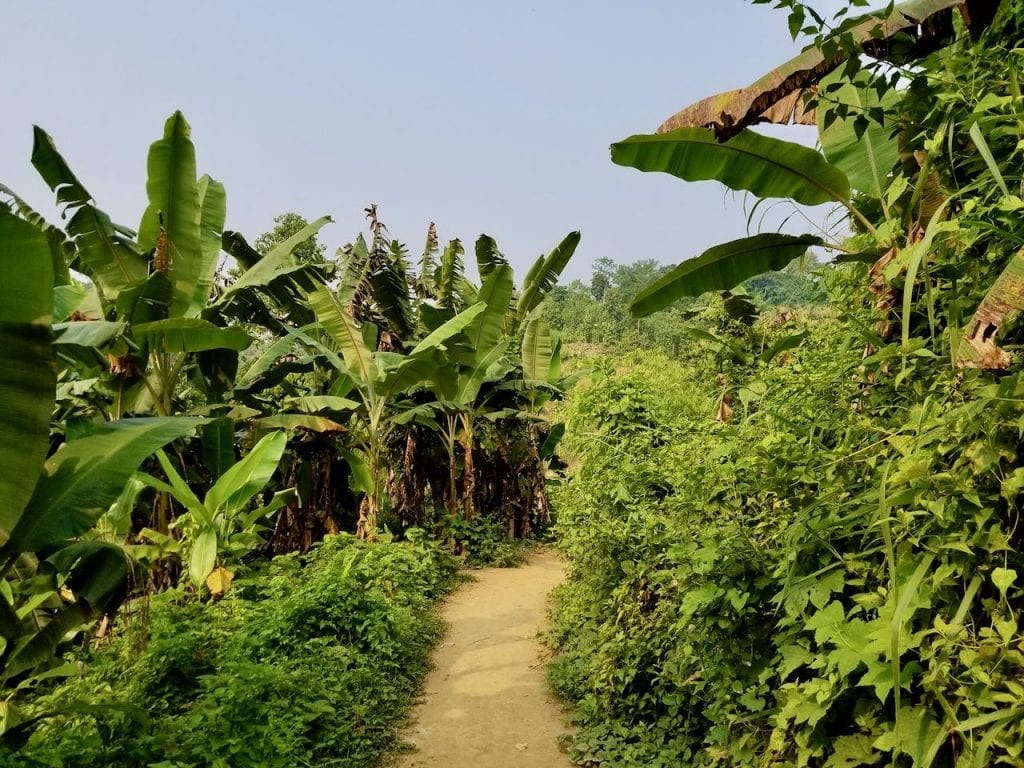 In an hour, our jeep stopped. We need to register our name in an army check-post. We could not cross this point alone. The army will escort all the vehicles from 10:30. We had two hours in our hands.
We discovered a quick hiking trail that led us to a waterfall. The trail was pretty.
A flock of tourists arrived there earlier, and more was coming. Everyone wanted to have their share of space in the water near the waterfall.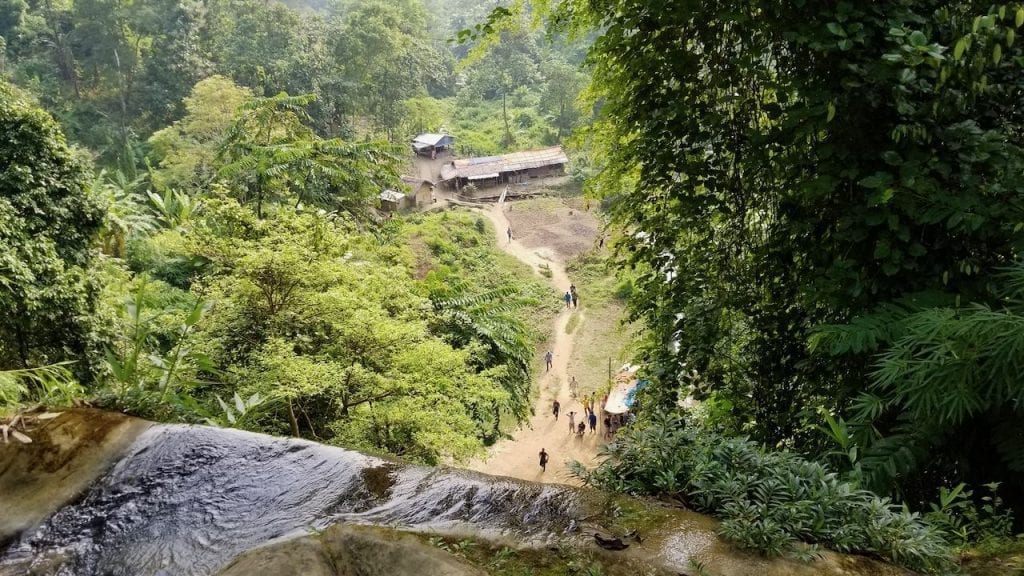 I decided to ascend to the top. It was slippery with enormous rocks. Some man-made ropes and roots of trees came to my rescue. When I realized that, I made it to the top; I took a deep breath and looked beneath. A wave of fear paralyzed me for a moment. How am I supposed to go down?
Permission in Army Camp
Time flew in that place, and I rushed towards my vehicle. A lot of others were waiting in the queue and we resumed our journey. In 5 minutes, we arrived at the check post. It was a simple procedure. An army staff was sitting with a table and a journal. The conversation went like this:
"What is your name?"
"What is your occupation?"
"Phone number?"
"How many persons are with you in your vehicle?"
I replied to him, came back to my groups and reached inside the Jeep. We had to wait for the other vehicles to complete their formalities. At around 10:30, the cordon moved, and we were heading towards Sajek Valley.
Journey continues towards Sajek Valley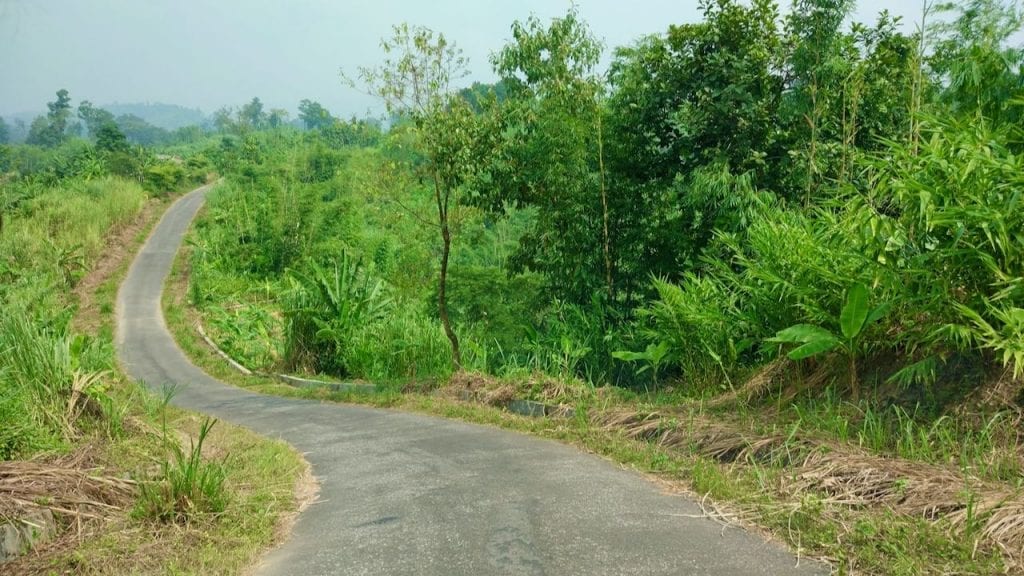 After half an hour of the journey, we entered an unfamiliar world. The road became narrower and had just enough space for a jeep to pass. The green bushes were bowing to greet us. Our steep ascends and the descent continued with the twist, turn, swing, and sway.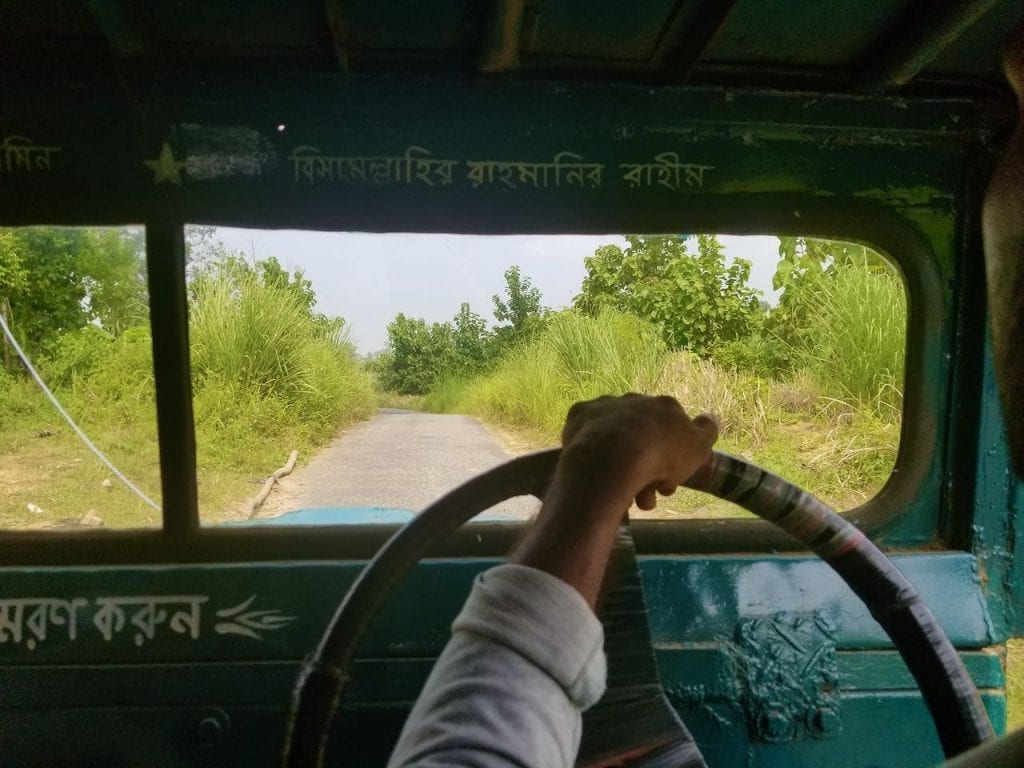 I didn't like the fact that, we were breaking the concentration of the driver by singing, dancing and shouting. The valley, hundreds of feet below, was inviting – a simple mistake of the driver will take us there.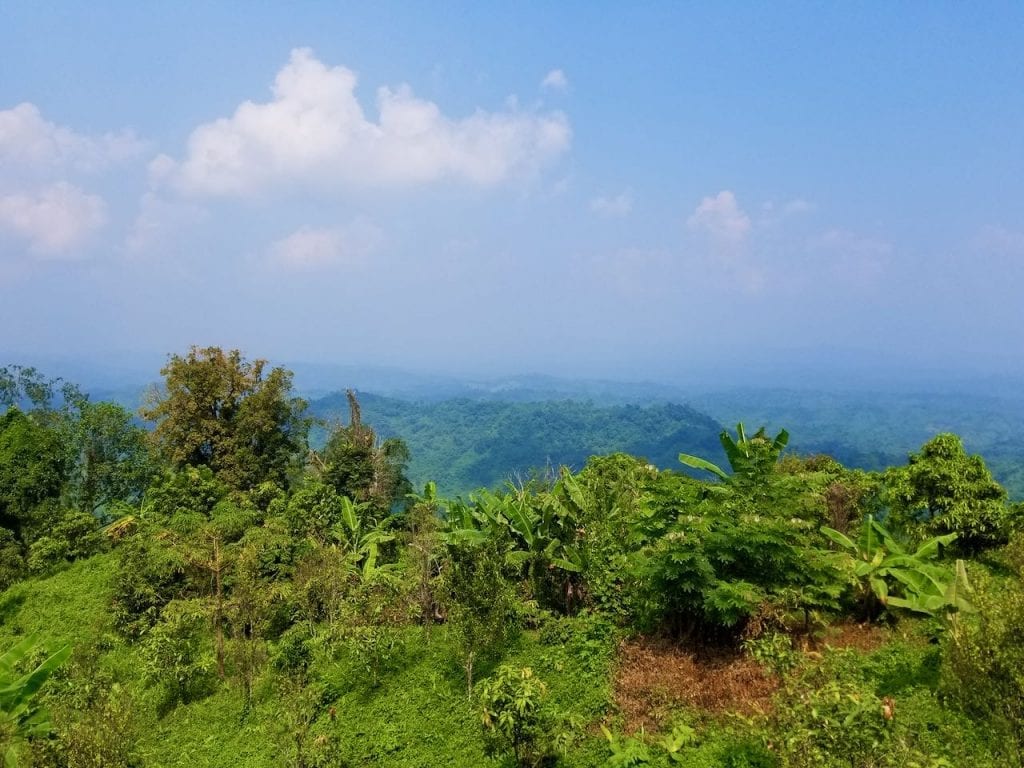 As we were progressing, the scenery started transforming dramatically. The fauna became thicker with grasslands – the grasses looked greener, and the banana trees looked tempting. For a particular timeframe, nothing was visible except trees. And then, the magnificent views of distant hills unveiled themselves.
Things to do in Sajek Valley
After about three hours of the journey, we arrived in the Sajek valley. The name of the village was Ruilui para. Although the landscape was charming, I felt a tad disappointed to see the dotted hotels on both sides of the street. It's kind of spoiled by the authenticity of the place. I understood I am ten years too late for my liking.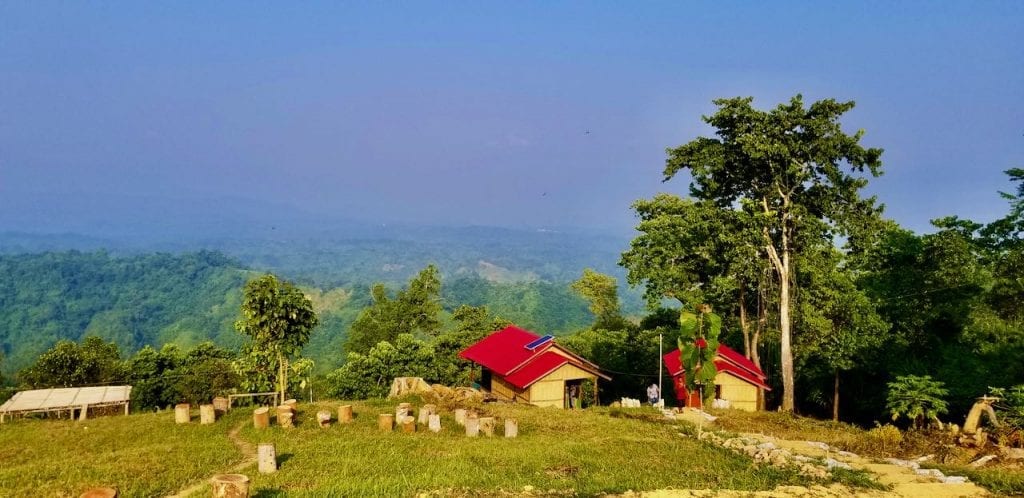 If you wish to stay in a hotel with a great view in Sajek, you need to book ahead. You can't book them online. You have to find contact number of the hotel, call them, pay through their prescribed channel to confirm the booking.
I didn't have any cottage booked. So, I shopped around a little and settled in one. You won't have any electricity in Sajek, the power that you will get is through diesel driven generators or from solar. The water is also scarce; we need to keep that in mind while consuming it. The mobile network was also not very strong, it's not an awful thing though, we at least can concentrate on nature rather than restricting ourselves to the mobile screen.
The architects of the houses made the room of bamboo structure with a thatched ceiling. A bunch of bamboo made bases lifted the room high from the ground. I think they made it that way to protect the house from floods.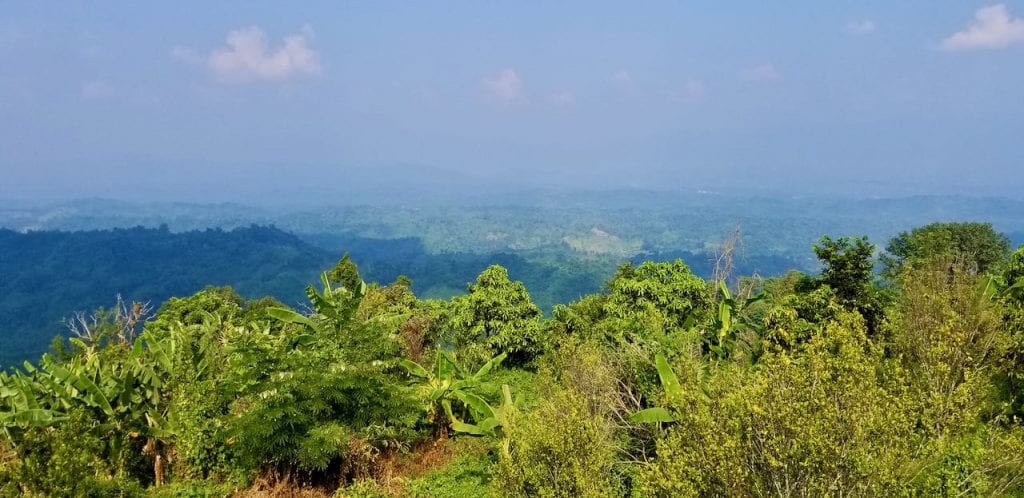 As soon as I entered the room, I was ecstatic to see an attached porch. It presented me with an unobtrusive view of the Kasalong range of mountains. On the horizon, there were countless tiny hills. The valley was truly green. Where there were no hills, I found grasslands which made the landscape even greener. The bright red color on the rooftop of the motels gave a wonderful contrast to the canvas.
Sajek borders one of the seven sister states in India named Mizoram. If you go a little further, you will reach Myanmar. So, some hills I am watching from the balcony belong to Bangladesh, some of them fell Inside wish I could make a trip to Mizoram or Myanmar, however, there is no operational land border to go there. Such a shame!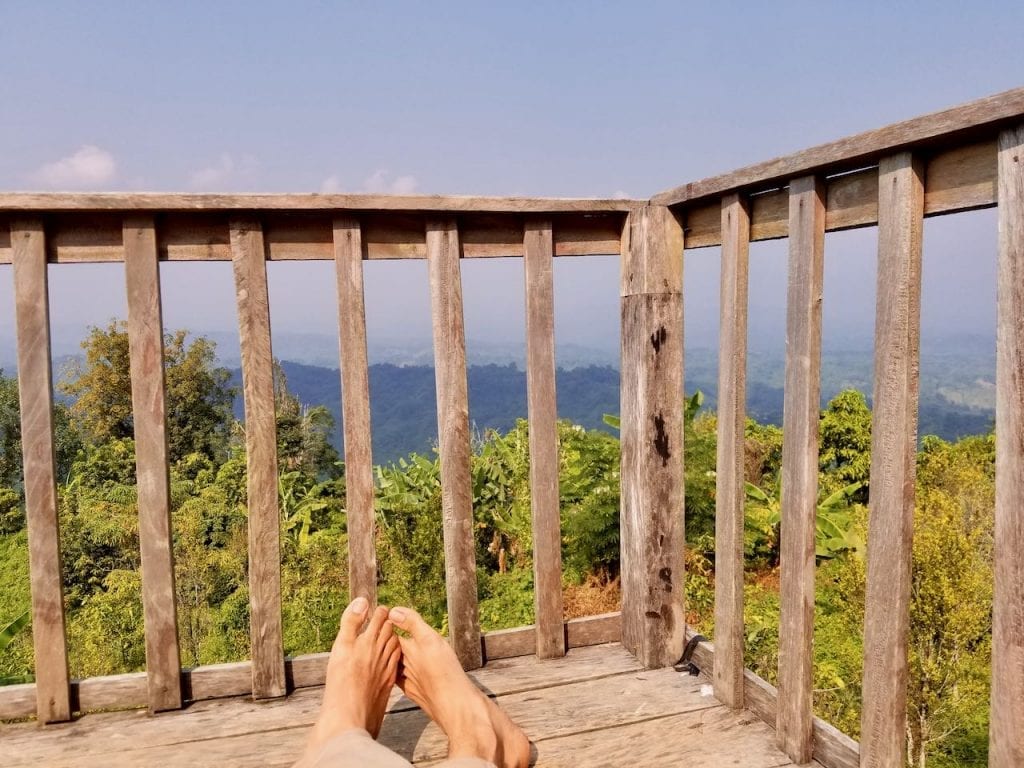 The mercury was rising during midday. I sat on the balcony looking into the waves of green. Bangladesh is a flat country. Considering that, Sajek is in a higher elevation, 1500 feet from the sea levels. The clouds were fluttering around, laughing, singing, dancing, kissing each other. I snatched some of them and saved those candy floss in my pocket. I wanted to sit there forever, to admire nature and the silence. My wish left in vain as my companions of the Jeep broke into my room to pick me for lunch.
Within a walking distance, we found a restaurant and ordered our meal. I guess they went out shopping after taking orders – took us an eternity to serve the food. I became impatient with the delay, but they were worth the wait. The chicken they served was heavenly. Sajek any day again to taste that chicken!
Before leaving the restaurants, we placed our order for dinner. If you don't pre-order, you might fall into a risk of not having dinner at night. The entire valley becomes deserted at night, and they don't expect anyone to show up there and order something.
Konglak Mountain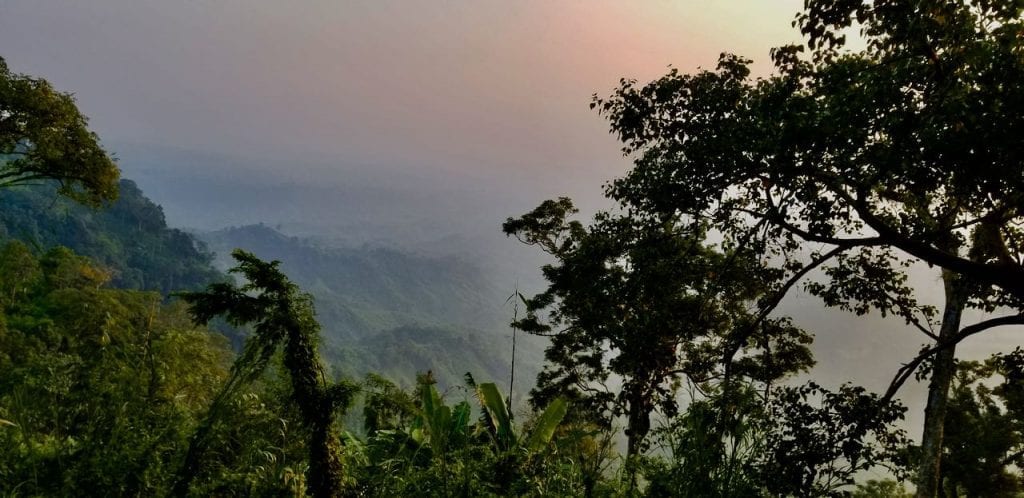 The heavy lunch along with the tiredness of earlier night's journey made me slow. I wanted to enjoy some rest. But, Konglak hill, the highest one in Sajek tempted me. It's renowned for the beautiful sunset. We hired a vehicle to go to the base on the hill. There, I met with a local indigenous person who was carrying bananas on his back. Those were so cheap; I felt guilty while paying the amount he demanded.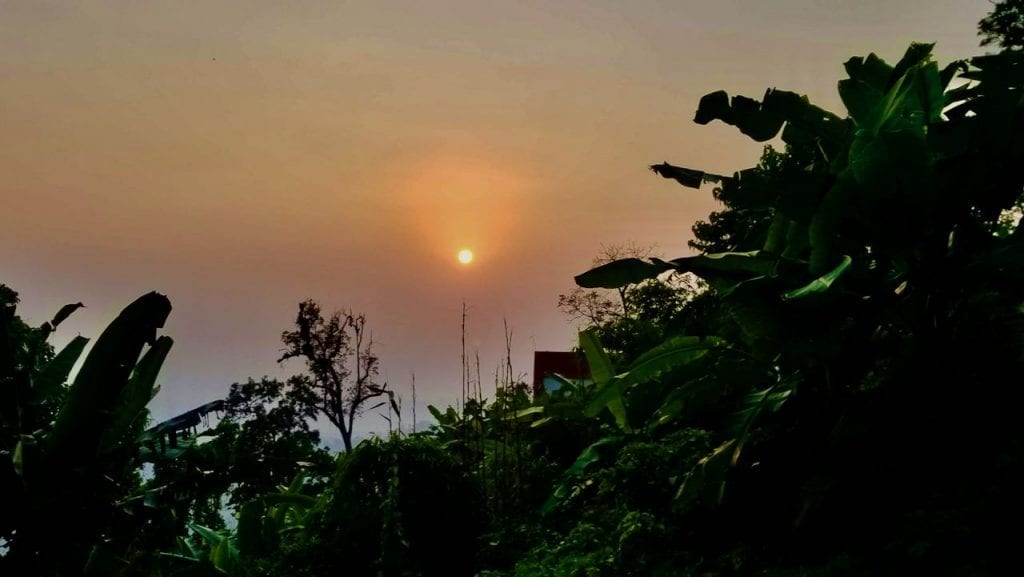 The way to Konglak was nothing exceptional. It was an easy hike of 15 to 20 minutes. The top was barren and packed. Every soul of the valley climbed there to enjoy the sunset. I doubted if it will be possible to see the sun go down. The faces of the selfie hunters worked as a fence. Looking for my piece of space was my immediate goal. I could not find that solitude that day. I didn't envisage staying there anymore, so I quit looking at the soft glow of the sun. Don't get me wrong, it was a marvelous place with a panoramic view of the hills and valleys. However, I always despise a sizable crowd.
The helipad in Sajek Valley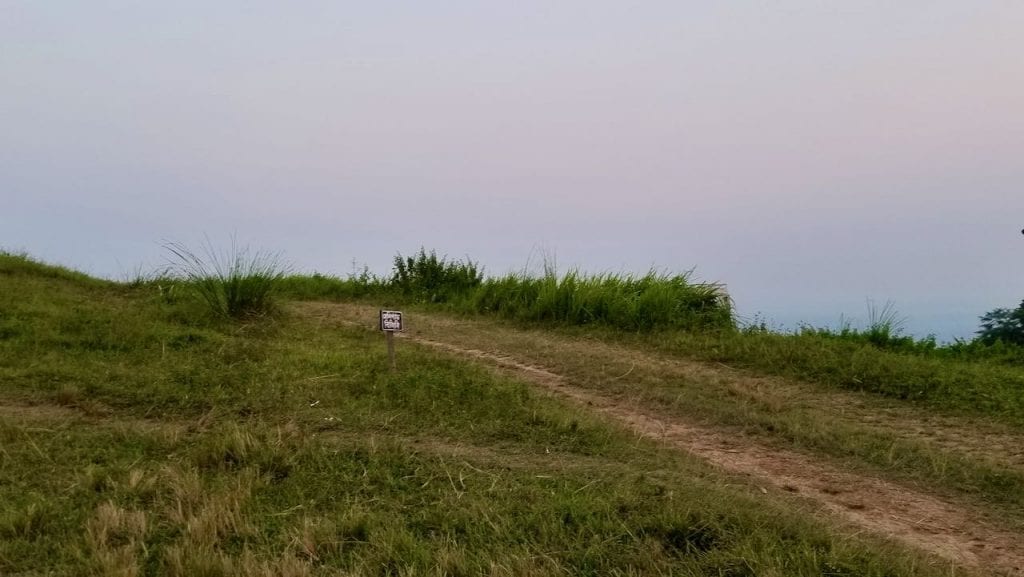 I climbed down from the hilltop and walked in the street towards the helipad. Yes, although the bus can't reach here because of the road condition, a chopper doesn't have that limitation. That area is pretty. When I reached there, I found that filmography of a play was going on. Some funny songs were playing in the background. Sajek is beautiful, and it's not that difficult to reach here. So, this place has become an interesting place for film and drama producers.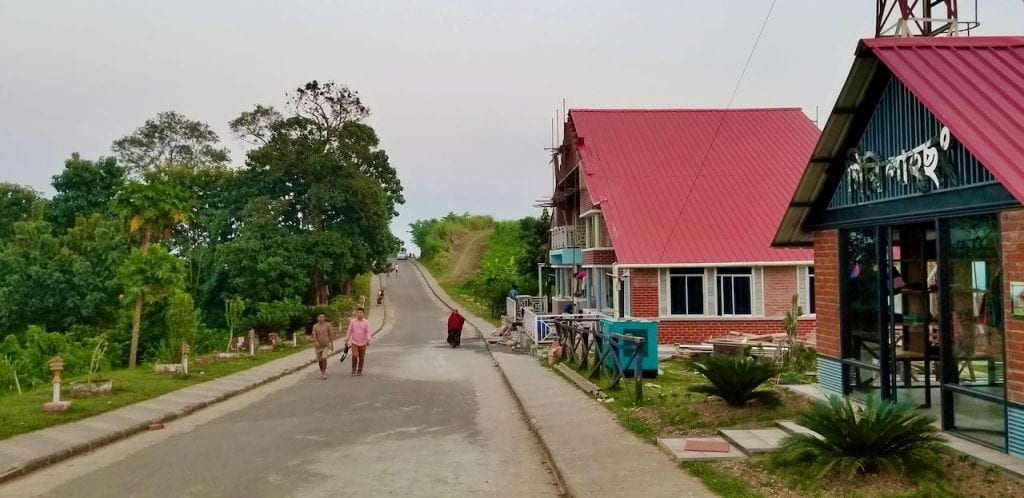 The last ray of sunlight faded on the horizon. I came back to Ruilui para. A flock of tourists was strolling around. They were gossiping. To my terror, I heard some loud music, too.
I picked some grilled meat as snacks from a temporary shopping cart beside the street. The area is small; I took a stroll, gazing at the stars.
Dinner with bamboo chicken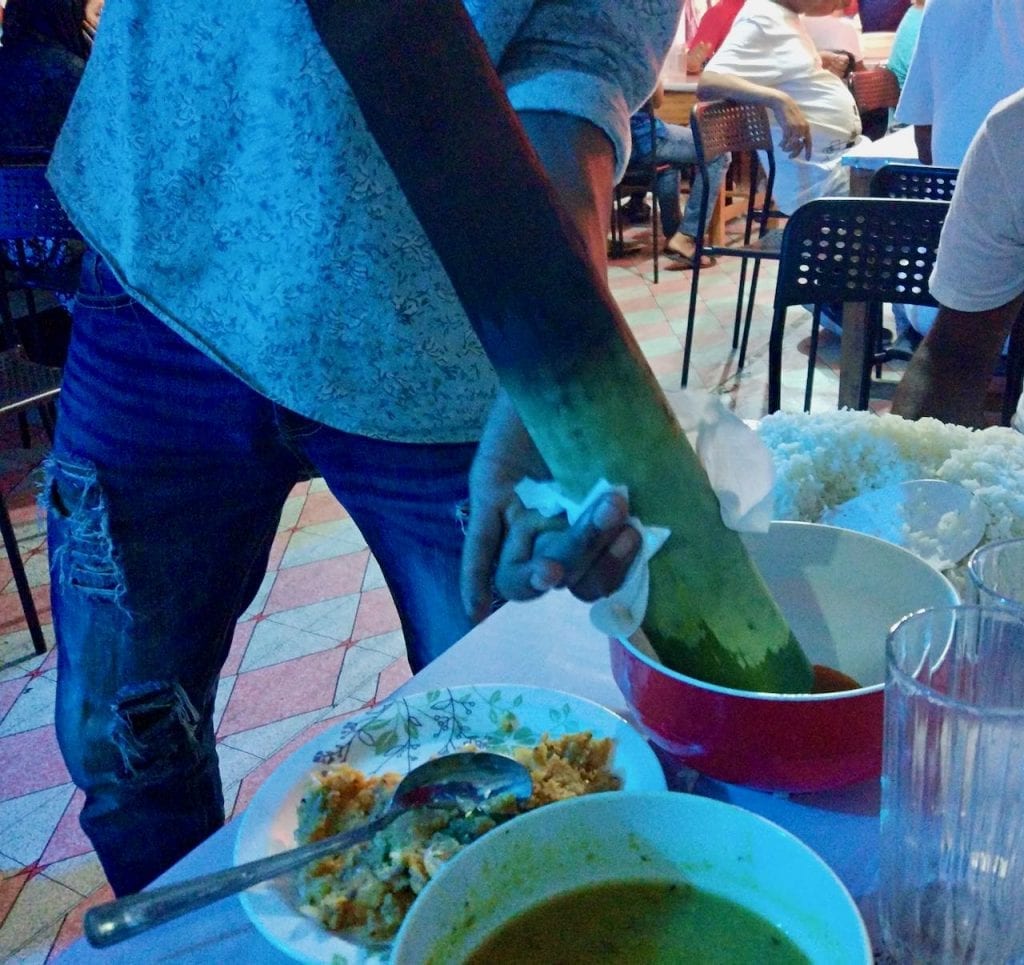 During dinner, we ate traditional cuisine. It's called bamboo chicken. The cook put the chicken inside bamboo and cooked there. Later, they brought the whole bamboo, took the chicken out of it, and served it. It tastes different from what we take. My friends enjoyed it, however, I prefer the chicken curry I had during lunchtime. If you look at the photo below, you will notice the amount of food we took!
Back to my room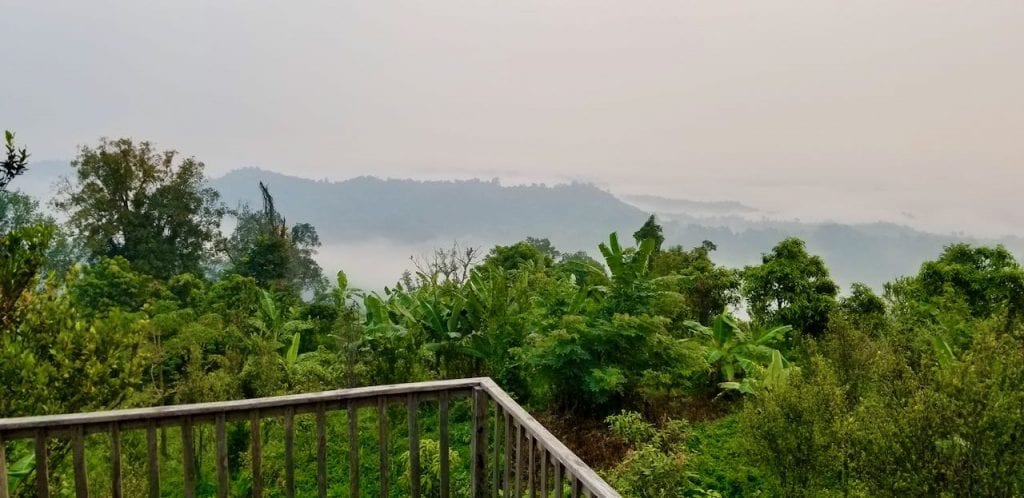 I got back to my cabin and stood in the balcony gazing at the moons and stars till I went down for the night.
I wake up at 6:00 in the dawn. I rushed out to the porch to watch the sunrise. The misty cloud drifting in the hilltops far away along with the greeneries captivated me.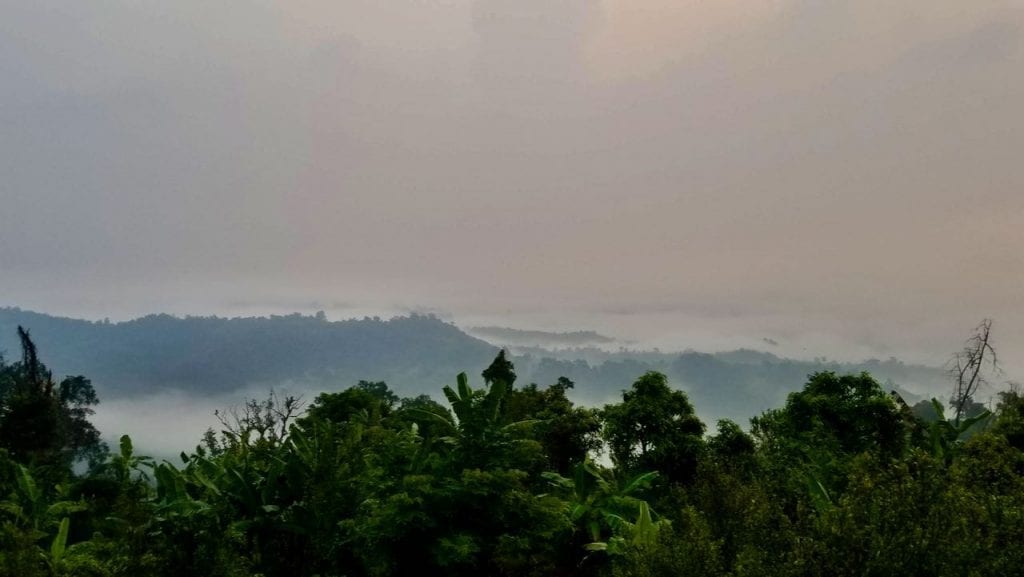 I savored the moments. It was a weekend getaway for me. I could have stayed in that balcony for days doing absolutely nothing. However, I have another project deadline to meet; I have to go back to my desk in busy Dhaka. I wanted to be a rebel. I wished to stay there, ignoring the harsh reality of life. Sadly, I could not become the person I always loved to be. Someday I will, and I promise to share that story to you through this blog.
Back to Khagrachari from Sajek Valley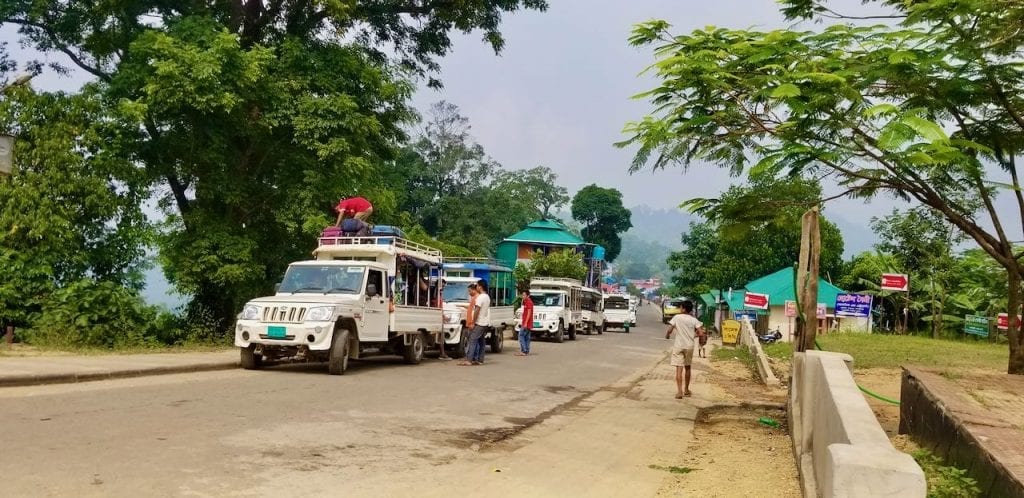 The army jeeps will escort us back the way they brought us. I saw a queue of vehicles to follow them.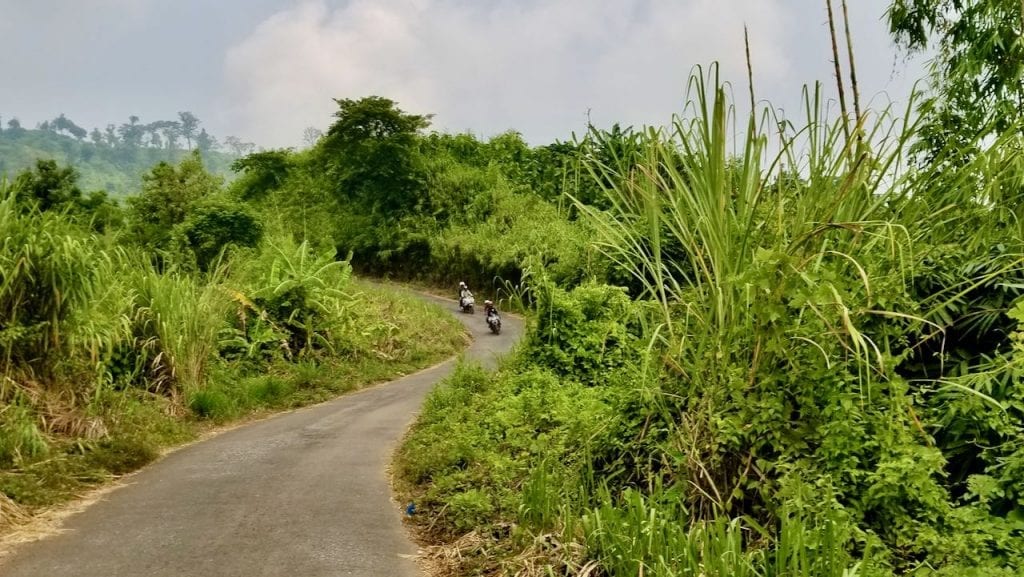 We started our journey towards Khagrachari. Although we were following the same route, the journey felt different because of the softness of light. This time, I was quiet. The melancholy of leaving behind the place took my joy away. But how can I remain sad if I bump into such a pleasant view behind my back?
This world is beautiful, isn't it?
Back to Dhaka
This time, I wanted to avoid another night's journey by Bus. So, from Khagrachari, I took a bus to Chittagong, the second-largest city in Bangladesh. I arrived there in 3 hours and caught a 30 minutes flight to Dhaka from Chittagong.
Summary
Where is Sajek valley?
It's in the southern part of Bangladesh, in the district of Rangamati.
Khagrachari town is 67 Kilometres from Khagrachhari, and 95 Kilometres from Rangamati city. The border from India is only 8 Kilometres from Sajek.
How to reach Sajek valley?
Option 1
Take a bus from Dhaka to Khagrachari (8 hours)
Take a Jeep (aka Chander Gari) from Khagrachari to Sajek (3 hours)
Option 2
Take a bus from Dhaka to Dighinala (Only bus company named Shanti operates)
Take a jeep from Dighinala to Sajek
Option 3
Fly to Chittagong from Dhaka
Take a bus from Chittagong to Khagrachari (3 hours)
Take a Jeep (aka Chaader Gari) from Khagrachari to Sajek (3 hours)
When to go to Sajek Valley?
The clouds are adorable during Monsoon and Autumn
However, it's a year-round destination as the weather never gets extreme
Trivia
The name of the place is after Sajek River, which is a branch of Karnaphuli river, an important river in Bangladesh
Khagrachari to Sajek is one of the most scenic routes in Bangladesh
Tips
You should taste the fruits of Sajek – specifically pineapple, banana, and papaya.
Only Robi and Teletalk has network connectivity in Sajek, so, you can take SIM from these operators.
As there is no electricity in Sajek and the power generator is a luxury, you can take power banks with you to charge your mobile.
You must book ahead during the weekend or if there are national holidays.
Important information
Foreigners need a prior permit for visiting Sajek from the office of Deputy Commissioner in Rangamati.
Locals need to register their name in an army camp on way to Sajek (half an hour from Khagrachari). It takes less than 5 minutes.
Two army jeeps will take the vehicles to Sajek from the army camp. One is scheduled at 10:30 AM and the other at 3:30 PM. It means you have two windows per day to go to Sajek.
Sajek Valley Hotels
You can stay in mostly two areas – Ruilui Para and Konglak Para. Ruilui Para is where most travelers stay and there are several options to choose from. Konglak Para is more calm and off the beaten track.
The following ones are the most popular:
Major Costs
Bus to Khagarachari – BDT 500 to BDT 1200
Jeep from Khagrachari to Sajek – BDT 8000 to 12000 (Round trip), can take 12 to 15 persons
Hotels – BDT 500 to 3000 per night
Who shouldn't visit Sajek?
Someone looking for a nightlife, and luxurious vacations.
Who should visit Sajek?
Someone seeks an adventurous scenic journey, be among nature and touch the candy flossed clouds with some tasty foods.
Want to Explore more of Bangladesh?
Liked Sajek Valley? Pin It!