Located to the southern part of Bangladesh, Saint Martin's Island is a beautiful coral island. To many, Saint Martin's is the most beautiful place in Bangladesh. We have drafted a travel guide to Saint Martin which includes the activities you can do, amazing photos of the island, and recommended hotels.
Blue water, golden beaches fringed with coconut palms, abundant sunshine, and a tiny insignificant dot on the map – that's, Saint Martin in Bangladesh for you. This is the most beautiful island in Bangladesh, hands down. This is one of the most beautiful places in Bangladesh, too. When you have 160 million people packed in an area equal to Illinois, you cannot expect tranquility in a beautiful place. Saint Martin's is a rare exception to that because of its remote location. It's difficult to go there, but once you will be there, you won't want to leave. This is your ultimate travel guide to Saint Martin in Bangladesh.
Small Jetty of St Martin Island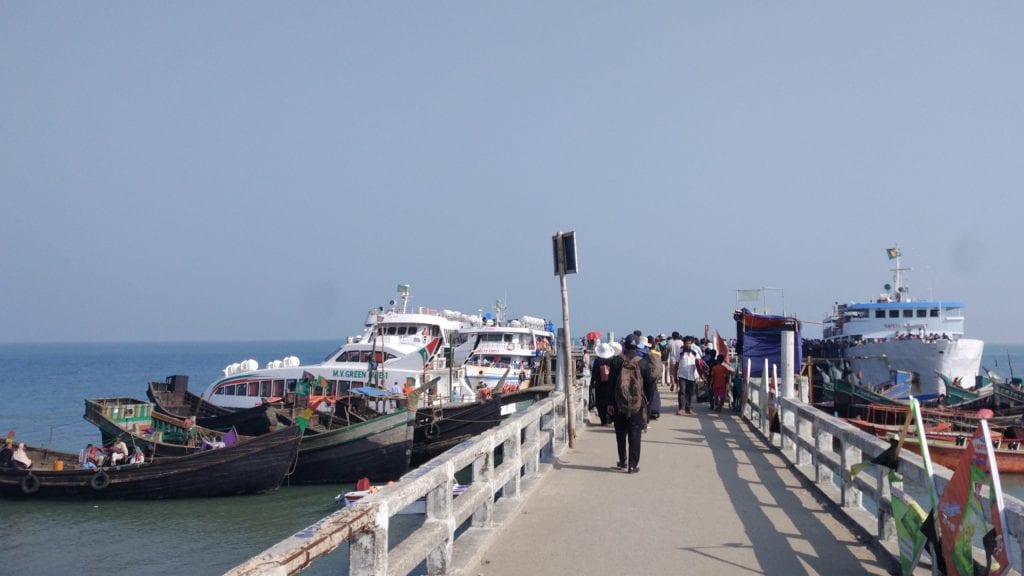 The only way of reaching Saint Martin's island is via ship. Our ship arrived there from Teknaf before noon (See below for detailed information). The jetty in Saint Martin's is unremarkable. Several small to medium passenger vessels were docked there. There was a small bridge made of concrete connecting the island. We took our belongings from the ship and walked less than 50 meters, where a lot of vehicles were waiting to take the tourists to their hotel.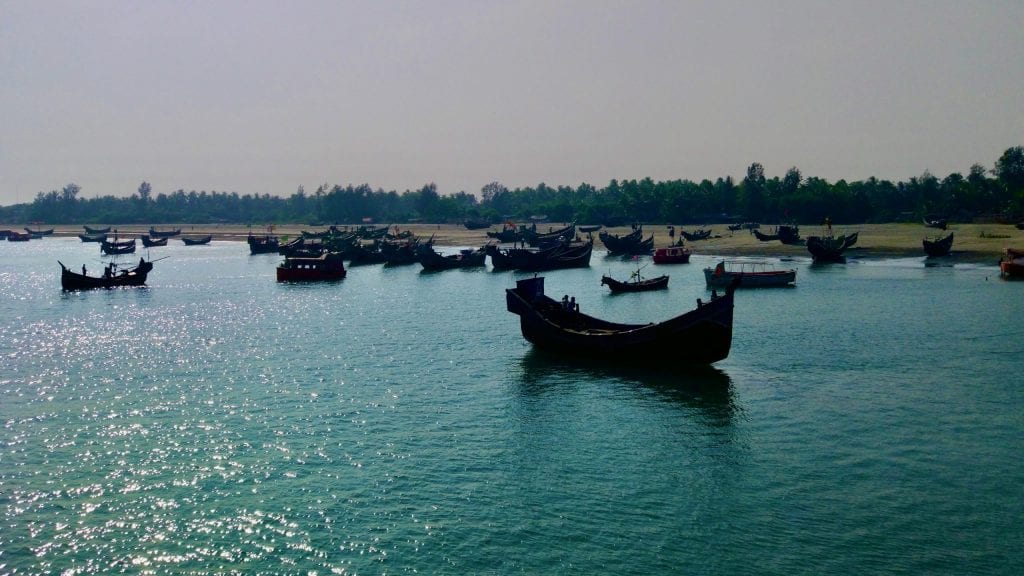 Apart from ships, there were many boats resting in the sea. Those were mostly fishing boats. If you are an adventure seeker, you can also take this kind of boat for arriving in Saint Martin's. I know many people who did this, but you need a lot of guts for taking this journey in the rough sea.
The Jetty to our Hotel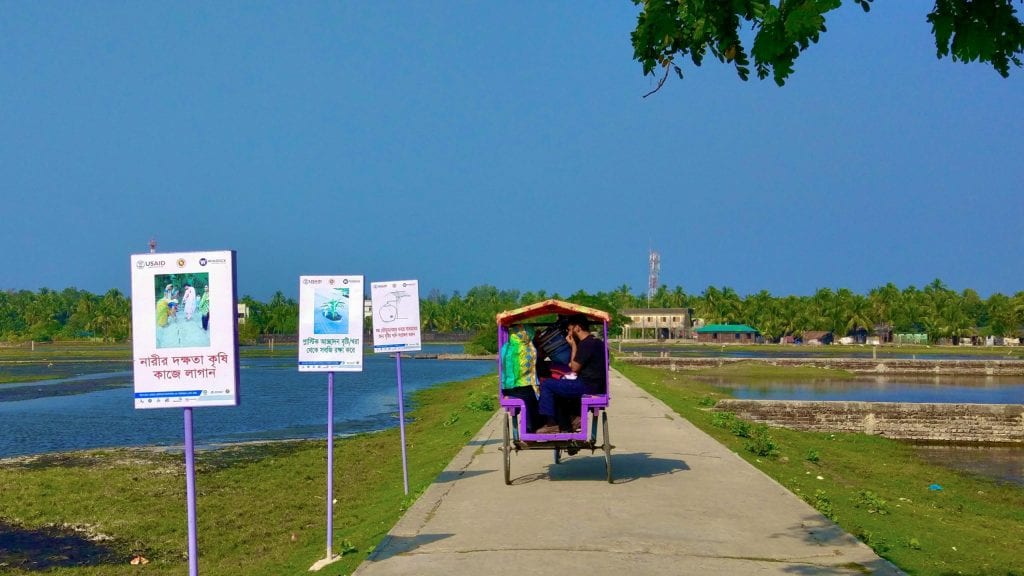 We took a vehicle which is known as a "van". It's a three-wheeler human hauler. 4 persons can sit at the back, which has a shade. We did not have enough space to carry our luggage there, we somehow managed it.
Although, the island is in the remotest place of Bangladesh; the infrastructure is fairly good. The placard you can see is the Government's messages to the villagers like "Utilise the expertise of women during harvesting crops".
I was looking around from the van. I could see a cellular network tower. Not long before, there was no mobile network connectivity in Saint Martin's. It was customary to tell people before going to Saint Martin's island (with a bit of pride) – "I am going outside of mobile network coverage". Those days are gone!
The Vast Ocean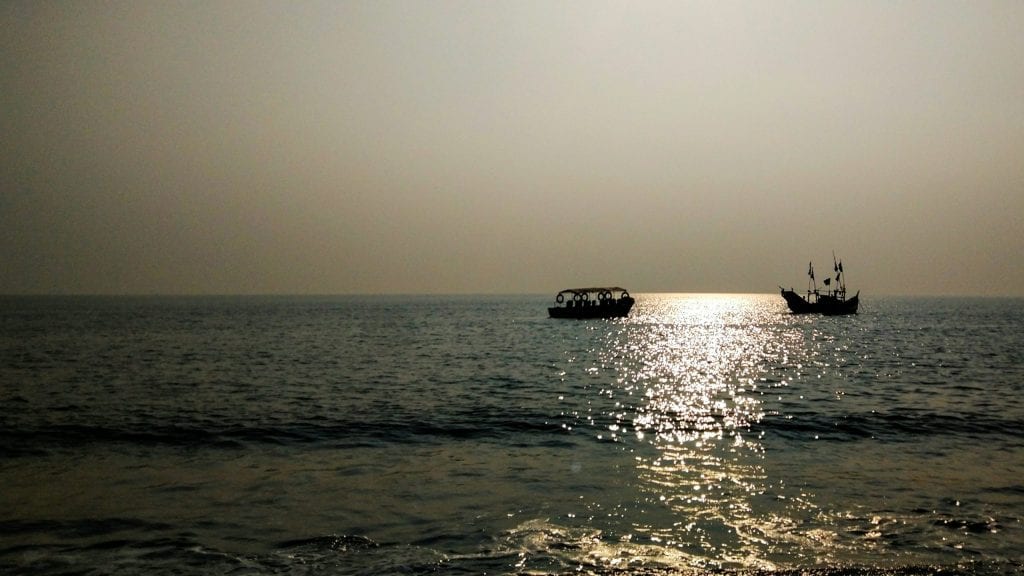 This is a small island. It took less than 10 minutes to arrive at my hotel. The hotel was right beside the sea. I got tired after a long journey; I took my shower and ate my lunch and went out. The vast open Bay of Bengal was right in front of me. I could see nothing on the horizon other than two fisherman's boats. The soothing wind, the smell of the sea, and soft light made me asleep on a couch on the beach.
Evening Market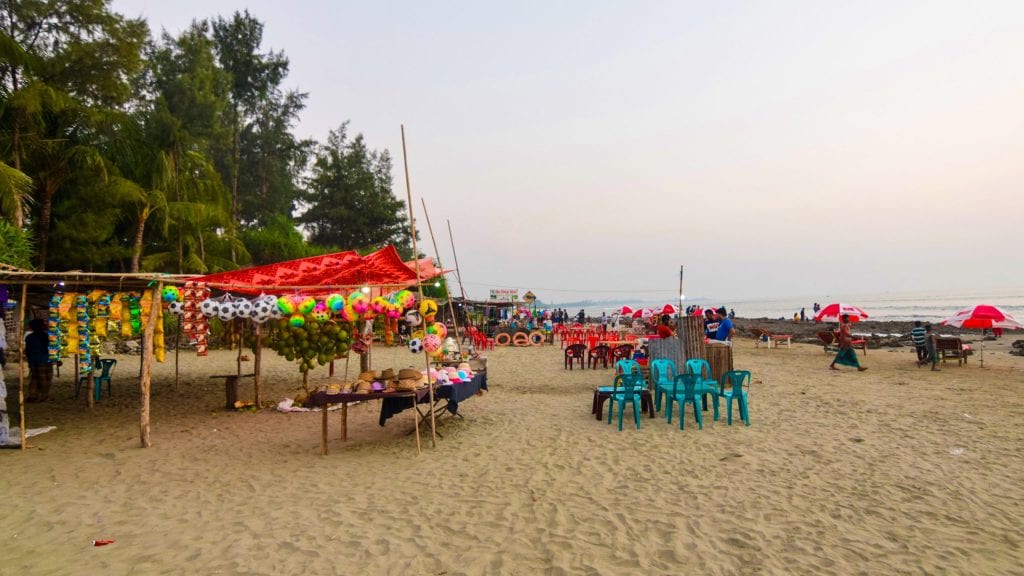 As the sun became less intense, temporary shops opened their window. They were selling biscuits, chips, hats (for protection from the sun), and some toys for the kids. I rented a bicycle to roam around. It was difficult to go far – maybe because of the poor condition of the cycle, or maybe because of my lack of stamina for riding on the sand. I will definitely point the finger to the excuse number one!
The Beautiful Sunset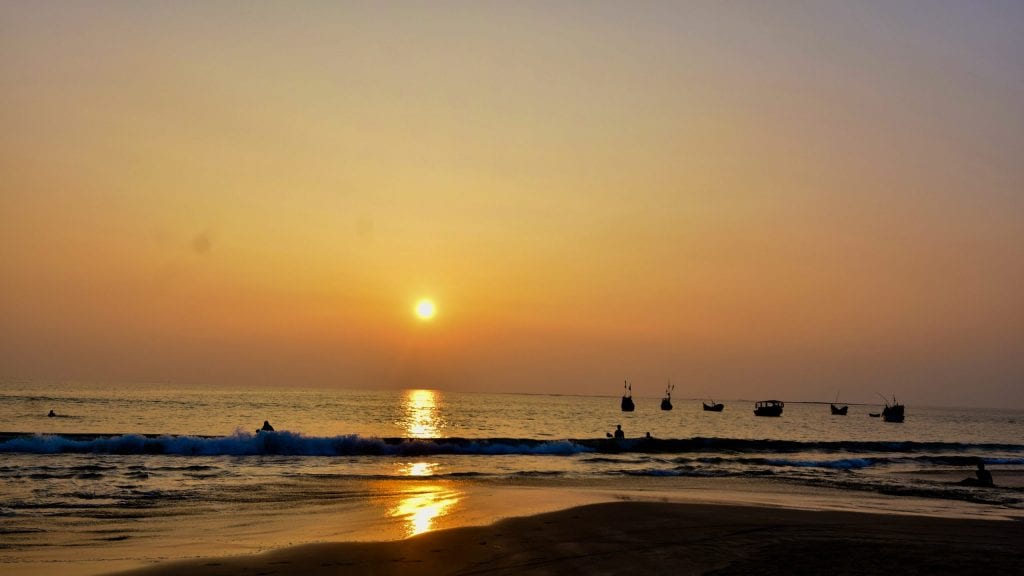 Maybe I dozed off for an hour. The surroundings were so serene; I did not want to go anywhere else. Bangladesh is a Muslim country and you won't find alcohol here. However, on Saint Martin's Island, you have something better. You can buy big coconuts full of water. These coconuts are grown on the island. I took one, and it was refreshing. I was enjoying the tranquility, looking at the horizon to see the sun melted in the ocean like chocolate in my mouth.
Fish Fiesta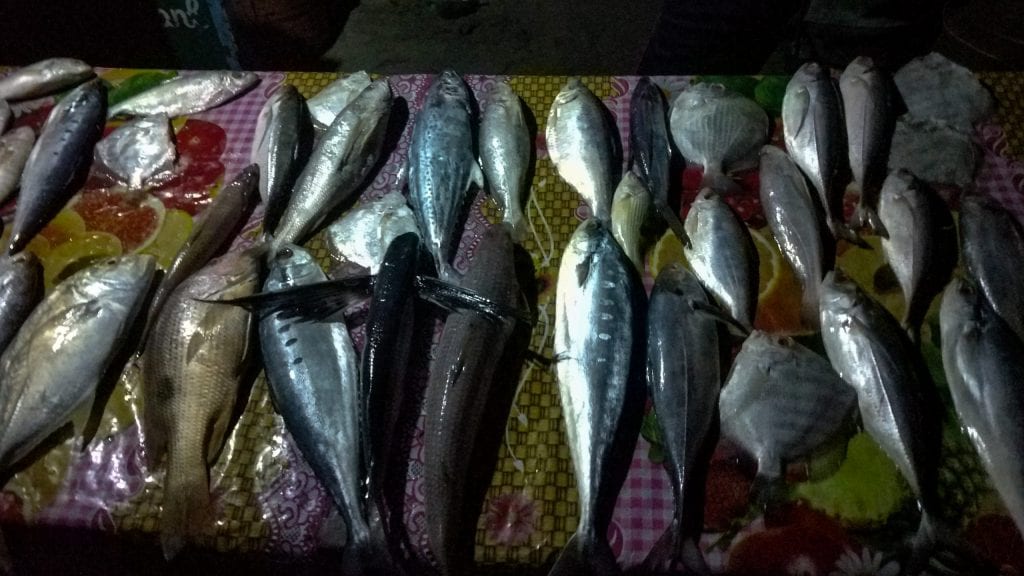 When the sun sets, and darkness looms, you can hear the roar of the sea. The best thing to do during that time is to eat seafood. You usually won't need to go far from your hotel. These are some temporary boutique restaurants serving fresh seafood. You won't find a cozy or air-conditioned environment there. However, there are tables and chairs on the beach and you can enjoy deliciously fried fishes listening to the songs of the sea pouring your feet under the sand.
Exploring Saint Martin's Island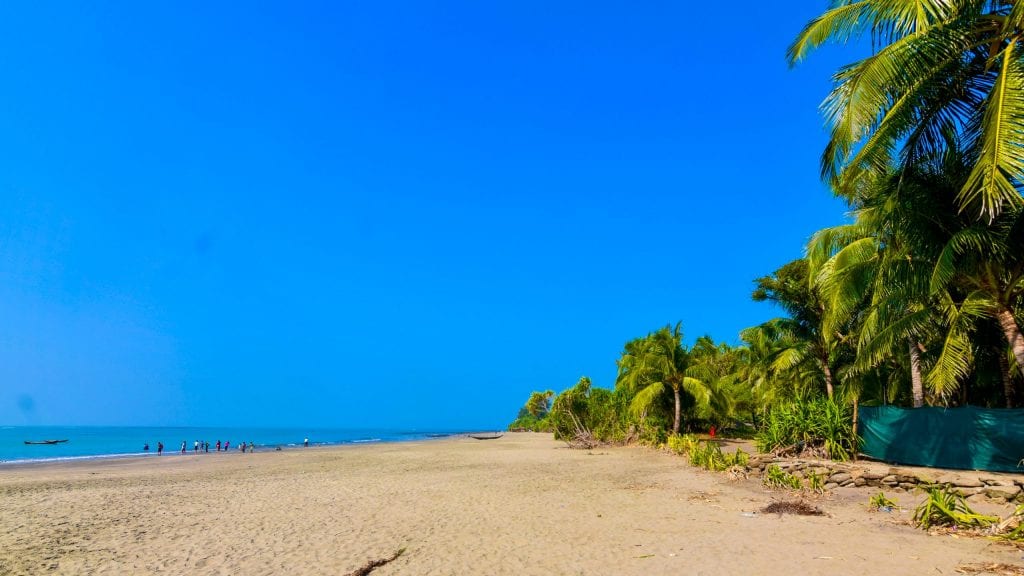 As soon as I woke up the next morning, I rushed to the beach. There is no motor vehicle on the island, not even a motorbike. It's a small island, only 8 square kilometres long. I wanted to circumnavigate it on foot. So, I started my exploration. It was a bright and sunny day in December. The temperature was just perfect. The golden sandy beach was untouched. There were no restaurants or establishments of any sort. The island was dotted with coconut trees.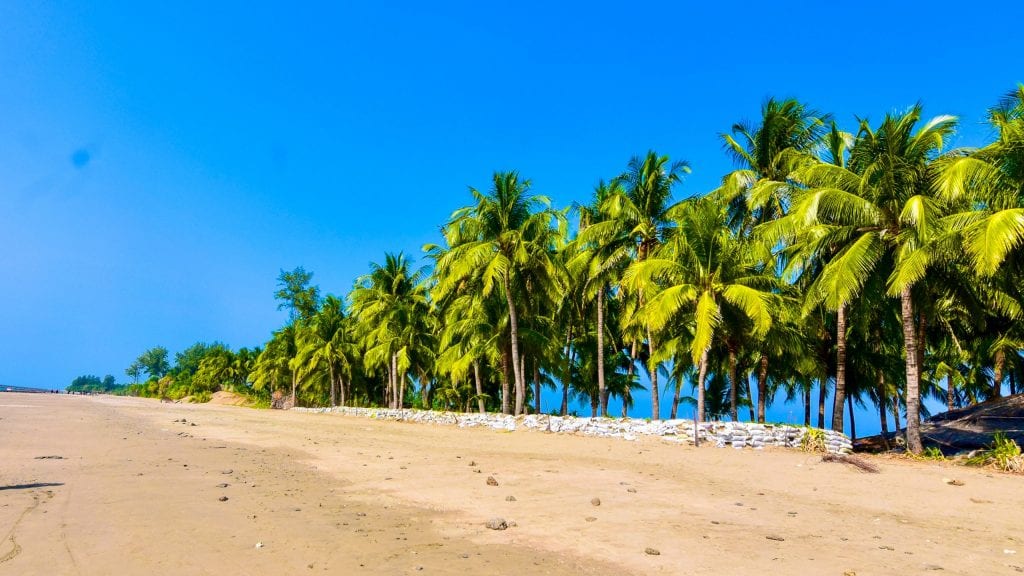 If you wonder, just behind those dotted coconut trees are hotels or houses for locals. If you look at the photo above carefully, you can see packets of sands placed near the trees. It is an effort to make a dam. The distance between those houses and the ocean is so small, the water can enter the house if the weather is not good.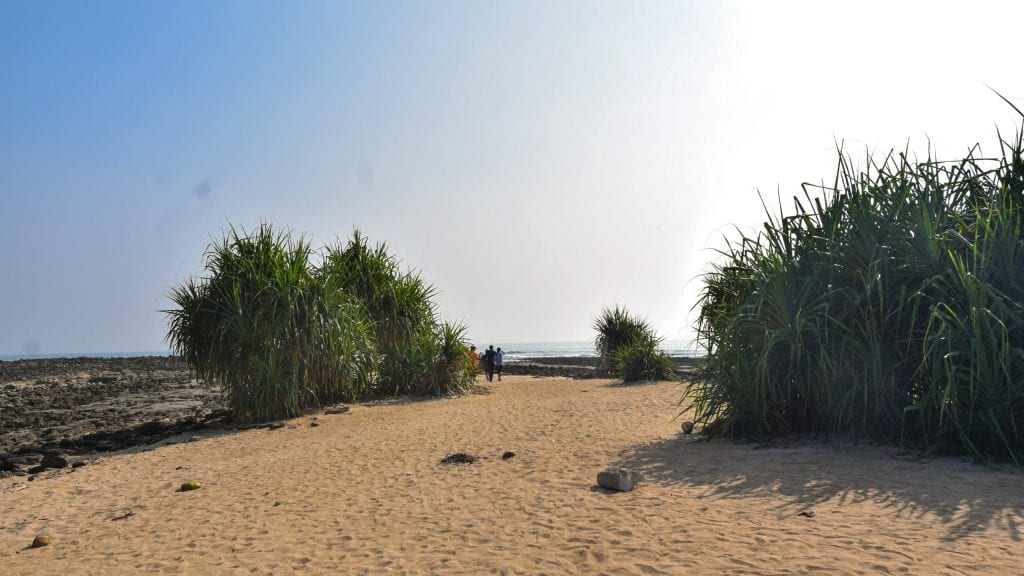 I continued my journey and found the dominance of a kind of tree apart from the coconut trees. Those are kind of bush but have strong roots. You can call them tamarisk. I explored quite a bit of the area of the island. Sadly, I could not complete my goal as there was a portion that went underwater. I either had to cross that part with a boat or by swimming. I didn't want to do either. I later realized that it's possible to circumnavigate the entire island on foot during low tide. When it's over, certain parts get underwater and you cannot cross those by foot.
Trip to Chhera Island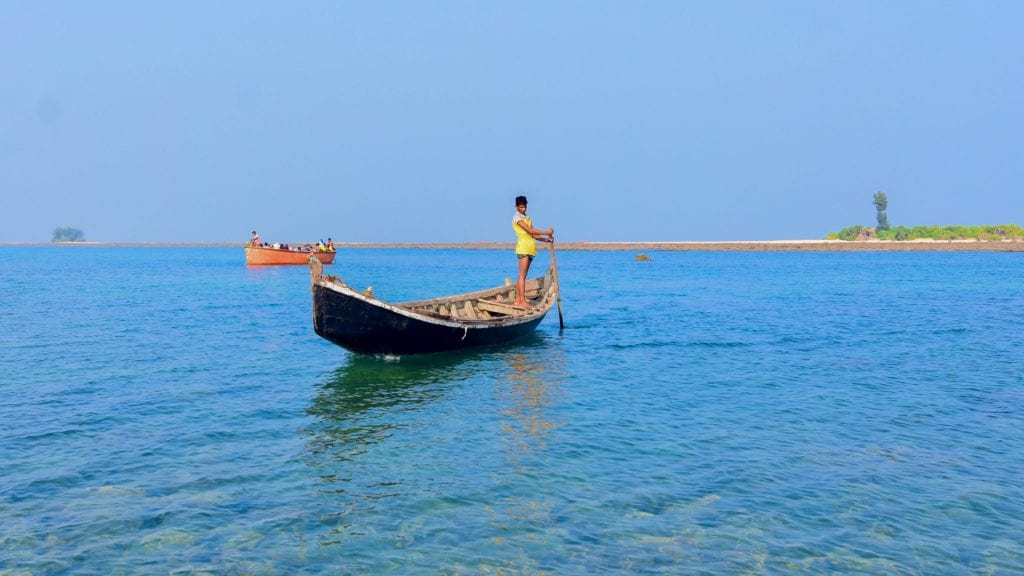 I have been hearing about a beautiful little extended island. Its name is Chhera Dwip, which means Torn Island. As the island gets separated from the main island during high tide, the people named it so. I rented a boat to visit there. The boat was interesting. It was engine driven and there was no designated seat for the passengers. We had to sit on the edge of the boat. Those who could not gather the courage sat on the hollow part of the boat.
Just take a moment to look at the water, it was so transparent we could see everything beneath the water.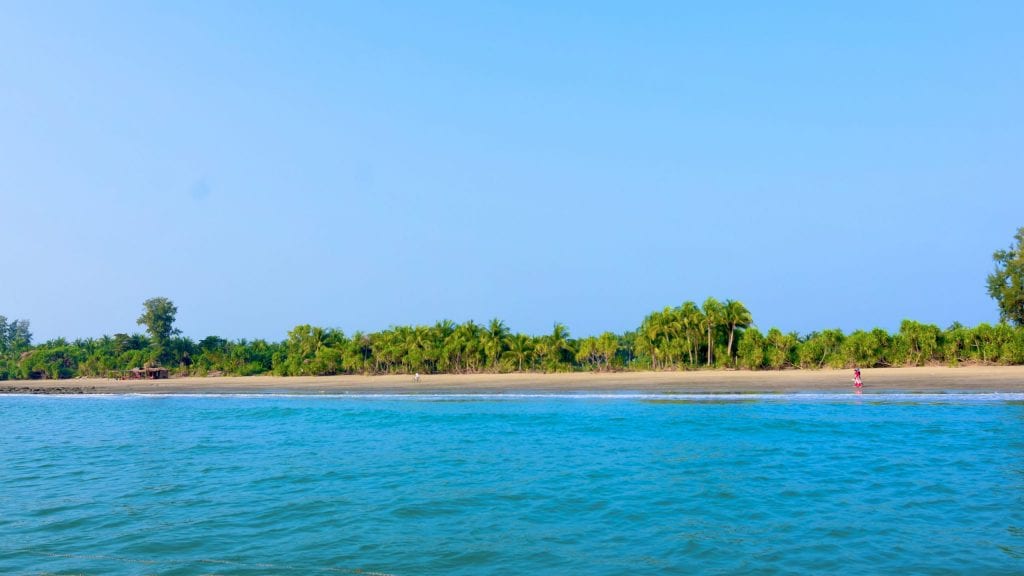 Just 10 minutes of boat ride gave us a glimpse of the shore of Chhera Dwip. As I mentioned earlier, this is a part of Saint Martin's island, but this area is uninhabited. It looked marvelous from far. As we were approaching nearby, a part of me started thinking of myself as Robinson Crusoe.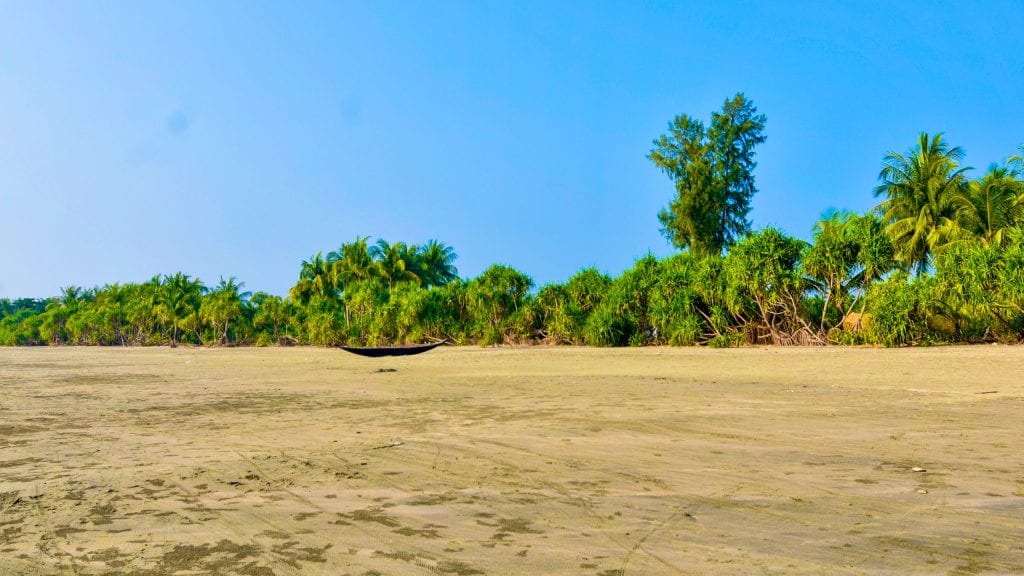 There was not a single soul on the island. After much attention, I could find only a boat unattended on the beach. I walked the entire island on foot. It was such a lovely brief walk; the time went by in a jiffy.
Corals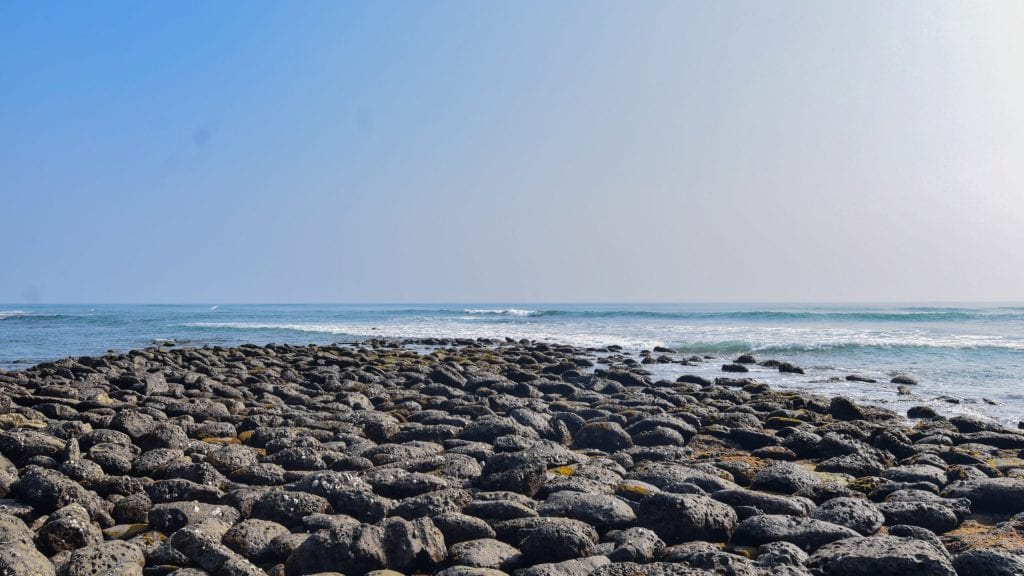 Saint Martin's is a coral island. Although most of the coral islands are in Oceania, Bangladesh somehow got one! Coral is an important part of our ecosystem and helps fishes to grow. A coral reef environment supports a lot of plant and animal species.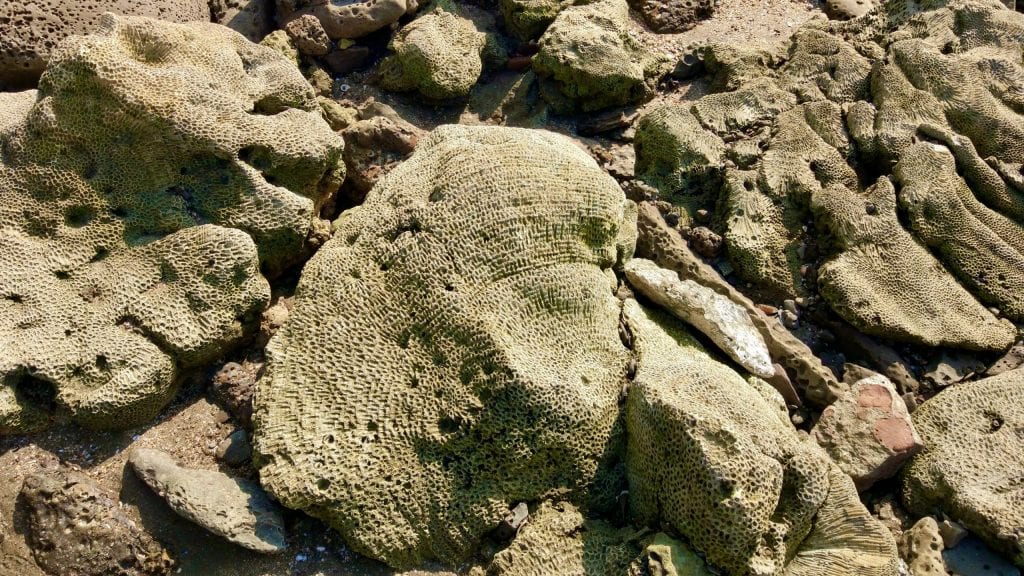 Corals are rough. If you walk on coral on a barefoot, you need to be cautious, otherwise, you will end up with a cut on your foot. Sadly, the corals of Saint Martins are dying because of the pollution caused by tourists. It has reached a point where the Government of Bangladesh is considering shutting down the island temporarily for the tourists.
Kindly do not remove any coral or buy one if someone approaches you with an offer of selling coral. The removal of corals is hurting the biodiversity of that area badly. Your action on it can make a difference to the world.
Dancing with Waves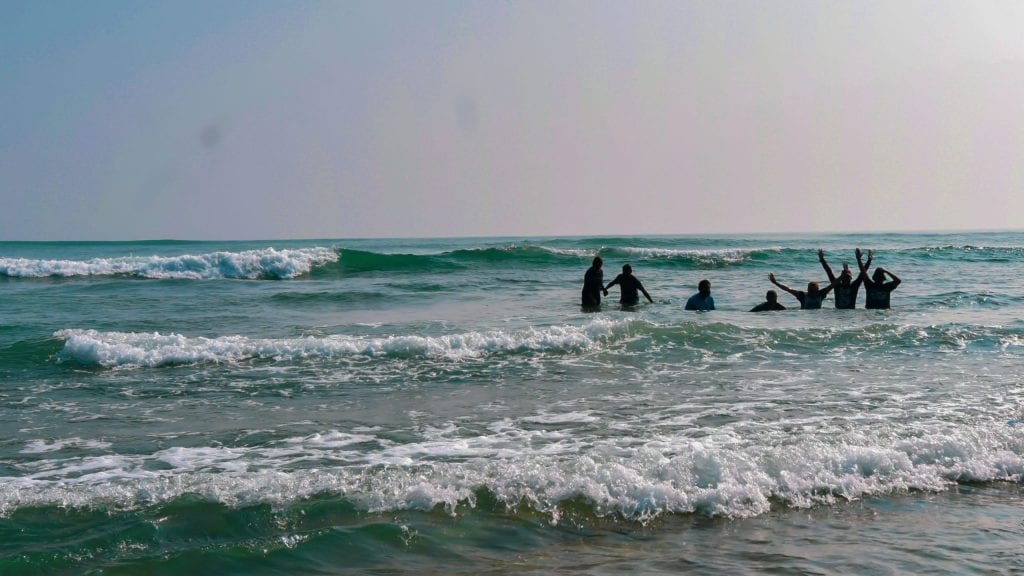 In one part of the Chhera Dwip, the ocean was open. We crossed some giant coral and reached the water. The waves were gigantic and alluring. We could not resist the temptation and jump into the sea. The waves were literally crushing on us. We did not go further but, even standing in a fixed location and embracing those giant waves were mind-blowing. We wouldn't want to get out of the weather that day. However, the boatman gave us a signal and our lovely time ended.
The Barbecue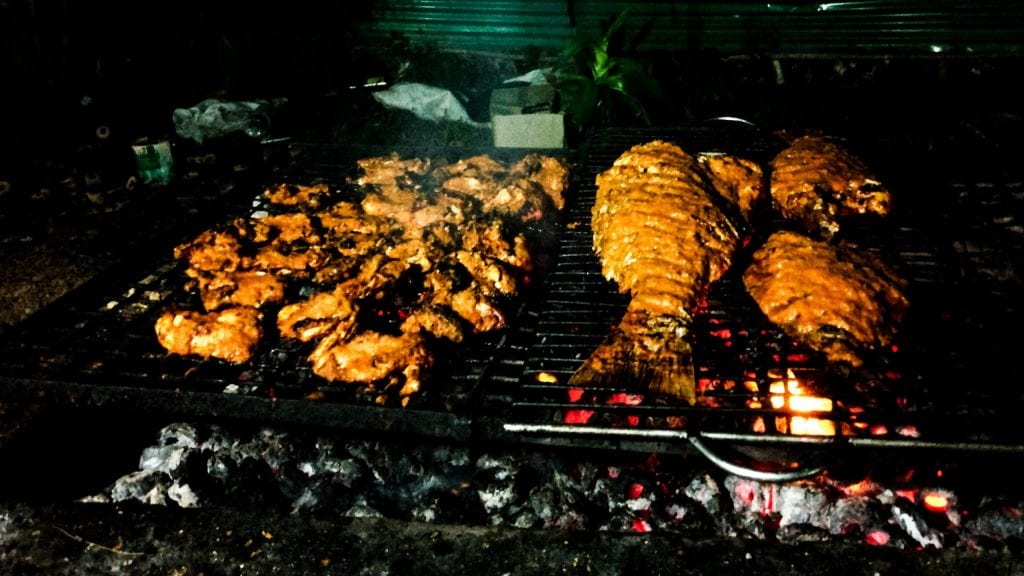 Once you are in the Saint Martin's you simply cannot leave the island without having a barbecue feast. Your hotel will arrange it if you ask them beforehand. Do not forget to check the price to avoid any unpleasant situation later. It's not a bad idea to bargain a bit. There is not much to do there at night. However, you need not find anything else on a full moon or starry night right beside the sea and savoring a mouth-watering barbecued fish.
Getting Back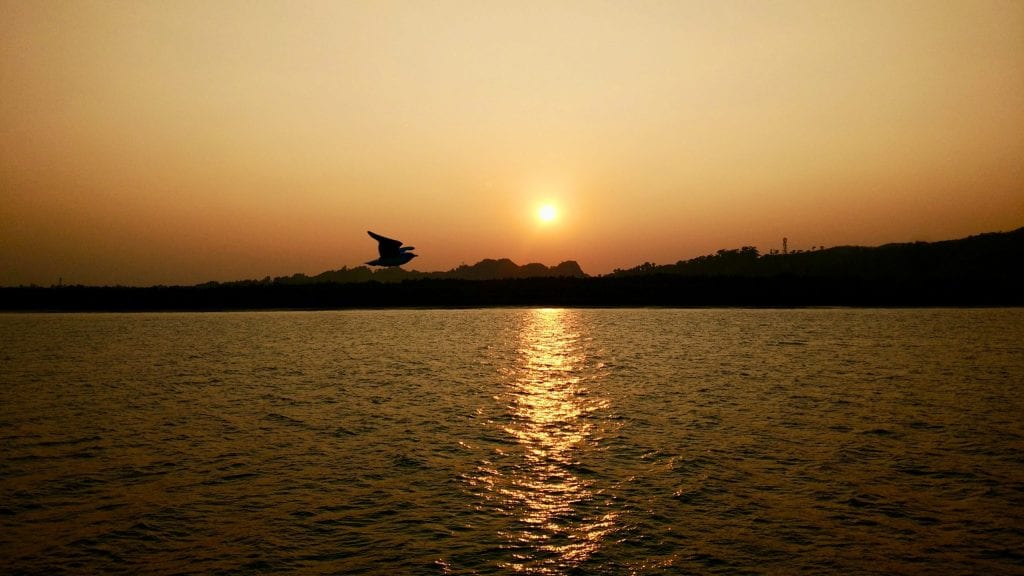 Thus our journey in Saint Martin's island ended. We were getting back to Teknaf, the nearest mainland from Saint Martin's via ship. As the birds were accompanied by us, I was contemplating our last few days. I have been to many famous islands in Asia. Saint Martin's island in Bangladesh is different compared to all of them. It has a mellow vibe like no other island. You won't find any supermarkets, you can't drink alcohol, you can't party with the noise of a disco bar – what you will find is nature at its best. The locals will serve your need for a supermarket, delicious coconut will make you forget about alcohol. The songs of the ocean will be sweeter than any sound of disco bars.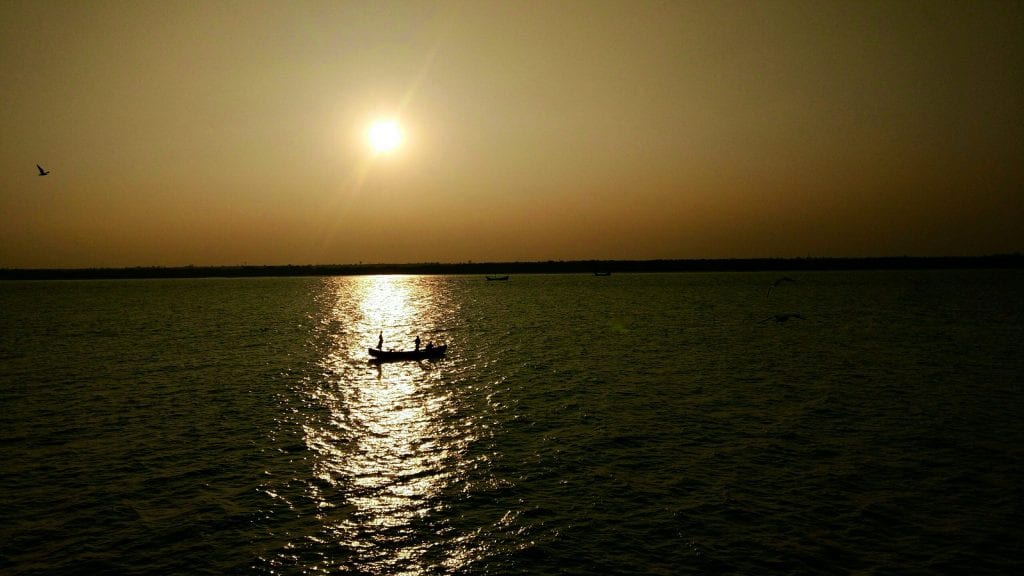 We were all tired as the excitement faded away. I saw many sleeping faces on the ship. As the sun was setting down in the Naf river, it created a trail of light. Two fishermen didn't have time to enjoy it in the distance, they were busy fishing. As the trail of golden soft light engulfed the boat, I was wondering who was happier in life between me and them. Then again, I cursed and rebuked myself. Who wants to compare lives in such a serene setting? It's such a moment in life when you become grateful to be alive on this lovely, lonely planet.
Practicalities
Best Time for Visiting Saint Martin's Island
November to February, December is the busiest. The weather is comparatively cool this time.
If you visit between March to July, you must see the weather forecast. If a tropical storm hits, you cannot go there.
How to reach to Saint Martin's Island
By Bus
You have to take a ship from Teknaf to reach Saint Martin's Island.
You can come to Teknaf in several ways. But the most common way of arriving in Teknaf is from Cox's Bazar, Dhaka, or Chittagong.
So, the routes can be:
Dhaka –> Cox's Bazar (400 Kilometres, 10 hours) –> Teknaf (63 Kilometres, 2 hours 30 minutes)
Dhaka –> Teknaf (430 Kilometers, 11 Hours)
Dhaka –> Chittagong (250 Kilometers, 6 hours) –> Teknaf (200 Kilometres, 6 hours)
Dhaka –> Chittagong (250 Kilometers, 6 hours) –> Saint Martin's by ship.
From Teknaf take a ship to Saint Martin's (90 minutes to 120 minutes)
People usually choose number 1 to break the long journey and spend a night in Cox's Bazar which has a long uninterrupted albeit crowded beach.
The time it will take for the road journey is approximate and can vary a lot depending on notorious traffic in Bangladesh.
#4 is a recent addition. A ship named Bay One has started it's operation and will take you directly from Chittagong to Saint Martin's in 6 to 8 hours. It departs from the Naval Beach, Water Bus Ghat in Chittagong at 11:00 PM and arrives at Saint Martin's at 6:00 AM. It leaves for Chittagong from Saint Martin's at 1:00 PM.
By Air
Dhaka –> Cox's Bazar (1 hour flight). Then Cox's Bazar –> Teknaf (2 hours 30 minutes) –> Take a ship (90 to 120 minutes)
Dhaka –> Chittagong (45 minutes flight) — > Saint Martin's by an overnight Ship (6 to 8 hours)
Timing of the Ship
Only a handful of ships commute between Teknaf and Saint Martin's island. The ships usually start between –
9:00 AM to 9:30 AM from Teknaf to Saint Martin's
3:00 PM to 3:30 PM from Saint Martin's to Teknaf
It means, if you arrive at Teknaf after 9:30 AM, you have to wait for another day to visit Saint Martin's. On the other hand, you cannot leave Saint Martin's before 3:00 PM. Make your plan accordingly because those designated ships are the only safe option for commuting to and from Saint Martin's island. It's strongly advisable to buy a ticket in advance during the high season. During the low season, you can buy tickets from Teknaf.
Some ships
Keari Sindbad (+880 1727 266077)
M.V. Green Line
Saint Martin Hotels in Bangladesh
You will not get high standard hotels in Saint Martin's. Try to reserve one of the following to get relatively better service:
Interesting Facts about Saint Martin in Bangladesh
What is the local name of Saint Martin Island in Bangladesh?
It's Narikel Jinjira, means Coconut island.
How many people live in Saint Martin Island in Bangladesh?
Less than 5000 people live in Saint Martin.
Information about Saint Martin in Bangladesh
If you travel several kilometers southeast from here, you will end up in Myanmar (Burma). There is no legal border crossing between these two countries through water, so don't try this.
This island is only 8 Kilometre long and 1 Kilometre wide
Most of the villagers are fishermen here. However, living in tourism is increasing.
You will find a hospital on the island, although a doctor is not always guaranteed
There is no electricity on the island. However, hotels have generators that supply electricity for a certain period.
A cyclone devastated the island in 1991, the deadliest in recent time in Bangladesh
Most of the hotels and activities take place in the far north part of the island, while the center and south belong to the locals and farms
Where to from St Martin in Bangladesh?
Liked the Guide to Saint Martin Bangladesh? Pin It!