Spiti valley – "The middle land" – between Tibet and India is so fascinatingly beautiful, you have to visit it sometime in your life. This remote place located in the Himachal Pradesh in India is not easy to reach but a proper planning can take you to this paradise like no other. Here is an ultimate and convenient Spiti valley itinerary for you! Just say, I want to visit Spiti valley, read this article and hit the road!
If you ask me to prepare a list of the top 5 magnificent places in India looking at the landscape, Spiti valley will be on top of my list. Dare I suggest that it will be on top of the list of most beautiful places on earth.
Like most of the natural wonders of the world, Spiti valley is remote, you cannot go to Spiti Valley easily. You need to take multiple modes of transportation, stopovers, and go through a series of a bumpy ride before reaching this gem.
First of all, you need to arrive in India. This is a relatively easy task depending on wherever you are because most likely an airplane will do the job. Delhi will be the proper place to kick-start your journey. From Delhi, you can reach Spiti valley through either Shimla or Manali, two important cities in Himachal Pradesh in India. The route to Spiti valley through Shimla is long, almost twice the distance compared to Manali. However, when you will travel from Manali instead of Shimla, you will have quicker elevation gain, thus making it challenging for your health to move faster.
My suggested itinerary here is going to Spiti valley through Manali, which I did. It is an amazingly beautiful and breathtaking ride.
Book your Spiti valley trip
Day 0 of 7 days Spiti Valley Itinerary
Delhi to Manali, overnight in Bus
How to reach Spiti Valley?
The first step for visiting Spiti valley following this itinerary is arriving at Manali.
You have several options of reaching Manali from Delhi.
Manali by Bus
The cheapest is to take an overnight bus from Delhi. Volvo buses are comfortable but will take about 14 hours to reach Manali.
You can also start the journey from Chandigarh, it will cut your bus journey by 4 hours.
Manali by Air
You can fly to Kullu Airport from Delhi. Kullu Airport is less than 2 hours from Manali. However, the ticket price between Delhi to Kullu is excessive.
Alternatively, you can fly to Chandigarh from Delhi and catch a bus from Chandigarh. The plane fare from Delhi to Chandigarh is very cheap and takes only 25 minutes.
Another option is to fly to Chandigarh from Delhi and take another flight to Kullu from Chandigarh. Hence, you will take 2 flights, but should be able to save some money as the air ticket from Chandigarh to Kullu is less expensive compared to Delhi.
Manali by Car
Going to Manali via a rented car is also an option. It will be a 14 hours drive, so take an expert driver with you.
How is the Journey by bus?
The first leg of the journey from Delhi to Manali will be comfortable as the roads are superb. Just before arriving at Manali, you have to go through winding roads making your ride bumpy.
Book a guided full day Niagara exploration tour
Day 1 of 7 days Spiti Valley Itinerary
Spend a day in Manali, overnight in Manali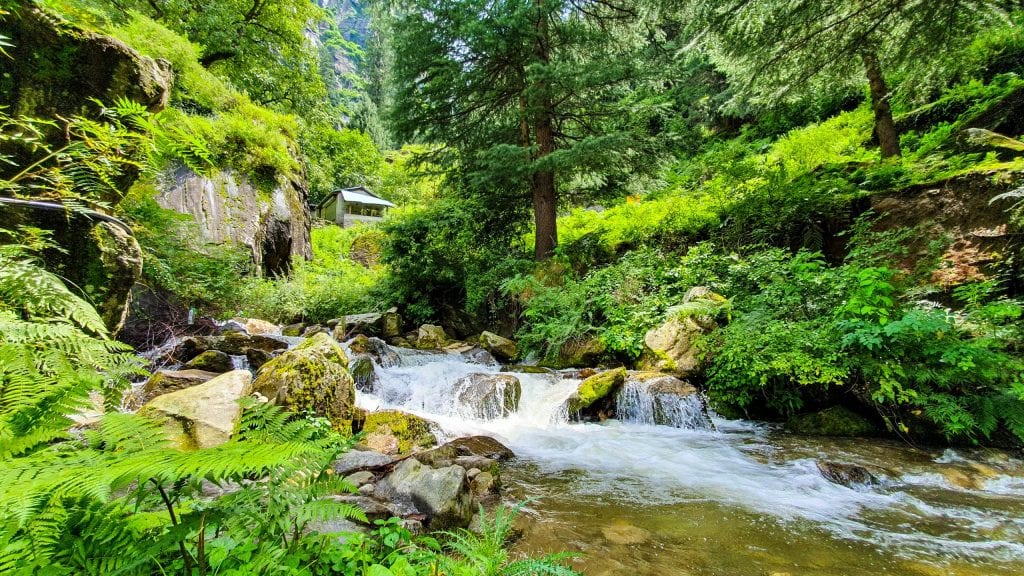 Manali is a popular tourist destination in India. This is one of the oldest hill stations in the country. It's a dream destination for many tourists because of its natural beauty and snowfall during winter.
As you will arrive in Manali from Delhi through a lengthy journey, I would recommend staying there for a day to get some rest and discover the wonderful town. It will also help you acclimatize. Manali is at 2050 meters from sea level. Coming from Delhi means you have already gained 1800 meters. If you head towards Spiti valley you will be 2000 meters further up, which you should not do.
I loved my time in Manali! I won't be surprised if you plan to spend a day in Manali and end up hanging there for more days.
This is how I spent a day in Manali
Day 2 of 7 days Spiti Valley Itinerary
Manali – Rohtang Pass – Gramphu – Chhatru – Batal, overnight in Batal
On day 2 you will start your journey towards Spiti valley. Your base for Spiti valley will be Kaza, the major town of the valley.
From Manali, you can choose from several options:
Taking the Government Bus to Kaza, the major town of Spiti Valley (Cheapest)
Sharing a minibus or vehicle from Manali bus stand or tour operator (Cheaper and faster than the bus, but will be cramped)
Renting a 4WD (The costliest but will give you the ultimate freedom to stop at your wish and take amazing photos)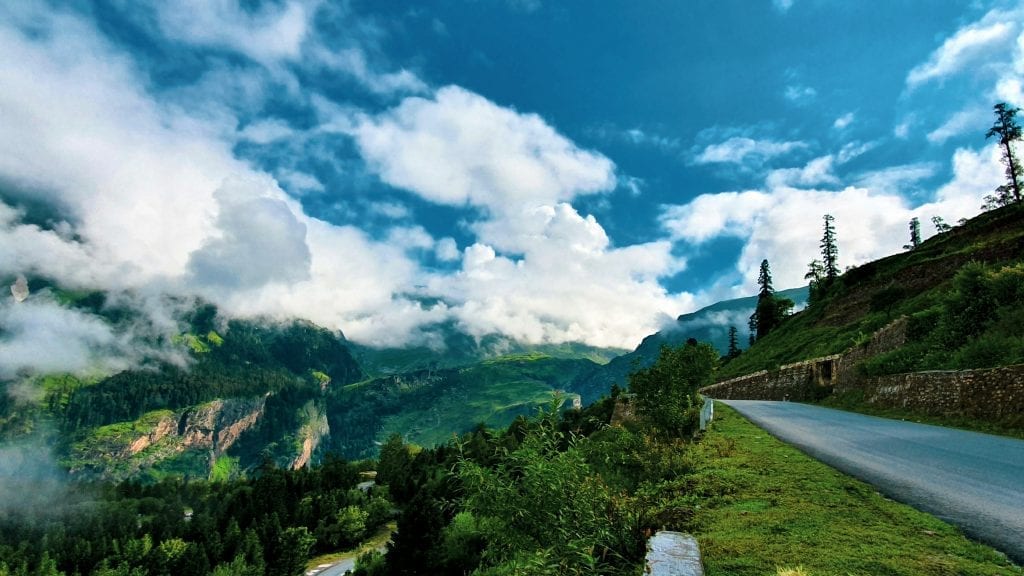 Whichever option you selected, start the journey before 6:30 in the morning. This is a day you are going to cherish forever. You won't experience a better spectacular drive than this in your entire life! Within 51 Kilometers of your trip, you will reach Rohtang Pass, which is at an altitude of 3,978 meters. You need a permit for crossing Rohtang pass, so avail it beforehand. Rohtang pass is a mandatory stop for most of the people for taking some photographs.
Half an hour to an hour should be fine for enjoying the surroundings of Rohtang pass and grabbing some snacks. The next major landmark will be Gramphu, from where you will see the road heading in two different directions. One of them will take you to Spiti valley. If you pick the wrong turn, you will end up in Ladakh, another majestic city in the Himalayas. In Chhatru, your passport will be checked and the officials will write down your information on a registry book.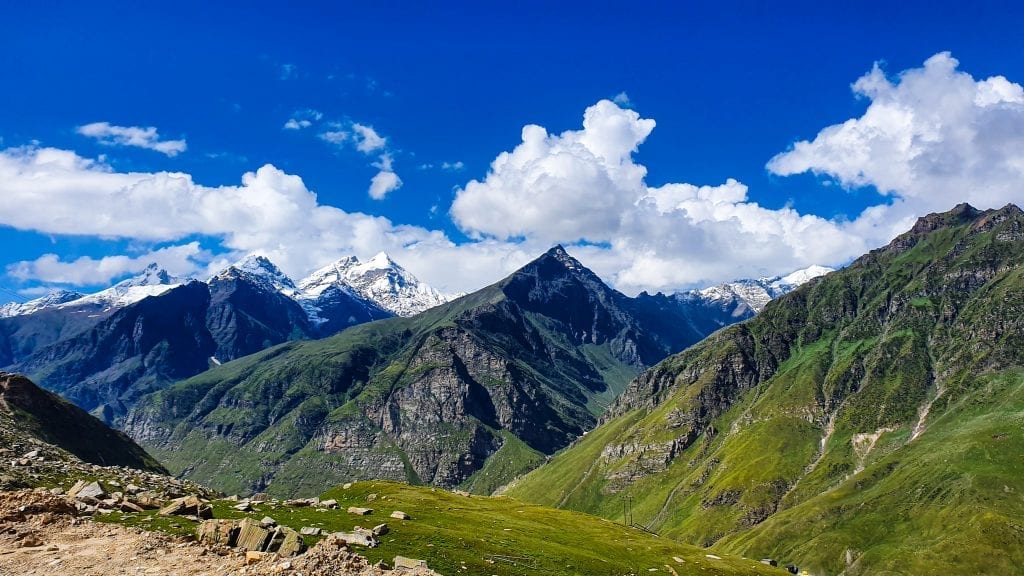 You will drive through plenty of greenery and enjoy the myriad of waterfalls on your way. Beautiful blue skies along with patches of white clouds and a splendid river with gigantic rocks will accompany you for most of the time. You will also come across sheep in the valley. Although trees are rare, you will enjoy colorful shrubs and green grasses.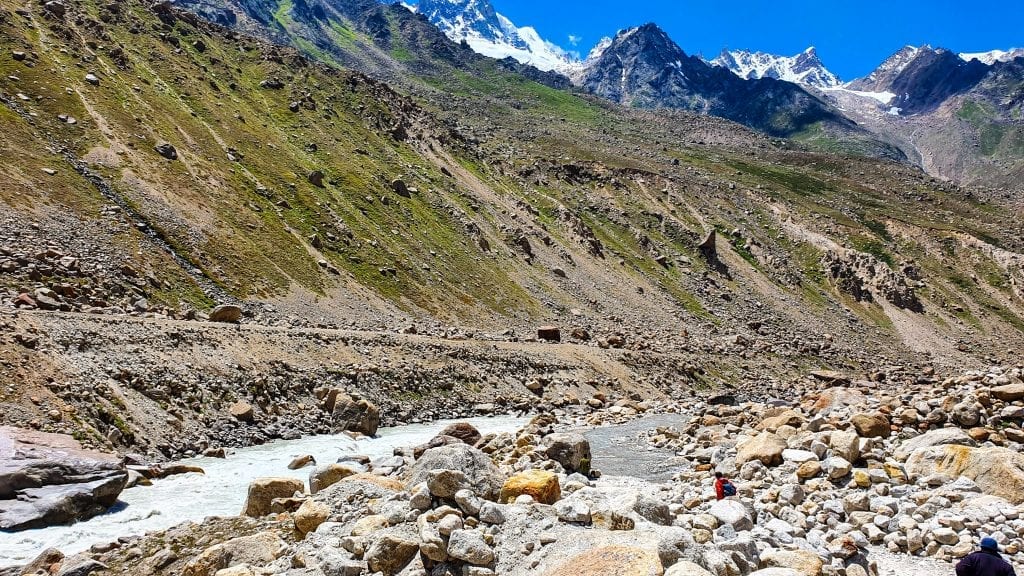 During the afternoon, you will cross several streams known as nullah. Those streams are created owing to the melting of snow in the mountains. This will make an excellent test of the power of your vehicles. Just before evening, you will reach Batal, your stopover for the night. There is no hotel or homestay in Batal. You need to rent tents for an overnight stay. Those tents are already placed on the ground so you don't need to fix it. We are stopping here because we will visit Chandra Taal tomorrow. If you choose to skip Chandra Taal (which will be a shame) from your itinerary, you can continue your journey towards Kaza.
Day 3 of 7 days Spiti Valley Itinerary
Batal – Chandra Taal – Kunzum La Pass – Kaza, overnight in Kaza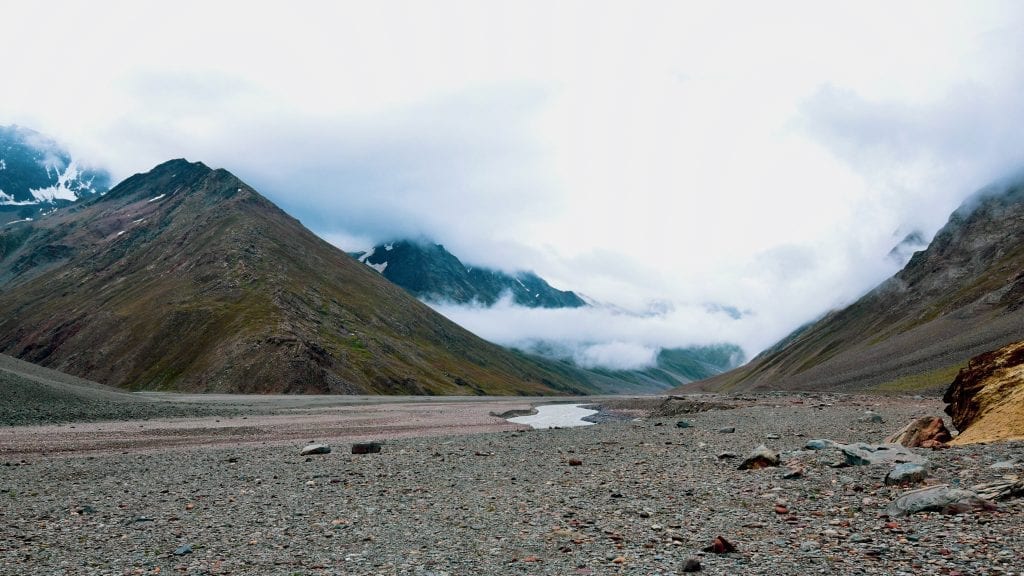 When you wake up in the morning and get out of your tent in Batal, you will be awestruck by deserted mountains. You will notice a significant change in nature. It's all dark stones and devoid of trees.
Instead of heading towards Kaza, you will take a detour towards Chandra Taal. The path to Chandra Taal is uncomfortable but breathtakingly beautiful. You will understand from the surroundings you are already in a cold desert mountain. If you were going through a wave of green yesterday, now is the time to enjoy brown mountains.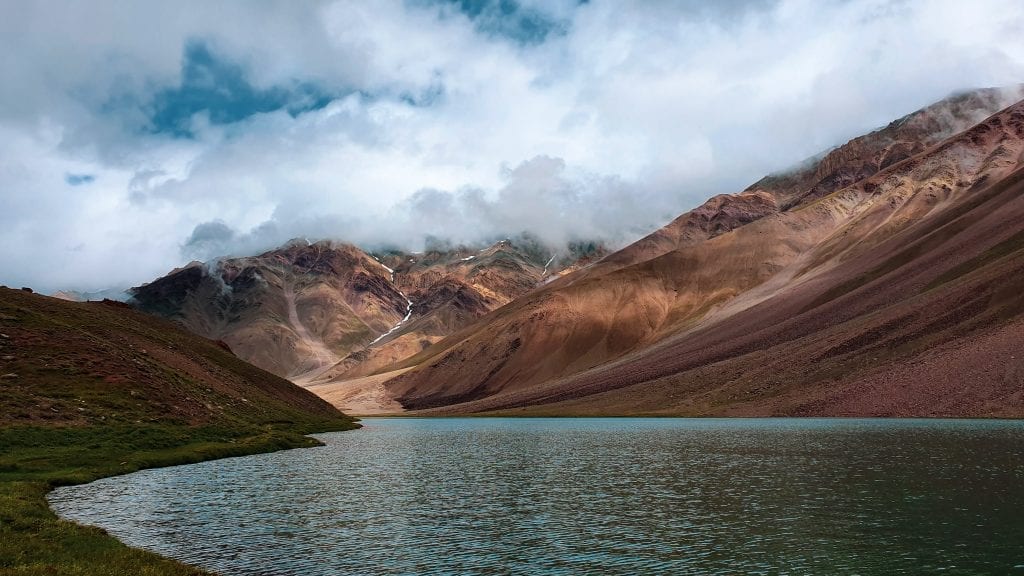 About an hour of the journey will bring you to the base of Chandra Taal. The car will go no further and you require to hike for half an hour from the base. This walk will take you to the 4300 meters high crescent-shaped lake. You got to spend at least an hour there to appreciate the mesmerizingly beautiful lake. Don't forget to take some warm clothes, otherwise, you might be in trouble. Many people stay overnight at the base of Chandra Taal, however, I did not find any positive point in staying there at night as it does not present any view of the lake.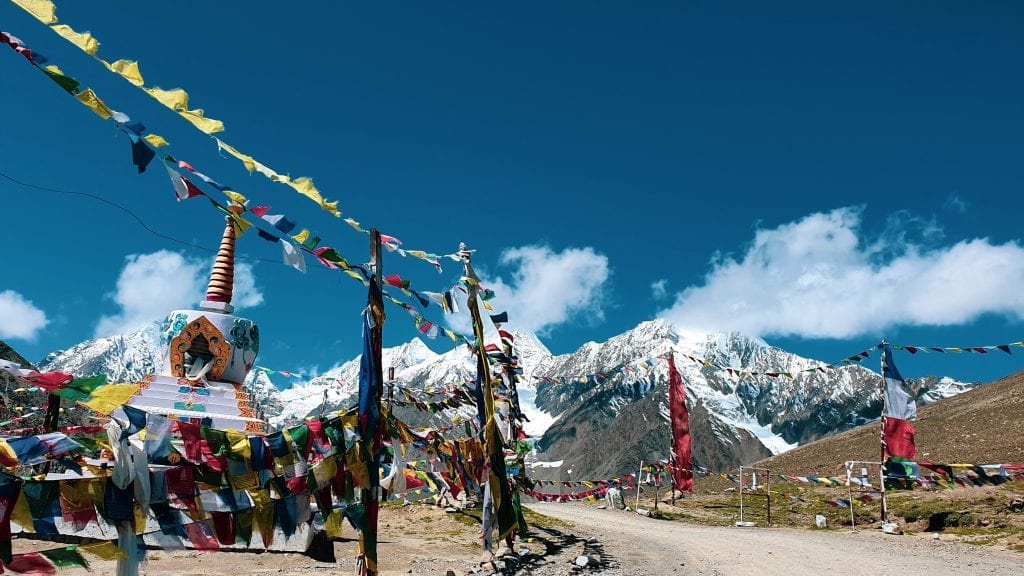 It will be almost midday to resume your journey from Chandra Taal. Do not forget to find a fix your course to go towards Kaza as a wrong turn can bring you back to Bataal. You will soon reach the second high altitude pass of the expedition named Kunzum La Pass. One won't find many temples at an elevation of 4,551 meters. So offer some prayers, keeping the snow-capped mountains in the background before setting up for the last leg of the journey for the day.
You will observe some pretty small villages on your way. Don't fall asleep because you won't get a chance to see such a wonderful place each day. You will reach Kaza by 5 or 6 in the evening after a long but fascinating journey. Drop your luggage at your hotel and hit the street of Kaza if you have some sunlight left.
Where to stay or what to do in Kaza? Here is your ultimate Kaza Guide.
Day 4 of 7 days Spiti Valley Itinerary
Kaza, Chicham Bridge, Kibber Village, Key Monastery, overnight in Kaza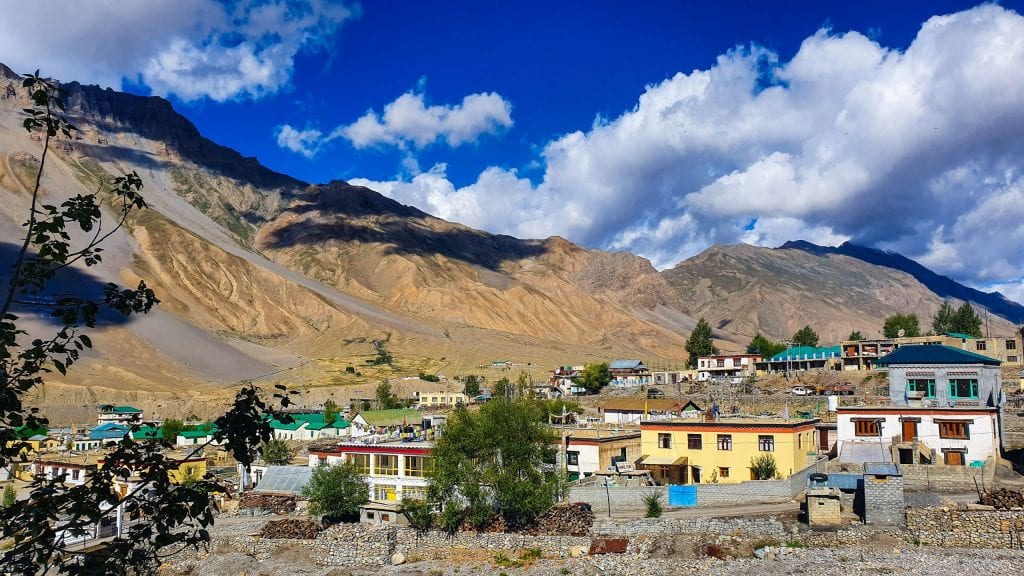 You must be tired from the last several days of the journey. However, you are excited as well. If you run into breathing complications don't panic. You are now at an elevation of 3800 meters from sea level. Unless you are from a country like Bolivia, you are not accustomed to this height. Drink enough water and take some rest. If you are okay, roam around in Kaza to enjoy the vibe of the town. There are two parts of Kaza, the old Kaza is more interesting. You will meet plenty of foreigners, mostly backpackers in the street or cafe.
Before midday, head towards the bus stand or taxi union office in Kaza and fix a 4WD to take you to Chicham bridge, Kibber village, Key village, and Key monastery.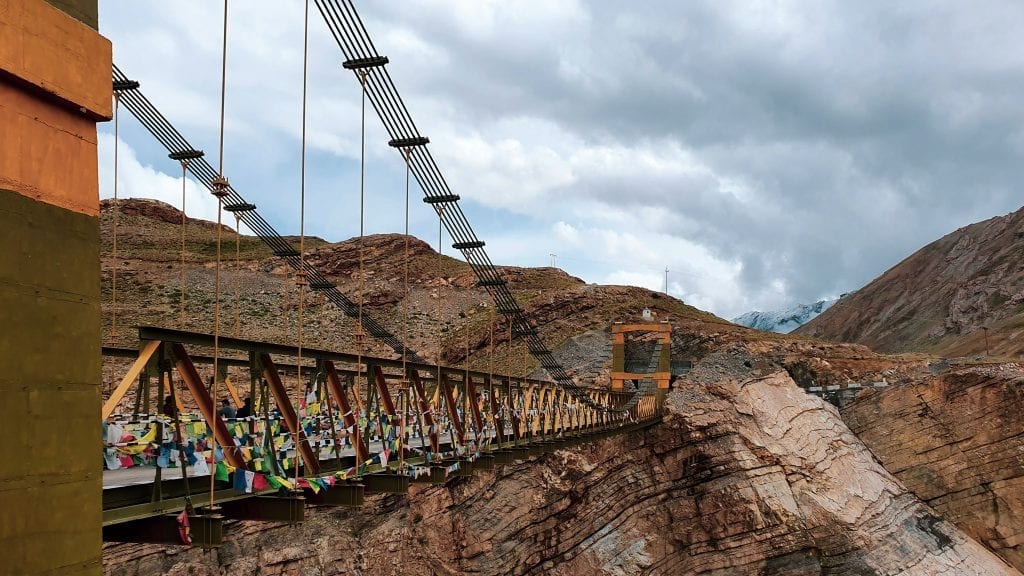 An hour of journey from Kaza will bring you to Chicham bridge. It is a suspension bridge at an elevation of 4145 meters connecting Chicham and Kibber village. It's an engineering marvel and the highest suspension bridge in Asia. You will get a stunning view of the gorge below from the bridge. From the Chicham bridge, go to Kibber village and walk around enjoying the mellow vibe of the village.
Read my photo guide for Chicham Bridge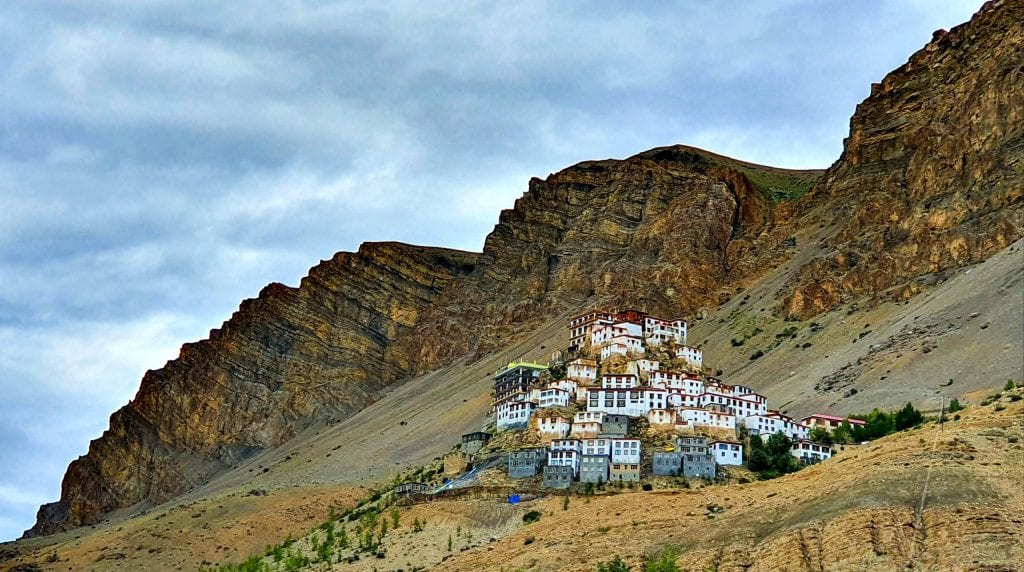 From Kibber, go to Key village and to the Key monastery. This fascinating Tibetan Buddhist monastery looks like a fortress from far. It's placed on a desolate cliff with the gorgeous Himalayan mountains in the background. Don't worry, the car will take you to the top, you need not hike. Spend some time inside the monastery to see the life of the lamas and enjoy the panoramic views of the valley.
Here is my photo travel guide to the Key Monastery.
That was all on day 4 in Spiti valley. The automobile will take you back to Kaza. Have a good night's sleep and be ready for the next day.
Day 5 of 7 days Spiti Valley Itinerary
Langza, Komic, Hikkim, overnight in Kaza
Today you will visit three wonderful but distinct villages as a day trip from Kaza. You might have developed friendships with your local driver in Kaza yesterday. You can ask him to pick you again today.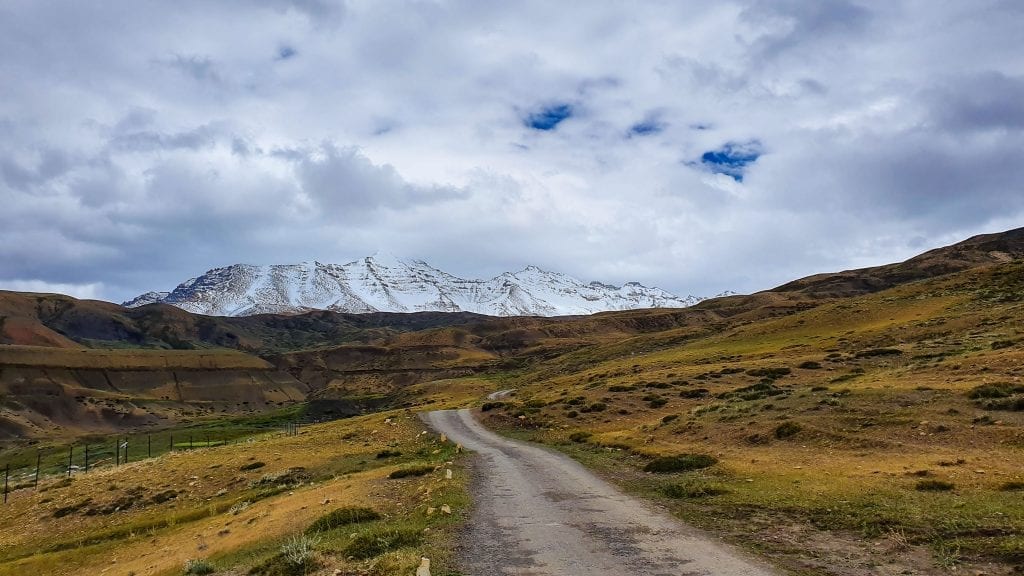 Your first stoppage for the day will be at Langza Village, which is 14 Kilometers from Kaza. From 4325 meters above sea level, you can see the impressive white Chau Chau mountain's 6300 meters peak. The calmness and tranquillity of the place are unparalleled, just find a corner, sit there and enjoy your time. Langza is famous for fossils. So, you can go out in quest of fossils.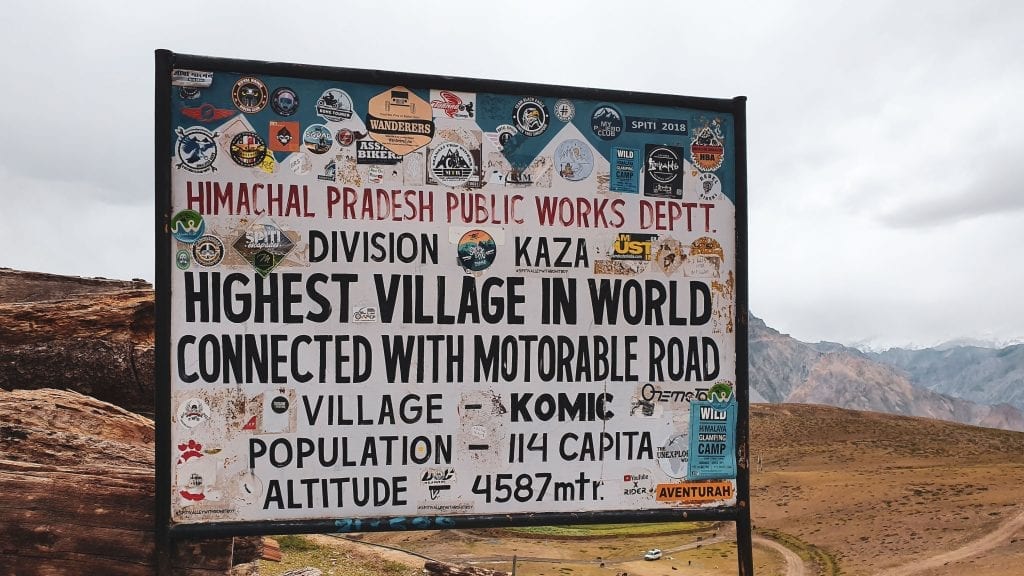 From Langza, you will visit Komic village, which claims itself as the highest village in the world connected with a motorable road at an altitude of 4587 meters. You will find a monastery named Tangyud Gompa. Spend some time there. Do not forget to take your lunch in Spiti Organic Kitchen, they serve delicious food.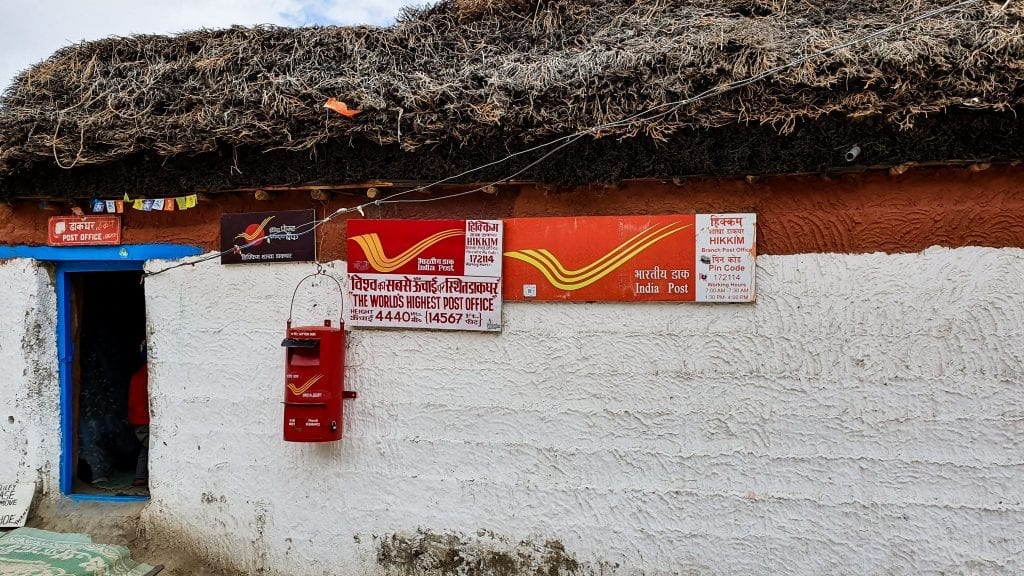 Your last destination for the day will be Hikkim. It claims to host the highest post office in the world at an altitude of 4440 meters. You should post a letter to your home from here to mark the moment.
If you think that all you are hearing is "highest" and if that is the focal point of interest, you will be wrong.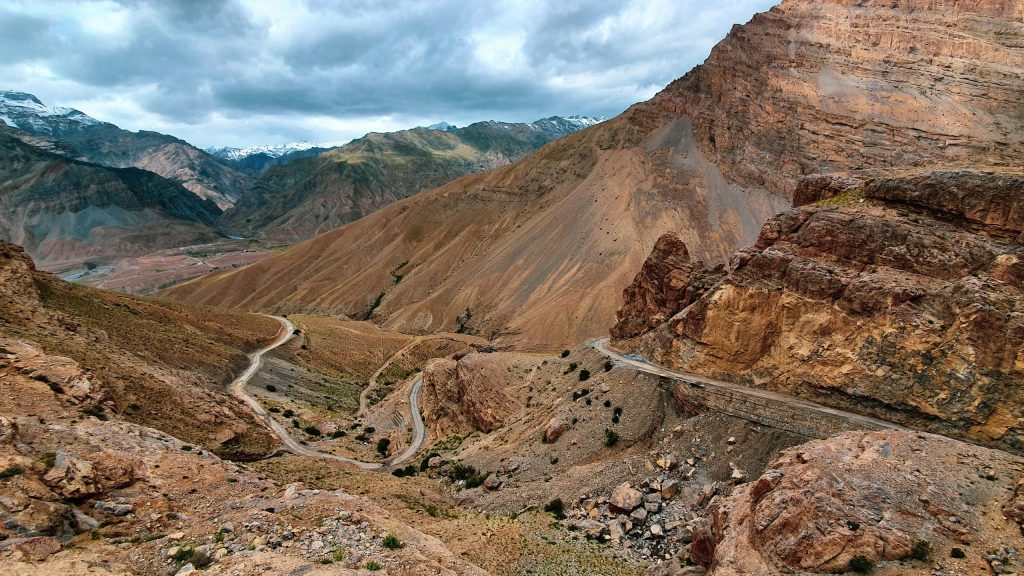 From these villages, you will enjoy some breathtaking landscapes of the surroundings. Get ready to take some amazing photos when you will go down to Kaza from Hikkim.
Read my travel guide for Langza, Komic and Hikkim.
Day 6 of 7 days Spiti Valley Itinerary
Mud Village in Pin Valley, overnight in Kaza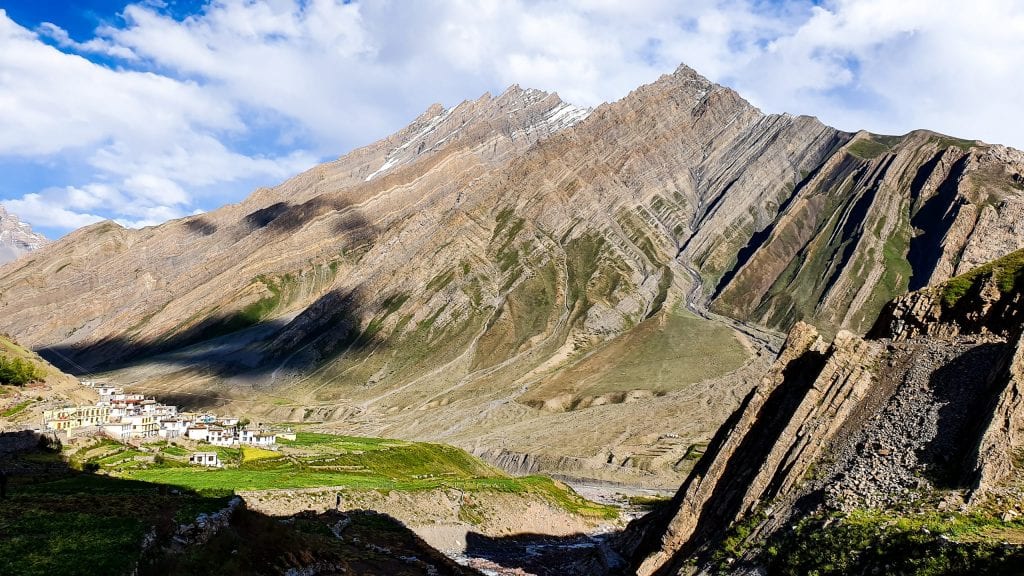 On your last day in Spiti valley, you will go to Mud village in Pin Valley. It's far from Kaza (33 KM). Once the journey takes you to the midway, you realize that the landscape is getting greener compared to the barren Spiti. The last village of Indo-Tibetan border connected by a motorable road, Mud (or Mudh) is a pretty hamlet. The natural beauty of Mud village is hard to describe, the tranquility is unbeatable, and the journey to Mud village is no less beautiful than its destination.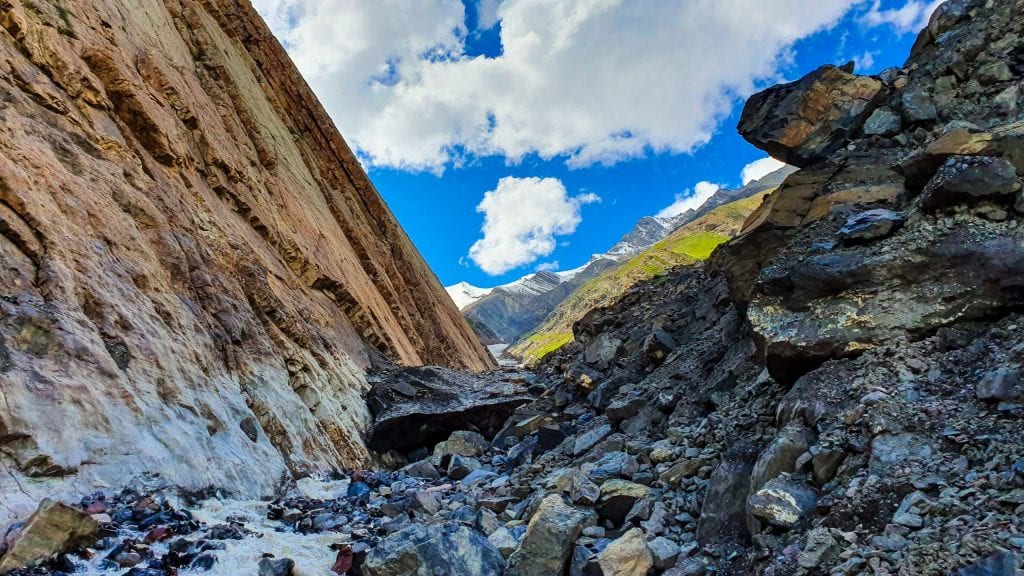 In Mud village, you can do several short hikes and enjoy walking through the village. Wherever you lay your eyes, you won't be able to blink because of the surrounding beauties. Many people go on a multi-day trek to Pin Parvati valley from here. If you want to do it, you need to add 7 more days to your itinerary.
You will return to Kaza in the evening.
Read my travel guide to Mud village in Pin valley.
Day 7 of 7 days Spiti Valley Itinerary
Kaza to Manali to Delhi, overnight in Bus
That was the end of your time in magnificent Spiti valley, it's a sad day. You will wonder why you have to leave Spiti so soon and when can you get back there again. To make things worse, you have to be on the road for the next 24 hours if you want to reach Delhi.
In order to reach Manali, either you have to catch the HPTDC bus from Kaza to Manali or need to book a seat in a 4WD a day earlier. If you have booked nothing before, go to the taxi union office in old Kaza. You should find some new company there to tag with you.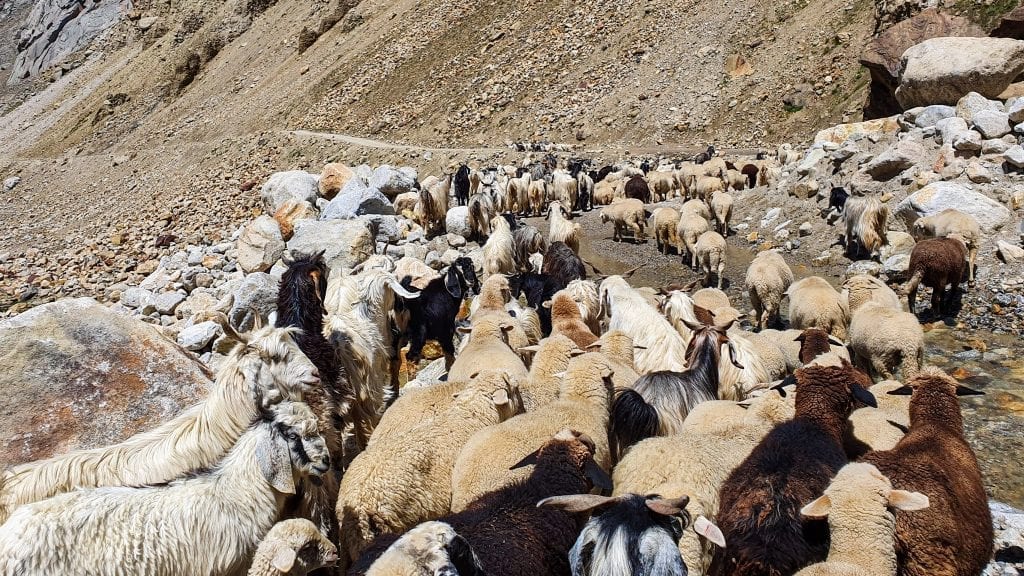 Although you will take the same route, the journey from Kaza to Manali looked more beautiful to me. Try to grab a window seat to take photos. You should be prepared for uncertainties on the road. Maybe a bunch of sheep will block your way and you have to wait for them to pass away. Perhaps a group of villagers will wave to stop your vehicle and you have to accommodate them (on your lap). Maybe a car would break down in front of you blocking the trail. Just keep smiling and have some fun.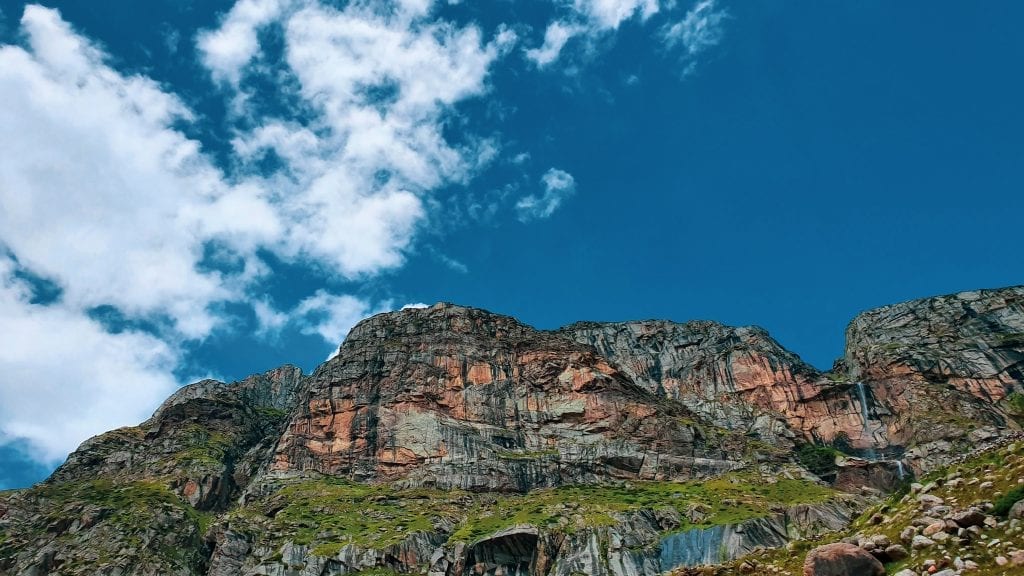 In course of your journey, the brown mountains will start to disappear. When you will see some green, you know that you have left the cold desert mountains of Spiti valley and entering into Kullu valley. This will start happening you cross Batal.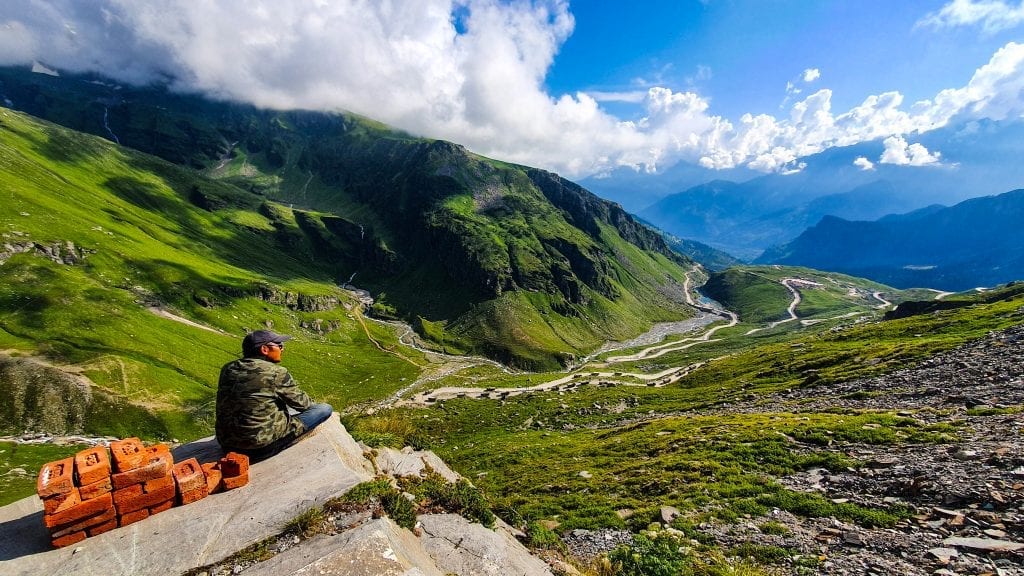 Before Rohtang pass, you might experience some traffic. If you are in luck, it will not affect your journey by much. However, on a poor day, you can get stuck.
You should arrive in Manali by 6:00 PM to 7:00 PM, provided that you started before 6:00 in the morning from Kaza. Now, it's up to you to decide the next leg of your journey.
I went to the HPTC Volvo bus stand in Manali directly as soon as I got back from Kaza. There were plenty of buses waiting to go to Delhi from there. I did not have any prior ticket in my hand, I just hopped into one, there was a seat left. I was so tired, I went to sleep instantly. The bus stopped once at midnight in a restaurant. It will give you an opportunity to grab some food and use the toilet.
Day 8 of Spiti Valley Itinerary
Early morning arrival in Delhi
You will arrive in Delhi in the early morning and it will mark the end of 7 days itinerary for Spiti valley through Manali starting and ending from Delhi. Once you are in Delhi, you have plenty of options to choose from. You can easily spend 2 days in Delhi and head towards Agra to see the majestic Taj Mahal and continue towards Jaipur, the famous pink city of India.
Final Words
I had only 7 days in my hand from Delhi for visiting and I did it without any problem. This was an ideal timeframe for me, not unduly lengthy to hamper my core job, not short to rush a lot. However, you can change it to fit your plan.
If you want to stay longer, you can opt-in for staying in the villages named above. If you are an adventure seeker, you can go out for a shorter hike or longer trekking. You can indeed consider completing the entire circuit of Spiti valley starting from Manali and ending in Shimla. All you need to do is to take a permit from Kaza and head toward Kinnaur. It will present you with a unique kind of landscapes.
If you are short on time and want to travel Spiti valley in fewer than 7 days, you can skip visiting Chandra Taal and go straight to Kaza without staying a night in Batal. You can make it even shorter by cutting your visit to Mud village.
Keep in mind that, Spiti valley is not around the year destination. You cannot go there during winter as the valley gets disconnected from the rest of the world due to heavy snowfall. Considering different seasons, you should aim for your trip between May to November. However, always look at the weather and condition of the road to Spiti valley before commencing your journey.
Whatever you do, wherever you go, you can't get wrong for the trip. The moment you set your foot in Spiti valley, you will understand it!
Important Facts about Spiti Valley
How long does it take to reach to Kaza?
It takes about 12 hours to reach Kaza from Manali. From Delhi through Manali, it will take about 20 to 22 hours.
Does anyone need a permit for entering to Spiti Valley?
If you go from Manali, you need a permit for Rohtang Pass. If you visit Spiti valley from Shimla, you need to obtain an inner line permit.
Is there any health hazard for visiting Spiti Valley?
Spiti is at a high altitude. Most of the villages there are above 3700 meters. So, you might experience altitude mountain sickness (AMS).
Should I follow the Spiti valley itinerary from Manali or from Shimla?
The journey from Manali is shorter than Shimla. However, if you do not follow the itinerary from Manali to Spiti carefully, you will gain altitude quickly. So, you need to be careful about it.
Is Spiti valley a good 7 days trip from Delhi?
Yes, absolutely! This is the best trip one could enjoy. However, for flexibility, you can add one more day.
What is the Spiti Valley height?
Most of the places in Spiti Valley are higher than 3800 meters (12500 feet) from sea level.
What is the Delhi to Spiti valley distance?
The distance between Delhi to Spiti valley is more than 725 Kilometers.
Did you like this Spiti Valley Itinerary from Manali? Pin It so that your friend's can see!