Delhi, the capital of India, is full of histories, cultures and color. A trip to India will be incomplete without a visit to Delhi. You can spend there for days without getting bored. The delicious and varieties of food were icing on the cake. Anytime I visit Delhi, the endless food shops near Delhi Jama Mosque attracts me like a magnet. This 2 days Delhi itinerary covers most of the highlights of Delhi and will work as an ultimate guide for the city.
There is a saying "Hanuz Dilli door ast." means "Delhi is yet very far away!" I have been hearing it since my very childhood. Unable to comprehend the inner significance of it, I always perceived Delhi as unreachable. So, when I arrived in Delhi, I couldn't believe my luck. I read so many stories about Delhi; the excitement passing through my vein was hard to explain at that moment. There are so many things to do in Delhi, you can spend weeks there. Let's see how you can spend Delhi in 2 Days!
Book your full day New Delhi and Old Delhi city tour
Things to see in Delhi on day 1
Qutab Minar
It's going to be a long day! So, start very early in the morning, take breakfast and make sure to leave the hotel before 7:00 in the morning. To save money, time and get an experience, take the metro and get down at Qutab Minar station.
You will encounter the most iconic landmark in Delhi there. Some call it Qutb Minar.
When Sultan Qutb-ud-din won against his Hindu rival Qila Rai Pithora, he established it in 1193. So, it's a victory tower.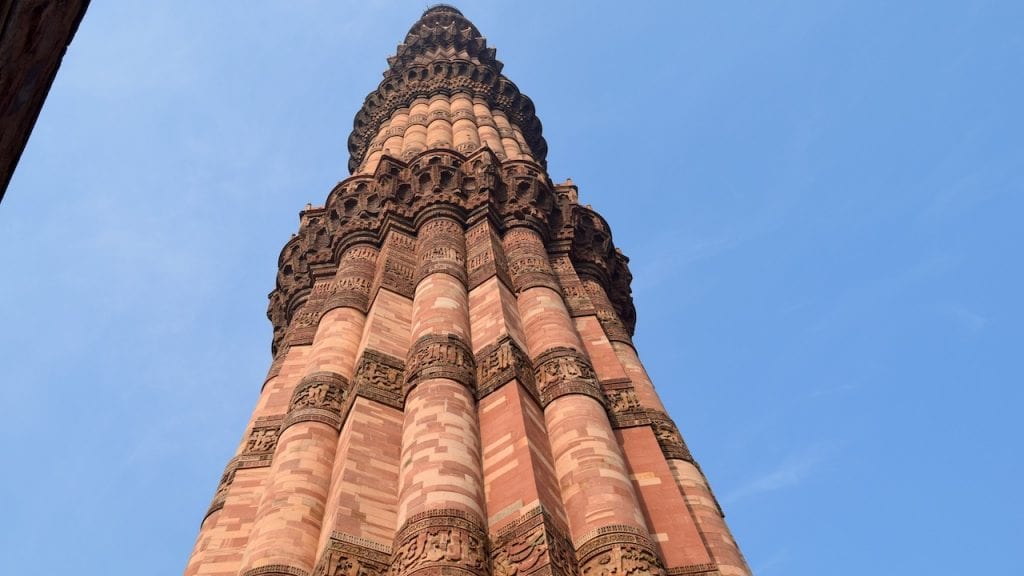 Qutab Minar is the tallest brick made minaret in the entire world. It's 73m high. As it rises, its diameter gets narrower – from 15 meters at the base to 2.5 meters at the top. There is a spiral staircase containing 379 steps to go to the top.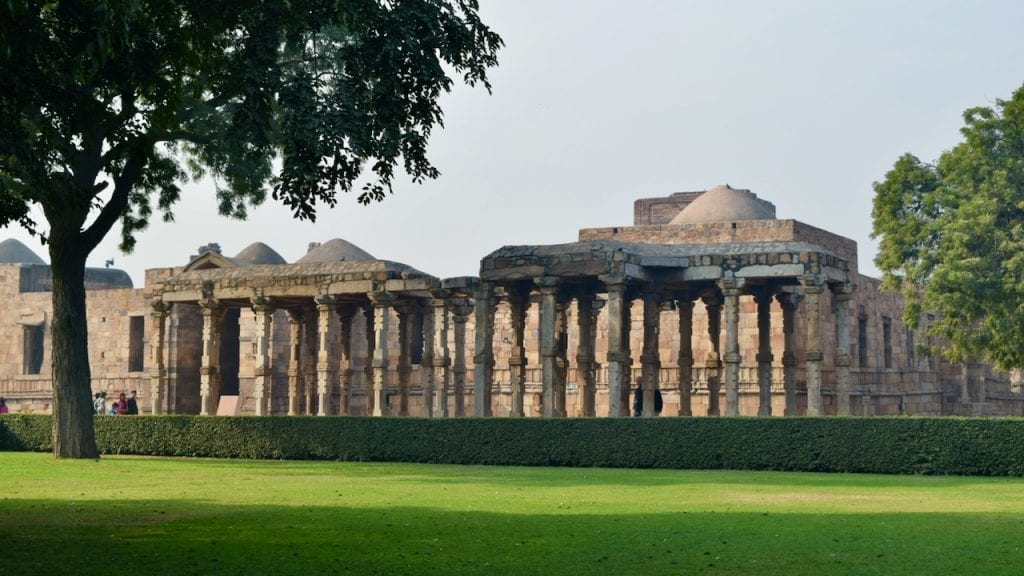 In 1981, around 400 individuals were inside the tower. It was just another day in Qutab Minar. People were laughing, seeing inside, enjoying their time. Suddenly, a power failure threw the spiral staircases into darkness. A rumor went viral – "the tower is falling". The panicked tourists desperately tried to get down from the tower. It created utter chaos. The stampede killed 45 people, mostly students, who came there to take advantage of the free admission on Friday. Since then, the stairs are closed to the public.
I saw a lot of squirrels playing in the woods and grasses in the complex. They were not bothered about the crowd.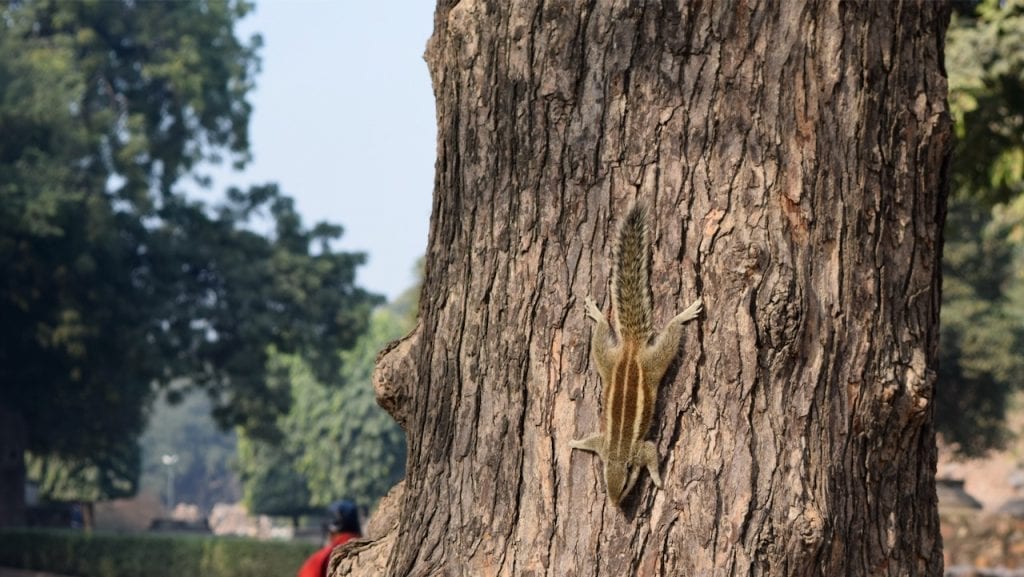 Interesting Facts about Qutab Minar
This is a UNESCO World Heritage Site
It's a little tilted to one side
You will find verses of the Holy Quran inscribed on it
Look out for an iron pillar inside the complex. It's standing there for 2000 years with no rust on it.
It survived earthquake and lightning
You can enjoy a light show there between 6:30 PM to 8:00 PM
Entry Fee in INR
40 for the Indians
600 for the foreigners
Nearest Metro
Qutab Minar
Operating Time
7:00 AM to 5:00 PM, all days
Book a guided full day Niagara exploration tour
Lotus Temple
Do you know that there is a religion named Bahai? I didn't know about it until I came across a book where I found a description of the Lotus Temple. Founded in Iran, there are 7 million people who follow this religion.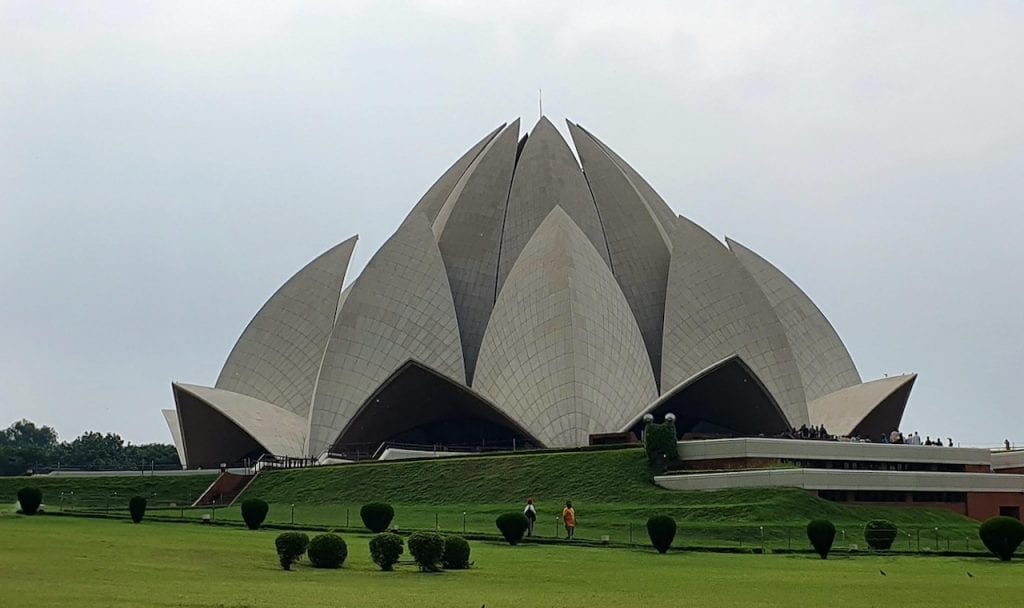 Without going deeper into the religion itself, let me focus on the temple.
As the name implies, it's a place of worship for the Bahai. The building has 27 marble petals. They are arranged in a cluster of 3. These three petals formed 9 sides to make it 27 in total. In Bahaism, 9 is an important number and hence the emphasis.
If you ask me about modern architecture then, this is the most mind-blowing one to me not only in Delhi but in the entire country. I missed it when I visited Delhi for the first time as it was closed, but I did not miss it during my second visit to Delhi.
This temple is open to all – regardless of the religion and status of a person. If you want to go inside the temple, you need to deposit your shoes (there is a booth for free) and stand in a queue. When I entered inside, I felt the silence. The light inside made it look like an extraordinary thing. The camera was not allowed inside, so I could not capture the moments for the readers. But why don't you experience it yourself?
Interesting facts about Lotus Temple
An Iranian architect, Fariborz Sahba, designed the temple
It was built in 1986
It has 9 doors and surrounded by 9 ponds
There is no statue or photo in the temple
It can accommodate about 2400 people at a time
You cannot play any musical instrument inside the temple
According to the Bahai religion, the lotus is the symbol of purity and tenderness
Bahai religion believes in the unity of religions, so people of all religions can pray inside the temple
Entry Fee in INR
Free
Nearest Metro
Kalkaji Mandir metro station
Operating Time
1 October to 31 March – 9:00 AM to 5:00 PM
1 April to 30 September – 9:00 AM to 6:00 PM
Closed on Monday
Humayun's Tomb
If you ask me to pick only one ancient structure to choose in Delhi, it will be Humayun's tomb. To me, it will win against the red fort by a smaller margin.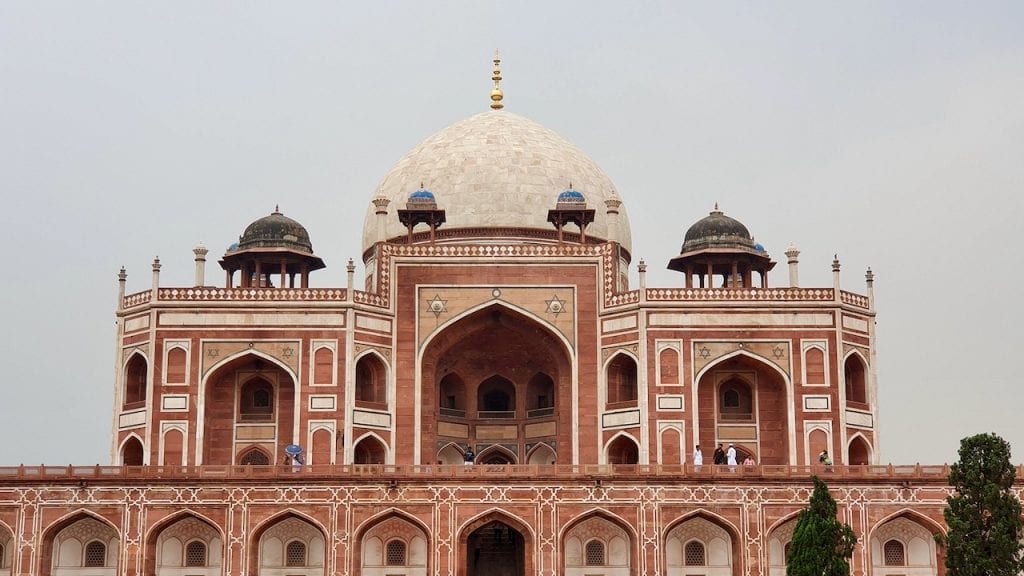 Many say Humayun's Tomb influenced Shah Jahan to build the Taj Mahal. It was made 60 years before the establishment of the Taj.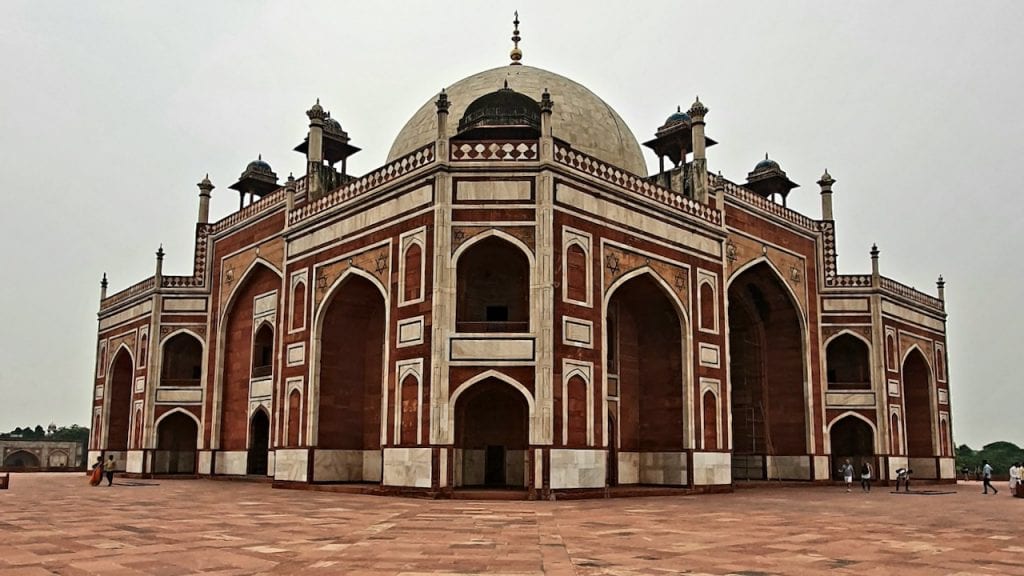 It has a double-layered dome, inspired by Persian architecture. The outer dome supports the marble casing and gives the shape to the visitors. They built the inner dome lower. This dome will have a better proportion with the below space.
If you look from the front, you will see a perfect symmetrical red sandstone, marble building. It stands on a platform of 12,000 square meters and reaches a height of 47 meters. The gigantic dome in the center is 6 meters high.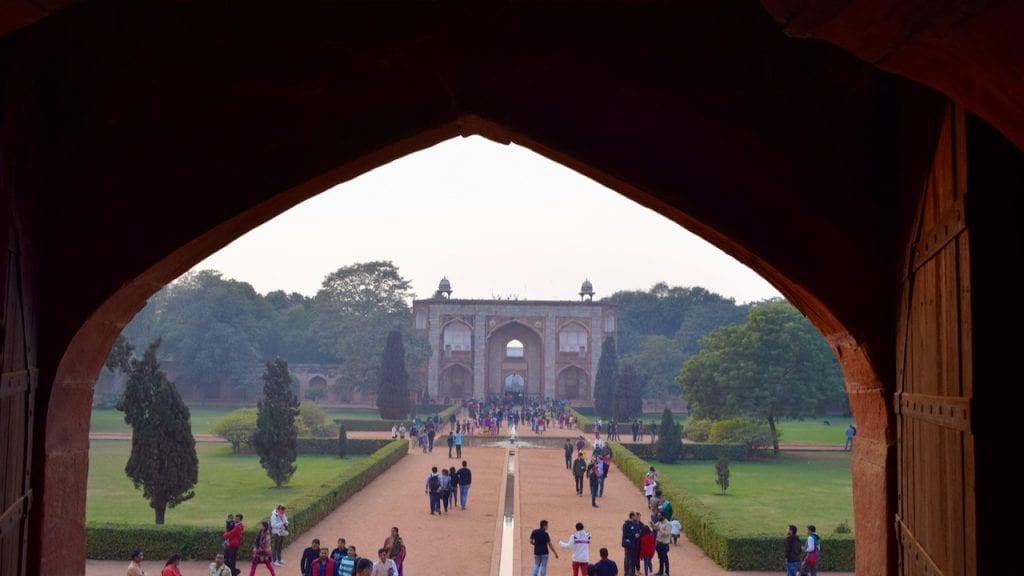 Humayun was the second emperor in the great Mughal dynasty. When he died, his beloved wife Hamida Banu Begum started construction of the during in 1562, about 450 years ago. It took 8 years to complete the architecture. At one point, this compound had about 100 graves and earned the name Dormitory of Mughals. You will find almost everyone in a single place if they resurrect.
All four sides of this structure have doors, you can enter or exit through that. You can also go to the first floor to enjoy the view of the surroundings.
Interesting facts about Humayun's Tomb
The name of the architect is Mirak Mirza Ghiyas, he is a Persian (Iran is the Persia)
This is a UNESCO World Heritage Site
This is the first garden-tomb in India
There are eight side chambers in the Humayun's Tomb. This is how paradise is described in Islam
Entry Fee in INR
40 for Indians
600 for foreigners
Nearest Metro
JLN Stadium
Operating Time
It's a bit weird, officially it's from sunrise to sunset, they don't mention any time. But you might find no one selling tickets during sunrise and hence can get into it. So use your judgment. From 8:00 AM to 6:00 PM is a better unofficial hour.
Tomb of Isa Khan
You need not go out of Humayun's tomb to see it. It's in the same complex. However, you must not miss this.
This is an octagonal tomb with domes. A shade of white and blue made it different compared to the Humayun's Tomb.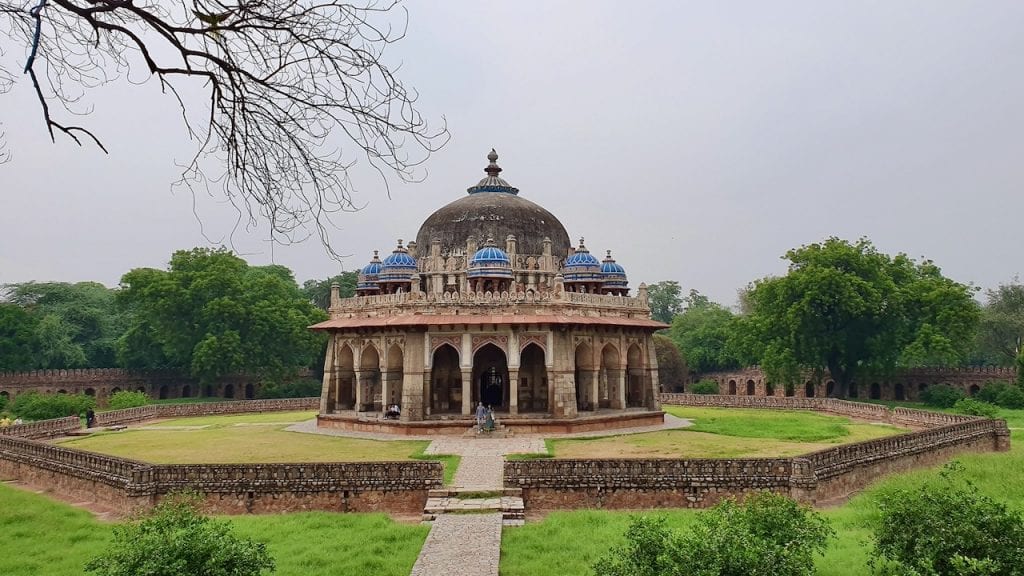 Isa Khan Niazi was not as famous as Humayun. This made the tomb attractive to me. It's simple, serene, and gives a wonderful vibe. There is a boundary surrounding it, you can climb there and circumnavigate. It will give you an opportunity to see it in different directions. Don't forget to try it.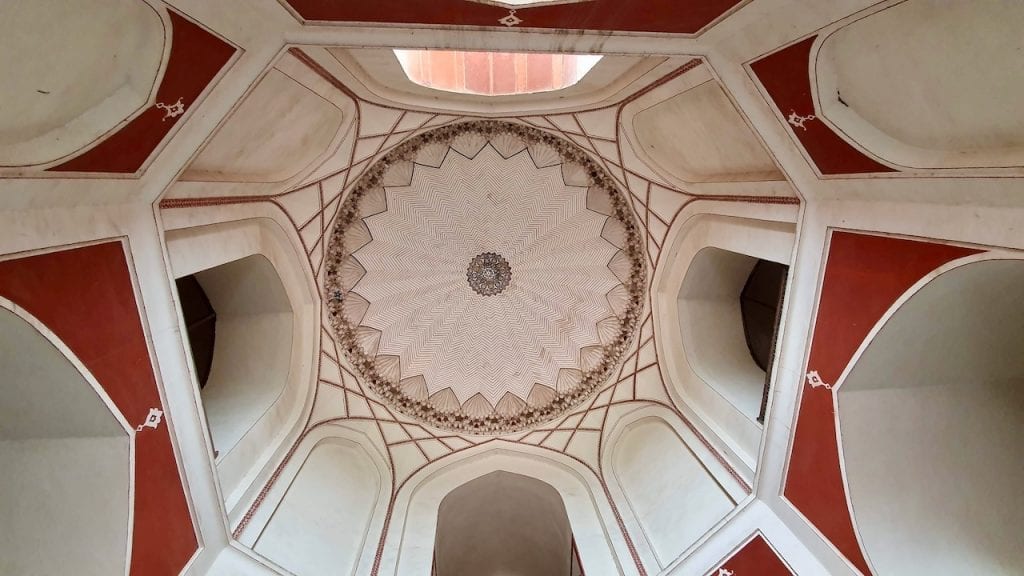 Entry fee, Opening Time, Nearest Metro
Same as Humayun's Tomb (no extra fee is needed) above as it's inside the same complex
Safdarjung's Tomb
It's a sandstone and marble mausoleum with Charbagh style compound. For those who don't know, Charbagh is a Persian-style garden layout, where you will find walkways and flowing water in four parts of the complex.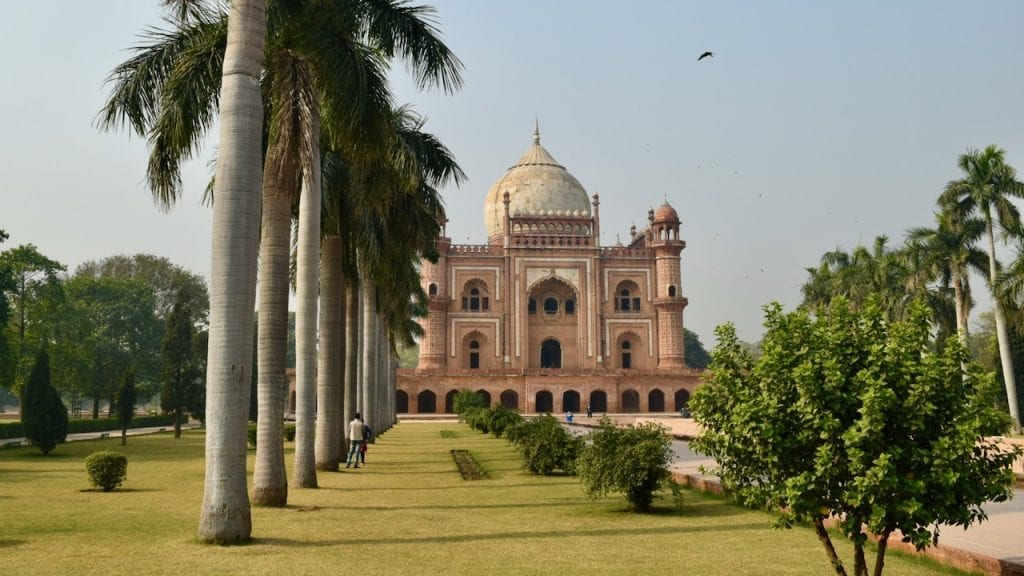 They divide this garden into four squares by side pathways and water tanks, which are again divided into smaller squares and pathways.
When the Mughal emperor was falling, Safdarjang ruled the state of Awadh /Oudh in North India and later became Prime Minister under the reign of Muhammad Shah.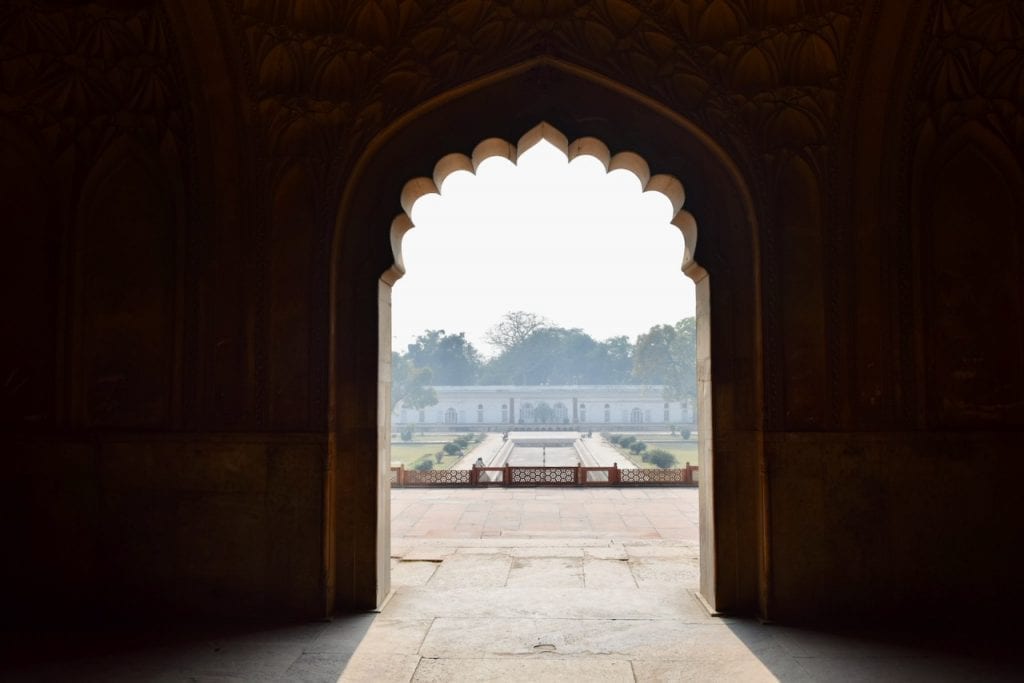 Shuja-ud-Daula, son of Safdarjung, built it in 1753-1754 in memory of his father. It is deemed to be the last Mughal styled monumental garden tomb.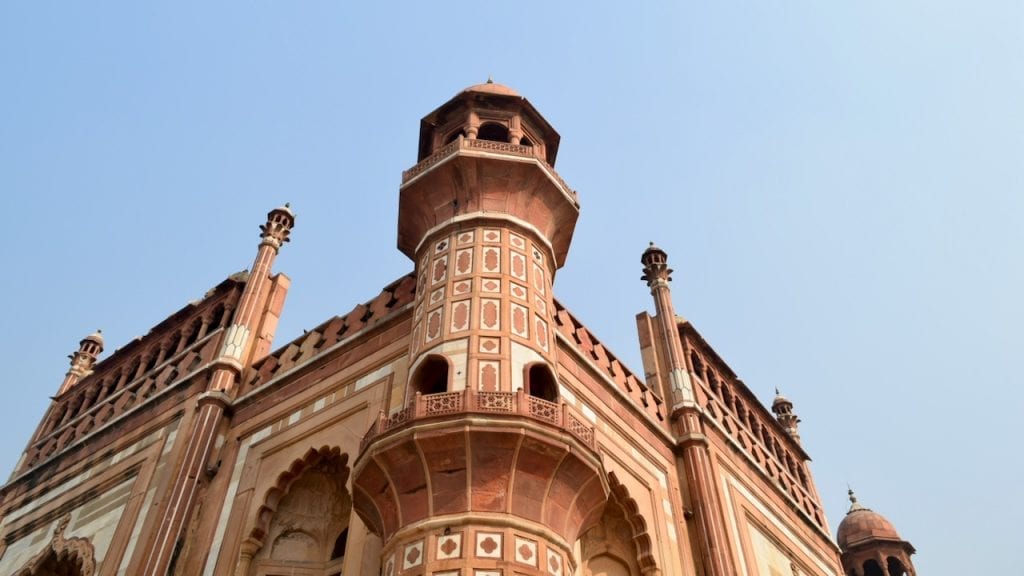 I took photos from different angles and from the inside. I liked this place as the crowd was thinner compared to the other places.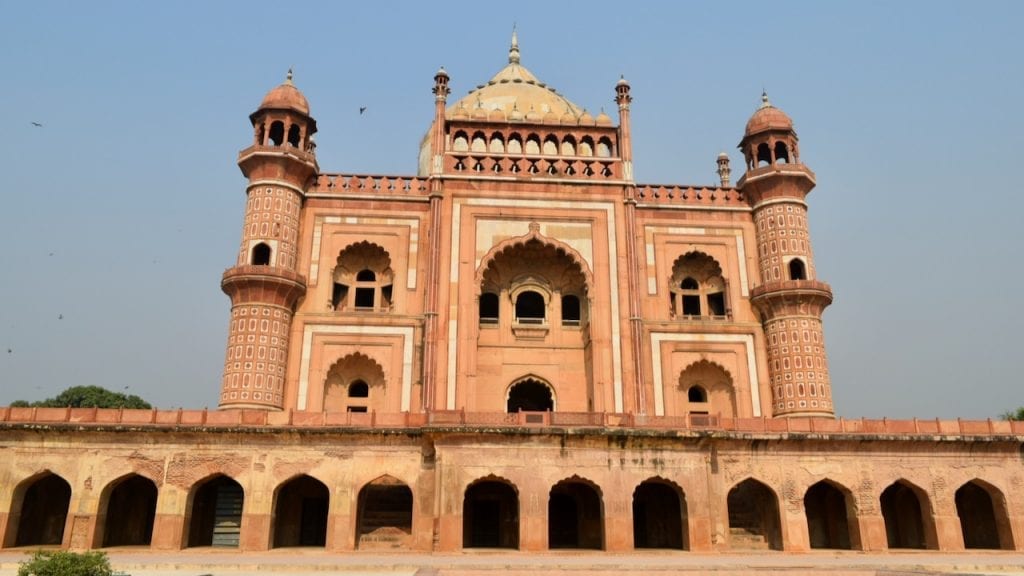 Entry Fee in INR
25 for Indians
300 for foreigners
Nearest Metro
Jor Bagh Metro Station
Operating Time
Sunrise to Sunset
India Gate
If you are a fan of Hindi movies, you have seen it many times. Just like the Arc de Triomphe in Paris, India has the India gate. This is a war memorial built in the memory of the Indian soldiers who dedicated their lives during the first world war.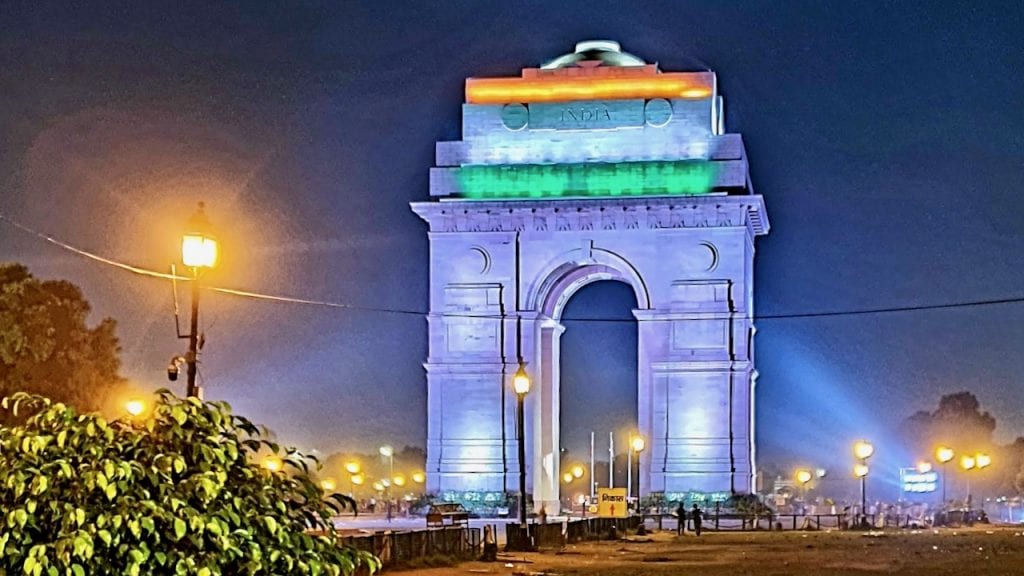 You will find many people there, boys, girls, school kids and people selling foods.
If you like this 42 meters mighty structure during day time, plan for a visit during the night, too. It looks different from the colors of the Indian flag – saffron, white, and dark green.
Interesting facts about India Gate
The foundation of India gate was laid in 1921, it was inaugurated in 1931
Edwin Lutyens was the architect of India gate
The name of the Indian soldiers who gave their lives in the WWI and Afghan Wars is written in the gate
It's made of sandstones and granites
On 26 January each year, the soldiers pass around the monument as part of the Republic Day Parade
Entry Fee in INR
Free
Nearest Metro
Pragati Maidan
Operating Time
24 Hours
Things to see in Delhi on day 2
Gandhi Smriti
Mohandas Karamchand Gandhi, more familiar with Mahatma Gandhi, is considered to be the father of the nation in India. He was a lawyer by profession and led the nonviolent procession which led to the independence of India from the British in 1947.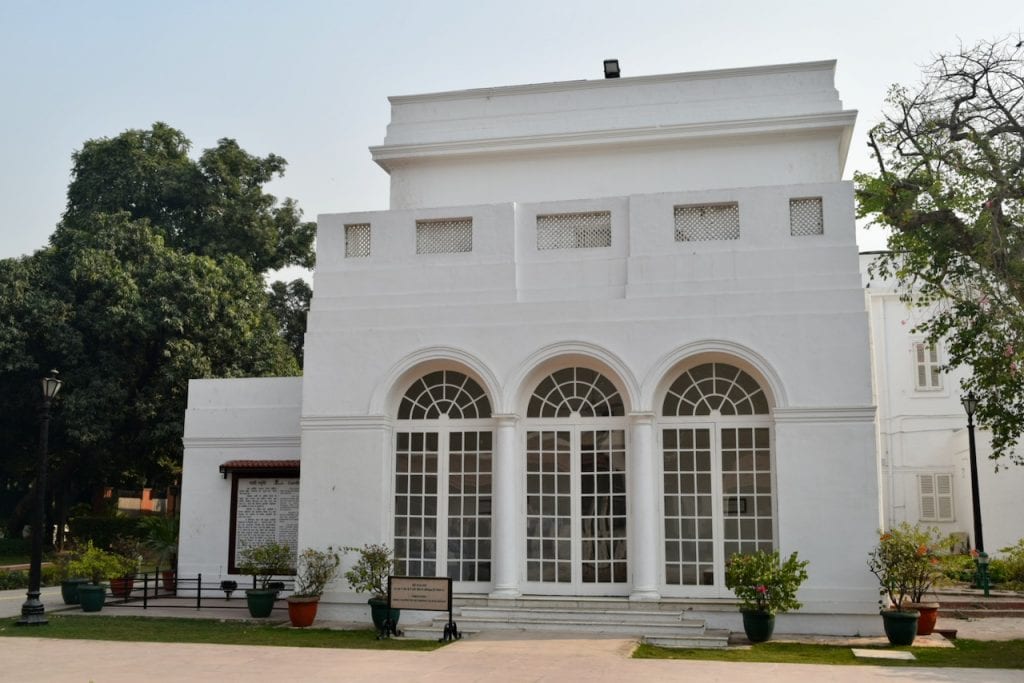 Mahatma Gandhi was famous for spreading love and peace and spent an ordinary life. Sadly, in the Indian subcontinents, most of the exceptional leaders got killed by the countrymen, so was Mr. Gandhi.
Nathuram Godse, an advocate of Hindu nationalism, killed him in the compound of Birla House, just a year for the independence of India. That place, Birla House, is converted to Gandhi Smriti in the honor of him. The word Smriti in Hindi means Memory. So, it's a Gandhi memorial. He spent the last 144 days of his life inside of this house.
When I was roaming around the compound, it seemed to me that the glorious person was still alive. His bed is kept there as it was. He promoted the traditional Indian spinning wheel or charkha through which the Indian poor could make dresses. You will see his Charka there as if he would return any moment to use it.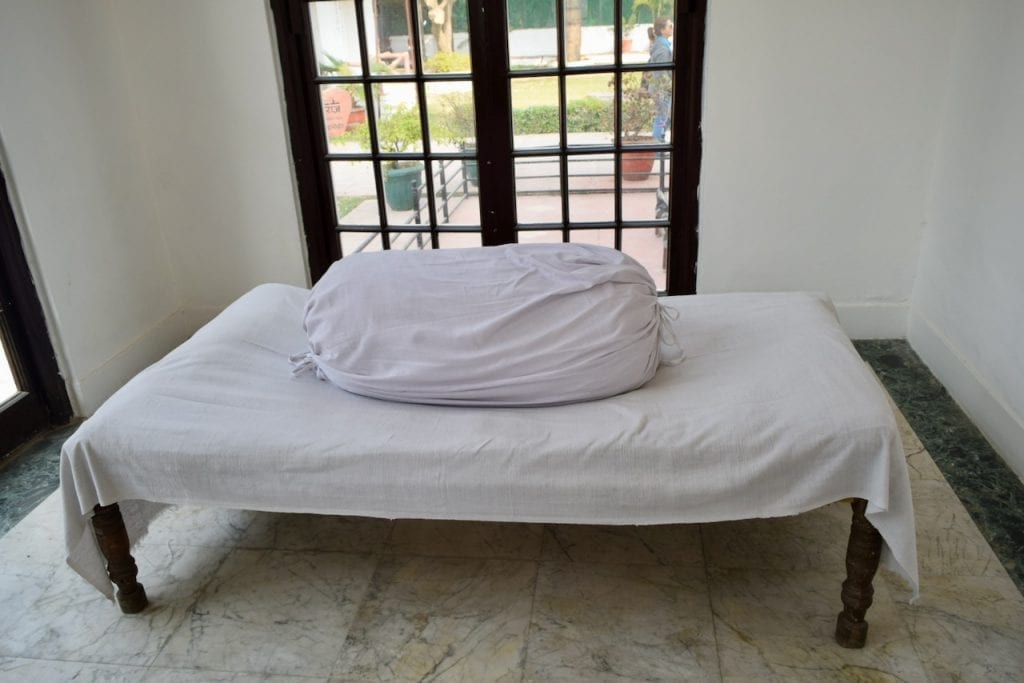 On 30 January 1948, Mr. Gandhi was walking to the lawn when Nathuram shot him with revolvers. He lost a lot of blood and died there.
His last words were "Hé! Rama" means "Oh! Lord".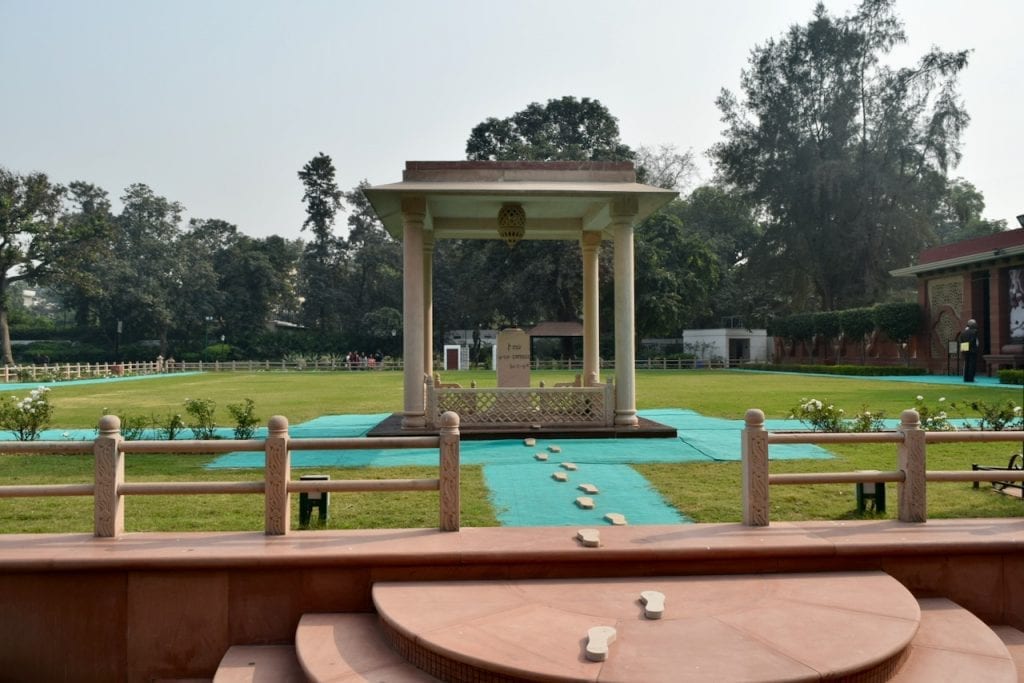 This house is located in "5 Tees January Marg" – Tees means 30 in Hindi.
Tips
Gandhi, An Oscar-winning film directed by Richard Attenborough is a must-see to get an idea about the life of Mahatma Gandhi.
Entry Fee
Free
Nearest Metro
LOK Kalyan Marg Metro Station
Opening Time
From 10:00 AM to 5:00 PM
Closed on Monday
Red Fort
All the people of Delhi, if not India, flock in front of the Red Fort during the evening time. They sit outside of the compound, gossip there, take selfies, and eat street foods. Half of them also go inside. So, be prepared to embrace a lot of crowds.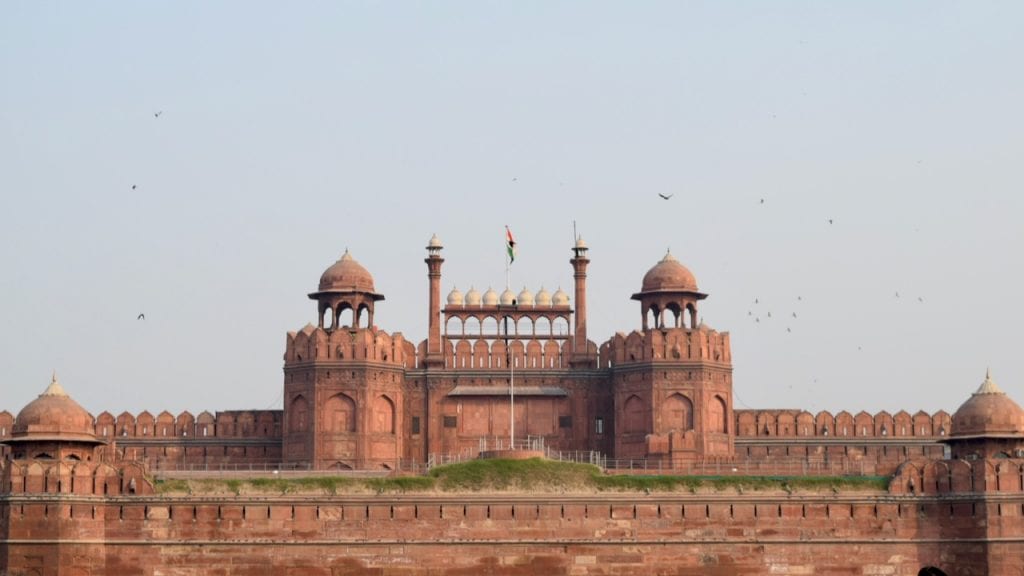 The red fort is gorgeous. It served as the residence of the Mughal emperor Shah Jahan, the man famous for building the Taj Mahal. It took 10 years to complete this massive structure. To bring good luck, they used the decapitated body of the prisoners in the foundation of the Red fort. It sounds crazy and disgusting, but it happened.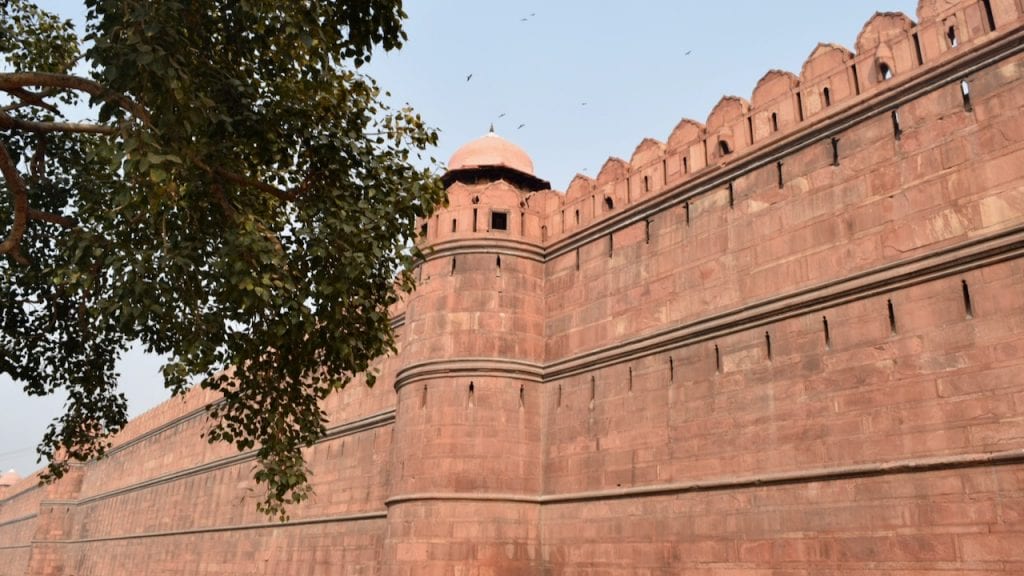 This is a national symbol of India. Since it's birth in 1947, the prime minister of India, raises India's national flag in the fort each year on independence day and gives a speech.
I entered through the red gate which was once white. The British destroyed much of its beauty by making army barracks. When I moved forward, I found a crowded section where shoppers were selling products mostly souvenirs. I got confused seeing them inside of Red Fort. Later, I found out that it's a place named Chatta Chowk, which means Imperial Bazaar where the royal women came to shop.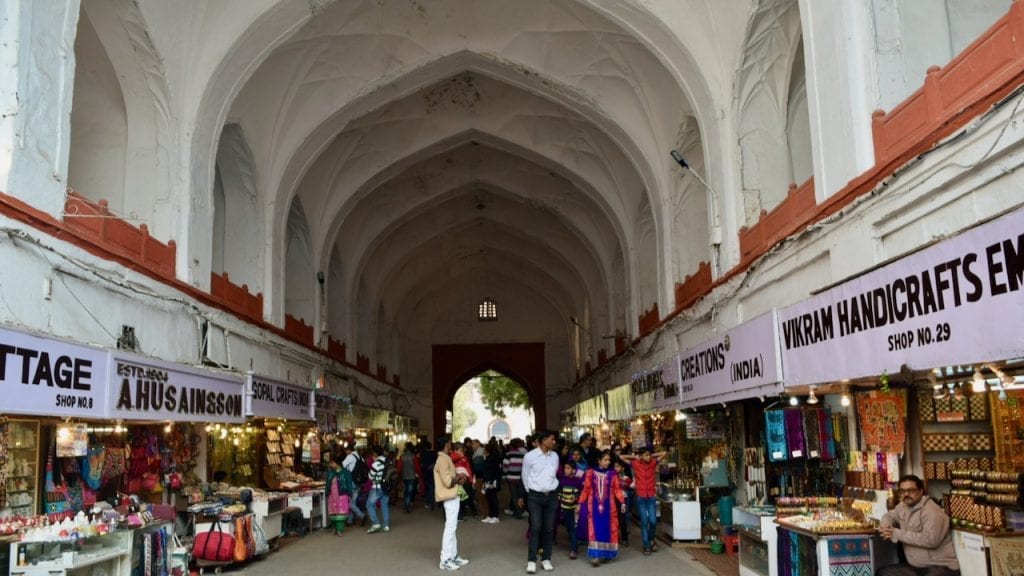 Further inside, I found two blocks one of them is Diwan i aam and the other is diwan i khaas. They resemble similar to the ones in the Agra Fort. I am copying my experiences from there.
This place is called the Diwan-i-Am. This means the hall for the public. When Shah Jahan was in power, he used to sit here and listen to the issues of the residents. So, it can be called a place for holding an internal state business. Suppose someone ransacked the cows of a peasant. So, he would come here on a scheduled day and pursue justice for the emperor. It's a court of some sort. If you scrutinize it, you will find nine arches and three avenues.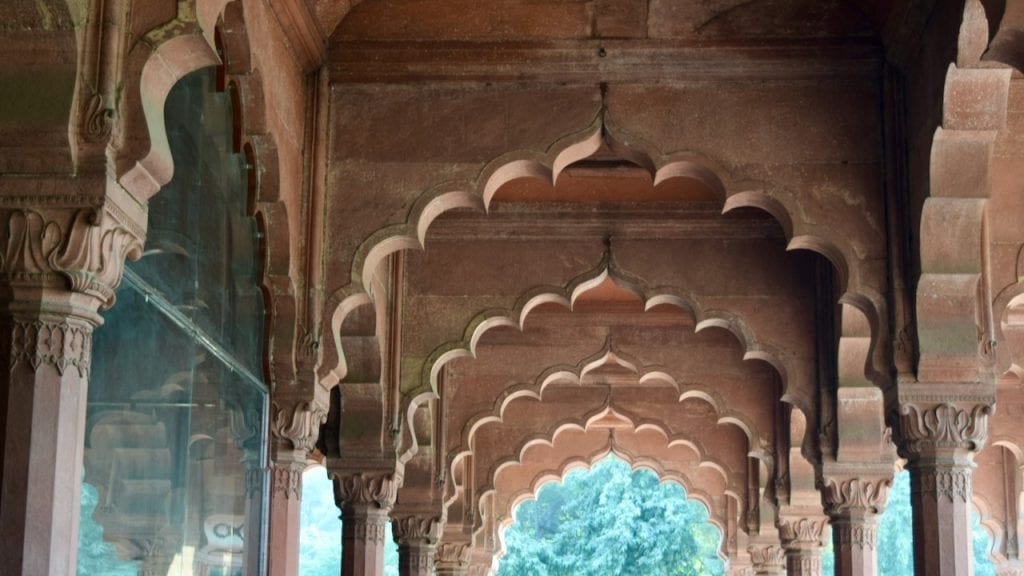 This place is not only an architectural marvel but also an engineering marvel. If you whisper from one side of the area, you will hear from the other side. This is to make sure that the emperor can listen to his men from far. Each of them gathered here to present their complaints to the king.
There is another part of the courtyard which is Diwan-i-Khas. What's the difference between Diwan-i-Khas with Diwan-i-Am? Diwan-i-Khas is more prestigious. When an important delegate visited the emperor Shah Jahan, he used to take them there. It's a hall for private and prestigious audiences. For a considerable amount of time, Diwan-i-Am held the famous peacock throne of Shah Jahan. This peacock throne was decorated with Koh-i-Nur, one of the largest cut diamonds in the world.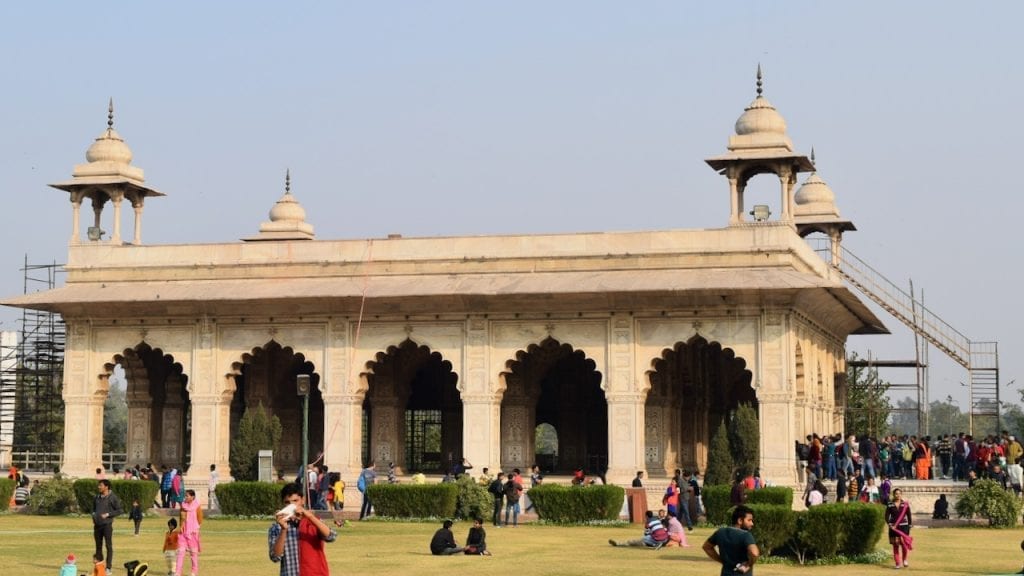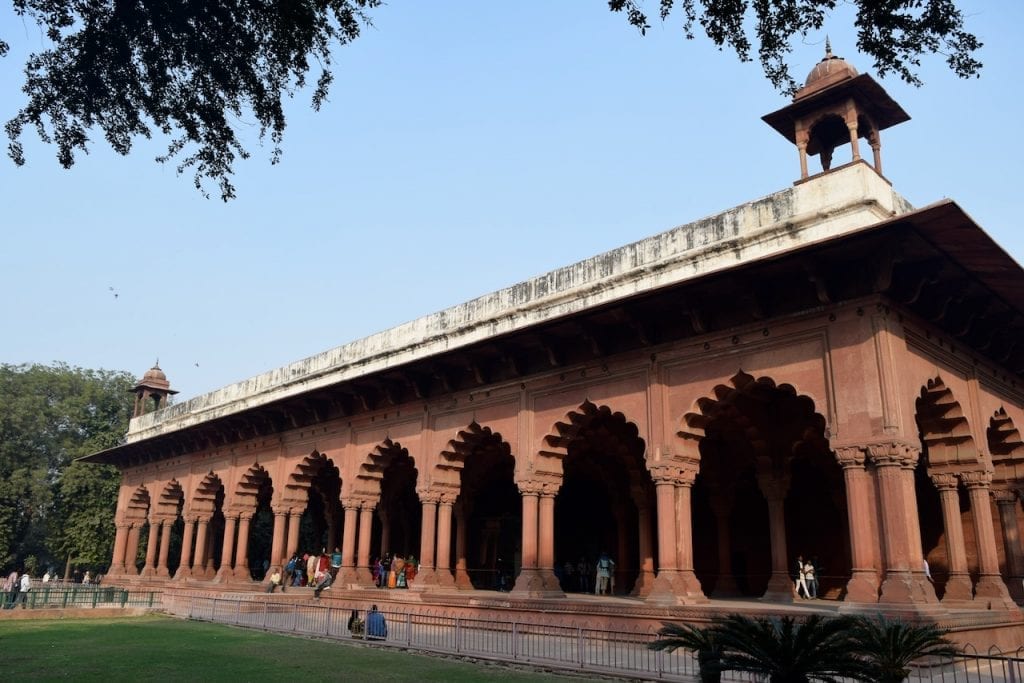 Book your Red Fort Trip.
Interesting facts about Red Fort
Ustad Ahmad Lahauri was the architect of Red Fort. He was the architect of the Taj Mahal, too.
There are two gates of the fort known as the "Delhi Gate" and the "Lahore Gate."
The British put the last Mughal emperor, Bahadur Sha II on trial here. Later, he was forced to send to Yangon in Myanmar for an exile
Red Fort is a UNESCO World Heritage Site
It's called red fort because the surrounding wall is red
Red Fort is octagonal in shape
Don't get confused if you hear someone calling it Lal Qila. Lal means red and Qila means fort
Shah Jahan, the Mughal emperor decided to shift his capital from Agra to Delhi. That is why he decided to build the Red Fort
Entry Fee in INR
90 for Indians
950 for Foreigners
Nearest Metro
Chandni Chowk
Operating Time
Sunrise to Sunset
Closed on Monday
Jama Masjid
I saw no place so crowded with people as the streets near the Jama Mosque. It's literally impossible to walk there touching no person's body. It's filthy, full of hawkers, shops, restaurants, and people.
But, you have to go there to see and experience two things – one is described below the food. Another is a mosque, the place of worship for the Muslims.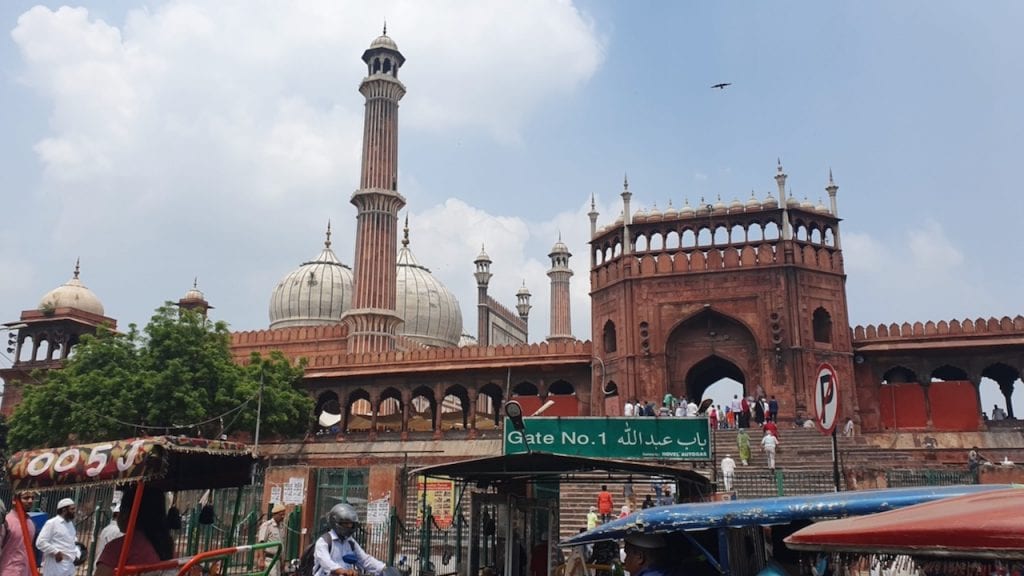 Shah Jahan built this Jama Masjid (which is famous for building The Taj Mahal). It is one of the largest mosques in India and can accommodate 25,000 worshipers at a time. During Jumma prayer, a special prayer for Muslims which takes place during midday on each Friday throughout the world, it becomes full. I went there to pray during that time and had to do it outside of the mosque.
If you don't read the signboard from outside, you might think of it as another marvelous Mughal architecture. Like several other Mughal Architectures, it's built with limestone and marbles.
It has three big gates, four towers, and two tall minarets.
Interesting Facts about Jama Masjid
Terrorists exploded a bomb in 2006 and shot fire in 2010 in the Jama Mosque
The distance between Bukhara in Uzbekistan and Delhi in India is 2150 Kilometers. Imam Syed Abdul Ghafoor Shah Bukhari, an Islamic scholar, traveled this distance 350+ years ago to inaugurate this mosque. Shah Jahan invited him to do so.
Entry Fee in INR
Free
Nearest Metro
Jama Masjid
Operating Time
Muslims pray five times a day here in congression. So, it's not a visiting place. Use your judgment.
Food in Old Delhi
No visit to Delhi will be fulfilled without having food in Delhi. Just opposite of Jama Masjid, and surrounded by it, you will find countless restaurants serving varieties of foods. The most attractive of the foods are Kebabs, Chicken fries, and Sweets.
I went to two places in a different time –
Kareem's
Haji Mohd. Hussain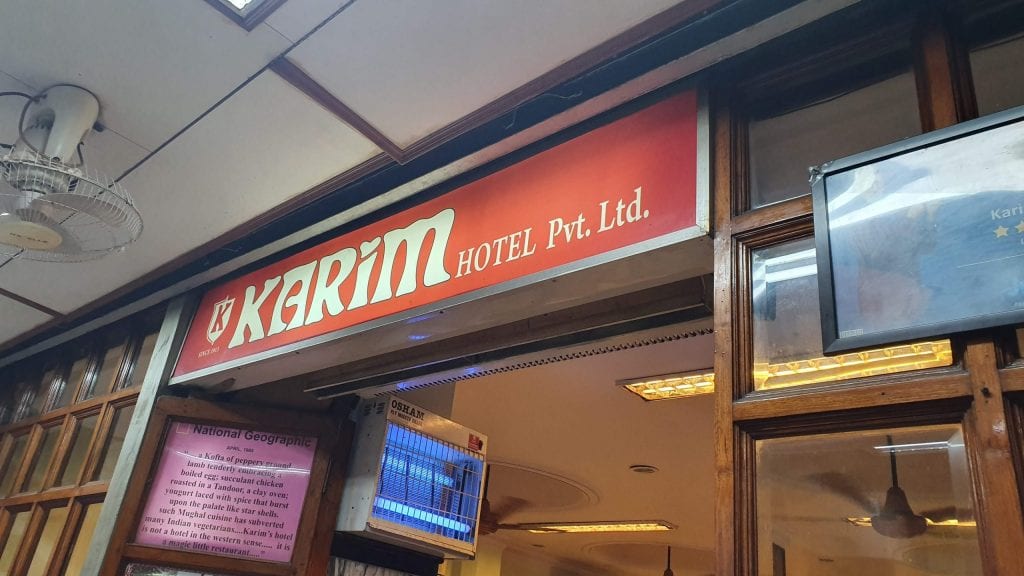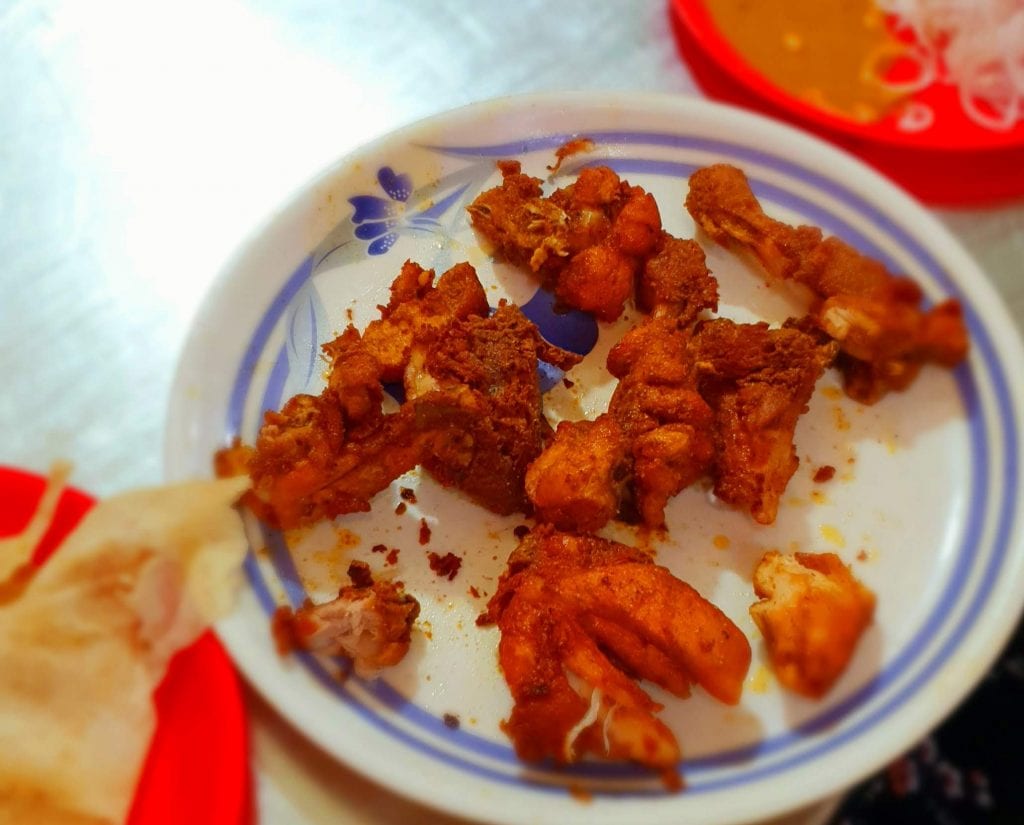 Kareem's is more famous on the internet. I took kebabs from there. To me, the food didn't taste extraordinary.
However, the chicken fries I took from Haji Mohd. Hussain was exceedingly delicious. The dining place is nothing fancy, you need to wait to get a sit there as it is always full. If you notice a single seat empty, run and occupy it, you have to share your table with someone else anyway. If you are not familiar with eating spicy foods, you should be careful. I want to go to Delhi again only to eat their chicken.
I ate sweets from random shops, and I found it difficult to pick a particular sweet. The varieties of sweets are mind-boggling. It doesn't matter how long you stay in Delhi, go there at least once and try different restaurants randomly. I can promise, you won't regret it.
Book your Delhi street food crawl trip.
Nearest Metro
Jama Masjid
Best Hotels in Delhi
5 Star Hotels in Delhi
Budget hotels in Delhi
Cheap hotels in Delhi
A Special Hotel in Delhi
Delhi Airbnb
If you do not want to stay in a hotel and wanna experience staying with locals, Airbnb is a great option. If you do not have an Airbnb account open on using this link, you will get US$50 credit! In many places, my Airbnb experience exceeded far and those were much better than staying in a hotel. Below are the links to the top 5 Airbnb in Delhi which I curated by going through their reviews. You can book any of them, I hope, you won't regret it!
Tips to Know Before visiting Delhi
Is there any metro in Delhi?
Yes. The Metro in Delhi is good and will cover all the places on the itinerary. So, take it will be wise to buy a metro card and use it.
What can be an alternate mode of transportation other than taxi?
Uber in Delhi is inexpensive and can save a lot of hassle comparing to taking a taxi.
How is the weather in Delhi? Should I keep anything in mind?
Delhi can become very warm and touch 40 degree celsius. The best thing you can do is to take enough drinking water with you when you go out.
Can I drink tap water in Delhi?
Do not drink tap water, always buy a bottle of water from the shop, it's inexpensive.
Should I exchange currency in Delhi airport?
Do not exchange money at the airport, you will get a better rate in town.
Is there anything particular to keep in mind before visiting Delhi?
Get a SIM card from the airport, it might cost you a bit more, but, you should have an active internet connection with you.
Do not get intimate with your partner in public, no kissing, please. It can raise eyebrows.
I heard that Delhi is crowded? Should I be afraid?
If you are traveling first time in the subcontinent, the crowd can be overwhelming. Don't be afraid, give it some time, you will get used to it eventually. If your skin color is different than the Indians, you might get the request of taking selfies. You can oblige, they will be happy.
Is Delhi safe?
Delhi is a megacity. Like many other mega cities in the world, crime can take place. There are precedences of rape, murders and muggings. However, millions of tourists visit Delhi each year unharmed. You should be cautious in the street but should not be scared. If you do not visit Delhi at least once in your life, you cannot call yourself a traveler.
What did you do in Delhi in 2 Days?
Could you please share it with me, I will be happy to know it!
Delhi in 2 days Itinerary Map
Things to Do in Delhi in Photos
Downloadable Pocket Guide of Delhi
What's next after Delhi?
It's Agra, Manali or Spiti Valley!
Liked this Delhi in 2 days article? Pin It!