Spiti Valley is one of the most beautiful and remote places in India. This ultimate travel guide to Kaza, the most important town of Spiti Valley is all you need to plan for a travel to Spiti Valley.
Where is Kaza?
Kaza is a major town of the enigmatic Spiti valley in the Himachal Pradesh of India adjoining the Tibetan border. This is an ideal base to explore some out of the world's fascinating places in Spiti Valley. When you think of typical India, you expect places full of people and chaos. Spiti valley is a rare exception to that. The valley is so remote, few individuals, even in India, know about it. Even fewer people dare to visit this place. But, once you reach this cold desert mountain through once upon a lifetime journey, you get rewarded with an extraordinary mountainous arid landscape and won't wish to leave. While New York is at an altitude of 10 meters and London of 11 meters, Kaza stands still at an elevation of 3800 meters. Staying in such a high place surrounded by the Himalayan peaks will drive you dizzy with its bizarre, breathtaking beauty. This is your ultimate travel guide to Kaza in Spiti valley.
How to reach Kaza in Spiti Valley?
By Air
Kullu–Manali airport in Bhuntar (IATA: KUU) is the nearest airport.
The second nearest airport is in Chandigarh (IATA: IXC).
Indira Gandhi International Airport (IATA: DEL) in Delhi is the third option with wide arrays of flight.
The other options are Amritsar (IATA: ATQ), Kangra Airport in Dharamshala (DHM) or Pathankot Airport (IXP) in Punjab.
Keep in mind that none of the flight will take you to Kaza. They will just take you closer to it.
By Road
Wherever you land, come to either Manali or Shimla. You can reach Kaza from either of them.
Manali to Kaza by Road
You need to avail a permit to cross the Rohtang pass. You can apply for your pass online from here. It will take at least 12 hours to reach Kaza from Manali if nothing unforeseen happens.
It's a good idea to break the journey to two days.
You can stop the first night in Batal and hit the Chandra Taal lake on the following morning. Once you see the Chandra Taal, you can proceed towards Kaza.
Manali to Kaza by Bus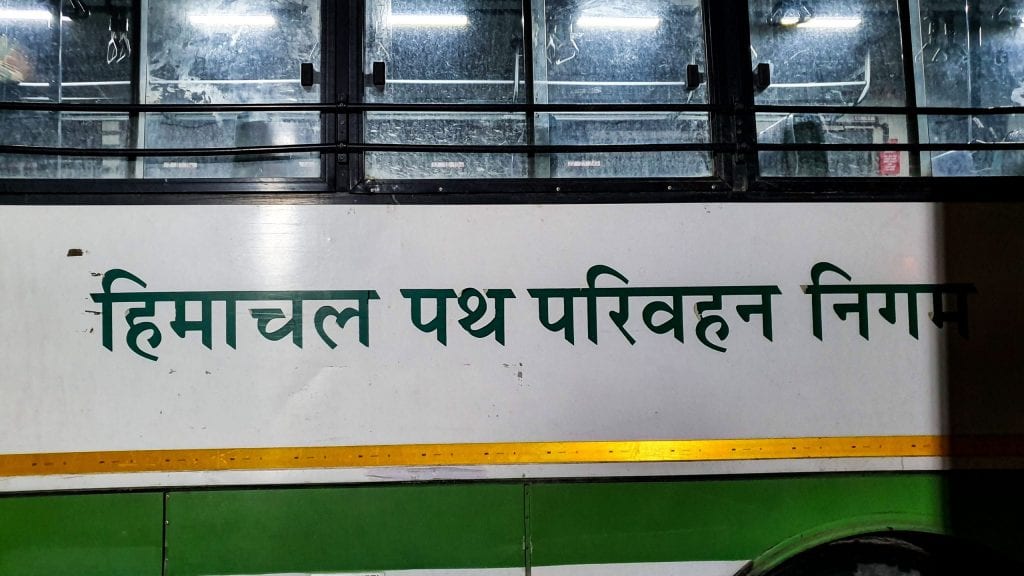 A Government bus runs every day from Manali from mid-June to mid-October. You can catch the bus from the Manali bus stand. You can grab a seat in front if you can make it there before 5 in the morning. This is the cheapest way for visiting Kaza and will cost you less than US$7. This is the official site for buying a bus ticket.
Manali to Kaza by Private Vehicle
The most convenient way of visiting Kaza is by hiring a 4×4 vehicle. It will cost you around US$150 but will give you the freedom to stop in places for taking photos of this wonderful route whenever you want to.
Do not go for a sedan or a vehicle with weaker horsepower. You will be in trouble otherwise, as they won't be able to pass the streams on your way.
Manali to Kaza by by Shared Taxi
From Manali, you can also rent a shared taxi which will take about 10 persons. You will be travelling with unknown persons, but it will save your cost.
Manali to Kaza by Motorbike
If you are brave enough, renting a motorbike is an option. I crossed many bikers on the road riding Royal Enfield. This will give you the ultimate freedom, but the road is unimaginably difficult to ride.
Shimla to Kaza by Road
It's similar to Manali. Only, this path will take more time and you need to avail an inner line permit for crossing Kinnaur.
Book a guided full day Niagara exploration tour
A tale of Old Kaza and New Kaza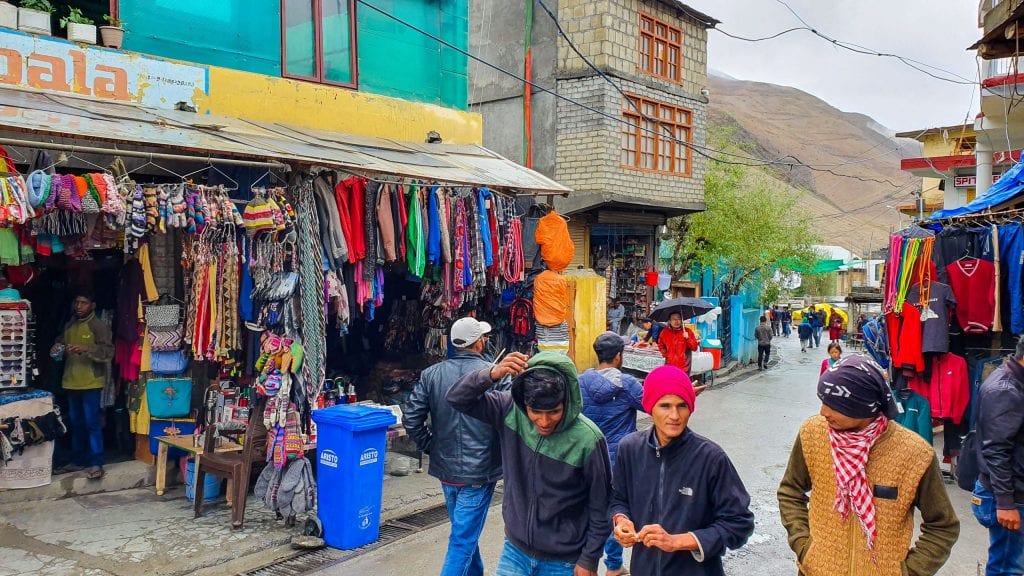 Kaza is divided in two parts – old Kaza and new Kaza.
Old Kaza is in the east part of the town, vibrant with most of the shops and restaurants. This is the place where the bus will drop you. You will find the Bazaar here. We can call Old Kaza can as the "city center" of Kaza. The main street stretches from the bus stop which is bottom of the bazaar to about 200 meters. The road is not plain and will take a good test of your stamina if you are in a rush.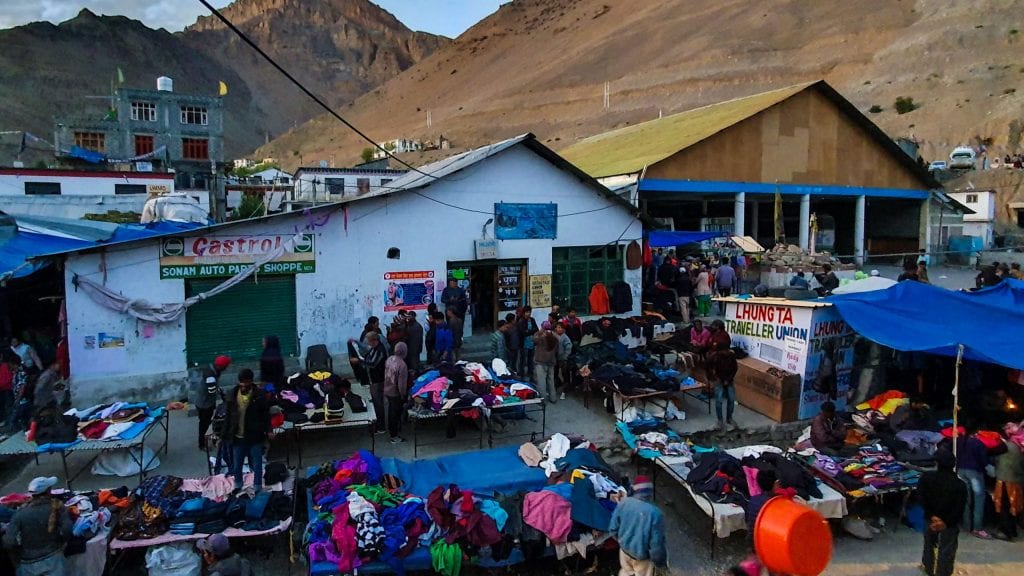 During most evenings, businessmen open their temporary shops to sell shirts, pants, shoes, and warm clothes. The nearby villagers visit Kaza to buy the things. If you underestimate the cold of Kaza before visiting there, you will find yourself in the market to buy warm clothes.
New Kaza has mostly administrative offices. You will also find some apartments for government officers. The area is devoid of crowds. This place is planned, the roads are specious with trees. As soon as you will arrive here, you will realize that you have come to a different place.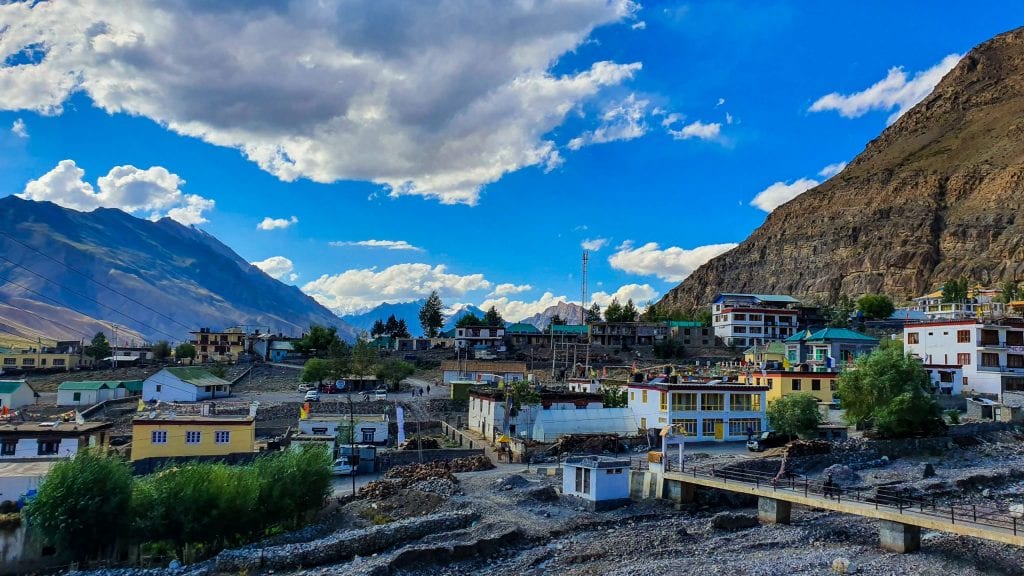 If you come from the Bazar in old Kaza, this bridge will draw you towards the new Kaza. On your way, you will see the post office of Kaza. You will find a resemblance among houses; they have a flat ceiling with a maroon border on top. None of them are more than three stories. Interestingly, I met many Israelis in the Spiti valley. Some of them were not only visitors but also permanent immigrants there.
How to Get Around in Kaza?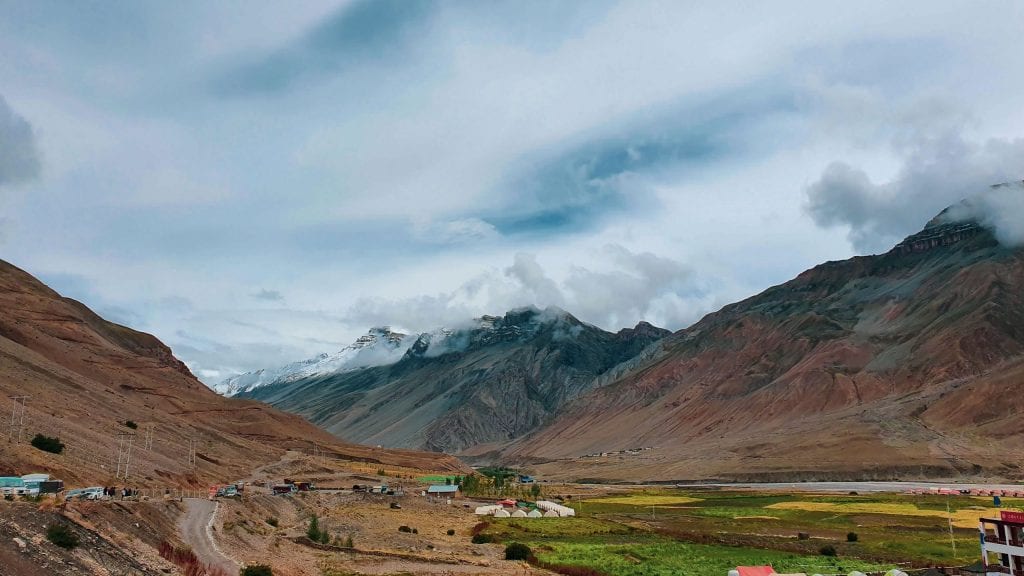 The transport choices are limited in Kaza. The public bus is essentially non-existent and runs infrequently. It will be a waste of time to wait for a bus.
So, you require hiring a 4WD to go to the magnificent Key monastery, or neighboring high altitude villages like Kibber, Langsa, Komic, and Mud. My recommendation would be not to take any package from any tour operator. Instead, negotiate with an individual driver to gain a better price. You will find many travelers like yourself who would want to share a vehicle. A good place for searching for fellow passengers is in the taxi driver's union near the bus stand in Kaza. You will meet many foreigners there with whom you can share a vehicle and discuss places to go and see in Spiti. Many of them might have come much earlier and had a better experience with the places which you can leverage.
Kaza town itself is not big. You can walk on foot in different directions, it will take at most an hour to cover it.
Things to see in Kaza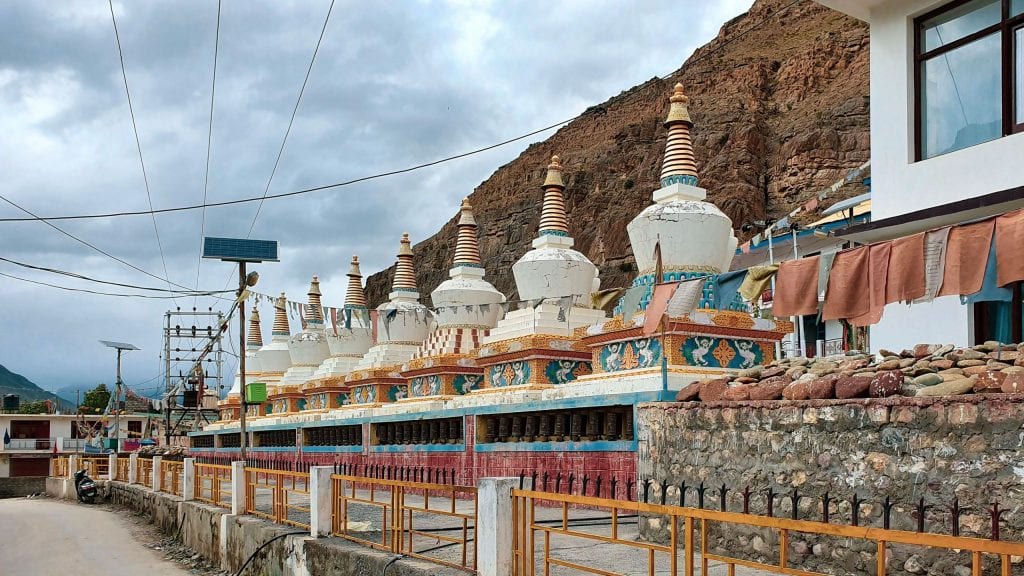 Kaza does not have any particular attraction apart from the mountains. Still, a stroll in the street is peaceful. If you cross the bridge from old Kaza and head towards new Kaza, you will encounter Sakya Gompa, a Buddhist monastery. You can pay a visit there.
Kaza itself is a base for visiting some magnificent places, mostly as a day trip.
Day Trip from Kaza in Spiti Valley
The highlight of the travel guide to Kaza in Spiti Valley will be the several day trips you are going to take from Kaza. I am mentioning the summary of them below. I have written a separate piece on individual place, you can click them to read in detail.
Kibber village
Langza, Komic and Hikkim village
Dhankar
Chandra Taal – This needs to be done as a separate journey, on your way to Kaza from Manali.
Stargazing
As there is no air pollution, the sky is blue during the day with patches of beautiful white clouds. The sky at night is clear and you can enjoy stars and milky ways.
Trekking in Spiti Valley
If you seek adventures, Spiti valley is a heaven for you. You can choose numerous hiking routes and will not be disappointed.
Pin-Parvati trek
The most famous trek in the valley which is difficult and will take over 6 days. This trek starts at Mud village, which is 32 Kilometers from Kaza.
Spiti valley trek
You can trek for 55 Kilometers over the span of 6 days and cover most of the villages around Kaza. The route can be Kaza –> Kibber –> Langza –> Hikkim –> Komik –> Demul –> Lhalung –> Dhankar –> Tabo –> Kaza.
Kaza Hotels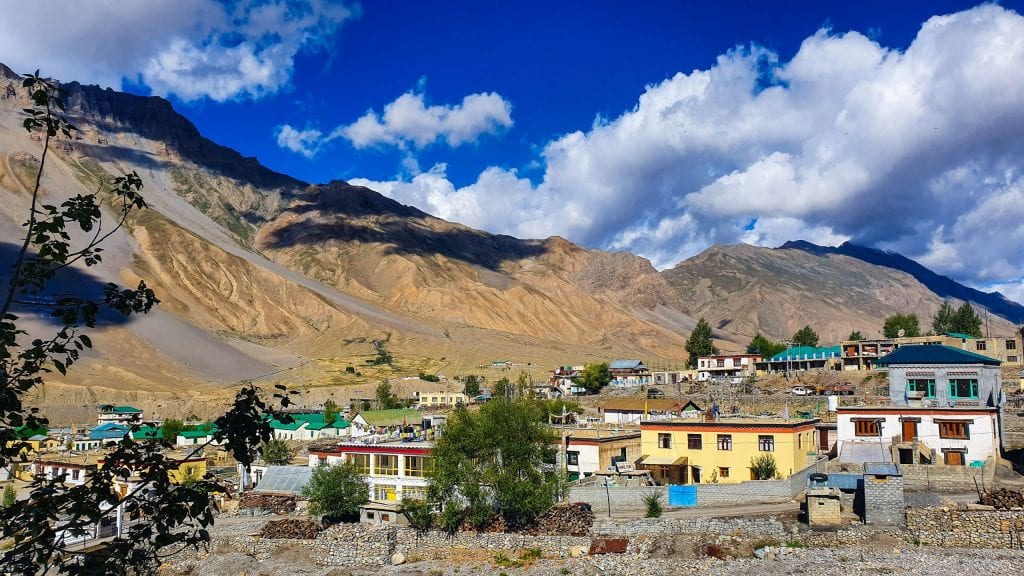 I stayed in Hotel Zangchuk for several nights. This is an economical option, and I didn't see a smile on stuff's faces. Some rooms might stink in the hotel. I got a room which drew hot water in the attached bathroom. Moreover, there was a linked veranda which gave me an incredible view of the valley each day. One cannot expect more from an INR 900 rupees room.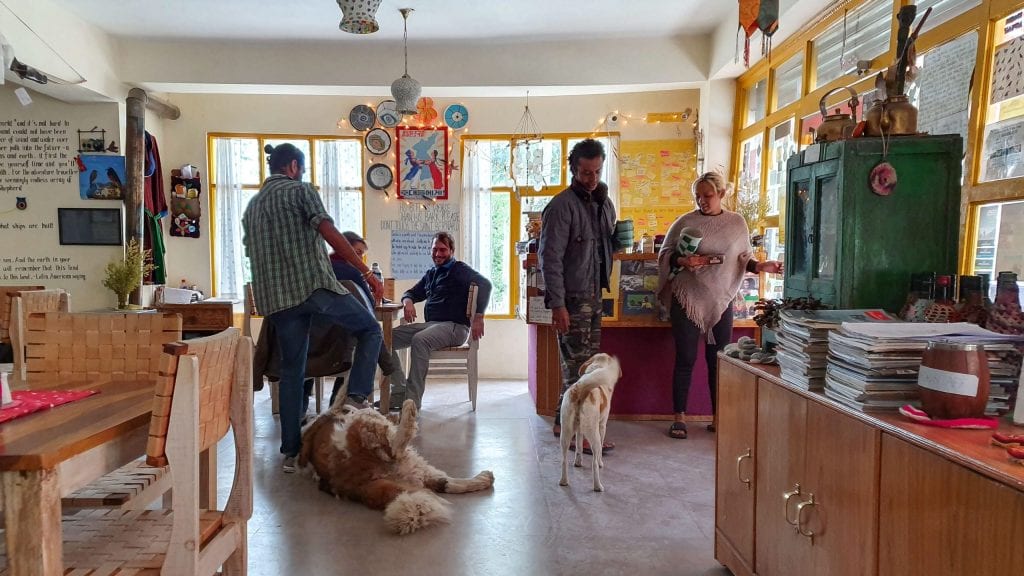 This fantastic hotel in Kaza fills up with foreign visitors pretty quickly, so book ahead to ensure your stay. This is such a vibrant place, you can easily spend hours in their restaurants reading books or chatting with people. The ADC office, from where you might take inner line permits, is just 200 meters from here. A drawback is the cost of the rooms, which are higher than other hotels in Kaza.
This newly constructed hotel is just a short walk from the bus stand in old Kaza. The rooms are clean and spacious. The rent is high compared to Kaza standard.
If you are in Kaza for several days, chances are you will be visiting the Taste of Spiti restaurant for once. Osel Rooms is on top of this restaurant. The rooms are large, the beds are good, and the curtains are colorful.
This hostel is a popular destination for backpackers. If you come to Kaza with a motorbike, you will get plenty of space to park your bike here.
If you do not want to stay in a hotel, you can check this private room with attached bath in Kaza.
Where to eat in Kaza?
While wandering in the old street of Kaza, you will find street foods like Jelabi (one type of sweet), and Samosa.
Although I expected Tibetan cuisines like Momos or Thukpa from the restaurants in Kaza, I found many of them to cater to western foods. Besides, common Indian foods like dal, rice, curries were also available. Apart from unknown street shops, I loved the following restaurants in Kaza for their atmosphere and food.
Sol Cafe
Just a brief walk from the bus stop in old Kaza, this colorful small coffee shop run by Ecosphere volunteers offers a pleasant environment for having food. I went there several times and am pretty sure that you will, too. They also arrange a film show at night, a movie theatre alternate in this little town. It might not be a bad idea to watch Seven Years in Tibet sitting near the Tibetan border!
Hotel Deysor and Restaurant
I already suggested them as a hotel above. Now is the turn to recommend their food for their ambiance. Only thing is, the restaurant is a bit far if you stay in old Kaza. Their grilled honey-lime paneer (aka quiches) is famous.
How much time should I keep for my Spiti Valley Trip?
You should have at least a week in your hand, including journey time from Delhi. While it's even possible to cover the trip in six days, however, it will be strenuous.
Internet Connectivity in Kaza
Forget about enjoying the internet in Kaza. Although you can manage WIFI passwords from hotels or cafes, most of the time, those won't work. Maybe you can drop a line or two in Facebook messengers or check a mail if you are persistent and devote a lot of time doing so.
Mobile Network in Kaza
The major mobile operators in India, Jio, Airtel, and Vodafone Idea do not have network coverage in Kaza. You will only get the cellular network of BSNL, the Indian state-owned telecommunication company here. But there is no guarantee of receiving or making calls. The network here is extremely patchy and might not work most of the time. If you can make a call and speak for 2 minutes without any hitch, consider yourself very lucky.
Can you buy BSNL SIM in Kaza?
Yes, there are multiple shops in Kaza from where you can buy a SIM of BSNL. You need a copy of your passport (along with a visa sometimes) and a photo to buy a SIM.
Supermarkets in Kaza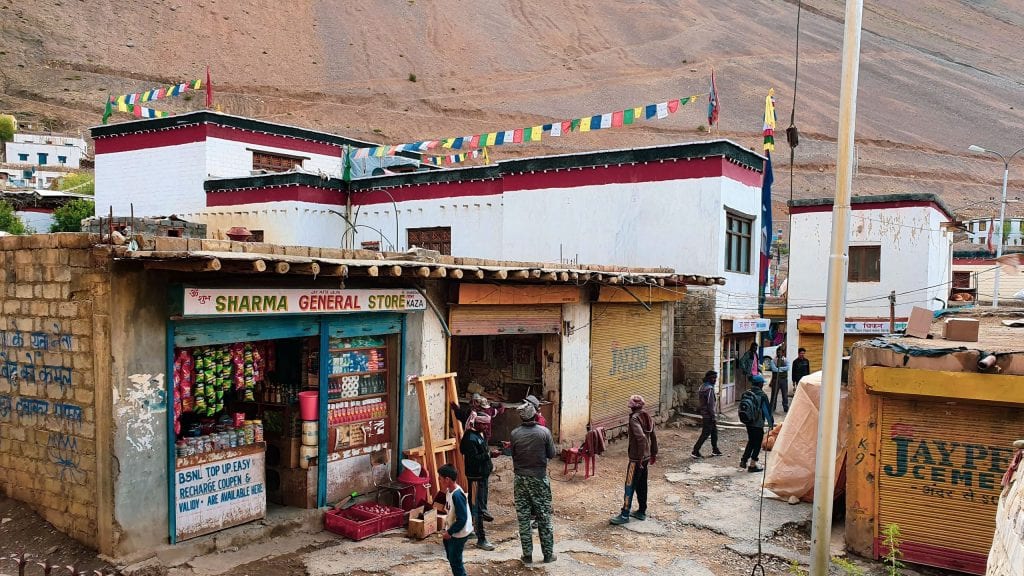 Do not expect any supermarket in Kaza, it's a remote place! However, you will notice several grocery stores from where you can obtain refreshments.
Currency Exchange in Kaza
You should take adequate cash by exchanging your Dollar or Euro from major towns like Delhi, Manali, or Shimla. I did not find any suitable place to exchange my currency in Kaza.
ATM Booth in Kaza
There is an ATM booth of the State Bank of India in the main market of Kaza. It was a lifesaver for me as I overshoot my budget. My international Visa credit card worked in the ATM. Do not try to withdraw more than INR 10,000 at once, it won't work. If you need more than INR 10,000, make several transactions.
Hospital in Kaza
Fortunately, there is a hospital in Kaza, one of the very few in Spiti valley. When I reached Kaza, I had severe back pain and at one point, I couldn't get up from my bed. I thought that something awful might have happened. When I turned completely mobilized, I went to the community health center in Kaza. The doctor listened to me, prescribed some drugs, and injected me with medicine through my buttock for immediate release. He added that the road to Kaza is so bumpy, he got many patients with muscle spasms like me. I felt better after the treatment and could continue my trip to Kaza.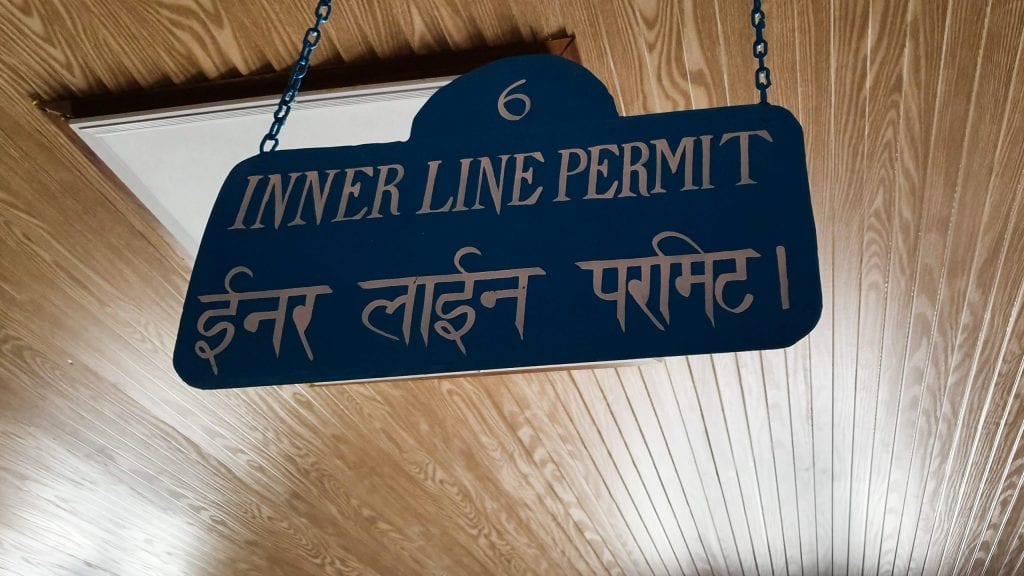 If you are a foreign citizen visiting Kaza from the side of Manali and want to continue your journey towards Kinnaur, you will need an inner line permit. Read this guide to know about obtaining the permit from Kaza.
Weather in Kaza in Spiti Valley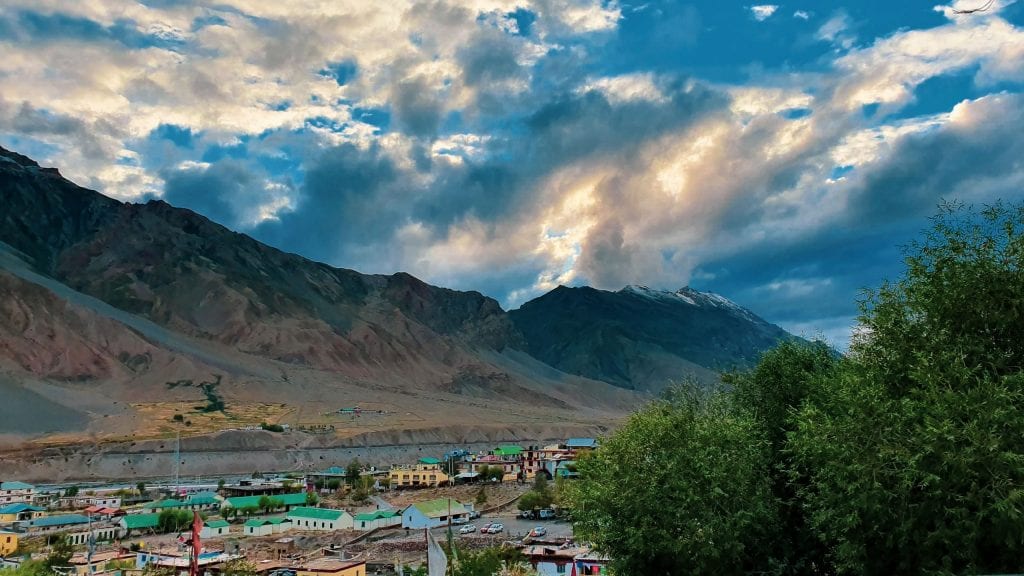 The weather of Kaza and Spiti valley is very dry. You will hardly see any rainfall in the town. Regardless of the season, the night becomes cold as Kaza is at a high altitude.
Winter is bitter, the temperature goes below -30 degrees Celsius and the entire valley becomes white. Below is a list of what to expect in Kaza throughout the year.
| Month | Season | What does this season offer? |
| --- | --- | --- |
| April to May | End of Winter and beginning of Summer | The snow starts to melt, the roads are beginning to open up |
| June to July | Summer | The best time for visiting Spiti valley but most of the tourists visit this time, too |
| August | Monsoon | A pleasant time with plenty of sunshine. Although, chances of rainfall is slim in Spiti valley, the roads to Spiti can be blocked due to rain. |
| September to October | Fall/Autumn | A good time to visit Spiti where the color changes dramatically and everything looks beautiful |
| November to December | Beginning of Winter | The winters starts to take its place slowly but steadily. Snowfall begins and you should go there this time if you want to see snow. |
| January to March | Winter | The temperature goes below -30 degree celcius. The roads go under snow and gets disconnected with rest of the world. |
Map of important places in Kaza
Liked the Travel Guide to Kaza in Spiti Valley? Pin It!
Did you like this travel guide to Kaza in Spiti Valley? Did I forget anything? Kindly let me know in the comments, I will get back you.