Manali is a hill town in the northern India's Himachal Pradesh. It's an extremely popular tourist destination. This writeup will work as a travel guide for Manali. You can see some fantastic pictures of the hill station of Manali in this blog.
If you ask Indians about his dream holiday destination in India, 8 out of 10 will pick either Kashmir or Manali. You can put a bet on it and win a fortune. Although I went to Kashmir before, somehow, I could not make it to Manali. The distance was a crucial factor, it's far! You just cannot go there directly on a budget. I will explain it to you later. Besides, winter is bitter there. You cannot go there whenever you want to. Saying so, there are so many beautiful places to visit in Manali, you will not regret the decision of going there, even if it is tiresome.
Manali was not particularly in my mind during planning of this particular trip. I wanted to go somewhere remote – where I won't find any people. Where I will feel like coming to the end of the world. After a lot of researches, and looking into the pictures of places, I decided to go on an adventurous journey to Spiti Valley.
There were two ways of going to the Spiti valley. One was through Shimla and the other was through Manali which is a fascinatingly beautiful road trip. I chose Manali because, I read that, Manali is more beautiful than Shimla. I thought that I could fulfil my wish of visiting Manali on my way to Spiti Valley. So, I arrived to Manali after my exploration in Delhi.
Book a package to Manali
Morning View from Hotel in Manali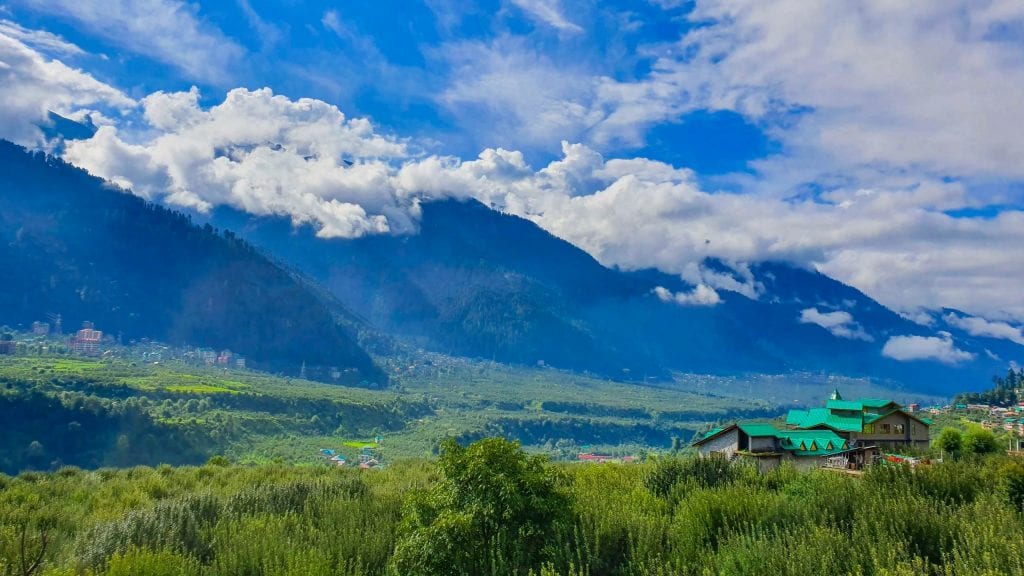 It was dark when I arrived in Manali from Chandigarh. The journey was not good, particularly towards the end. I was so tired, I took my dinner and dozed off.
The next morning, when I woke up, I opened the door of the hotel room and went to the balcony. Times and again, I look to be in the middle of nature. Most rewarding them of all comes after a long enduring trek. But, this time, I could witness the beauty of nature right after opening my eyes where a motor vehicle dropped me after a relatively easy ride. I was ecstatic to see the unobtrusive view of the valley. It was pleasantly green and soothing for the eyes. This Himalayan range covers under white snow during the winter. Flocks of white clouds were dancing all over the places. I was in a dilemma. I only have a day in my hand to explore Manali. I could have easily spent the entire day there without any regret. So, I was not sure where to go out or sit there to enjoy the everchanging view from my balcony. But, the thirst of seeking for more took me out of my room.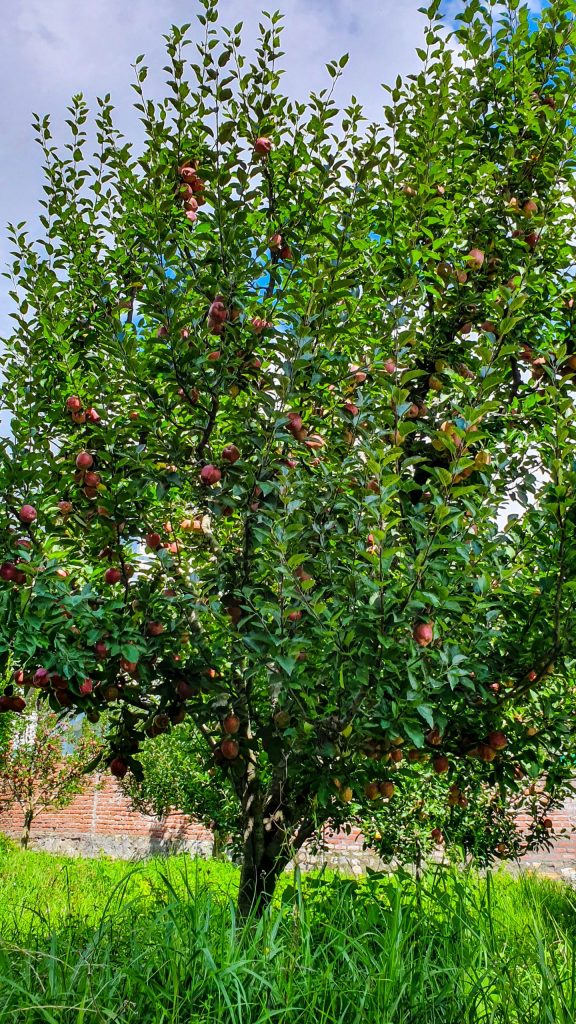 Just outside of my hotel, I saw a tree. I was curious to see a shade of red inside the green leave. Those were apples! I only had apples from supermarkets I never ate one from the tree. However, I saw signboards cautioning plucking them. I had no way but to resist my temptation and move on.
The City Center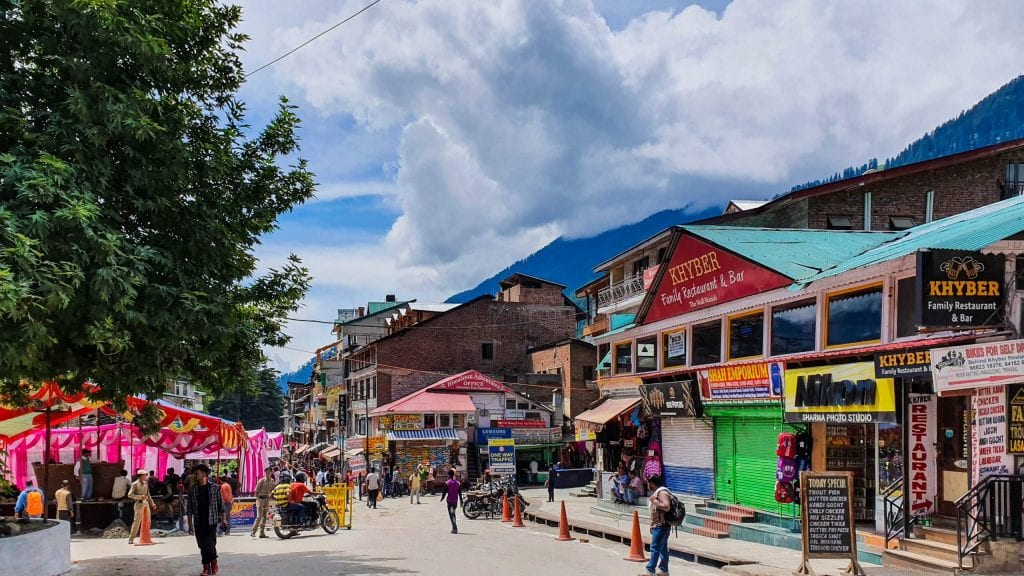 The city center of Manali was quiet compared to the Indian standard. The vehicle is not allowed in a certain area. It gave me a nice opportunity to take a walk. This area was brimming with restaurants. I took my breakfast from one of them. You will find a lot of travel agencies selling tours to different places like Kaza, Rohtang pass, or offering rafting, and paragliding. You can rent a motorbike from here to kickstart your adventure in the mountains. A lot of shopkeepers tried to convince me to buy some souvenirs. I disappointed them (as usual).
Jogini Waterfalls – #1 Place to visit in Manali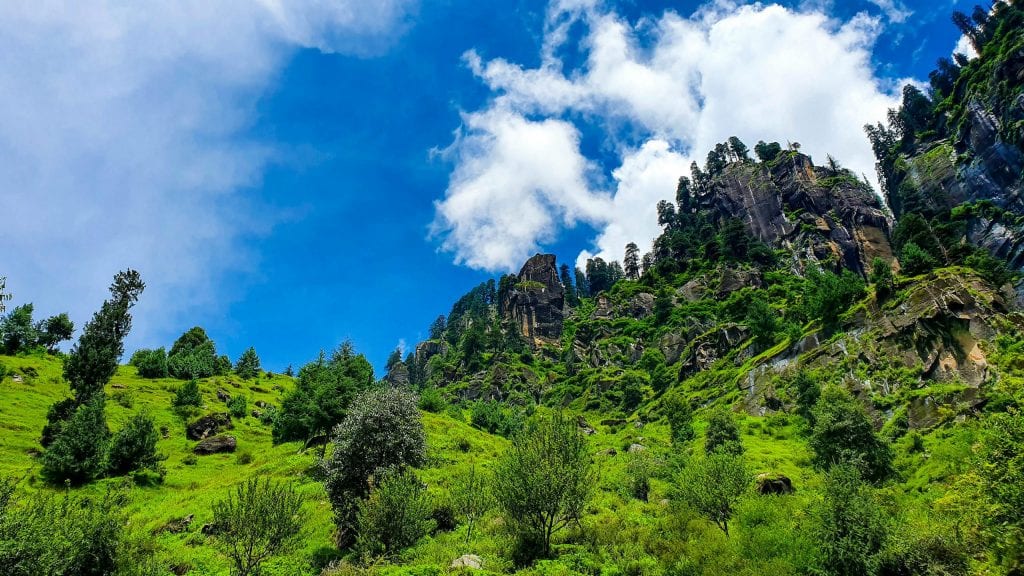 If you search in the internet about things to see in Manali, you will see a list of temples. I came so far from my home, visiting some temples did not sound fascinating to me. I am a nature lover, and I was looking for a hike which was doable in a day. A waterfall came as a bonus. From, Manali bus stand, I took a shared three wheeler which left me to the starting point of the hike. It took me only 10 minutes or so from the bus stand. From there, I started my hike upwards. The path was narrow. I traversed through lush green vegetations. After 20 minutes of brief walk, I could hear the sound of the waterfalls. However, I could not see it yet. It was difficult to anticipate the remaining distance as there was no particular mark on the road. There was a few houses and hotels on the way. The beauty of the nature was truly amazing. I could see vast mountains with a certain type of rock formations. I felt like an ant residing in a gigantic bowl.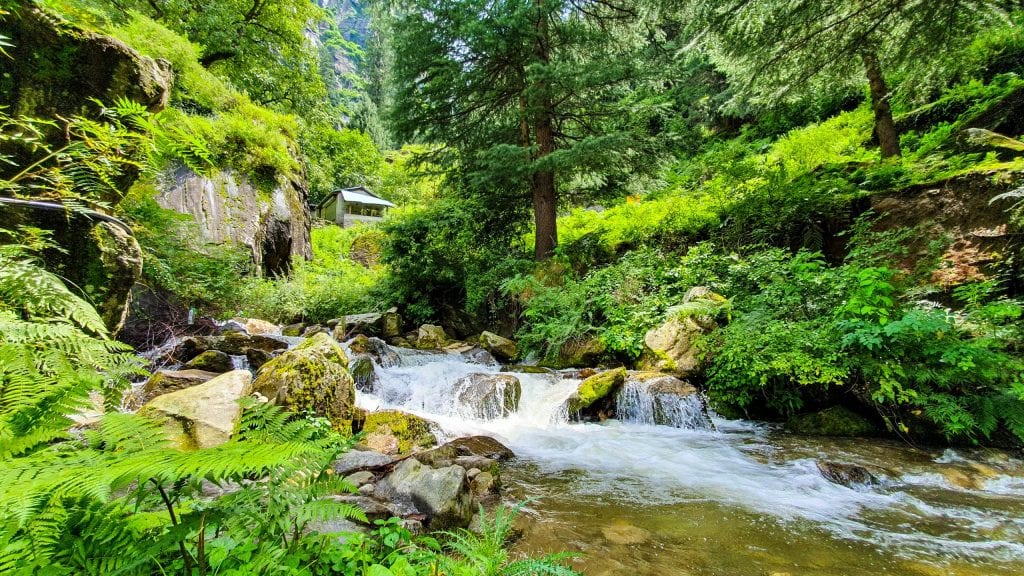 About an hour of hike brought me to the base of the Jogini waterfall. A beautiful cascade of waterfall was coming down. The greeneries surrounded by it augmented it's beauty. I found a suitable stone and sat there to enjoy the beauty of it. Here is the thing – you can see the cascade clearly from the photo above. If you look at the up front, you can see the water dropping from a height of 160 meters. If you look at the back, you can see infinite greeneries with gigantic mountains.
This waterfall is near the Vashisht village. You will find a temple of the same name. Jogini is a goddess and the villagers consider it as a sacred waterfall.
It was so peaceful there, I spent quite a bit of time sitting there before I started going up near the source of the stream. I had to cross some stones to reach there. You can take a shower when you go near to the fall.
Do not miss this waterfall and surroundings during your trip, this is one of the best places to visit in Manali!
Jogini Falls Distance from Manali
Only 4.5 Kilometers via Leh Manali highway.
Hadimba Devi Temple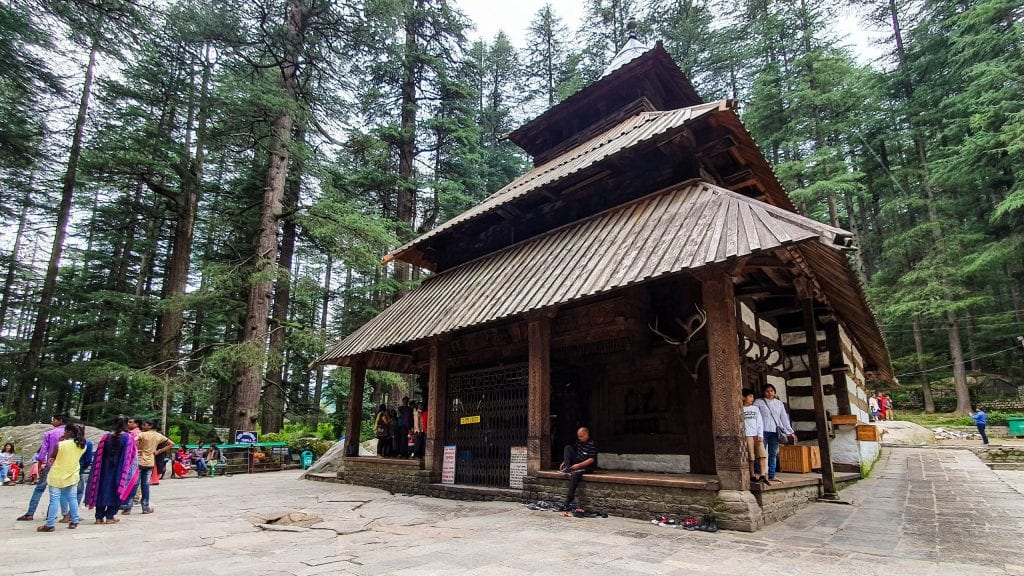 If you are a temple lover, Manali won't disappoint you. For me, a hike through the beautiful forest was more alluring. Hadimba Devi Temple is set in a cedar forest at the foot of Himalayas. Hadimba is a character in the famous book Mahabharata. Devi means Goddess in Hindi. This temple is quite old, built in 1553. It has a simple structure with wooden curved door and three layered rooftops.
When I went there, the birds were chirping so were the locals. They came here to offer prayers. If you go inside, you will find a enormous rock. The place was more vibrant than the city center.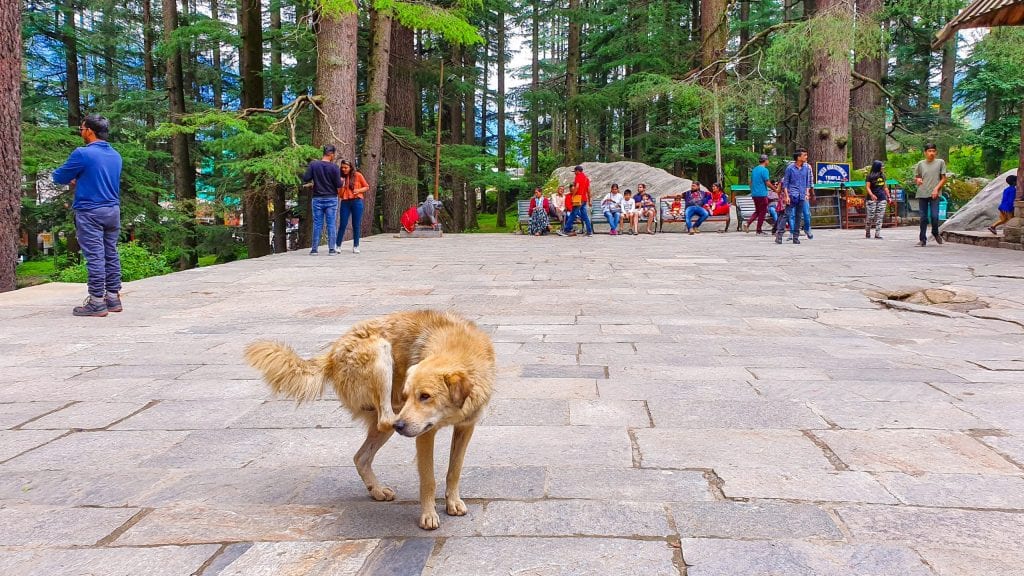 However, offering prayers was not the only objective for the guests. They came in flocks to spend some nice together. Some of them were couple, some of them were family. There was a big open area made of stones. The kids, the dogs and me played joyfully there before coming down to the main street.
Beautiful Valley along Beas River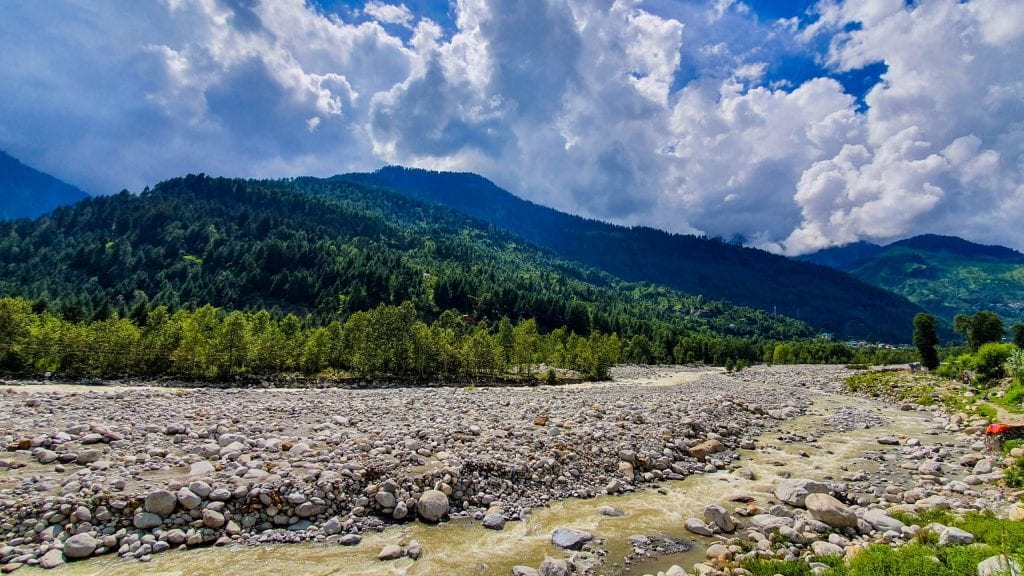 When I visit a place, I search for beautiful places. In Manali, everywhere is beautiful. You don't need to find any particular place. You will feel good if you hop into a vehicle and just drive. Manali is set on Beas river, and you will find this river flowing almost everywhere you go. Originating from the Himalayas and before going to another state of India named Punjab, this river also known as Vishakha shows it's utmost beauty in Manali. All you need to do is to sit somewhere overlooking the green mountains and looking at the Beas river flowing through the stones thunderously. Your visual and auditory senses will surely rejuvenated.
Where is Manali?
Manali is a beautiful hill resort town in the Himachal Pradesh in India. If you look at the map of India, you will find it at north. This is a place in India where you can experience snowfall during winter.
How to go to Manali?
Manali is far and the way of reaching there might sound complicated if you do not take a long bus ride from Delhi. However, it is not that complex. Just read below with some patience.
By Air
Fly to Delhi, the capital of India
Fly to Kullu, the capital of Himachal Pradesh
Get out of the Kullu Manali Airport in Bhuntar, take a taxi or bus which will take you to Manali. The distance between Kullu Airport to Manali is 51 KM and takes 2 hours to travel.
If you want to save some money, search for a ticket to Chandigarh from Delhi and then Kullu from Chandigarh. Usually, Delhi –> Chandigarh –> Kullu flight is less expensive than Delhi –> Kullu flight. Delhi to Chandigarh is only 25 minutes by air, the journey will end before it even begins!
By Road
If you want to take a long night's journey, you can opt for a bus. Delhi to Manali is 550 KM and it will take more than 13 hours. It might sound bad on pen and paper, but, if you are tired and on the bus, you won't feel anything. This is the cheapest option.
You can also reach Manali from Dharamshala (220 KM), Chandigarh (290 KM), Shimla (250 KM), or even Leh(475 KM).
By Train
You cannot go to Manali directly by train. Still, if you want to use a train for part of your journey, there are several ways.
There is a railway station in Joginder Nagar in Himachal Pradesh. Manali is 145 Kilometres from there.
Go to Chandigarh railway station and continue your journey by bus, taxi or plane as suggested above.
Go to Kalka from Delhi first. Then take a train to Shimla from Kalka. Kalka to Shimla has a narrow-gauge rail line and considered to be a scenic journey in the mountainous route. This route is declared a UNESCO World Heritage Site. Once you arrive by train and continue your journey by bus, or taxi as mentioned above.
My Recommendation
Teke the bus! If you are unfortable with a journey by bus, you can also fly. I would not recommend using train unless you want to experience the toy train between Kalka to Shimla.
Where to Stay in Manali?
I stayed there and the view from the room is amazing! You can check the photo above if you are not convinced about my words. However, this is a bit far from the city center and you cannot just walk. I would overlook this for the view any day!
This is near the village of Vashist and a gem of a place. You can go to the Jogini waterfalls trek from here easily.
This is an upscale hotel. Oh, wait! It's in fact a gothic castle in the middle of the mountains. If you can afford it, stay there at least for a night, you will not regret it!
Manali Airbnb
If you do not want to stay in a hotel and wanna experience staying with locals, Airbnb is a great option. If you do not have an Airbnb account open on using this link, you will get US$50 credit! In many places, my Airbnb experience exceeded far and those were much better than staying in a hotel. Below are the links to the top 5 Airbnb in Manali which I curated by going through their reviews. You can book any of them, I hope, you won't regret it!
Tips
If you have any plan of going further from Manali, exchange your currency here. This is the last place where you will get a good exchange rate.
If you are already in Manali, you have traveled far. Congratulations! Now, do not miss once in a lifetime opportunity to take a journey to the Spiti Valley from here. You will give me thanks later.
Is Manali Worth Visiting?
Yes, absolutely, if you are a nature lover and finds peace in tranquillity. If you want to enjoy a night life in a city or more interested about architectures, you will find much better place than this. Otherwise, you can plan your visit to Manali right now!
Did you like the places to visit in Manali? Pin It!