The writer describes his journey to the quaint little breathtakingly beautiful villages named Langza, Komic and Hikkim in Spiti Valley, the remotest valley in India nearing Tibetan border.
I cannot start talking about Langza, Hikkim or Komic without saying some words about Spiti valley in India. It is a strange place on earth!
It's barren.
It's desolate.
It's remote.
It's high.
And it's surreal!
You have to see it with your own eyes….nope… you have to experience Spiti valley to understand what I meant.
From the very moment, I entered the Spiti valley region to Kaza and beyond through a beautiful road journey, I was awestruck with the out of the world landscape. Your base will be in Kaza during your visit to Spiti valley in India nearing the Tibet border. From Kaza, you will explore different interesting places as day trips.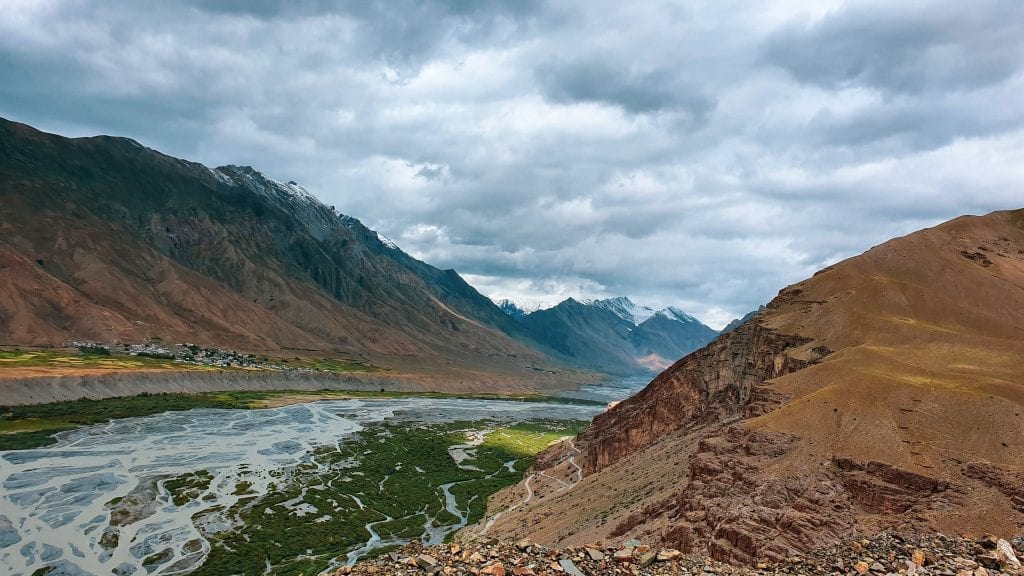 Here, I will share my experience of spending a day in Spiti valley exploring three villages from Kaza named Langza, Komic, and Hikkim. My suggestion would be to go to Langza village first, followed by Komic village. You should put Hikkim village as your last destination for this day trip. If you study the map below, you will understand how the route will look like for you for the day.
Langza Village in Spiti Valley
Where is Langza Village?
Langza village is about 14 Kilometers north of Kaza if you go by road.
How does Langza Village look?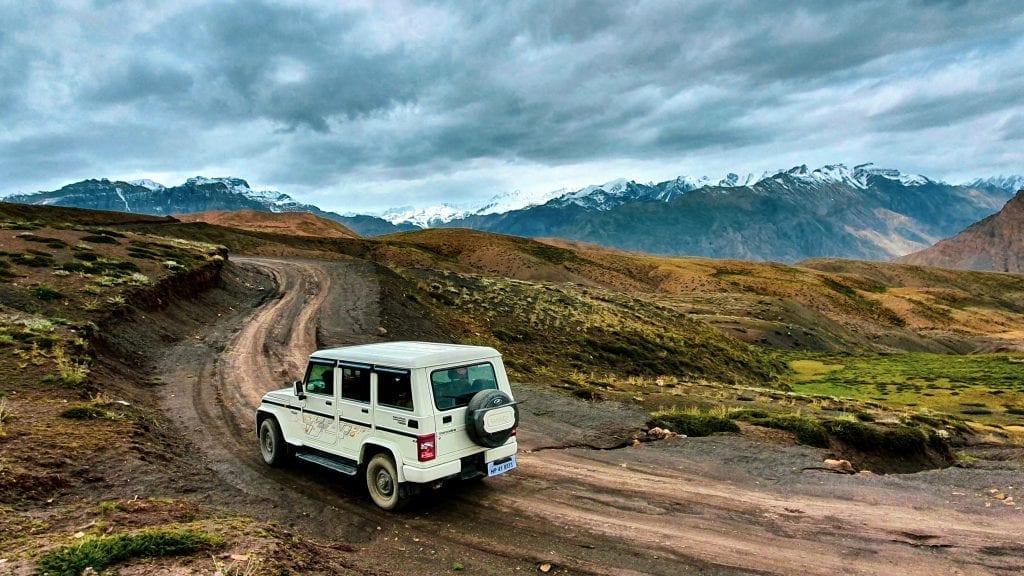 We were driving through a breathtakingly beautiful curvy road made of muds, which was taking us higher with every turn. Although the sharp turns were not proper for my stomach, it was pleasant for my eyes because nature was displaying its variations of beauty in every angle.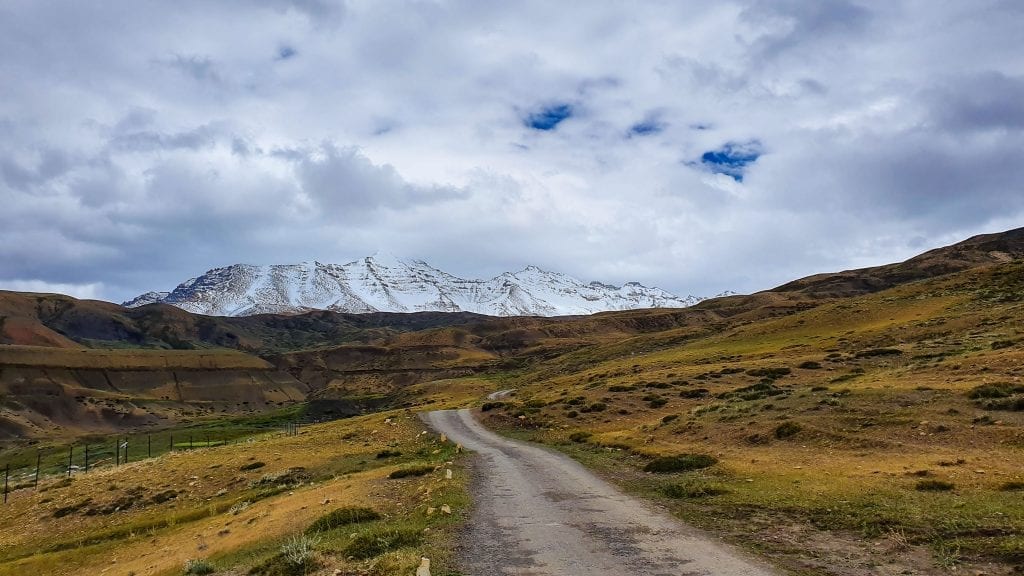 By this point, we were 4325 meters above sea level. The gorgeous white Chau Chau mountain appeared in front of us with its 6300 meters peak. There was not a single soul around, only me and the mountain. I thought about moving further ahead; the mountain seemed within a touching distance which was not.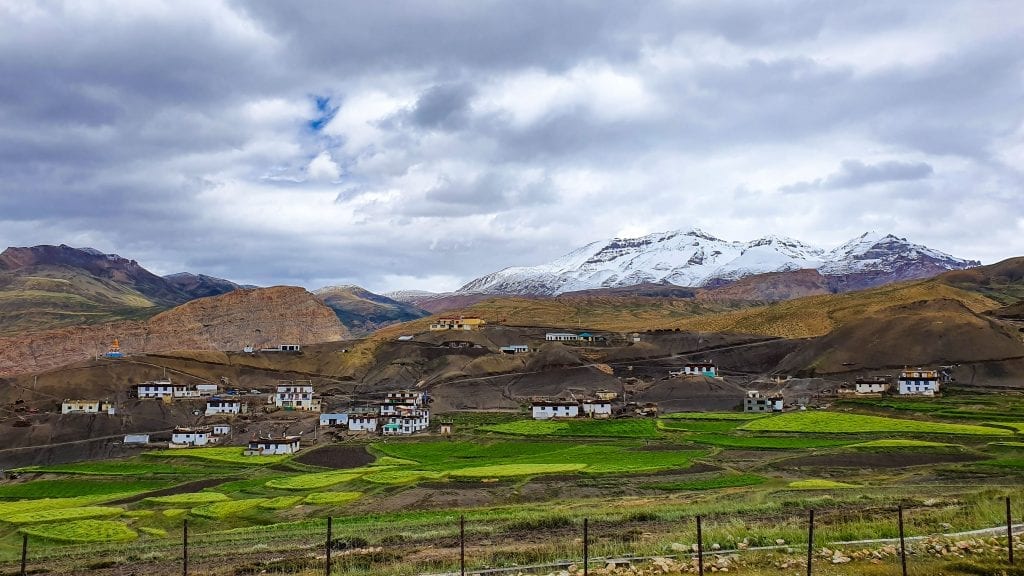 I turned my focus from the front to the left. The Langza village appeared in front of my eyes. There were roughly 30 houses in the village. Most of the houses were white with a flat roof. You can follow the maroon color band on the upper part of those houses. Unlike most of the places in Spiti valley (which remains barren), there was a green field. They cultivate barley, potatoes, and peas there. The village gets disconnected from the rest of the world for five months during winter because of excessive snowfall.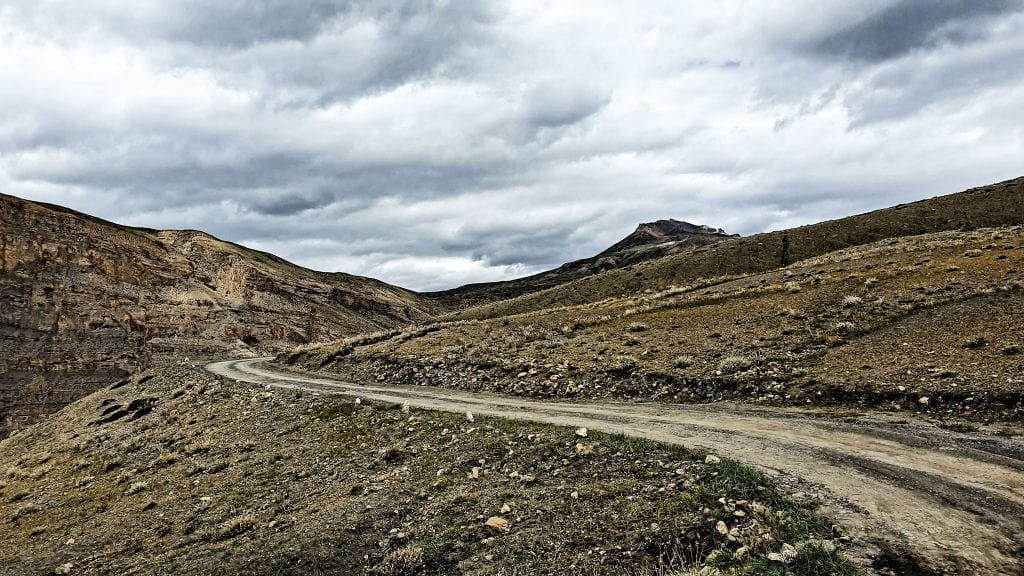 View further, and you will meet a colossal statue of a meditating Buddha. Although India is predominantly a Hindu country, Spiti valley possesses a majority of the Buddhist population for its proximity to Tibet. According to the beliefs of the villagers, the Buddha statue protects them from evil spirits.
Many people visit Langza to discover fossils and call it the fossil village! It's assumed that, a million years ago, Spiti valley was under the Tethys Ocean. Then, the Himalayan range showed its mighty head, and the ocean disappeared. The specimens are mostly the sea creatures that died when the Tethys Ocean disappeared. Go near the river bed to hunt for fossils and stones. Who knows, today might be your lucky day!
Where to stay in Langza?
This is the most premium option in Langza. If it is out of your budget look for other homestays in the village.
How to Reach Langza?
There is no direct bus service to Langza. Hiring a 4WD is your best option. However, if you still want to avail bus, you can catch one to Komic from Kaza. Komic is 10 Kilometers from Langza and 2 hours of the hike will take you there.
Komic (Comic) Village in Spiti Valley
Where is Komic Village?
Komic is 3 Kilometers from Hikkim, 10 Kilometers from Langza, and 19 Kilometers from Kaza. It lies between Komic and Langza village.
How does Komic Village look?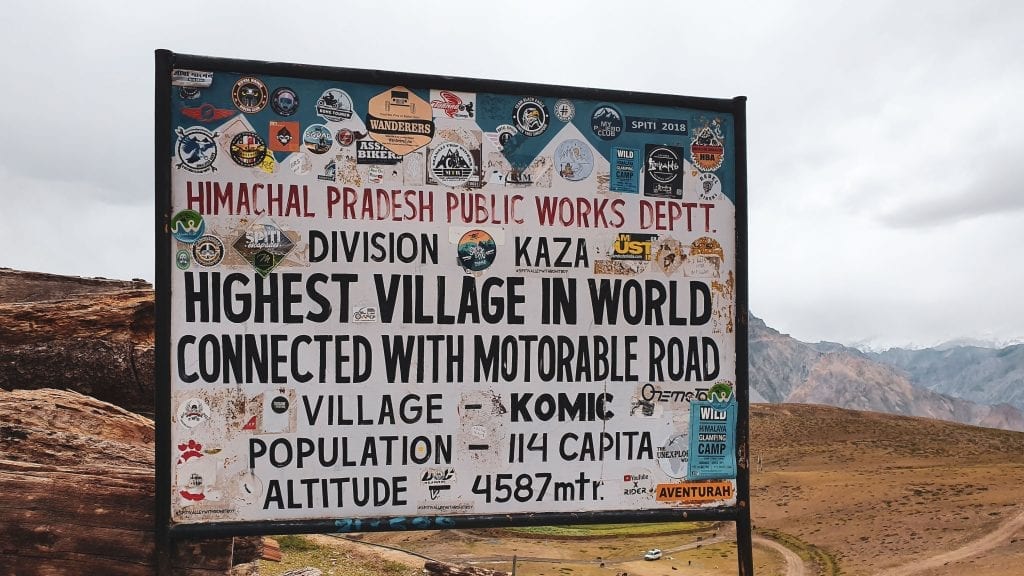 Welcome to the highest village in the world connected with a motorable road! This might be up for dispute, but be assured you are at an altitude of 4587 meters, even higher than the famous Annapurna Base Camp! Even if Komic is not the highest motorable village in the world, it will be among the top.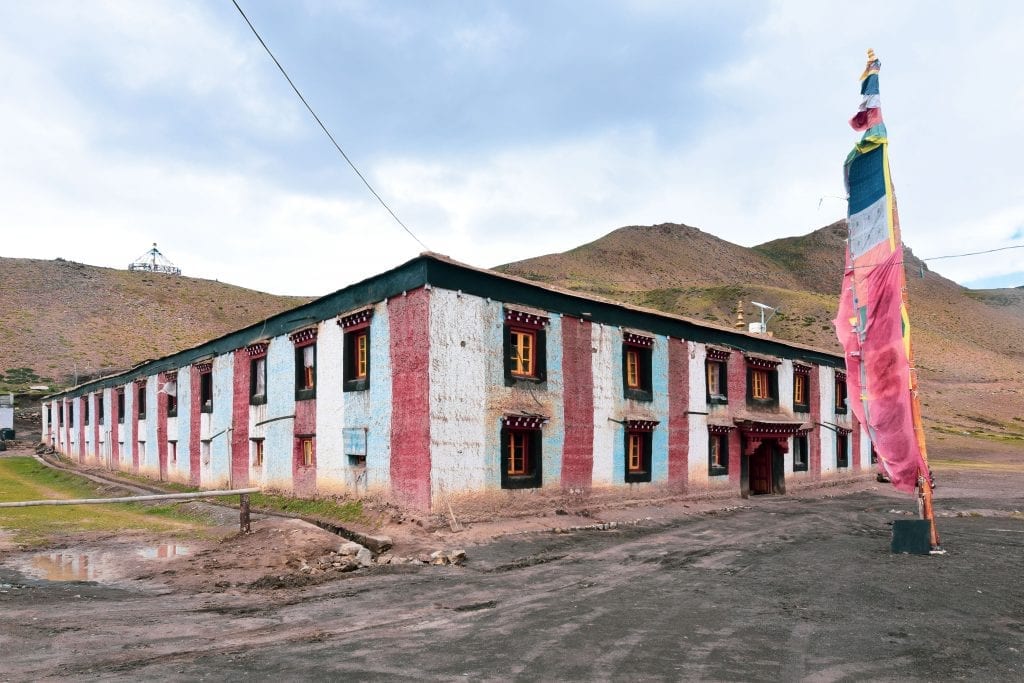 This is a tiny village. You will find mostly 10 to 15 houses here. Tangyud Gompa is a rare big architecture in Komic. This Buddhist monastery is several centuries old but got destroyed in an earthquake and later reconstructed. Two prayers are held each day in Tangyud Gompa, one in the morning and the other in the evening. Only men are allowed to join in the prayer.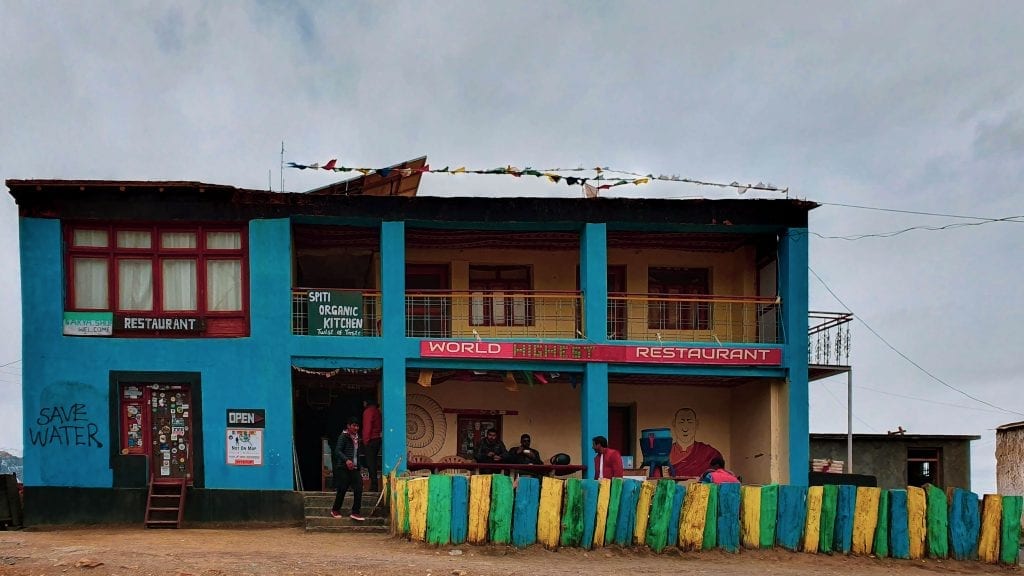 I could not resist having my lunch from Spiti Organic Kitchen, which claims itself as the highest restaurant in the world. Who wants to miss an opportunity to dine in the highest restaurant on earth? The food was delicious albeit costly. I couldn't complain, at least I got some food in such a remote area. Most of the ingredients were locally produced.
Things are not entirely glossy for the villagers of Komic nowadays. The temperature drops to 30 degrees Celsius below zero and the entire village gets separated from the rest of the world. They are used to it and know how to survive this bitterness. However, they are dealing with an unsolvable problem. Komic is getting less water each year, making their life tougher.
Where to stay in Komic?
There is no hotel here. If you want to stay in Komic, approach a house and tell them your wish. Most of them would love to host there. The following two homestays are popular –
Tompa's House (+9109459357872)
Tanpa (+9109459483143)
How to Reach Komic?
The most suitable means of getting to Komic is through a 4WD vehicle.
However, if you prefer to visit by bus, you have a reasonable option. You will get a bus to Komic from Kaza at 5 PM from Monday to Wednesday. This bus leaves Komic for Kaza on the following day at 8 AM.
Hikkim Village in Spiti Valley
Where is Hikkim Village?
3 Kilometers from Komik, 15 Kilometers from Kaza and 8 Kilometers from Langza.
How does Hikkim village look?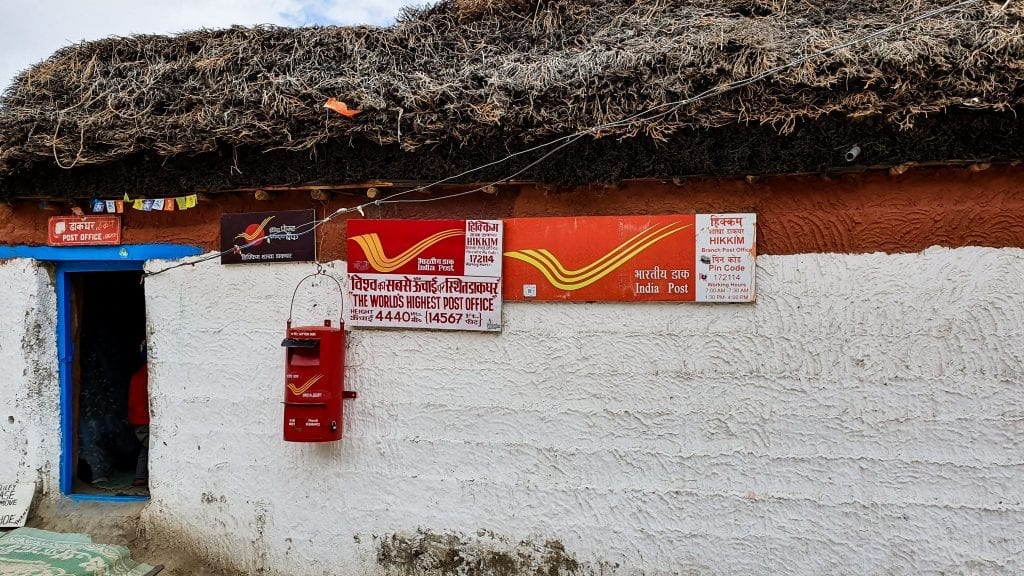 Our last stoppage for the memorable day is Hikkim. This is the tiniest of the group and claims about having the highest post office in the world at an altitude of 4440 meters (14567 feet). Everyone wants to grab a photo in front of the highest post office in the world. I do not want to spoil your party, but Everest base camp has a post office at an elevation of 5500 meters. Highest post office in the world or not, the Hikkim post office is extremely vital for seven nearby villages as there is no mobile network coverage in the area. This post office is a significant means of keeping contact with the outside world.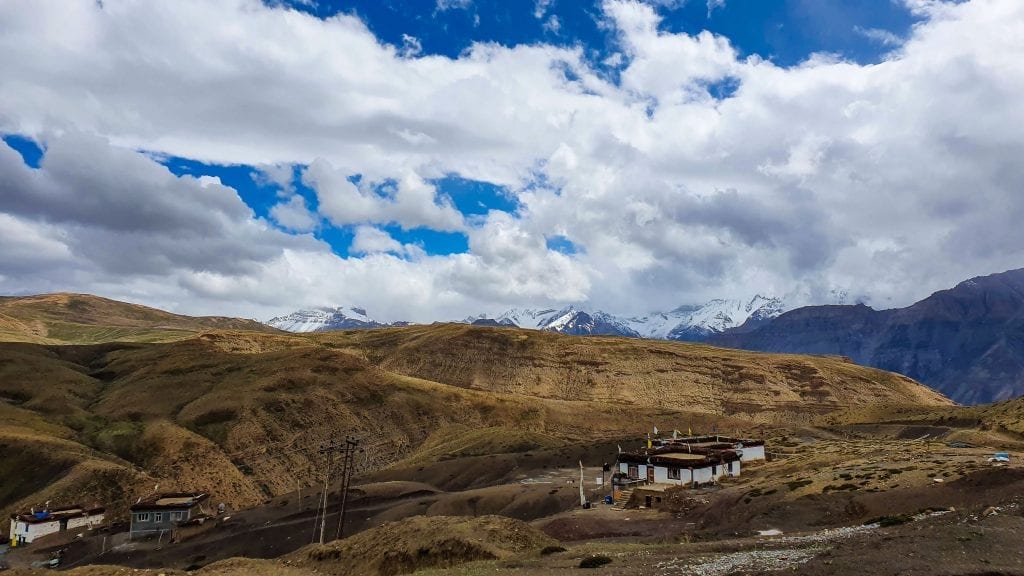 It was challenging to reach the post office as it was not right beside the trail. Besides, there was no clear passage for visiting there. I had to climb down to about 45 degrees to get there. There I met a Japanese who came here from Delhi riding a bicycle (not a motorbike). He must be an ironman to appear to such a hilly area in high elevation with a bicycle!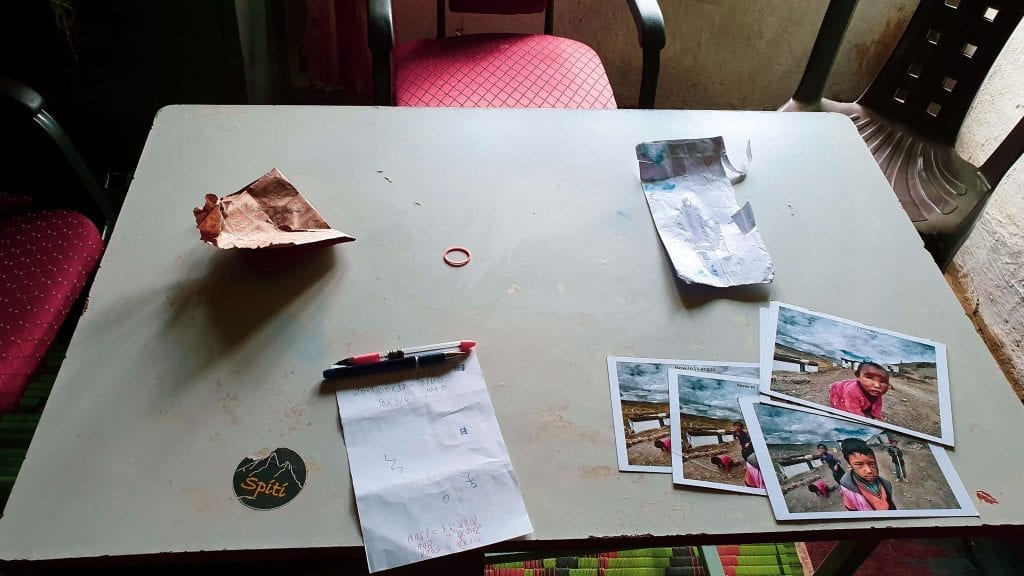 I wanted to post something to my home, to myself from the "highest post office on earth'. Sadly, there was no one there except a desk and a stack of photos. When someone showed up, I understood that they do not have any postcards. I have to go back to the top where I would find shops for purchasing a card. As tempting as it sounded, I didn't find it worthwhile to go back and come down again. So, I left the post office with a (semi) broken heart.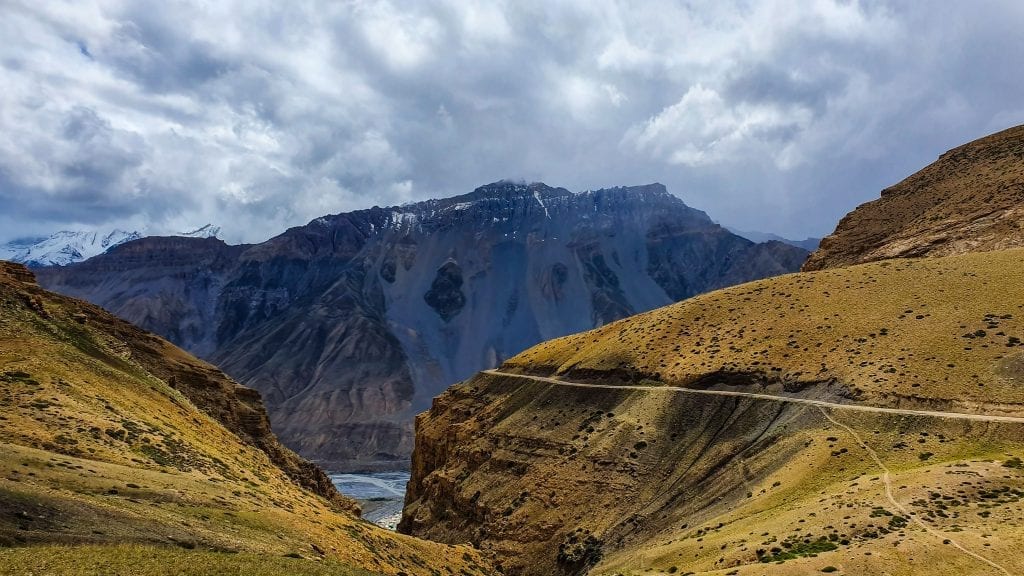 If you ask me, which place offers the most beautiful top view of the Spiti valley, I will name Hikkim. You can just relax here and pass hours after hours looking at the clouds moving by among gigantic mountains. According to the residents, once upon a time, the Mongolians conquered many villages in this region. However, they did not try to grab this one as they thought it would be impossible to survive at such a high altitude.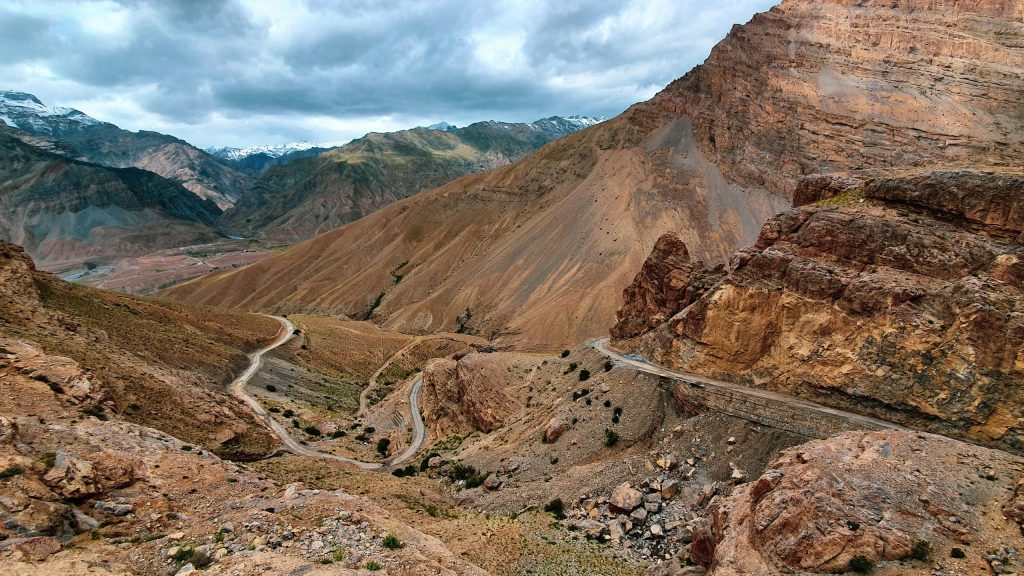 I was wandering around in this lovely place. Each direction presented me with a sublime landscape. The brownish grand canyons are gorgeous and extended as long as the eyes can reach. This arid vastness was hard to describe. I don't know how they made roads there, but I was not feeling comfortable thinking about our journey on that road after a few hours.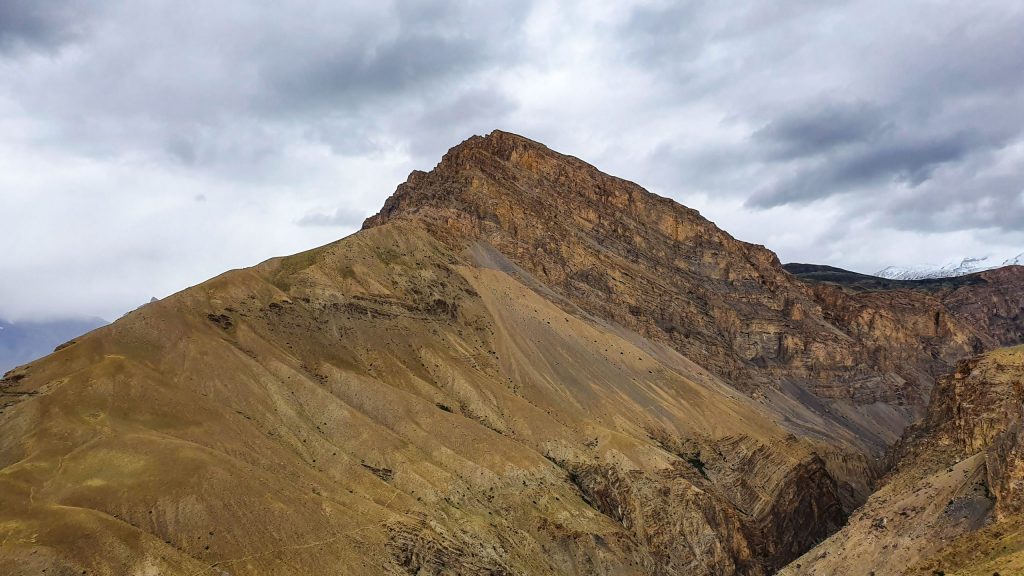 These mountains cover under snow during the winter. That will be something to see. However, one cannot reach these villages during winter. Now is the monsoon. There was plenty of sunshine around. It made a difference, however, we were greeted with chillness at times. All of us were wearing a layer of warm clothes.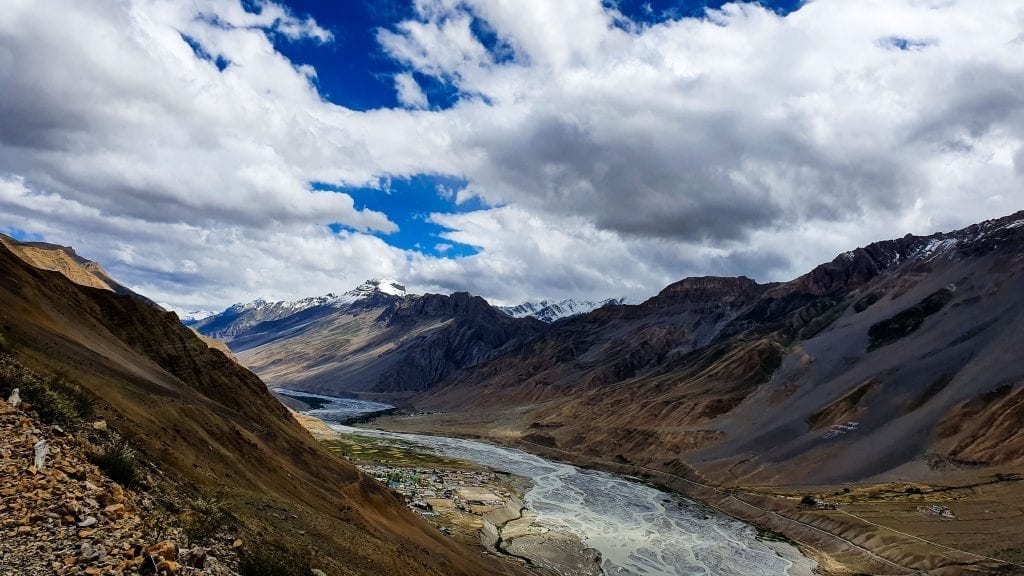 While I was descending to Kaza, I kept taking photos. The clouds in the sky were a bit higher than me. I was so high from the sea level, at 4700 meters, the mountains – some white, and some brown – seemed at eye level. The Spiti river far below was flowing through the mountains. Right beside the river is a cluster of dots announcing the existence of Kaza village full of life, history, and cultures. The villagers here do not rely on modern infrastructures, they rely on their century-old wisdom, and on each other to survive in this remote place on earth.
Where to stay in HIkkim
Tsedup's House (+919873146404)
Hikkim Himalayan Cafe and Homestay (+919459040980)
How to Reach Hikkim?
The best way is to hire a 4WD from Kaza. If you are an adventure seeker, you can walk back through nullahs to Kaza.
Final Words
I came back to Kaza just before the sunset visiting Langza, Hikkim, and Komic in Spiti. It was a day full of memories visiting those three picturesque villages. The journey was no less interesting and beautiful than the villages themselves. I should rename the name of these stories as "Trip to Langza, Komic and Hikkim in Spiti Valley and breathtaking journeys all the way through".
My fondness and love for Spiti valley grew deeper that day! You have to visit there at least once in your life to believe such places could exist on earth!
Book a guided full day Niagara exploration tour
Wanna explore more in Spiti Valley?
Liked Langza, Hikkim, Komic in Spiti? Pin it!