Kelingking Beach is a tourist destination in the Nusa Penida island of Indonesia. It is pretty near to Bali and offers some breathtaking panoramic views of he ocean. The T-rex shaped mountain cliff is the main draw of this place. See the video of Kelingking beach from this travel story.
WOW! WOW!! WOW!! When I saw the photo of this T-Rex shaped Kelingking Beach for the first time in my life, that's what came out of my mouth. I decided at that very moment that I have to go there.
WOW! WOW!! WOW!! WOW! WOW!! WOW!!
That's what came out of my mouth when I finally went there! It was more beautiful than the photo I saw.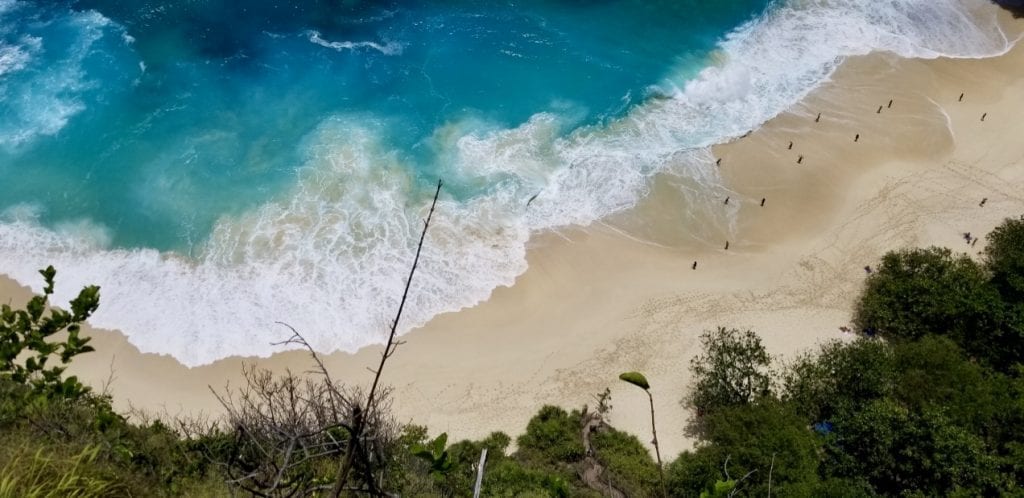 I was on the top of the cliff. The green ocean was thumping into the T-Rex. The carpet of green was kissing the T-Rex deeply. On its feet, a stretch of golden sand beach was inviting like a magician hypnotises it's audience. I rubbed my eyes a couple of times – maybe I was daydreaming. Oh wait, I saw just two big manta rays swimming under the sea. The water was so crisp, I could see them from so far away. And, that wind, that purest, refreshing wind.
I could see some large ants on the beach. They were moving with the gentle breeze. Wait, they are not ants, they are humans! How on earth they reached there?
I read somewhere about the stairways to heaven. I found a stairway there, too. It was made of mud, supported by the bamboo. Instead of going up towards heaven, it was going down. So was I – following the souls on the beach. Like a magnet attracts iron, the ocean was attracting me.
The more I was going down, the more I was losing myself. Where should I look? To the top or to the bottom?
I was perplexed, I was happy; I was over the moon smelling the ocean, touching the wind, living the moment.
How to reach Kelingking Beach from Bali?
When you will land at Ngurah Rai International Airport in Bali, grab a Bluebird taxi from the airport and go to Sanur. Sanur is a harbour from where you can buy tickets of a fast boat. A 30 minutes journey will take you to Nusa Penida island.
How to reach Kelingking Beach in Nusa Penida?
The best way of exploring the islands of Nusa Penida is with a motor bike. It will give you utmost freedom. You can visit Kelingking Beach with a bike, it's half an hour drive from Nusa Penida harbour.
If you do not want to drive a motorbike, you should rent a car. Alternatively, you can hire someone who will take you in a bike as a tandem.