After spending several splendid days in Giza, Cairo and Aswan, I started for an unforgettable tour to Luxor, the open air museum and one of the most beautiful places in Egypt.
Aswan to Luxor Train
I bought a ticket from the self kiosk ticketing machine from Aswan train station and took the train at 3:00 PM.
The train was empty, and people were taking a nap. I also dozed off a bit and felt guilty immediately to miss the landscapes. The train went through the greeneries and villages.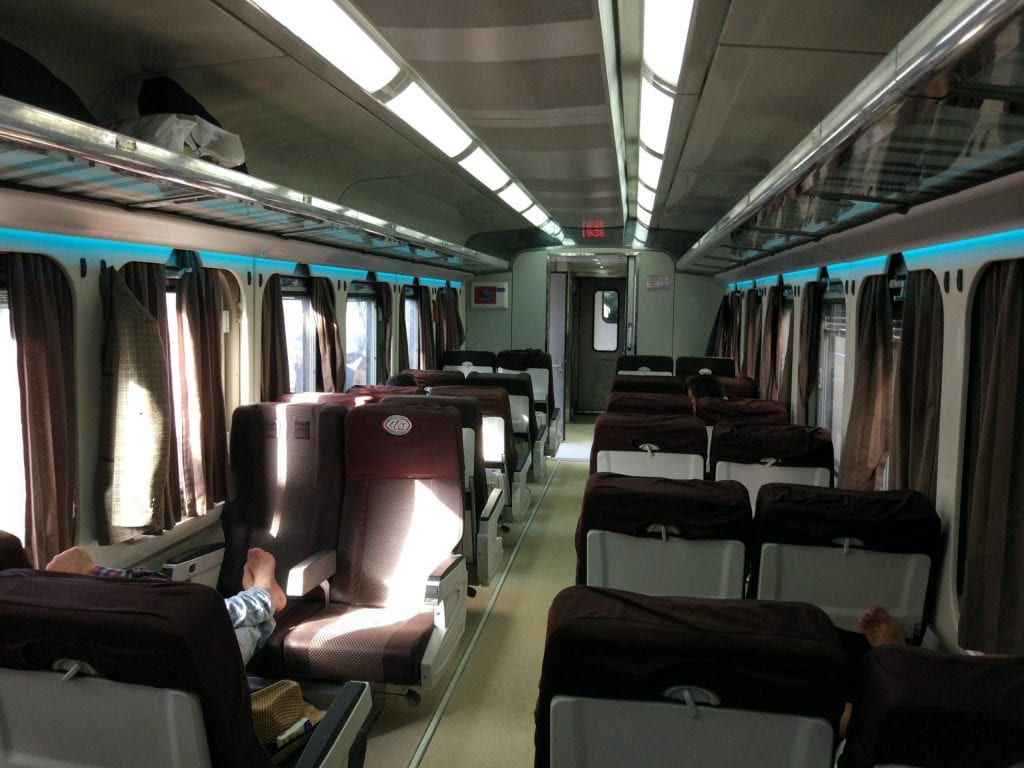 In three and a half hours I arrived at the Luxor train station. Luxor station was more crowded and vibrant compared to Aswan. And it was beautiful, too with typical ancient Egyptian design!
Arrived in Luxor Train Station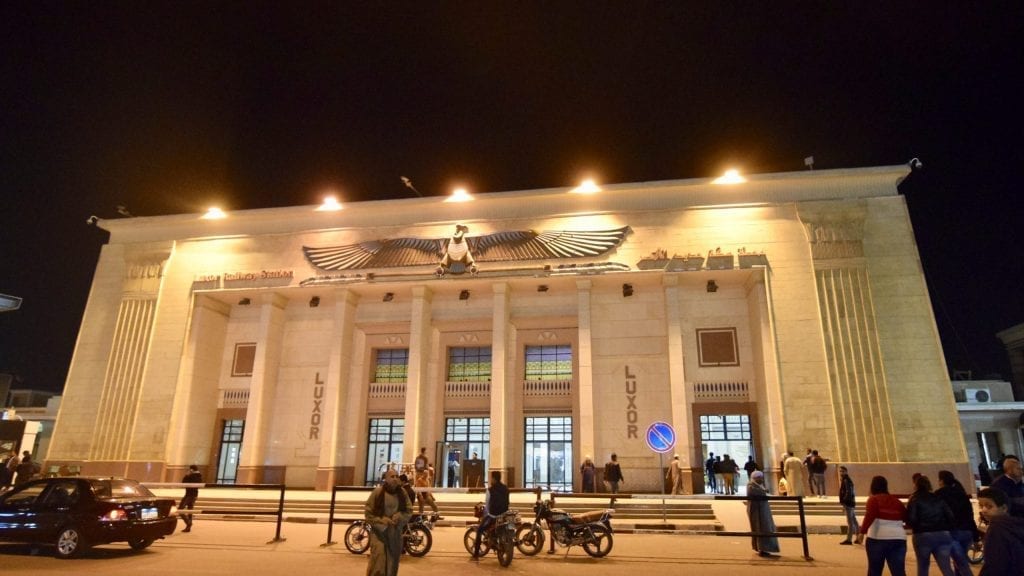 This time, I rented an apartment through Airbnb. It was in the West Bank of Luxor. The train station was in the East Bank. So, I needed to cross the river Nile to reach my apartment. I was more experienced this time, thanks for my experiences in Aswan. I was looking for a public boat pier, which was way less expensive.
Luxor Temple and Local Market
The sun was already set, I was walking with my backpack. Suddenly, I got bemused by the look of Luxor temple – all lit up tonight.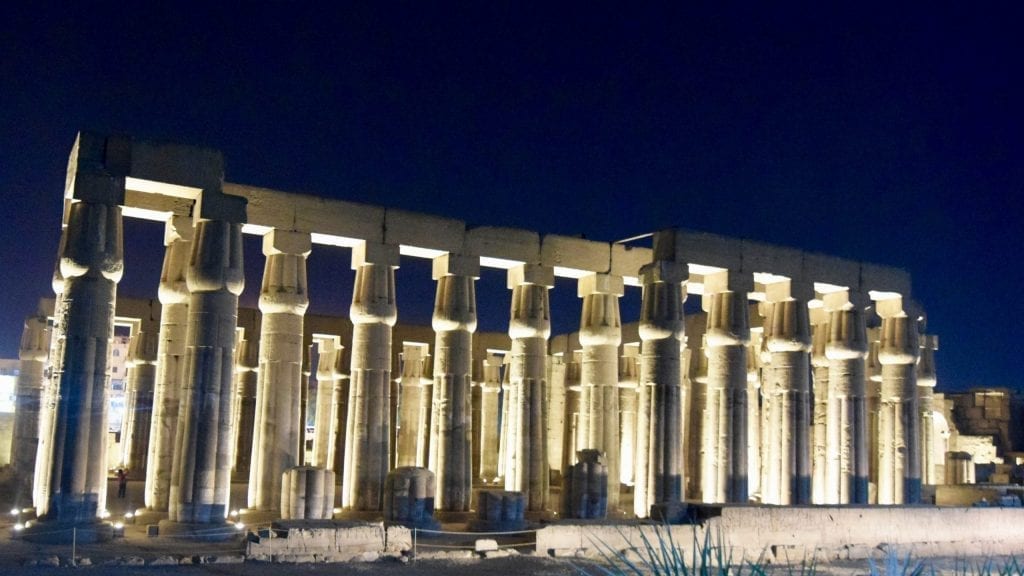 I found my apartment. My host Ismael received me with a smile and warm hospitality. I dropped my bag in the apartment and headed out. I didn't have much time to do anything that night apart from roaming around in the alleys and streets of the east bank. The markets were interesting, with mostly local people.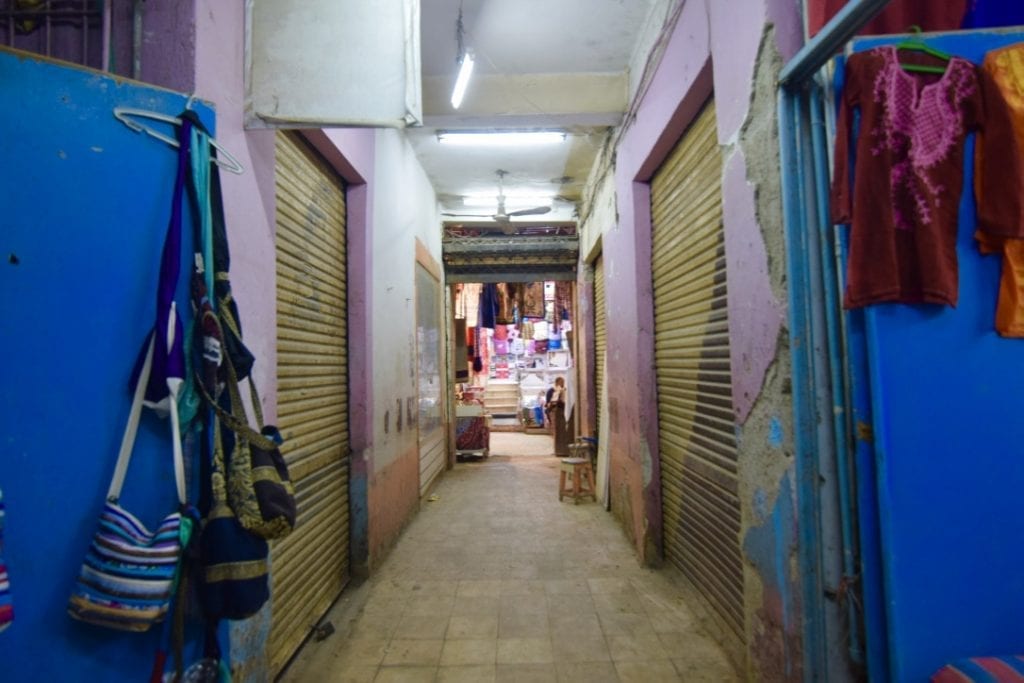 Bike Tour in the West Bank of Luxor
Next morning, I rented a bicycle and started my journey in the West bank. My ultimate aim was to visit the valley of the kings. My icing on the cake was the bicycle journey in the valley.
On my way to the valley of the Kings, I crossed several other attractions like a Mortuary Temple of Amenhotep III and the valley of the queens.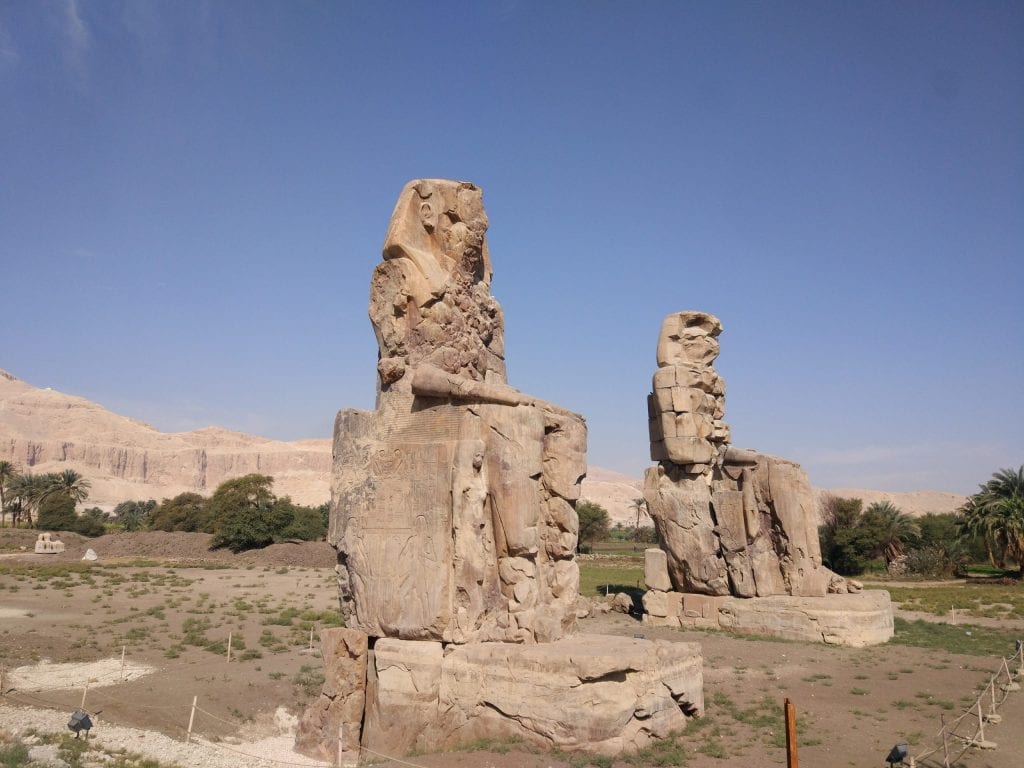 Here is a brief history for you. All of us know that the sun rises in the east and sets in the west. The kings and queens of ancient Egypt lived in the East bank of the Nile river. After their death, they moved their body to the West Bank. In Luxor, the queens were buried in a valley known as the valley of Queens. They took all the kings in the valley of the Kings after their death. Needless to say that, the valley of the Kings was more gorgeous and spacious compared to the valley of the Kings.
Never forget to buy a travel insurance before your trip, see my bike accident incidence in Philippines. I suggest Worldnomads for travel insurance, they are reliable.
Temple of Hatshepsut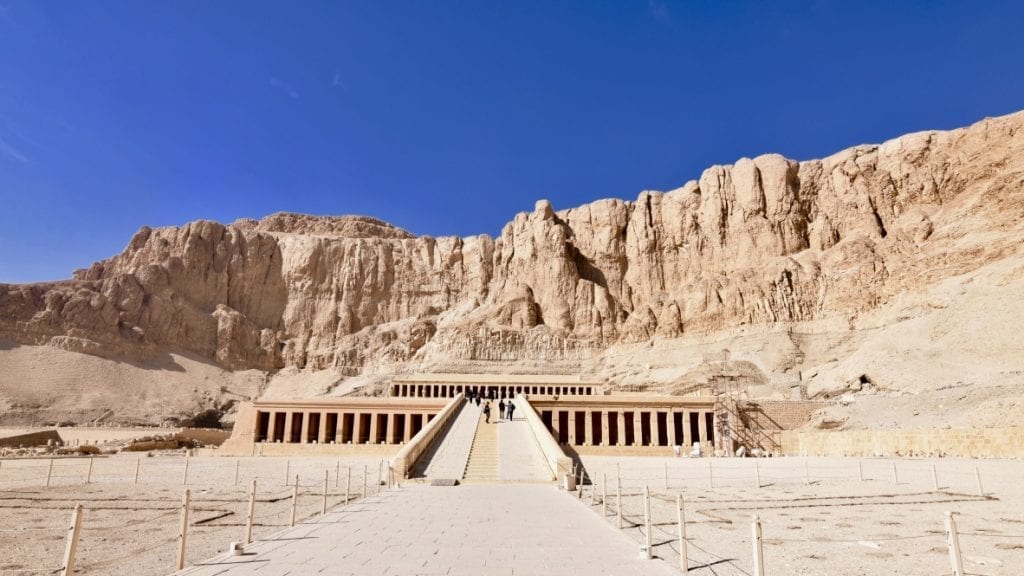 My next stoppage for the day was the mighty impressive Mortuary Temple of Hatshepsut. It was one of the most impressive things I saw in Egypt. Pharaoh is the common title of the monarchs of ancient Egypt. They preserved this title for the male (no surprise). Hatshepsut was an exception. She was a female and a Pharaoh. A saying goes that she was the first most influential known woman in the history of mankind.
In 1997, over 50 people got killed by an assassin in this beautiful complex.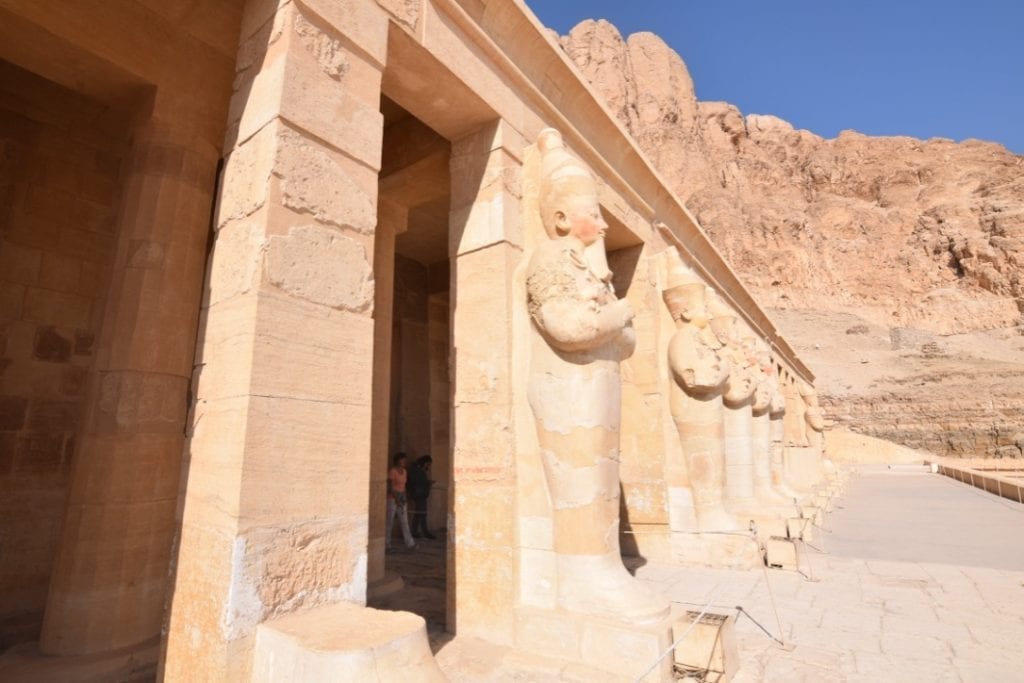 Awestruck by the beauty of the Temple of Hatshepsut, I continued my journey in the valley. It was all barren and had a pinking flavour all around. The mountains covered the area.
Valley of the Kings
Finally, I arrived at the place where many of the Pharaohs are resting in peace. To be honest, the valley of the kings was overwhelming to me. In the complex, there were a countless number of chambers where you will find the mummy of the pharaohs. Unfortunately, taking photography was not allowed there, so I could capture nothing there (except a very few shots that I stole). Each of the tombs were marked with a number prefixed by KV. Suppose, KV62 denotes a tomb. And this is the tomb of young pharaoh Tutankhamun.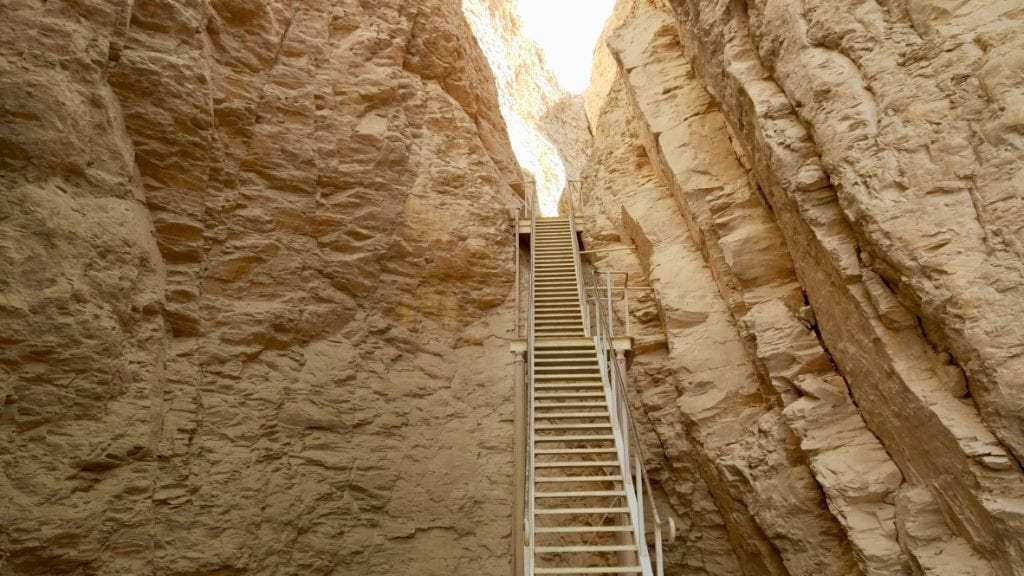 You need to do prior research of where you want to go because; it takes quite a lot of effort to reach inside of a tomb. You need to climb stairs like the following to reach out to them.
What's inside a tomb? It's mostly a chamber with paintings and carvings on the wall. Also, there were coffins with valuables. KV62 is the most famous of all and you need to pay extra for visiting there. Visiting KV17, KV9 also needs an extra ticket.
I visited as many tombs as I could. As I came with my cycle, I was on my own and I had to come back a long way. So, I stopped at a point and started coming back before the sun set. The roads were empty.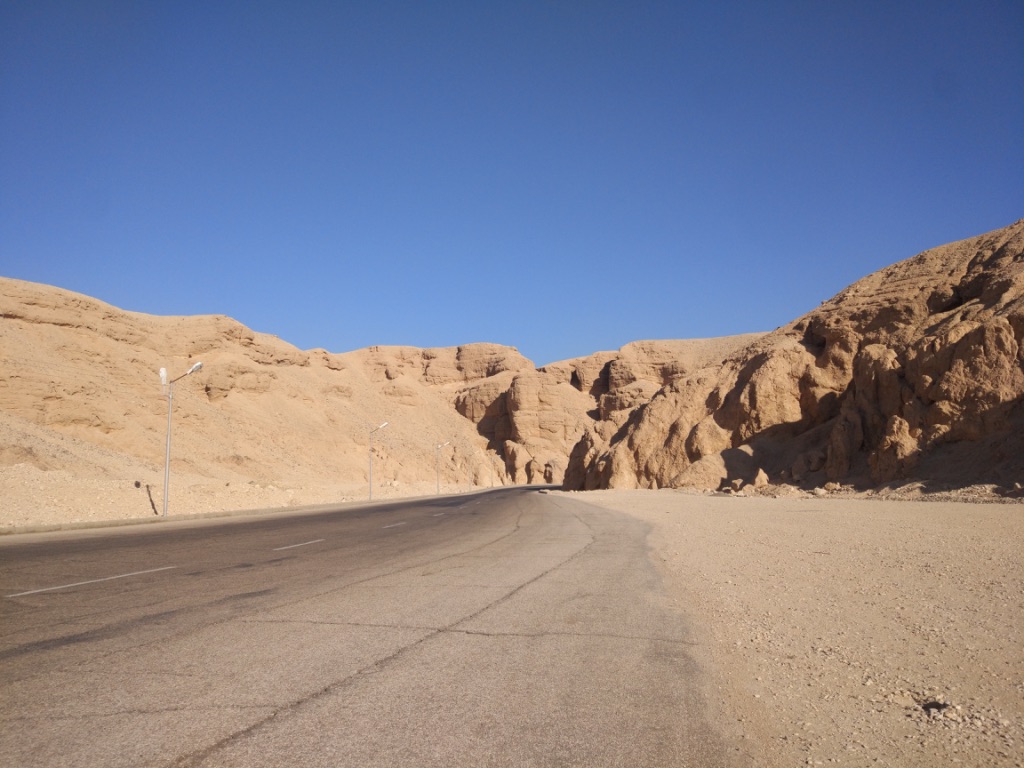 On my way back, I lost several times. I never felt joyous losing myself somewhere else. Whenever I lost my way, I saw beautiful architectures, complexes and statues. I didn't bother to see their names on the map at one point. The entire city was an open-air museum.
Book a Luxor full day or half East or West Bank tour
Dinner at my host of Airbnb
During that night, my host of Airbnb took me to his place where his family lives and we had dinner together. Before that, I hopped into a local boat to experience the coolness of river Nile at night.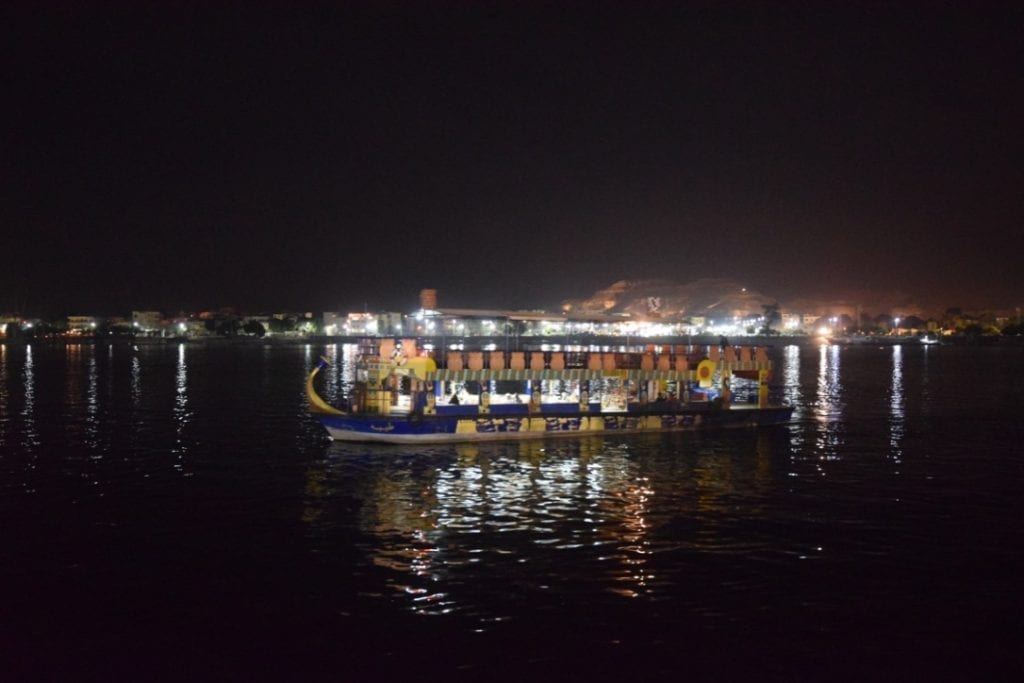 Book a 4 days Nile Cruise to Luxor, Aswan, Abu Simbel from Cairo in Egypt
Hot Air Balloon Ride in Luxor
I booked a hot-air balloon ride the next morning. They asked me to wait in a place where a minivan picked me up along with more people. We were taken to the take-off place. I witnessed the balloon of different companies preparing to fly. The hissing sound of gases along with the fire gave a distinct vibe to the environment.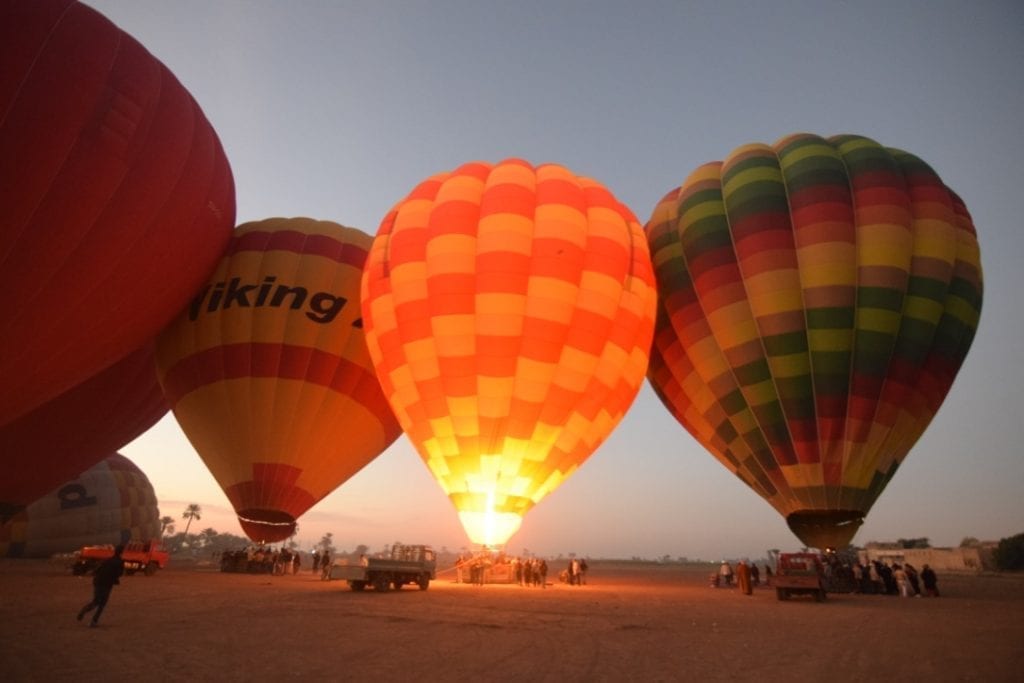 I haven't ridden a hot air balloon before. I was scared about it. In 2013 a hot air balloon crashed in Luxor, killing 19 out of 21 people on board. It was playing in the back of my mind. The take off experience was fantastic. Our pilot was giving a real life commentary.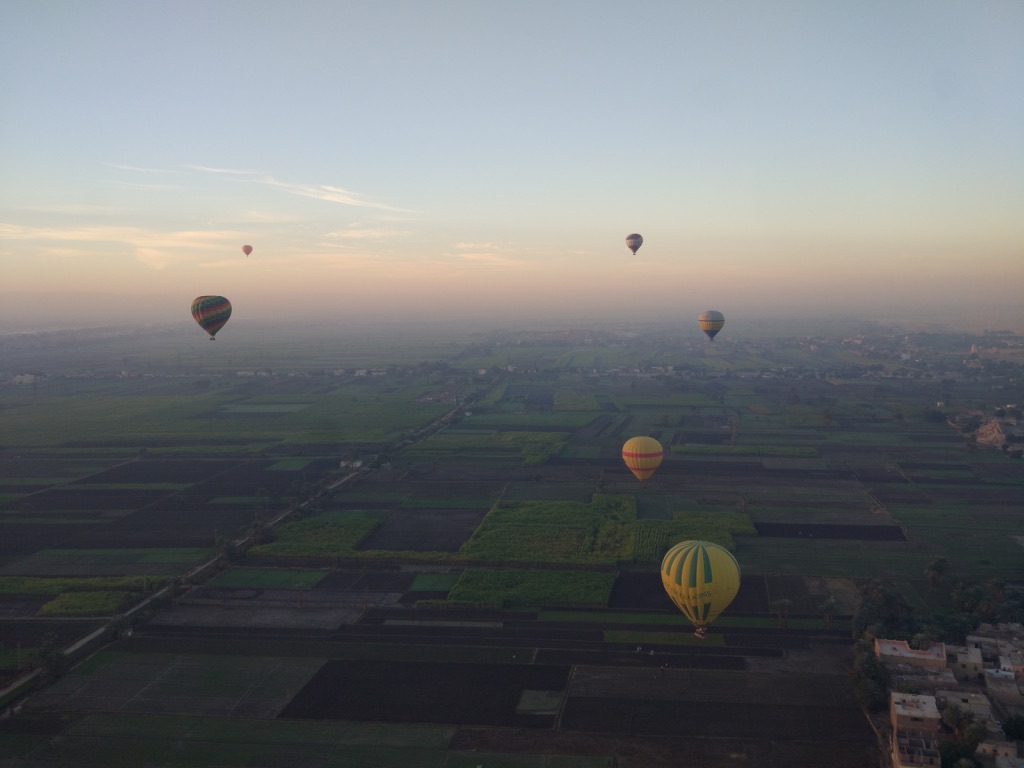 The sun shone. We could see a green side of Luxor. There were many other balloons on the horizon. Our pilot was controlling it and we were heading towards the valley of the kings.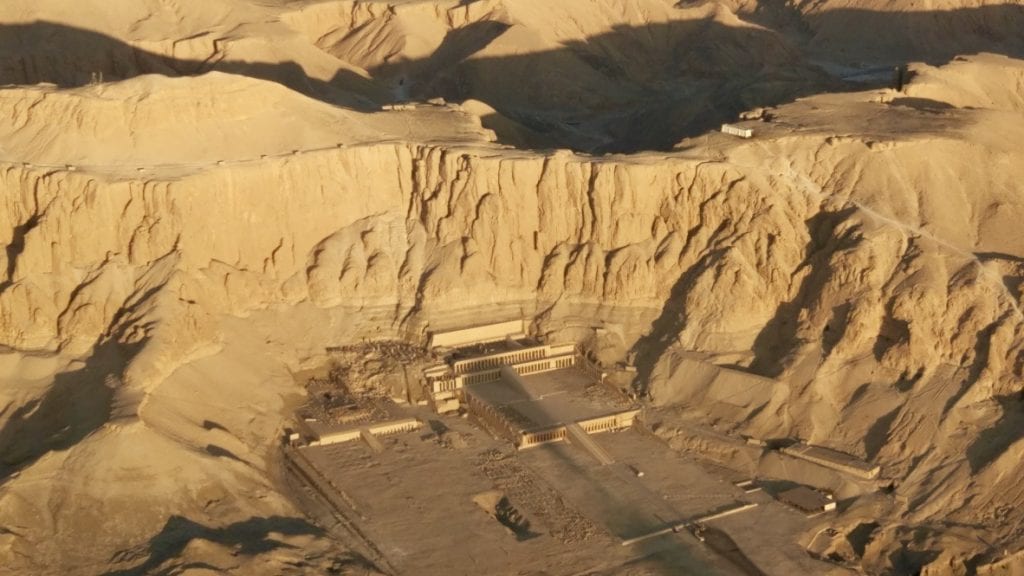 Within several moments, we were awestruck by the aerial view of the valley. It was out of the world experience to see the valley beneath us.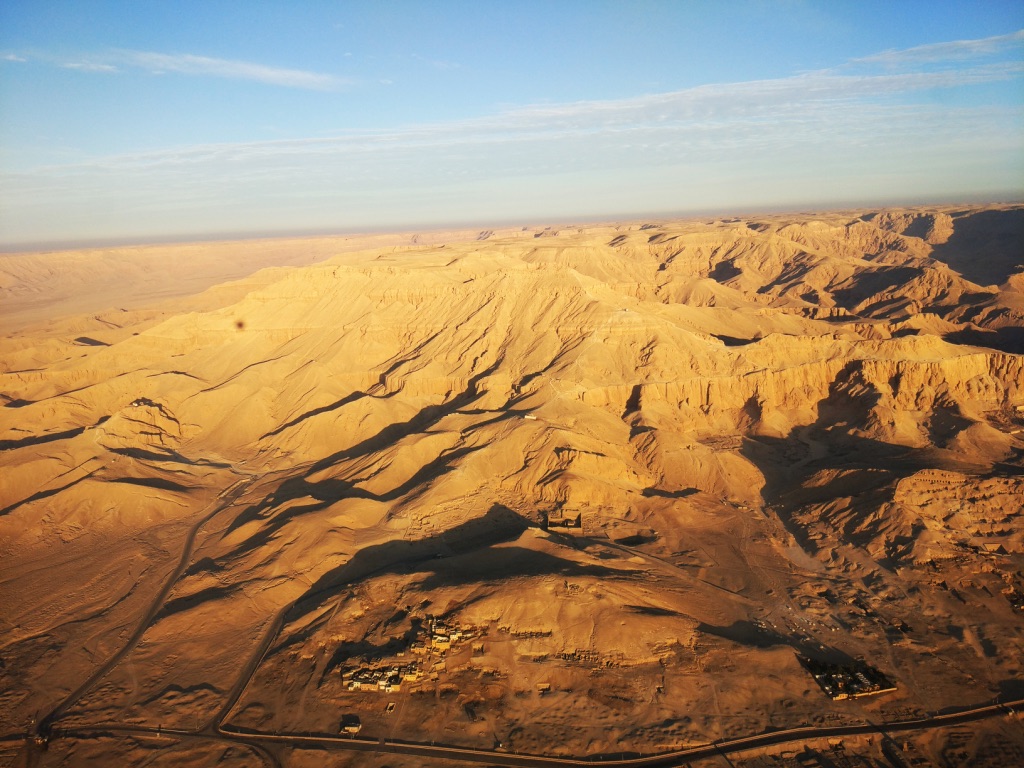 The landing was quite an experience, too. Like an airplane, the hot air balloon has a preferred area for landing. Ours' was inside a paddy field. After the landing, they handed us over a certificate of successful hot air balloon trip in Luxor! I have kept it somewhere with a hope that I can use it someday to get a good job 😉
Book a Hot Air Balloon Ride in Luxor
Tour to Luxor Museum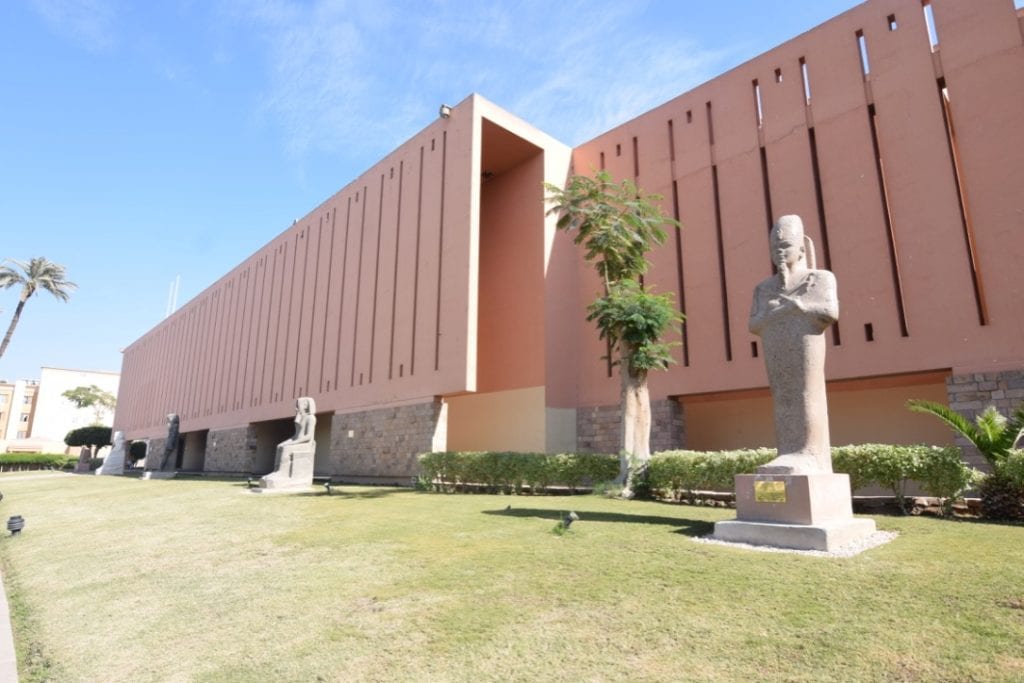 I went to the East bank afterwards and walked to the Luxor museum. I was skeptical about what to expect there as I had already visited the Cairo museum just a couple of days ago. I am glad that I went there. This museum was full of wonderful ancient pieces.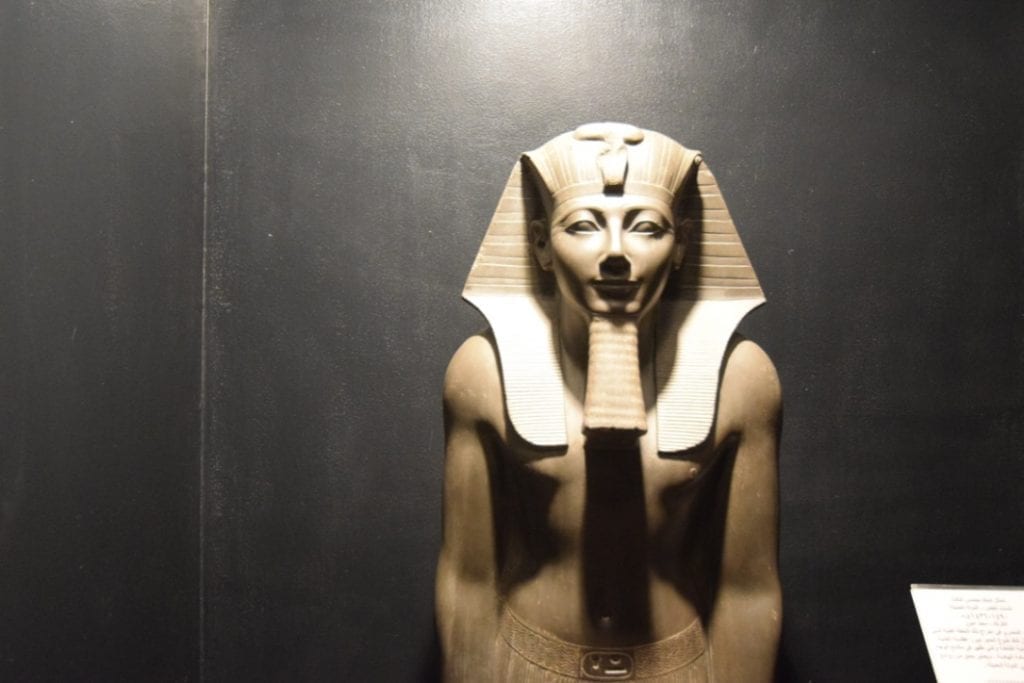 Luxor museum had less collection than the Cairo museum, but it was deliberate. The museum focused more on quality rather than quantity.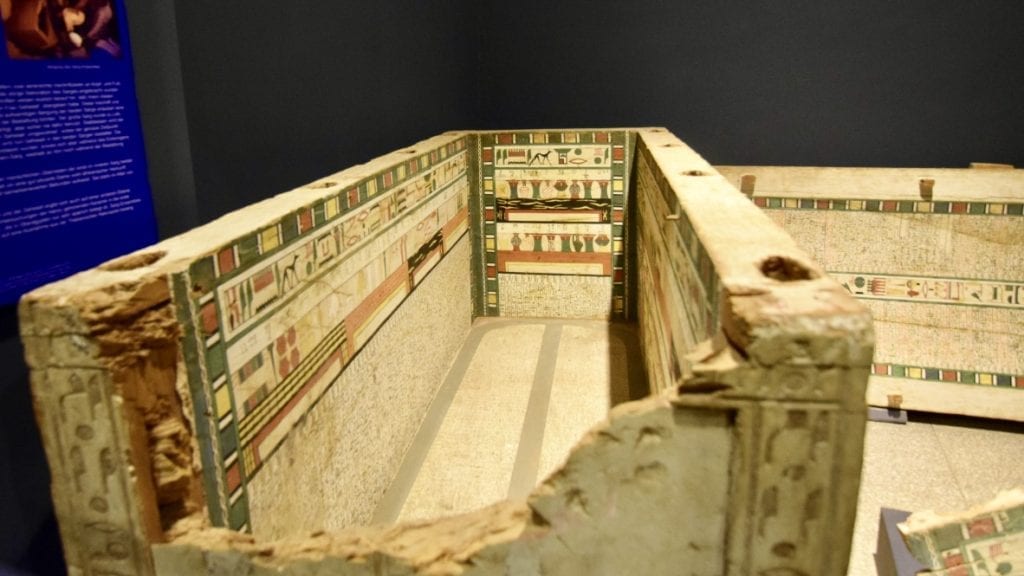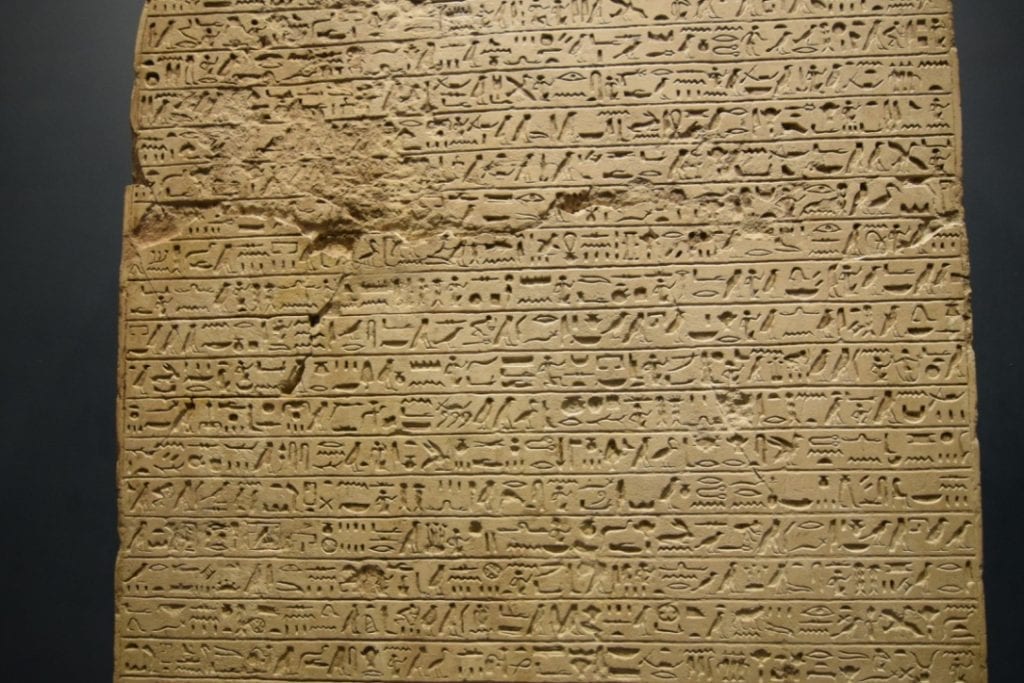 The royal mummies of two pharaohs – Ahmose I and Ramesses I was there. This mummy looked more real and undamaged to me comparing to the other mummies I saw earlier.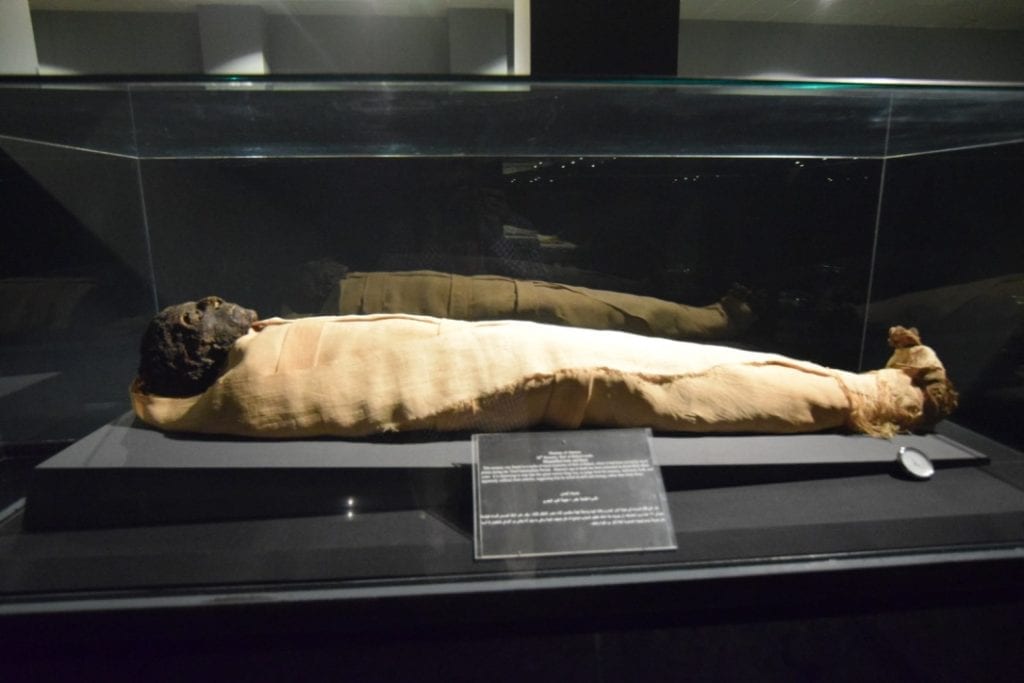 Karnak Temple
The distance between the Luxor museum and Karnak temple is 1.4 KM. I walked there, keeping the river Nile on one side of mine.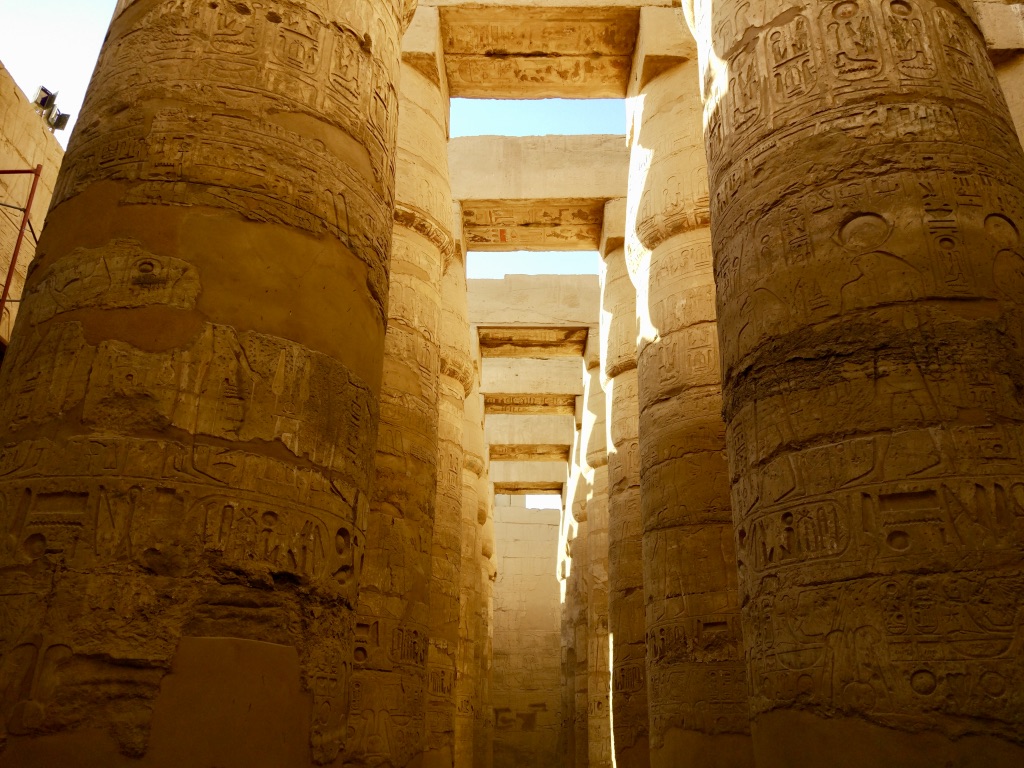 Before visiting the temple, I didn't know what to expect from there. It happened to me that; I went to a famous place but; it did not attract me much. The Karnak temple was an exception to it. The sheer vastness of the temple complex moved me.
What is it?
It is basically an open air complex consisting of decayed temples.
I was walking through the chapels and pylons and wondering how they built it. The ray of the sun from different angles was giving fresh perspectives.
For me, the temple in Karnak was the most fulfilling experience in Egypt.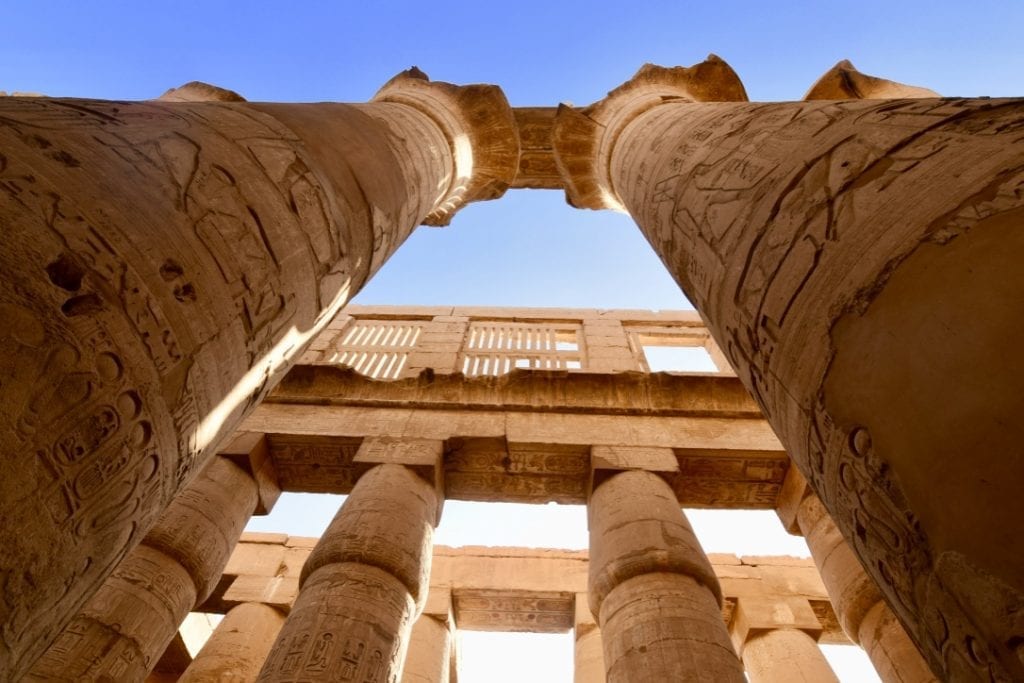 On my way back to town, I took a ride in a horse carriage. I was moving forward with the sound of the hoofs of the horses on the street.
The sun was about to set. The day will be over soon, so is my journey to Luxor and Egypt. I decided not to do anything. I just sat beside the Nile and watched the sun go past the horizon.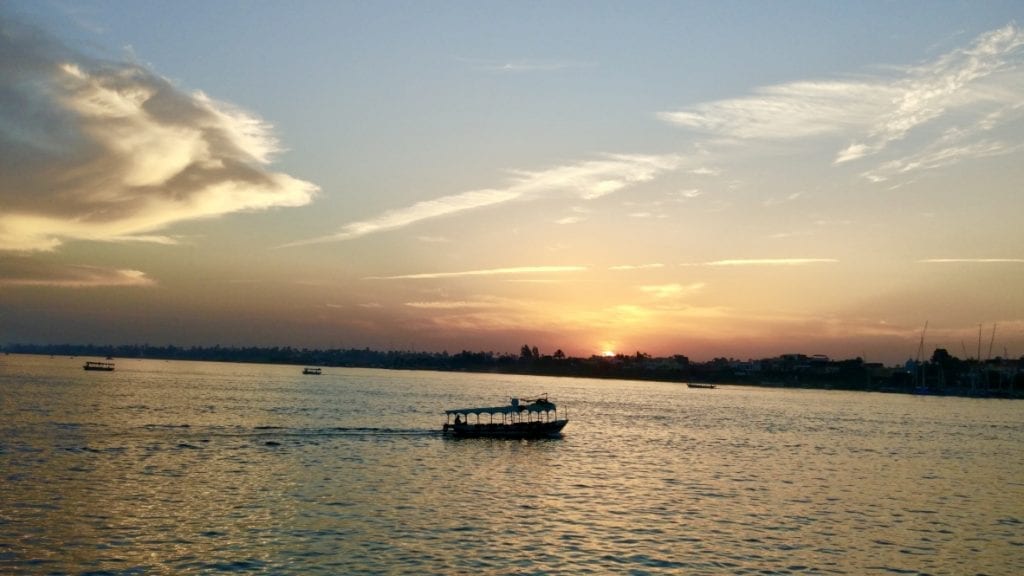 Food in Luxor
It was my last chance to taste the food of Egypt. This time, it was a rabbit. I had to finish the food quickly as I had a flight to my home in a couple of hours. It will be a lengthy flight for me.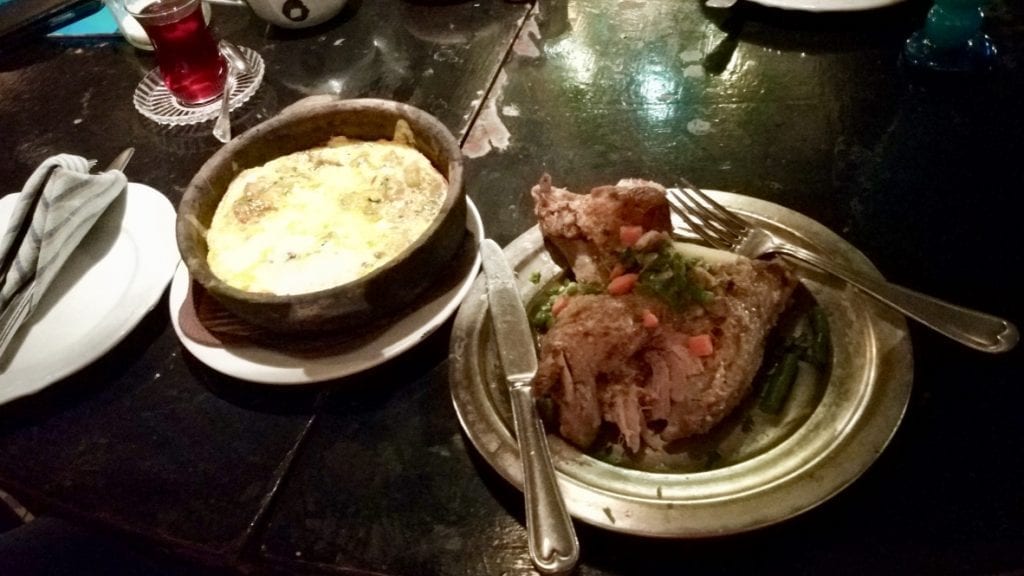 For the first time in my trip, I was feeling sad. I could have stayed many more days in this beautiful country. People often go to the museum to see the history. In Luxor, the entire city is a museum – an open-air museum.
Luxor Hotels/ Where to stay in Luxor
East Bank if you want the nightlife and luxury.
West Bank if you want to enjoy the quietness.
Below are some suggestions for accommodations in Luxor.
Luxor Airbnb
If you do not want to stay in a hotel and wanna experience staying with locals, Airbnb is a great option. If you do not have an Airbnb account open on using this link, you will get US$50 credit! In many places, my Airbnb experience exceeded far and those were much better than staying in a hotel. Below are the links to the top 5 Airbnb in Luxor which I curated by going through their reviews. You can book any of them, I hope, you won't regret it!
Best Restaurants in Luxor
1886 Restaurant (Fine dining)
Sofra Restaurant & café (Mid-range)
Aisha Restaurant (Mid-range)
Aboudi Coffee Break (Cheap eats)
Summary of two days tour in Luxor
Best Luxor Tours and Experiences
Luxor Temple (East Bank)
Temple of Hatshepsut (West Bank)
Valley of Queens (West Bank)
Valley of Kings (West Bank)
Hot Air Balloon Ride (West Bank)
Luxor Museum (East Bank)
How much time should you spend for a Luxor Tour?
I spent two days and it was tight for me. I suggest you to take at least 4 days tour Luxor more comfortably. .
Important Tips for Luxor Tour
There are public boats to cross the river, don't take an expensive boat. Keep the change, hand it over to the person in charge, saying nothing. See how much the locals are paying before that.
Ride a bicycle in the valley if it is not too hot
The cost of hot air balloon ride varies by a great margin. Try to shop around. Better, if you could manage a local to make a bargain for you. I paid only 10 USD while I saw people paying 100 USD. Such is the difference.
Be cautious on the street, people might approach you, smile, and walk quickly. Saying so, I traveled alone, and I am alive to tell the stories of my trip to you. So, it was safe 🙂
Liked this Luxor Tour? Pin it!