With an Indian visa, you cannot visit all the places in India. You need to avail different kind of permits beforehand for visiting certain places. This guide will tell you how to get an Inner Line Permit from Kaza in Himachal Pradesh to commence your journey between Sumdo to Reckong Peo.
Explanation of Inner Line Permit for Spiti Valley
If you want to go to Kaza, the major down in remote Spiti valley in Himachal Pradesh in India from Manali through a fascinatingly beautiful journey, you do not need any permit except a permit to cross the Rohtang Pass.
However, if you want to continue your journey further towards Shimla, you need a permit. Alternatively, if you even do not go to Shimla but want to go beyond Sumdo, a place in eastern Spiti, you need a permit. This permit known as an Inner Line Permit is necessary between Sumdo to Rekong Peo in Kinnaur. I have drafted a map for your better understanding. Suppose you are in the green marker (Kaza) right now. You want to go take the road and cross the red point. You need a permit for going from Red (Sumdo) to Black (Rekong Peo) of the map if you are a foreigner.
Read further to know how to avail an Inner Line Permit in Kaza?
Book a guided full day Niagara exploration tour
Where can you avail it?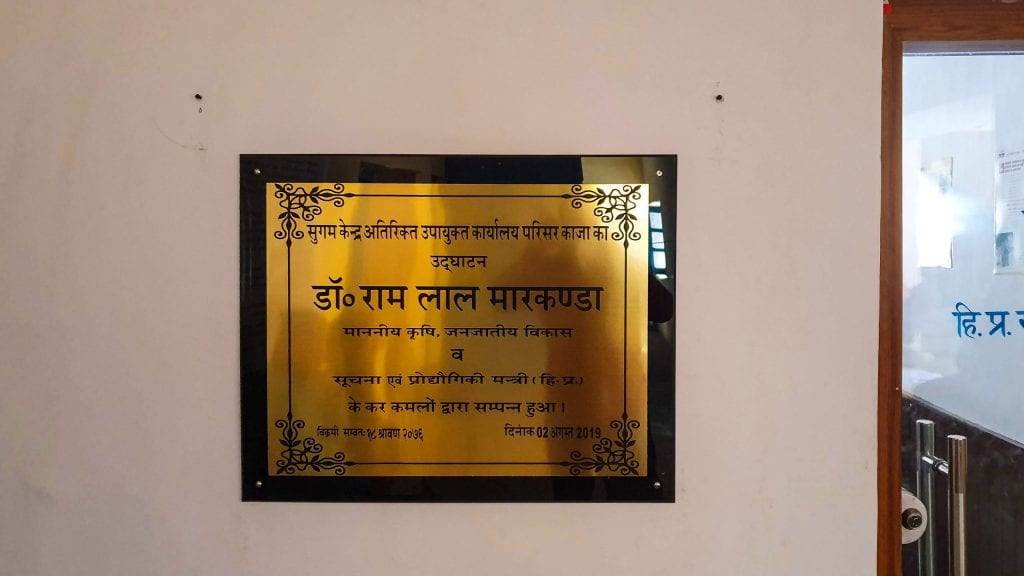 You can avail of the inner line permits from Assistant Deputy Commissioner's office in Kaza. The office is in New Kaza which is about 20 minutes walk from the Kaza city center. The building is a large white one and to the opposite of a Community Health Center. You will find this as a landmark on your map. There is a canteen inside the campus, which serves pretty atrocious food.
What are the Necessary Papers?
Duly filled up application and permit form – Download from here
Photocopy of your passport's identity page
Photocopy of your valid Indian visa page
Two passport-sized photos
Now, several important points to keep in mind. First, Kaza is so remote, you cannot expect to have electricity there all the time. Although there are one or two photocopy machines and photo studios, they are unpredictable.
So –
Take photocopies of your passport data page and visa before going to Kaza
Take several printouts of your photos.
How to submit application for Inner Line Permits in Kaza?
Go to the office mentioned above, stand in the queue, and submit the applications. An officer will take the application forms (of-course if he is present there, you won't always find him), register it on to a registry book. Once he will receive a chunk of the application, he will go upstairs for the administrative process. Depending on the situation, you will need 30 minutes to several hours for this process. Once you have the permit in your hand, make sure to make several copies of it.
There was a festival going on when I went to Kaza. We couldn't find anyone in the office. We had been waiting outside of the office with no clue whatsoever. All we could do was to wait outside of these closed doors, pray and whenever we heard a sound outside and saw a person, we hoped that the officer arrived for us!
Validity of the Inner Line Permit
It's two weeks usually. If you extend your trip, you need to reapply.
Do Indian Citizens need an inner line permit in Kaza?
No, you are lucky if you are an Indian! You don't need any inner line permits. However, you must carry a valid ID card during your journey.
Do you need to Apply through a Guide or a Group?
In Kaza, I saw people applying on their own without any guide. The officer didn't ask a single question about it.
In some places, I saw that one needs to apply as a group or travel as a group to obtain the permit. This was also not the case in Kaza, solo travelers were applying there without any issue.
Can citizens from all the countries avail this permit from Kaza?
No, there is a long list of restrictions including Pakistan and Afghanistan. They have pasted a printed version on board there. They need to apply from Delhi.
I am a Bangladeshi citizen and I did not find any restriction about obtaining permits anywhere. However, when I tried to submit my application, the officer there did not accept it. I waited long there and argued. The officer said, they cannot give a permit for the Bangladeshi citizens, although I did not find it anywhere on the web. So, make sure that your country does not fall under the list of restricted countries and be ready to face such a situation. Otherwise, you will be disappointed like me.
I did not waste my time at all. I spent exploring the beautiful Mud village in Pin valley and three high altitude villages in Spiti valley in the meantime. You can see my 7 days Spiti valley itinerary for more details.
How Much does it take to obtain an Inner Line Permit?
Although, I found that, it's free, they were taking INR 200 from the applicants. They said this is some kind of new rule.
Operating Hour of the Permit Office in Kaza
They are supposed to operate from Monday to Saturday from 10:00 AM to 5 PM with a lunch break between 1:30 PM to 2:00 PM. They are closed on the 2nd Saturday of the month. However, don't rely fully on this official timing.
They have an official phone number, it's 8088384472, you can try your luck if needed.
What if I start my journey from Shimla instead of Manali?
If you visit Kaza from Shimla instead of Manali, you have to take the permit from Shimla or Reckong Peo because you cannot cross Reckong Peo without the permit. Besides, if you fall under certain nationalities, and cannot get the permit from Reckong Peo, you cannot reach Kaza if you come from Shimla.
Did you face any trouble availing Inner Line Permit in Kaza? Let me know about it.
What is the best Spiti valley Itinerary?
I have curated a 7 days Spiti valley itinerary for you based on my own experience. You can go through the photos and decide about your trip to Spiti Valley.
Did you like this article? Pin It!