Japan is exceptionally different from the rest of the world. The culture is so diverse and the people are so meticulously perfectionist, you will be surprised every moment. You should not visit Japan without knowing certain things. If you are traveling to Japan for the first time, this should be your second best companion besides Sushi.
If you are traveling to Japan for the first time, you are bound to be amused by its sheer cultural diversity. Japan is unique from the rest of the world. When I visited there for the first time, I felt like entering a parallel universe. Saying so, Japan is a fascinating tourist destination, you cannot skip this amazing country. It has so many things to offer; you have to visit Japan. As it differs from most of the Western Countries of North America or Europe, I am giving you a list of useful tips for traveling to Japan for the first time based on my 5 prior trips there.
Don't be afraid to see this long list of tips for Japan. If you read them carefully, you will feel more confident even before arriving there. Maybe you will observe something and smile talking to yourself – "Yes! I already know it!".
This article will also work as an ultimate travel guide of Japan for you.
Tips before and right after traveling to Japan for the First time
Choose your airport
For 90% of the people, the gateway to Japan is Tokyo, the capital and biggest city of Japan. Tokyo has two airports – one in Narita and another is Haneda. It's important to choose the right airport between these two and Haneda is the obvious winner because of the shorter distance from the city.
Buy a 4G SIM card or rent a pocket WiFi
Good data connectivity will be your best companion in Japan. Although you will find WiFi in your hotels, you should have the internet while traveling.
You have two options here – buying a 4G SIM is one of them. Interestingly, a SIM with a local number costs me more than a data-only SIM. I suggest you pick the one with only data, I don't see any reason for having a local number with extra bucks unless otherwise, you need it specifically.
Alternatively, you can rent a pocket WiFi router. Just make sure you are leaving with the same airport you entered as you have to return the WiFi router at the end of your trip.
Both data connectivity and router are expensive and will cost you more if you stay in Japan for a longer period. You can check with your telecom to see if they provide roaming facilities and the cost of it. Based on the price and availability, you can take your purchasing decision.
Bring proper Japan Travel Adapter
This is a no-brainer, but we often miss it. It creates not only inconvenience but also costs money. Imagine arriving at your hotel in Tokyo after traveling for 24 hours. You have got the WiFi password and all set to get into the internet. However, your phone has run out of charge and you realize that the charger is non-compatible with the socket! Yes, it happened to me and I know how painful it could be.
The standard voltage in Japan is 100 Volts. Most of the plugs having two flat parallel pins (Type A or Type B) fit into a socket.
Timezone of Japan
Japan is in GMT + 9 hours.
During my childhood, I read that, Japan is the land of the rising sun. It means the sun rises in Japan first in the entire world. This is in fact not true, New Zealand is to the further east and sunrises there earlier than Japan. However, this anecdote is used from the perspective of neighboring China. The Chinese knew that it's Japan from where the sun rises first.
How much money should I save for a trip to Japan?
Japan is not cheap, it's rather expensive. The plane fare will depend upon country of your departure. You should keep a budget between US$80 to US$150 per day including accommodation and fooding in Japan. The inter city train journey is additional on top of it.
Best Time for Visiting Japan
Low Season
January to March.
Shoulder Season
Jun to July and September to December.
Peak Season
April to May and August.
Buy an Insurance
Japan is expensive! God forbids if anything goes wrong, you have to pay a lot. I suggest you buy an insurance medical care, canceled plane tickets and hotels. This will be a worthy investment for a Japan trip.
Accommodation Tips for Traveling to Japan for the First Time
Capsules vs Hotels
Hotels in Japan are expensive. If you are a budget traveler like me, it will put a dent in your wallet. There are many hostels in Tokyo to choose from. What most other cities do not offer compared to Tokyo is a concept named Capsule. It's a small cubicle and you can stay inside. If you are claustrophobic, it's not a place for you. You cannot pick your phone inside, so if you are on an official trip, it might not be a good idea to stay inside a capsule.
If you are not traveling solo and have someone to share a room with, you can lookout for a proper hotel. It will cost you a little more, but you will find comfort, privacy, and freedom.
I stayed in the following two hotels in Tokyo and recommend it for a stay.
Experience Ryokan
You should stay in a Ryokan for at least one night during your stay in Japan. Ryokan is a traditional Japanese inn where you sleep on a mat on a floor. You will get a traditional style, environment, and atmosphere in a Ryokan. It's like staying in a Japanese house. Ryokan is more expensive than conventional hotels and rare in Tokyo. You will find these outsides of Tokyo specifically in the areas having onsen.
The following are some best Ryokans in Japan, if you can afford them, you will have an amazing Japanese experience.
Book Ahead
If you book your hotels ahead, you should be able to save some money. Tokyo hosts a large IT fair named Japan IT week. During that week, the hotels become very expensive. So book your hotel as soon as you are certain about your trip to Japan.
You can leave your luggage in the counter
Japanese are strict about check-in and checkout time. Most of the hotels I found had a check-in time at 3:00 pm and checkout time at 12:00pm. If you want to stay longer, you have to pay (an option in some hotels). What if you arrive there early or have more work to do after checking out? You can leave your luggage at the counter. They are helpful about it and will give you a receipt for it.
Once I went to Nikko, an amazing place to visit in Japan during the weekend from Tokyo. I did not want to carry my luggage with you. So, I took the necessary clothes in my backpack and left my luggage at the hotel in Tokyo. All I did was booked the hotel again on Monday. So, I checked out of the hotel on Friday, leaving my luggage at the counter. When I checked in again on Monday, I found my luggage in my room; it was so sweet!
Be ready for a small room and bed
The hotel rooms in Japan are tiny. So are their beds. You will be able to barely move once you put your luggage in a room. Although the rooms are tiny, you will get all the amenities including slippers, a sleeping robe, combs, hairdryers, refrigerators, iron, and so on.
If you travel with your friends and are not a couple, opt for a twin bed. Check the size of the double bed from the website, measure it with a measurement tape to understand the space you are going to get before booking a hotel room.
Transportation Tips for Traveling to Japan for the First Time
Buy a Pasmo/Suica IC card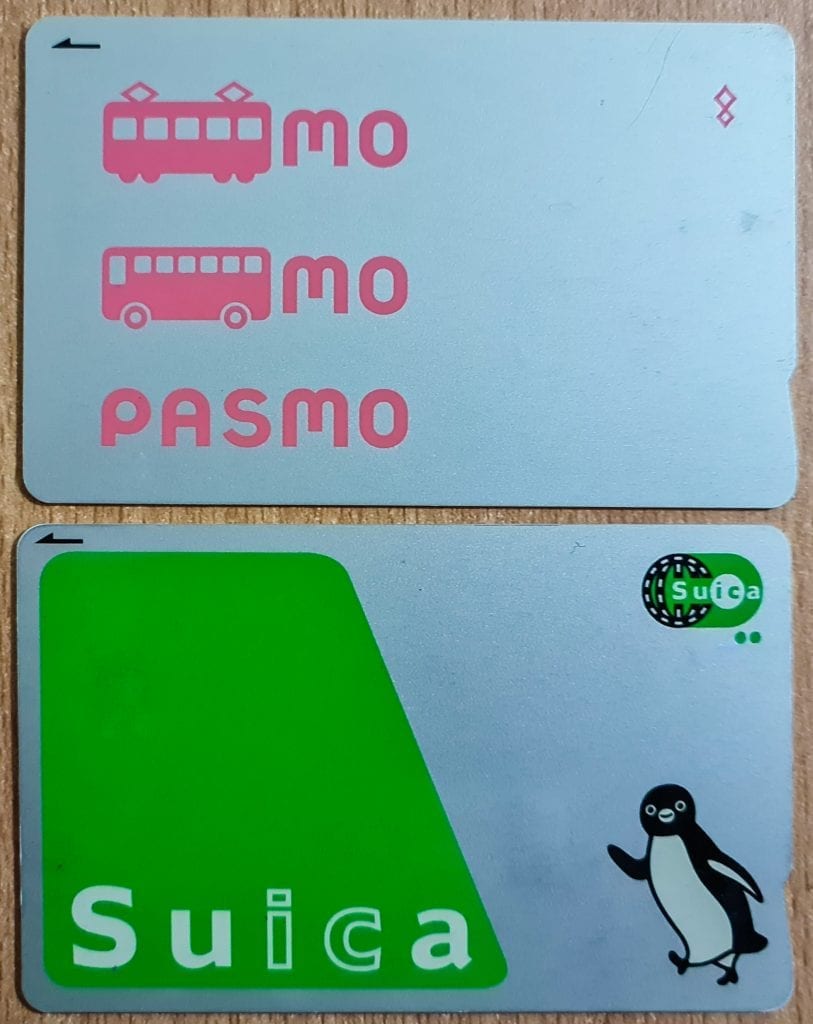 One of the first things you should do after landing in Japan is to collect an IC card or smart card. This is a rechargeable plastic card. You need to recharge it from kiosks. You can use it to pay on local trains, subway, bus, and even at convenience stores. It will offer you a lot of conveniences and save money. If you take a ride in the subway, using the IC card offers you a discount compared to a regular ticket.
The most popular card providers are Pasmo and Suica. Many people search about Pasmo vs Suica before making a purchase decision – I found them similar in terms of the benefits they offer, so you can buy any of them. The only difference I found between Pasmo and Suica is, they are sold by different companies.
Use the metro instead of Taxi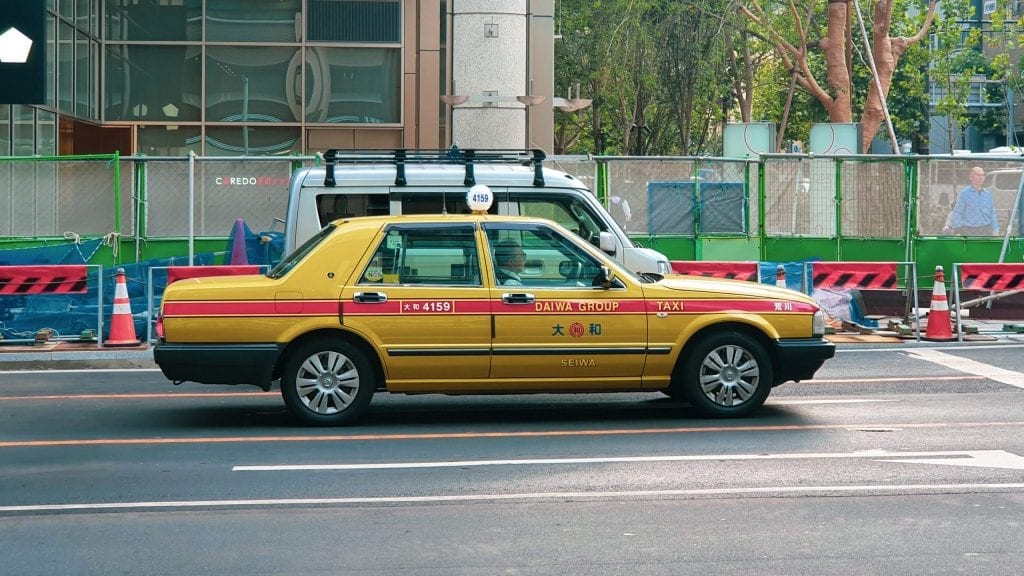 Tokyo has an extensive subway network. I found a subway anywhere I went within a Kilometer radius in Tokyo. It's super clean, and on time, too. On the other hand, taxis are super expensive if you travel a longer distance. For example, if you want to come to Tokyo city center from Narita airport, a taxi will cost you a whopping 25000 Japanese Yen while a subway will cost less than one-tenth of the cost. Besides, the metro in Tokyo is an experience itself, you can see a smaller part of Japan in the subway.
A bus is cheaper than the subway
While I recommend the metro over a taxi, the bus is a good option for traveling around Tokyo. What makes it more interesting is the cost of travel by Bus. It's even cheaper than the subway. However, the bus is slower. Saying so, at times, you will find a bus stoppage right in front of your hotel, so you can save your journey time. Apparently walking to the metro, going down the stairs, will take several minutes.
Don't get afraid with the crowd in Subway
During the beginning and end of office hours, the metro becomes very crowded. Don't be afraid to see so much crowd. Japanese are so organized and disciplined, you will find a place of your own.
Follow the mark of the waiting queue in station
On every platform, the train will stop in a specific place. If you look on the floor carefully, you will find an arrow pointing in a direction toward the train line. That is where you should stand to form a queue.
Do Not Pick Phone in Public Transportation
When you will be on a train or bus, do not take your phone and speak. You can browse the internet or play games, it's perfectly fine, but don't break the silence inside a train. Japanese value and respect the co-passengers. When you speak over the phone it can create annoyance to others. So, they do not speak over the phone inside public transportation. You should follow it, too.
Watch out for Women-only passenger car
In Japan, some carriages in trains are often dedicated to women only. Some of them are reserved for the women for the entire day, some of them are for a specific period. They are marked either in the car or on the platform. So if you are a man, don't jump into any car blindly, have a look around for gender and marking.
Keep your bag in front
If you have a backpack with you, keep it in front of you on the train or bus, don't leave it hanging on your back. If you keep on like that, chances are, you will hit people without knowing.
Squeeze into a train with your back
If during the rush hour, you see a carriage full of people, you can still get into it. The train in Japan has infinite space! All you need to do is turn around and push yourself with your back on the train. You will find yourself in! If you don't understand what I meant, just stand in a railway station and observe, you will get it.
To buy or not to buy a JR Pass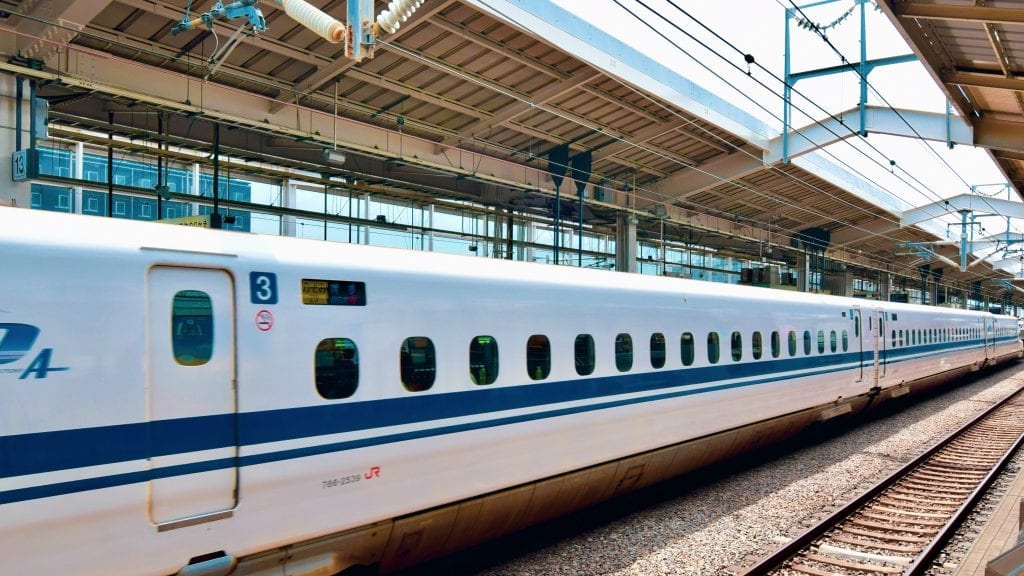 JR passes (The Japan Rail Pass) provides you an economical way of traveling between cities in Japan. It's a joint collaboration with six companies within the Japan Railway Group. Long story short, you can travel to almost any city in Japan with a JR Pass. Sounds outstanding, right?
However, there are two catches of JR pass –
JR pass has a validity period of 7 days, 14 days, and 21 days. It means, if you stay in Japan for 9 days and buy a 7-day pass, you have to buy tickets for your journey separately.
JR pass is expensive and becomes more expensive if you buy it for a longer period.
So, is it worth buying a JR pass? It depends. To be honest, the intercity train ticket in a Shinkansen (high-speed bullet train) is expensive in Japan.
If you visit at least two major cities in Japan during your stay within the mentioned period above, buy a JR pass.
However, if you only stay in Tokyo and do not visit over one long distant city, you should not buy the JR pass.
Driving on the left
Unlike Americans, the Japanese drive on the left side. So, if you want to rent a car and drive in Japan, keep this in mind.
Pro Tips
JR pass is not valid in the subway of Tokyo. You can use it only in JR marked trains which are only a part of the Tokyo rail network.
Try to avoid taking large bags with you inside a metro during rush hour.
In most cases, people enter a bus using the back door and leave using the front door. Watch out for the queue and follow the Japanese regarding this.
There are tons of restaurants in the underground. Metro in Tokyo is a good place to grab your food.
You can use the JR pass to go to Tokyo from Narita airport using JR Narita Express (NEX).
You can use the JR pass from Tokyo (Hamamatsucho station) to Haneda airport taking the Tokyo monorail which covers under the JR pass.
You need an international driving license if you want to rent a car and drive by yourself.
Most of the subway in Tokyo opens around 5:00 AM.
Most of the subway in Tokyo close at 12:00 at midnight.
Language Tips for Traveling to Japan for the First Time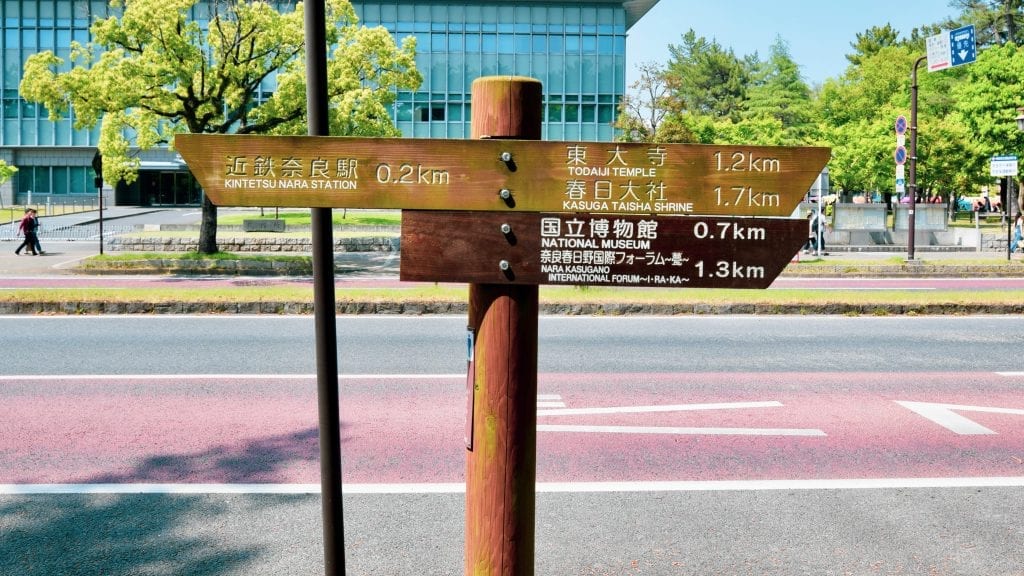 Japan has its own language and alphabets. It's called the Japanese language.
Not everything is written in Japanese
Most of the old people do not understand English. Young generations are learning it, however, they are shy at times to speak in English. When you go out of Tokyo or major cities, you will find fewer people who understand English.
In major towns, important signs like train stations are written in both English and Japanese. If you are not sure about something, you can take a photo of it on your phone and show it to the locals if you need any help.
On the ticket recharging screen, the default language is Japanese, but you will find an option to change it to English.
Learn some basic Japanese Phrases
You should learn some basic Japanese phrases before visiting Japan. I am putting here some basic ones.
English
Japanese
Thank you very much
Arigato gozaimasta
Yes
Hai
No
Iie
Excuse me
Sumimasen
I am sorry
Gomennasai
Nice to meet you
Ireshko onega isimas
Good morning
Ohayo gozaimas
Good evening
Konbanwa.
I do not understand
Wakarimasen
My name is Fuad
Watashi wa namaye Fuad des
Please
Onega ishimas
Hello
Konnichiwa
How are you?
Ogegi des ka?
I am well
Genki des
Mr.
Mr. Omar
-san
Omar-san
Goodbye
Ja Mata
Water
Mizu
Add the postfix "-san" with everyone's name
This one is important. When you will call someone by name or write someone's name, always add the postfix san.
For example, if someone's name is Abe, call him Abe-san. It's an honorary postfix (like Mr.). The only difference with Mr. is, we do not use Mr. much often, but the Japanese are very conservative about it. This postfix is gender-neutral, you can call both a man and a woman with san.
Pro Tips
Save your hotel names in Japanese on your phone. Although you won't understand it, people will be able to help to locate it if needed.
Do not speak fast in English with the Japanese. Try to say words instead of large sentences.
Currency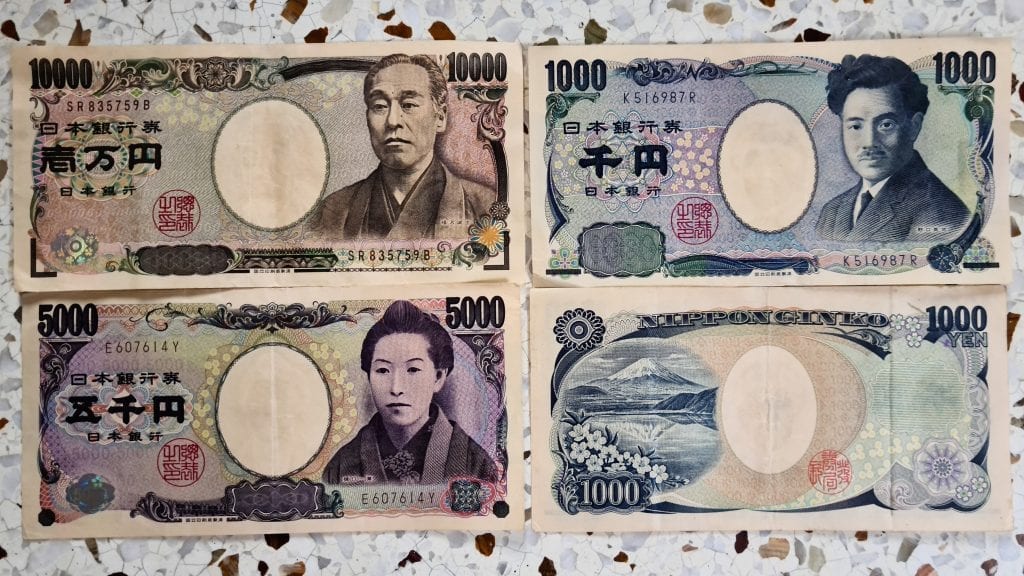 The currency of Japan is Japanese Yen. To give you an idea of the values of Japanese yen –
100 USD will give you about 10,500 Japanese Yen.
25000 Yen in Pounds is 185
5000 Yen in Euro is 40
Bring Japanese Yen with you
You cannot use USD, Euro, or British Pounds in Japan. So, you should buy some Japanese yen from your bank or currency exchange house in your country. It will be needed as soon as you land in Japan. You can withdraw the money afterward from an ATM.
Only Cash is accepted in Some places
Although Japan is technologically advanced, it's still a cash-based society. I could not use my credit cards in many vending machines, even while buying a train ticket. In smaller restaurants, you cannot use your credit cards either. So keep cash with you to use it primarily.
Do not pay money directly to someone's hand
Are you done with your dining in a restaurant? Have you finished shopping in a supermarket? Now is the time to pay your bill. However, don't take the money out of your wallet and hand it over to the cashier directly. Try to find a tray in front of him and put it there. Every Japanese store or restaurants put a small tray in front of them, where you need to put your money or card. They will take it from there, and put the changes the same way from where you need to pick up again.
Take a pouch with you for carrying coins
This one is funny but useful. Coins in Japan come in the denominations of 1 yen, 5 yen, 10 yen, 50 yen, 100 yen, and 500 yen denominations. You cannot walk away from coins! After a day of explorations, you will gather plenty of coins which will be difficult to keep in your wallet. So carry a pouch with you to accommodate Japanese coins.
Inform your Bank about your visit
This tip is especially for the first time traveler. If you want to use your credit card out of your country, inform your bank before leaving your home country. Otherwise, if they see that your card is being used in a country far from your home, they might block it because of security reasons for leaving you unprepared on foreign soil.
Pro Tips
While buying Japanese Yen from your bank, ask for some smaller denominations.
Whenever a bill comes, try to get rid of your coin by paying with it.
If you are uncomfortable counting the unfamiliar coins, you can just leave it and request them to count. They will take the exact amount from there.
Tips on Foods and Restaurants for Traveling to Japan for the First Time
Don't get fooled with the foods on display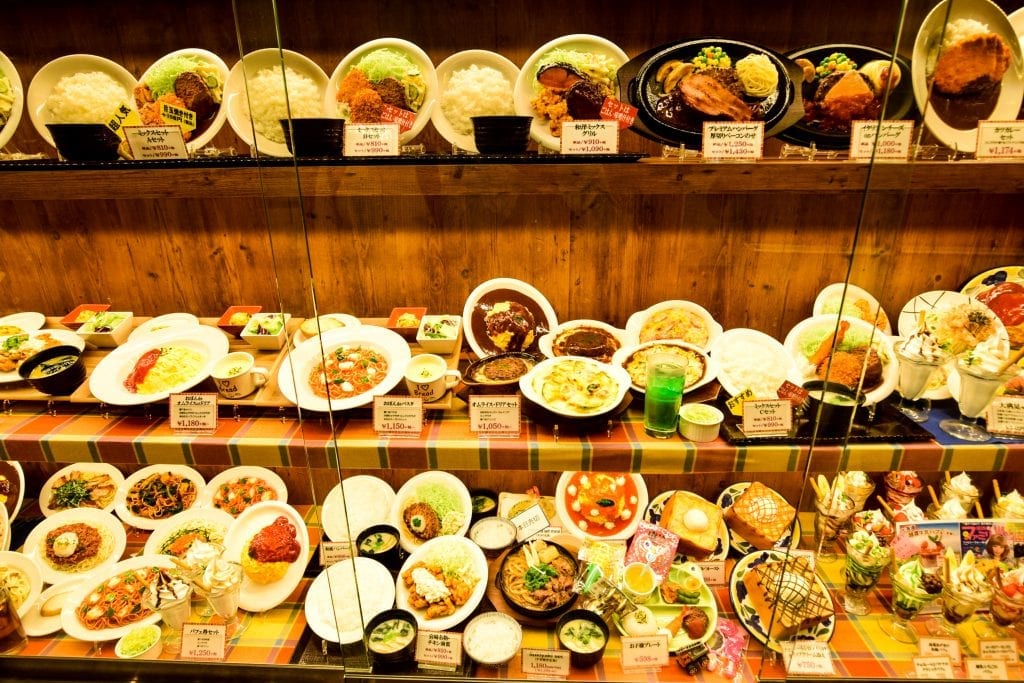 Tokyo is a city of restaurants. Wherever you walk, you will find the smell of food. I simply love Tokyo for this. In most restaurants in Japan, you will see foods on display. Instead of putting just the name of a food, they provide a sample of food. I am pretty sure it increases their chances of selling by many folds. Whenever I saw something on the display, I wanted to eat them. However don't get fooled by them, they are not real but artwork. It's so vivid, I thought it was a real thing – I still do even though I know about it.
Be prepared for table Charge in a restaurant
You are in a restaurant, greeted by everyone, and got the menu in your hand. You went through it, calculated like me, and ordered food items of about 2000 Japanese Yens. When the bill came, you could only understand the number which is written in English. It's saying 3500 Japanese Yens. You call the waiter and tell them that it's not your bill. He might understand it, but won't be able to explain it to you. It will create havoc in the restaurant, and every other employee will try to talk to each other about how to convey it to you.
Let me explain what happened. In Tokyo, many restaurants (not all of them) charge for taking a meal. They call it a table charge. If you want to avoid it, ask the restaurant about it beforehand and leave if you cannot afford it.
Do not leave Tip in Japan
It's customary to keep some tips on the table after eating something in most parts of the world. However, it's not the case in Japan. It does not have any tip culture. They might even feel offended if you leave something behind for them.
Learn how to use chopsticks
In Japan, they serve every food with no spoon. They place the chopsticks on a table or put them in a specific place to pick. The beauty of chopsticks is, you can pick everything with you. It's a fit for all the food. You can eat rice with it, noodles, too, and even nuts. Although you might struggle at the beginning some practice beforehand can take you a long way. You can ask for spoons in the restaurant, but the chopstick can take you nearer to the heart of Japanese.
Do not afraid to try new foods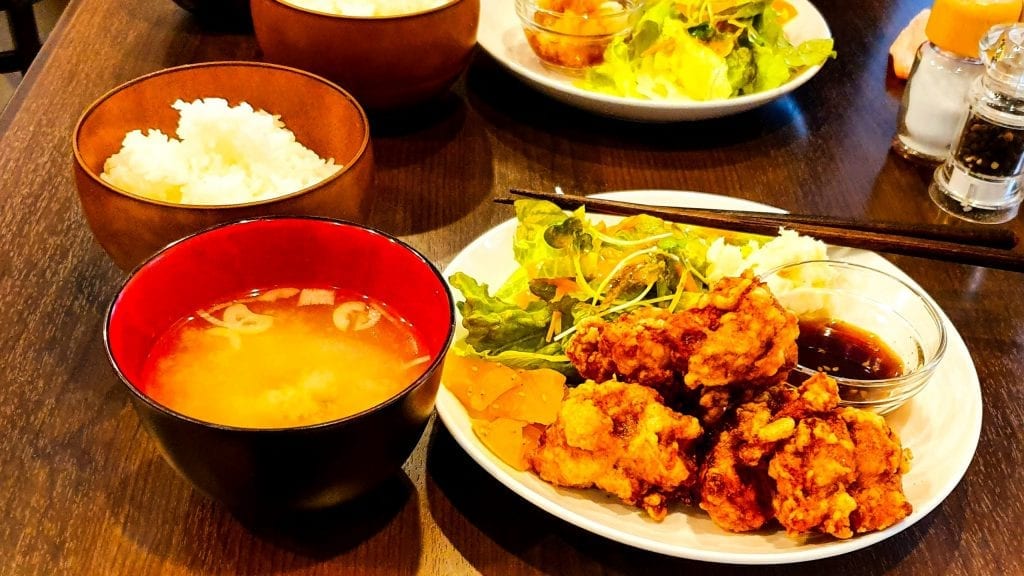 You will find different types of cuisines which you never experience in the Western part of the world. You might only be familiar with Sushi. Do not be afraid to try something new each day. Japanese foods are delicious!
Carry a bottle and refill water from tap
You can drink tap water in Japan. So, bring a bottle with you and refill it from the tap of your hotel or from a restaurant. You need not buy expensive bottled water. It will be good for your wallet and the environment.
Try Pronto or Doutur instead of Starbucks
There are many Starbucks in Tokyo. However, you can try local brands like Pronto or Doutur for a change. You will get coffee, sandwiches, and pastries from there. It will taste different from Starbucks and affordable.
Try Macha Ice-cream and chocolates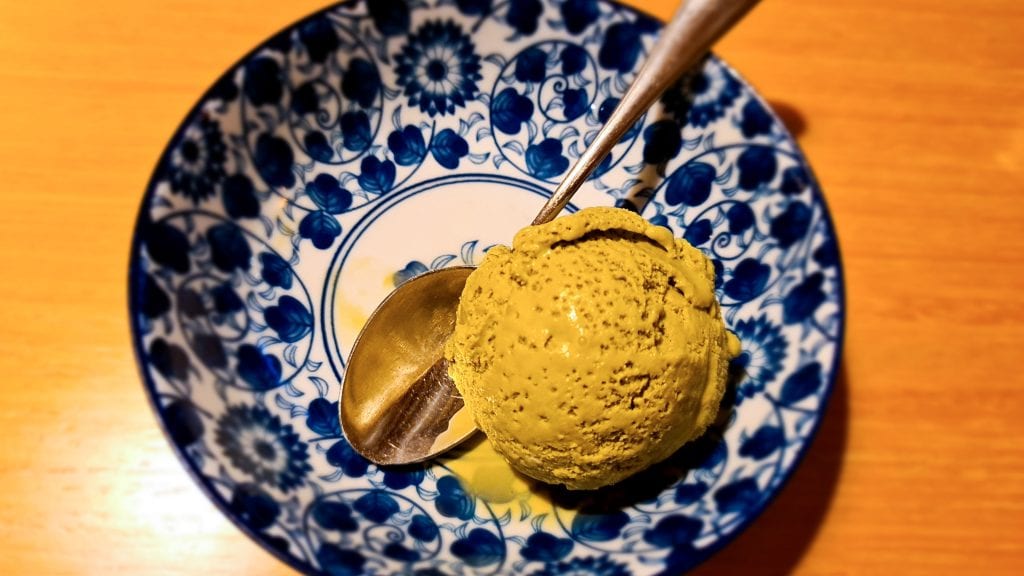 What is matcha? It's made of finely grind powder of green tea leaves.
How do you identify matcha? It's green!
It tastes bitter and immensely popular in Japan. You will see many variations of it like matcha tea, matcha chocolates, matcha ice-cream, and the list will grow infinitely. I would suggest you try the matcha ice cream and chocolate. You might not like the first bite but give it some time, you will eventually be used to it and like the Japanese, might get addicted, too.
Do not eat while walking
There are many takeaway shops in Japan. However, when a Japanese person buys food from such a shop, they sit somewhere and finish their food. It's rude in their eyes to eat the food while you walk.
Shopping Tips for traveling to Japan for the First Time
Get Travel Tax Refund
When you buy something from a shop in Japan, it is topped up by a tax. However, if you are visiting Japan on a tourist visa and purchase products worth 5000 Yen from a shop (nonfood items), you are entitled to get a tax refund. This refund is instant, and you don't have to collect it from the airport, the shops will not collect the tax from you. For this, you have to carry your passport. They will scan the passport and visa, print a receipt, paste it on your passport and put a small seal.
Buy clothes from UNIQLO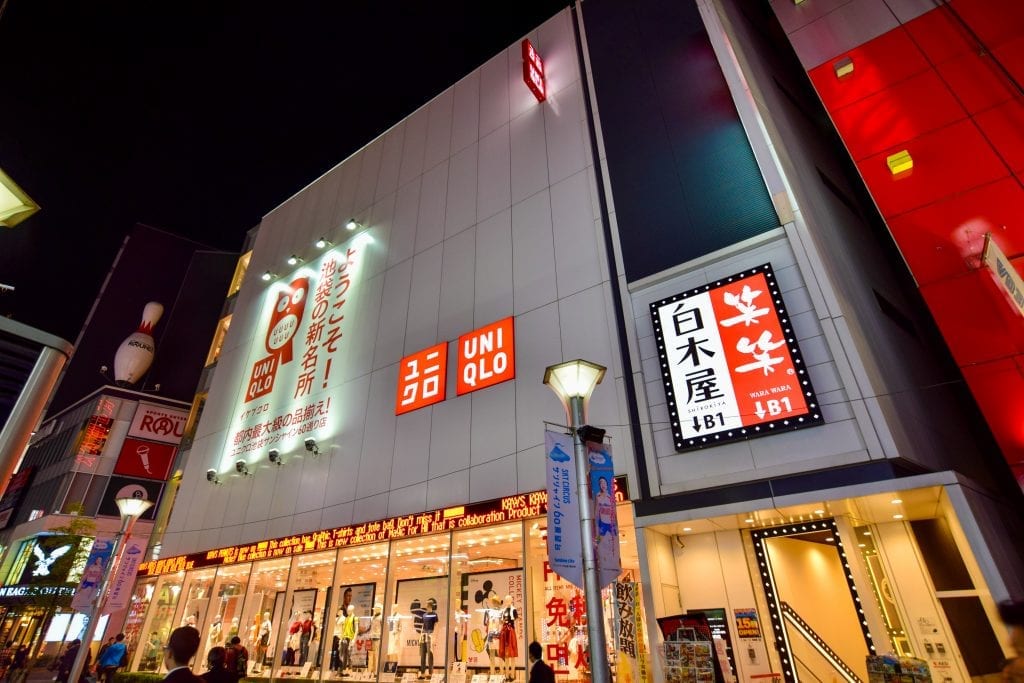 UNIQLO is a famous affordable clothing brand in Japan. They have some huge multi-storied showrooms in Tokyo. Among them, the UNIQLO Ginza Store in Ginza, Tokyo is the largest. It covers 12 floors. You will get clothes for men, women, and children. Whenever I visit Japan, I go to UNIQLO at least once and wear their shirts and pants regularly for a while.
UNIQLO provides tax refund if you buy products of over 5000 Japanese Yen.
Buy Running shoes from Harajuku
Harajuku is not a shop, it's a place in Tokyo. If you have a fascination with running shoes, visit Harajuku. You will find large branded shops like Adidas, Nike, or Puma with the latest collection of running shoes, snickers, and clothing. However, I would suggest you visit the Asics shop. Asics is the most popular running shoe brand in Japan. I am putting the locations of those places in Google Map below.
Those shops are very close to each other. So you can visit all of them at once. I am sure you will buy at least a pair of shoes from there just like I did!
Cheap shopping in Daiso
In a Daiso, you will get almost everything necessary in life. What I liked about Daiso is the price they offer. Some products here are as low as 100 Japanese yen. What will you get in Daiso? Actually, the question should be, what will you not get in Daiso? I found bags, umbrellas, raincoats, chopsticks, beauty creams, USB cables, cutleries, plates, nail clippers, pens, papers, headphones – the list can go on infinitely. If you want to bring gifts to many people from Japan without burning your pocket, Daiso is the place to go.
They also provide a tax refund if you spend more than 5000 Japanese Yen.
Snacks from Convenience Store
If you want to grab readymade cold foods or buy some chocolate, chips, or drinks, you will always find one of the following convenience stores around the corner.
They are usually open for 24 hours and widely available throughout the country.
Yodebashi Camera
You might wonder, why am I writing about a camera shop here? Well! When you go to the Yodebashi Camera store in Akihabara, you will know why I wrote about it. This huge 9-floor building sells branded stuff and you would get almost everything ranging from mobile, laptop, camera, television, watches, headphones, speakers, toilets, bags, toys, games, shoes. I saw products from many brands there like Apple, Casio, Seiko, Samsung, Bose, LG, etc.
They close at 10 pm, provide tax refunds, and run campaigns like discounts using Visa credit cards. So check with them before you pay.
Pro Tips
Plan to purchase at least 5000 yens of products from a single shop, bring your passport with you while doing so, and tell the shop that you are traveling to Japan as a tourist.
Experience
Indulge in Onsen
Onsen is the name for hot springs in Japan. As Japan is very active with volcanoes, it has thermal springs all over the country. In an onsen, you can take a bath. However, there is a catch. You need to go there naked. You will share a pool with many naked people. It might sound embarrassing, but an onsen can be super relaxing!
Here are some important points about onsen –
You have to take a shower or rinse your body before visiting an onsen.
You cannot keep any cloth while you are in the pool of onsen.
You cannot put your head underwater, only part of your body. Make sure that your hairs do not touch the water.
If you have a tattoo, cover it with something or ask beforehand if it is acceptable to show your tattoos.
When you get out of the water, cover your body with towels.
Do not grab any photo without prior permission.
Tokyo Disneyland
Tokyo Disneyland is the first Disneyland made outside of the USA in 1983! This is huge covering 115 acres of area. This is perceived as one of the best theme parks in the world. You should pay a visit there if you can manage some time.
Play Video Game
Japan is a heaven for gamers. If you love to play video games, head towards Akihabara in Tokyo. You will get many shops where you can play so many types of video games. I won't be surprised if you end up spending an entire day there. Even if you don't play, go there to see the faces of gamers ranging from different ages. The reactions to their faces are priceless during playing a game.
Watch a Sumo Wrestling Match
You might have seen sumo wrestling on television or in a film. If you haven't, it's a game between two super fat Japanese where one will try to push the other out of a boundary. It's one of the most popular games in Japan. If you want to watch a match, go to the Ryogoku Kokugikan sumo arena. It will be a lot of fun and once in a lifetime experience for you.
Toilet tips for Traveling to Japan for the First Time
Don't worry about Public Toilet
When I visited Europe, I found it annoying to find a toilet. I did not find them as frequently as I would have liked to and I had to pay almost everywhere. Once in Amsterdam, I had so much urgency to get lighter, I went to a McDonald's and ordered some food to use their toilet. To my dismay, I had to pay additionally to use it.
Japan is a heaven for people like me who need to use a toilet frequently. You will find one almost everywhere. Every subway station has one. It's completely free and clean. Such a relief!
Enjoy the Commode!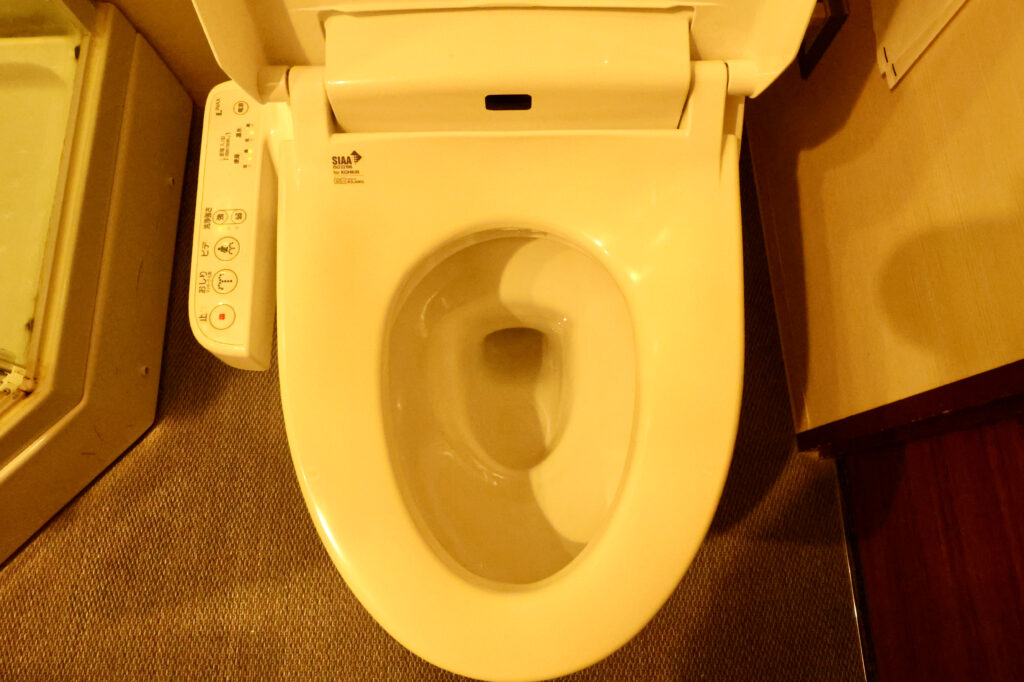 Japanese commodes are the best! They call it washlet. It's not like a normal one, you will find many buttons there. Once you will be done, you can press a button. A nozzle will come out and spray water to you to clean with precise accuracy. You can also control the speed of the flow of water. If you go there in winter, a press of a button will make the commode warm. If you are embarrassed about the sound you make and don't want the rest of the world to listen to it, you can simply press a button that will play music overshadowing your own sound! When I saw it for the first time, I got so obsessed, I spent about half an hour exploring everything it offered.
Keep Hand Sanitisers with you
I often ask myself – "Did I see any flaw in Japan?". I think I found one! He he he! In many places in Japan, I did not find any soap specifically in public toilets. So, keep a hand sanitizer to clean your hand.
Tips on Packing List
Japan has 4 distinct seasons and packing list should be different for each of them. If you visit japan between mid November to early December which is Autumn/Fall, this is an extensive packing list for you.
Tips on Helpful Apps during Traveling to Japan for the First Time
Hyperdia
Hyperdia provides train timetables and train schedules throughout Japan. Believe me, you will use it more often than you could imagine right now!
Google Translate
Install google translate to your phone. If you get stuck somewhere, this can be a lifesaver for you. In Google translate, you can also point your camera to a Japanese signboard and it will translate it into English automatically.
Knowledge and Learning
Read a Japanese Book
Try to read at least one Japanese book (don't worry, you need not learn Japanese, you can grab an English translated one) before heading towards Japan. It will give you an idea about Japanese cultures, names and so on. One of the most famous contemporary Japanese writers is Haruki Murakami. His books are easy to read. I recommend 1Q84 and Norwegian Wood. Besides, you can pick a Lonely Planet Japan, they provide in-depth helpful information.
Visit a Museum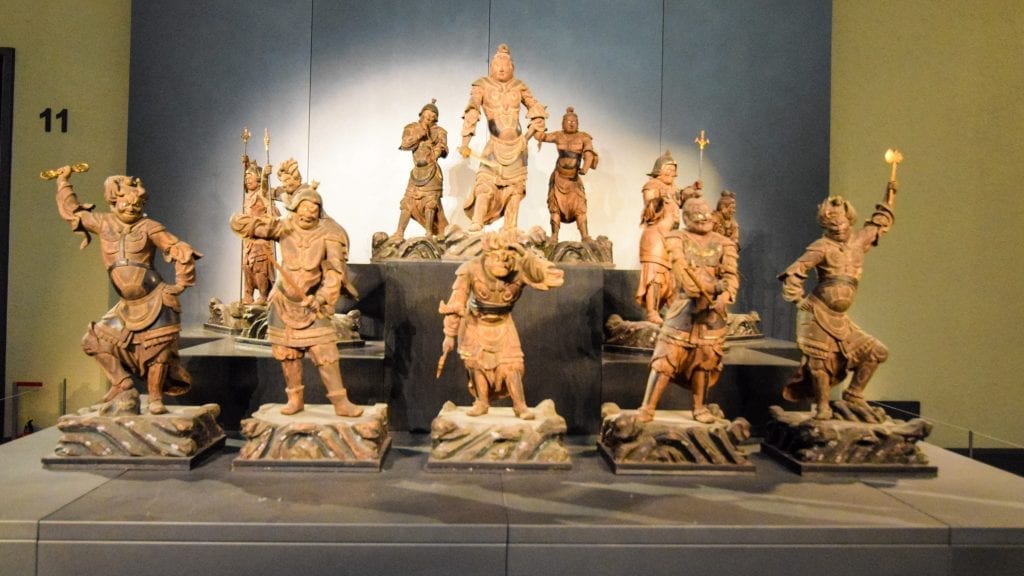 As soon as you are in Japan, try to visit a museum. You will learn so many things including Japanese histories, it's worth visiting one. My recommendation is the Tokyo National Museum.
Tips on Norms and Culture
Bow
Japanese respect each other by bowing. The inclination of your kneeling can also measure the amount of respect. Let's not complicate it. If you see Japanese, you can bow a bit and will see him doing the same. If someone bows to you, do the same. They can do it multiple times, you just work as a mirror and keep doing the same. This is important while meeting someone or the time of leaving.
Exchange business cards with both hands
Japanese give a lot of respect to business cards. They treat it like a human. While exchanging business cards, give it using both of your hands. Hold it in a way that your name is visible to the receiver. When he will grab your card, take him with both of your hands. Now that the card is in your hand, read it carefully (even if you don't read it, pretend that you are reading with full attention). If you sit together at a table, keep the card in front of you. If you exchange your card with multiple persons, organize their cards to form a column. Put the card of the most important person to the top.
Do not show your back while leaving
Suppose you attended a meeting and left the place with an elevator. The Japanese people you met came to say goodbye. You should not just wave your hand and get into an elevator. You will face them, go backward while bowing. When the door of the elevator will open, you will walk backward and enter the elevator like that and keep your head kneeling until the door of the elevator closes. I know this is difficult but super useful!
Cover your tattoos
For a long period, the criminals, mafias, and gangsters had been covering their bodies with tattoos. Specifically, the members of a dangerous group named Yakuza use tattoos. So, it's safer to cover your tattoos. Besides, if you have tattoos, many public places like gymnasiums or onsens will not let you in.
Keep your money on the tray while paying bills
While paying bills at the counter, expect to see a tray. Put your notes or coins on it. The shopkeepers will keep it from there. Do not hand it over to them directly in their hand.
Wear a mask
This is not about the recent COVID-19 outbreak. Long before the novel coronavirus threatened us, Japanese people wore masks. In some parts of the world, people wear masks to protect themselves from dust. Japan does not have much pollution and dust. So why do they wear a mask? The very reason we are forced to wear masks right now – the difference is we do it to protect us. They have been doing it so that other people do not get infected by them. It would be great if you wear a mask in Japan.
Carry a bag for keeping garbages
You will not find many bins for dumping waste in Japan. However, Japan is super clean, you won't find any rubbish on the streets of Japan. All the Japanese people carry a bag and keep the wastes in that bag. When they go home, they put it in their own bins. So carry a bag with you to keep the waste from your travel and dump it in the hotel bins accordingly.
Do not take your hotel slippers to public space
Most of the hotels will provide you slippers. Those are nice and proper slippers, not the toy-like one given in a plane. However, do not go to public spaces like dining halls using it. Japanese perceive it as rude and unhygienic. I didn't know it. One fine morning, I woke up, took the slipper, and went to have my breakfast in the dining hall of a hotel. A staff member immediately came over and was pointing to my foot. It was super embarrassing, I said sorry, went to my hotel room, and changed it immediately.
Think twice before taking a stranger's help
Don't get me wrong here. I have been to 37 countries of the world till now, and the Japanese people are the most helpful of them all. I have so much respect for them. During my initial part of a visit, I used to approach people for seeking even minor help. However, whenever I approached something, he or she became so active trying to give me solutions, I found it embarrassing. It becomes even difficult if someone does not know the way out or solution. He will search on the net, stop their countrymen, and before you realize anything, you will have a crowd of several people looking into your problem. It's like they will sacrifice their life for you. So, before seeking help from a Japanese, see if you could solve it with a little effort by yourself.
Take off your shoes
In many places, like shrines or restaurants, you might need to take off your shoes. Similar things might take place before entering a house if you are invited. Just look around at what other people are saying or if there is any sign for putting off your shoes.
Always Smile and show gratitude
Japanese are humble and polite. Whenever you enter or leave a place like a restaurant or shops, you will hear a loud sound of greetings. It's not a recording, the Japanese have taken customer support to a whole new level. You should always smile and give thanks or good morning/evening in Japanese whenever you receive anything such.
Standing on the left or right?
If you want to get into an elevator, or use an escalator, queue up yourself on the left, keeping the right side free. Wait, this is for Tokyo and most of the parts of Japan.
However, if you go to Osaka in the Kansai region, things get reversed. In Osaka, you form a queue to the right, keeping the left side free. Osaka is an exception to follow the rule of standing on the left.
Which place in Japan is suitable for me?
I love flower gardens. Where should I go in Japan?
Ashikaga Flower Park is a fantastic day trip from Tokyo for the garden lovers.
I want to go to nature during a weekend from Tokyo. Where should I go?
Nikko fits your choice perfectly
I love to hike. Can you suggest an easy hike in Japan?
Hike to Karikomi Lake, you can plan it during your Nikko trip
I want to go to the iconic Mount Fuji. Can you suggest a convenient way?
Book your mount Fuji trip from here.
I love temples and shrines, where should I go?
Which part of the Japan is the most remote and naturally beautiful as well?
Hokkaido is the most beautiful region in Japan. You can go for different day trips if you go to Sapporo, the capital of Hokkaido.
Where can I find the best beaches in Japan?
Okinawa.
I want to learn some histories of Word War II, where should I go?
Hiroshima and Nagasaki.
Did you Know?
There is an eery resemblance between the flag of Japan and the flag of Bangladesh. Both have a red circle in the middle. The only difference is the background. While Japan has a white background, Bangladesh has a green one!
Did you like these Tips for Traveling to Japan for the First Time? Pin It!