Hokkaido in Japan is a dreamy mountainous island destination. Famous for it's stunning landscape, this is arguably the most beautiful region in Japan. It's perceived that, people moved to Hokkaido 20,000 years back. Sapporo is the capital of Hokkaido. You can visit numerous fantastic places as day trips if you stay in Sapporo.
Japan is so different from the rest of the world, you need to know certain things before going there. If you read about the places to to to Japan, you read of Tokyo or Kyoto. These two are the most visited places in Japan. I have been to both of them numerous times, they are big cities. They offer everything a city could offer. However, my quest and thirst for naturally beautiful places and landscapes kept me searching for more places in Japan. I found Nikko and Ashikaga flower park that way. However, if you want to visit a region which is the most beautiful naturally, Hokkaido is the place to go, hands down! Sapporo is the capital of Hokkaido and offers some fantastic day trips.
Where is Sapporo?
Sapporo is far from Tokyo, about 830 Kilometers. It's the capital of the northernmost island of Japan named Hokkaido. It's located in the southwestern part of Hokkaido. Sapporo is easily accessible from the largest international airport (Chitose Airport) in Hokkaido.
Why should you go Sapporo instead of other places in Hokkaido?
You will find more beautiful places in Hokkaido comparing to Sapporo and its surroundings. But those places are remote and you won't find good public transportation. If you have a limited time of exploring Hokkaido and do not have access to a private car, you should use Sapporo as your base and go on different day trips from Sapporo.
Charter a car in Sapporo
Top Day Trips from Sapporo
Lake Shikotsu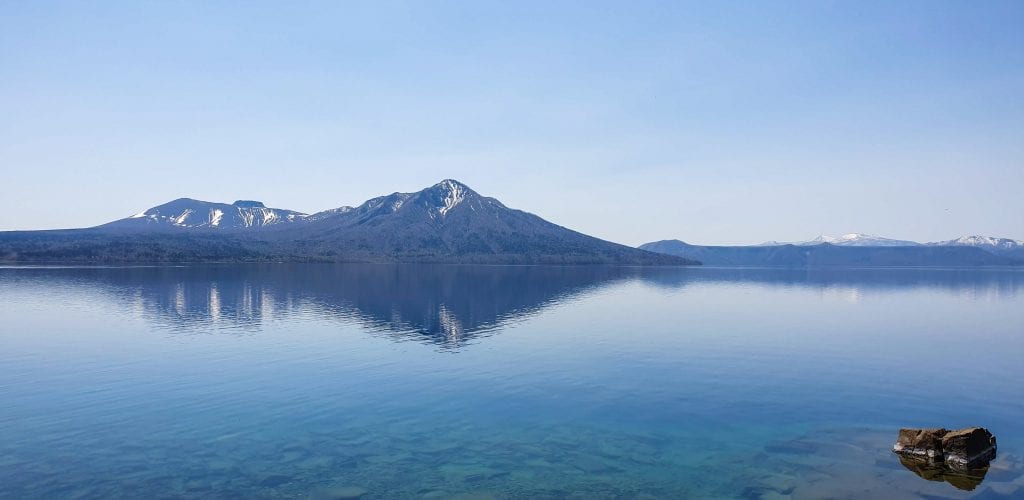 Shikotsu-Toya National Park is a big national park in the southwestern part of Hokkaido. If you wonder, the name of the national park contains two lakes – one is Toya and the other is Shikotsu. This is a perfect place to visit from Sapporo if you have a little time to spend in Hokkaido.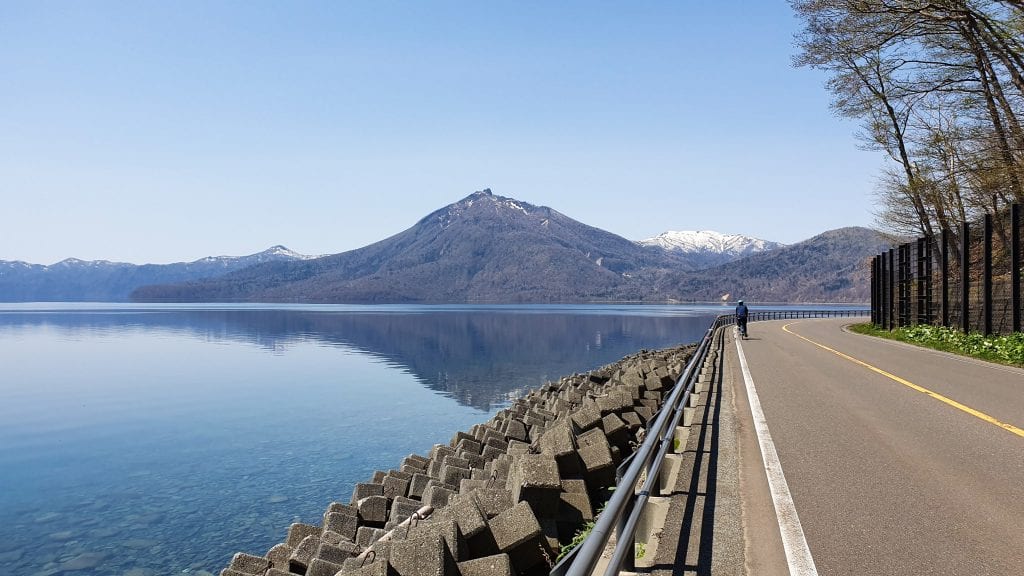 Lake Shikotsu is a caldera lake and the second deepest lake in entire Japan. It's surrounded by multiple volcanoes. Mount Tarumae is the most famous of them all. You will find the reflection of the mountains in the lake. During the winter, it's covered with snow and looks beautiful! One of the most attractive things to do here is to rent a bike and ride it.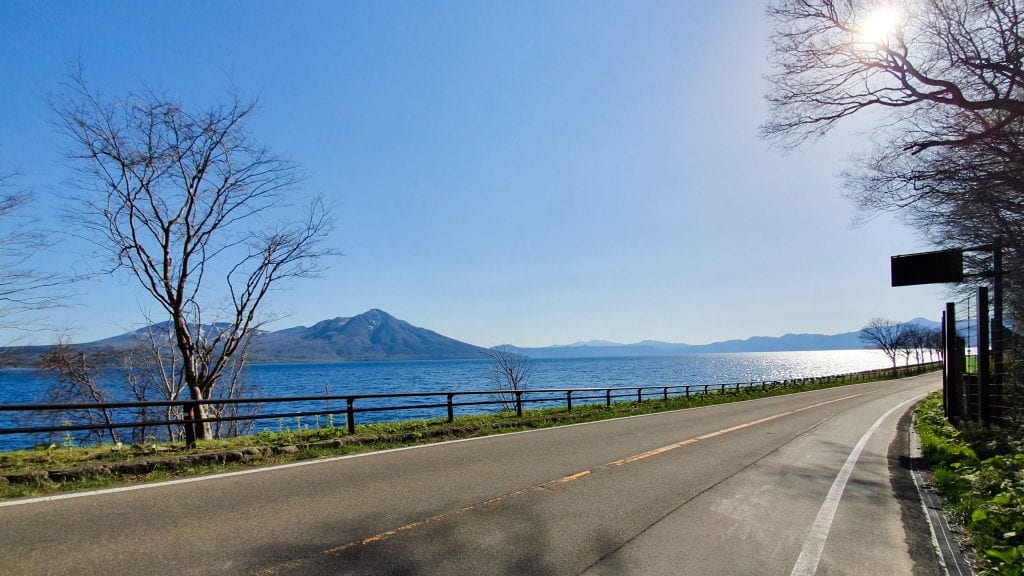 While riding the bike, you will enjoy the different flavors of Shikotsuko lake. It looks different from different angles. When the sunshine reflects on the crystal clear blue water of the lake, you should surely want to jump into the water. Don't do it though, the water is cold! You need to take your sweet time while riding the bike because the roads are hilly and will take a good test of your stamina. Do not forget to get to the Poropinai Observatory as this place will gift you with a panoramic view top views of the lake Shikotsuko.
Book Lake Shikotsu Tour
Marukoma Onsen
Japan is famous for its natural hot springs named onsen. Marukoma onsen is a popular day trip from Sapporo for onsen lovers. This open-air onsen is surrounded by forests and located near Mount Eniwa. You will find it while circling Lake Shikotsu, it's on the eastern side of the lake. You gotta overcome some serious uphills and downhills to reach there. You need to enjoy the onsen without any dress. If it bothers you to be naked among people, you might skip this place.
Yamasen Bridge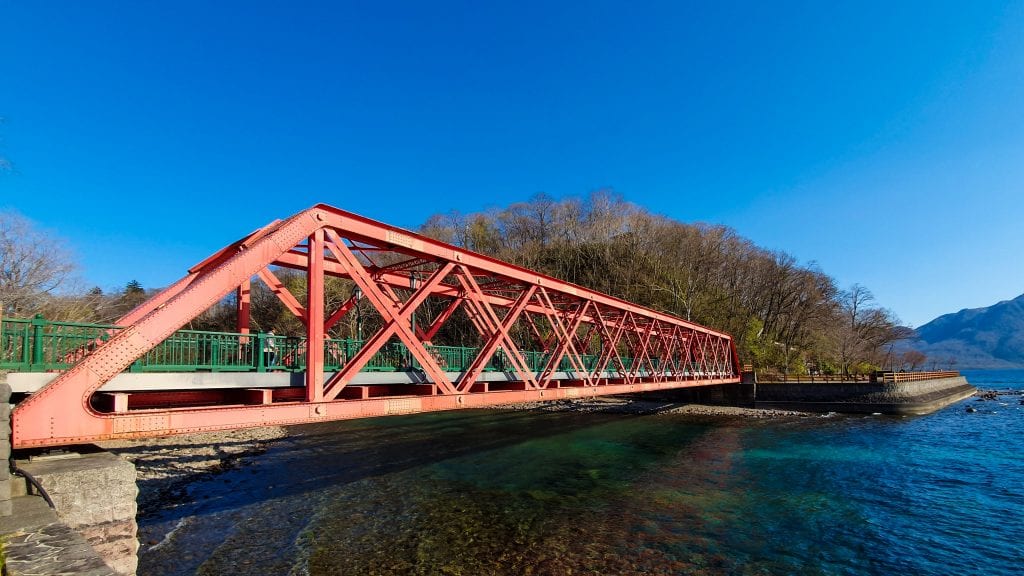 If you visit Lake Shikotsu, you won't miss this red bridge named Yamasen bridge. This is a conventional railway bridge. The modern Japanese trains are the most sophisticated and runs by electricity. The old conventional trains are a history. However, bridges like this will carry the memory of the past. It will take an entire day to roam around the Lake Shikotsu and Yamasen Bridge.
Noboribetsu Onsen – Best Day trips from Sapporo for Onsen Lovers
Noboribetsu Onsen is arguably the most popular onsen reachable from Sapporo as a day trip. It's located at the foot of Mount Hiyori. It's not a single onsen but an onsen town. You will find many hotels offering onsens and you can avail their service even if you don't stay in any of them.
Maruyama Koen – Fantastic place to enjoy cherry blossom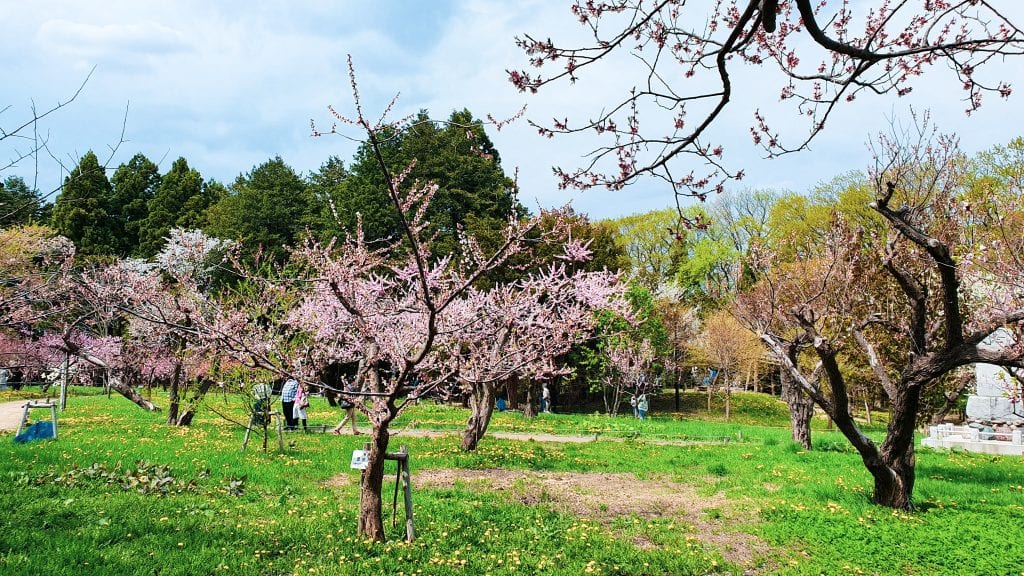 Maruyama Koen is a short day trip from Sapporo and a fantastic place to enjoy the cherry blossoms or the hanami. You can also enjoy baseball from Maruyama Baseball Stadium once you are here. This park is surrounded by green forest.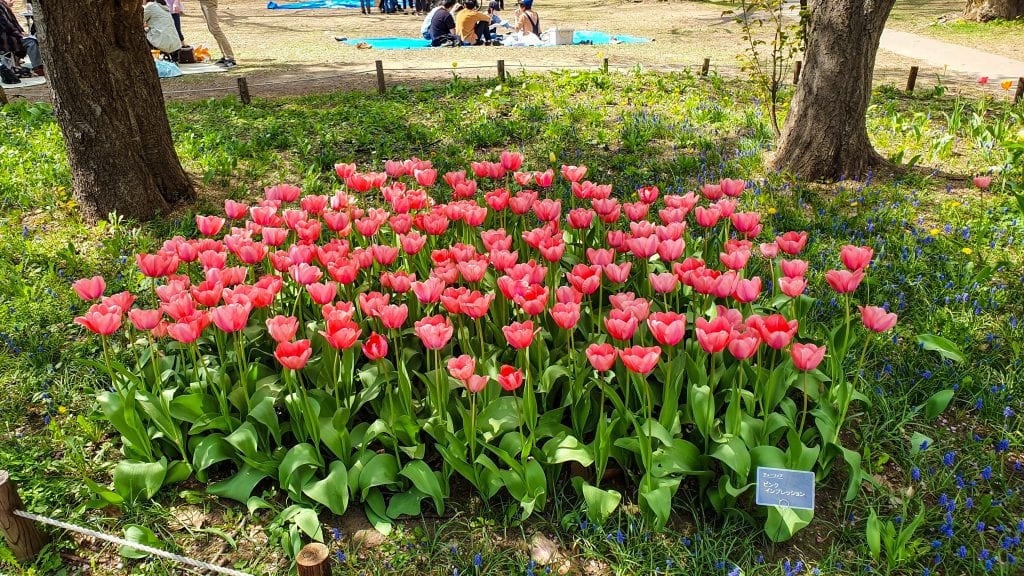 What makes this park so interesting for me was the colorful flowers all around the park. It's not only the cherry but the tulips, poppies and other ones.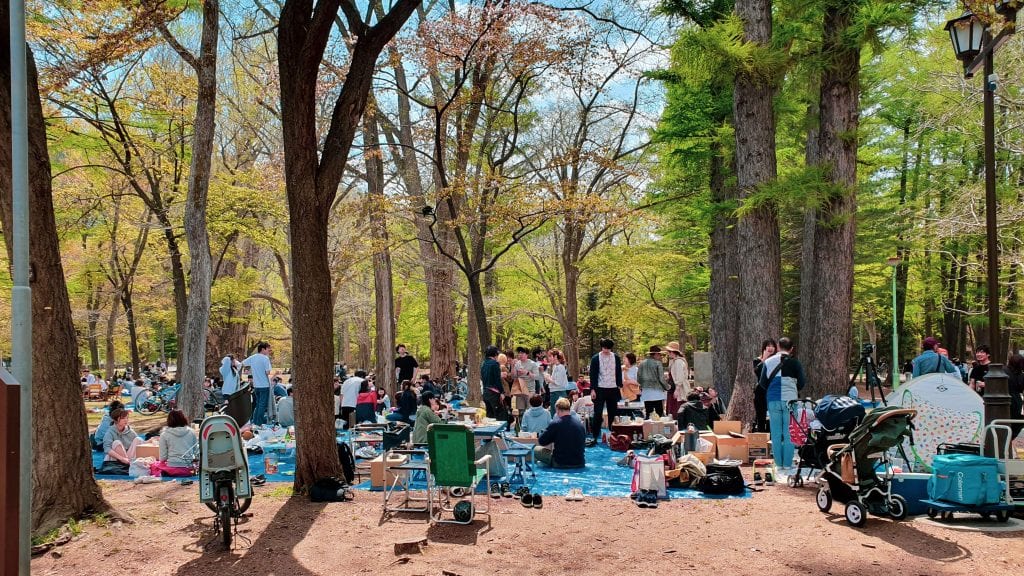 This is an extremely popular place for the Japanese for a picnic or party. They bring foods and large polythene to sit on it, spend all the days while kids play all over the place. When they leave, they take all the wastes with them. It's a treat to watch their activities.
Visiting Hokkaido Jingu Shrine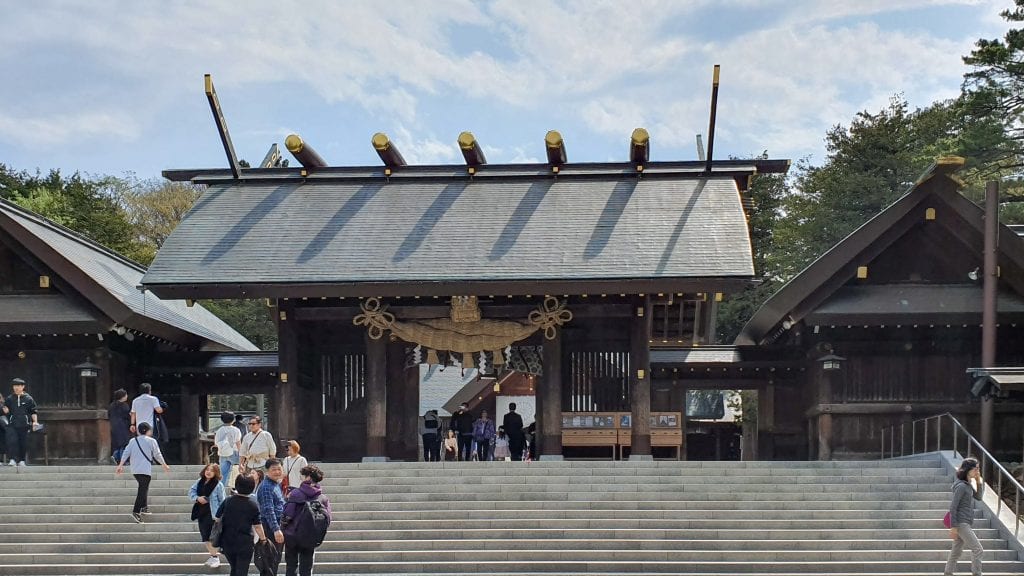 The resting place of four deities including Emperor Meiji, this Hokkaido Jingu shrine is located adjacent to the Maruyama Park. You will pass through a torii gate while entering the shrine and do not walk through the center path, which's reserved for God. It will be great if you could plan your visit to this shrine from 14 June to 16 June as Sapporo Festival – the major festival of the shrine takes place.
Take your kids to Maruyama Zoo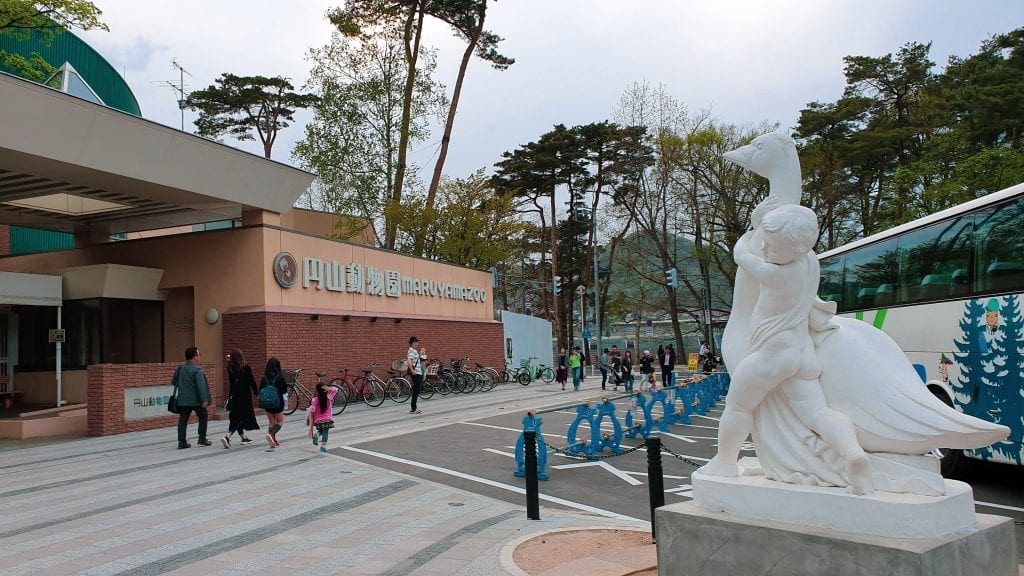 If you bring your kids to Hokkaido, take them for a quick visit to this lovely little zoo. This is the oldest zoo in Sapporo, which opened in 1951. You will be able to see more than 700 animals of about 170 species here. Chimpanzee and bears are the major attractions here.
Hike to Maruyama Mountain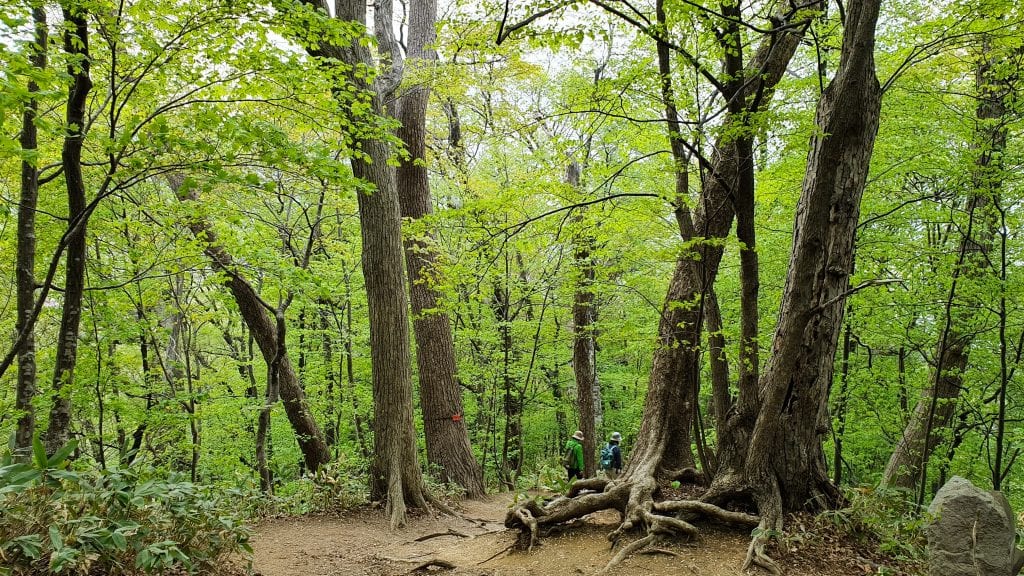 Maruyama mountain is a small mountain of 225 meters. Hiking to the top of Maruyama mountain is a short and easy hike. You will go through large trees like oaks, linden, and Acer pictum. Watch out for the gigantic roots of the trees as your feet can get tangled. It will take less than an hour to go on top.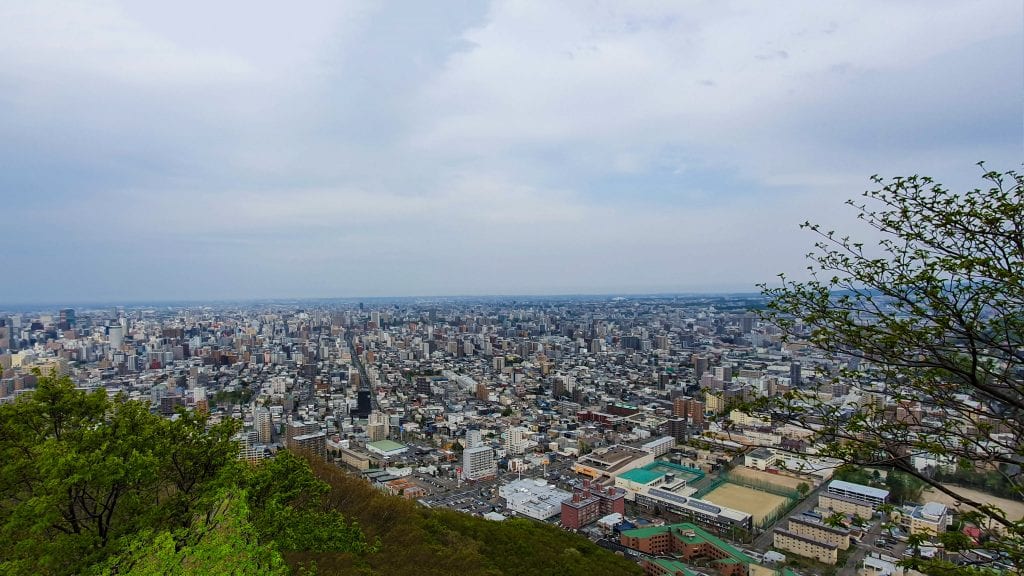 Once you will reach the top of the mountain, you will be able to see a panoramic view of Sapporo city. You can walk around to explore the place. The whole trail is well marked and you won't get lost. If you have any confusion, ask the locals, they are helpful. It will take less than half an hour to get down.
Explore fantastic Asahiyama Zoo
Although Asahiyama Zoo is about two and a half hours away from Sapporo, it's worth the trips. This is the second most visited zoo in Japan followed by the Ueno zoo in Tokyo. The major attraction is a transparent tunnel through which you can see the penguins to play, fight, and parade. Besides to name a few of the popular animals are polar bears, seals, lions, and giraffes.
Book a trip to Asahiyama Zoo
Otaru – one of the great day trips from Sapporo for relaxation
Otaru is a little harbor town and a popular tourist destination. Visiting there will give you a Venice like vibe as it has canals throughout the town. You can reach there from Sapporo within half an hour. The best way of exploring Otaru is on foot. Don't forget to eat salmon eggs (ikura) and sea urchin (uni) while you are in Otaru.
Book your private day trip to Otaru
Hotels in Sapporo
Vessel Inn Sapporo Nakajima Park
This is an extremely high rated hotel in Sapporo. Moreover, it's affordable considering the Japanese standards. They serve a wide variety of buffet breakfasts. The only downside is the size of the small room but that's common in Japan.
Unwind Hotel & Bar Sapporo
Did you ever wonder to have your breakfast right at your doorstep after opening your eyes each morning? Unwind Hotel & Bar Sapporo exactly does that. The location of the hotel is great, you will find a subway station within 5 minutes of walking distance. The buzzing Susukhino district is also nearby.
Hotel Clubby Sapporo
Clubby Sapporo is located next to Sapporo Factory, if you love to shop, you can find plenty of shops there. The room size is bigger compared to other Japanese hotels. The buffet-style breakfast has a variety of collections of foods.
Ibis Styles Sapporo
Ibis holds a special standard worldwide, for Ibis Styles Sapporo, they went above their standard. This is a very popular hotel in Sapporo. The nearest subway is only a couple of minutes walk and it makes communication easier. The staffs are nice and provide good service.
JR Tower Hotel Nikko Sapporo
This hotel is located in the best place in Sapporo, just on top of the Sapporo JR station. You will get some of the best views from the top. This is a fantastic choice to stay in Sapporo if your wallet permits.
Richmond Hotel Sapporo Ekimae
Have a 10 minutes walk, you will reach the central JR station from here. While most of the hotels offer a check-in time at 3:00 PM, you can check in here at 2:00 PM. The room size is moderate. Overall it's a good value hotel.
Backpackers Hostel Ino's Place
As the name implied, this is a hostel and popular among backpackers. Most of the rooms cater to 6 people. It's a bit far from town, so keep it in your mind before booking the place.
Nakamuraya Ryokan
If you visit Japan, you have to experience Ryokan at least once. Nakamuraya Ryokan is one of the better ryokans in Sapporo. This is strategically located within walking distance of the central station and other attractions of Sapporo. You will find a 7-11 across the corner. The staffs are friendly.
Sapporo Airbnb
If you do not want to stay in a hotel and wanna experience staying with locals, Airbnb is a great option. If you do not have an Airbnb account open on using this link, you will get US$50 credit! In many places, my Airbnb experience exceeded far and those were much better than staying in a hotel. Below are the links to the top 5 Airbnb in Sapporo which I curated by going through their reviews. You can book any of them, I hope, you won't regret it!
Best Restaurants in Sapporo
Ramen Yokocho
Sapporo Ramen Haruka
Gotsubo
Ikina Izakaya Aiyo Kita-sanjo branch
Kani-honke
TK6
How to go to Hokkaido/Sapporo
How to go to Sapporo.
Arrive at Hokkaido/Sapporo Airport by Air

New Chitose Airport is an international airport located 40 Kilometers from Sapporo. Direct flights operate from Hong Kong, China, Korea, Taiwan, Thailand, and even Hawaii. From the airport, you can reach Sapporo either by rapid train (35 minutes) or bus (75 minutes).

Arrive at Hokkaido/Sapporo by Train

This is going to be a long journey for you, and having a JR pass will help. Take a Tohoku shinkansen for going to Aomori from Tokyo. You need to change at Aomori and take a limited express train to Hakodate. You can reach Sapporo from them. I do not recommend this journey as it will take a lot of time.

Arrive at Hokkaido/Sapporo by a Ferry

It's a fun way of arriving at Hokkaido. For reaching Sapporo, the nearest port is Otaru.
Book shared transfer to Sapporo from New Chitose Airport
Liked the Day Trips from Sapporo? Pin it!