Ashikaga flower park changed my perception about colors.
I thought my life was full of colors – black, white, red, blue, green, yellow, pink, orange, and one or two more may be. Those are the names of the colors I knew, and I could see the existence of those in my life. So, I was happy about it.
I was so very wrong!
And I didn't know it, or wouldn't know about it, until I entered a park far away from my country.
Ashikaga Flower Park opened my eyes with the colors I never knew could exist on earth.
When some Japanese friends suggested this flower park, I was doubtful.
"Flower park? We also had a flower garden in my backyard."
They were pretty hurt, and I pretended to ignore it, however, it was all over on their face. So, one morning, when I alighted the train to the park as a day trip from Tokyo, I didn't inform anyone; it was a secret mission. In fact, I found no other better place to go on that day which is 90 minutes away from Tokyo. Was Google not working on that day? Sorry, I forgot!
Variable Ticket Price
The first blow for me was the price of the ticket. They don't have any fixed price for the entrance!
What?
Yes, the ticket price is variable depending on the time of the year. So, I paid more than a thousand Japanese yen to enter the park. Instantly, I was in a wonderland full of colors. The transition from the actual world to a world of colors took only a minute.
Reading Suggestion: You must know these things before visiting Japan
A Walk in the Ashikaga Flower Park
As far as my eyes went, I could only see flowers. I am not a big flower lover and I don't know their names. However, being a novice, I could vouch them as beautiful.
A tough part of visiting the park was to decide where to visit. It was properly marked and planned. However, it was difficult to focus on one particular one.
So, I walked through a gate of celebrations made of green leaves. It was very busy as the photo hunters wanted to have a piece of their memories with it.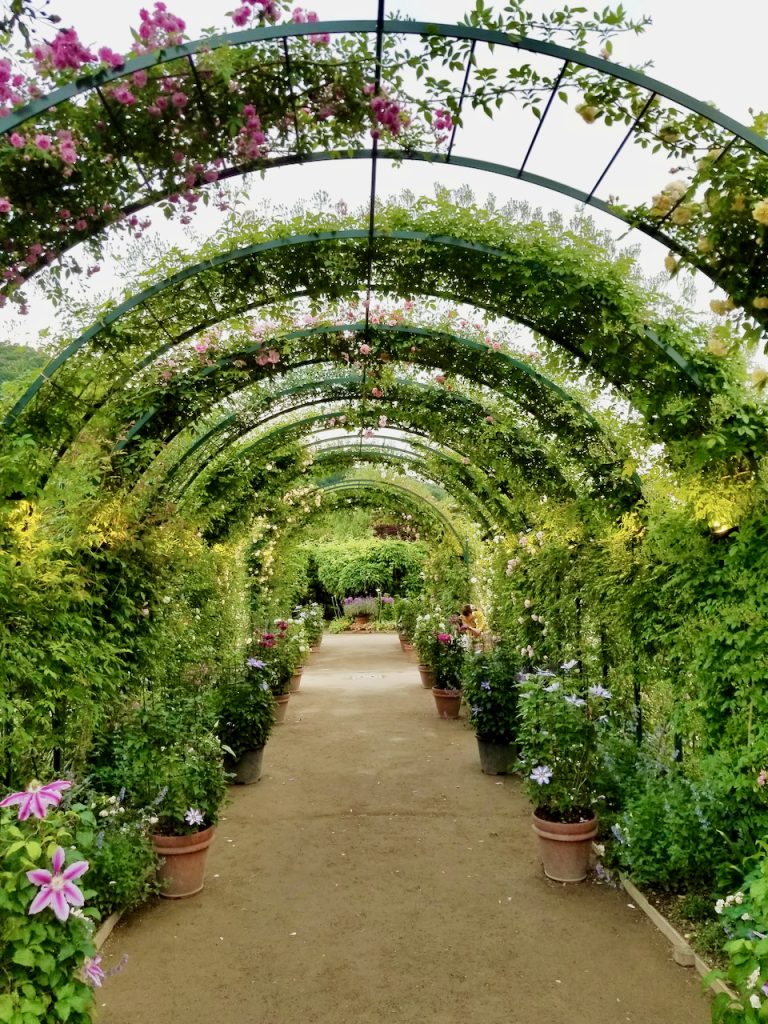 Then, I met with an ice-cream cake – yes, that's what came in my mind when I saw these violet beauties.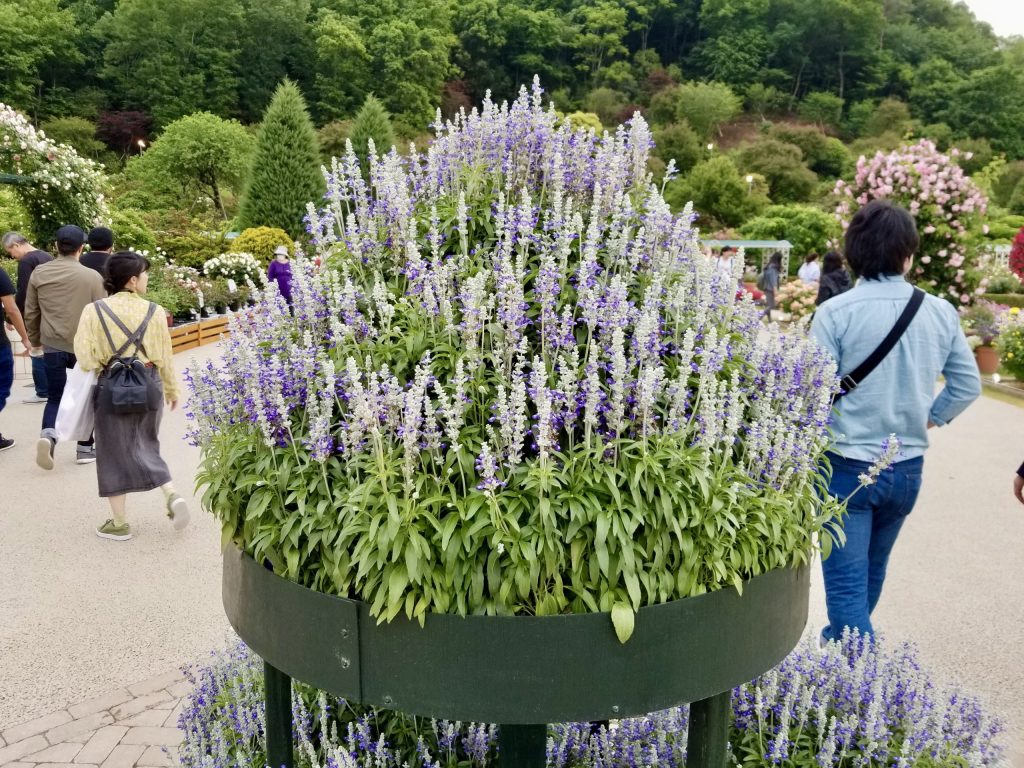 I was happy to see a bunch of pinkish roses laid in rectangular areas. Those will surely spark at night, I could see lights in the base.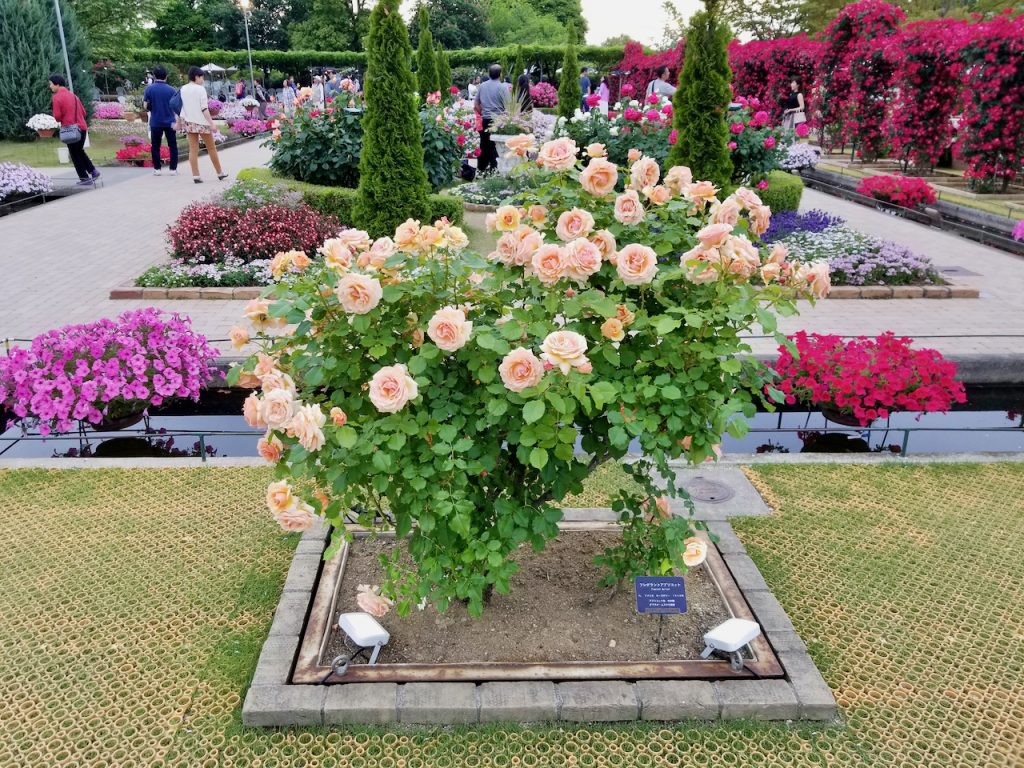 As I moved past, I saw yellow, red, white, purple and as I mentioned – many unknown colors. Even the flowers kissed the gates through which we were roaming. The tree far must have wondered what's went wrong! Why don't I have some flowers?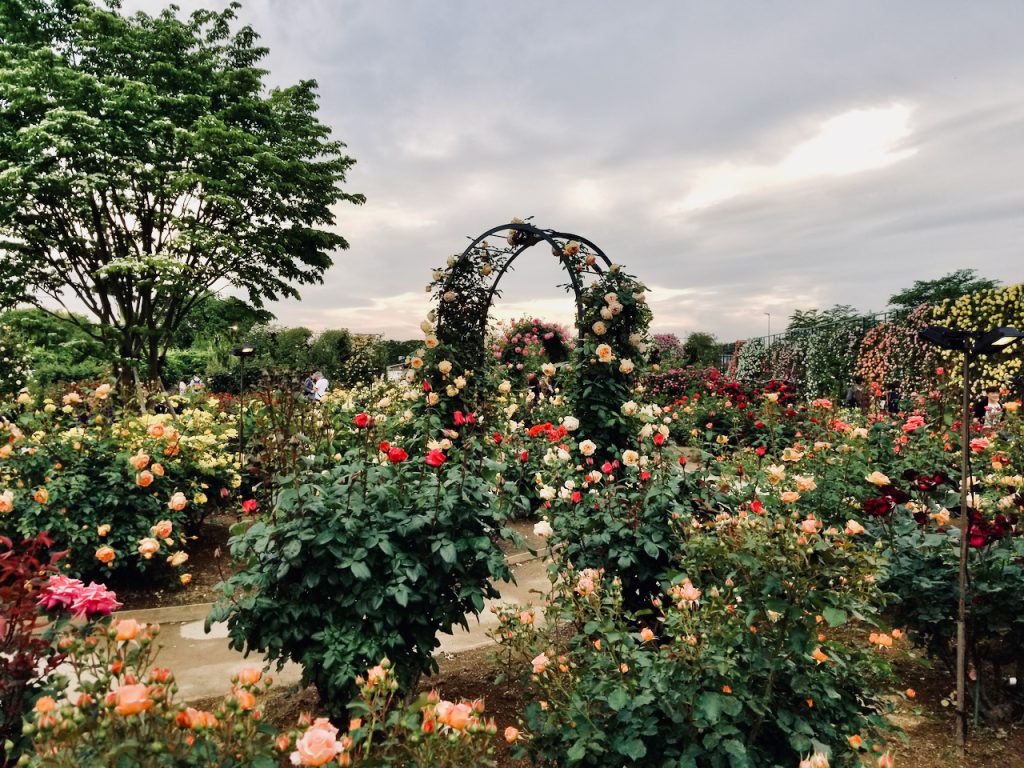 I don't dare to take names of the flowers; I picked some from the placards there – winter clematis, Christmas rose, iris, hydrangea, fuji, lotus flower and so many more.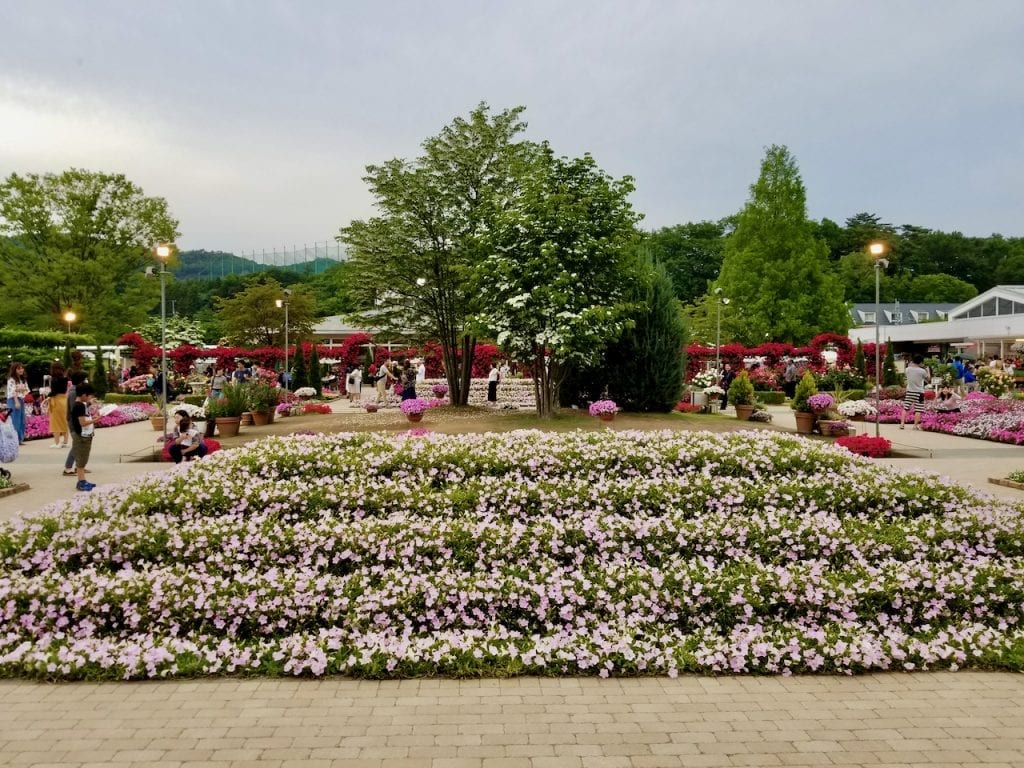 There were so many designs of flowers in the backdrop of greeneries. Just like the one below, it looks like floating in a tranquil pond and gave me a notion of colourful corns.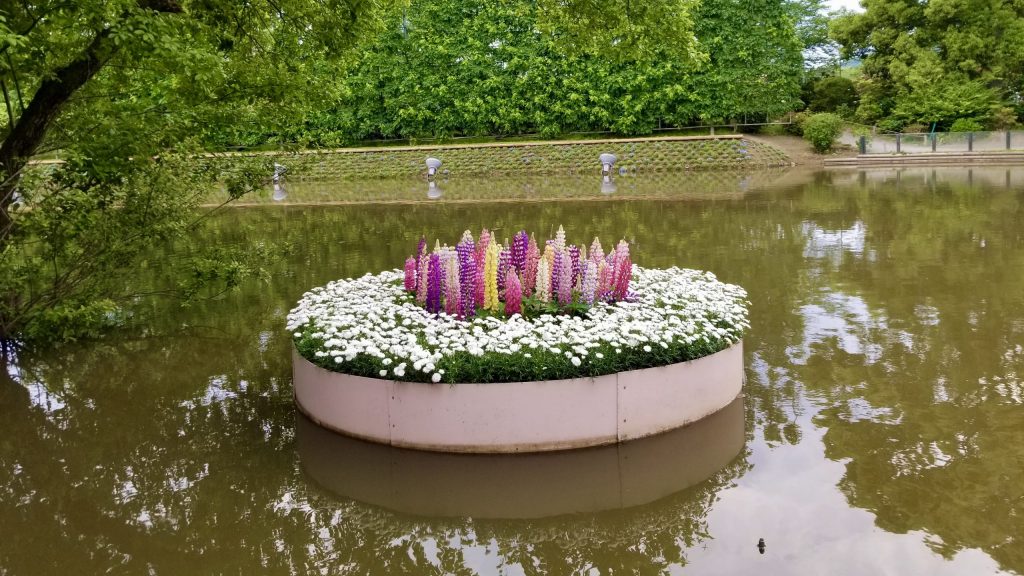 A pond was giving calmness to the park. When you see the bridge, you know that you are in Japan.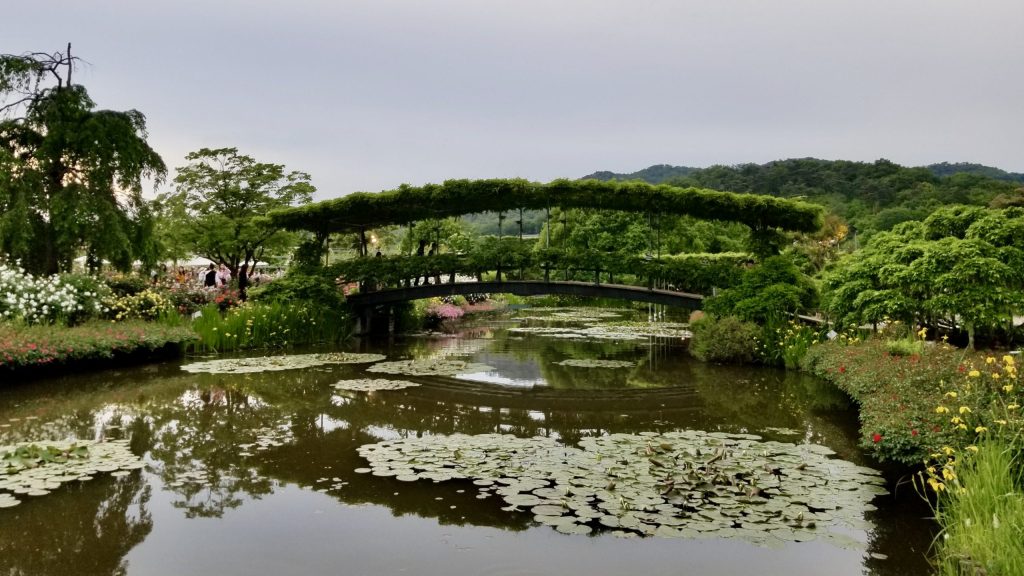 Egypt was not dropped behind either. There were many colorful pyramids of flowers made of woods proclaiming their presence.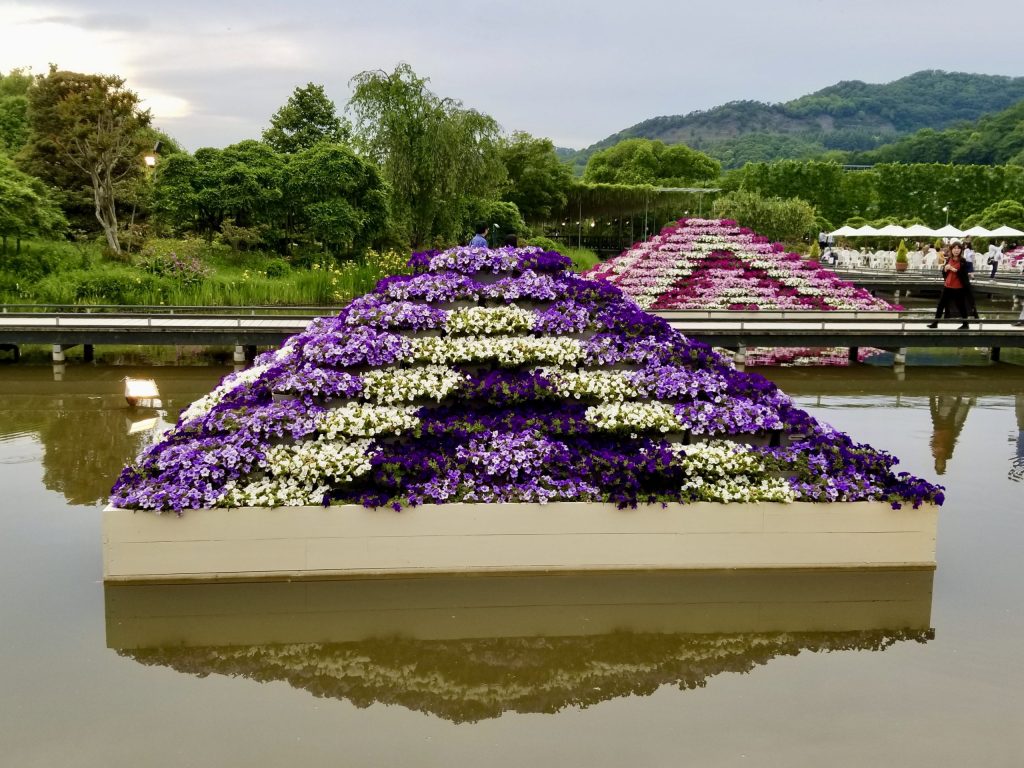 I had to stop for a moment to witness the simplicity of Japanese design. I rested on this bench to appreciate it and the surrounding beauties.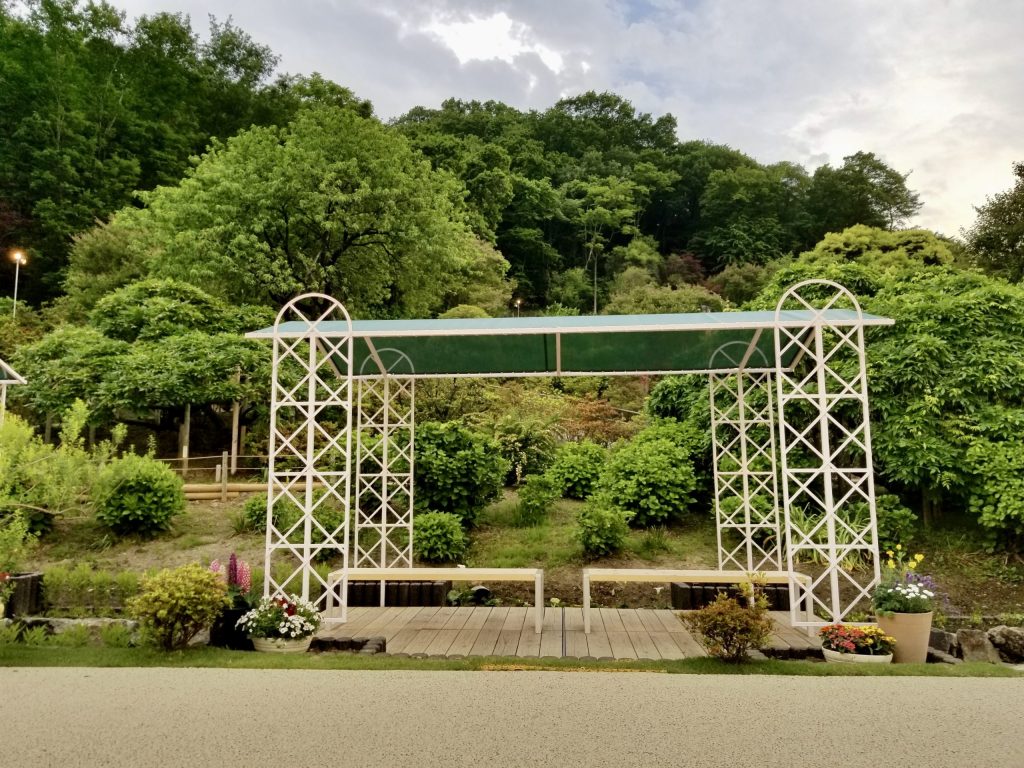 And the wandering began again with the beautiful pathway made of flowers to the both sides of the road.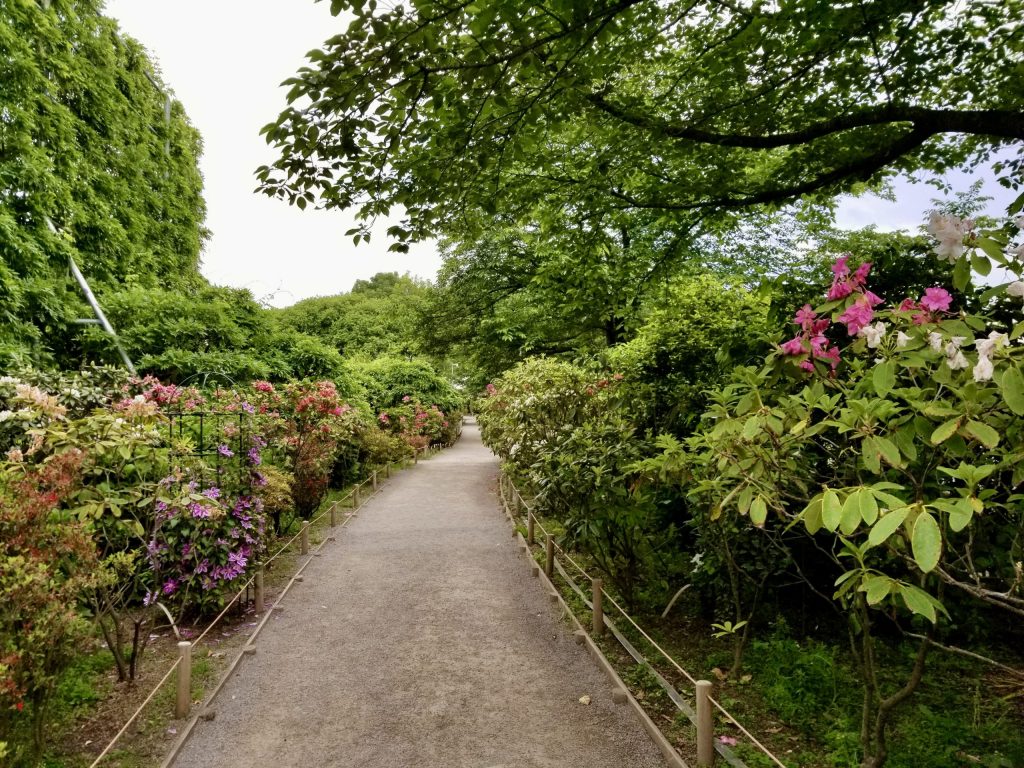 I heard that it looks gorgeous at night. But I wanted to contemplate whatever I saw during the day. So, as soon as the light showed their presence, I left.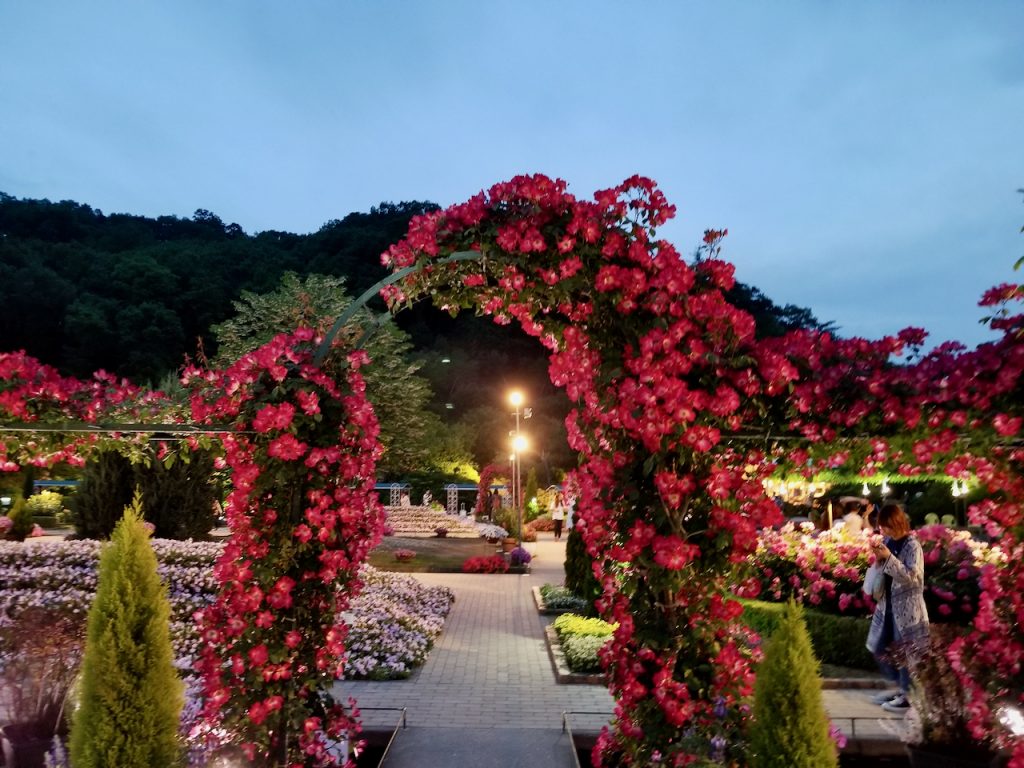 It was a day of wonders. NO! It was a day of colors in a serene floral kingdom.
Can I add all of those to my life one day?
If you want to book a trip to Ashikaga Flower Park ahead, you can do it from here.
If you want to enjoy an exclusive private trip to Ashikaga Flower Park, click here.
How to go to Ashikaga Flower Park?
Ashikaga Flower Park is in the Ashikaga City of Tochigi Prefecture. It's 90 to 100 minutes train ride from Tokyo. You can go to Oyama Station, change your train there to Ashikaga Flower Park Station. Then, it is 500 meters walk.
Did you know? Nikko is a fantastic weekend gateway from Tokyo.
Trivia
The area of the garden is 23 acres or 94,000 square meters
It's famous for wisteria tree, many people visit this park only to see wisteria tree
There are over 350 wisteria trees in the park
Don't forget to find a wisteria tree over 100 years old
Fuji is the second most famous flower in the garden
You will find wisteria flavoured desserts there, do not forget to try them
Entry fee of Ashikaga Flower Park
The ticket price is variable. It varies depending on the time of the month. Below is a chart of the entrance fee to get an idea.

Opening hours
9:00 AM to 6:00 PM on weekdays, till 9:00 PM on weekends + public holidays
7:00 AM to 9:00 PM during wisteria festival (mid-April to mid-May)
Closed on 31 December, and third Wednesday and Thursday of February
Loved Ashikaga Flower Park? Pin It!