Karikomi Lake or Lake Kirikomi is a beautiful Lake in Japan. Located inside the Nikko National Park, you can visit there with a several hours of easy hike. Anyone with a relatively good fitness level can hike there and it's worth doing it if you are in Nikko.
I crossed the road and looked at a steep ascend. You can expect a wooden signboard somewhere in this situation- that's what Japan is all about – system! But this time, I didn't find any. It's already 2 at noon. We just completed our lunch – me and a buddy of mine. Hesitantly, we agreed to climb. This is how our hike to the Karikomi lake in Japan started.
Beginning of the hike to Karikomi Lake in Japan
For the initial 10 minutes, it was all about rising through man-made stairs. It's mid-May in Japan. Although spring, it did not view like one. To me, winter left its marks everywhere. The tree deep in the mountains is grey without leaves. The mountains themselves look empty. I imagined them buried in snow during winter a month back. In a few months, the trees will twist in a brilliant shade of colors during Autumn. I was cursing my luck; I wish I were here earlier or later. But, in that instance, I would have missed this desolation.
Snow during our hike to Karikomi Lake
I was pondering all these and suddenly saw black patches of mud. Within the next 5 minutes, I stepped on the ice. As I approached, the amount of whiteness beneath my feet increased. There was no one on the trail. My companion and I were all alone. The snow around elated us. We are from a tropical country and never experience snowfall here, bitter winter in my country means 10-degree celsius.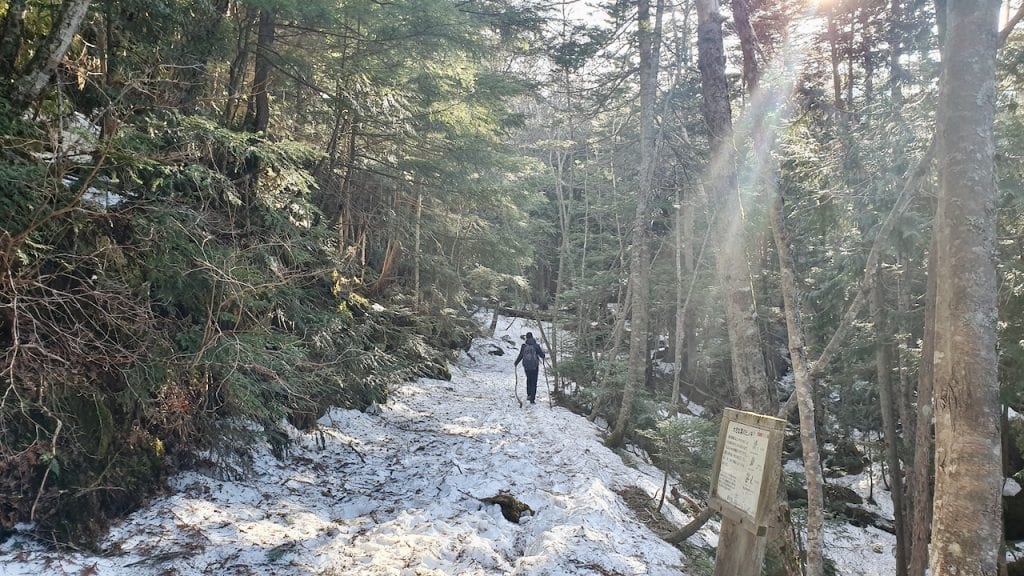 I tried to break some dead sticks to use them as a hiking pole. They were so fragile that I could not use them for over 5 minutes. However, I needed help and continued trying with the fresh ones.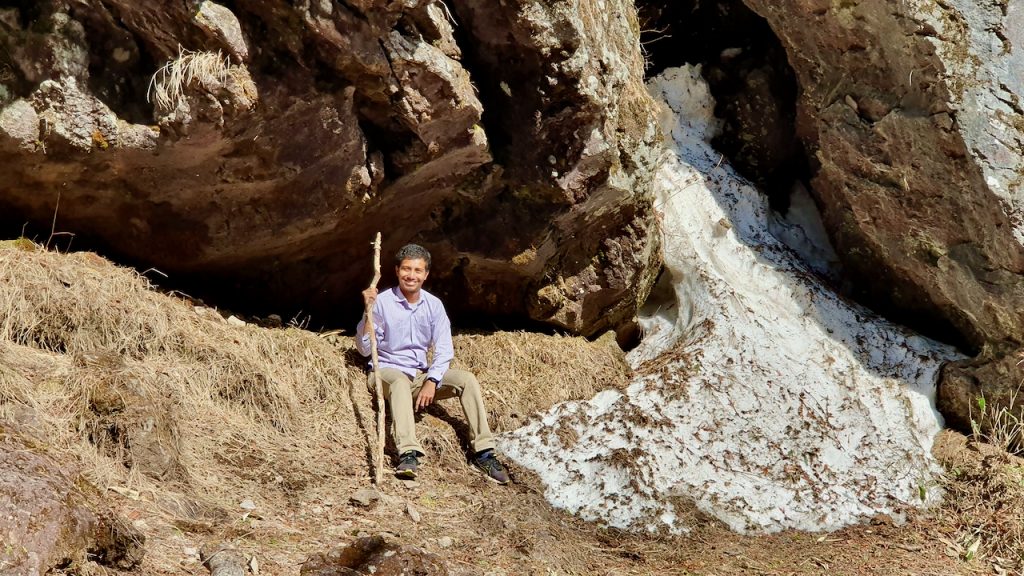 Our excitement of walking on the ice receded. First, it became very slippery and made me fall down twice. As I was not expecting such a trail, my shoe did not have a proper grip. Second, as the soft ice broke whenever we were striding forward, our feet went beneath the ice. So we had to step on them with utmost care. Third, the pathway pointing to several confusing directions. Last, the sun started losing its glow by every minute.
Unsure about how far the trail goes on, we had to stop to review our plan.
Should we move forward?
Or should we go back?
Any sensible person would have chosen for the first option. We lost our mind that day, so, cursing each other and our luck, we marched forward. Both of us started babbling, don't know why.
To make the situation worse, I felt cold. The fancy fleece was good enough for me an hour earlier, it's not warming me anymore.
In the meantime, we crossed several wooden bridges and climbed stairs. The dead leaves on the ice created some admirable natural patterns in some places.
The Final leg of our trek to Karikomi Lake
The forest became dense at some points and made it difficult for us to move. In films, a bear roams around in such kind of forest. It was not a film set, but the actual world. As much as I would want to see a bear coming out of the forest and challenge the hikers in a film, I was not at all interested to happen it in actual life. I panicked again – a bit.
Are there any bears in the forest?
Any wolves?
Why are we so fearful?
Are we born with fear?
Or does the fear grow inside of us with as we grow old?
I paused for a while, pulled out my cellphone to search for it on Google. But when did I get something when I required it the most?
Yes, you are right. My phone could not intercept any network coverage, and we were in the middle of nowhere. Ignorance is bliss, so no bears or wolves for us there.
When I started missing my scarves, too, I spotted something on the horizon – a glimpse of emptiness. And, I can vouch, I hardly appreciated emptiness that much in my life.
We descended, the trail ended, and we reached at our destination.
We were right near the Karikomi lake.
A majestic panorama of mountains surrounded us. An obvious reflection of Mount Taro on lake Karikomi dazzled our minds. The water was so calm, I could not see any waves. I wanted to jump into it and indulge myself in the water. But I did not want to disturb the meditating lake. Rather, I perched on a fallen tree, staring in the mountains, the lake, and its tranquillity, thinking about the source of the ash near my feet.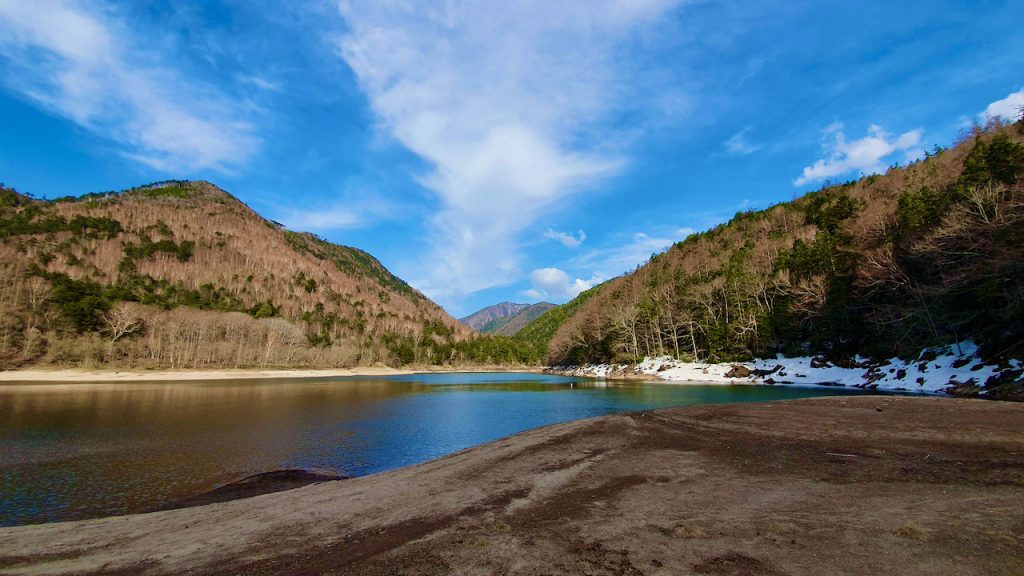 The time ceased.
A pin drop of silence.
Not a single human being to take away this silence.
Just an hour of journey took me to a novel world.
The actual world.
A world expected to be just like this before the humans invaded.
Location of the Hike to Karikomi Lake in Japan
Nikko is a small city in Japan. A 20 minutes bus ride from the city center of Nikko will take you to Yumoto-onsen. You will find the base of the starting point of the hike there. From there, the hike to Karikomi lake is 2 hours away.
Important information of hiking Karikomi Lake
Is there any restroom on the trail of Karikomi Lake?
You will not find any restroom on the trail, but you will find plenty of nature to do the job.
What kind of trees will I find near the Karikomi Lake?
You will find beech and Mongolian oak trees near the lake.
Will I find any restaurant during my hike to the Karikomi Lake?
No. Don't forget to take some food and water with you. You will be hungry as well as thirsty.
Tips for hiking Karikomi Lake
One can make the trail longer by adding Lake Kirikomi on the list. Karikomi lake and Kirikomi lake are connected with each other.
You can relax in the Yumoto-onsen once you are done with the trek
The surrounding looks different depending on the season. So, if you did it once, you can go there again in a different season.
Things to do in Nikko?
Visit this link to read about the list of things to do in Nikko.
Liked the Hike to Karikomi Lake, Japan? Pin It!