If you make a list of 10 top visited tourist destinations in Japan, you will find several of them in Kyoto. Located in the Kansai region in Kyoto prefecture, it acted as the capital of Japan once upon a time.
You won't find a single Japanese itinerary without mentioning Kyoto. It is arguably the most popular tourist destination in Japan. Kyoto is full of history, and ancient Japanese architecture in the form of shrines and gardens. Hokkaido might be the prettiest of all the places in Japan, Nikko might provide you with a wonderful day trip from Japan, Hiroshima might take you to the genocide of the war, if you want to know about Japan, Kyoto is the place to go. You can call Kyoto the cultural capital of Japan. Here goes the ultimate 3-day action-packed Kyoto itinerary for you!
Traveling to Japan for the first time? Learn these fantastic tips for Japan.
Day 1 of 3 Day Kyoto Itinerary
Fushimi Inari Shrine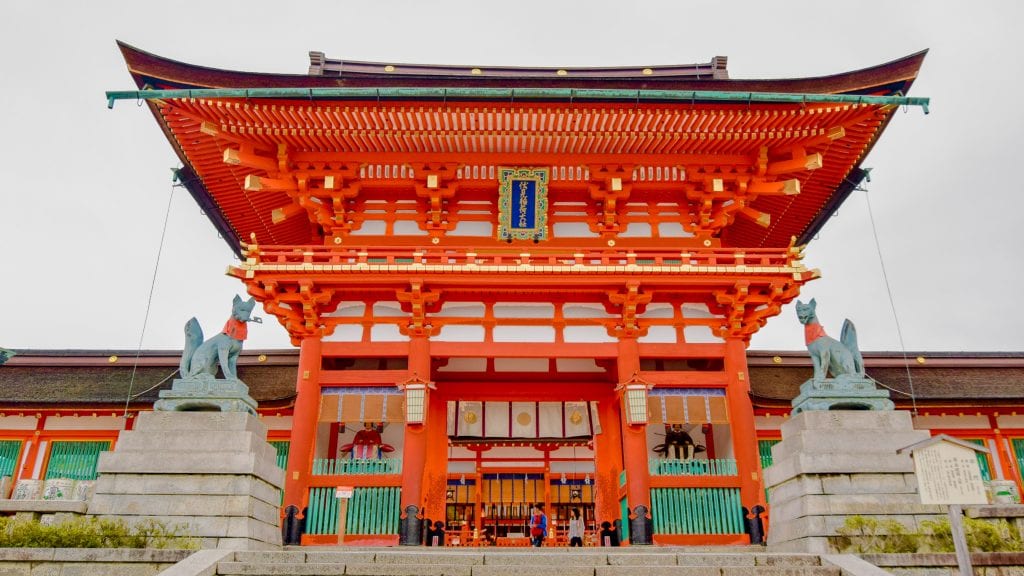 Fushimi Inari Shrine or Fushimi Inari Taisha is the most photographed shrine in the entire Japan. The entire complex in fact comprises 5 shrines. The entrance is gorgeously built with a vermilion color gigantic wooded gate. You will find two foxes with key guarding the entrance of it.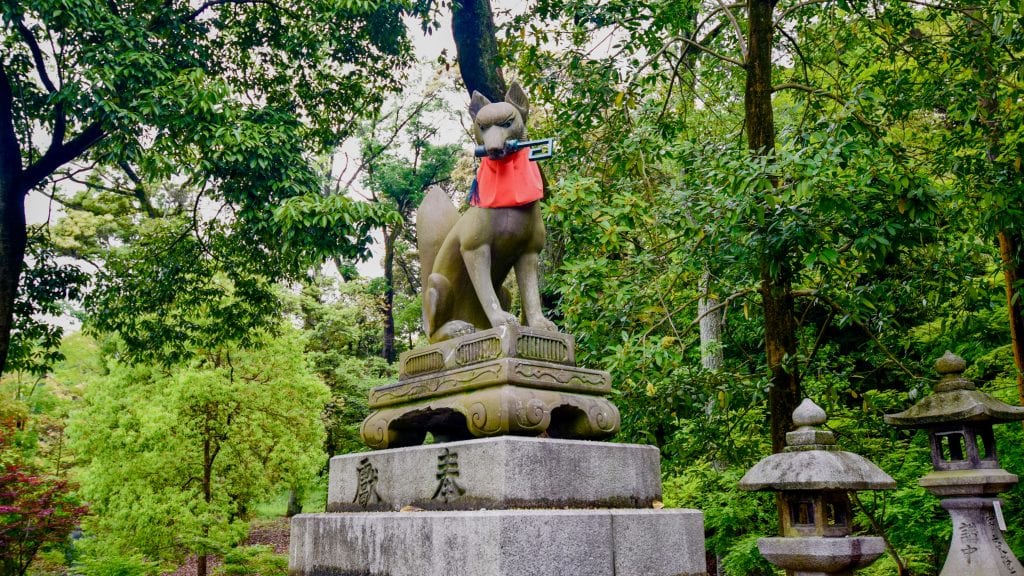 Speaking about the fox, you will find several ones made of stone. All of them are holding a key in their mount. This shrine is dedicated to the Gods of rice. The God of cereals is called Inari. These foxes are considered as the messengers of Inari and sometimes referred to as the Inari directly. In one sentence, the Inari looks after agriculture and business. There are many small Inari temples throughout Japan, however, this one is the largest.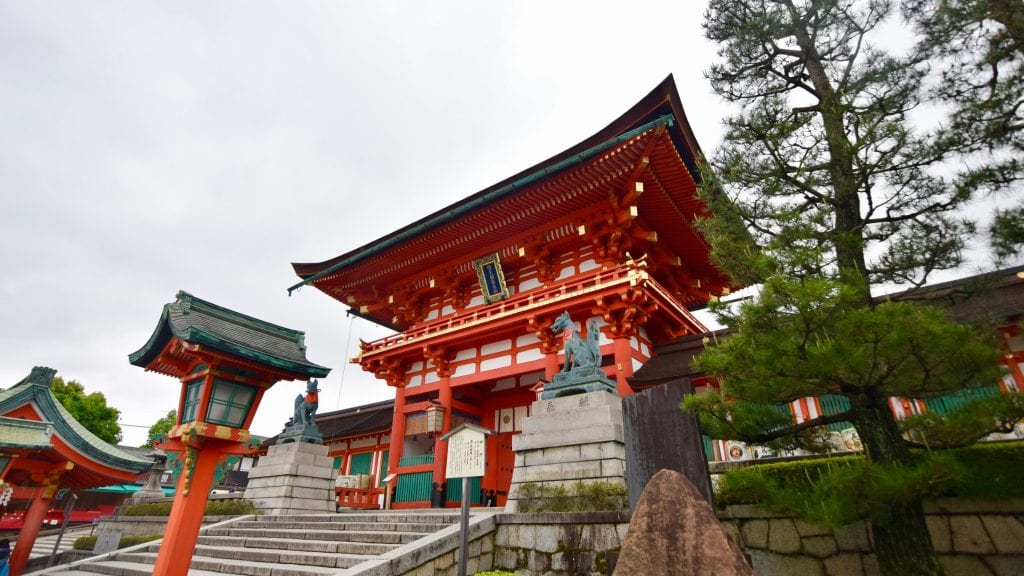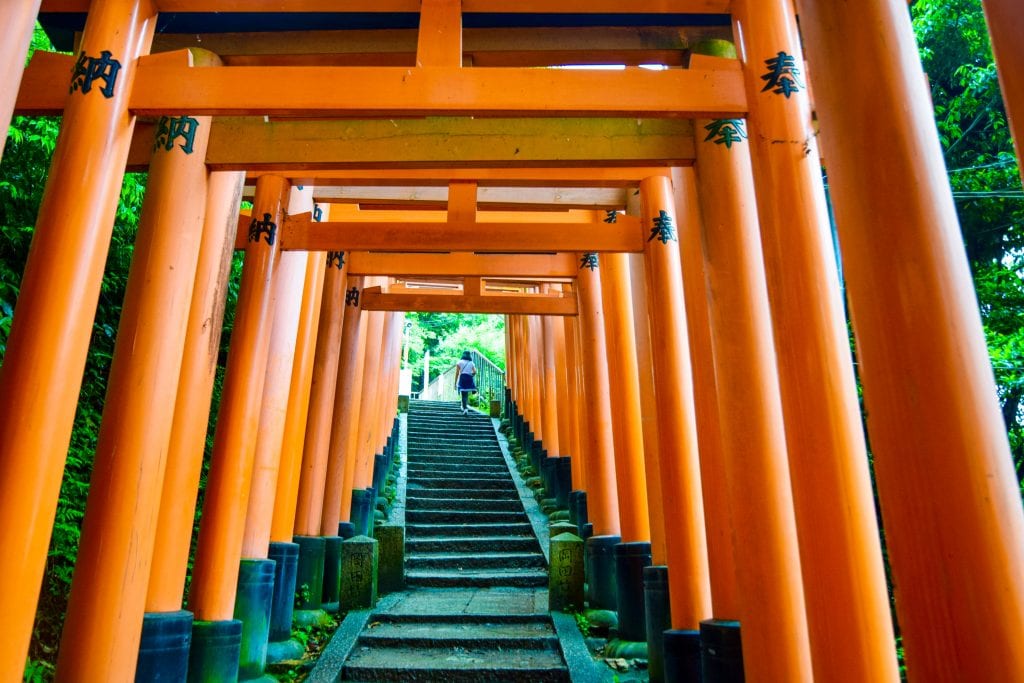 Inari shrine is located at the base of Mount Inari. You will find stairs going to the mountain surrounded by vermillion color tori gates. I didn't count but read that, there are a thousand gates there. A 2 hours hike will take you to the top of Mount Inari through these gates. It feels different walking through them as the colors of the gates will put colors in your mind. It's a relatively easy hike and you can do it if you have a moderate level of fitness.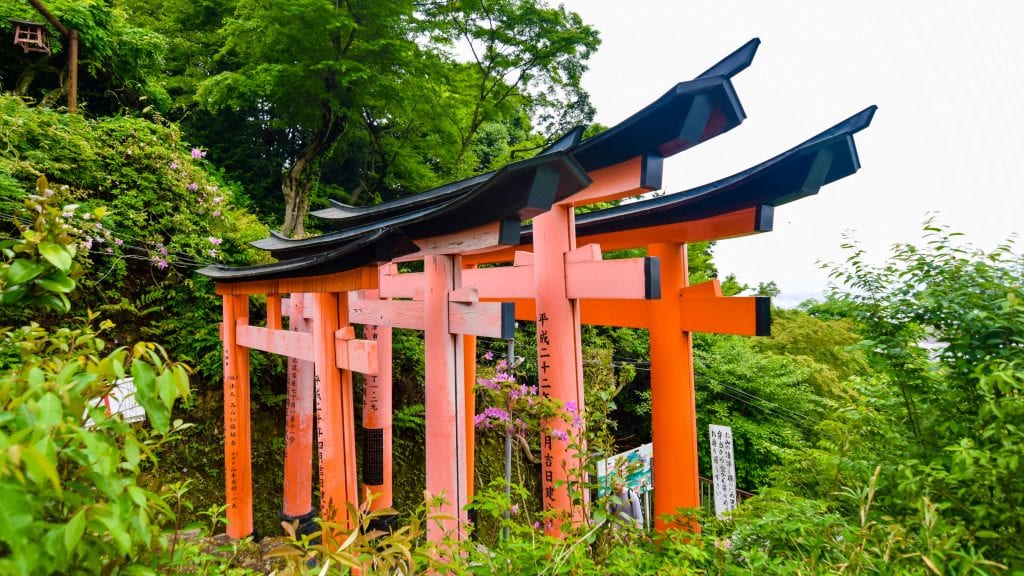 You will even find a bunch of Torii gates on top of Mount Inari. If you wonder what are these "Torii gates", they are a traditional Japanese gate mostly found at the entrance of a Shinto shrine. They are made of stones and wood. Back to the top of Mount Inari. Once you are on top of it you will have panoramic views of the surroundings. You will find plenty of greeneries. The views, although unobtrusive, are nothing spectacular. However, The journey towards the top is fascinating.
Suggested Time:
5 hours
Nijo Castle
This is one of the most famous castles in Kyoto. It was an imperial palace of Shogun and built in the 16th century. It occupies a huge area of 68 acres. This is a part of the seventeen sites in Kyoto forming UNESCO World Heritage Sites. It has a huge gate, a castle inside and a beautiful garden.
Opening Hours
8:45 AM to 4:00 PM (You can stay inside till 5:00 PM)
Nishiki Market
If you are a food lover, the Nishiki market will be heaven for you. These several blocks of narrow streets contain over 100 restaurants and shops. Nishiki market is several centuries old and has every kind of food Kyoto offers – sushi, sweets, seafood, pickles, Mori – you name it!
Opening Hours
9:00 AM to 6:00 PM. Best to visit during middle of the day.
Book your Nishiki Market food tour
Take a stroll at Gion
From Nishiki Market head towards Gion. Gion is an ancient geisha district. There is no particular landmark to visit here. All you should do is walk in the street. Hence, you will be gifted with two things – one is the traditional wooden houses, and restaurants and the other is the geisha with their trademark dresses. If your objective is to see the geishas, it's suggested to visit Gion during the evening roughly between 4:30 PM to 6:00 PM when they come back home after duty.
Kyoto Tower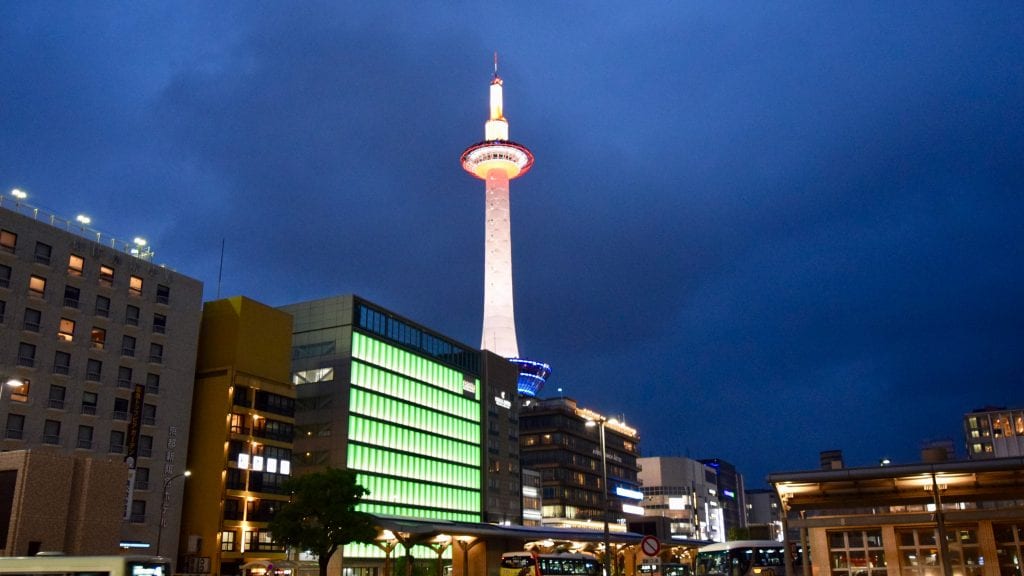 Although Kyoto is famous for its ancient shrines, it has some marvelous modern architectures. Just get out of the Kyoto station and you will find 131 meters iconic Kyoto tower. It's the tallest construction in Kyoto and will provide you an opportunity to enjoy a panoramic view of Kyoto from a platform 100 meters from the ground. You will find a binocular in the observatory deck which is free to use. Interestingly, you will find no other construction taller than this which is made without a steel frame.
Opening Hours
7:00 AM to 10:00 PM.
Buy Kyoto Tower admission ticket online.
Day 2 of 3 Day Kyoto Itinerary
On day 2, you will be heading towards Nara, the ancient capital of Japan. Nara is 46 Kilometers from Kyoto and can be reached within an hour by train.
Nara Park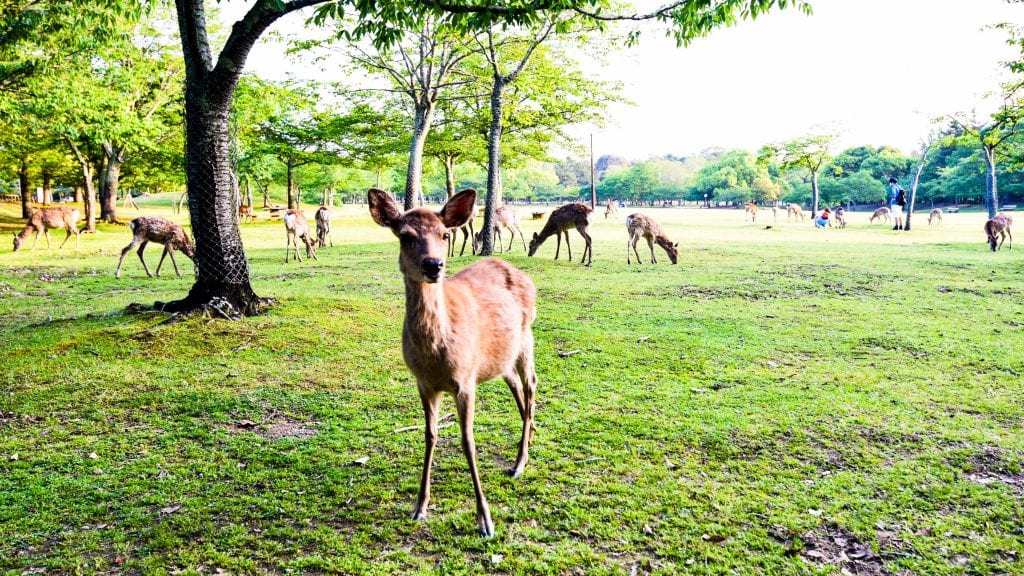 If you walk a bit from the Nara central station, you will arrive at Nara Park. You will see plenty of deer there. They are also called Nara deer. The deer are tame and friendly. The Nara deer usually gaze in the park, however, you can call them to take photographs with them, too, they won't mind. You can even feed them. There are shops around selling biscuits made for deers.
Book your Deer Experience trip from Kyoto
Isuien Garden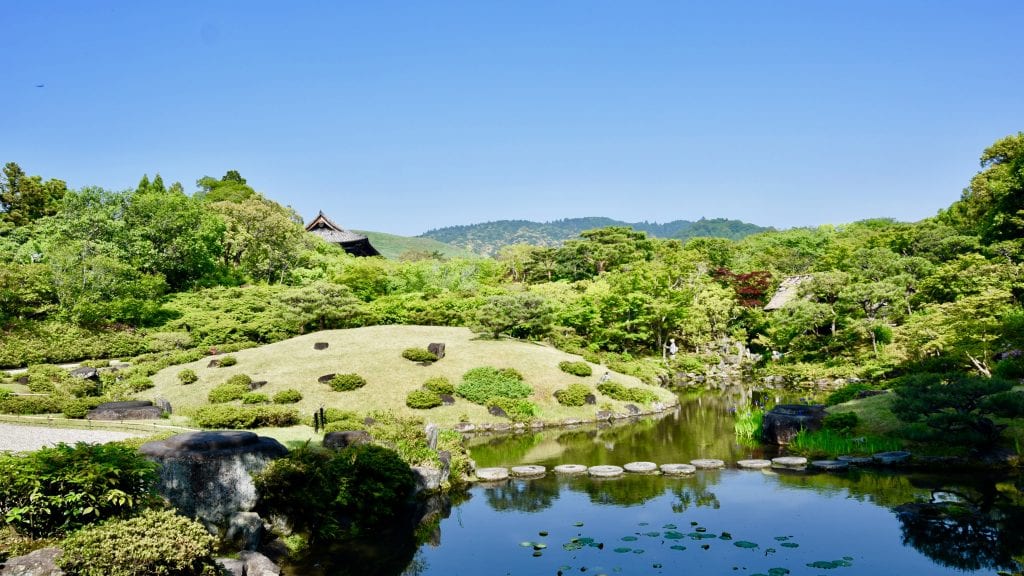 Isuien garden is my favorite garden in Kyoto. This walking garden is from the 17th century when the Meiji ruled the country. This green garden has a beautiful pond (its shape is such that, it reads water in Japanese), decorative stones, sculptures of tortoises, and cranes. The greeneries are all around and the Mount Wakakusayama works as a perfect backdrop. The total area of Isuien garden is 13,500 square meters.
Nigatsudo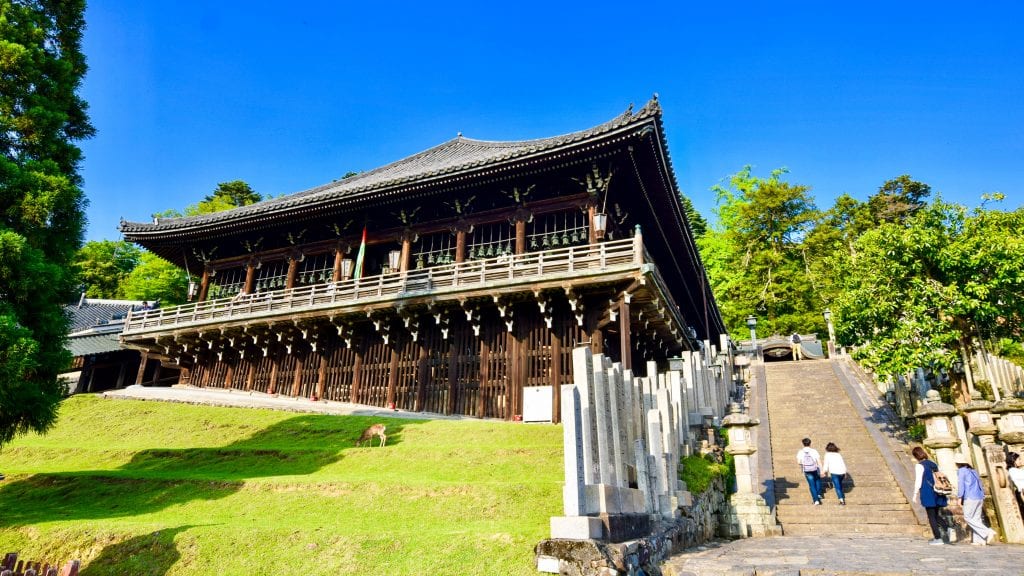 You may feel tired counting the endless temples in Kyoto. Nigatsudo is one of them and located in Nara. You need to reach the temple with a staircase as it is located on top of a small hill. This might be a smaller one compared to others, but, it offers the best sunset in Nara. Even if you can't make it till the sunset, you will be rewarded with a great view from the balcony of the temple.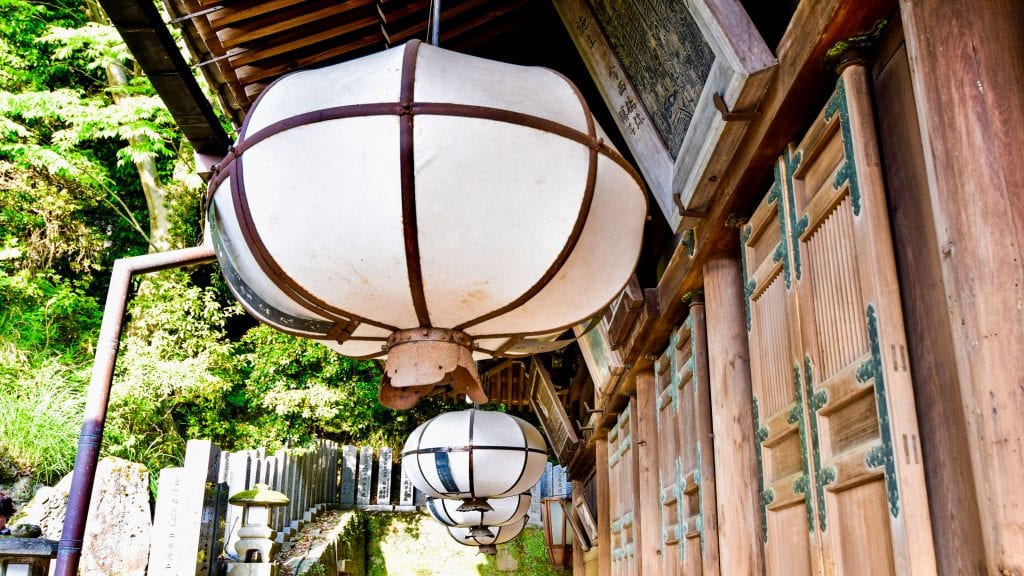 I was impressed with the intricacy of the design of the temple. The wooden curves were sublime and the lamps hanging from the ceiling added some extra aesthetics to this structure. I wish I could bring one of the lamps home!
Book one day Kyoto and Nara tour
Day 3 of 3 Day Kyoto Itinerary
We will be heading towards Arashiyama on day 3 of the 3 day Kyoto itinerary. It's 10 Kilometers from Kyoto and offers many fantastic things.
Togetsukyo Bridge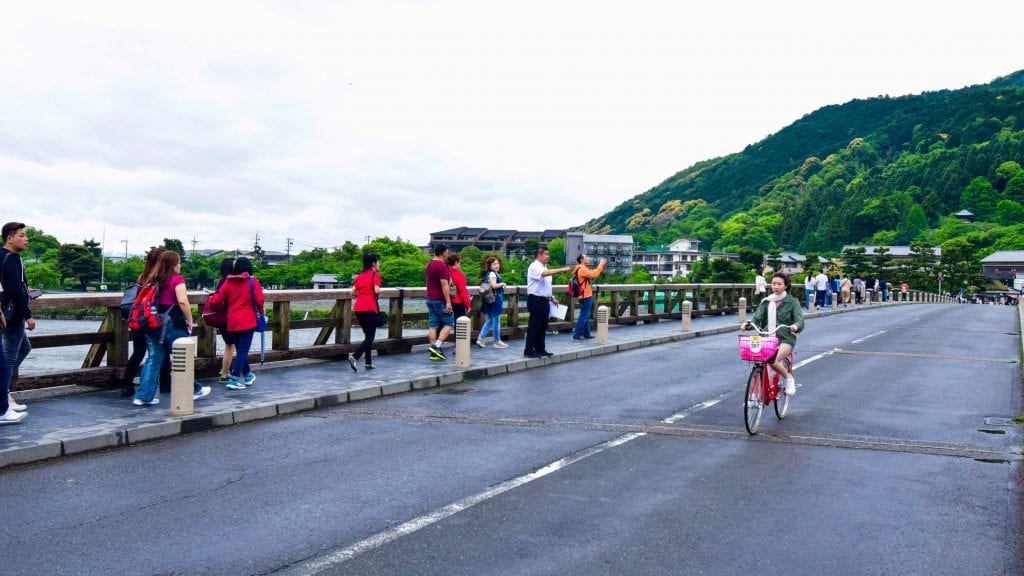 After reaching Arashiyama, a short walk will take you to Togesukyo bridge. It's an ordinary 155 meters bridge built over the Katsura River. The bridge itself might not be a fantastic tourist destination, however, the surroundings make it looks lovely. You can either rent a bicycle or take a walk there. You will face the beautiful Arashiyama mountain in the far. Depending on the season it will look either green, pink, or yellow to orange.
Book your Arashiyama bicycle tour
Walk in the nature trail of Arashiyama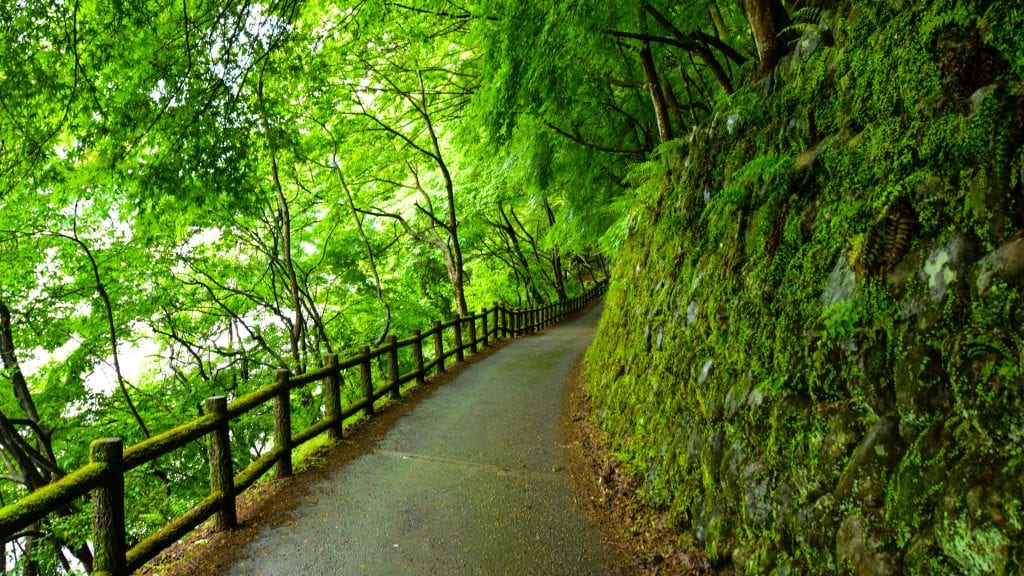 While Kyoto will offer you the most fascinating set of architectures in form of ancient shrines, I was missing the raw natural beauties of a place like Nikko in Japan. Arashiyama satisfied my thirst for it! If you cross the Togetsukyo Bridge, you will find narrow roads going in different directions. I didn't find these routes in any guide book, I just took a stroll there. Believe me, it was soothing and tranquil.
Enjoy the beautiful Katsura River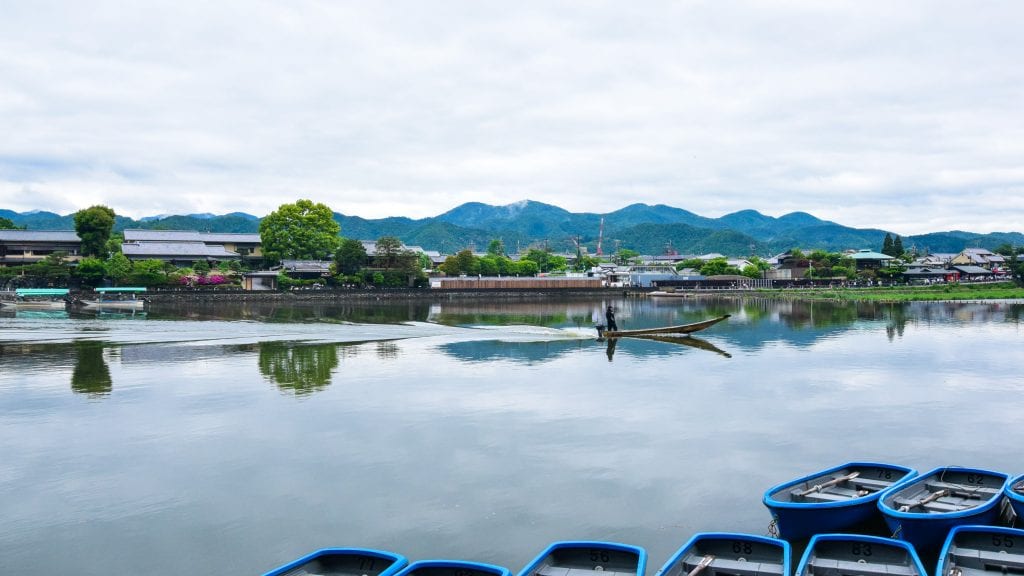 If you want to rent a boat and take a trip to the Katsura river, just do it! Even if you don't do it, just sit at the bank of the river as the moment passes by.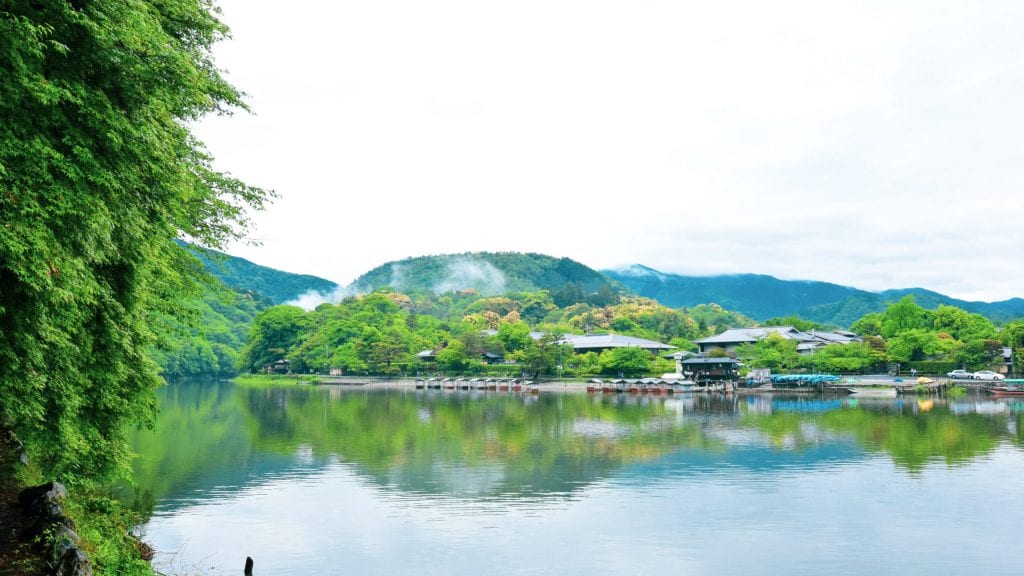 You will see the beautiful Arashiyama mountains as the backdrop and their reflection on the calm water of Katsura. The clouds hovering like page flakes will make you feel like catching them. The serenity
Arashiyama Bamboo Grove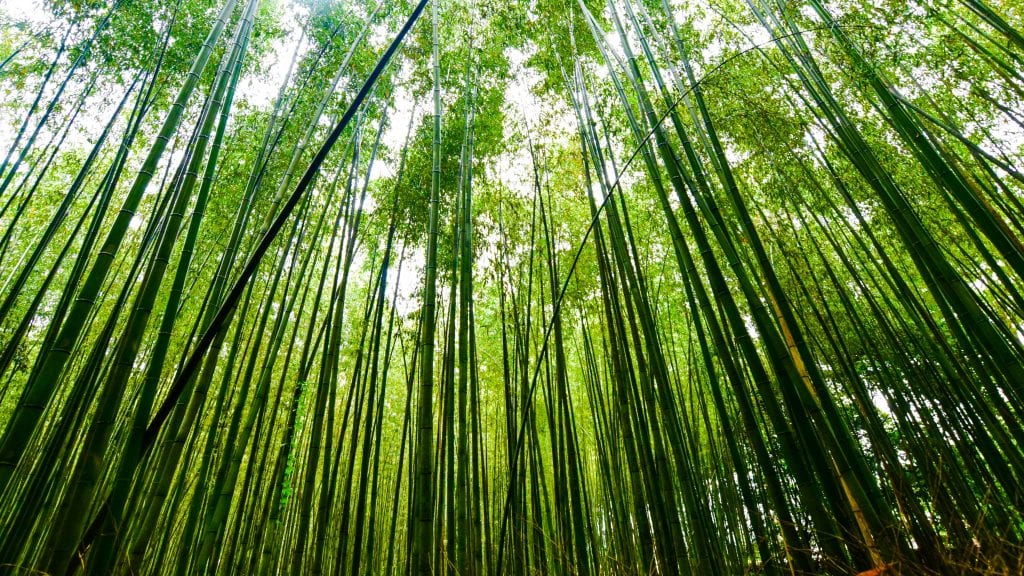 Arashiyama Bamboo Grove is a bucket list destination for everyone visiting Kyoto. This is one of the most photographed sites in Kyoto along with the tori gate tunnels of Fushimi Inari temple. There are so many bamboos stalked up together, it seems like an infinite set of greeneries with the bamboos. You will find a sense of calmness standing amidst this bamboo forest. When the ray of sun arrives through the filter of bamboo leaves, it creates an amazing atmosphere and will make you feel like entering into a different kind of world.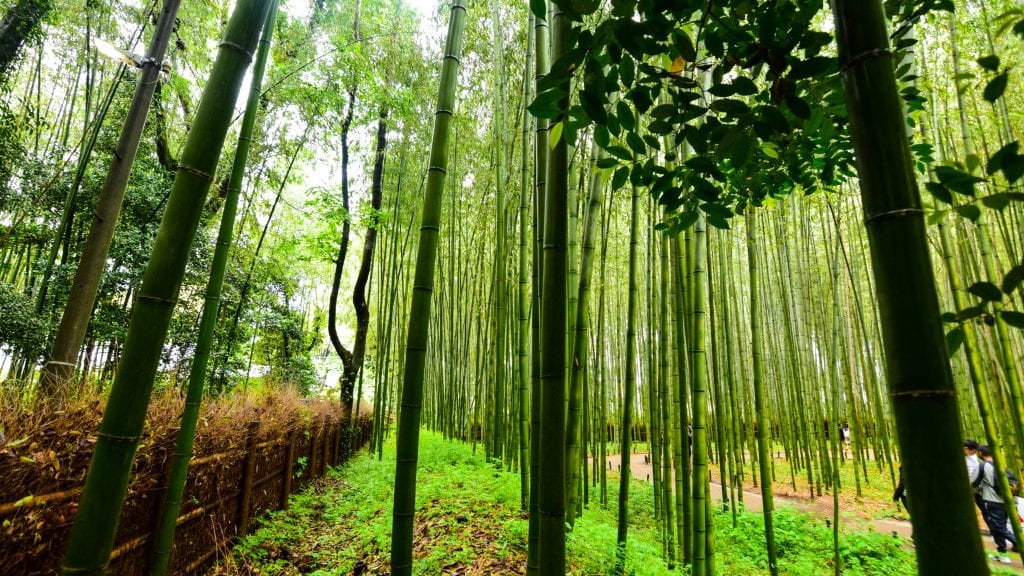 You will find people photographing here in traditional dresses. Besides, one can rent a rickshaw pulled by a human. There are literally thousands of bamboos in the forest. Although it's green, during winter it becomes snow white. The forest becomes extremely crowded at times. The good side is, it's opened 24 hours and there is no entrance fee. This bamboo forest was featured in the OSCAR winning film Crouching Tiger, Hidden Dragon.
Book Arashiyama Bamboo Grove walking tour
Tenryu-ji Temple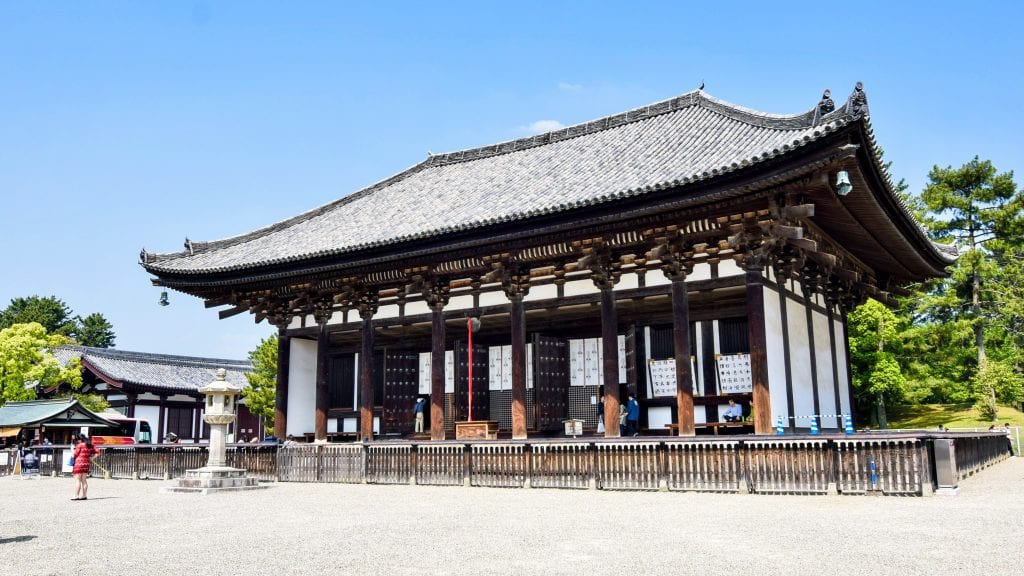 Tenryuji Temple is a Zen temple and the most famous one in Arashiyama, Kyoto. Like most other temples in Kyoto, this is an ancient one that was built in 1339. It got heavily affected by fire and wars over the years. However, the garden is untouched and retains the originality. This garden is a gem and looks amazing during the autumn and spring.
Kinkaku-ji Golden Temple
Kinkaku-Ji is famous for its golden pavilion. The walls of the top two floors are covered with gold leaf. It's a relatively new temple – erected in 1937. There is a pond just beside Kinkaku-Ji, you can see the gorgeous reflection of this temple on the water. The temple is surrounded by greeneries which turn golden in the autumn and provides a surreal view.
It's part of the UNESCO World Heritage Site.
How to go to Kyoto?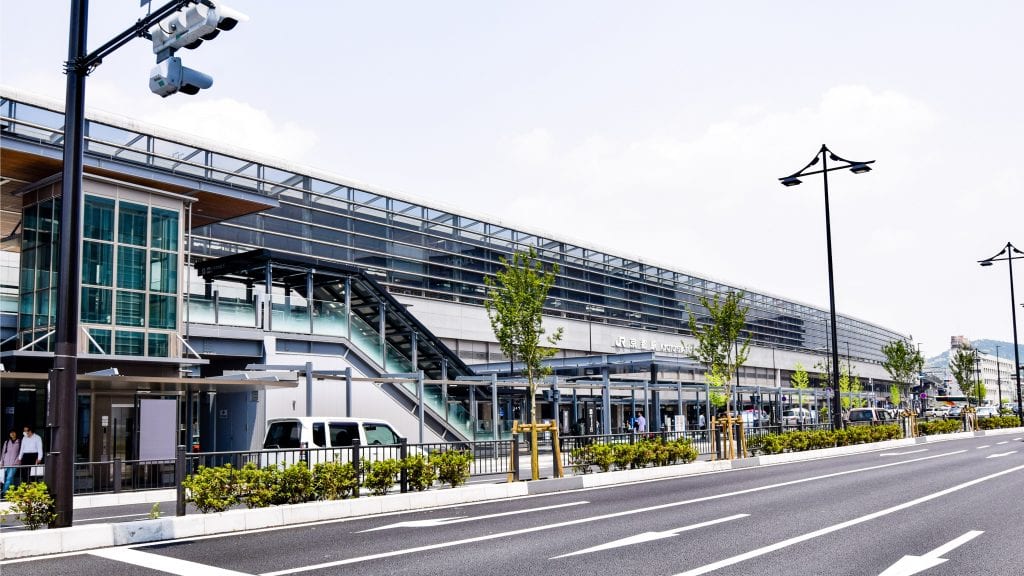 Kyoto is connected with the major cities of Japan with a high-speed train connection. The central train station in Kyoto itself is worth visiting!
You can come to Tokyo International Airport via plane. From Tokyo, you can reach Kyoto in less than two and a half hours using the bullet train. If you go by bus, it will take 6 hours but will save a lot of money.
From Osaka, it takes only 25 minutes to reach Kyoto by a train while a road journey will take an hour. Osaka has an international airport namely Osaka International Airport (KIXX). If you stay in Osaka and wanna avail a guided tour to Arashiyama and Nara, this one is a good option.
Best Hotels in Kyoto
Hotels in Japan are expensive comparing to the space they provide. However, if you search carefully, you will find good hotels within your budget. I have crafted 17 fantastic hotels for your stay in Kyoto. You can choose any of them which suits your budget.
Expensive Hotels in Kyoto (Over $100)
Mid Range Hotels in Kyoto ($60 to $100)
Budget Hotels in Kyoto (Below $60)
Best Airbnbs in Kyoto
If you do not want to stay in a hotel and wanna experience staying with locals, Airbnb is a great option. If you do not have an Airbnb account open on using this link, you will get US$50 credit! In many places, my Airbnb experience exceeded far and those were much better than staying in a hotel. Below are the links to the top 5 Airbnb in Kyoto which I curated by going through their reviews. You can book any of them, I hope, you won't regret it!
Best Restaurants in Kyoto
Trattoria Macedonia Yuki
Ippūdō
Kikunoi Roan
Myodai Omen Ginkakuji Honten
Kobe Beef Steak Moriya Gion
KOBE Beef Niyama TEPPANYAKI (since 1955)
Okonomiyaki Katsu
Sushi Naritaya
Maps of places to visit in Kyoto
Loved the 3 Day Kyoto Itinerary? Print it!