Remote, nice beaches, exotic marine lives, palm trees and jungles – these make Perhentian Islands an excellent gateway for travelling. Here I am writing about the top things to do in the Perhentian Islands.
Scuba Diving
Perhentian island is a paradise for Scuba divers. My first Scuba diving experience was there. It has a visibility of about 20 meters. You will be able to see a different world once you dive under the water. Besides, colourful fishes, you will be able to see turtles and sharks (of course if you are lucky).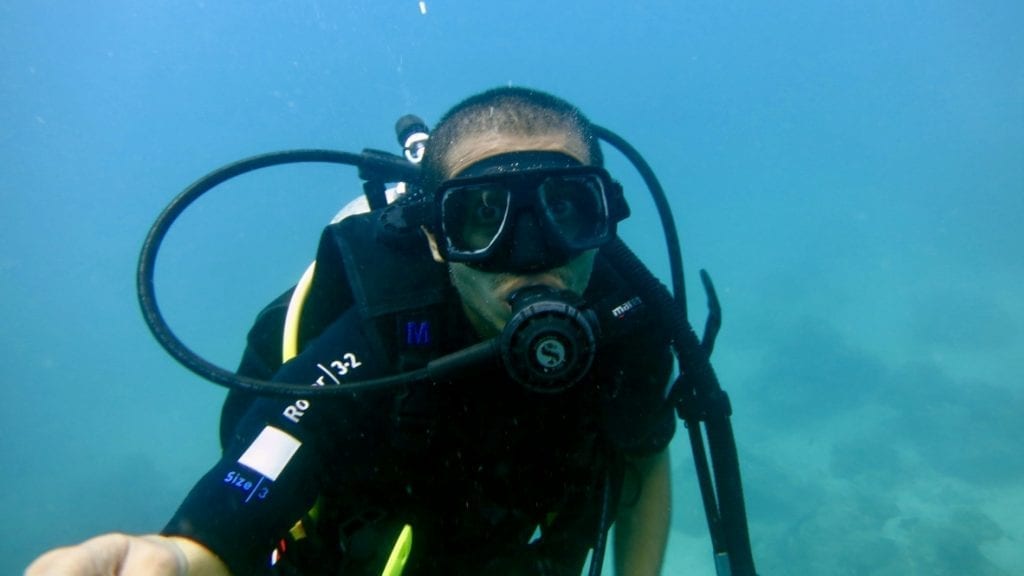 As I am not a certified diver, I had to go to a diving agency for diving. I followed the recommendations of Lonely Planet Malaysia, and choose Pro Diver's World in Coral view resort. While they are a bit expensive comparing to others, I was satisfied with their services. My instructors were from Europe. They are certified PADI instructors and move to different countries, do part-time jobs with a scuba diving operator so that they can diving more with people like me.
We were supposed to dive till 10 meter, however, I could make to 5 to 7 meters at most. It gave me a good idea of the colourful world. Many people asked me if you need to know swimming for scuba diving. Well, although the answer might be very obvious to you, it's worth searching in the net, you might be surprised with the result.
Snorkeling
The water in the Perhentian island is opaque. When I was standing in the ferry pier, I could see a bunch of small fishes from above. If you are afraid of diving or do not want to do it for whatever is the reason, you can still try snorkelling and enjoy it.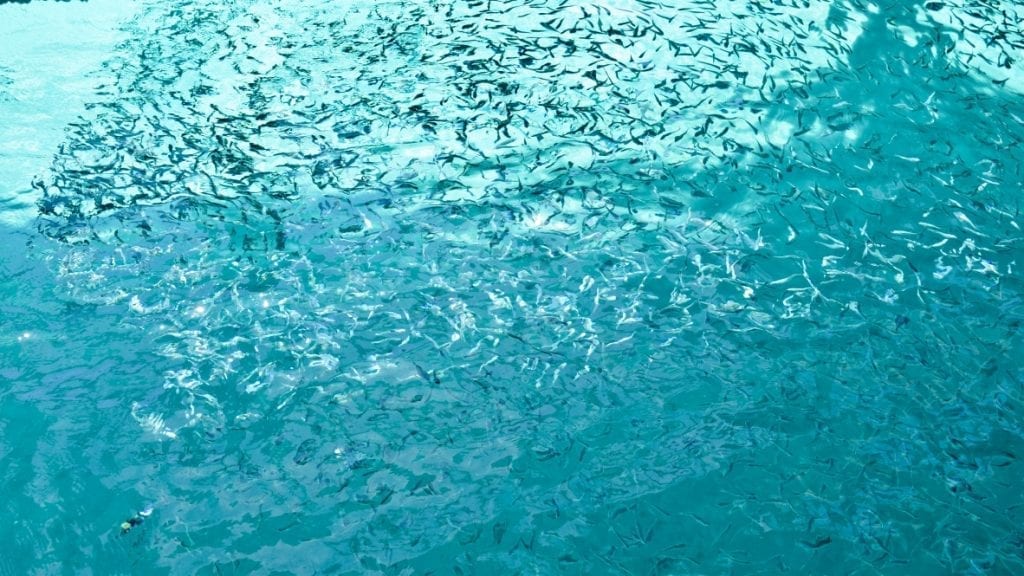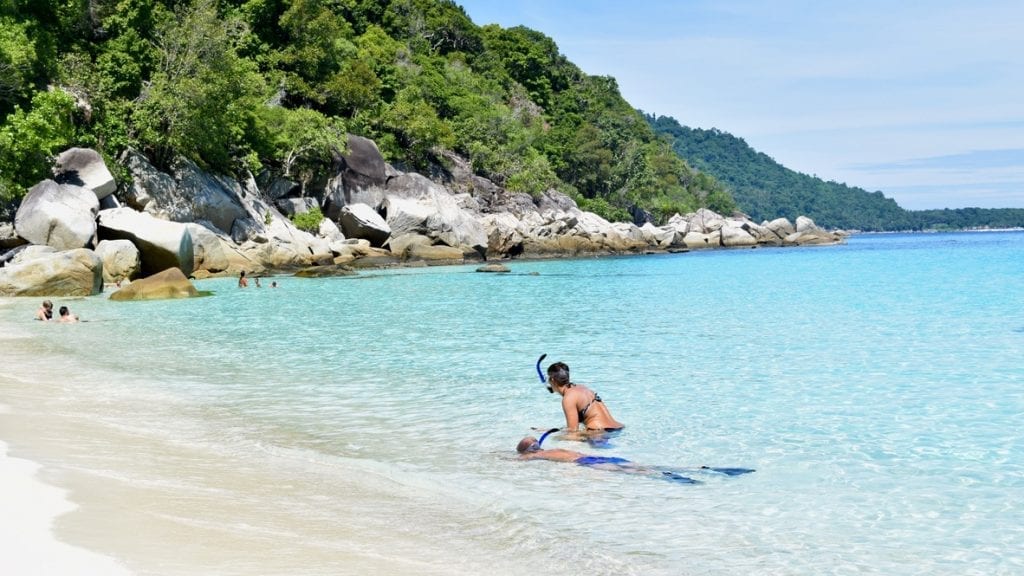 Kayaking
Perhentian islands consist of two islands – Perhentian Besar (the big one) and Perhentian Keciil (the small one). You can take a kayak boat and go from one island to another island. Alternatively, you can just roam around in the open sea.
I did the kayaking from Besar and traversed by the edge of the seas. It was enjoyable.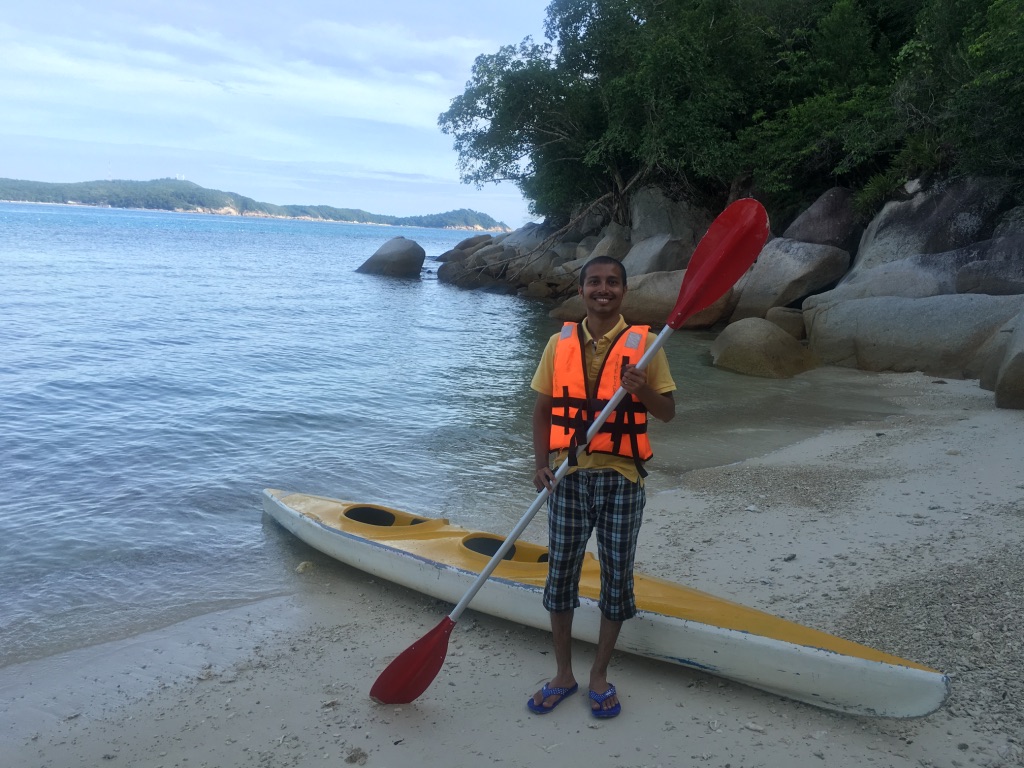 Relaxing on the beach
While there are two islands in the Perhentian islands, there are several beaches in each one.
In Perhentian Kecil, notable beaches are – Coral bay, Long beach, Keranji beach.
Long Beach is the most famous beach of the island. You will find plenty of backpacker's hotels here. The sand of the beach is white. The water is of good quality. There are some bars although they are not cheap. In fact, Perhentian islands is expensive comparing to islands in Thailand.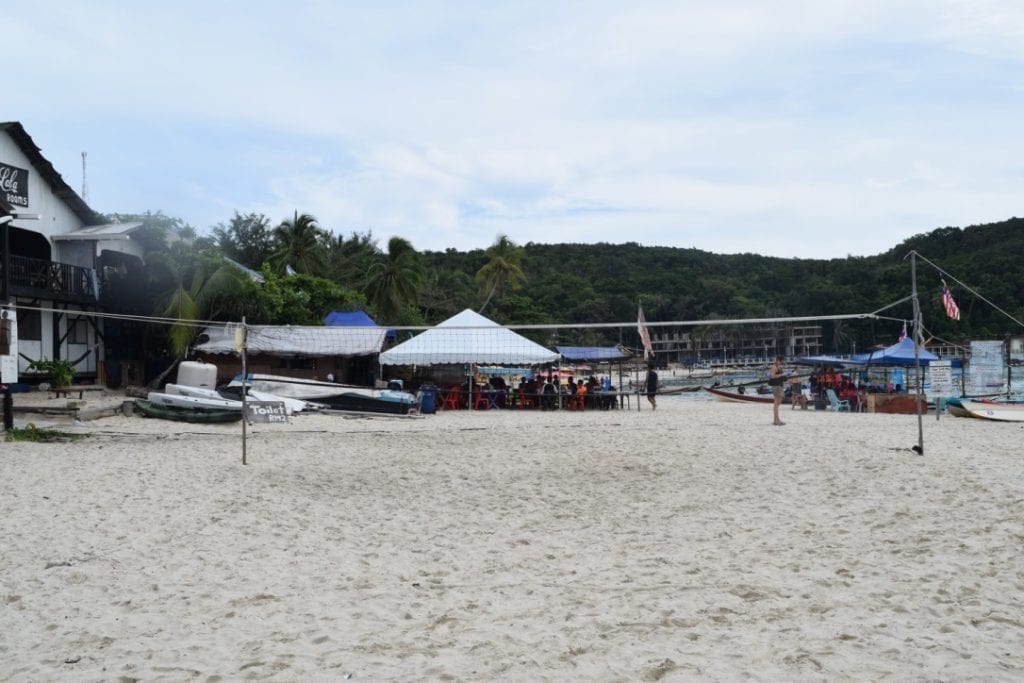 Coral bay is the largest and most of the hotels are placed there. As, the boats come to that beach, it can become busy at times. However, you can find a piece of your own space somewhere.
Keranji beach is pretty far and less busy. If you want to spend some time of your own, you will find this beach suitable.
It's possible to go from Coral bay to Long beach on foot. It will take 10 to 15 minutes. You won't be able to find much light after the sun sets, so, beach to another
In Perhentian Besar, the notable beaches are West Beach, Teluk Dalam, and Tuna Bay.
I didn't like west beach, it's a short stretched beach with hotels and restaurants.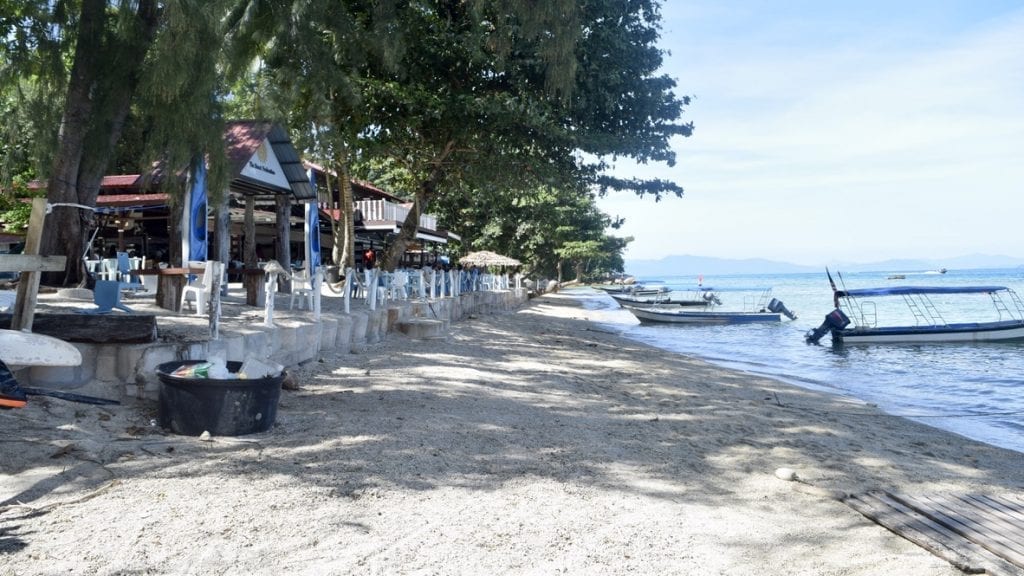 Teluk is a nice one and my favorite one in Besar. It's quite a long beach. If you go past the Coral View Resort towards the beach, you need to climb down. There are palm trees in one end complemented by green jungles. The top view on the way to Teluk beach is a treat for the eyes.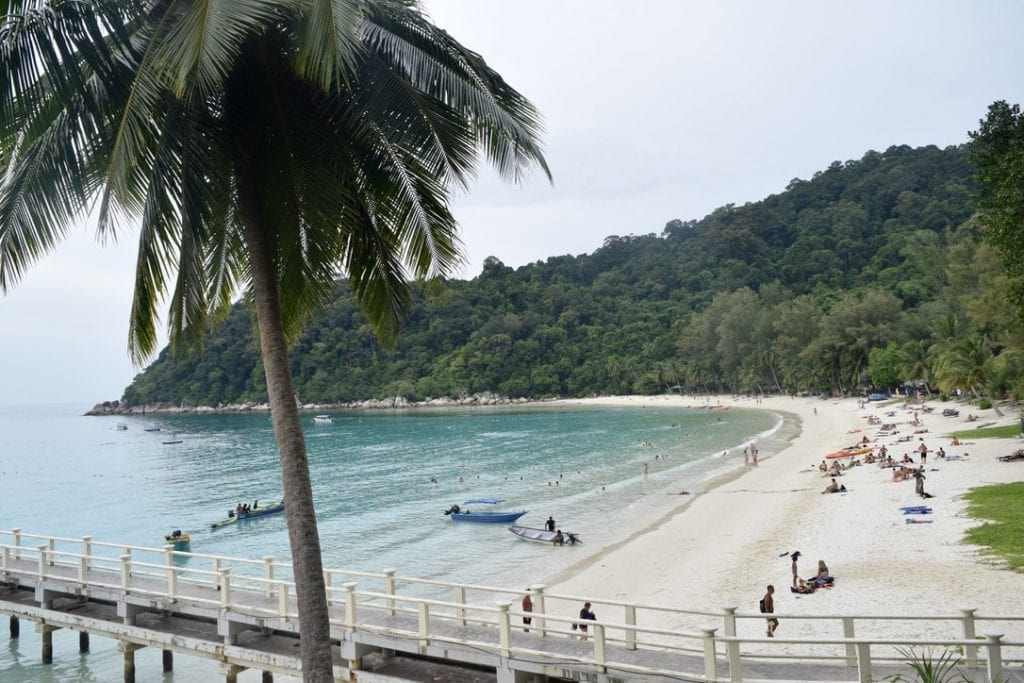 Hiking through the forest
If you get bored seeing the ocean and tired beach bumming, you have an option to trek in Perhentian Islands. You can enter in the forest and go through it. At times, you will find a view of the island from top. The route is marked in most of the case and Besar is in better shape than Kecil.
Visiting Turtle beach
To me, turtle beach was the best beach on the island (although, I could not spot any turtle there, only heard that, there were turtles, but tourists drove them away). You need to take a boat to reach there. The boat ride will take approximately 20 minutes and cost you RM 20.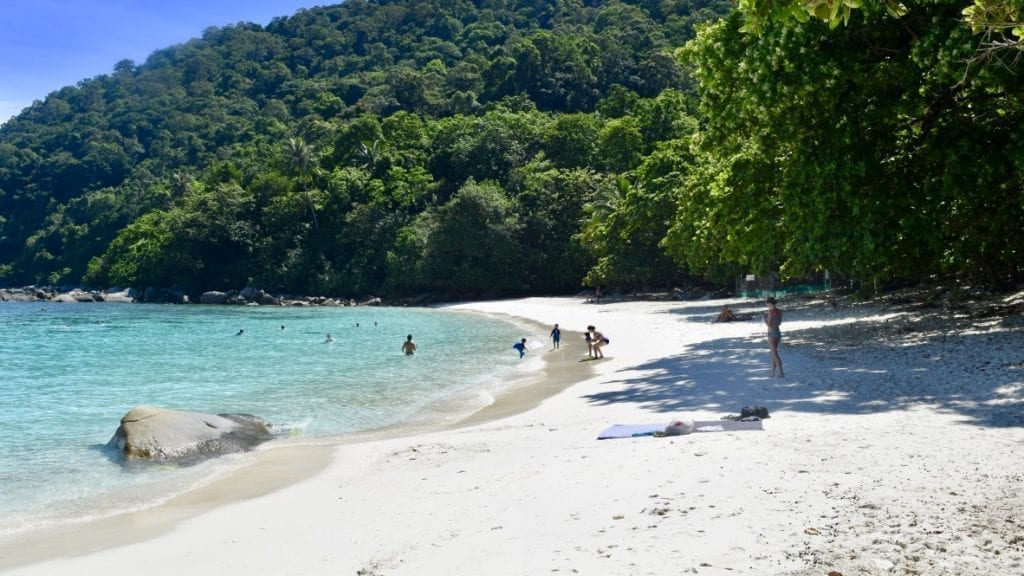 The water was turquoise blue there, the sand was soft, and there were hardly any people. Most importantly, there is no establishment on the beach – no hotel, restaurant, or bar. That's why you should bring some food or water with you if you want to stay there longer.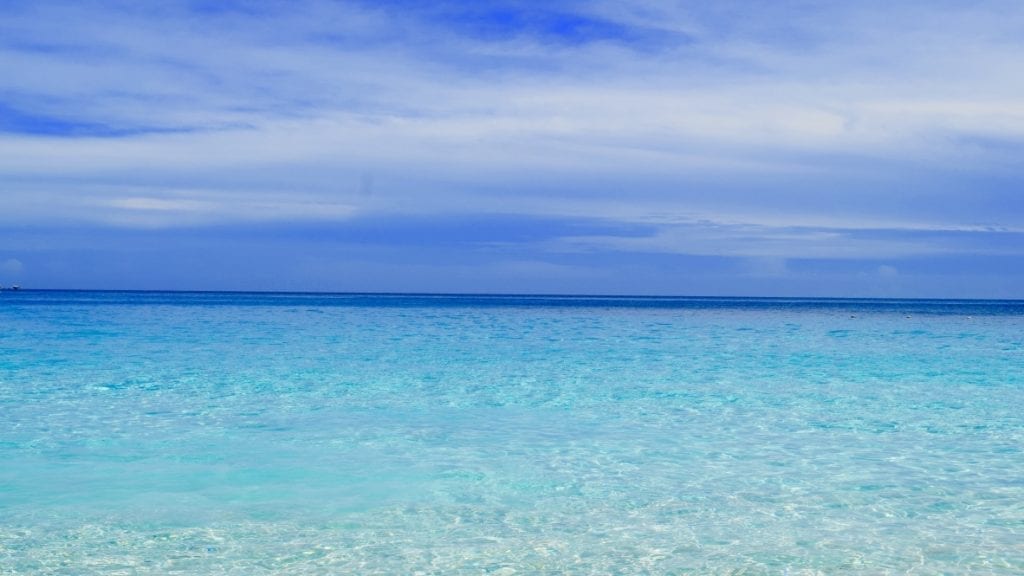 Once you are there, you would want to remain there as long as possible. However, make sure that someone picks you up later, otherwise, you will be stuck in the piece of paradise.
Are you convinced about visiting there?
More readings for you