Dotted with more than 4,500 pagodas, Bagan in Myanmar is best explored with an e-bike. Renting a bike will give you the ultimate freedom and ease of travel in the famous archaeological complex of Bagan. Here is you travel guide for exploring Bagan with an e-bike.
I arrived in the early morning in Bagan from Yangon via Bus and headed straight to see the sunrise hiring a three-wheeler. I realized that I got to get a bike in Bagan to roam around and explore. Travelers who came before me were doing the same.
My head was full of the amazing experience of watching the sunrise from the top of a pagoda in Bagan. When I checked into the hotel, I couldn't wait to go out. However, I was exhausted from the overnight journey from Yangon. Having taken breakfast, I took a nap for an hour and was ready to get out.
Renting an e bike in Bagan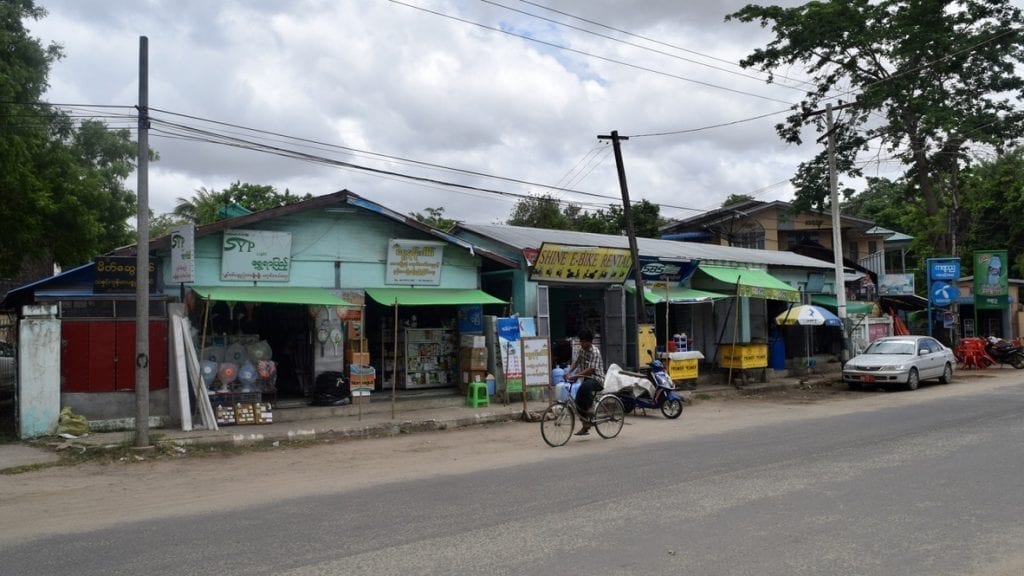 I inquired about my hotel, about renting a bike, and they said I would get plenty outside. So, I came out in the street and found one immediately. It was a small grocery shop. When I asked about the bike, a woman asked for a boy from inside to give me the bike.
Now comes the confession part. I didn't know how to ride a bike. I mean, a proper motorbike. Since my childhood, I rode on a bicycle but never tried a bike before. What gave me the courage was – it was not really a full-fledged bike. It was rather an electronic bike, aka e-bike. It was driven by a recharged battery and the maximum speed one could achieve is 35 KM/h.
I pretended like I am an expert in handling a bike. My biggest challenge was taking the bike and going away from the eyesight of the owners, creating no suspicion. And the second biggest challenge was…to stay alive!
Exploring Bagan Pagoda with an e-bike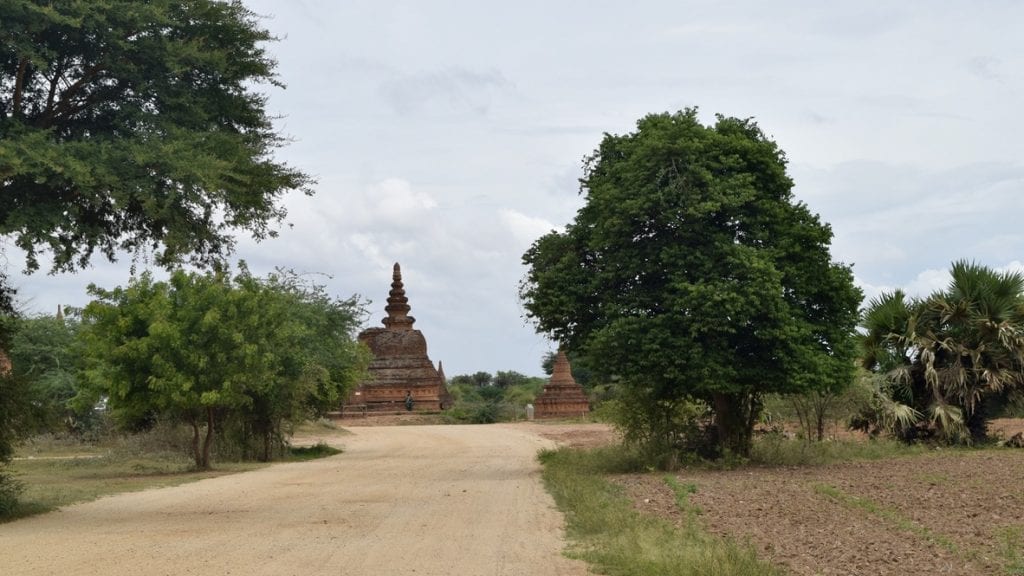 And that is how my epic interminable day of the journey started in the ancient City of Bagan! I had a Google map with me, so I knew where to go. It was a straight simple drive from Nyaung U. When I entered the complex; I didn't know where to start.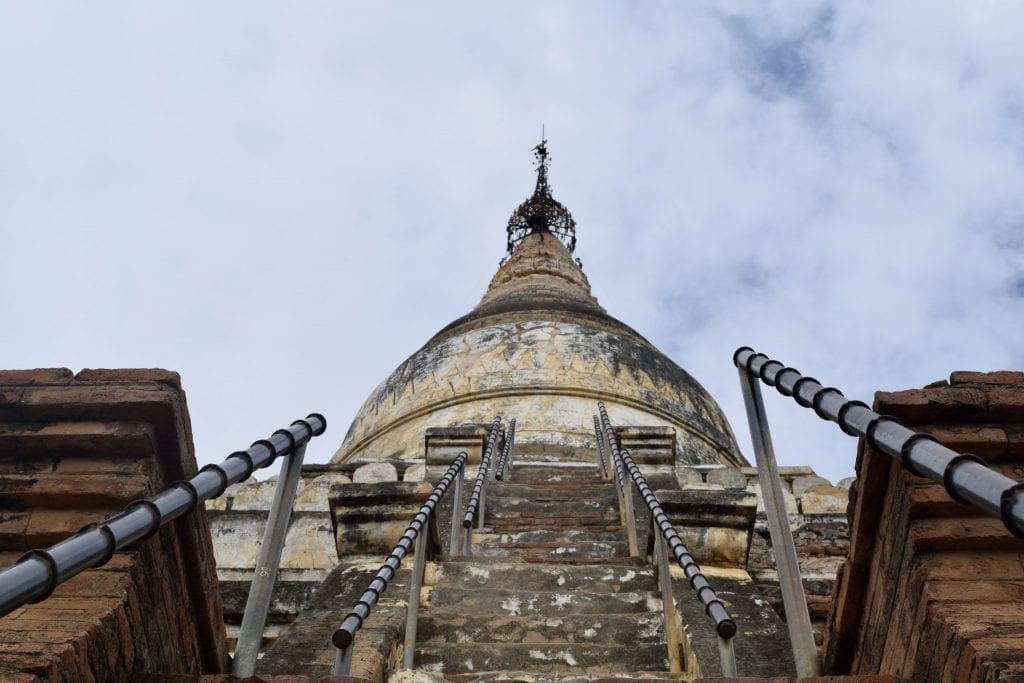 In this vast expanse of complex, there are 2200 pagodas. Some of them are small, some of them are big. Some of them are accessible with staircases, they locked some of them for the people. I was wondering, how could they build so many pagodas in a single complex and that's more than a thousand years back! No wonder, it's a UNESCO World Heritage Site.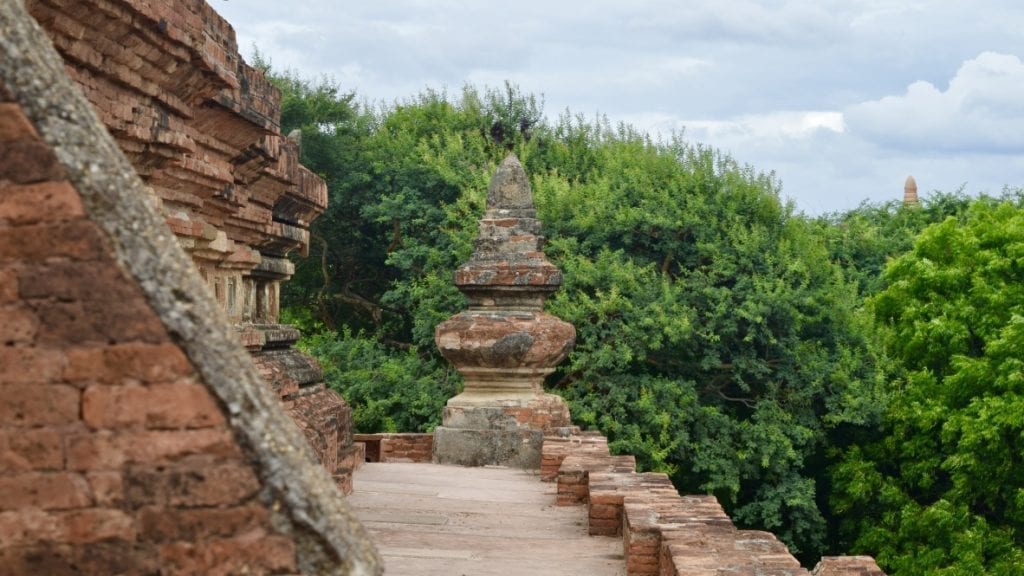 Now, whenever, you see a temple and the stair, you should stop and go up. Mos of the stairs will take you to the first floor. Some of them are connected to several other floors. You can go to different corners of them to enjoy the intricate designs of the temple. In each of the temples, you will find some open spaces at the front. In the bigger temples, there are places for keeping your bike. In the smaller ones, you just need to put it somewhere. Just make sure you lock the bike before leaving it behind.
Read: Best pagodas to explore in Bagan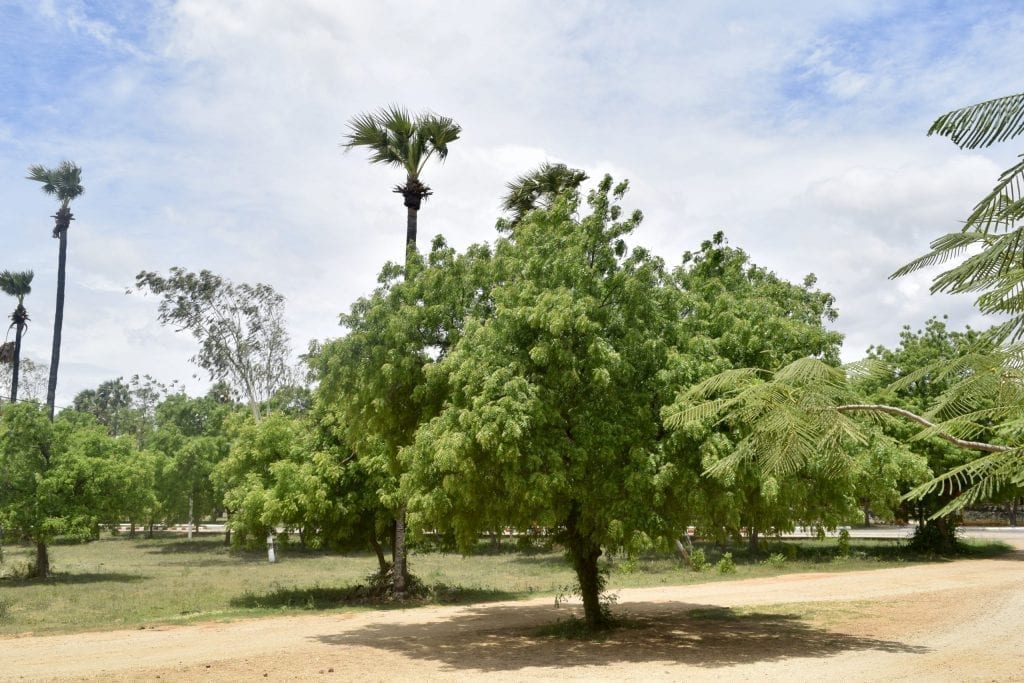 The road you will take is not a planned road. There were grasses there before. Now it's gone mostly as people and bikes were taking the grasses away and turning it into a mud road. You will find green trees all around, some of them were small in stature.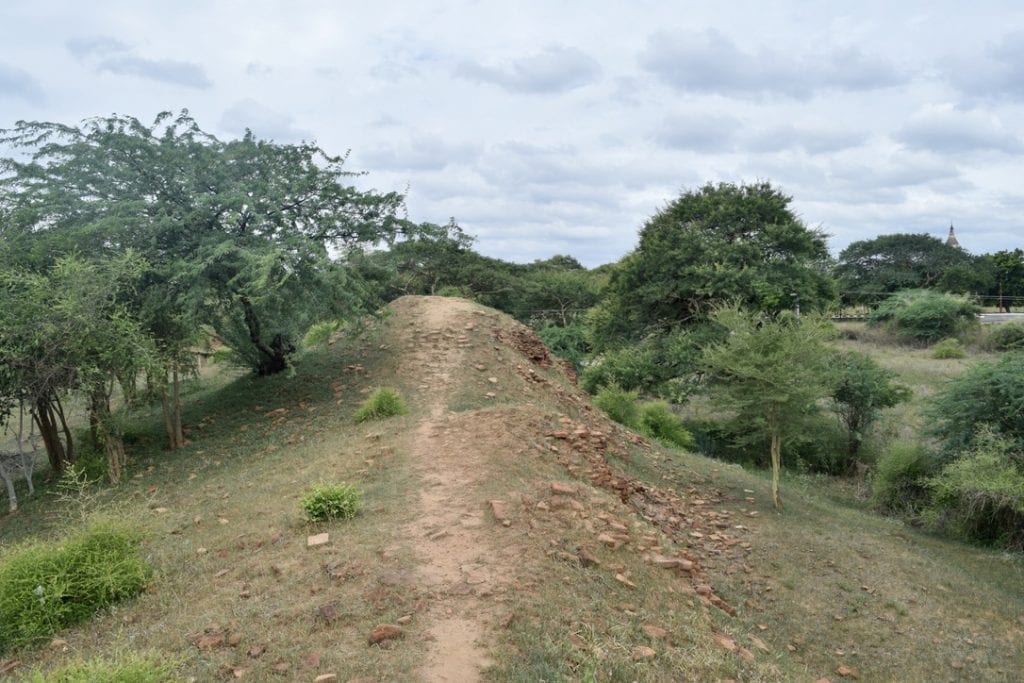 Although I was riding randomly, I stopped when I felt like climbing the stairs of a pagoda. All the roads were not passable. So, you might get lost in the process. However, as there was not always a planned road, you can make your own road (and maybe will get stuck in this process).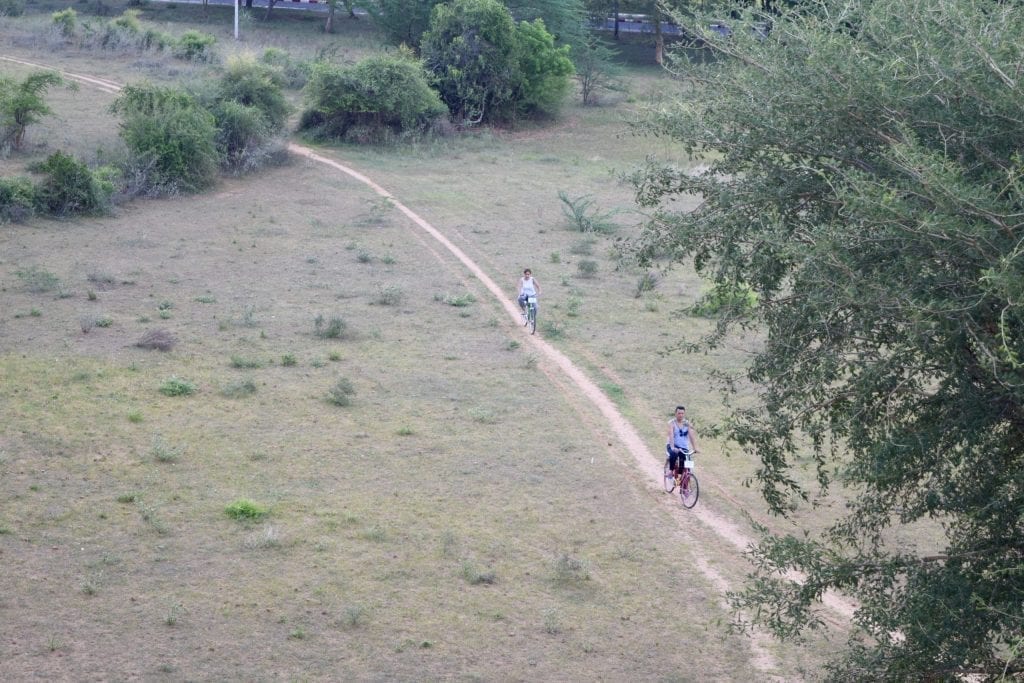 There were places where roads were narrower and guarded by bushes. Besides, now and then, you will encounter kids, locals, and animals. I needed to drive carefully in those places.
Never forget to buy a travel insurance before your trip, see my bike accident incidence in Philippines. I suggest Worldnomads for travel insurance, they are reliable.
How does it feel to explore Bagan by bike?
I felt like I was on another planet. I was surrounded by the dots of pagodas driving through the greens. The contrasting color of the shaved road of yellow-brownish beneath and ahead of me. The Irrawaddy river was finding its course not far from me. The ever-changing shade of the clouds hovering over my head. These colors of the temples were changing with the colors of the cloud, making those more enigmatic.
I was driving through all of those, in another world, in another century – wishing the time to hold still.
Summary
What type of bikes to rent in Bagan?
Either an electronic bike (battery driven) aka e-bike or a bicycle.
What was my preference?
An electronic bike also known as an e-bike, as riding a bicycle could become arduous under the sun.
How much does it cost to rent a bike?
6000 to 10000 Kyat (US$4.50 to US$7.50)
How much is the fuel cost for renting a bike?
If you rent an e-bike, the fuel cost will be zero, as it will run by the charged battery.
Tips for taking a bike
Try to negotiate for 24 hours, cycle instead a day
Ask them if it was fully charged. Return the bike to the shop to charge it fully at the end of the day.
Do not go above 35 KM/h, the bike will start shaking
Always take the number of the bike provider even if you don't have any active phone connectivity. If it gets broken down, they will come to rescue.
Take plenty of water and dry foods with you, you will get thirsty
I took a hefty breakfast and skipped the lunch, you can consider it, too
Did you rent a bike in Bagan? What was your experience?
Liked the Bagan by Bike Article? Pin it!