Yangon is the major city of Myanmar while Bagan is famous for its ancient pagodas.. Bagan is about 630 Kilometres from Yangon and reachable with bus, plane and train. Read further to know all about how to reach Bagan from Yangon in Myanmar.
It was my first trip to Myanmar, and I didn't know what to expect from there. Myanmar which was previously known as Burma was isolated for the rest of the world for about 60 years. Interestingly, we Bangladeshis share land borders with Myanmar. Unfortunately, those borders are closed for international tourists. Besides, there had always been a tension between Bangladesh and Myanmar due to political and Rohinga issues.
So, when I decided to travel to Myanmar, my family said "NO!". I listened to them, bought the ticket, and was in Yangon, the major city of Myanmar in an hour. In many Bengali books and movies, Yangon was known as Rengun. I became nostalgic as soon as I came out of the airport.
I will tell you my story of Yangon some other day. Let me focus on the topic now – how I reached Bagan by bus.
Bagan is the place that must be in your bucket list. It was an enchanting experience for me to traverse the temples of Bagan.
Bagan is about 630 Kilometres / 390 miles from Yangon where your flight will land most probably. The easiest way was to take a plane to reach there. But I wanted to save some money.
Avail your visa prior to arriving in Myanmar from the official site
Yangon to Bagan by Bus
How to Book
Length of the Journey
10 hours
Cost
About US$ 18
Departure Point
Aung Min Galar Bus Station
Arrival Point
Bagan (Nyaung-U)
Story of the Journey
I was not sure how to get a ticket for that bus. After a bit of research, I bought the ticket using Oway, which is an online travel booking site based on Myanmar. I paid US$17.54 using my credit card and got a booking confirmation in my mail with the following details:
| | |
| --- | --- |
| Departure Time | 20:00 |
| Arrival Time | 06:00 |
| Boarding Point | Aung Min Galar Bus Station |
| Dropping Point | Bagan (Nyaung-U) |
| Bus Name | Bagan Min Thar VIP Express Bus |
Departure, Arrival time and point
I was not satisfied with this piece of information. How can I find the bus in "Aung Min Galar Bus Station"? So, I dropped Oway a mail asking for further information. The response was:
Bagan Min Thar Gate is Gate 1, Bagan Lane, Bagan Min Thar Bus Gate and you can ask anybody or your taxi driver.

More confusion?
I got more confused, but my taxi driver would know it, right? So, I asked my taxi driver to take me there. I didn't know what he realized, but he was moving forward. I am familiar with the traffic of Dhaka, so I was not panicking. Or, Was I?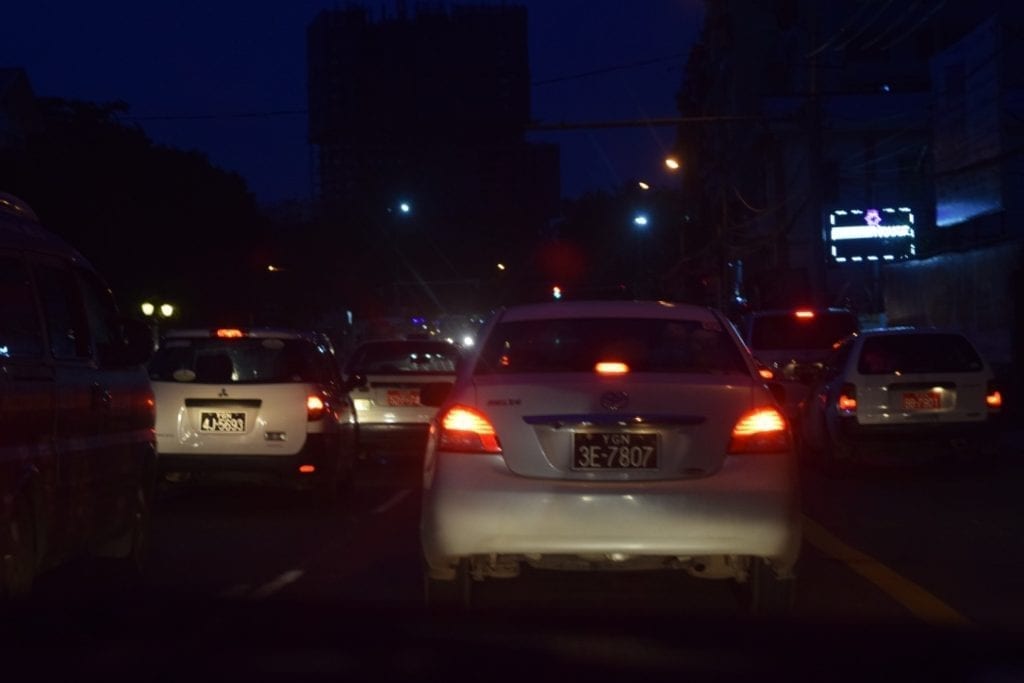 I was following the route of Google Maps, but the driver insisted on taking me via a shortcut. I found myself in the dark alleys and among the children on the street. I was trying to concentrate elsewhere – in the street but couldn't stop watching the clock every 5 seconds.
We arrived at the bus stoppage at 17:53. There were a handful of buses there. I was looking for "Bagan Min Thar VIP Express Bus". I couldn't find any. The time was ticking. Suddenly, I saw a piece of paper pasted on the front panel of a bus – written in a mixture of English and Burmese language – I could pick the VIP! And oh yes! Bagan – Nyaung U!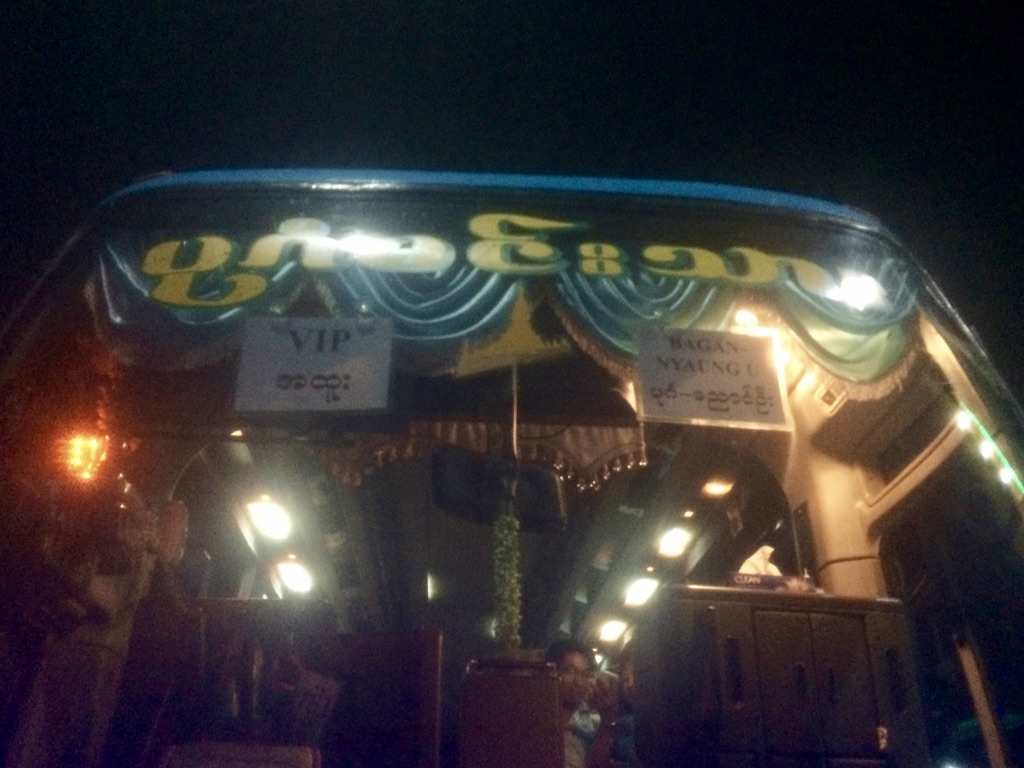 I approached the counter and showed my voucher, which I got from Oway. A mistake now, and my bus would have been gone. I was correct this time, that was my bus! They asked me to hop on the bus. It was mostly foreigners inside, along with a few locals.
I went inside and found my spacious seat with blankets. There was a bottle of water, too. The bus started it's a journey at 20:10. It was mostly a smooth journey. The driver was driving at a moderate speed and stopped in a petrol station to take gasoline after 15 minutes.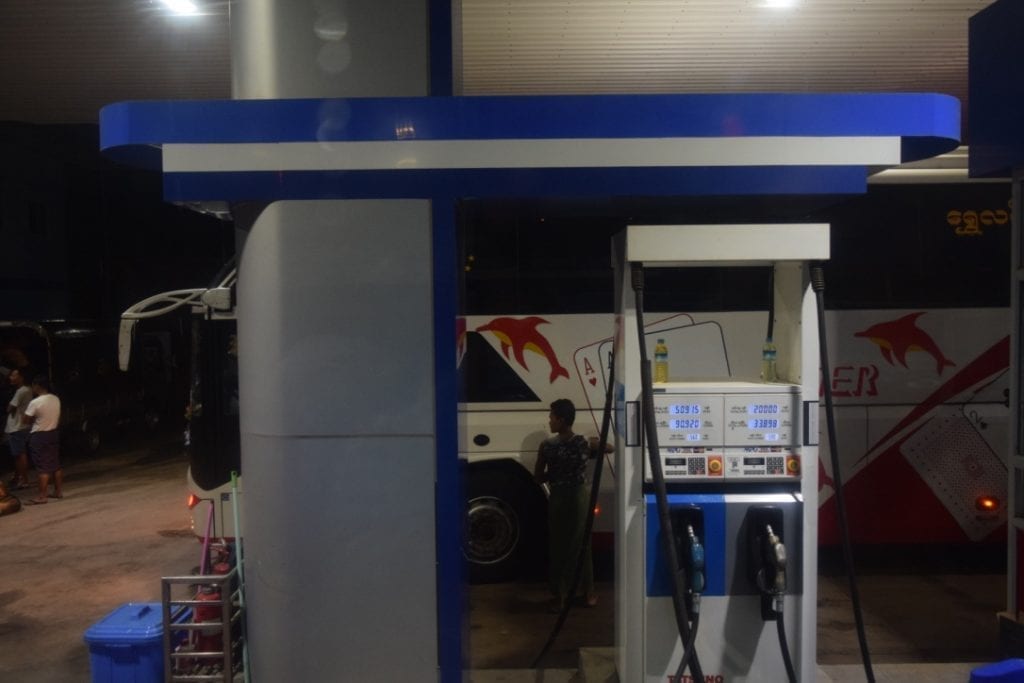 At midway, we got a toilet/snacks break. I took a nap. At 4:30 in the morning, we arrived at Nyaung-U which is the entry point of Bagan. From there I took a three-wheeler to reach the ruins of Bagan to enjoy the sunrise from the top of a temple.
Yangon to Bagan by Plane
How to Book
Through 12go.
Length of the Journey
1 hour 10 minutes
Cost
Between US$70 to US$130 depending on time and season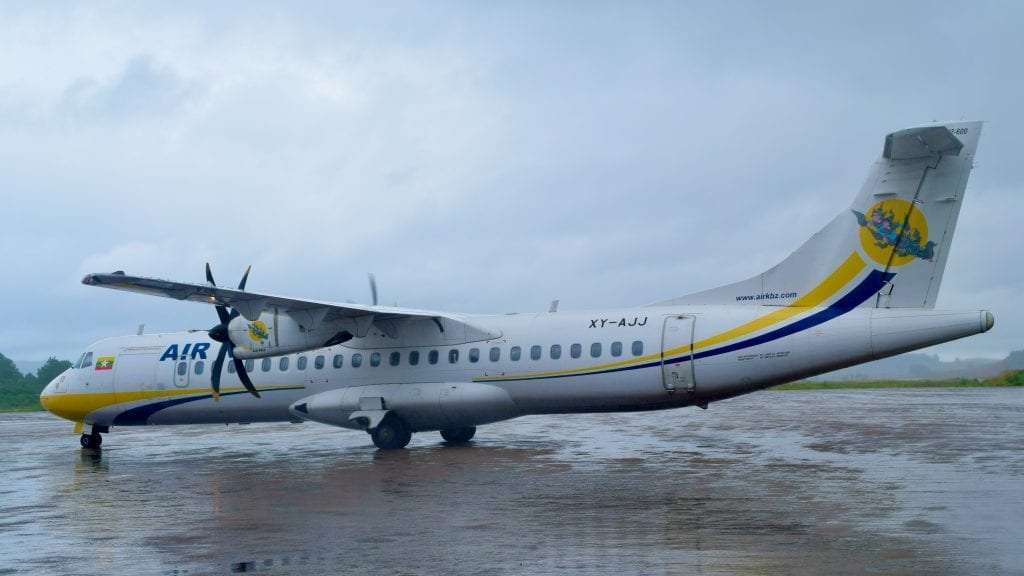 Several direct flights operate between Yangon to Bagan each day. The flight time is less than an hour. Some notable airlines are Air KBZ, Golden Myanmar Airlines, and Air Mandalay. The flight price is not that cheap and will vary between US$90 to US$130.
Yangon to Bagan by Train
How to Book
Length of the Journey
18 hours
Cost
Between US$16 to US$25 for sleeper class
Departure Point
Arrival Point
The Journey
Although I would not suggest taking this, availing a train from Yangon to arrive Bagan is an option. The train is slow and will take over 17 hours to reach.
Tips
The bus I took was chair coach, not a bus with berth – but the journey was comfortable
I was freezing with the air conditioner, the blanket could not save my entire body, so try to take some warm clothes for the bus
The bus took us a little over 8 hours
My seat was at the front – right behind the driver. The headlight from the opposite direction was causing the issue. So, don't choose the row of the driver.
If I travel to Bagan from Yangon, I will take the bus again. I could catch the sunrise, which was important to me.
The road was in excellent condition
Some roads were under construction and unbelievably wide
While buying the ticket, if you don't find an option of Bagan, search for Nyaung-U. Nyaung-U can be considered as Bagan
Do you know the name of the capital of Myanmar? It's not Yangon! It's Naypyidaw, and the bus will go through it.
How was your journey to Bagan from Yangon?
Continue your travel plan for Bagan
Liked the Yangon to Bagan Article? Pin It!