Tiger's Nest aka Taktsang Monastery is built right on a dramatic cliff in the Paro valley of Bhutan. This is the most iconic structure in Bhutan and cannot be reached with a vehicle. You have to go there on your foot. This is your ultimate photo travel guide to the Tiger's nest in Bhutan.
The first time I saw the photo of the tiger's nest, I thought it an optical illusion. I won't be surprised if you think of it as a photoshopped image. A set of buildings or monasteries perched on an extraordinary cliff in a dramatic fashion with the lush green valley in the background. How did they build it there? This came across my mind instantly when I saw it. It's nearly impossible to go there with construction materials. I got the answer later. Guru Rimpoche (Guru means the master) arrived there on the back of a pregnant tigress all the way from Tibet and meditated there. So, instead of approaching from the bottom, he approached there from the top. Maybe that's how it was built! Makes sense now, right? Whatever it is, I wanted to go to the Tiger's nest someday on a trek instantly.
Little more about Tiger's Nest
As Rimpoche, the spiritual master went to the place on a tigress and meditated there, it is called the tiger's nest. But it's official name is Taktsang Monastery. It was built in 1692, more than three hundred years from today. It's located in Paro valley. I believe Tiger's nest is synonymous with the tourism poster or postcard of Bhutan. This should be your number one place to go during your trip to Bhutan.
But, there is a slight problem
You just cannot take a car and go there. There is no cable car either. So, you need to trek there for several hours on foot. While the trerk is not extremely difficult, it is not easy either. You need to be relatively fit and possess mental strength to reach there. Besides, the oxygen gets thinner in the higher altitude and it becomes difficult to do it.
Can I do the Tiger's nest trek?
Of course, you can! All you need to do is to start the journey. If you are afraid of doing it, take plenty of your time in your hand as there is no time limit or reward to reaching to the top faster. I saw kids and old people on the trail.
My Trek to the Tiger's Nest in Bhutan Began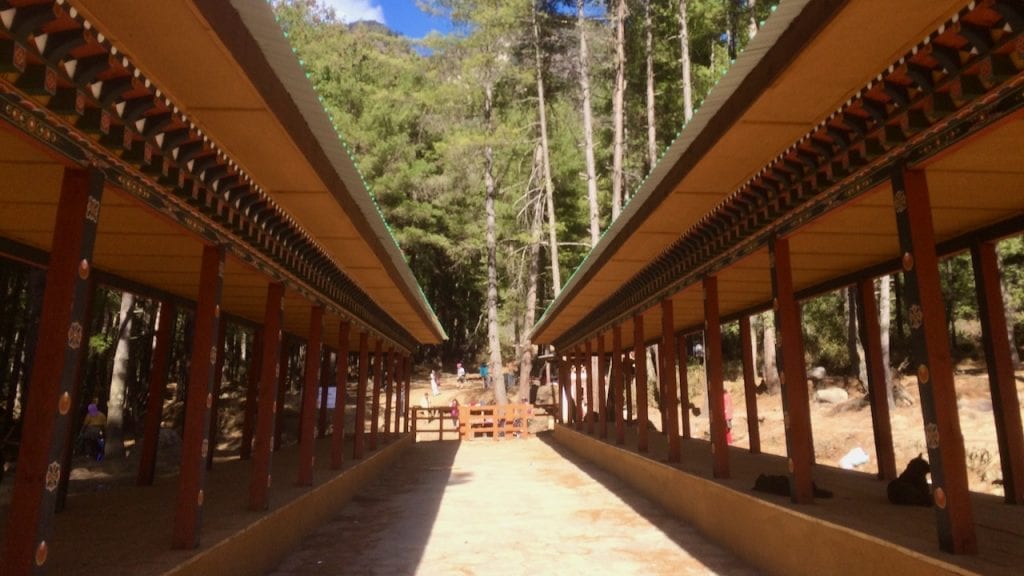 It was a beautiful sunny morning in December. The sky was so blue and clear, I could see the moon even at daylight. We started the day early. Rinjhin, our driver for the trip, dropped us at the base where the trek starts. It is about 10 KM from the center of Paro and less than 30 minutes of drive. He promised to wait there for us along with some other drivers. Only a handful amount of tourists were there for the trek. Tourism in Bhutan is more controlled than other parts of the world.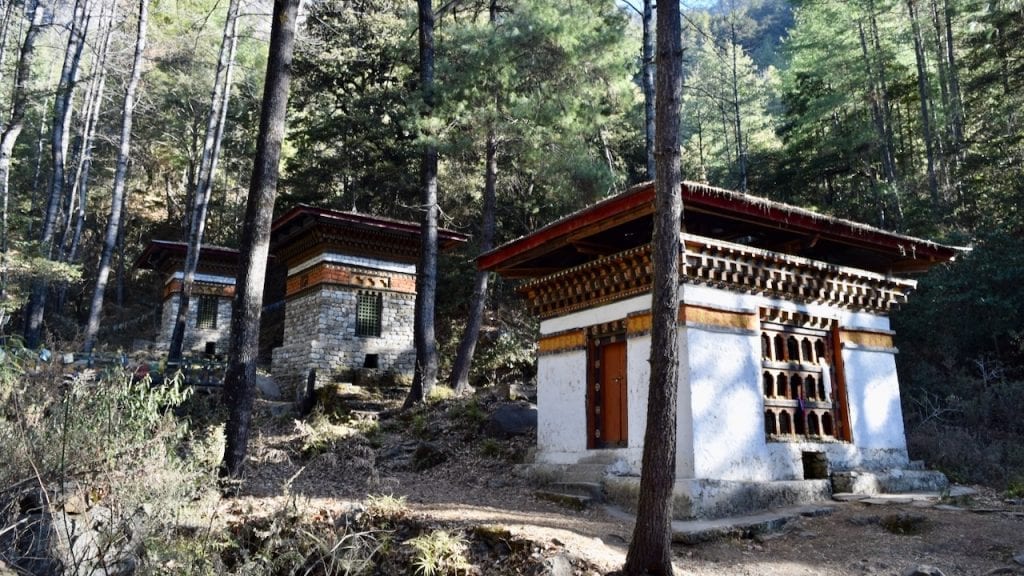 There was no particular mark to start the journey. But one could easily understand the path. During the beginning, I saw three-dotted temples nestled by the pine trees. Those looked beautiful in the morning ray.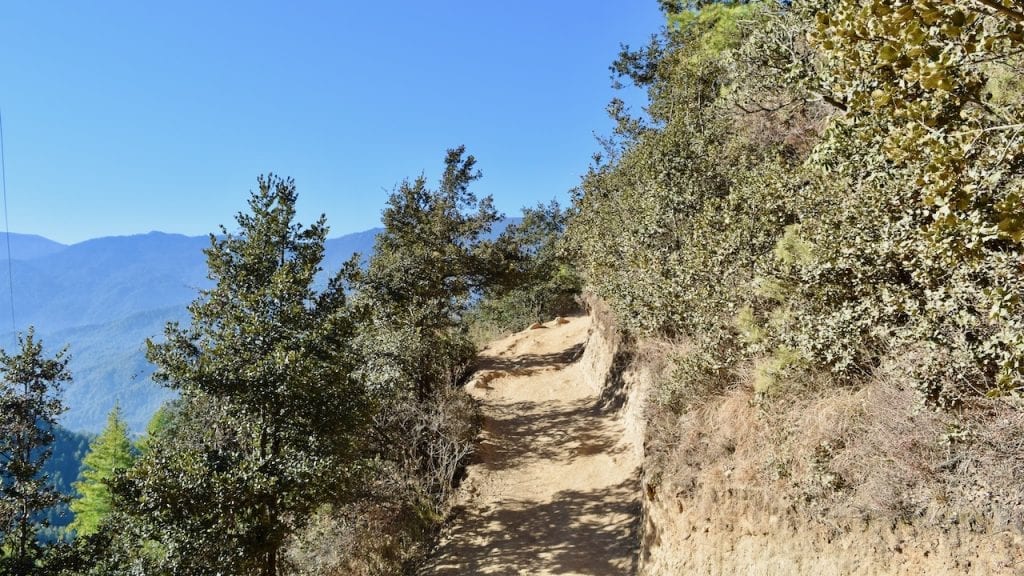 I started my journey to heaven. It was a continuous ascent not particularly steep keeping the valley in on side and mountains on the other side. I took mostly dirt roads of muds. There are some shortcuts to reach to the top – those will cut your time but take an excellent test of your stamina because of their steepness.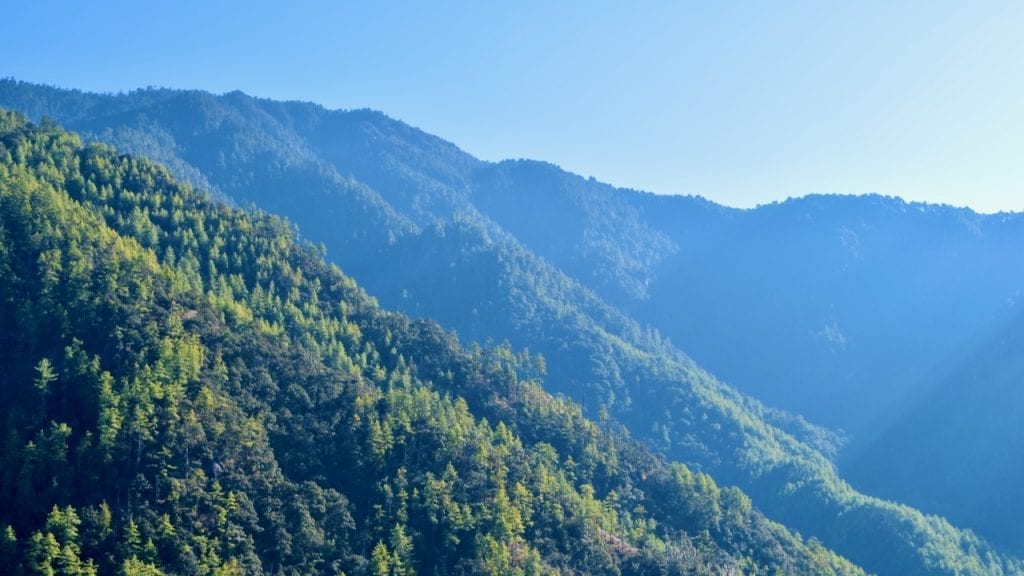 Where the bushes are not thick, you will get unobtrusive views of the green mountain range with a ray of sun. One can easily sit here and spend the day looking at this lushness.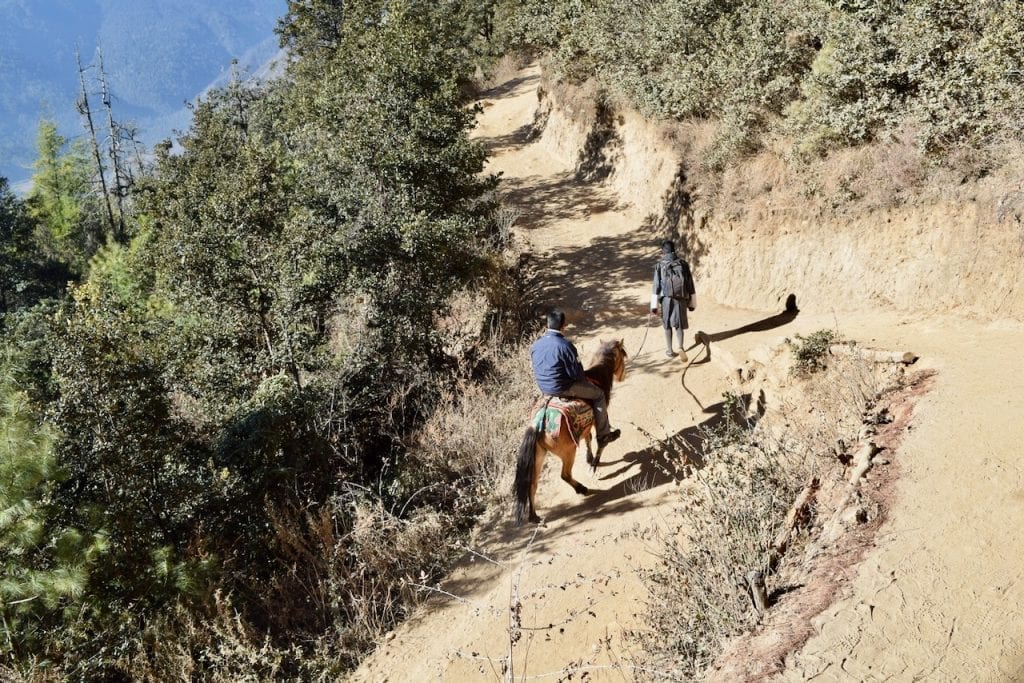 If you want to avoid walking, you can hire a person with a mule. The mule will not take you exactly to the top, but it will carry you quite a distance. For me, it was not only a humiliating way to visit such a fantastic place but also a scary way of trusting a mule rather than my foot in a path where a mistake can throw someone deep beneath the valley.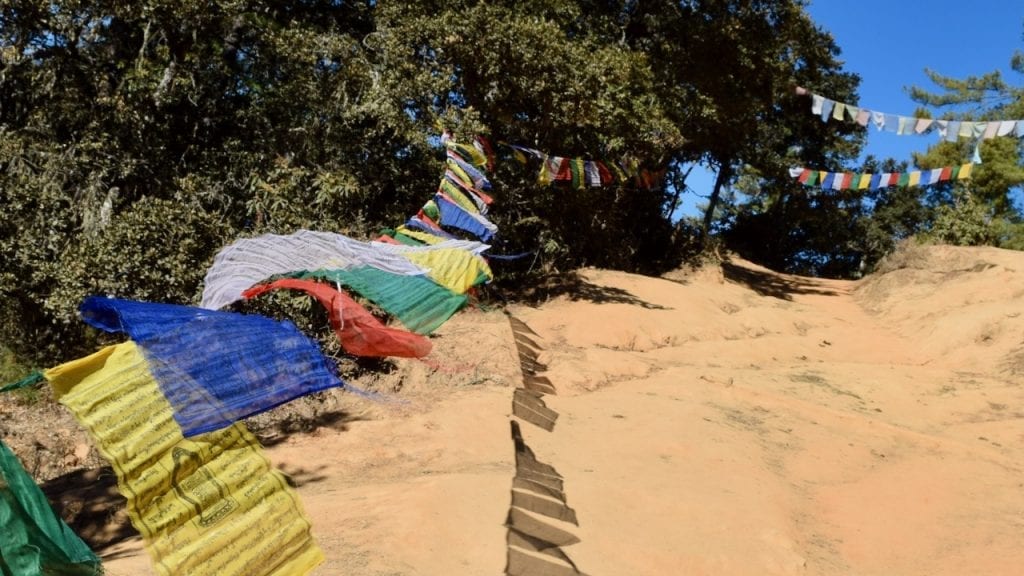 The roads are not narrow all the way. I saw it getting widened in places. My eyes got stuck with colorful prayer flags in different places. As I was approaching higher, I could feel the dry and thin air with depleted oxygen.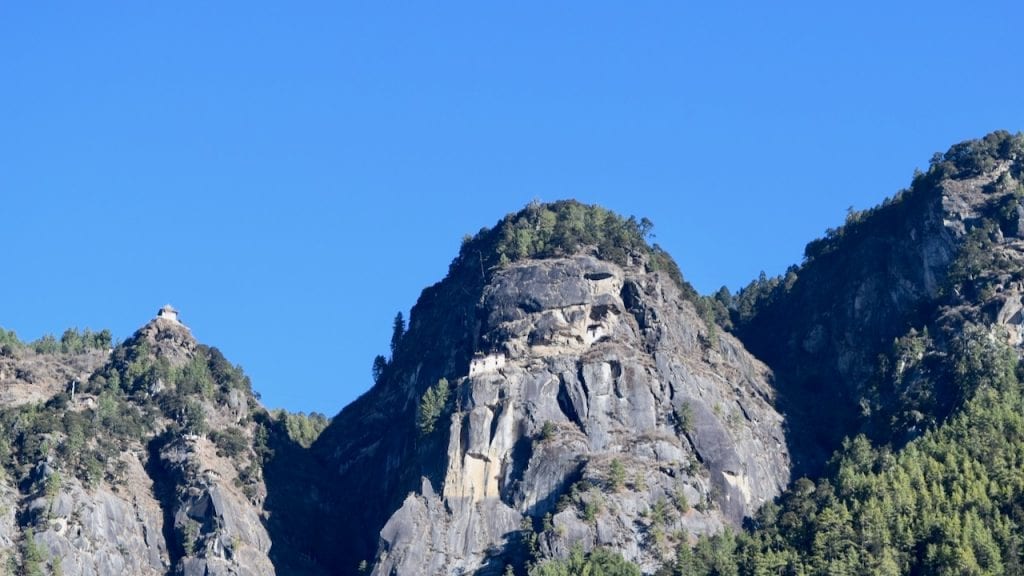 Within half an hour of trek, I got a glimpse of a tiny dot far away. Yes, that is the dramatic Tiger's nest! It looked so far! While I was happy seeing it, I was tense about if I could make it! I continued my journey and the view of the tiger's nest disappeared before coming back again. This cycle of hiding and seek continued.
Halfway to the Tiger's Nest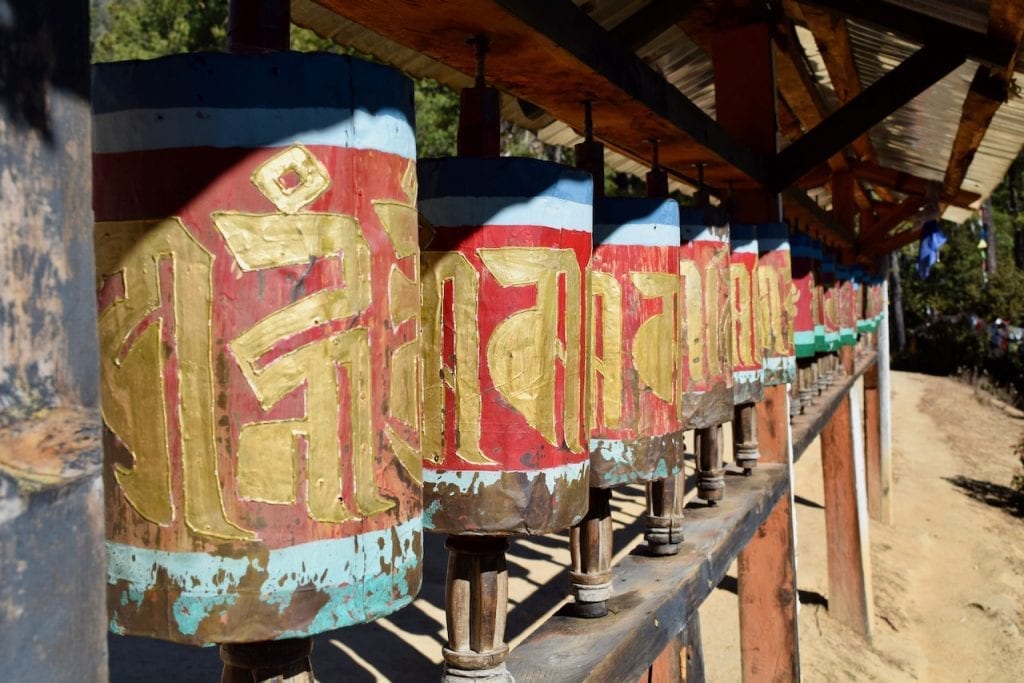 When you will reach to a relatively flat terrain with prayer wheels, you know that you are already halfway! You will find a Cafeteria there with the view of the monastery. Many people end their journey in this place (such a shame!). If you are hungry, you can grab some food from there. I continued my journey spinning the prayer wheels – I need those prayers right now to cover the rest of the journey. I was not sure which one was more powerful between the big one at the bottom or the collective ones at the top!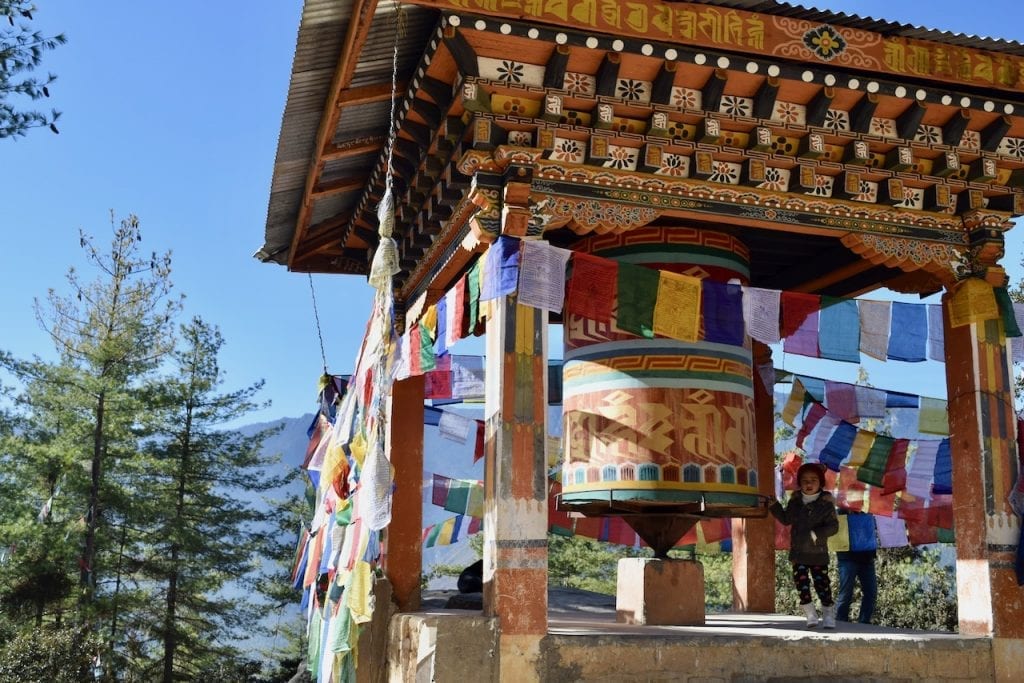 Twist
After a while, I started to descend. Maybe I lost my path? Why would I go down? I am supposed to go up to the tiger's nest. Then I realized that the path to the top goes down before going up again. Argh!
Last Leg
At this point, I became frustrated – the monastery was tantalisingly close, yet the journey was not completed yet. That is a common scenario in the mountains. You get a false notion of the distance. So, I walked and hiked endlessly. The pleasant news was, it was a relatively straightforward path.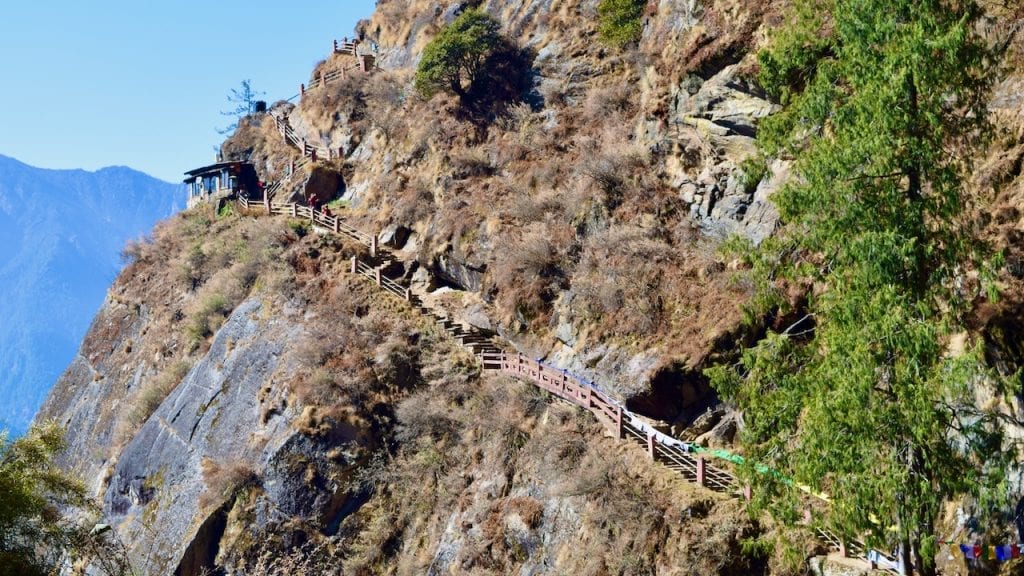 Finally, I got very close after about 3 hours of hiking. I could see a stair with a railing going straight up. I buckled up for a steep ascent. Don't be fooled by the greying nature of these photos – this is winter in Bhutan, during monsoon those become green.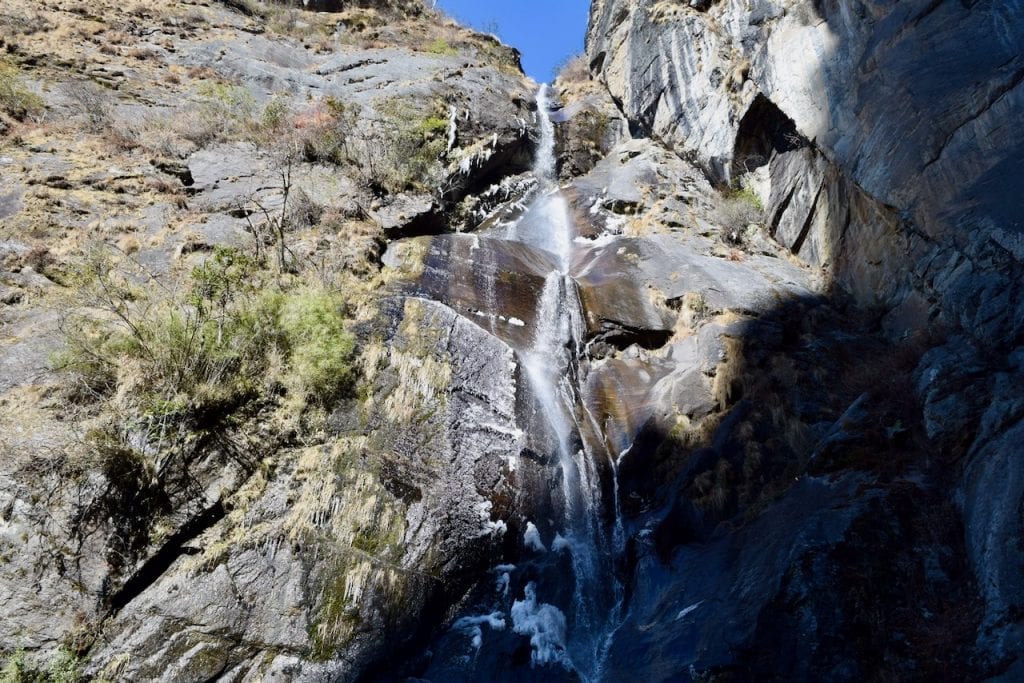 Keeping the Tigers' nest to the right, I saw a waterfall to my left. The water was not very thick. Interestingly, I saw ice where the water was falling. Maybe the temperature went beyond zero at night and it did not have time to be melted in the shadow.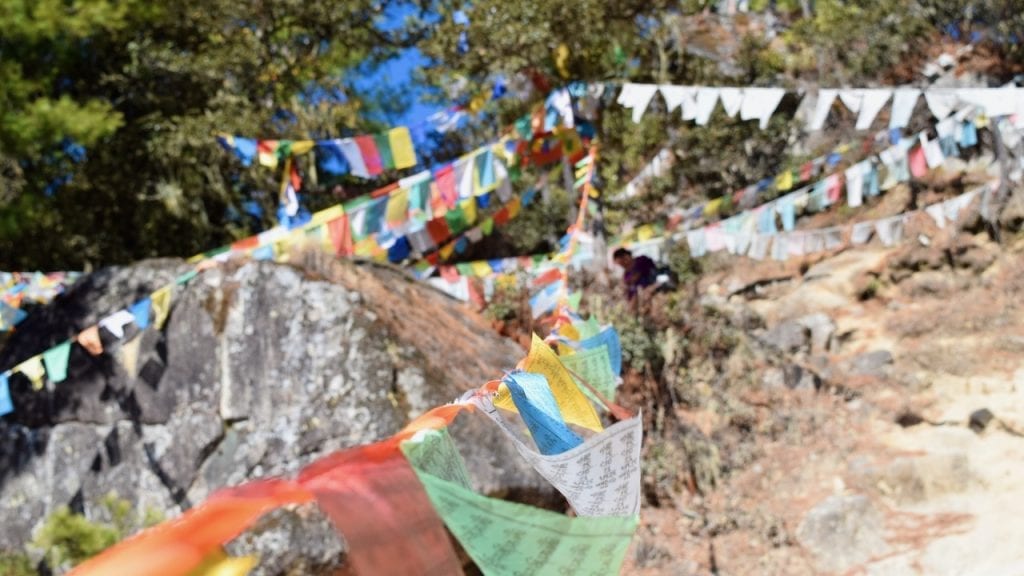 There is a small shade before reaching the temple where you can ignite candles. You will get free water there. Here is an interesting thing – I saw multiple sources of water while going to the top, which was completely free. This is the beauty of Bhutan! I drank a couple of liters of water; I guess. I was telling you about the prayer flags during the trek. Now I see all of them have gathered in a single place. Green, white, red, blue – a million of them if not billions. Such a treat for the eyes.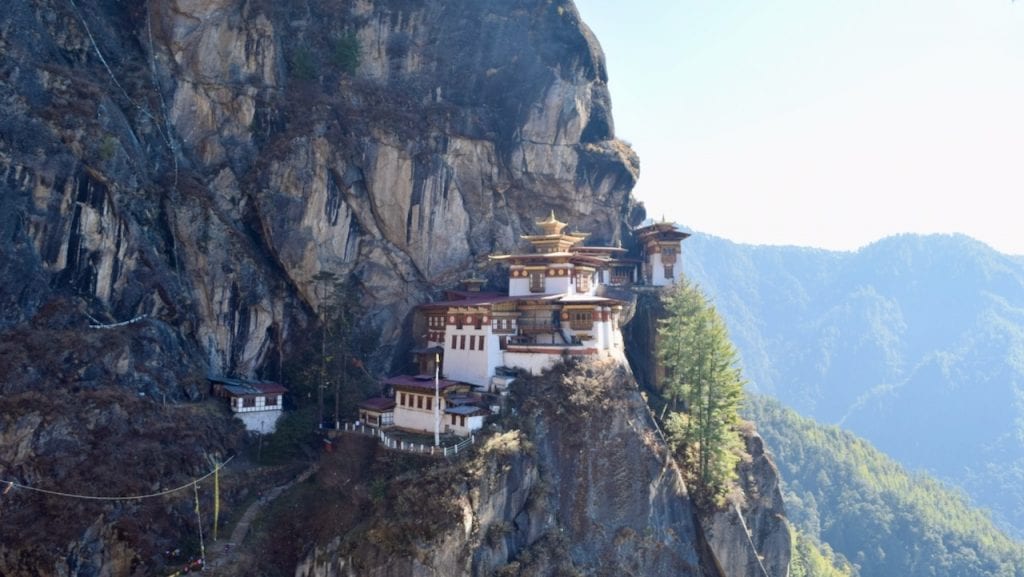 I felt pains in my thighs, my century-old knees rattled, and my lungs were not happy with me – but my mind felt with absolute joy to see the Tiger's nest – the Taktsang Monastery right before my eyes. I have made it to the top. It was gorgeous! It was majestic! It still looked like an optical illusion to me!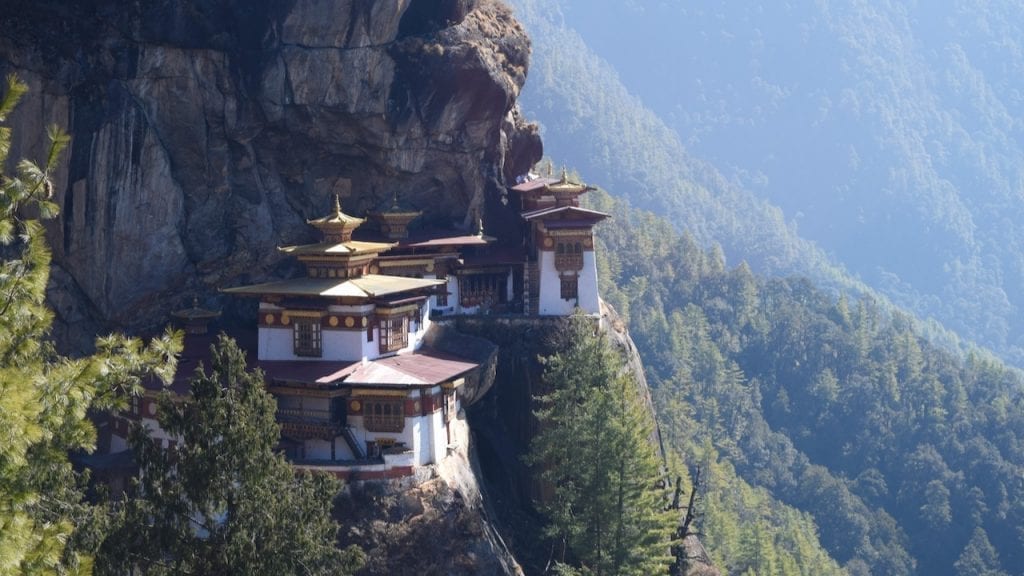 I started taking photos from fresh angles. Although from far off it looks like a single one there are multiple buildings there. There were four of them.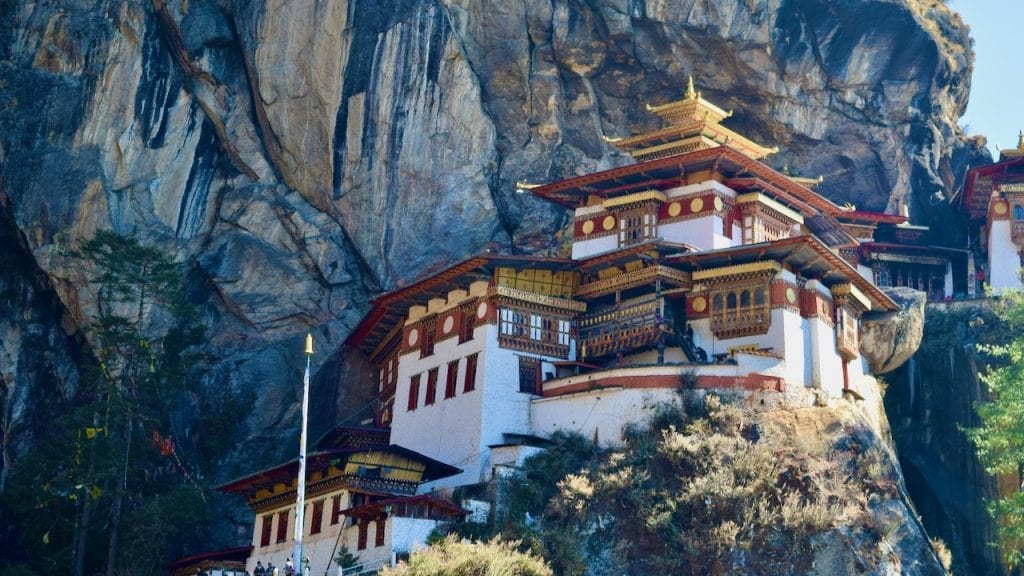 I came closer. The major building became more prominent. While there was no entry fee for me to get inside, I had to show my passport and enter my name in a register book to the guard. I entered the monastery on barefoot. Sadly, I could not take my cameras inside as it's not allowed.
What's Inside?
It's a monastery. There are several prayer rooms along with dormitories. I saw colorful paintings on the wall. The monks were roaming around inside with typical orange dress. I joined a monk who showed us different rooms and described their significances. One room contained secret prayer. I was more interested in looking at the valley from the top.
The Descend
After an hour of stay inside the monastery, I descended. It's the same way. As I was approaching down, I kept looking back to the monastery. I was hungry as I did not take lunch. So it was quick. It's easier to get down than to go up. However, you should be careful otherwise you might end up twisting an ankle.
Alternate Path
I took the most common path to reach to the Tiger's nest. However, one can approach the monastery from the top! No, it's not through a helicopter or on top of a tigress. There is an alternate longer route which will take you to the monastery from a different side. This route is known as "A Hundred Thousand Fairies".
Final Words
Almost everyone in the world knows about the Eiffel Tower. When I went there, I said to myself, okay; I see it. But I did not get bemused by seeing it. However, when I stood in front of the tiger's nest, it blew my mind. It's not because of its architecture, but its breathtaking location. It keeps coming back to me – "How on earth it got there?"
Tiger's Nest Monastery Facts
What is the height of Tiger's nest?
Tiger's nest is in an altitude of 3,120 metres (10,240 ft). It is about 900 metres (3,000 ft) above the Paro Valley.  
What is the Tiger's nest trek distance?
5 to 6 Kilometers from the base.
How much time does it take to go on top of Tiger's nest?
You should keep an entire day for the trek. It takes about 3 hours to reach there, 1 hour to visit the monastery, and 1 hour to get down.
How much is the entry free for Tiger's nest?
It was Nu 500 for me. You can hire a pony and guide, which will cost you additional money.
What is the difficulty level for trekking to the Tiger's nest?
Easy to Medium. Anyone with a modest fitness should be able to do it.
What should I bring for my trek to the Tiger's nest?
Easy to Medium. Anyone with a modest fitness should be able to do it.
Tips for visiting Tiger's nest
If you are short in time, don't get inside. The key attraction for me was the view of the tiger's nest. You will only get it from outside.
Tshechu festival is celebrated in the Paro valley in memory of Guru Rimpoche during March or April. If you could visit the monastery during the four-day festival, it will amaze you.
Further Reading
Exciting landing in the Paro Airport.
Exploring fascinatingly beautiful Phobjikha valley.
Thimphu, a capital like none other!
Did you like the Trek to Tiger's Nest? Pin It!