From the moment I saw the flag of Bhutan, I fell in love with the country! It looked mystical to me! I carried this mystical feeling throughout my journey in this amazing land. During your trip to Bhutan, you must visit Phobjikha valley, a remote valley which must not be missed!
Most of the people visiting Bhutan keep their itinerary within visiting the capital Thimphu, a day trip to Punakha, and Paro where they land. Those who love to trek go for a trek to the mesmerizing and jaw-dropping Taktshang Goemba. But, if you are ready to go beyond the most popular tourist destinations of Bhutan where everyone goes, you will be highly rewarded. Phobjikha Valley located in the middle of Bhutan is one of the places which filled my heart with joy and pleasure.
Where in Bhutan is the Phobjikha Valley?
Phobjikha Valley is 134 Kilometers from Thimphu bordering the Jigme Singye Wangchuck National Park. It takes more than 4 hours to reach Phobjikha Valley from Thimphu.
How is Phobjikha Valley?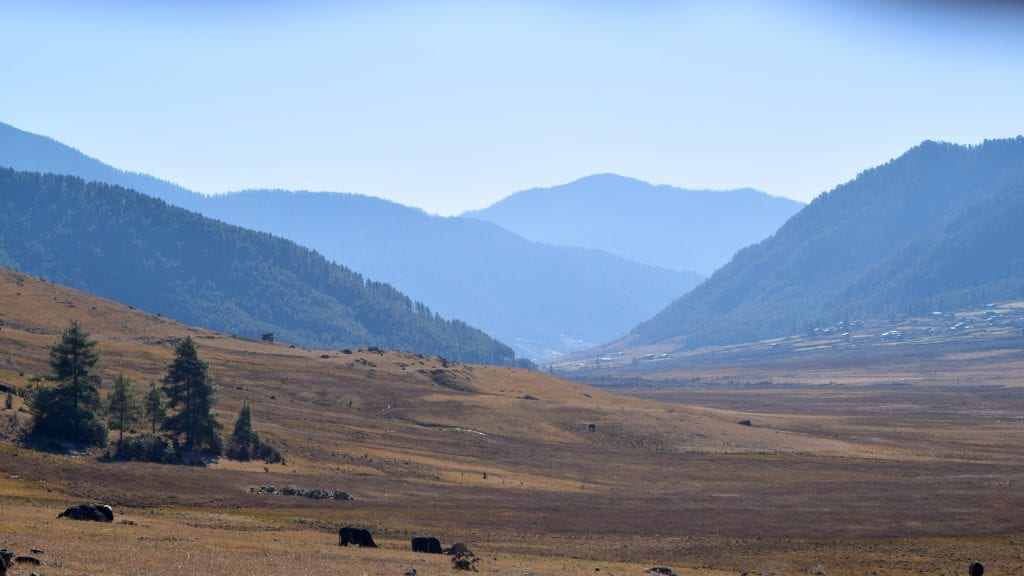 It's a bowl-shaped valley. Due to its location, the place can become very cold and you are supposed to see glaciers in the winter. It's surrounded by black mountains. You won't find many people living in the valley. The number of hotels is still very few. So, a walk in the Phobjikha valley means walking all alone in a different world!
Our Arrival and Nightstay in Phobjikha Valley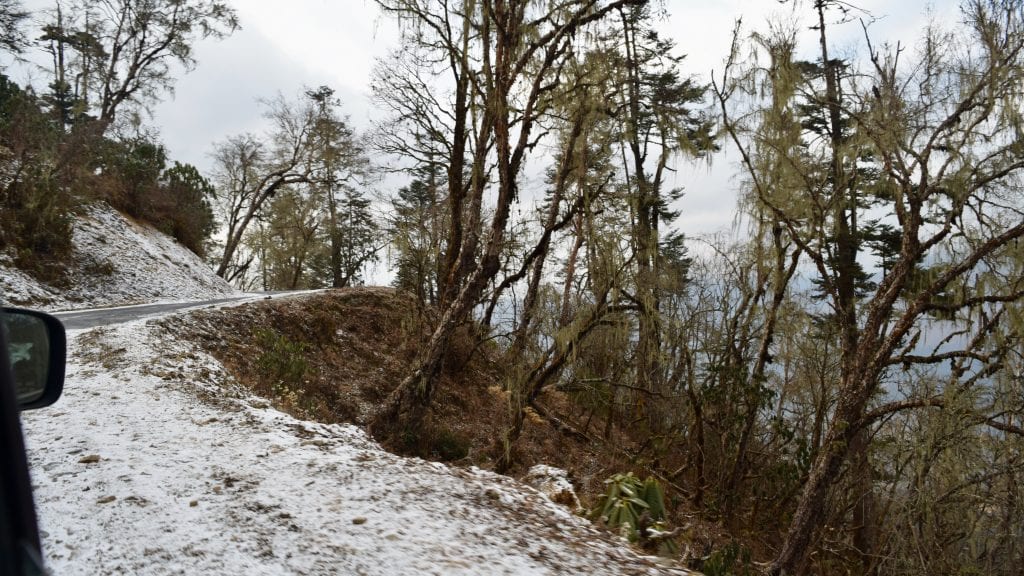 It was already evening when we were entering the valley. We could see traces of snow on the street. It was the end of December, and trees lost their colors. There was a sense of tranquility in the air.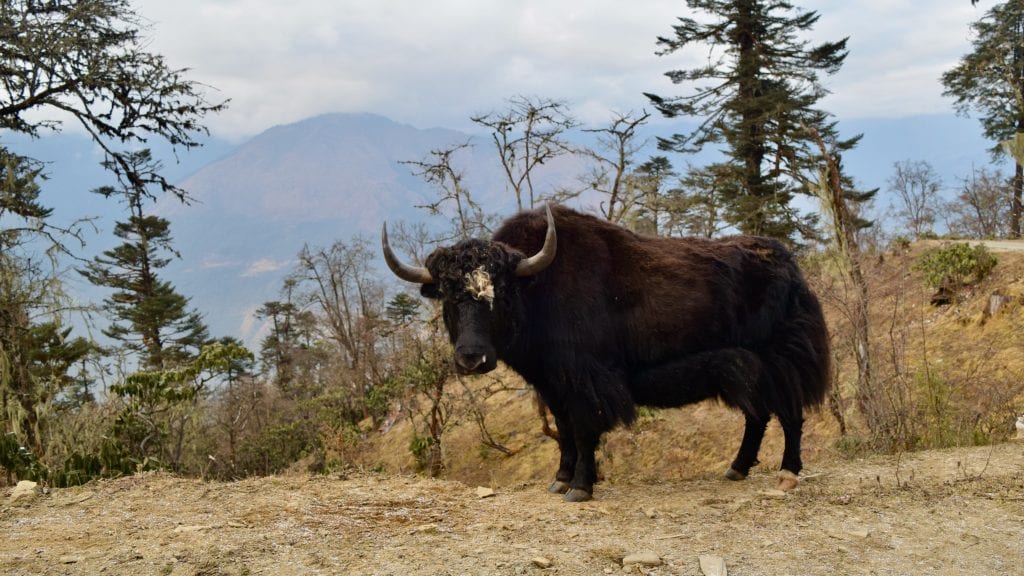 You won't find many people in Bhutan. Its population is only 763,000. So, naturally, the roads were devoid of people. Suddenly, I came across a yak – it was gracefully gorgeous and looking at me! Yak can be found at high altitude, they have thick hairs to battle the cold.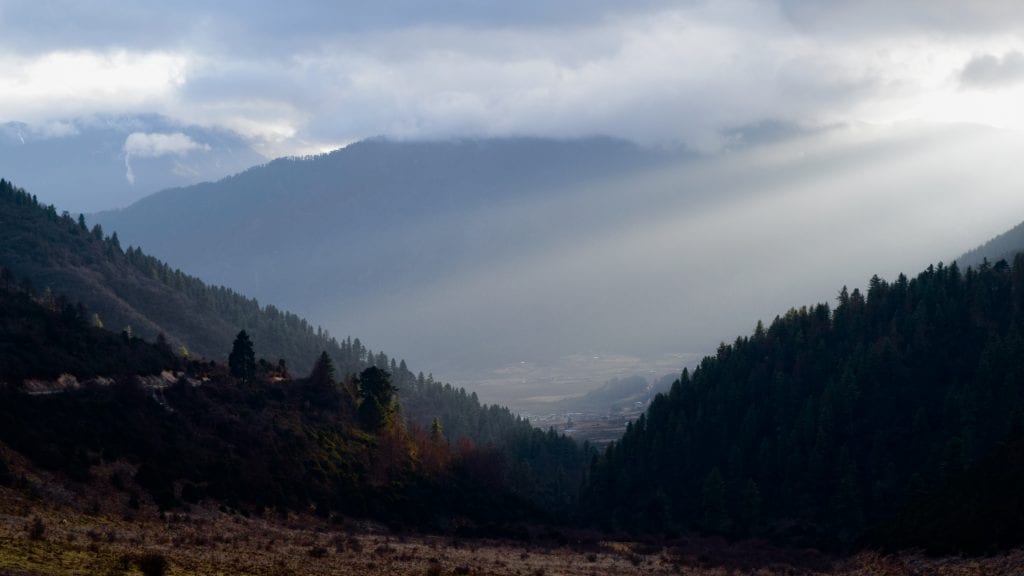 We didn't book anything ahead for a stay before coming here. We let our drivers find one for us. In the meantime, I got out of the car and enjoying the last ray in the valley. It was surreal and sublime. As there were layers of mountains, the ray that came out through the tree and mountains created a different aura. Although there was no trace of snow in the town, the weather was extremely chilly.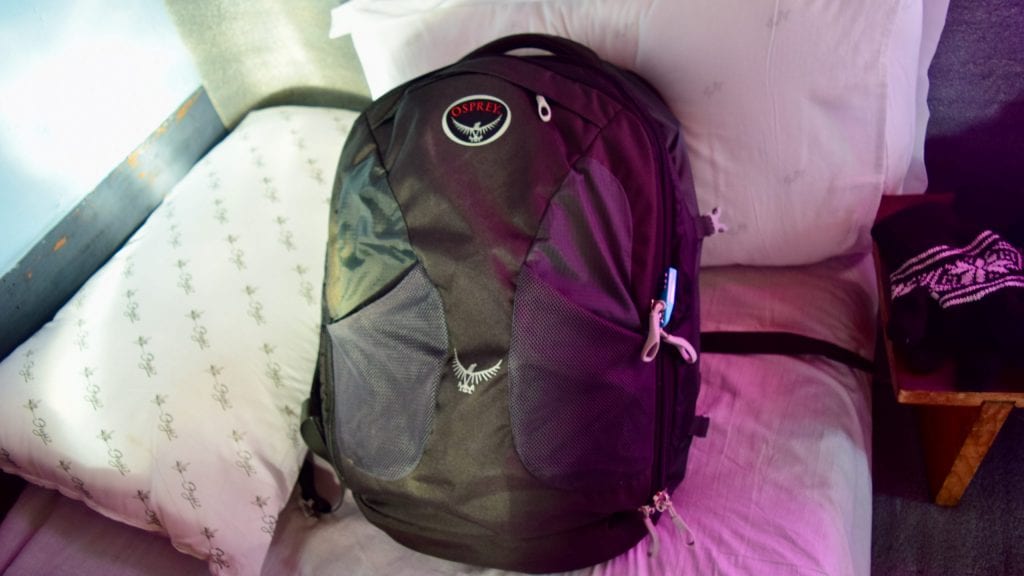 Our driver found a homestay for us. We were greeted by a woman there. It was a small family of 3 including a girl. I got a small bed on the floor to sleep. The window was sealed, however, I could feel the chilliness. After 8:00 PM, my cellphone stopped working! I learned that they turn off the electricity of the cellular tower at night. This was something new to me!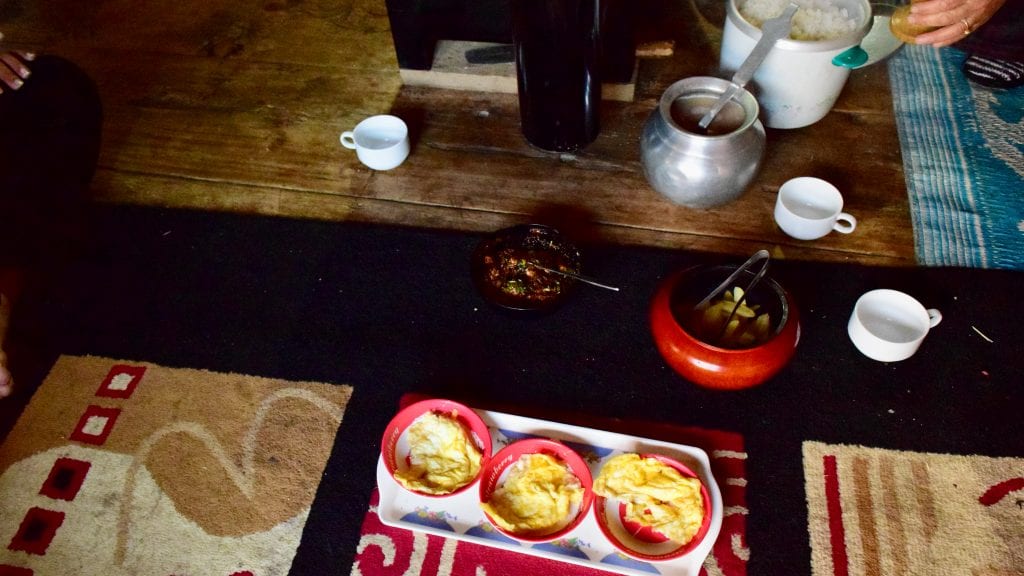 I took the dinner with the family and went to bed. When I woke up in the morning, breakfast was there for us. It was sticky rice, scrambled egg, red chilies, and a special kind of tea named souja made of butter. Although it was not good for my typical tastebud, I enjoyed the company of the family.
A Walk in the Phobjikha Valley in Bhutan
A School or an Office or a Monastery?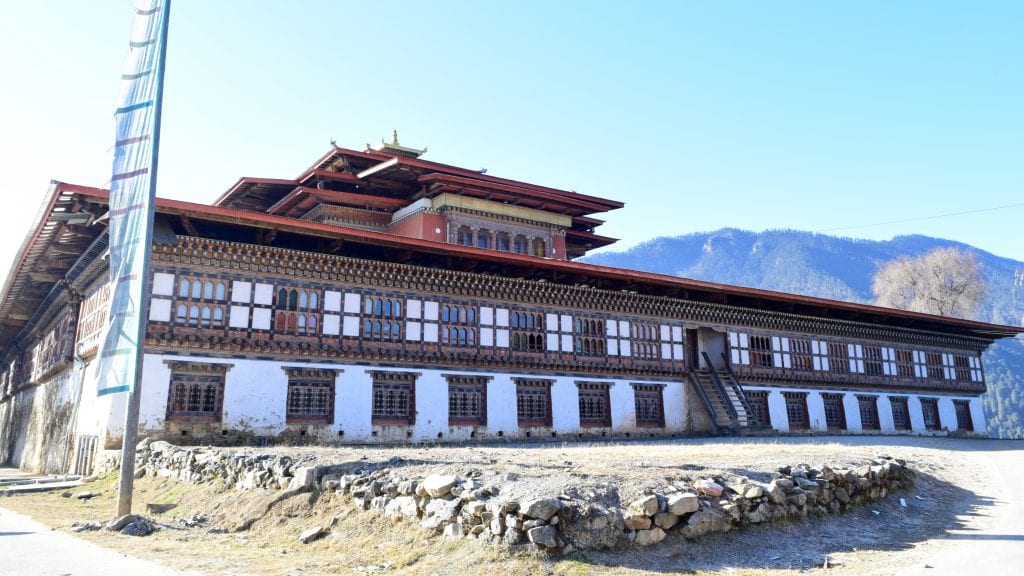 As soon as I got out of our homestay, I came across a beautiful typical Bhutanese architecture – white and maroon. I asked our driver about it. He said that it might be a school. I didn't think so, it looked more of an office building or a monastery rather than a school. Speaking about the monastery, a brief walk took us to the most beautiful one in the valley!
Gangtey Monastery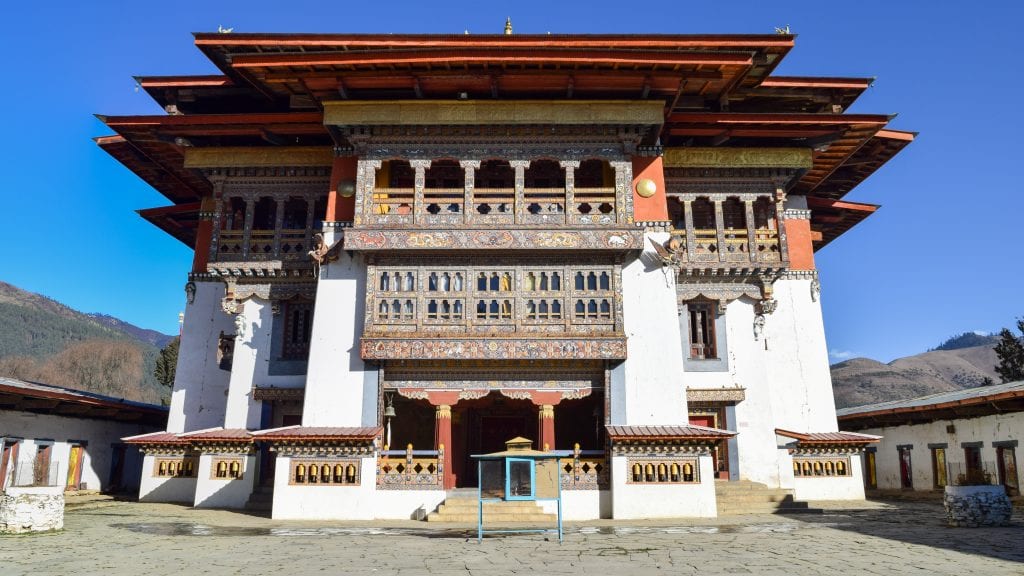 Gangtey Monastery is surrounded by the Gangten village. This is the most famous and beautiful monastery in Phobjikha valley. This Tibetan Buddhism monastery was found 500 centuries back, in the 1700th century.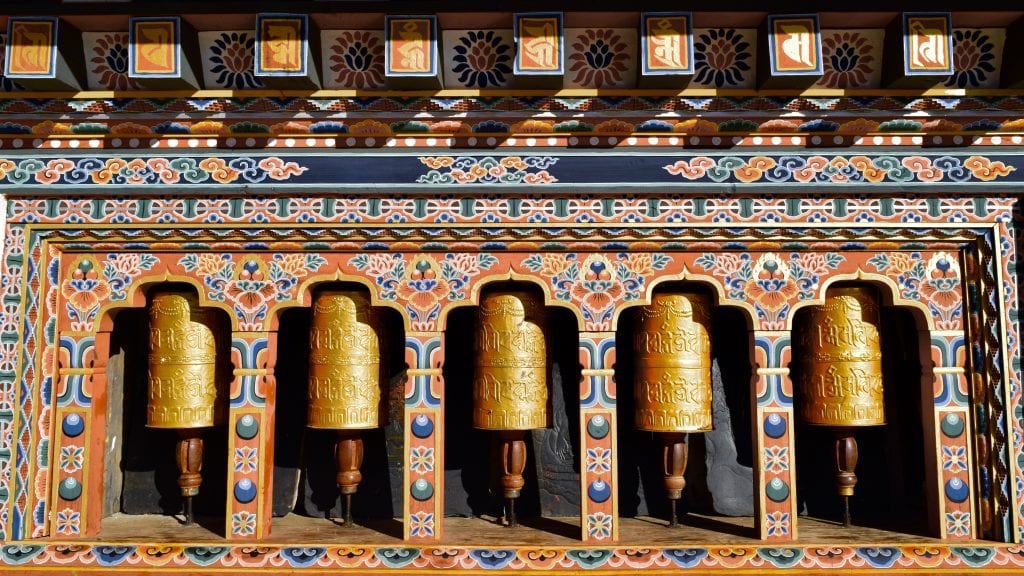 It is customary to circle the monastery three times. You will find gold color prayer wheels inside ornamented wooden boxes. You will see people rotating them.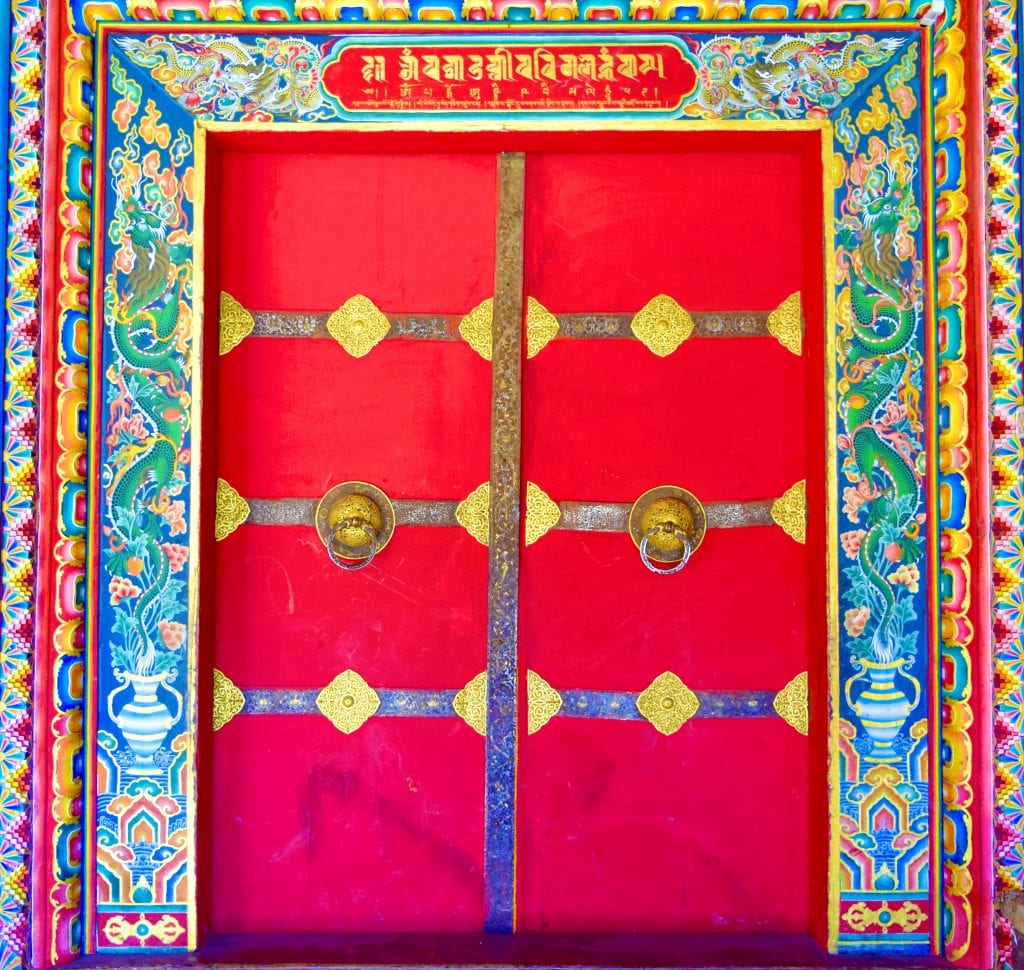 I found the most beautiful red color door in Bhutan in the Gangtey Monastery. On top of the door, you will see prayers in the Tibetan language. The border of the door is painted with snakes coming out of a flower vase. The large circular knob in the middle is for knocking on the door.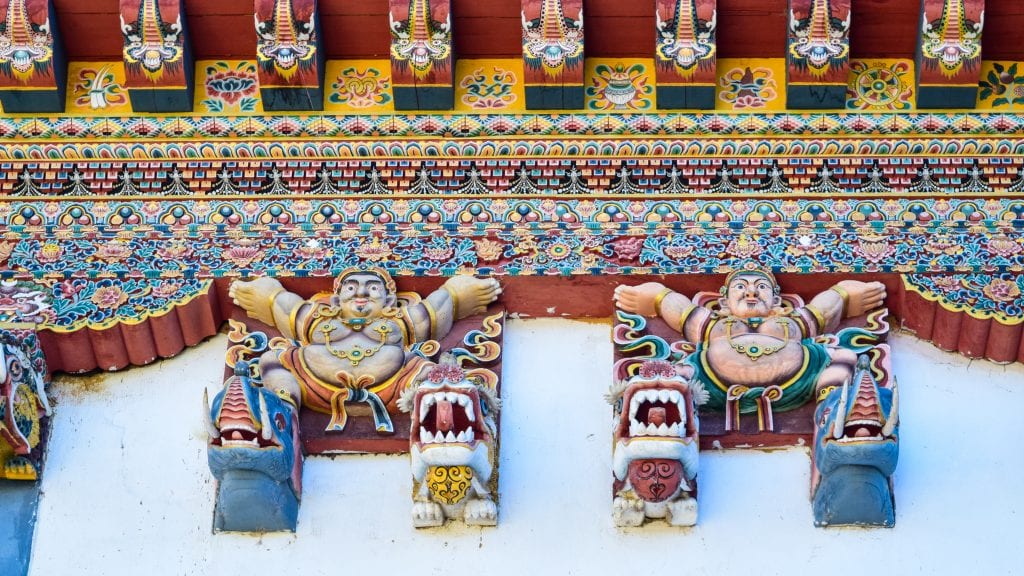 Like most of the structures in Bhutan, you will find an abundance of woods. It's no wonder that the nearest forest supplies them. Even the stones are brought from the nearby mountains. The monastery has five beautiful temples, living quarters, meditation halls, and even a school.
Black Necked Cranes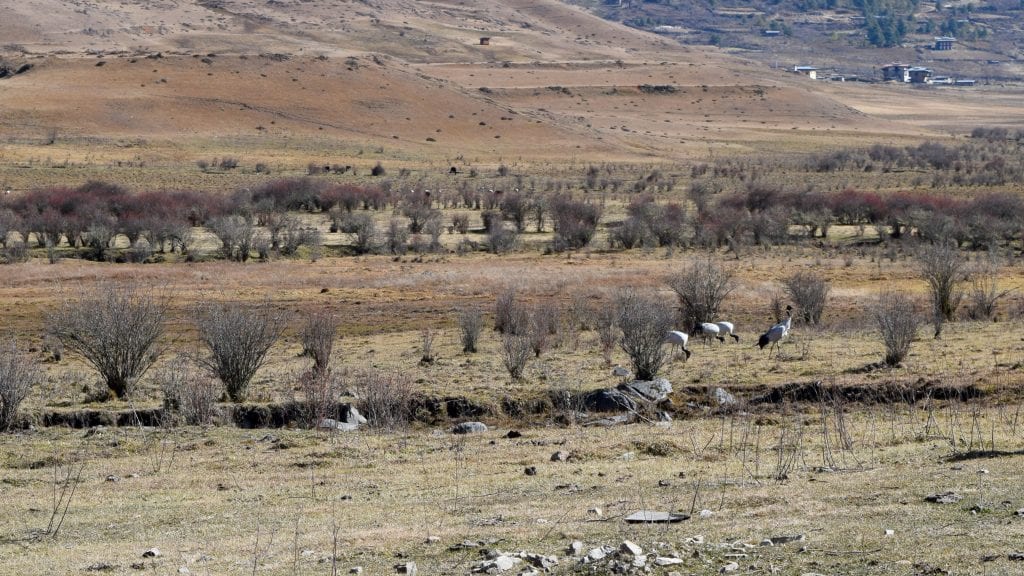 Before visiting Phobjikha valley, wherever I tried to read something about the place, I read about the black-necked cranes. They are so popular! There is a reason for that. This crane breeds in the Tibetan Plateau and available only in the remote parts of Bhutan and India. Its body is white and its neck is black. There are only less than 10,000 black naked cranes alive so this is a rare breed. You will find a black-necked crane visitor center in Phobjikha Valley with tons of information about this beautiful bird. Besides, you can enjoy binoculars for observing the birds in the field, you will find them in winter.
A Top View of the valley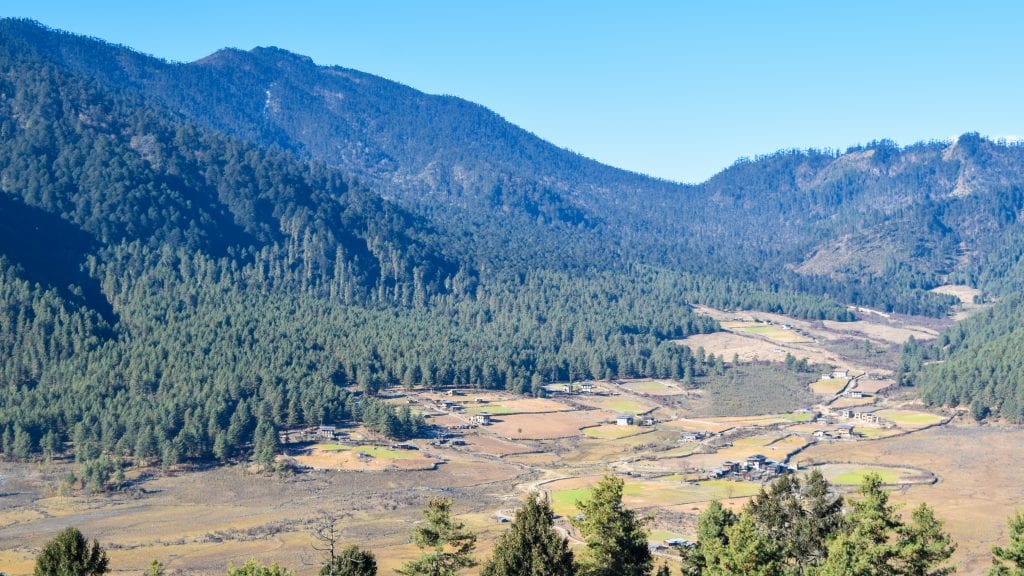 I mentioned earlier that, Phobjikha is a bowl-shaped valley. So, you will get an opportunity to visit different places from where you can enjoy a panoramic view of the entire valley. This was one of my favorites things to do as I felt like a bird enjoying everything from the top.
Getting Lost in the Valley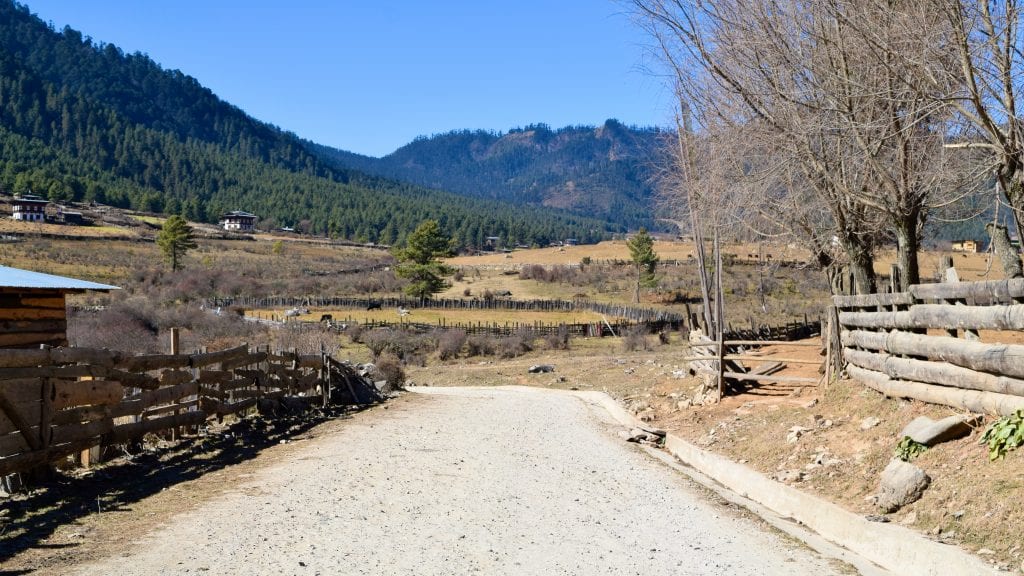 Back to the ground from the top and you will find plenty of things to explore, too! Is there anything specific? The answer is no! You just need to pick a road and walk to the unknowns as the wind blows and time passes.
Muddy road – Pine Forest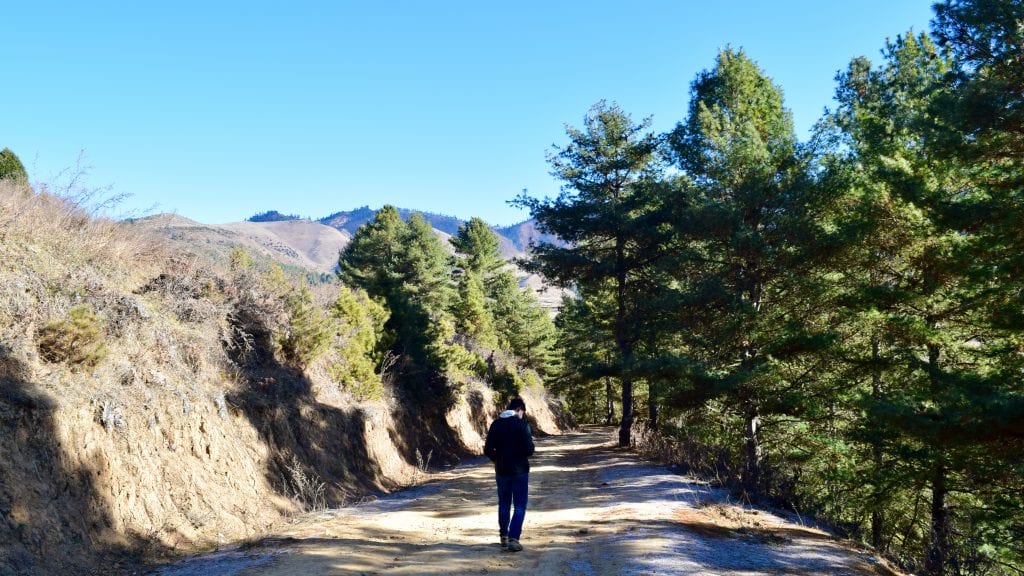 I visited Phobjikha valley at the end of December. The sky was blue and clear and the mountains were not as green as I would have expected, it was rather brown. While walking on the unpaved muddy road in Phobjikha valley, I noticed an abundance of pine trees. They were very big. If you like, you may have a walk in the forest while exploring the valley.
Exploring Local Houses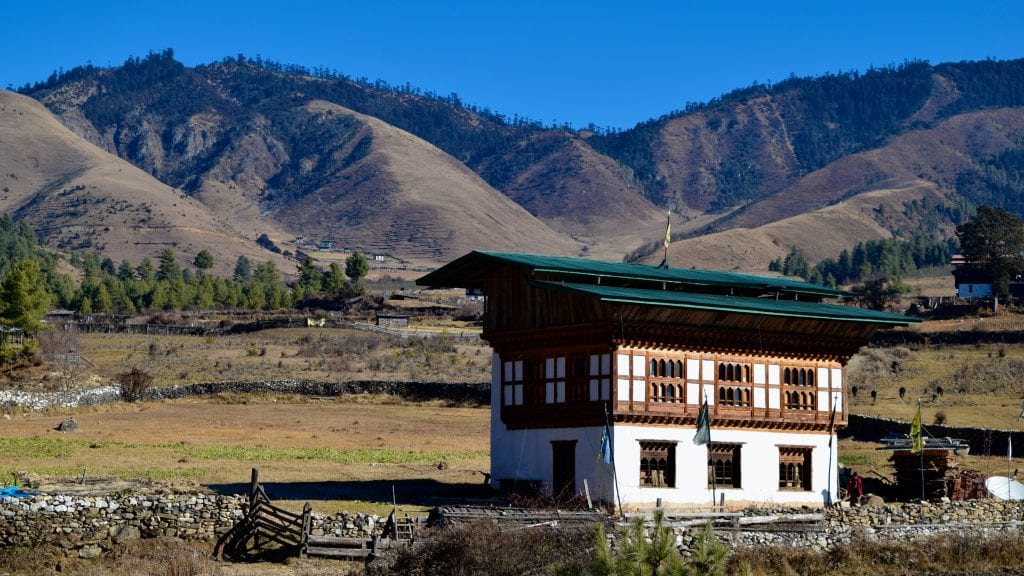 While walking on the road of Phobjikha valley, I was wondering if anyone lives here! There were not many souls around. All of a sudden, I discovered a house just like Christopher Columbus discovered America! It was a two-storied building standing out of nowhere surrounded by the brown mountains. It had a small boundary to mark its property.
Indian Bikers are Everywhere!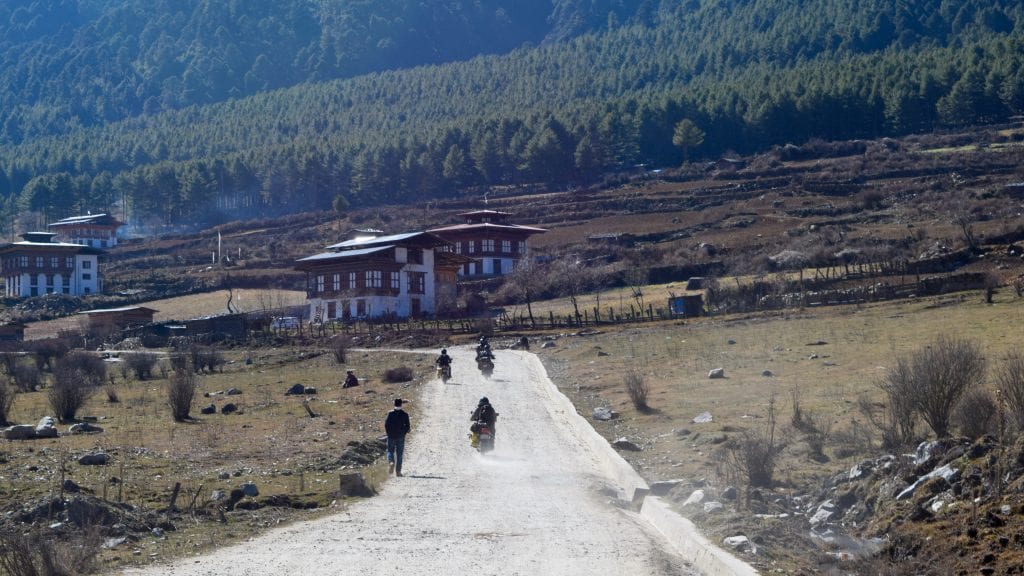 Only the Indians can enter Bhutan by road. They take this opportunity with both their hands. I think I saw more Indians in Bhutan than the Bhutanese. It's not common for an Indian to come to Bhutan with their own motorbike. Although they enjoy their time to the fullest (who wouldn't?), I didn't like it at times as those motorbikes disturb the silence and tranquility of the valley.
Basking in the Prayer Flags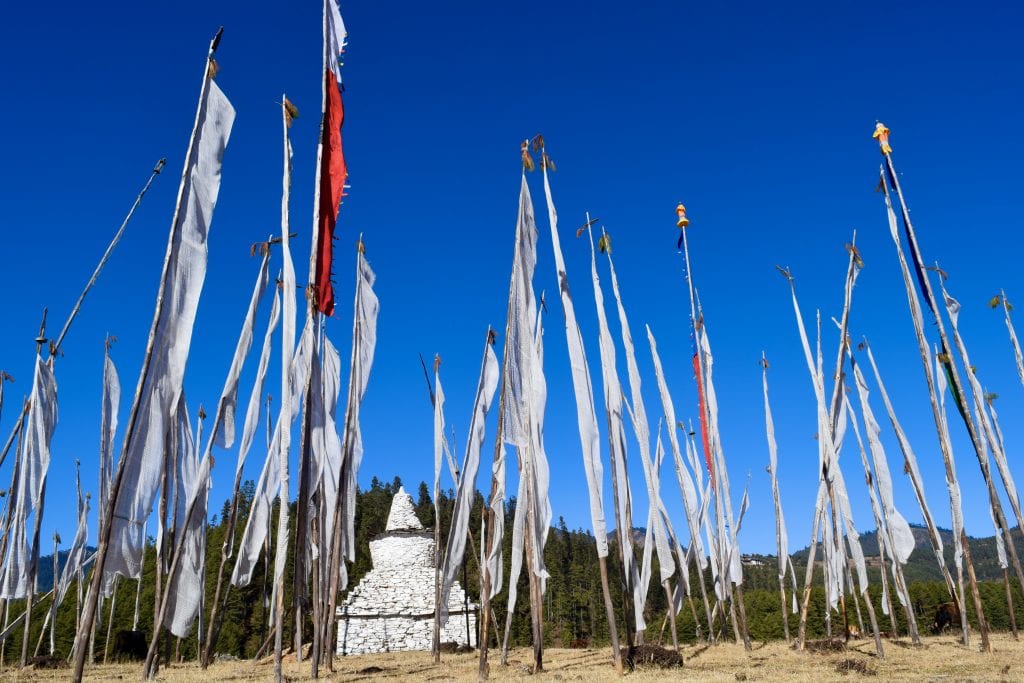 I was walking on the Gangtey nature trail. Suddenly, I saw a white stupa surrounded by countless colorful prayer flags. In Bhutan, prayer flags usually hang from a rope with smaller chunks. However, these were literally flags raised on sticks. It was amazing to stand in the middle surrounded by waving flags in a remote part of the world.
Holy Cows!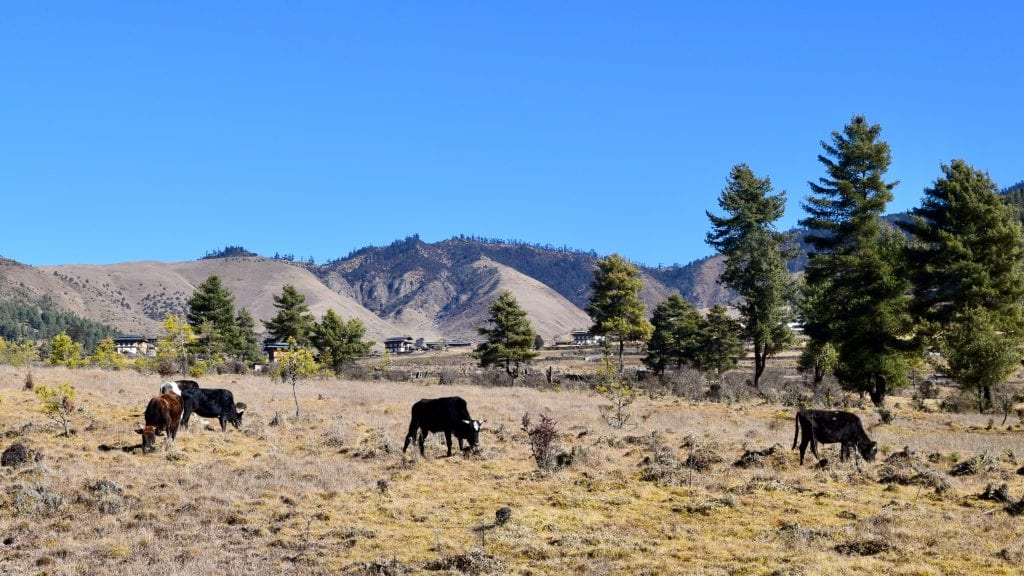 Unlike India, or Nepal where Hinduism is dominant, Bhutan is a Buddhist country. It means, cows do not resemble holiness for them. However, the Bhutanese usually do not kill animals including fish as it is discouraged in Buddhism. Most of the meats you will consume in Bhutan are imported from India!
Refreshing Water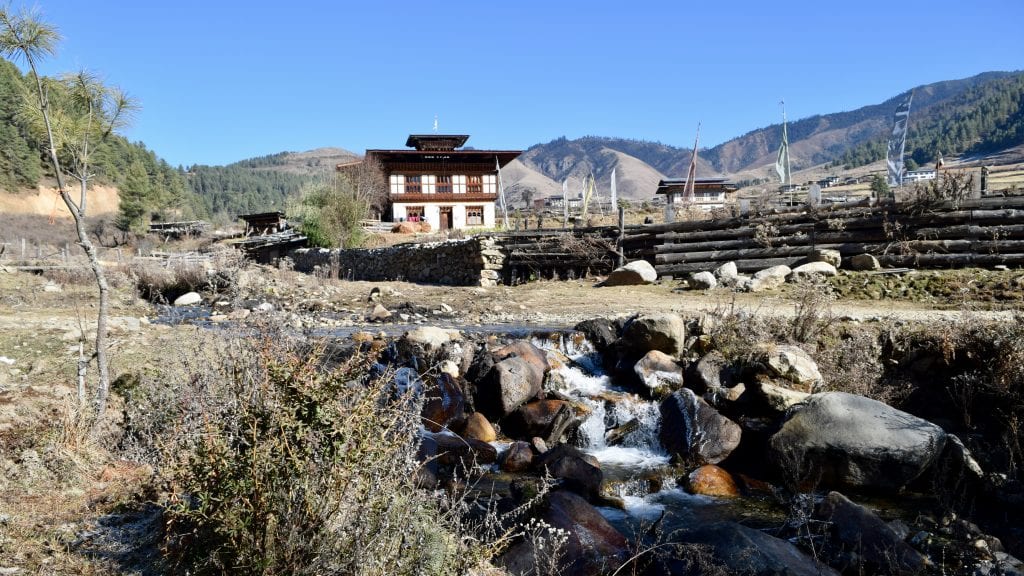 Bhutan is different comparing to many countries you are gonna visit. You won't find shops or restaurants in most of the places, Phobjikha valley is no exception. It will be wise for you to carry snacks and water in a bag pack. You can refill those water bottles from many streams. Do not forget to splash them on your face too, they are refreshing!
…And Phobjikha Valley is Beautiful!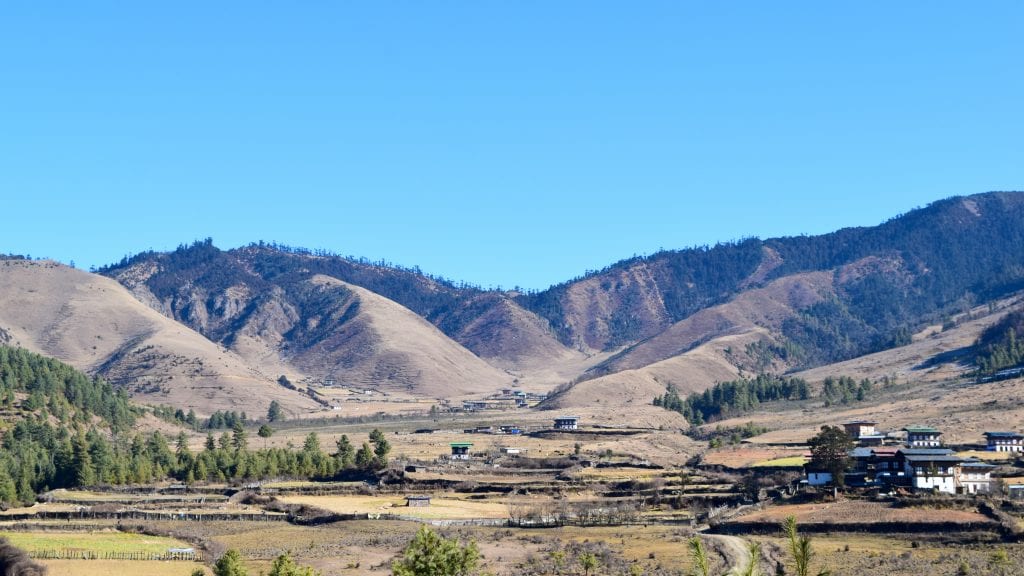 I simply loved Phobjikha Valley, it's calm, quiet, scenic, and beautiful! As I went during the winter, I saw brown mountains and nature was barren. I hope to visit there during the monsoon, I am pretty sure, I would love the green Phobjikha Valley, too! Do not miss visiting there during your trip to Bhutan, it's an absolute must!