Singapore is a sovereign country in Southeast Asia. This small island is an example of leveraging technologies for taking the country to the next step. Unlike some other countries in Asia, Singapore is organised, advanced, and expensive. This travel guide will work as a perfect 4 day itinerary for Singapore.
Singapore is twice the size of Dhaka, the capital where I live. I know how small Dhaka is, and I can go from one end to another end of the city in 60 minutes if traffic permits! So, when I planned to visit Singapore and was making an itinerary for Singapore, I got confused about the length of my stay.
1 day?
2 days, maybe?
3 days? Are you sure?
4 days? No way! What to see in Singapore in 4 days?
Interestingly, since then, I visited Singapore twice and I could have stayed there longer. Let me tell you a secret. I will go there again. There are so many things to see and do in Singapore!
Here goes the the perfect 4 Day Singapore Itinerary curated for every type of travelers which will work as the ultimate travel guide for you in Singapore.
Singapore Sightseeing Map
Singapore Itinerary on Day 1
Singapore Botanic Garden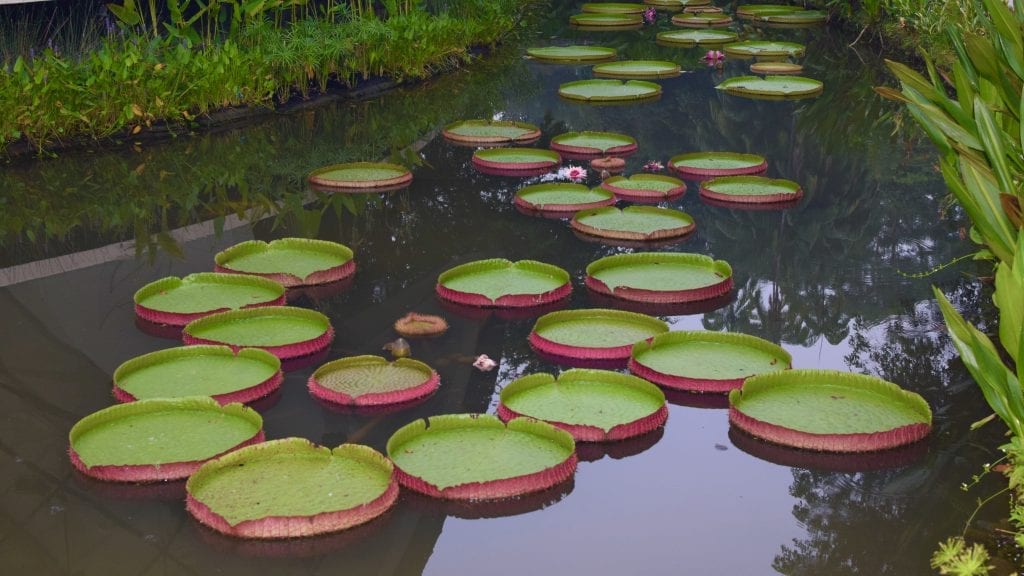 Start the day during the early morning and head out to the Singapore Botanic Garden. Just stroll around this UNESCO World Heritage Site. This magnificent 202 acres of the garden will greet you with a large rainforest. If you are an orchid lover, don't miss the opportunity to visit the National Orchid garden right inside the botanic garden. Who wants to miss the opportunity of enjoying 50000 orchids?
Entrance Fee
Free if you visit only the garden
SG$5 for the orchid garden
Singapore Zoo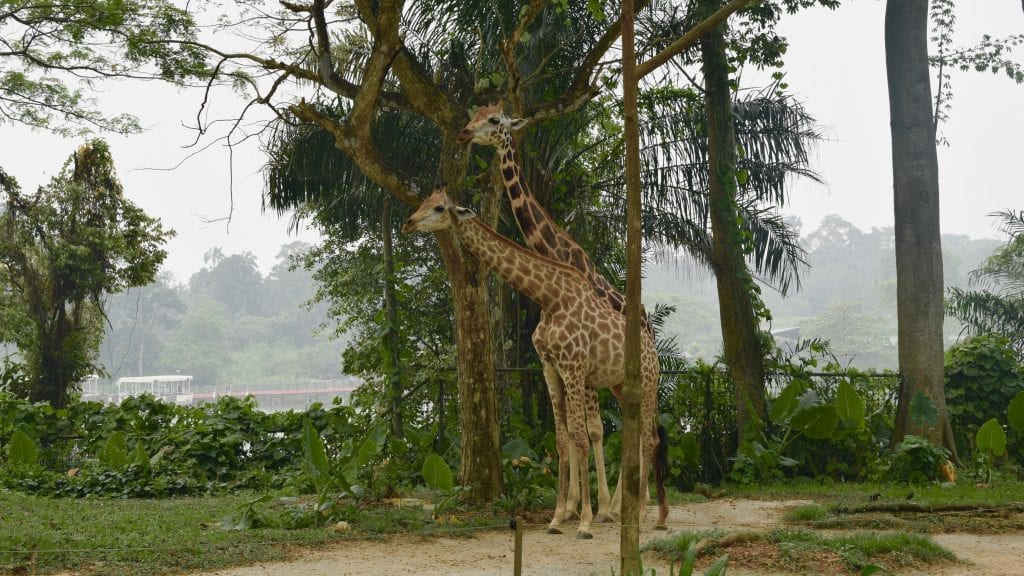 Singapore zoo is a fascinating place for animal lovers and kids. This zoo is so nicely built, you will feel like visiting a jungle and meeting the animals in the open air. You will meet Giraffe, Zebra, Elephants, Cheetah, Leopard, White Tiger, Polar Bear, Rhinoceros, Crocodiles, Kangaroos, Orangutan and tons of other animals. You can go out for a river safari or night safari, too.
If you still have time in your hand, go to Jurong Park to spend time with colorful birds.
If you want to know how I spent an entire day in Singapore Zoo, read it from here.
Singapore Itinerary on Day 2
S.E.A. Aquarium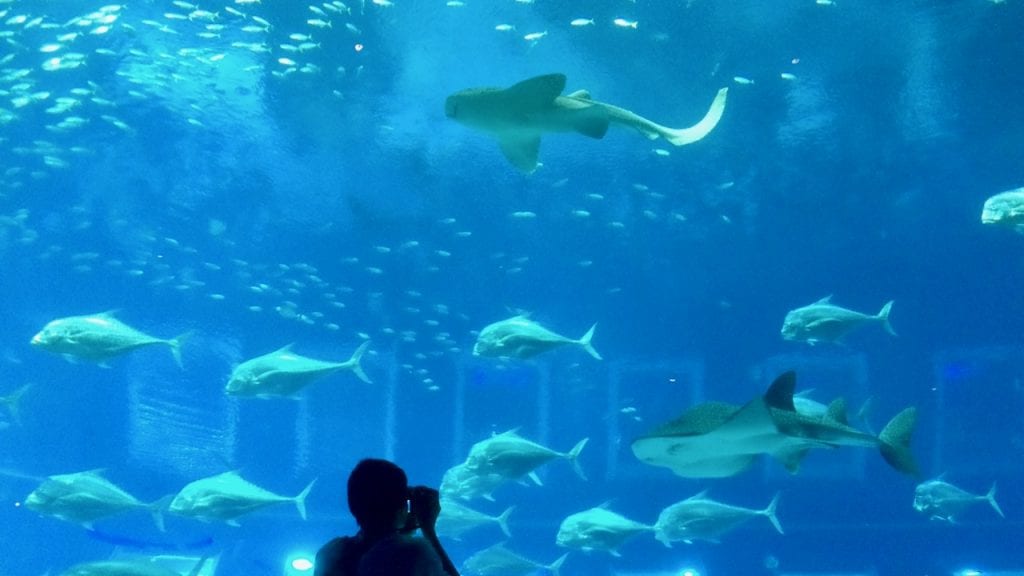 This is a marvellous world. I have never been to an aquarium as beautiful as this aquarium. It's the second-largest aquarium in the world by water volume. I felt like diving beneath a sea and watching the underwater creatures live in front of my eyes.
In the open ocean tank, there are so many fishes and animals at once. When the leopard shark overtakes manta rays, you will surely gasp in excitement.
Entrance Fee
Adult (Age 13-59) – SGD41
Child (Age 4-12) – SGD30
Senior (Age 60 and above) – SGD30
Universal Studios
From a marvelous world in the S.E.A. aquarium, you will move to a world of fairy tales. It's a theme park by the famous movie producer. As soon as you enter the premise, you will know straight away that you have entered a movie set. There you can take photos with minions, Shrek, and so many other characters. Don't be surprised if you stumble upon Marilyn Monroe suddenly.
Once you will have enough of taking photos with the characters, you can move towards different rides. From watching the multi-dimensional version of Shrek to riding the jaw-dropping roller coaster Battlestar Galactica, your time will just fly in the park. I am sure you won't be able to take all the 28 rides on a single day!
Entrance Fee
Adult (Age 13-59) – SGD81
Child (Age 4-12) – SGD61
Senior (Age 60 and above) – SGD43
Discounted rate for Singapore residency cardholders
Singapore Itinerary on Day 3
Little India
Little India is truly a piece of India in Singapore. It's chaotic, colorful, full of restaurants, temples, and cheap shopping malls.
You cannot miss Sri Veeramakaliamman Temple, Sri Srinivasa Perumal Temple. These two are Hindu temples inspired by the southern part of India. An interesting fact is, among Indians, the Tamil from the south of India dominates in Singapore.
If you want to visit a Buddhist temple, then the temple of 1,000 Lights is a good pick.
If you look to buy anything at an affordable price, just get into Mustafa Mart. When you will be out of this shop, your head will surely spin.
Raffles Hotel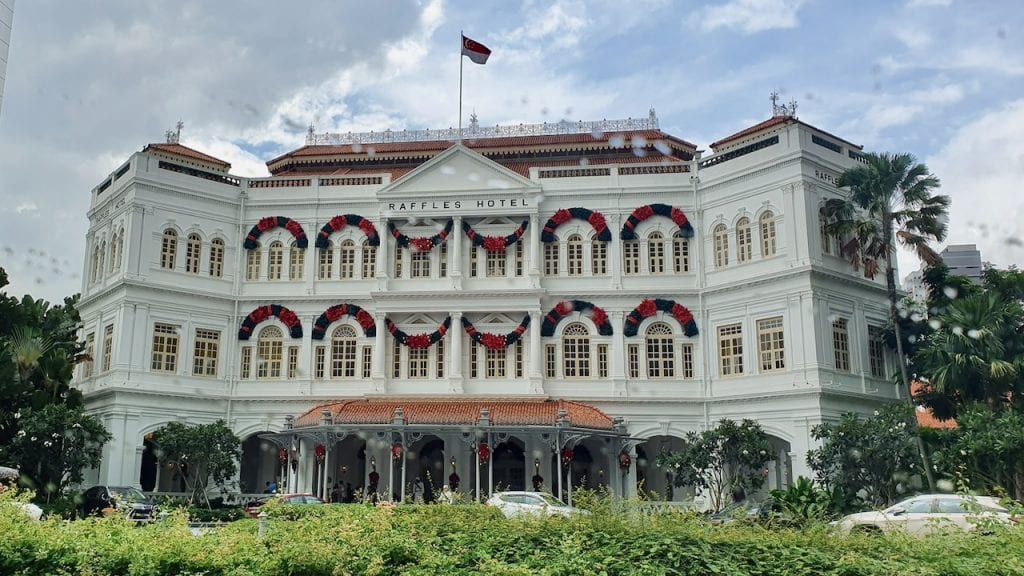 Why on earth one would visit a hotel? Because it is no ordinary hotel. Established in 133 years ago by Armenian hoteliers, this oldest hotel in entire Asia has a historical beauty. The Singapore Government recognized this hotel as a national monument – a rare feat for any hotel. Many celebrities like Rudyard Kipling stayed in this hotel and wrote about it in her book. The famous cocktail Singapore Sling was invented here, don't forget to have it inside once you are there.
Chinatown
There is nothing particular to see in Chinatown. You just need to go there and walk in different directions. Approximately one-third of people in Singapore live in Chinatown. Indulge in the colourful shops and streets. One thing you cannot miss is to taste food in Chinatown.
Southern Ridge Walk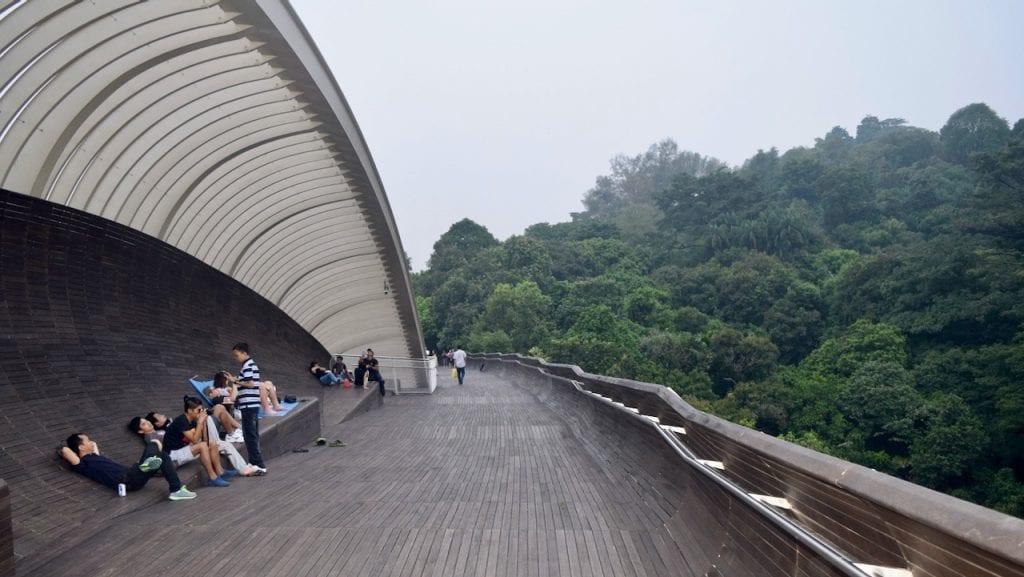 If you think Singapore is all about buildings, you must go for the Southern Ridge Walk. This 10 KM long open green space is connected by trails and ridges. You will climb up gradually with this hike. This will give you an opportunity to see the city, harbors, and the southern islands.
There is a wave-shaped pedestrian bridge that connects Mount Faber Park to Telok Blangah Hill Park. It's lovely.
An excellent place to start the walk is from Mount Faber Park and head towards the Marang Trail from there.
To start the walk, head to Mount Faber Park and go up the Marang Trail.
River Cruise at Night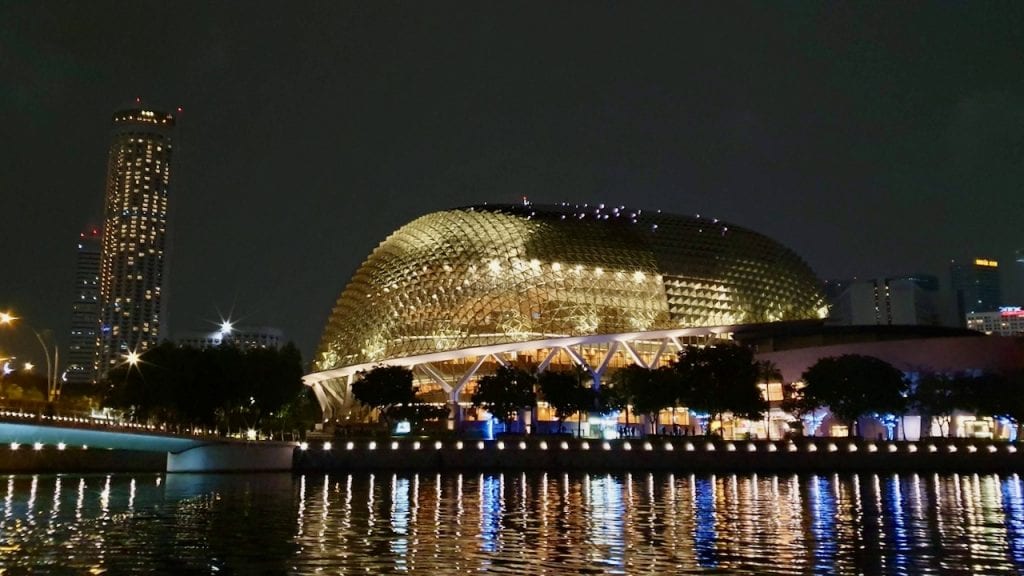 Singapore looks marvelous during the night. There is no other better way to taste the night view of Singapore than taking a boat ride. Multiple operators run the boat ride, namely river cruise. You can hop into one from multiple places. I started the ride from a pier near the Marina Bay Sands. It stops on multiple piers. You will know the history of Singapore and see different landmarks.
Clarke Quay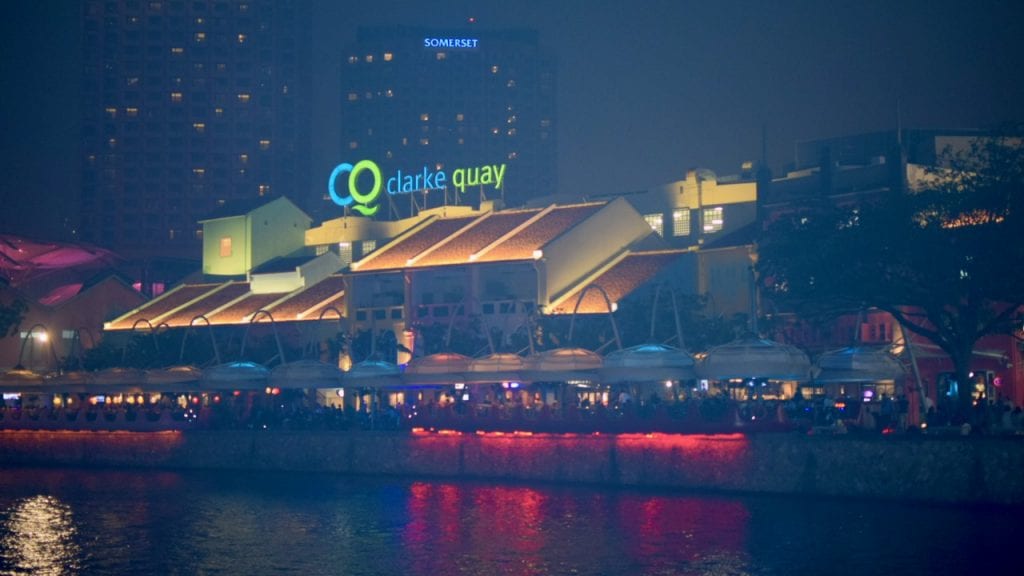 You can get down to Clarke Quay during your river cruise or can walk several hundred meters from your ultimate boat cruise destination. Clarke Quay is a fascinating place to enjoy your nightlife and have your dinner.
From Clarke Quay, if you have energy you can go to Robertson Quay, too. It's about 1500 meters of walk.
Singapore Itinerary on Day 4
Skyline of Singapore from 1-altitude bar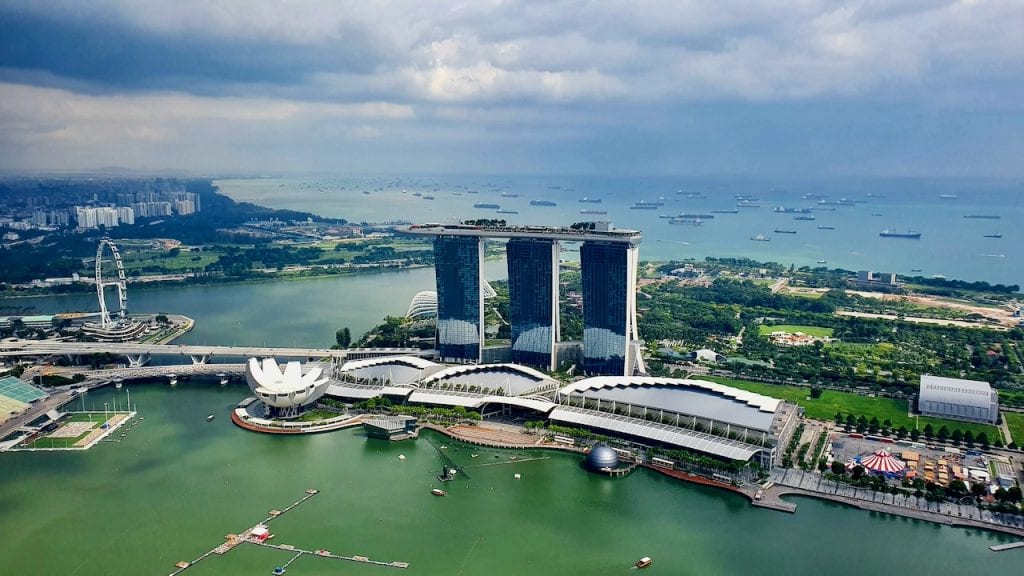 Singapore is full of skyscrapers. It has become an interesting hub for businesses. So many corporations set up their regional headquarters in Singapore. Probably in Asia, only Tokyo and Hong Kong can compete with Singapore for their skyline.
If you want to have a fantastic 360-degree panoramic view of the city, get on top of the 1-altitude bar. You need a ticket and change elevators twice before reaching on top. But it's worth every penny you spend.
One thing worth mentioning, if there is any chance of rain they do not admit any audience. They are strict about it. I went there once when it was drizzling and they said they can't let me in as it's an alfresco bar.
Oh, and a little statistic – it's 282 meters high.
Merlion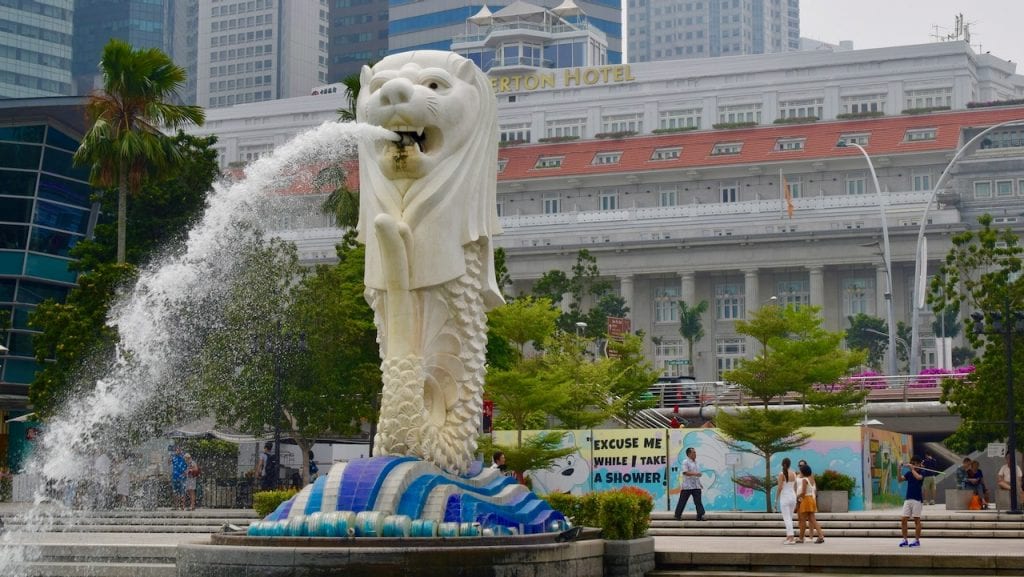 If the Marina Bay Sands is the most iconic thing in Singapore, the Merlion is the national symbol. This is a fountain depicted as a mythical creature with a lion's head and the body of a fish. It's nothing special, however, if you are in Singapore, you have to see it. What I loved is the view from this location. Go there at night to get a glimpse of rich colors.
Singapore Flyer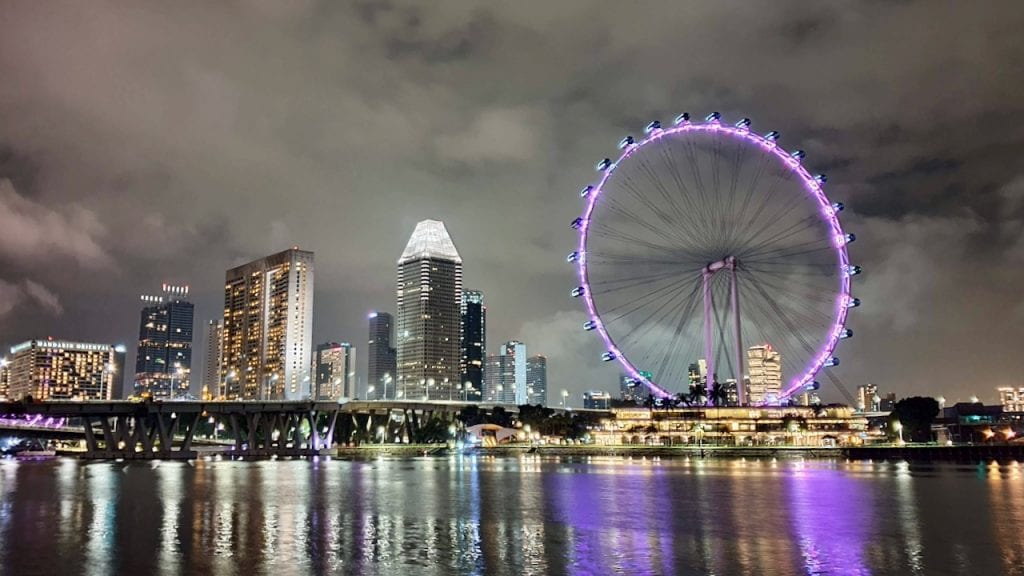 Do you want to have a moving experience at every turn? Then don't forget to get into one of the twenty-eight capsules of this flyer. This is one of the tallest Ferris wheels in the world.
Gardens by the Bay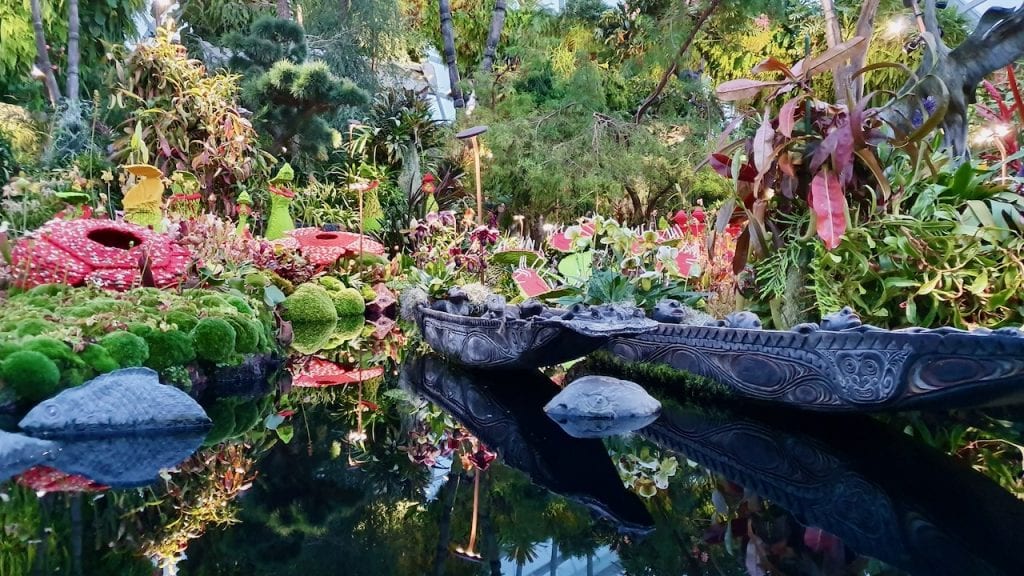 This 250 acres nature park, right beside the Marina Bay Sands, is astonishing. Starting from a waterfall to different parts of the gardens named flower dome or cloud forest, you will see endless plants, flowers, and orchids. The Flower Dome is the largest glass greenhouse in the world.
A walk in these gardens gave me a peculiar feeling – I felt that; I am exploring an artificial garden. They made the flowers and plants of plastics! Then I realized that they are all real. However, the super-sophisticated looks of the surroundings made me feel that way.
Marina Bay Sands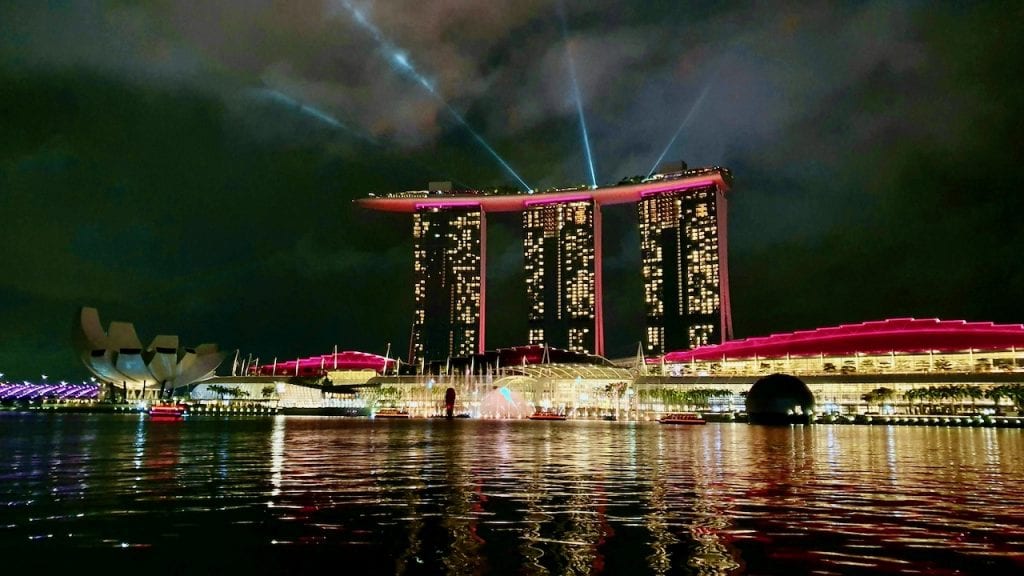 Marina Bay Sands is the most iconic structure in Singapore. Wherever you see a photo of Singapore, you will see these towers with a boat-shaped ceiling. This is an integrated resort facing the marina bay. If you want to spend some money from your pocket, you can go to the top of Marina Bay Sands. However, as you already have been to the 1-altitude bar, it will be redundant. Rather, walk in the area and enjoy this building from fresh angles.
Light and sound show
During the evening time, a light and sound show takes place in front of the Marina Bay Sands. The show is called Spectra. You can enjoy it for free. To get a better view, grab the front seat (which is stairs facing the Marina Bay). You will be amazed by this 10 to 15 minutes of the show.
More to See on the Day of Departure
Jewel Changi Airport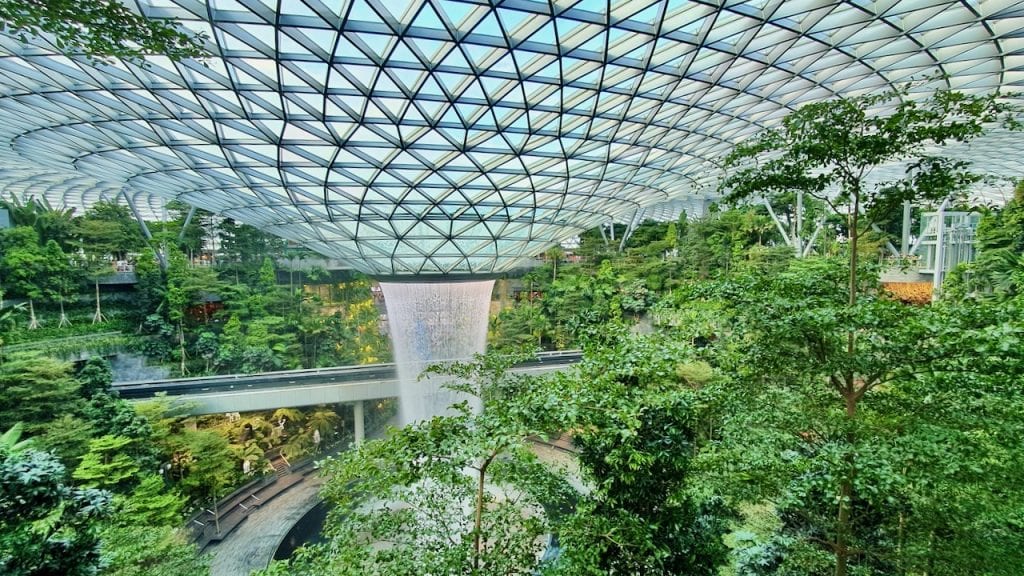 You have seen quite a lot by now. Now, it's time to leave and you have a flight to catch to your next destination.
Wait! Your trip to Singapore is not over yet!
Arrive at the airport at least 6 hours prior to your departure. The landside of Changi Airport has a nature-themed entertainment and retail complex. You simply cannot miss this. From the tallest indoor waterfall of the world, the Rain Vortex to a garden spanning five stories, Shiseido Forest Valley, I felt like entering a science fiction movie set. It's a wonderful world from the future unveiled in front of you at present.
Costs in Singapore
Whenever someone from the West plans to visit to Asia, they think about cheap prices. Although Singapore is in Asia, it is one of the most expensive places in not only Asia but in the world. So, be prepared to spend at least US$100 per day, including accommodation if you do not want anything fancy.
The currency of Singapore is Singapore Dollar. You will get around 140 Singapore Dollar if you exchange 100 US Dollar.
Try to avoid taking taxis as it can be expensive. Rather use the extensive MRT system of Singapore. You will find details below. However, for a shorter distance, you can take a Grab which is the Uber of Singapore.
Accommodation in Singapore
Unless you want to stay in a hostel, the hotels of Singapore are expensive. The hostels are not cheap either. If you are on a budget, and a couple, my suggestion would be to go for a budget hotel rather than hostels.
I have given a list of 12 hotels in three budget levels. I stayed in two of them and read excellent reviews of the rest. I believe you can pick from any of them based on your budget.
High End (More than US$200 for 2 persons)
Mid End (Around US$110 for 2 persons)
Budget (Around US$60 for 2 persons)
What About a Homestay?
You can also consider renting a home from Airbnb in Singapore as the hotels are expensive. I am putting a widget below from where you can book a place of your choice.
Foods in Singapore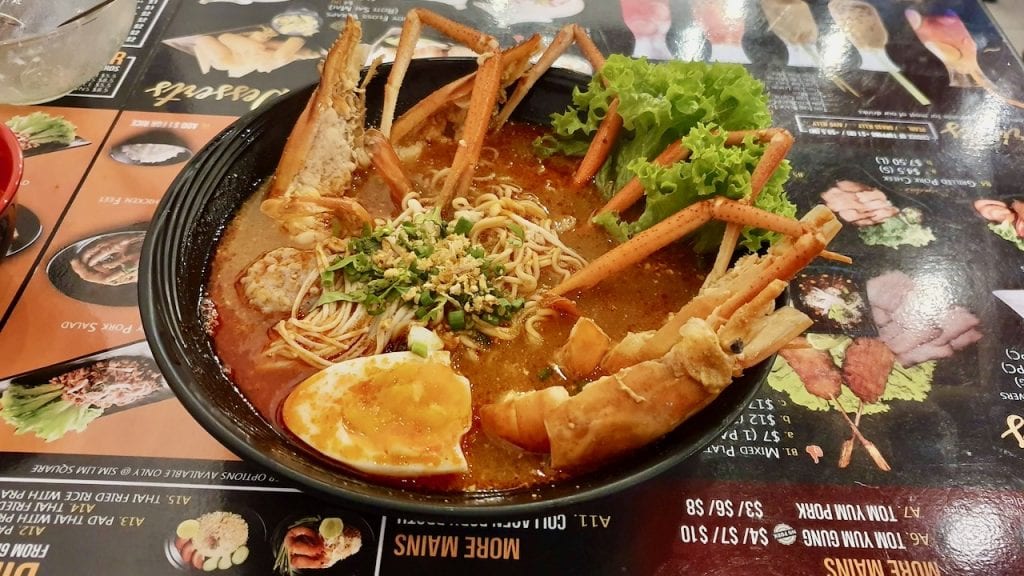 Singapore is famous for its seafood. Besides, you will mostly find rice, meat, noodles, and desserts. The foods can be spicy, like the one shown in this photo. The dominance of Chinese cuisine was obvious in many places, followed by Malay and Indian cuisines.
You can categorize most famous dishes as –
Seafood
Chili crab
Black pepper crab
Sambal Stingray
Meat
Noodles
Fried Hokkien Mee
Nyonya Laksa
Char Kuey Teow
Wanton mee
Dessert
Kaya Toast
Pandan Chiffon Cake
Eat all of them during your journey, it will be a part of your trip.
Public Transportation in Singapore
Public transportation in Singapore is extremely organized and affordable. If you come from the other least developed Asian countries, it will surprise you. I always try to use their MRT and try to avoid their Bus. Because the Bus has many stoppages and in a long-distance can take a lot of time to cover. My suggestion would be to take the bus only for travelling shorter distances. You must keep a map of the MRT, it will take you to most of the places.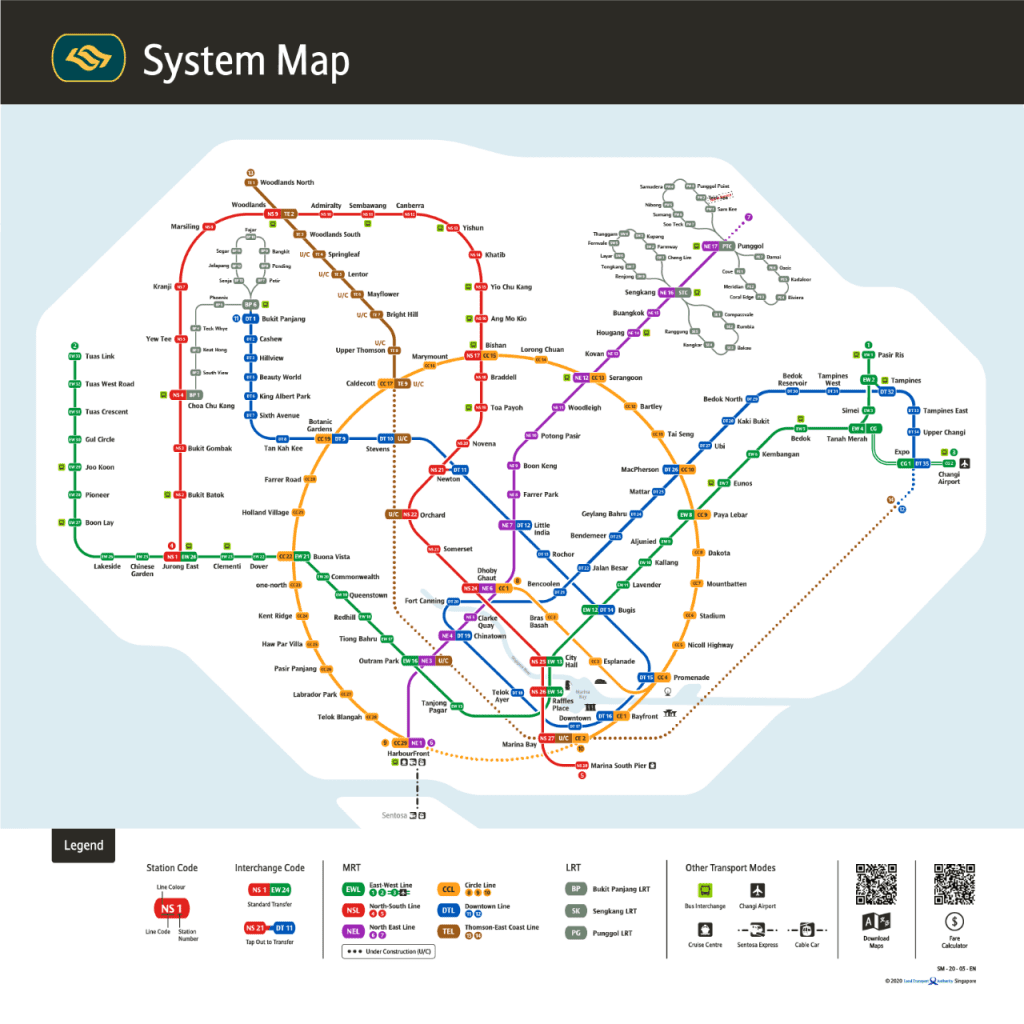 It's an excellent idea to buy an MRT card for your travel. You can buy it online from here.
Key Points about Singapore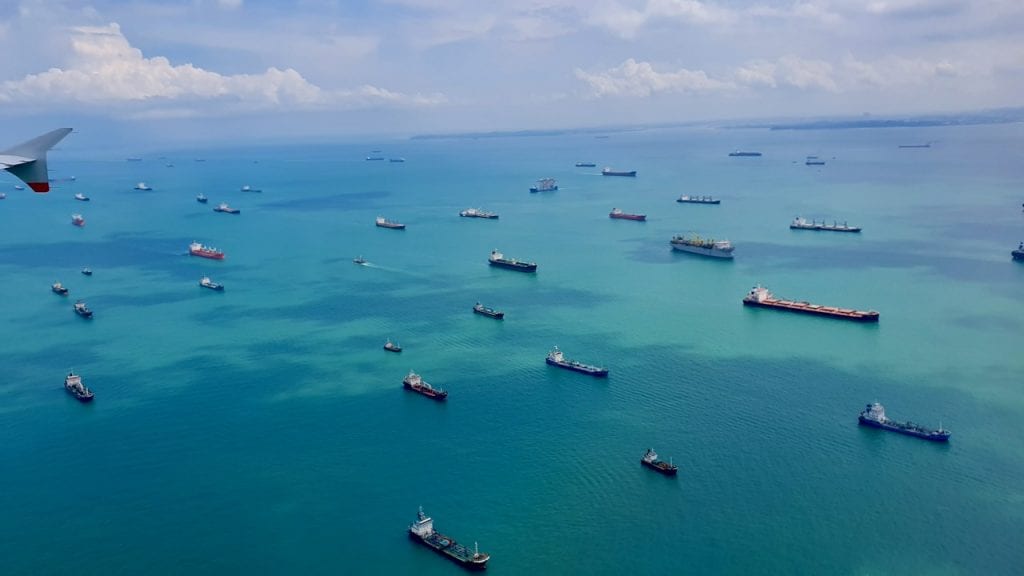 Singapore has the busiest port of the world.
Most of the people in Singapore are Malay (from Malaysia), Tamil (from the Southern part of India) and, Chinese. So you will see English, Tamil, Mandarin and Malay language everywhere.
Singapore is exceptionally clean.
It's a punishable offence to eat inside a public transportation
Chewing gum is banned in Singapore, don't pull it out from your pocket, you will be in trouble
Singapore can become very hot and humid. You will sweat a lot. So, always keep a lot of water with you.
I will be surprised if you don't encounter rain while in Singapore. Be prepared for a passing shower at any moment.
The public toilet in Singapore is clean, free and available in most of the places. I enjoyed these facilities very much and didn't have to worry about drinking plenty of water during my trip.
Key distances between landmarks in Singapore
What is the distance between little India to chinatown in Singapore?
Less than 4 Kilometers. They are connected with MRT so you can get into a MRT in North East Line. The journey time is 16 minutes.
What is the distance between Singapore airport to Universal Studios in Singapore?
26 Kilometers.
How far is Sentosa island from little India?
12 Kilometers.
The End
That's how a perfect 4 day Singapore itinerary looks like.
Are you convinced about visiting Singapore? How many days will allocate for this tiny country? What will you not see if you have less time in your hand? Have I missed anything major in Singapore? I would be happy to know that because I can cover it on my next trip.
Have a fantastic time out in Singapore, chaps!
Are you happy with this 4 Day Singapore Itinerary? Do you want to include anything important? Put it in the comment box so that, I also know about it.
Further Reading
Liked this 4 Day Singapore Itinerary? Pin it!