The Singapore Botanic Gardens is a UNESCO World Heritage Site in Singapore and showcases 162 years old tropical garden. This travel guide of Singapore Botanic Gardens will take you through the gardens with some fantastic photos. Enjoy!
I landed in Singapore Changi Airport at 4:30 in the morning. Whenever I arrive somewhere; I don't waste any time. Besides, it was merely a 4 hour's trip from Dhaka. So, I was eager to move outside. Sadly, the MRT (Mass Rapid Transit) of Singapore starts its operation from 5:30 in the morning and I didn't want to spend extra grabbing a taxi. I was thinking where can I flee when the MRT will be opened. After a moment of exploration, I discovered an excellent gateway which becomes operational even before the MRT opens. Yes, it's Singapore Botanic Garden!
Singapore Botanic Gardens Map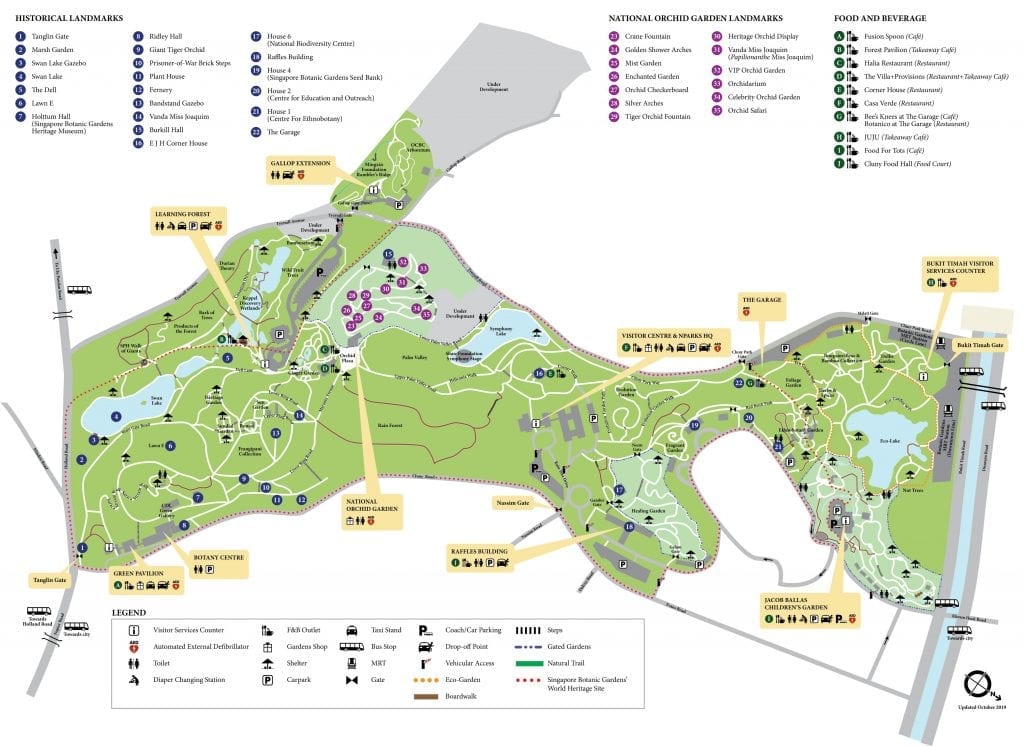 Let's have a Walk in the Gardens
I was animated to visit this place. It's not that I have never been to a garden before. But I have never been to a tropical garden, which is on the list of UNESCO. And my initial impression was great even before entering the garden.
First, the entry gate was delicate and sophisticated. The color and pattern imparts a soothingness the minute you look at it. It's like a lace embroidery on a white wedding dress prepared for a princess.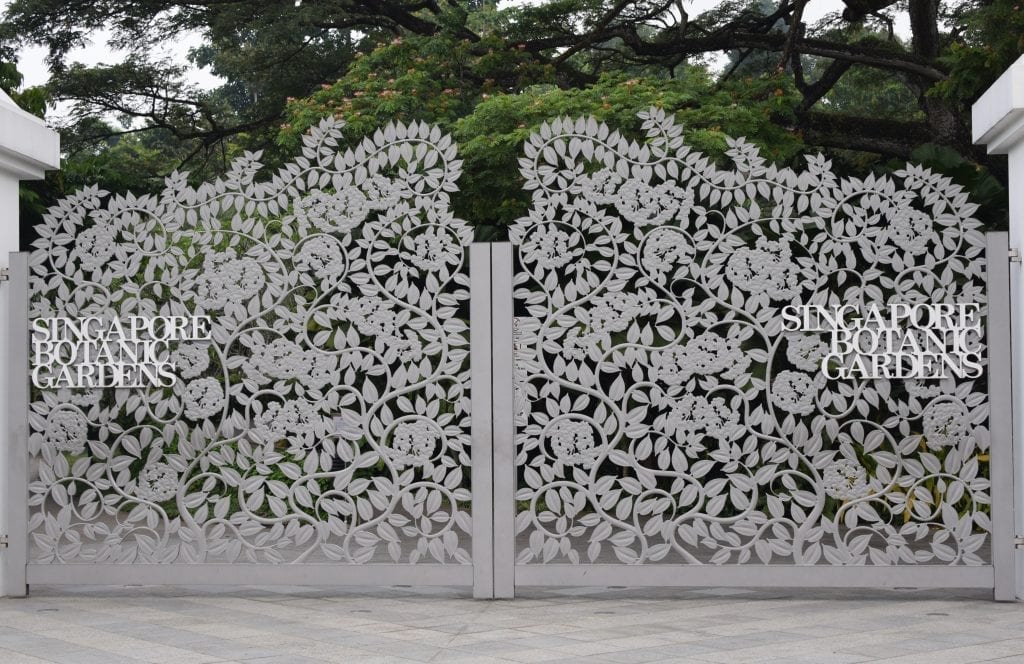 Second, for this fantastic grand clock and the design surrounded by it.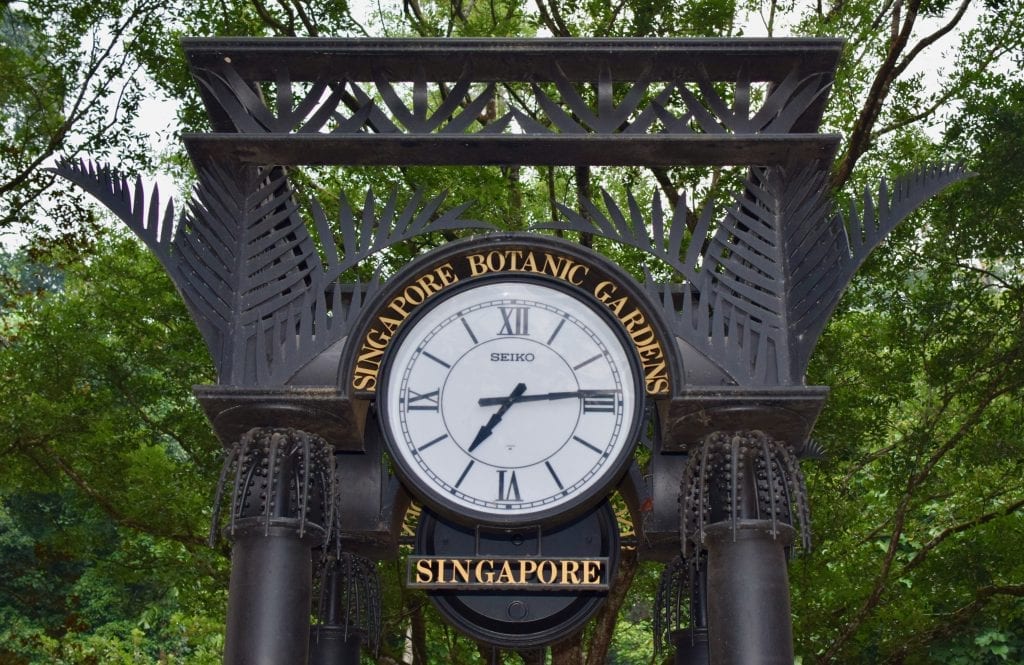 As you can see, it was early in the morning for me and the weather was perfect. It was neither hot nor cold. There were few people inside the park. A lush of greeneries reminded me about the fascination of Singapore for its greeneries.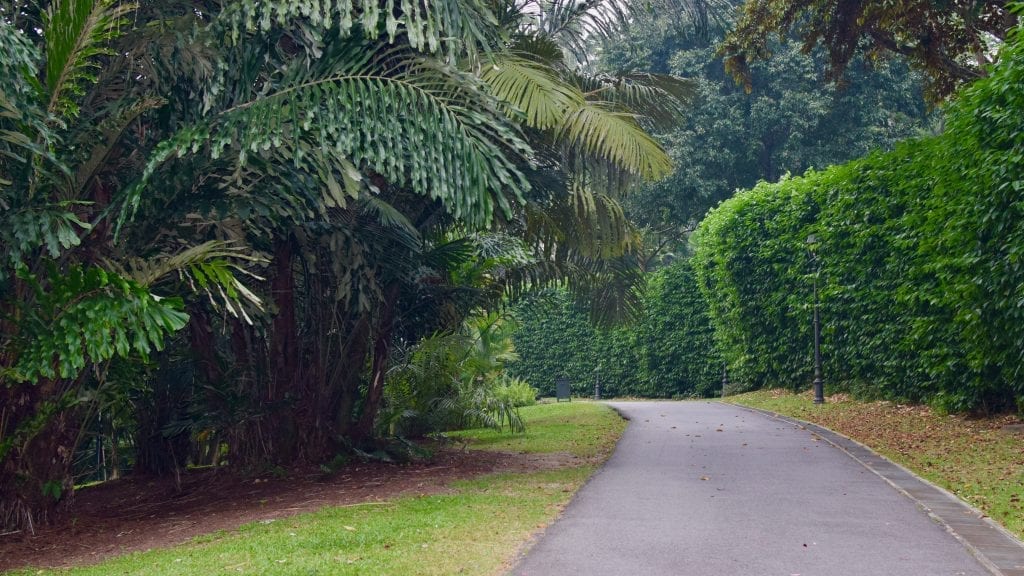 There are paved walkways in different directions. Some of them are wide, some of them are narrow. Wandering through those will offer you a notion about walking through a forest. If you stroll around for a while, you could observe the influence of the British in the garden. Once, Singapore was a British colony.
Suddenly you realize that there is in fact a vast rainforest within the garden itself. How large is the rainforest? It's six-hectare! It will not amaze me if you encounter showers when you visit there.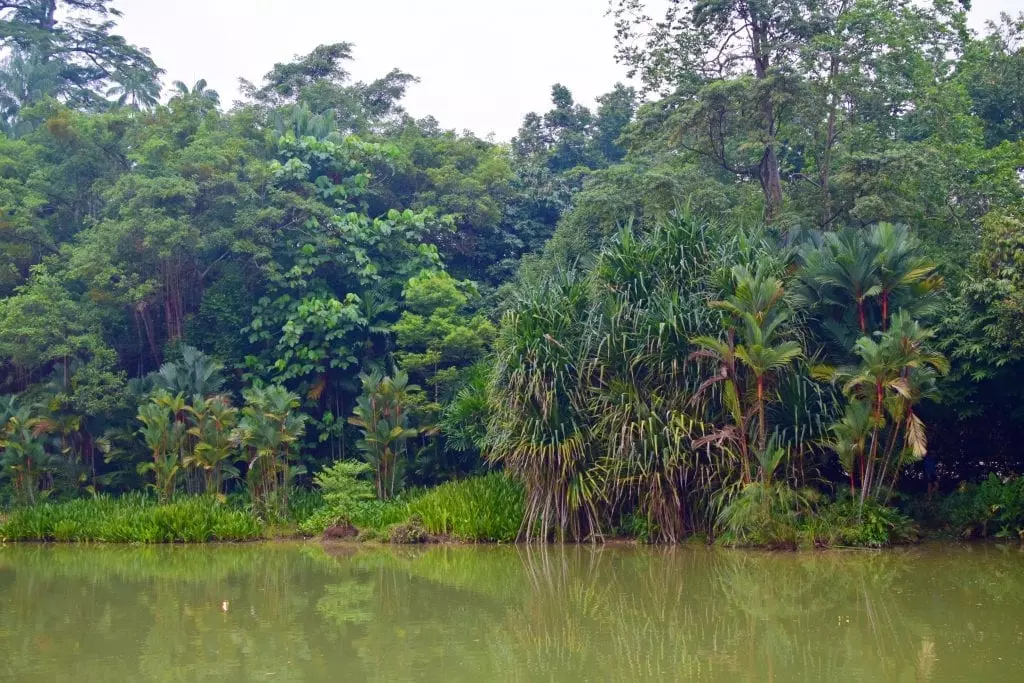 You can see ponds in the garden. Many people throw foods inside the ponds, expecting the fishes to take those. However, not all the fishes like the food we throw. So, they lodged an official objection to the garden authority, and they put the placard for us 🙂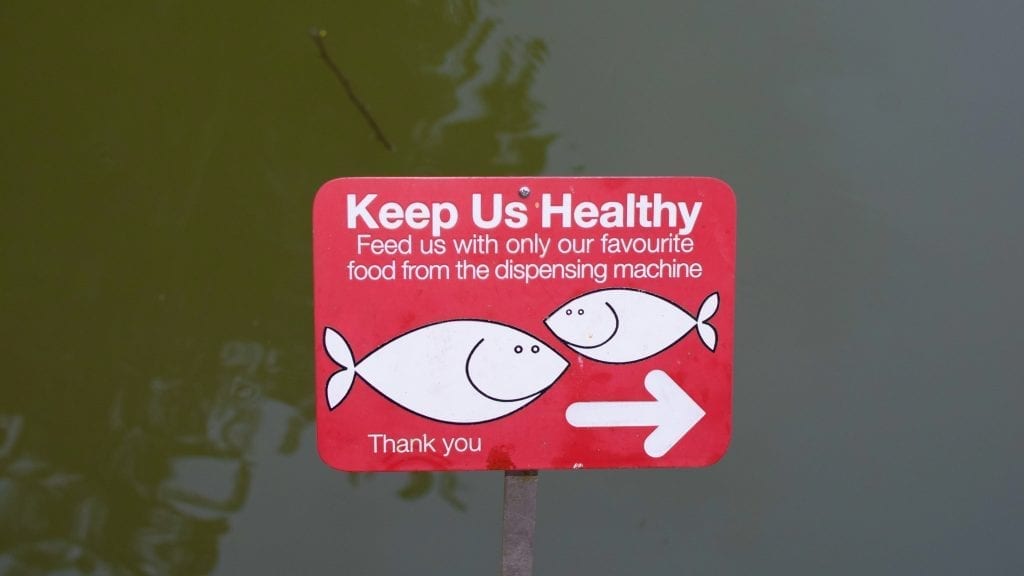 So, they put a dispensing machine in place for feeding the fishes. You can buy fish foods from the machine and feed the fishes in the pond. Isn't it nice?
I was enjoying the walk. Apart from old enormous trees, there were so many types of flowers and orchids. I did not know the name of them all. But I can vouch that they are beautiful.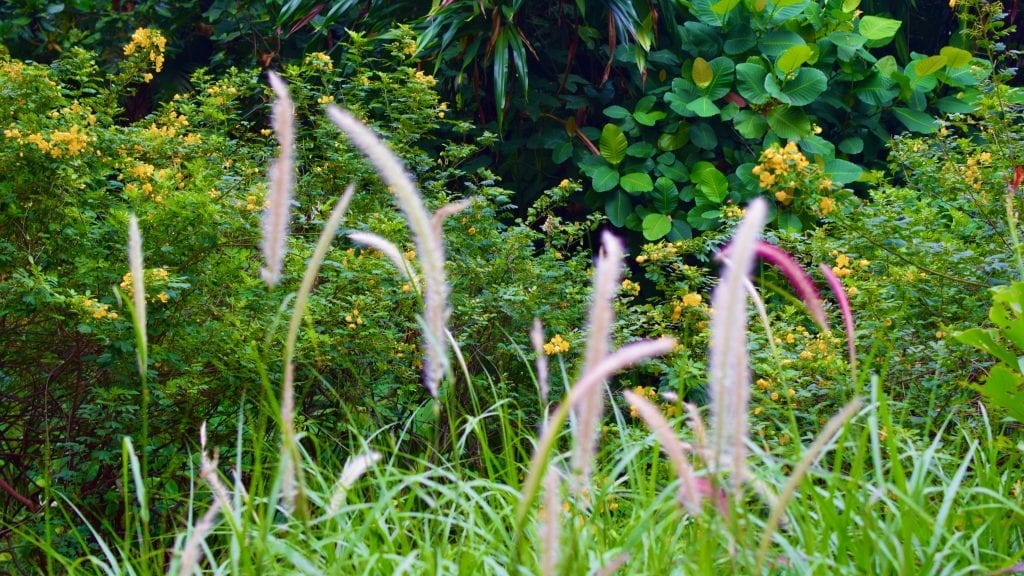 My walk through the garden continues. I found a fascinating thing about it. Although there were so many trees all around, they are still planting trees. I could see several young ones among the older blokes in a vacant green space. I am sure they will grow older one day and the garden authority will keep planting fresh ones in alternative places.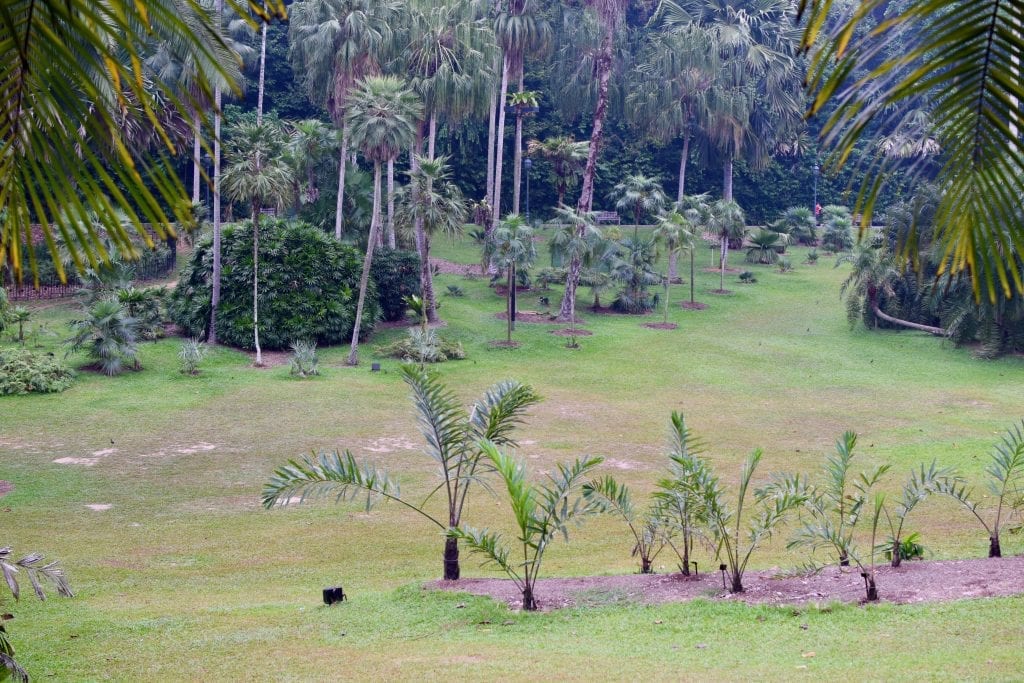 I have been speaking about blossoms, shrubs, trees, plants, fishes, and greeneries, right? What about the birds? Yes, you will hear them chirp. And you will see them performing the morning meeting if you are early.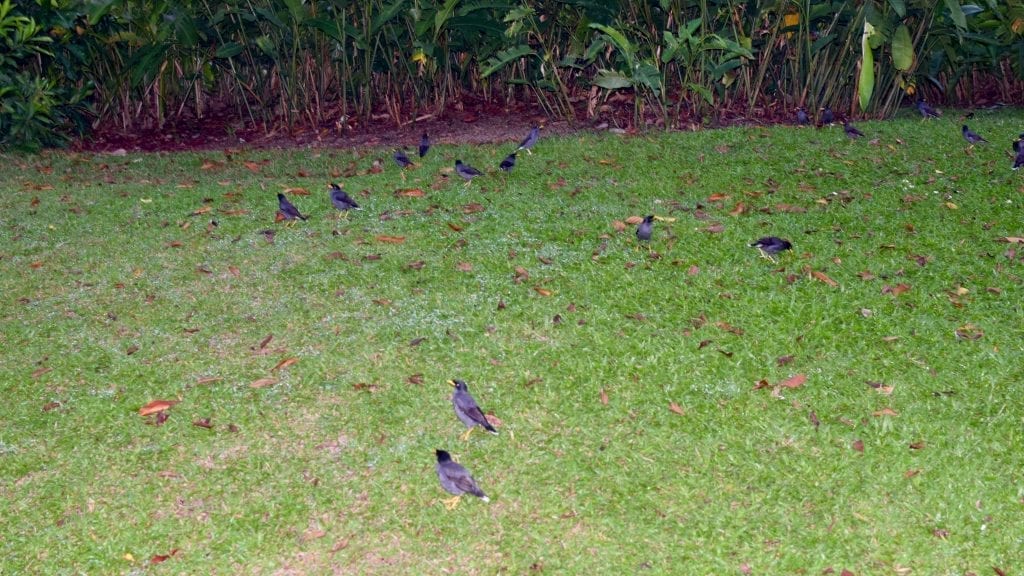 As much as I would like to describe so many things in the garden, I can't keep the flowers and orchids away. Look at the photos below to know what I meant!
There are several sculptures in the garden. Some of them are made of bronzes. I found one of them on my way – it's called Girl on a Swing. A local girl wearing traditional Sarong is swinging in the open over multicolored flowers and shrubs. This is how freedom feels like!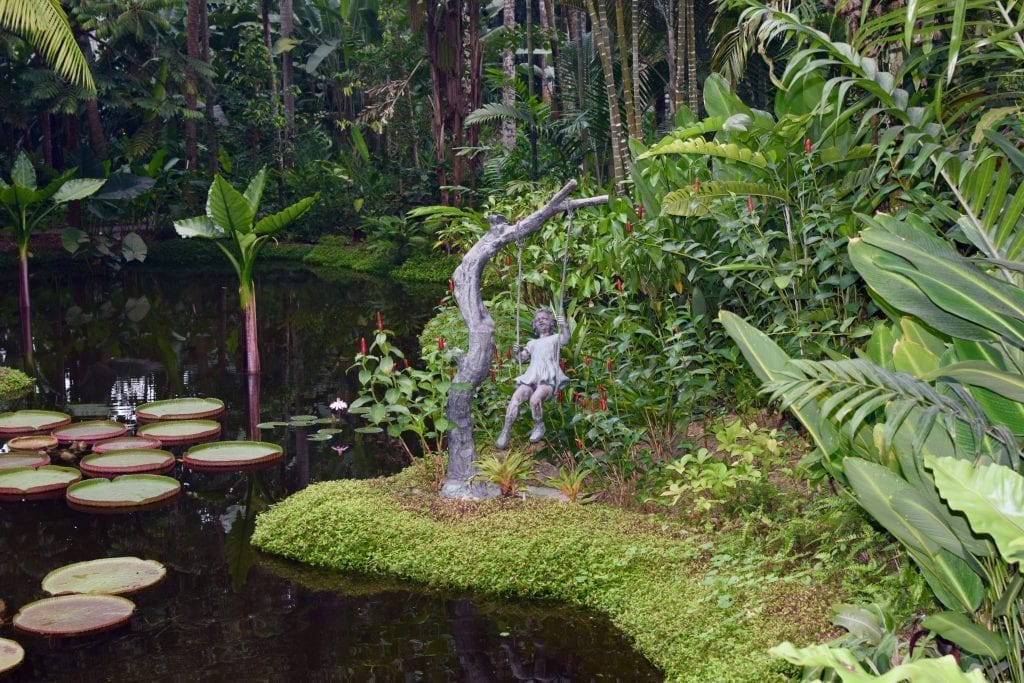 We live with small moments, don't we? There occur some moments in life which lasts for a perpetual period. My visit to the botanical garden was marked by one of them. I noticed some water lilies which, to me, presented the most exquisite moment for me. No wonder about 4 million guests a year visit here to enjoy their time and leave with some precious memories.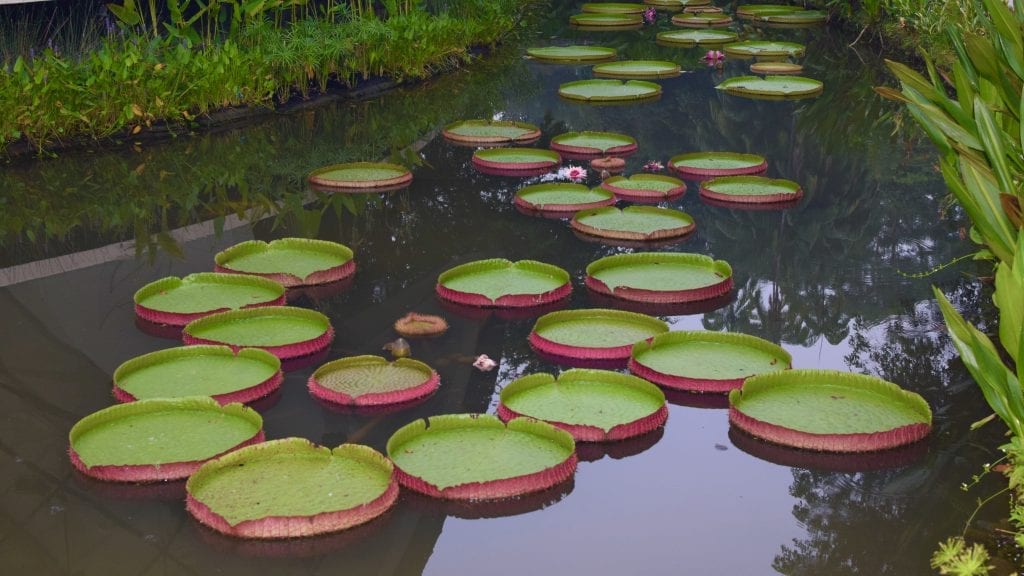 National Orchid Garden
Inside the botanical garden there is a section dedicated to the Orchid and called the National Orchid Garden. This garden has not only the largest collection of orchids in Singapore, but one of the largest in the entire world. There are 1000 species, 2000 hybrids and over 50,000 plants on the display.
There are many orchids in the garden named after prominent individuals – from Jackie Chan to Shah Rukh Khan, from Nelson Mandela to Princess Diana. In fact, when an important person visits Singapore, he or she is greeted by the orchids. You can just visit the Orchid Garden and tell people you have met Mr. Mandela, Ms. Diana, and Mr. Chan on the same day!
Singapore Botanic Gardens Entrance Fee
Free!
Yes, you heard me right.
Unlike various other attractions in Singapore, the Botanic Gardens is free to explore. You can just get in through the gate, explore and spend as much time as you would want to.
However, there is an Orchid Garden inside the Botanic Gardens. If you want to explore it, you need to pay SG$5 which is about US$3.55 (SG$1 for students, SG$1 for the citizens above 60 years, and free for the children below 12 years)
Restaurants in Singapore Botanic Gardens
You will be surprised to know that the Botanic Gardens even have a 1 star Michelin restaurant. Here goes a list of the restaurants inside the garden:
Corner House (1 star Michelin restaurant) – near Nassim Gate Entrance – it's an upscale restaurant, offers global dishes
Di Wei Teochew Restaurant, cheap eats, offers Chinese cuisine
Bee's Knees (in the ground floor of Botanico at the Garage), it's a cafe offering pizza and other international cuisines
Botanico restaurant (on the first floor of Botanico at the Garage), it's an upscale restaurant, they also have a bar
Casa Verde – serves Italian cuisines
Fusion Spoon – near Tanglin Gate – it's a Halal certified casual dining space. Serves Western, Asian, Japanese, Korean foods.
Food for Tots, kids friendly restaurant
JUJU – near Bukit Timah gate – it's a takeaway cafe serving smoothie and bowl bar
The Halia at Singapore Botanic Gardens and The Villa – in the Ginger Garden – They are Halal, vegetarian friendly and serves lunch
The Provisions – in the Ginger Garden – grab and go foods and beverages
Singapore Botanic Gardens MRT Station
There is pleasant news to share with you. Often I found some famous places are not covered by the Metro system, just like the Singapore Zoo. However, there is a metro station just beside the Singapore Botanic Gardens. And it's easy to remember its name. You guessed it right, it's Botanic Gardens MRT Station (CC19/DT9). It's an intersection at the Downtown line (Blue) and Circle Line (Orange). It means you can take either of the Downtown line or Circle line to reach the station. It doesn't matter where you are, you can just follow one of these two lines. Of course, you can reach to Singapore botanic gardens from the Airport using MRT.
The best way to use the MRT is by using a travel card. It's cheaper and will give you enormous convenience. You need to touch the card while entering a station and leaving the station. You can use the card in a bus, too.
I bought a travel card from Klook and collected it from Changi Airport. It reduced the hassle of collecting it from a crowded point. I also suggest you to do so.
Singapore Botanic Gardens Hours
5:00 AM to 12:00 AM for exploration
8:30 AM to 5:00 PM for the National Orchid Garden
Singapore Botanic Gardens Concert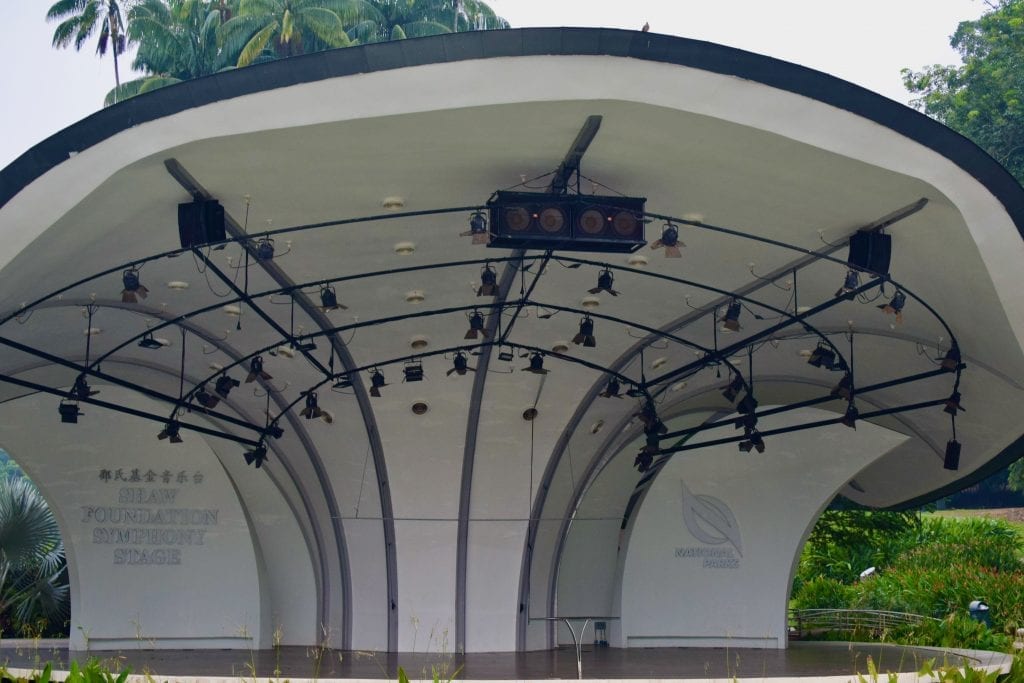 There is a stage inside the Singapore Botanic Garden named Shaw Foundation Symphony Stage. Uncommon types of concerts take place there. Instead of sitting in a chaired gallery, the audiences sit on the slope of grass. They set the stage on an artificial lake. Singapore Symphony Orchestra performs there each month for free. If you are lucky, you will catch a function during evening and can enjoy it with people.
Wedding in Singapore Botanic Gardens
What betters a place to get married than a UNESCO World Heritage Site? Yes! You can get married inside of the garden. It is not free, and you require booking a hall ahead. However, you will have an open space for your photo session.
Facts about Singapore Botanic Gardens
Who founded Singapore Botanic Gardens?
Sir Stamford Raffles, who is also the founder of modern Singapore. He was not only a visionary person but also an avid naturalist.
When was Singapore Botanic Gardens built?
You will be surprised to know that the Botanic Gardens is a couple of times older than Singapore itself. It was built in 1859. That makes it over 160 years old!
How much time should I spend in Singapore Botanic Gardens?
2 to 8 hours. Better if you could go there early to avoid the heat or in the evening to enjoy the concert, which usually takes places in the garden.
How big is the Singapore Botanic gardens?
It's huge. 202 acres/82 hectares.
Why is Singapore botanic gardens a world heritage site?
I am a big fan of UNESCO world heritage sites. Wherever I go, I try to find an UNESCO World Heritage Site. Interestingly, this is the only one which is recognised by the UNESCO.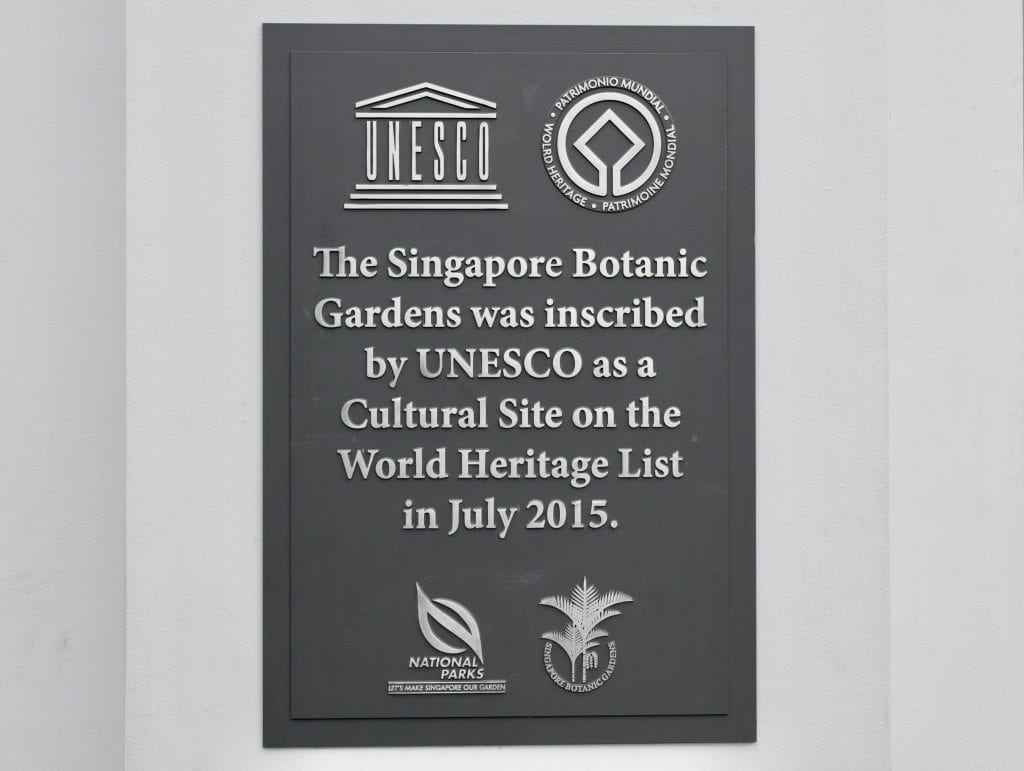 They are proudly showing it inside. Interestingly, this is the only tropical botanic garden on the list of UNESCO's world heritage.
Why did it make the list? It's because of two major reasons. First, for its unique tropical colonial garden landscape. And, second, for its role in the rubber trade. This rubber trade played a significant role of transforming the region economically during the 1900s.
Have you visited the Singapore Botanic Gardens? How was your experience?
More Things to do in Singapore
Like this article? Pin it!