Every city looks unique during day and night. Singapore is no exception – or, I would say, Singapore looks more beautiful during night time compared to day time. You will understand it when you will see the beautiful photos of night attractions in Singapore.
Marina Bay Sands at Night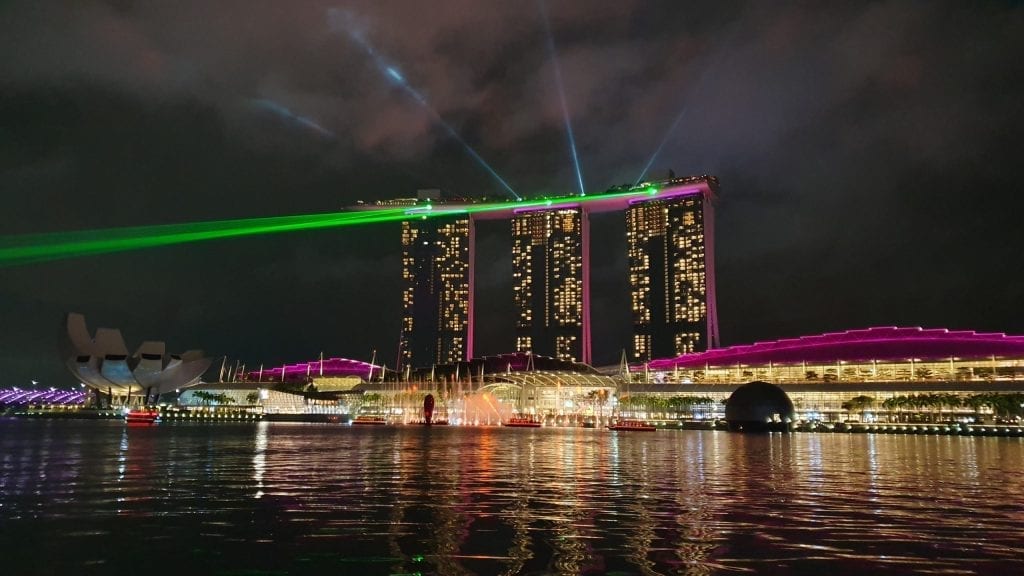 The major attraction of Singapore during nighttime is the Marina Bay Sands – it's a ship-shaped skyscraper which is a resort and facing towards the Marina bay.
I started my night journey from the Gardens by the Bay – which is a mighty impressive garden near the Marina Bay Sands. From there, you will get an amazing view of the Singapore Flyer.
Find a Perfect 4 Day Singapore Itinerary from here
Singapore Flyer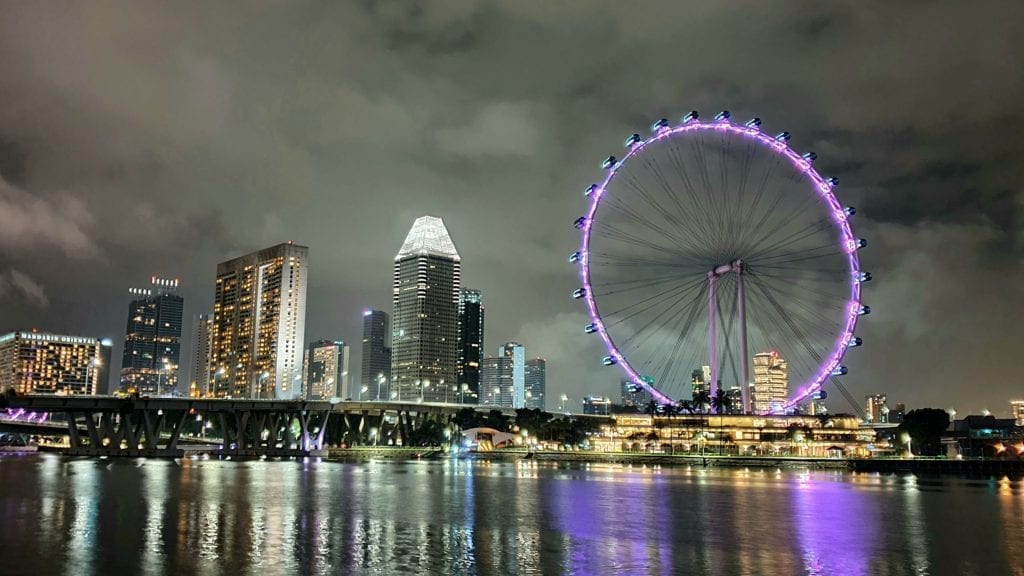 Singapore flyers is the famous ferries wheel of Singapore. It can take you 165 meters high from the ground. It will give you a stunning panoramic view of the city. In fact, Singapore flyer is better at night as the city become colourful with light at night. There is one catch however, during nighttime, the glare of the capsule can spoil your photo.
Light and Sound Show
I kept walking towards the front of the Marina bay sands after a ride in Singapore flyer. There I enjoyed the light and water show. It is called Spectra and free of cost. You need to make sure that you go there on time to get a good view of the show. This 15 minutes orchestral show will tell you the story of Singapore.
Boat Ride at night
Once I am done enjoying the light and water show (which I enjoyed but didn't understand properly to be honest 🙂 ), I started walking. Suddenly I saw a boat in a jetty which was about to start its journey for a night tour. Without thinking much, I hoped in to one. It costs me SGD 25.
The river cruise will take you to different places and an audio commentary will be given. You will learn how a sleepy village turned into a modern city over the past several decades. The cruise operates in such a way that you will see the skyscrapers of Singapore from different angles. I could see a different side of Marina Sands Bay. Interestingly, a laser was emitting in different colours and beam was pointing towards different angles.
The boat will stop in several jetties. You can choose to get down if you want to. Alternatively, some people will also embark on the boat.
Dinner at Clarke Quay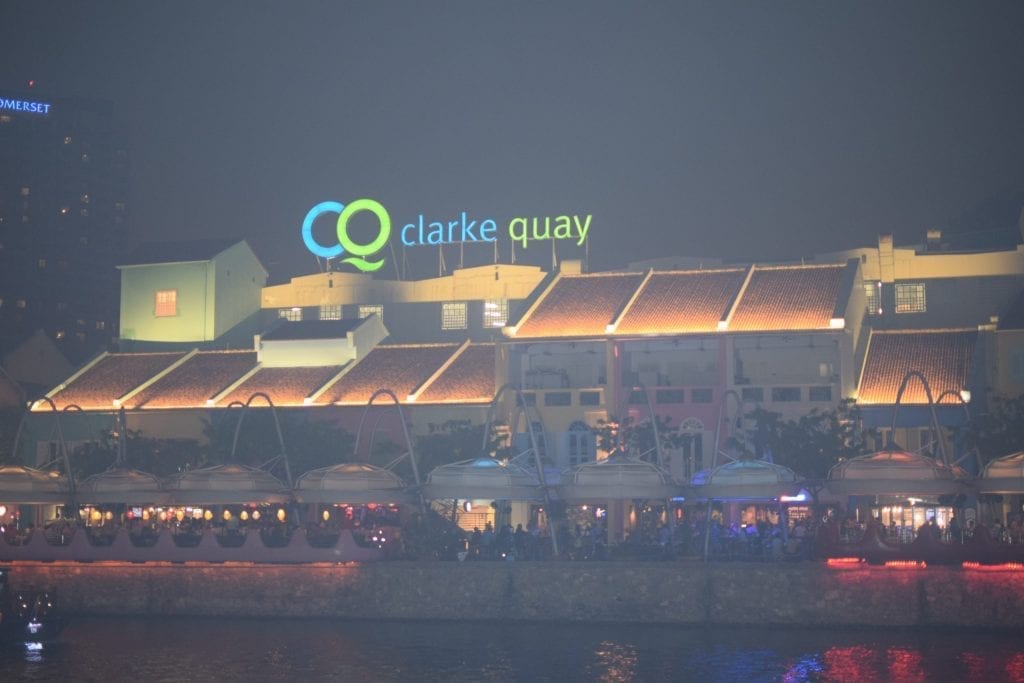 If you fancy to have a posh dinner by the bay, you can choose to hop out in the Clarke Quay. It's a great place where you will find a lot of high end restaurants.
My wallet was thin, so I continued my journey. After about 30 minutes, the cruise ended.
Walk Randomly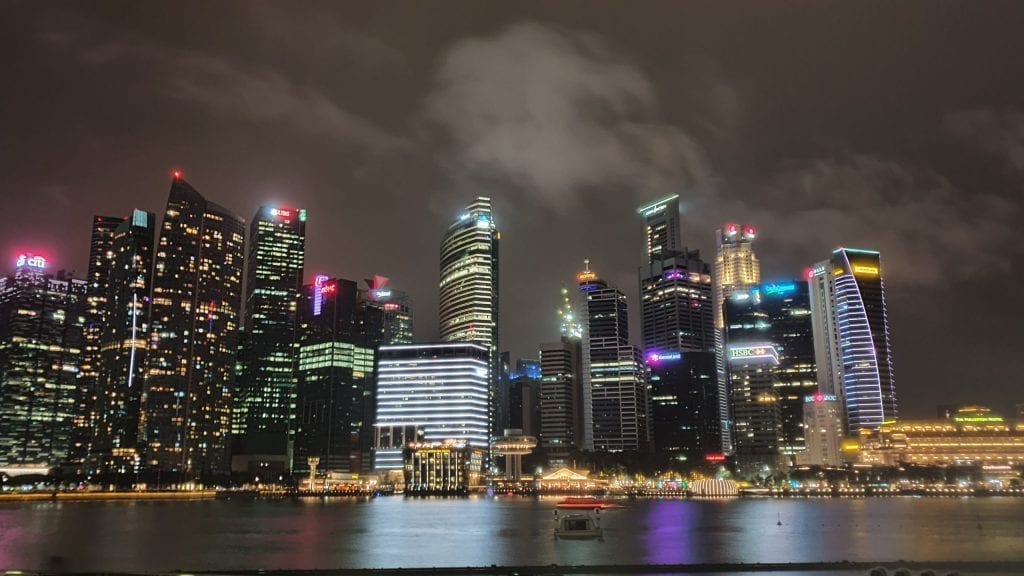 I kept continuing my walk and my neck hurt seeing the skyscrapers. Overall, I spent about 4 hours out there and at 10:00 PM; I decided to have dinner in a cheaper place.
Singapore Botanic Gardens
Singapore Botanic Gardens is a UNESCO World Heritage site. If you want to find peace and tranquility without suffering the heat of Singapore, visit there at night. Some parts of the garden, particularly near eateries and Evans Road are beautiful. However, keep in mind that, the famous orchid gardens of Singapore operates till 6:30pm. So, if that is your main draw for, avoid Singapore Botanic Gardens at night.
Night Safari Singapore
Perhaps the biggest attraction in Singapore is the night safari. For this, you need to visit the Singapore Zoo which opened world's first nocturnal wildlife park. If you are only familiar with watching animals during daytime, it will be a completely different experience for you. The animals become active and behave differently at night. You will have an option to meet about 900 animals of 100 different species.
They operate the night safari from Thursday to Sunday as well as on public holidays from 7pm to 11pm. As the night safari is extremely popular, it gets crowded pretty soon. You do not need to bring your camera with you as most of the time you will be in dark and flush photography is not allowed. Do not forget to bring enough water with you as Singapore can become very hot and humid.
How is your night experience in Singapore? What did you enjoy most there?
Did you like Singapore at night? Pin it!