If you are an animal lover and would like to see the animals up-close, Singapore Zoo is a perfect place for you. This 69 acres zoo offers an experience you won't forget. Here is your ultimate photo guide of Singapore Zoo.
I guess I was one of the first to visit the Singapore zoo to see the beautiful animals on that day. I landed very early in the morning at Changi Airport, waited for the metro to start its operation, and went to Singapore Botanic Gardens afterward. From there, I took a bus to reach the zoo. You know, what? It took me an eternity to reach the zoo.
The zoo is far from the city center. Theoretically, the distance is not that bad. The botanical garden, another popular destination is 16 Kilometers away. However, 1 hour 10 minutes of bus journey took me there. Maybe the anticipation or the entire night of the sleepless journey made my journey to the zoo feel longer.
Jokes apart, the bus stops in too many places in Singapore to my liking. Once you are in the bus, you will find a pre-defined stoppage in every house of Singapore to take its residents. Sadly, no metro rail connected the zoo directly, and the taxi was too expensive for me. However, if you want comfort and to save some time, don't take the bus like me. If you want to save money like me, you can see the tips below at the end of this article to reach the zoo efficiently. Here is the ultimate travel guide for seeing the animals of Singapore Zoo for a perfect visit!
Three Kind of Visits in Singapore Zoo
Regular Day Visit
Night Safari
River Safari
You require purchasing individual tickets for them. As the name suggests, the night safari is done at night and the river safari is done in a boat through the river. I didn't do the night safari as I thought I won't be able to identify anything except shining eyes of the creatures. However, if you want to avoid the heat of Singapore, choosing a night safari should be a pleasant option.
I purchased my ticket to the zoo online through Klook. They always provide discount and offer a loyalty program where you can accumulate points upon every purchase which reduces the price of buying tickets further. I didn't need to wait in the queue. I was in straight away.
Now a mark of caution (and delightful news to share with you, too)! Those who don't have any idea regarding Singapore Zoo, it's huge and a marvellous zoo. I am saying it marvelous not only for the diversified beautiful creatures it's possessing but the way the Singapore zoo authority have been treating the animals. It's an open-air zoo and the authority of the zoo took every measure to make sure that, the animals get a natural environment. They call it an open concept zoo.
Set in a rainforest environment, Singapore Zoo's world-famous "Open Concept" offers the opportunity to experience and be inspired by the wonders of nature. Home to more than 2,400 specimens of over 300 species, 34 per cent of which are threatened, the Zoo has attained a strong reputation internationally for its conservation initiatives and breeding programmes.

Singapore Zoo Authority
Singapore Zoo Map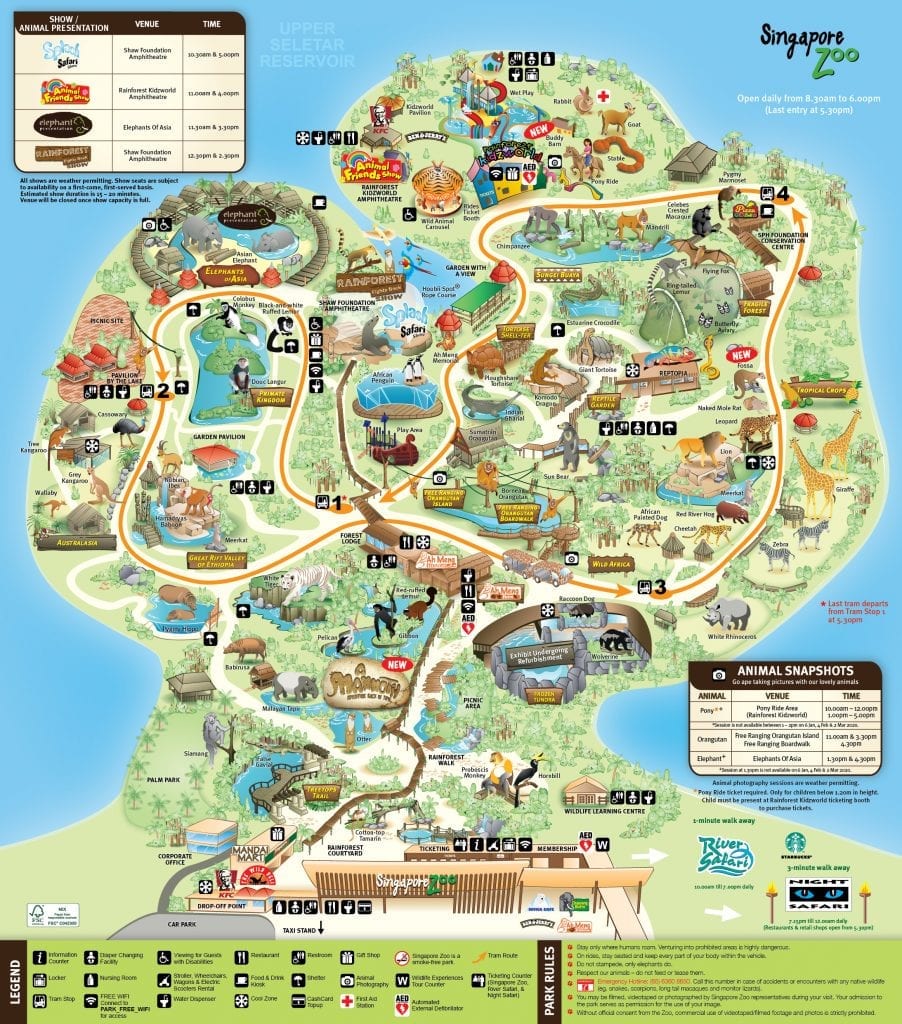 I have included a map for you above; it has summed up pretty much everything about the zoo has to offer. Keep this with you, this will be very handy if you can memorize it or keep with you. To be honest, I could not watch everything and I spent almost an entire day. At one point, I felt exhausted. They have shuttle services for going to one point to another; you need to buy a ticket for it. It can save some effort. However, it was still a daunting task.
So, what did I see? Or, what were my favorites? Well, it's a hard question to answer, however, let me try to recall – it was an overwhelmingly sweet experience for me.
Animals in Singapore Zoo
White Tiger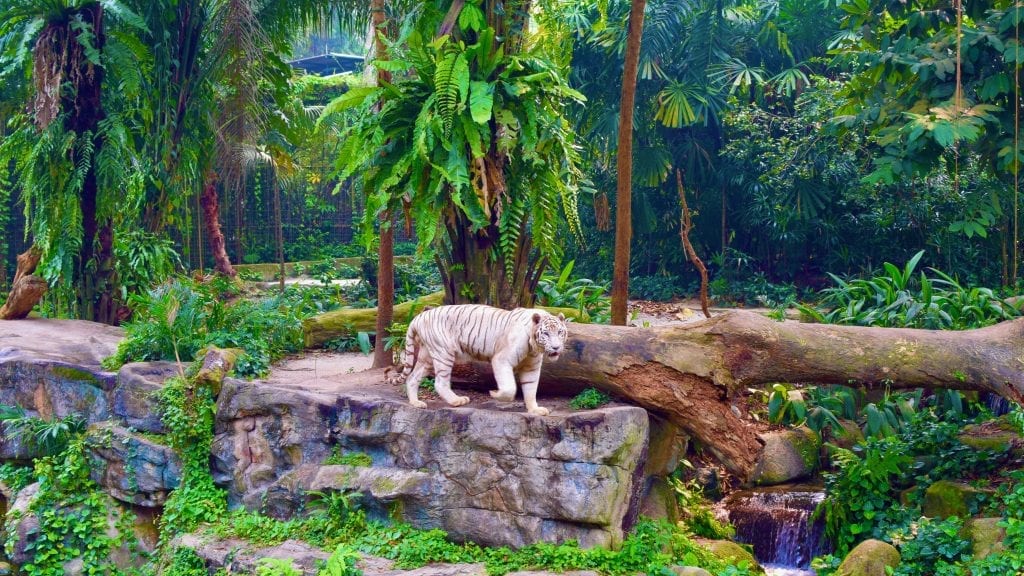 The number one on my list of the animals in Singapore zoo will be the white tiger. It was prowling around so gracefully; it was difficult to move away from its stand. Besides, it looked very near to me. The origin of these tigers was from India, it was captured and taken to a Maharaja's palace in India. The name of the first white tiger was Mohan, and it gave birth to several ones. They are placed in a sizeable space with green vegetation and water. They often go to the water and swim. You can see a video of the never-ending rhythmic parades of the gracious!
Giraffe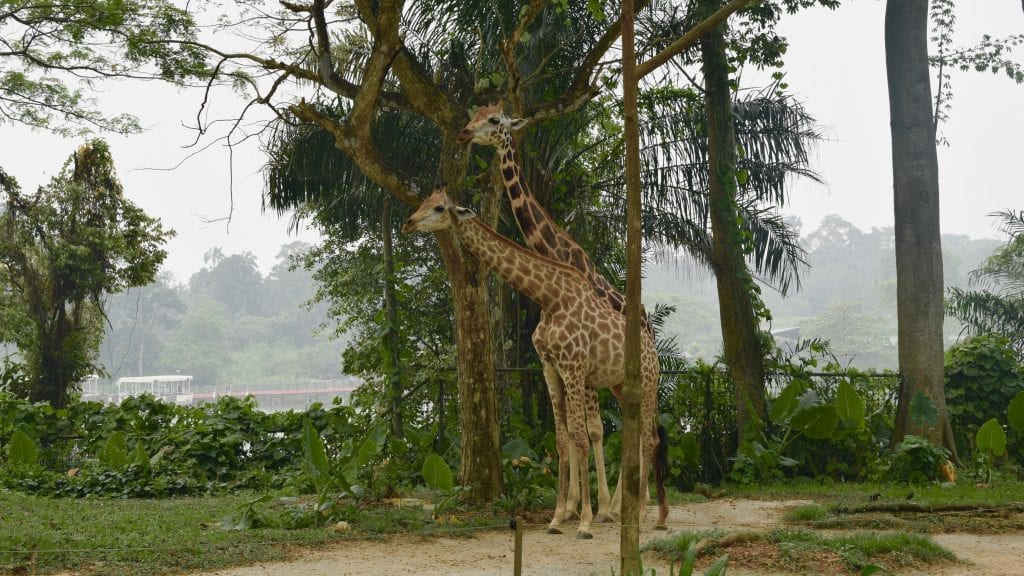 Here is a secret, I love giraffes. They are so pretty in my eyes. The giraffes of the Singapore zoo were the handsomest. There was no barrier to block my eyesight. As if they will show up to me any minute to say hello. Giraffes live on vegetations, they like to eat hay, jackfruits, and salt-rich soils. If you look at their surroundings in this zoo, you will see that the branches of leaves are placed high. It enforces them to reach the top to take those leaves. This protects their natural habits.
Zebra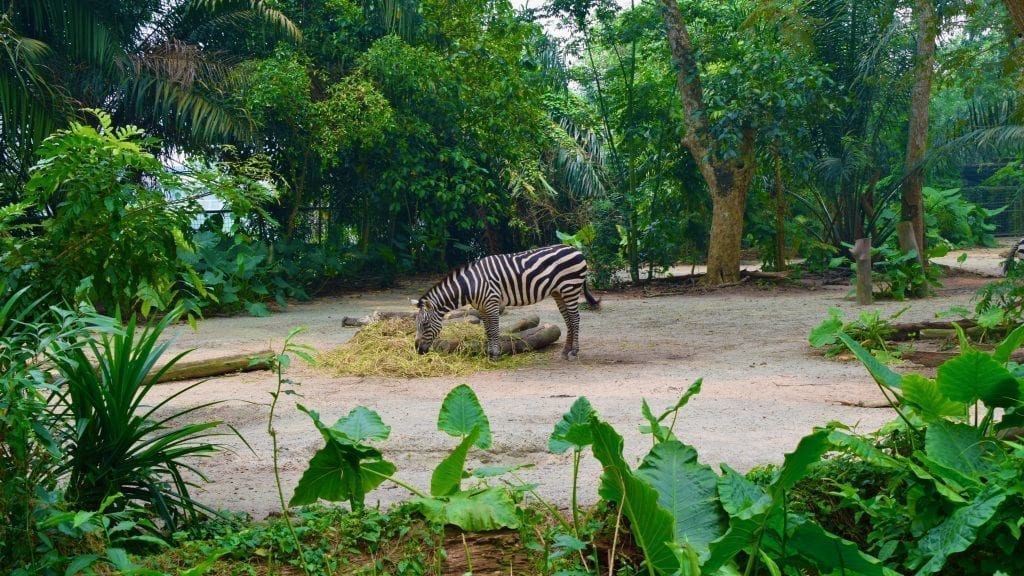 I could not recognize a lot of animals in the Singapore zoo, Zebra is not one of them. I was happy to see them. For some reason, Zebra takes place in my mind after Giraffe. There were several zebras in the zoo. They were gazing and eating straws in the lush surroundings. I have a question in my mind. Are the zebras black or are they white? I mean, I can see the stripes. What will they look like without stripes?
Polar Bear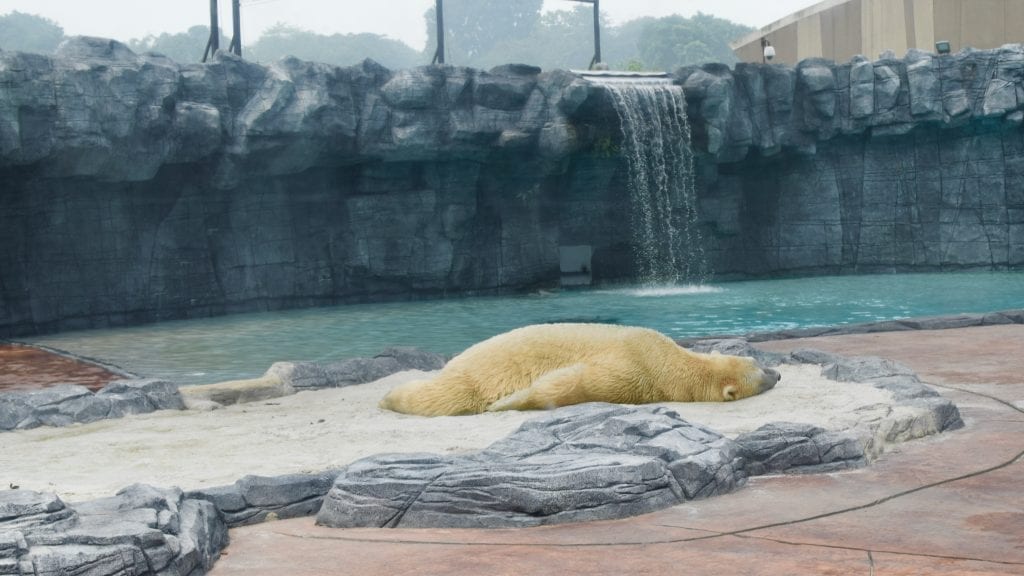 Meet Inuka, one of the most beloved ones in Singapore zoo. I had a long-cherished dream of seeing a polar bear. I even planned for going to Svalbard – the extreme north of Norway to meet a polar bear. Luckily, I did not have to travel that much; I met her in Singapore, only 4 hours journey from my home. I was elated to meet him. The designers of the zoo made the place he lives in way that, it exhibits characteristics of polar regions. It was cold and full of ice. There was a big supply of water where he could swim. After a while, he became tired and when to sleep like a human being.
Update on Polar Bear
Unfortunately, Inuka passed away in 2018, such a loss for us 🙁
Turtles – big and small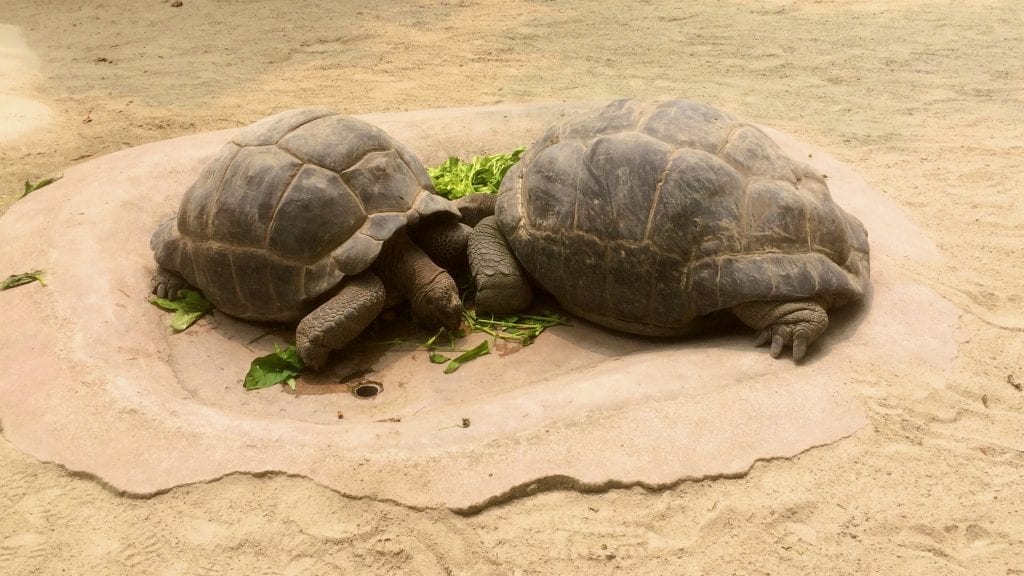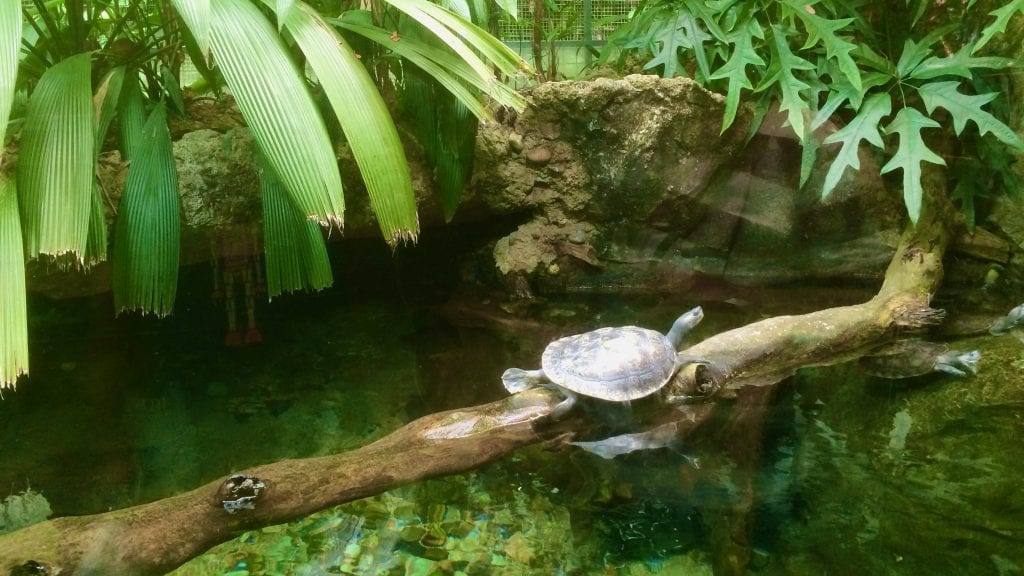 There are varieties of turtles in the zoo. I could not remember the name of all of them. However, the big ones can weigh up to 250 KG. They require different kinds of weather and environments as they are assembled from different parts of the world. Some of them usually likes to stay in the water and some of them were on the ground.
Cheetah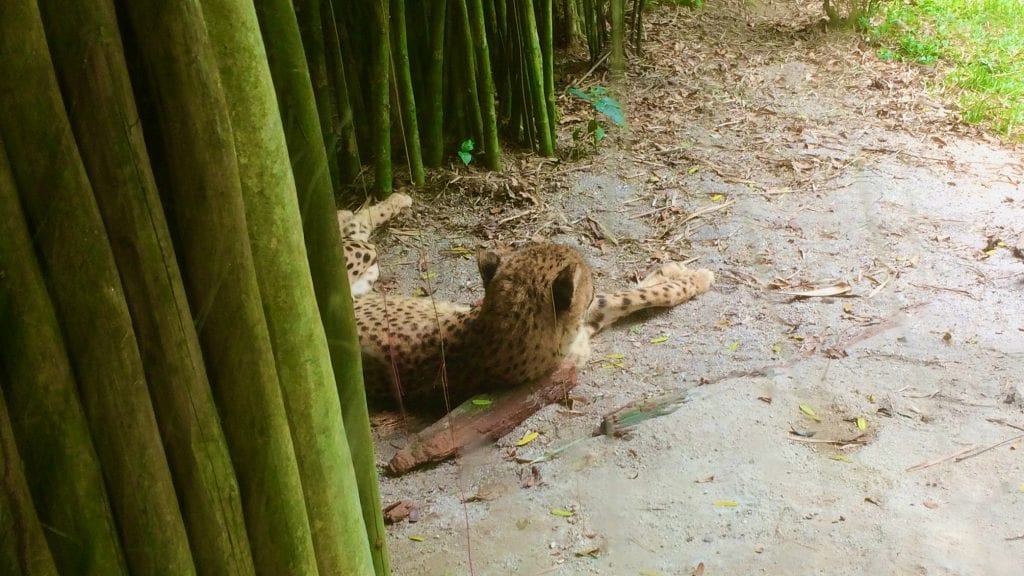 Mr. Cheetah was rather lazy when I went to meet him. As the deforestation continues throughout the globe, we lost almost 80 percent of Cheetah on this earth. Still, they are surviving, and we got to see this wonderful creature. I hope that their number will increase in upcoming days, however; I am afraid the opposite might be the case. Do you know that the Cheetah are the fastest land animal? Their light build, long thin legs and long tail helps them to reach from 50 to 80 miles per hour!
Rhinoceros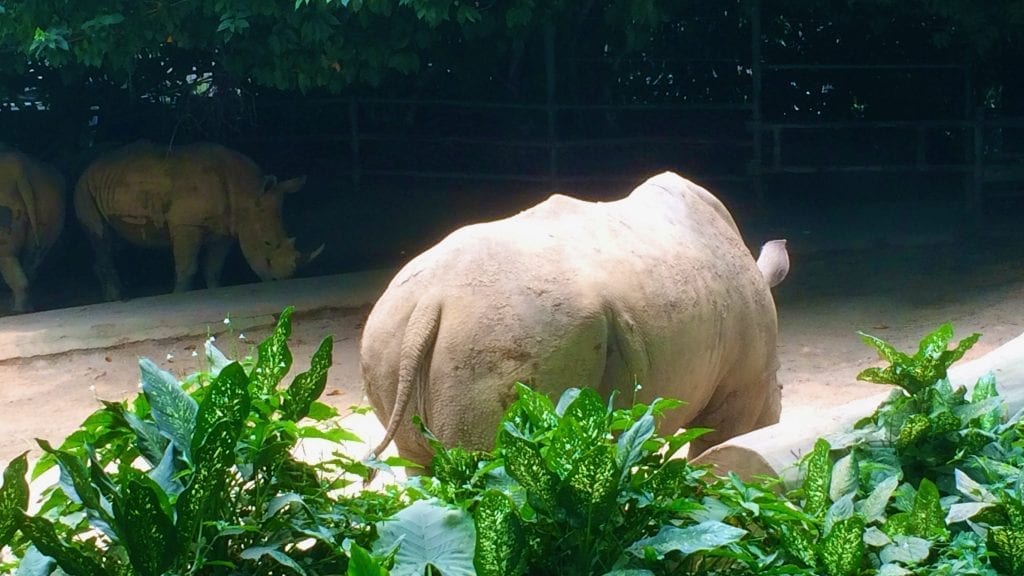 Here are those giant white rhinos gazing lazily with a horn. Do you know why have they such a wide mouth? Because they mostly eat grasses and that enormous mouth can mow small grasses. A rhino eats over 60 KG vegetations per day. No wonder they were always busy eating and didn't want to pose for me.
Crocodiles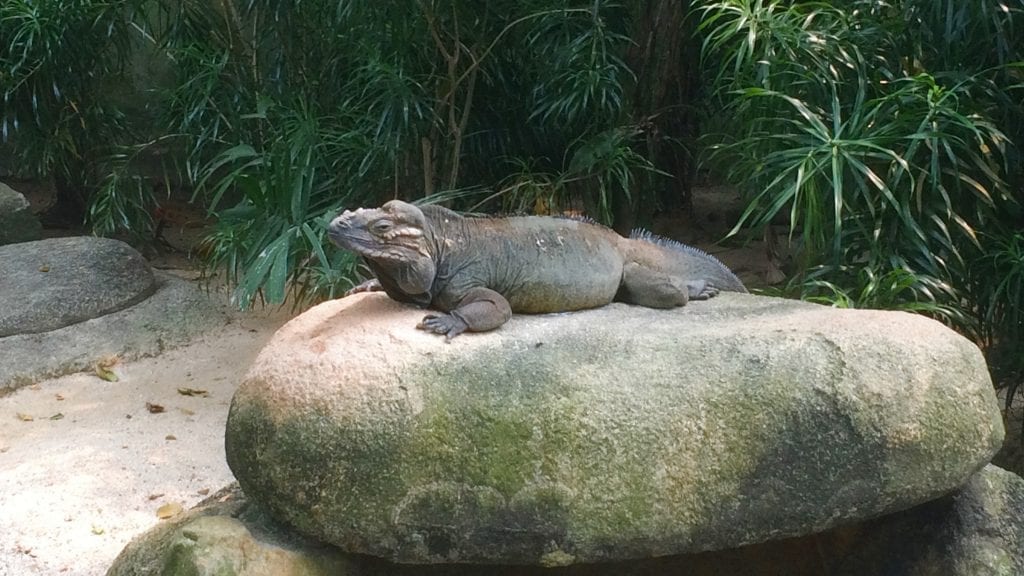 When I went to the crocodiles, one of them was sitting on an enormous stone and was taking a rest. I was not sure if they were crocodiles or Iguana, but either way; they looked scary to me. So, I did not want to spend a lot of time there and left after taking two clicks.
Otters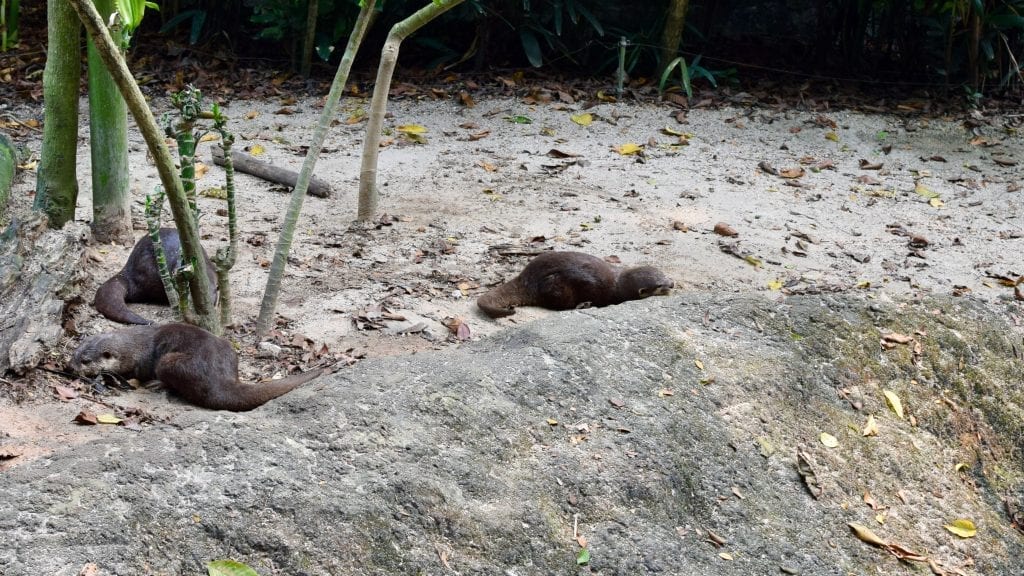 Meet the Asian small-clawed otters. There was an entire family of it – they were cheerful, joyous, and lovely to watch. They always love to play. There is another bunch of otters in the lower exhibit. There you will see underwater activities.
Tree Kangaroo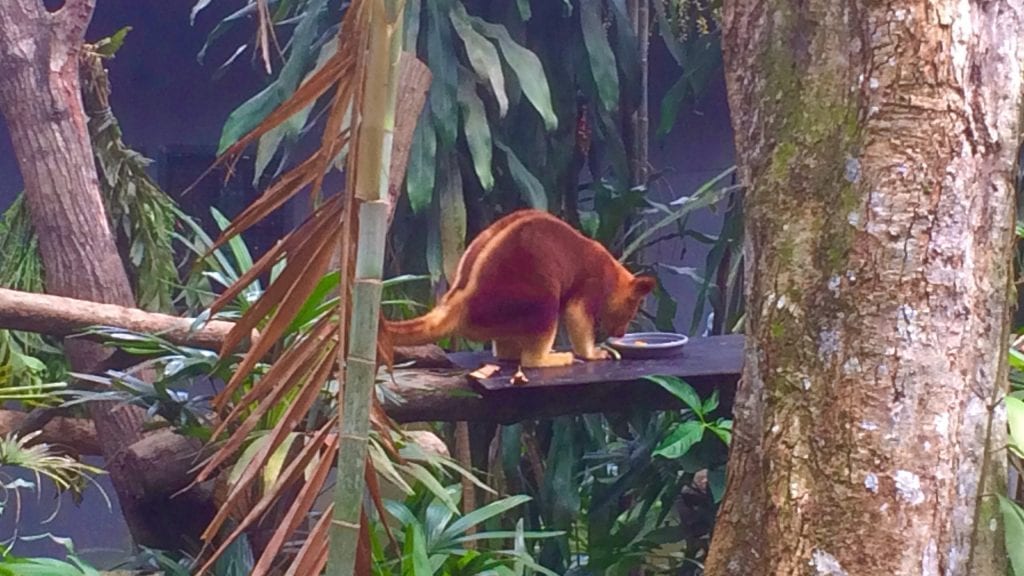 There is a separate zone for Australasia. There I found this tree kangaroo. These are found in Papua New Guinea. In the entire world, you will not find over fifty such kangaroos in the zoo. It was far from me and was eating something. I wanted to have a picture with this cute little pie, but it not listen to my wish (story of my life).
Red River Hog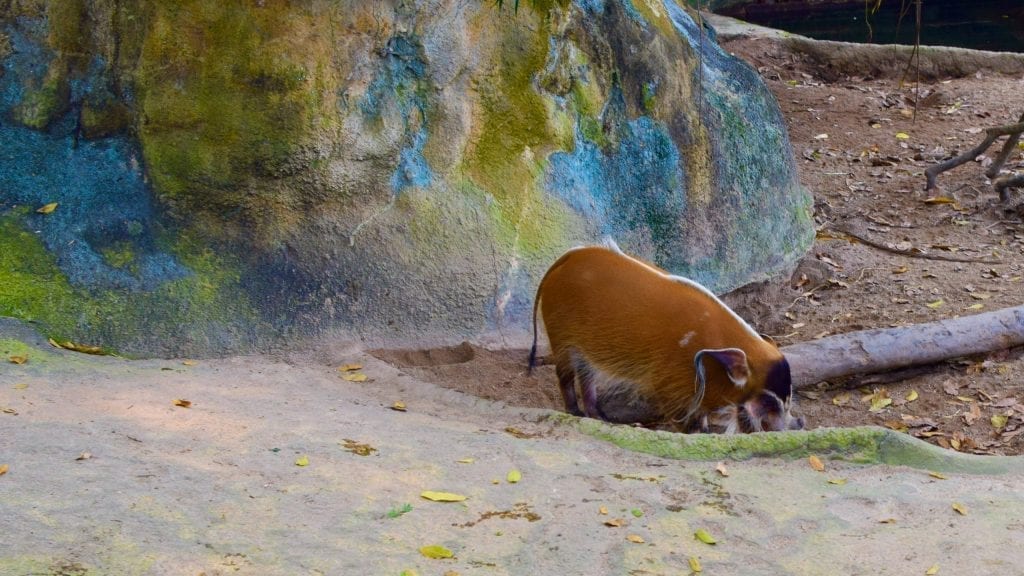 To be honest, I didn't know that an animal of such named existed. And I never saw such an animal in my life before. How could I be? These bush pigs live in Africa and I live so far from there. However, I am glad that I met them at last. They are such lovely little creatures with striking reddish-brown far with black legs.
Koala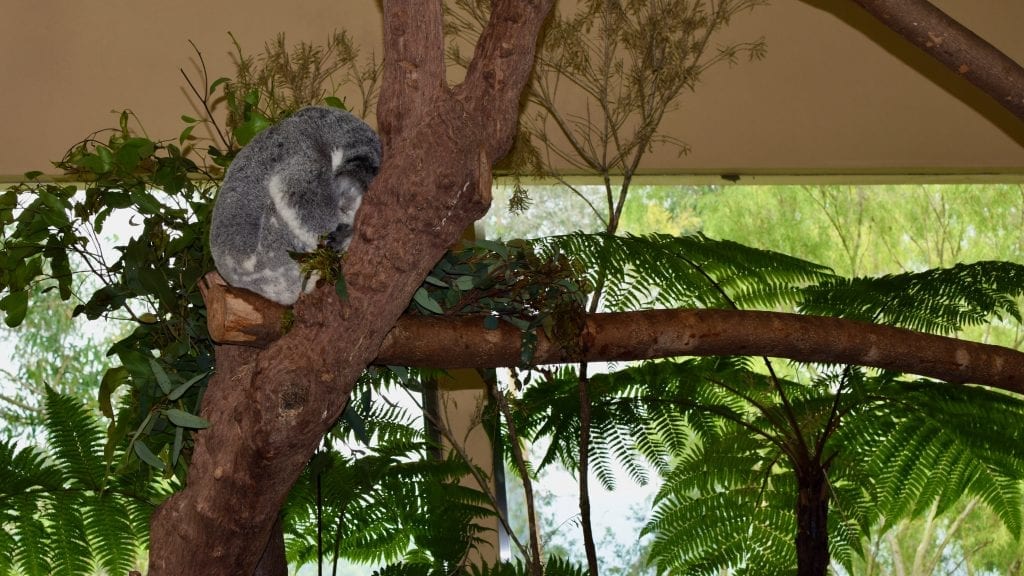 Four Koalas from Australia named Pellita, Paddle, Chan, and Idalia were brought to the Singapore zoo on a loan. I could not recognize by their names, but it didn't bother me at all. They were playing in the branch of a tree. Unfortunately, you can't see them any longer as they returned to their home soil in Australia after I visited the zoo. You can be a bit of jealous about me for this. They were worth watching in the branch. The photo could not do any justice.
Snake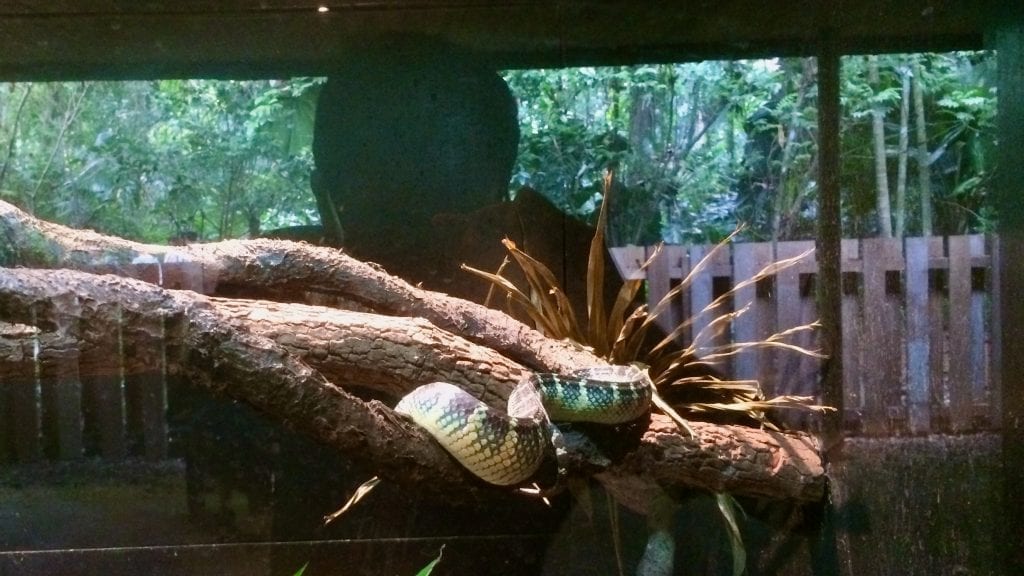 Once I met a friend from Germany, he said that he is so keen to see snakes because they don't see them in their country. It was baffling for me because I never could appreciate the beauty of a snake. It always gives me a chillness. However, as long as they are inside of glass I am happy to meet them. It's one such moment where my photo also reflected while taking a snapshot. Oh! There are plenty of reptiles in the Singapore Zoo. If you are a reptile lover, you will have a lot of fun there.
Elephants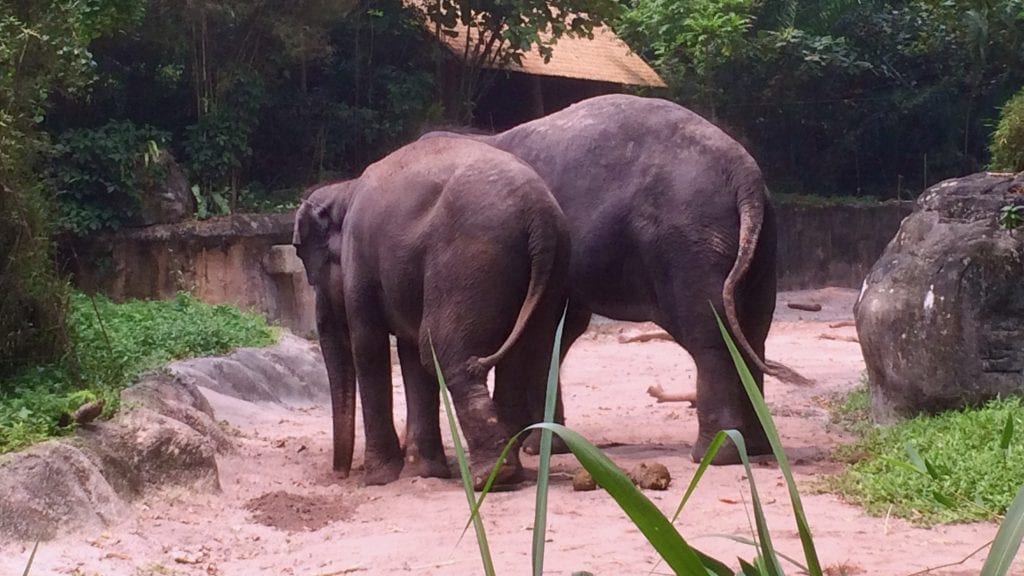 Two Asian elephants were taking a ride together. They were having some serious discussions. Interestingly, all the elephants in the Singapore zoo are female. They also have a leader, I could not identify it either. Comparing to other zoos of the world, the elephants I saw there seemed to be smaller in my eyes. Maybe I couldn't see all of them. Maybe I was too tired and hallucinating. But, either way, I love elephants, and it was good to see them.
Cotton-top Tamarin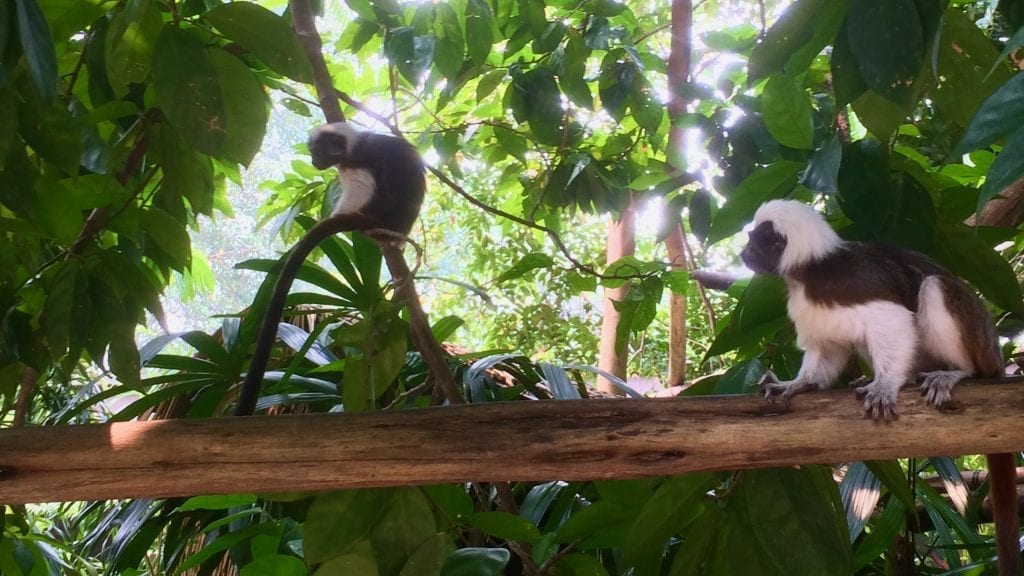 They are one kind of monkeys. They have a long white color on their head with blackface. Cotton-top Tamarin is one of the smallest primates. In the Singapore zoo, there is an entire family of it. In a family of Tamarin, dad takes care of their kids and hand them over to their mother if they need any kind of nursing. When I was there, they were playing in the tree and I could accommodate two in my photo frame.
Orangutan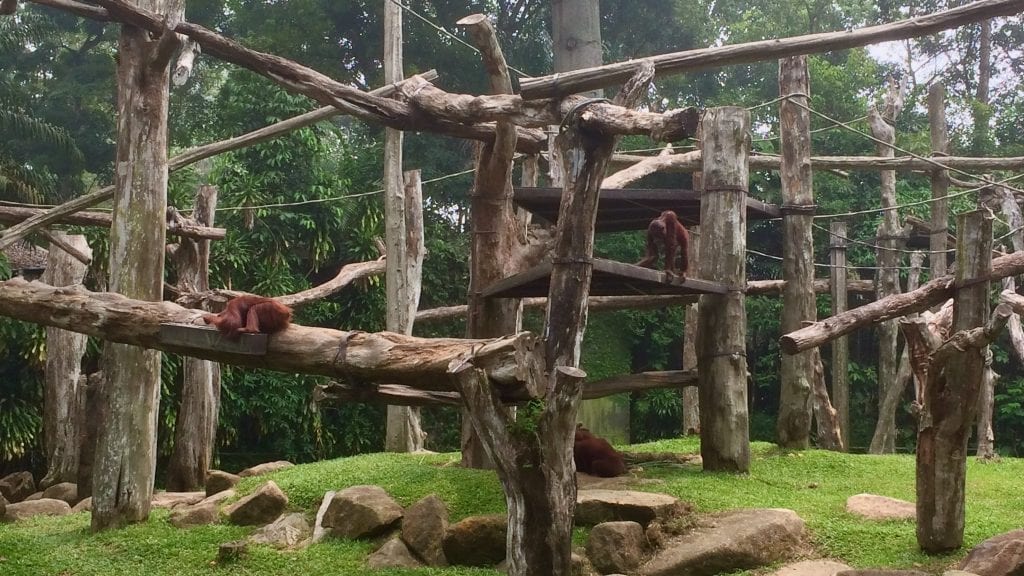 Do you know a difference between Orangutan and monkeys? Orangutans do not have any tail because they are apes. They are the largest tree-dwelling mammals on earth. They are found in Indonesia and Malaysia and very intelligent in the standard of animals. In the Singapore zoo, there is a complex habitat system for them composed of woods. It's like of a spider web made by woods. The Orangutans were living there. The babies learn their survival techniques by playing with their parents and they remain with their parents for 7 to 8 years. Fascinating, right?
Cassowary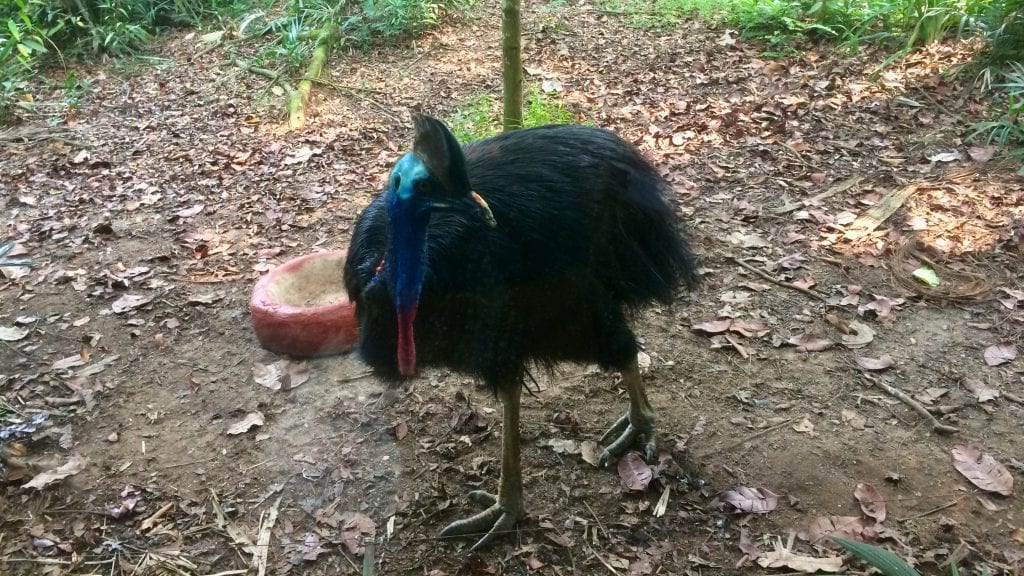 Meet Cassowary, the most dangerous bird on earth. They attacked and killed a man in the USA in 2019. Don't be alarmed, they are not more dangerous than humans, so, let's enjoy their beauty. They are a beautiful creature. Their color is so vivid, you wish you could lend a bit from them. They eat fruits, leaves, grasses but omnivorous. They are good jumpers and have a heavyweight. I wanted to bring one home but deterred knowing that they can attack me with their foot.
Silhouette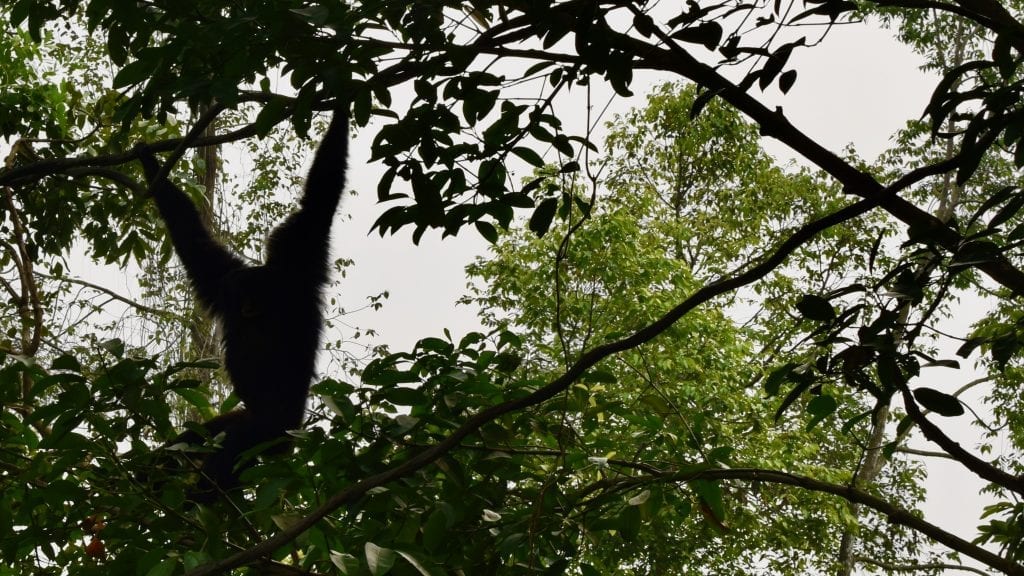 This is not the name of an animal, you don't need to be confused. But, I wouldn't be surprised if it was one (There so many unfamiliar names of the animals in my dictionary). One beauty of the Singapore zoo is its treetops trail. It replicates a rainforest habitat. Although inside a zoo, the creatures feel like they are in the forest. Even if you look at the top, you will see the animals playing in the tree in joy and making sounds. This is one such capture, where I need not know the name of the animal, all I can see in this photo is the joy of a creature in its playground.
These are not all
The above list is not an exhaustive one. There are many more interesting animals in the Singapore zoo to see that's not in the above list. You got to visit there to see all of them in your own eyes.
….and Fuad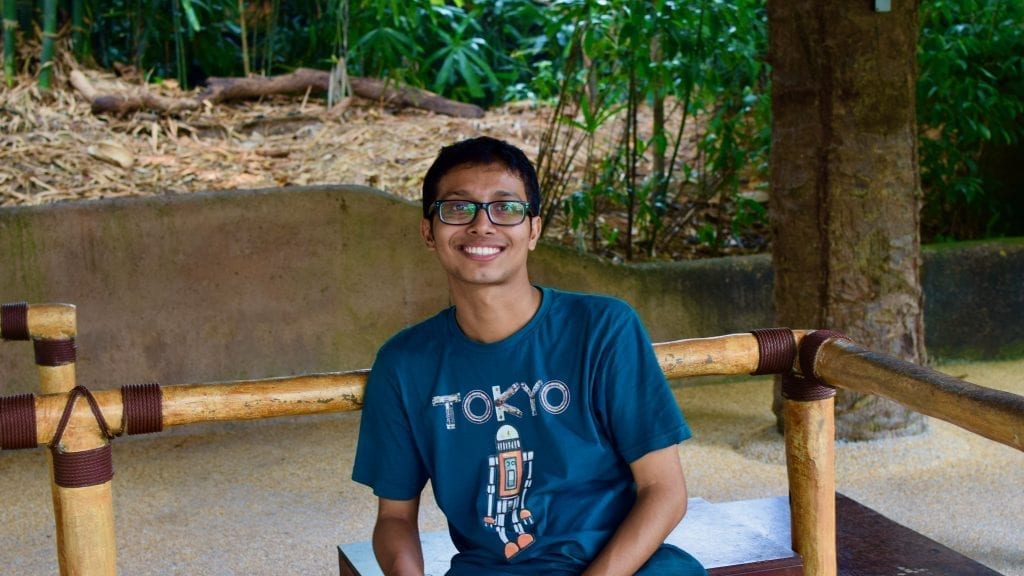 I became exhausted, hungry, and thirsty at one stage. So, I chose to have some rest. I noticed a beautiful bench composed of timbers (it looked so natural) and sat there. While I was gazing around, a kid showed up with joy and start screaming pointing at me – "Daddy! Daddy!! What is it? It looks like us and, oh, my God, it's grinning, too!". I could pick up the sounds of some shutters.
I understood, it's time for me to leave – if not the world, but the zoo.
Practicalities
How to get to Singapore Zoo
By a combination of train and bus or car
Option 1
Get down at Mandai Khatib MRT Station and take the Mandai Khatib Shuttle Bus, which takes 20 minutes to reach the zoo.
Option 2
Get down to Ang Mo Kio MRT station and take 138 number bus which will take you to the zoo.
Option 3
The Marsiling Station is the closest MRT from the zoo. It's only 5 KM from the zoo. But, from there, if you want to take a bus, it will take a lot of time. So, if you are already that close, take a grab. So, you can go there and take a Grab.
By a car
You can always call a Grab and hop on to it.
By a bus
Although you can go to the zoo with distinct bus combinations from city, I don't recommend it. It will take around two hours and I don't see any reason of using it.
Singapore Zoo Ticket price
| Ticket type | Adults | 3 to 12 years old | 0 to 2 years |
| --- | --- | --- | --- |
| 1 day ticket | S$44 | S$29 | Free |
| Night safari with tram ride | S$51 | S$34 | Free |
| River Safari with Amazon River Quest | S$41 | S$27 | Free |
How to buy Singapore Zoo Tickets
I recommend buying a ticket using an online booking platform named Klook. You can use an international credit card, will avail discount (I always see them providing discounts) and loyalty points which you can use later to lessen your cost of buying a ticket further. You need not stand in the queue and can enter showing your ticket on a mobile. I used this to get into the zoo with no hassle.
Where to eat in Singapore Zoo
If you wish to avail breakfast in Singapore zoo with the orangutang, you can go to Ah Meng Restaurant inside the zoo. They serve a buffet breakfast till 10 in the morning (Adult S$35 per person, children S$25 per person). The animals appear between 9:30 AM to 10:00 AM. The orangutang will not dine with you on the same table but, you get a moment to have photos with them.
If you are a fan of KFC, there is one at the entrance. They operate from 10:00 AM to 6:30 PM on weekdays and from 9:00 AM to 7:00 PM during weekends and public holidays.
Inuka cafe serves favorite Singaporean cuisines. They operate from 8:00 AM to 7:00 PM daily.
If you are craving for some are ice creams during the hot weather of Singapore inside the zoo, Ben & Jerry's there for you from 10.30 AM to 7.00 PM, every day.
Toilet facility in Singapore Zoo
The toilet in the Singapore zoo is unique in design, well maintained and free to use.
Locker in Singapore Zoo
There are some excellent locker facilities. For smaller one (30H X 38L X 51W cm), you need to pay S$5 for the first 3 hours, and S$1 for every additional hour
If you need a bigger one (85H X 45L X 90W cm), you need to pay double – S$10 for the first 3 hours, and S$2 for every additional hour
If you want to leave luggage which does not fit in the locker, they have an option, too. The price is just like the big locker – S$10 for the first 3 hours and S$2 for every additional hour or part thereof.
Singapore Zoo Timings
8:30 AM to 6:00 PM – the last entry at 5:00 PM.
Singapore Zoo Number
+65 6269 3411
Tips for visiting Singapore Zoo
The zoo opens at 8:30 AM. Try to be there as early as possible to avoid the heat and crowd later
Use sunscreens, the sun can burn you
Prepare for the rain, a splash of the shower is not unusual in Singapore
Don't plan for anything else during daytime when you will visit Singapore zoo, it will take a full day including transportation time
Use a comfortable shoe, you need to walk a lot to enjoy
Take a plastic bottle with you. There are water refill points inside the zoo. Reuse the bottle and drink enough, you will become thirsty.
If you can have a fascination towards a specific set of animals, plan to know where they are from the map provided above and plan accordingly
There are a couple of animal shows. You can watch them.
You can feed animals in Singapore zoo during various feeding times. The kids will surely enjoy the feeding of the animals. When the feeding time will be over, most of the people leave. That moment is perfect to stay there. You will enjoy some empty spaces to take some good photos.
There is a water fun zone in the kids' area if you wish to have some fun in the water, take swimming suits for you
You can consider having your breakfast with Orangutang, see the "Where to Eat" section above for details
Been to the Zoo?
Liked the Animals of Singapore Zoo? Pin It!