Koh Lanta or Ko Lanta is a fantastic island on the Andaman coast in Thailand. It offers beautiful beaches, rainforest, waterfalls and wildlife. It's one of the most scenic tourist destinations in Thailand.
Thailand is the most popular tourist destination in Southeast Asia. Thailand has it all: vibrant capital, Bangkok, pristine beaches, amazing foods, rich cultures, and plenty of sunshine. As Thailand is extremely popular, it can become crowded. Who does not want to taste a piece of paradise? However, you can find places in Thailand that are beautiful but less touristy. Koh Lanta is one of those places where you will find some pristine beaches, along with Koh Kood island. Those are on par with some of the beaches of Kuta and Lombok in Indonesia (the best I've ever been). Here is a list of the top things to do on Koh Lanta Island for you. I will be focusing on Koh Lanta Yai here, and most of the beautiful places and good infrastructure are there. 
How to Get to Koh Lanta?
Koh Lanta is in the southern province of Thailand, along the Andaman coast. There are two parts of the island named Koh Lanta Yai and Koh Lanta Noi. The easiest way to reach there is through the famous Krabi province.
step-by-step guide for arriving at Koh Lanta.
Bangkok to Krabi

Take a flight from Bangkok to Krabi. If you are a budget traveler, take a flight from Don Muang which serves the low-cost carriers. Find flights to Krabi from Bangkok from here.

Krabi Airport to Koh Lanta

If you do not want to visit Krabi and arrive at Koh Lanta directly, you can take a shared van from the airport. It will take about 2 hours to reach Koh Lanta by road. Book your transfer from Krabi Airport to Koh Lanta from here.

Krabi to Koh Lanta

There are two ways of reaching Koh Lanta from Krabi. You can take a boat or go by van. If you want to take a boat (ferry), go to Krabi passenger pier. It will take you to Koh Lanta (will stop in Koh Jum on its way). If you are staying in Ao Nang, it will be convenient for you to catch the ferry from Nopparat Thara Pier. If you are already staying in Railay Beach, you don't need to go to Ao Nang as the ferry will start from Ao Nang and stop at Railay beach.

Arriving Koh Lanta by Boat

You can reach Koh Lanta via boat from Phuket (2 hours), Ko Muk (2 hours), Ko Lipe (5 hours), Ko Phi Phi (90 minutes), Krabi (2 hours). Ban Sala Dan is the name of the ferry pier in Koh Lanta situated in the northern part of the island.
Book your ticket for Koh Lanta
Beach bumming in Koh Lanta Beaches
If you ask me about just one thing to do on this island, it will be beach bumming! There are so many pristine beaches on the island, you can choose any one of them, take a book with you and relax the entire day.
Long Beach – Best Beach in Koh Lanta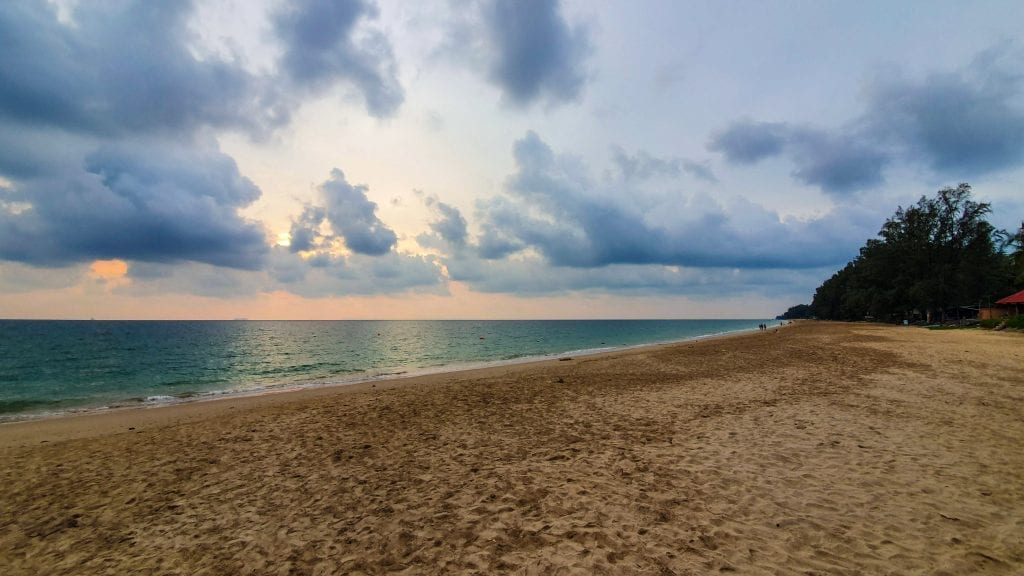 Long Beach is the most popular and deemed the best beach in Koh Lanta. Located on the northwest side of the island, this beach is about 4 kilometers long. Get ready for a long walk, and it will continue for eternity. You will find many restaurants and accommodation options on this beach. Long Beach can be comparatively crowded, but it's nothing compared to other beaches in Thailand. Besides, you can always find a place of your own on this long beach.
Kawkwang Beach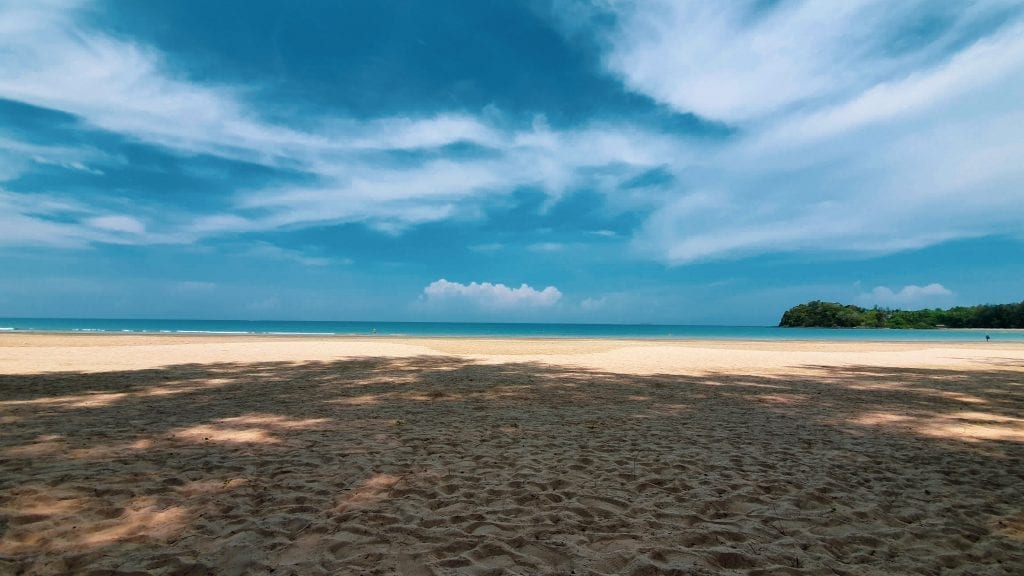 Kawkwang (or Kaw Kwang) is another huge beach in the northwest part of the island. This one has pristine sands and turquoise water. The right side of the beach is surrounded by lush green mountains. You will find several beach resorts here. It means you can reach this huge beach within 5 minutes' walk from your room.
Phra Ae Beach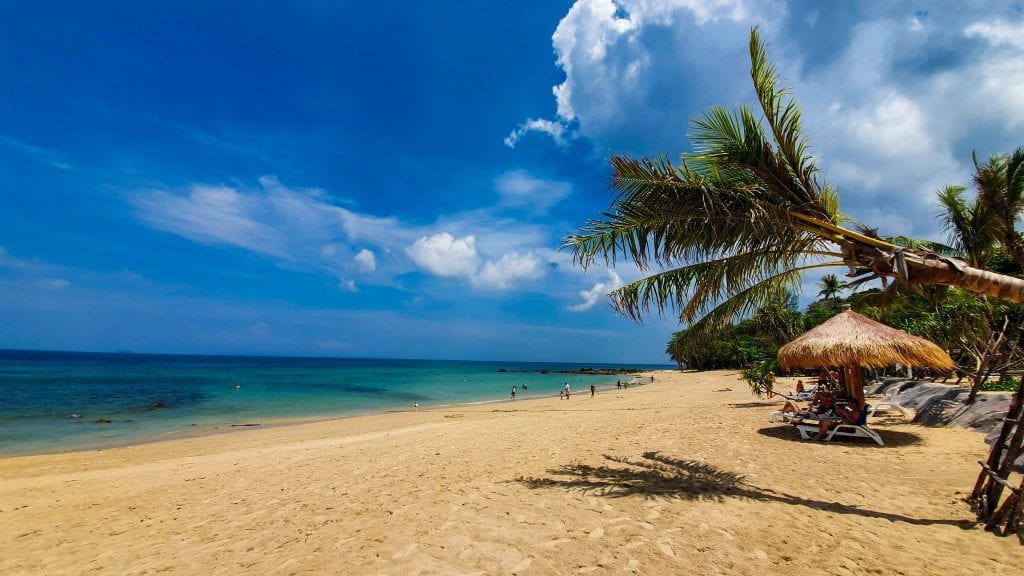 For me, the most beautiful beach on Koh Lanta was Phra Ae Beach. I visited there during the midday. It was a bright and sunny day. The fantastic golden color was adorable and just like powder. I felt like rolling there. Several coconut trees made the beach more beautiful!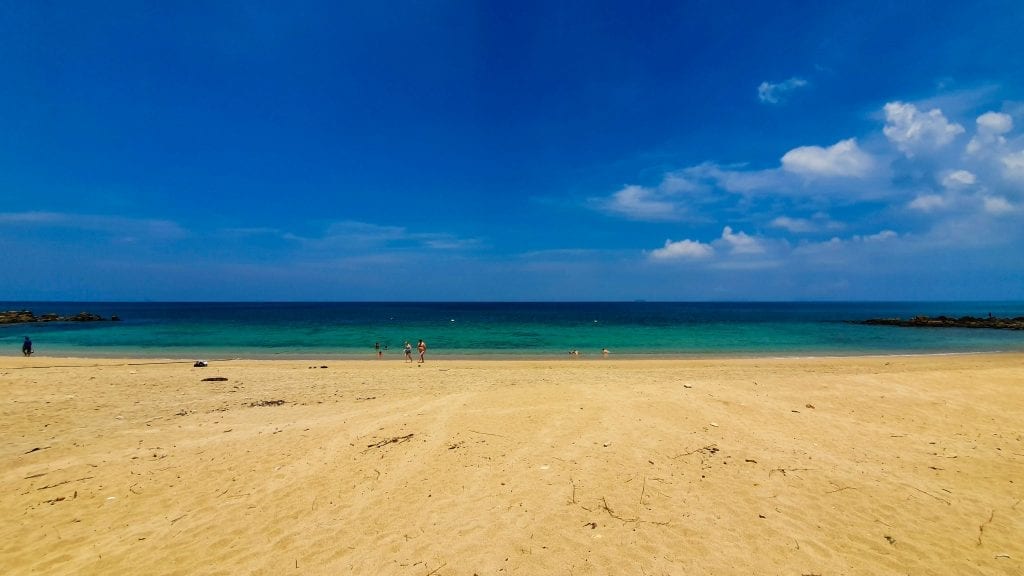 The color of the water here was emerald green. I walked into the water and spent some time. There were not many people here, and the beach was devoid of any restaurants. However, there were some beach chairs to enjoy the time.
If you have time in your hand, you can explore more beaches in Koh Lanta.
Khlong Chak Beach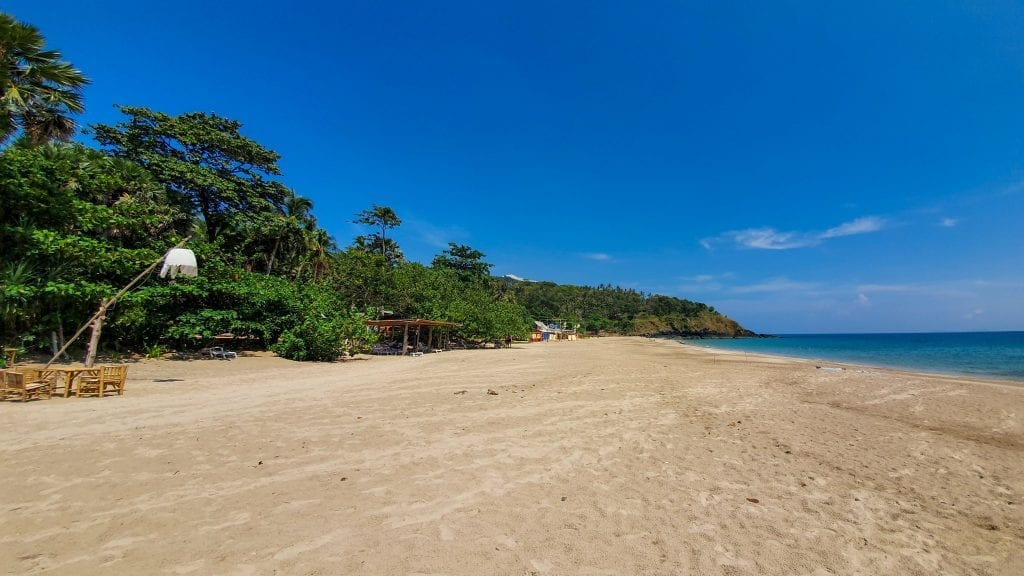 Keep going to the south, you will find more secluded and beautiful beaches on your way. One of them is Khlong Chak Beach. This one is also a huge beach. You must be very tired from a long journey to the south. Khlong Chak will give you a chance to satisfy your thirst. You will find some good restaurants with bars. Cool drinks along with the view around will surely please you.
Enjoy Bamboo Bay from Top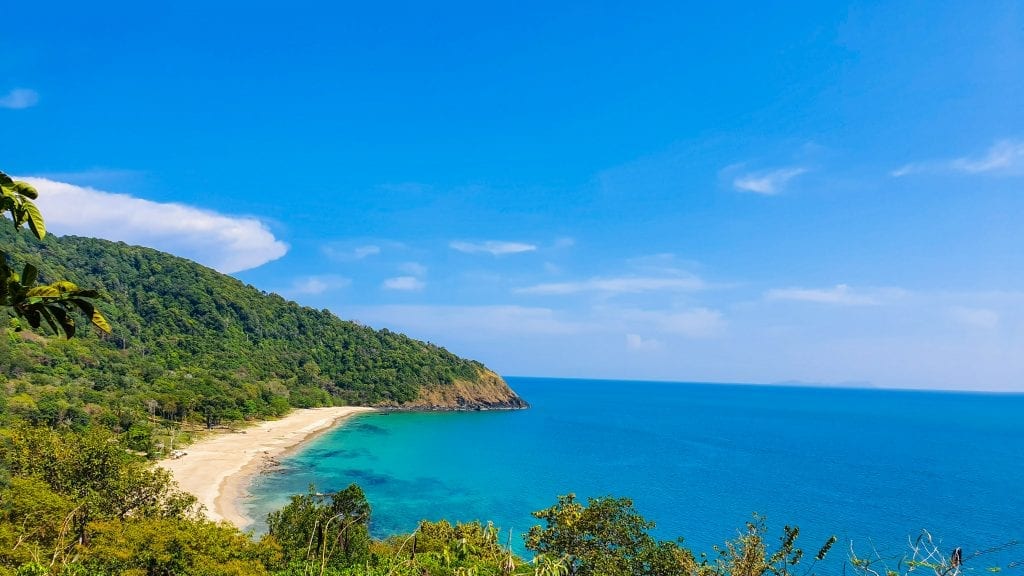 When you will be going to the southern part along the west coast, you will gradually discover yourself on top. The road keeps going up. While you drive, you will get a glimpse of the breathtaking scenery of the ocean. Just keep your eyes open; you will find plenty of viewpoints to enjoy the sublime surroundings. The bamboo bay is the most beautiful of them. Just before arriving at Mu Ko Lanta National Park, you will find the bamboo bay. There are some basic restaurants on the cliff where you can enjoy the view along with a drink. The quality of those is not so great, but you pay for the view. Even if you don't want to spend anything, you will find a place to stay. As I had been to many beaches, I did not go to the bamboo beach but rather enjoyed it from the top. It was awesome!
Mu Ko Lanta National Park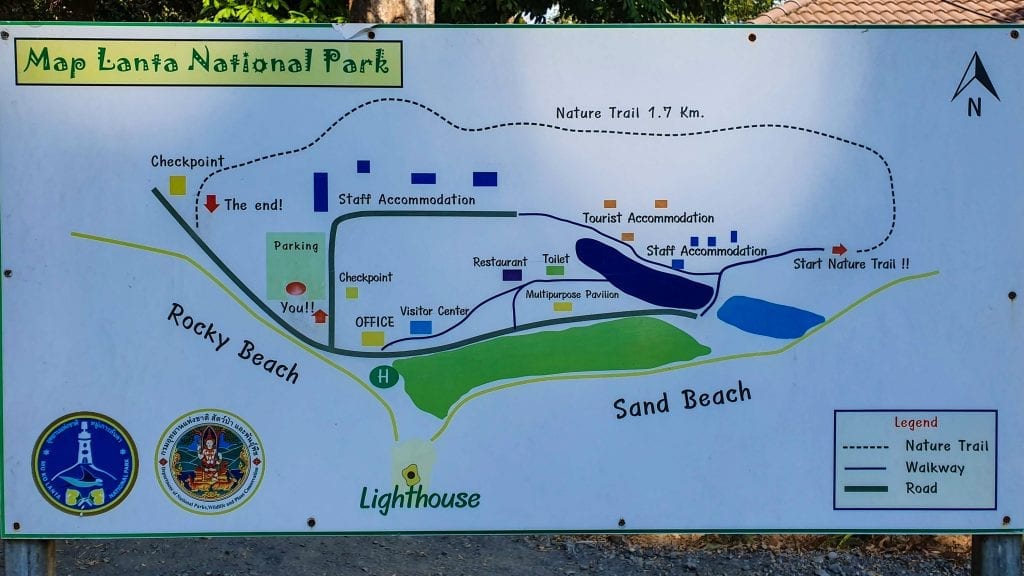 Most of the people live in the northern part of the island. Mu Ko Lanta National Park is in the southernmost part. It means you have to travel about 25 kilometers to reach here. So, I was confused about whether I should be there and eventually decided on it. I am glad I did it, because I could see many other beautiful places on the island that way.
Hiking to the Top of Mu Ko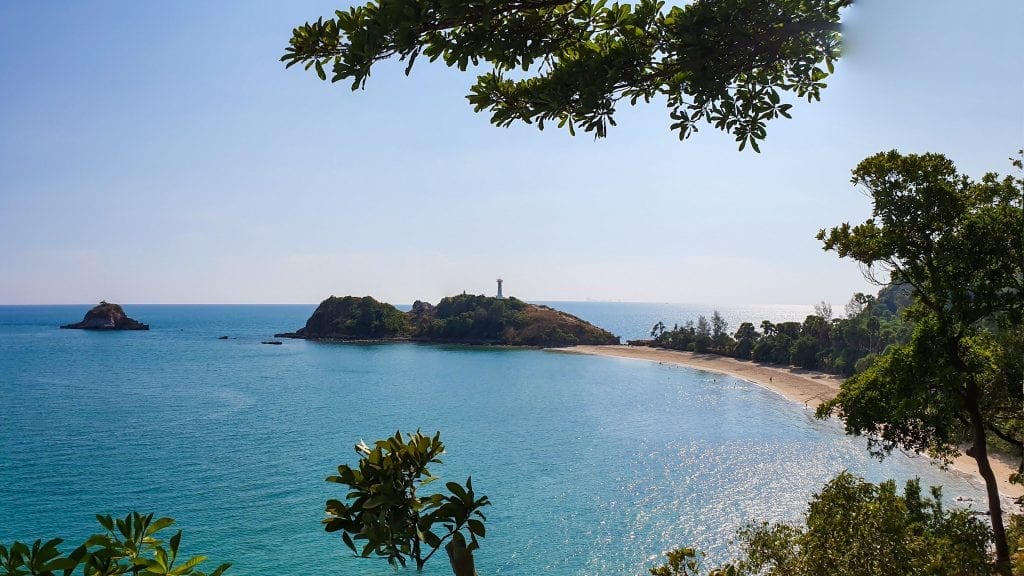 The top draw for me in this park was the nature trail hike. It's a 1.7-kilometer uphill trail. You have to climb stairs first, and then you have to go through a jungle. If you are lucky, you will see birds and animals. At one point, you will be able to see a panoramic view of the national park from the top. Do not forget to wear a full sleeve shirt during this hike, you will be brushed by trees.
Lighthouse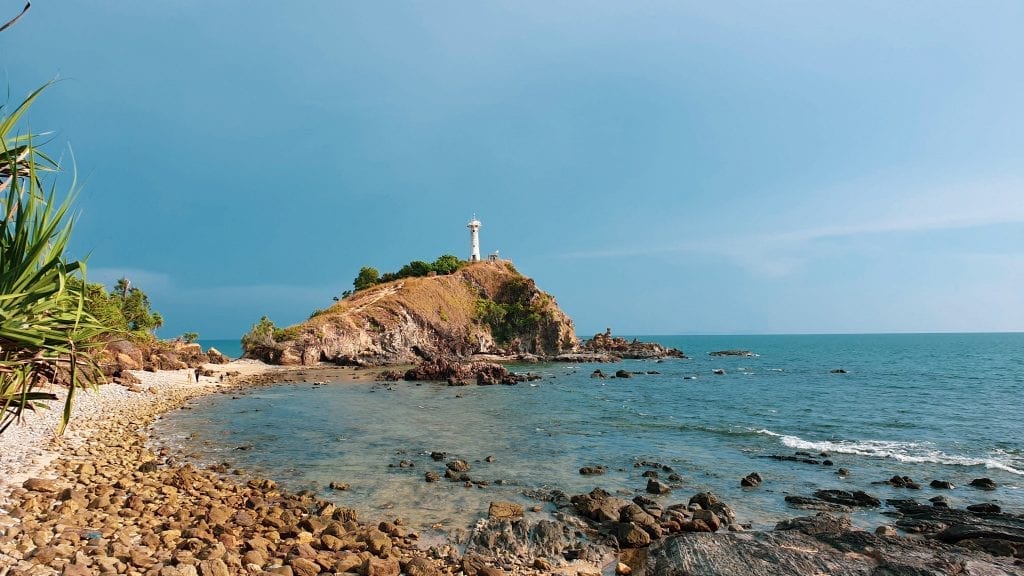 A lighthouse on a faraway island gives off an eerie and spooky feeling, especially at night. I was there during the daytime, and the white lighthouse was on top of a small hill. A short hike on a walking trail will take you there. There is nothing much once you reach there, except you can see the surrounding areas from a higher place.
Twin Beaches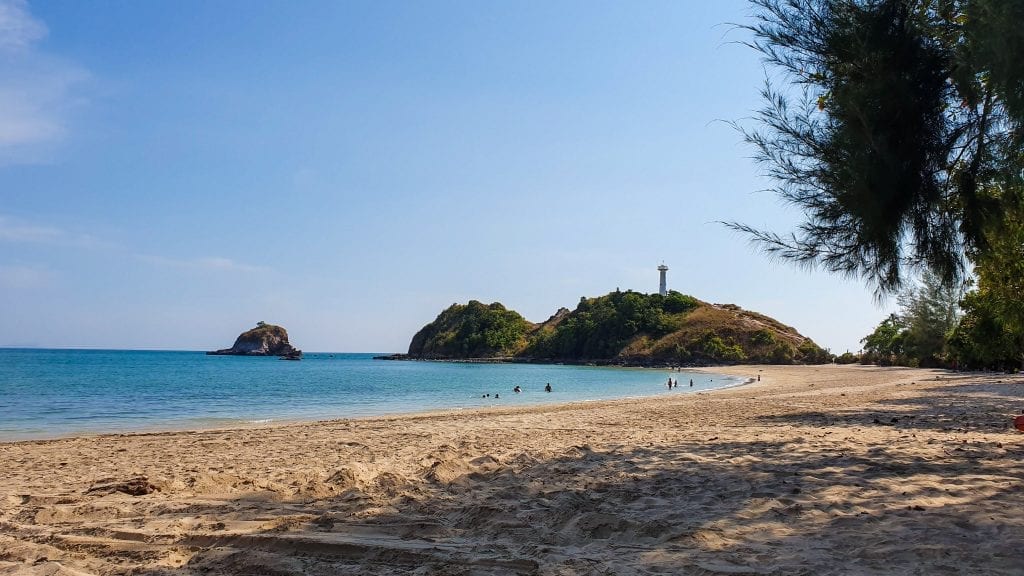 Mu Ko Lanta National Park has two joint beaches named Rocky Beach and Sand Beach. As the name implies, the rocky beach is full of rocks and presents your views of the crashing wave. The sand beach is a proper and large sandy beach. You will find benches to take a rest, and surrounding trees will cast shadows. If you search for this beach on the internet, it will not come to the top of any list; however, it's a decent enough beach.
Mangrove forest Tour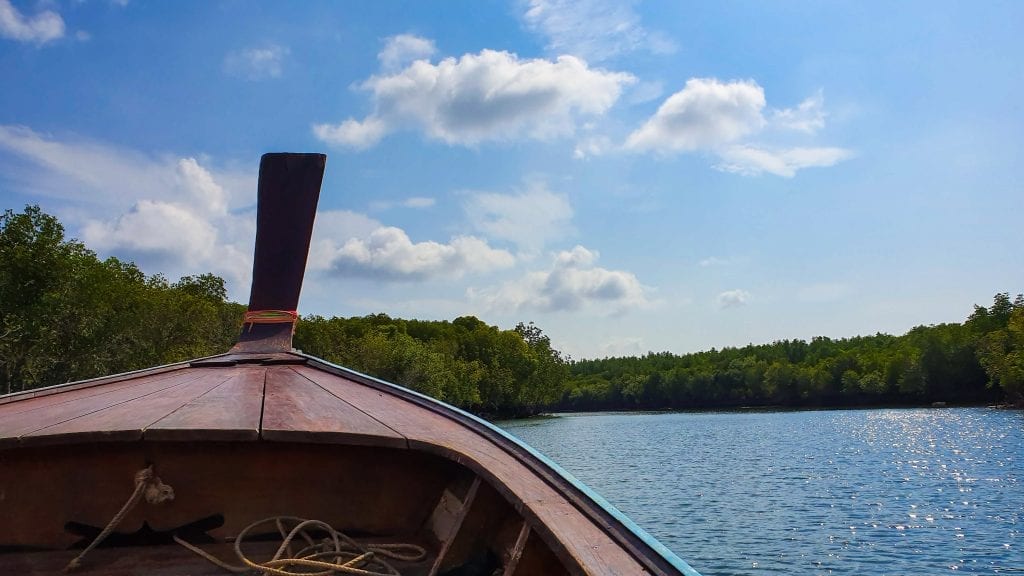 A short boat ride from Koh Lanta will take you to the Tung Yee Peng mangrove forest. You have to book the trip early, and there will be a group of people sharing the journey with you on a boat. The tour operator will pick you up from the hotel (included with the ticket price). The boat starts from the Tung Yee Peng Pier, which is on the eastern side of the island. You will get into a boat through the Ko Lanta mangrove walkway.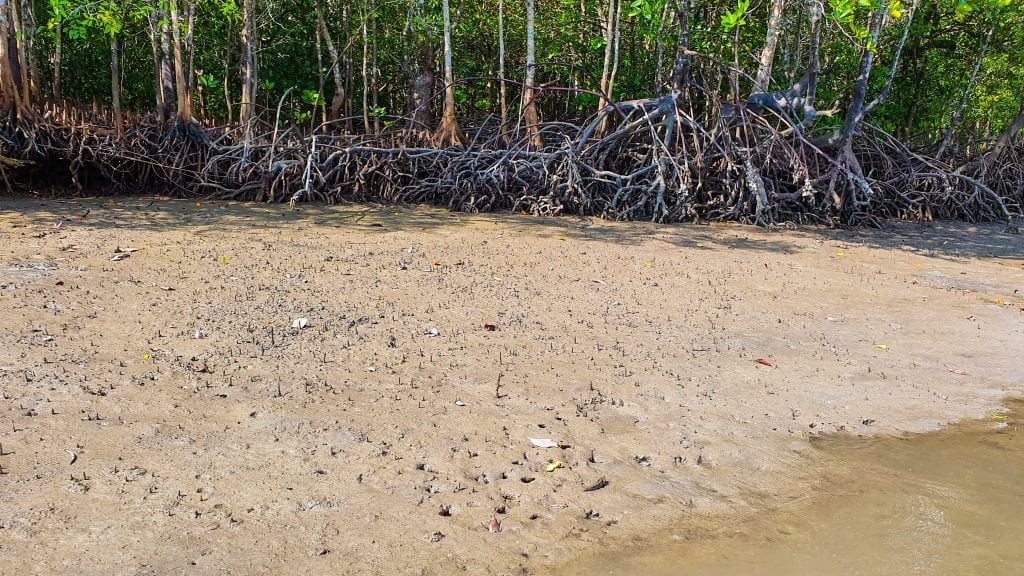 For those who don't know about a mangrove forest, let me try to explain it to them. Mangrove trees can tolerate saltwater. It's usually found in intertidal coastal areas. There are some places where the tides come and go. These types of trees have some kind of special root system that can filter salt and survive on a lower amount of oxygen.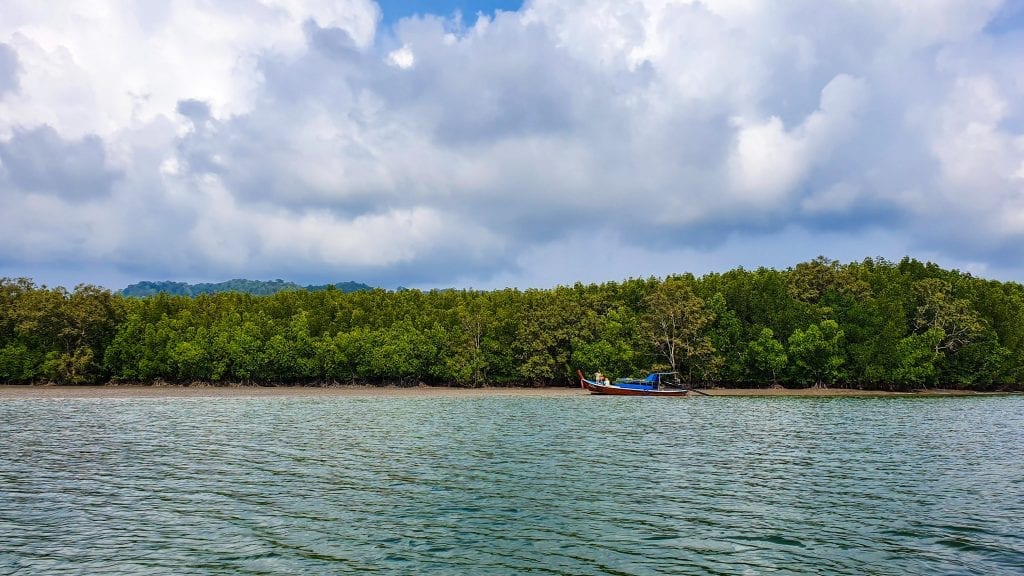 This is usually a half-day trip and will take you through open water along with a mangrove forest. There are many inhabited beaches, as well as various types of birds such as eagles, crabs, and animals such as monkeys.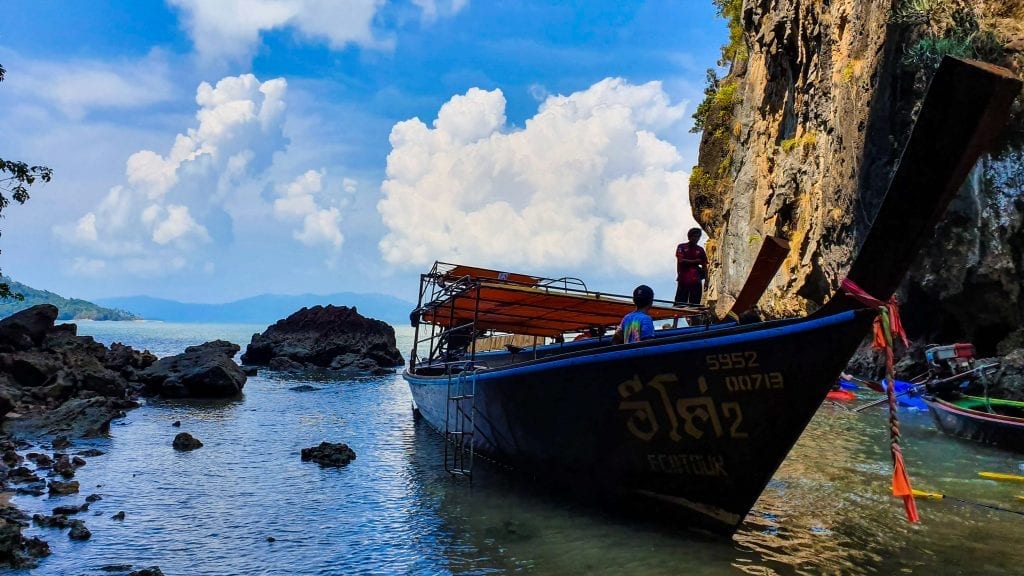 The trip will stop at some nice beaches with swimming facilities. You can get down and relax on the beach. You will also get to see caves and floating fishing villages during your trip. Interestingly, you can opt for homestays in floating villages if you want to experience something unique.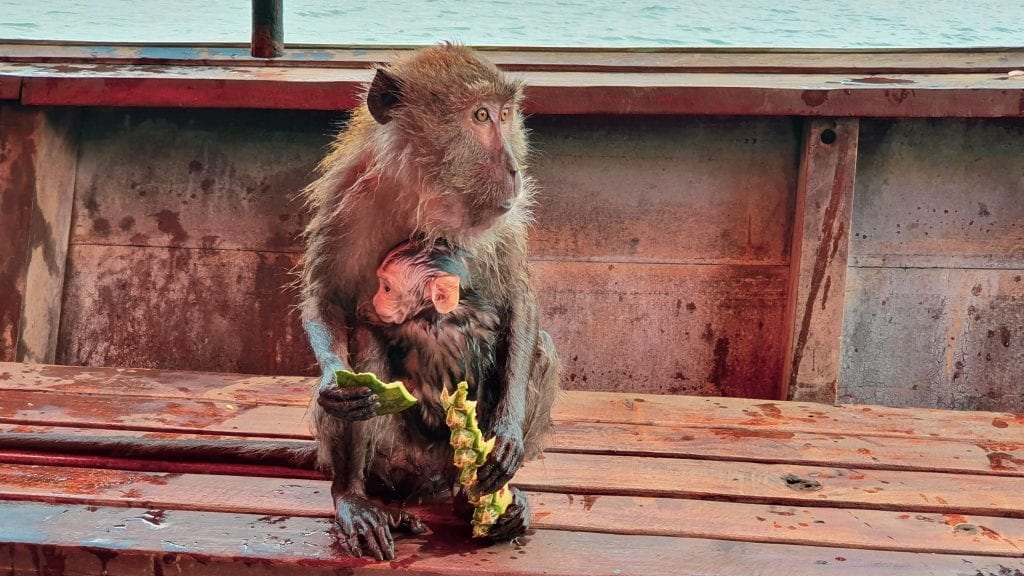 During your trip, you've got to be careful about the monkeys, there are plenty of them in the trees. All of a sudden, without any notice, many of them invaded our boats and took food and belongings from the group. I won't be surprised if they snatch your camera or mobile.
This trip was pretty similar to the one I took to Langkawi island in Malaysia.
Kayaking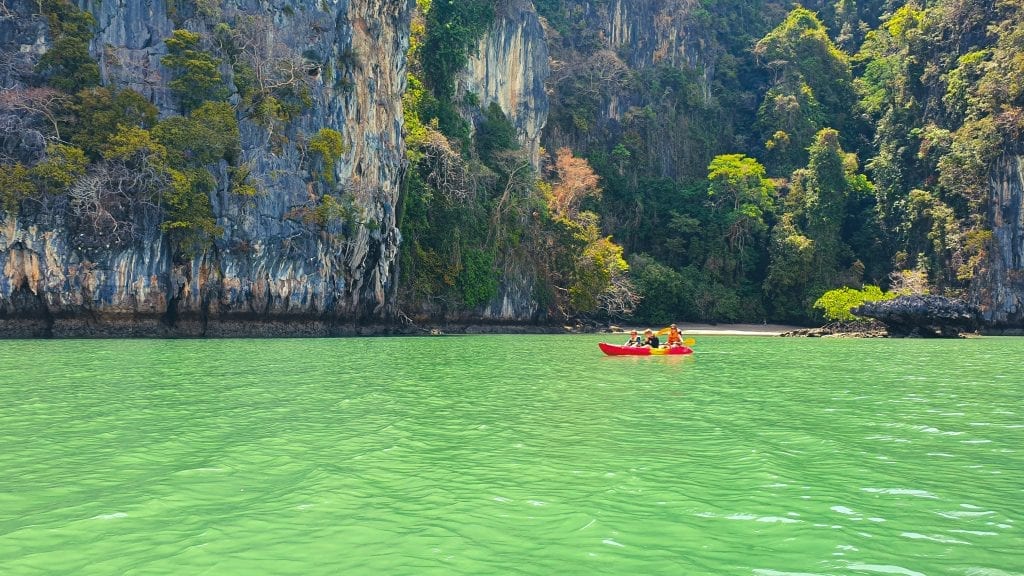 As part of the mangrove trip, you can go kayaking in the open ocean. The tour operator will take you to a suitable place for kayaking. You get to choose your boat and partner. It was a lot of fun kayaking there in emerald water surrounded by big limestone karsts.
4 Island day tour
This can be a good alternative to the Mangrove Tour. Here, a long tail speed boat will take you to the famous four islands of Koh Lanta. The best part of the trip will be a visit to Emerald Cave on Koh Mook Island. A buffet lunch is usually included with the package, and it lasts for around 6 hours.
Delicious Seafood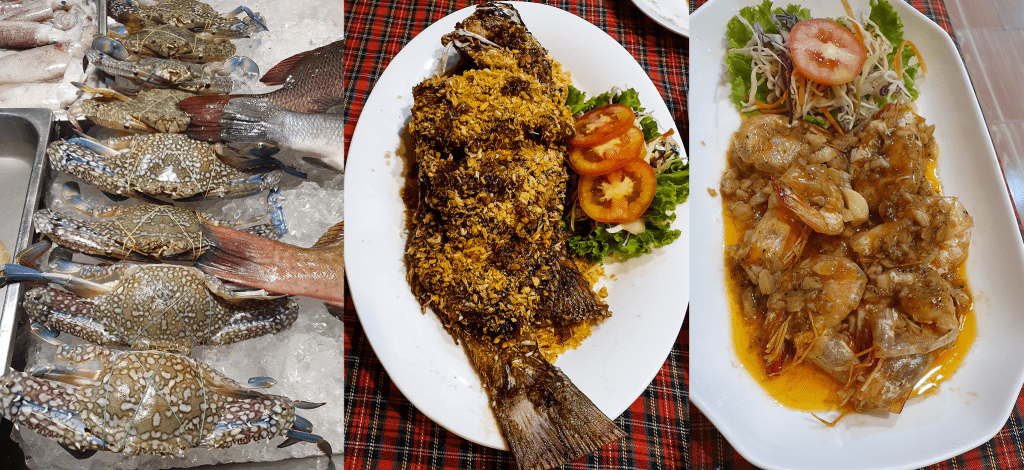 One of the top things to do in Koh Lanta is to eat delicious seafood and fresh fish. The best and cheapest place to have them is at Saladan Pier. There are a series of seafood restaurants where you can order food. The fish are placed outside of the seafood restaurant. They are sold according to their weight. There is a fixed price per 100 grams for a specific type of fish. You pick one, and they will tell you the weight of it by measuring it on a scale so that you can calculate the price of it instantly. The restaurant will prepare your food according to your taste, the barbecue is the most popular of them. The only caveat is, you have to order a whole fish!
Kung Restaurant
The Kung restaurant was my favorite in Koh Lanta. It's on Saladan Pier and serves fresh seafood. The restaurant was nothing fancy, but decent enough. The foods were so affordable and delicious that I went there a couple of times. Snapper, sea bass, and barracuda are fans' favorites and worth trying.
Maladee Restaurant
This one is one of the most popular seafood restaurants in Koh Lanta. The restaurant is not big but serves delicious fish. It's also cheap.
Apsara
This is the best seafood restaurant in Old Krabi. If you visit the old town, this is the place to go to satisfy your hunger.
Koh Lanta Diving
Within 2 hours of your journey by boat from Koh Lanta, you will get to two fantastic diving spots named Hin Muang and Hin Daeng. Among them, Hing Daeng is one of the best diving spots in all of Thailand. The corals in the middle of the sea work as feeding stations. That's why you will see fish like tuna, sharks, and even whale sharks, as well as rays if you are lucky.
Best Scuba Diving Operators in Koh Lanta
Take a Bike and Explore the Island
Taking a bike and exploring the island is one of the best things to do on Koh Lanta! Koh Lanta is 27 kilometers from north to south. If you drive for 2 hours without any breaks, you can reach another side of the island. Most of the beautiful beaches are on the western side of the island. So, you can skip the eastern side, take a bike, and explore. There is only one main road going along the coast. Whenever you see a symbol of a beach, stop and visit that beach. You need to take a right turn most of the time and take a bumpy road to reach a beach.
Never forget to buy a travel insurance before your trip, see my bike accident incidence in Philippines. I suggest Worldnomads for travel insurance, they are reliable.
Lanta Animal Welfare
If you are a dog or cat lover, you would love to visit this animal sanctuary in Koh Lanta. This center takes care of about 60 cats and 30 dogs. You are allowed to play with them on an hourly basis. Should you seek a long-term voluntary opportunity, you can get in touch with them. This is located on the western side of the island.
Exploring Koh Lanta Old Town
Most people visit Koh Lanta to enjoy the beautiful beaches. Most of the beaches lie in the western part of the island. So, people don't bother to visit the eastern part. However, if you want to explore that part, you can visit the old town. It's quiet, as there are hardly any tourists there, surrounded by lush green mountains. There is not much to explore, however, and it might be a good change from the beaches. Besides, you will know the history of the island and understand how it was before the tourists came.
Koh Lanta Hotels
Twin Lotus Koh Lanta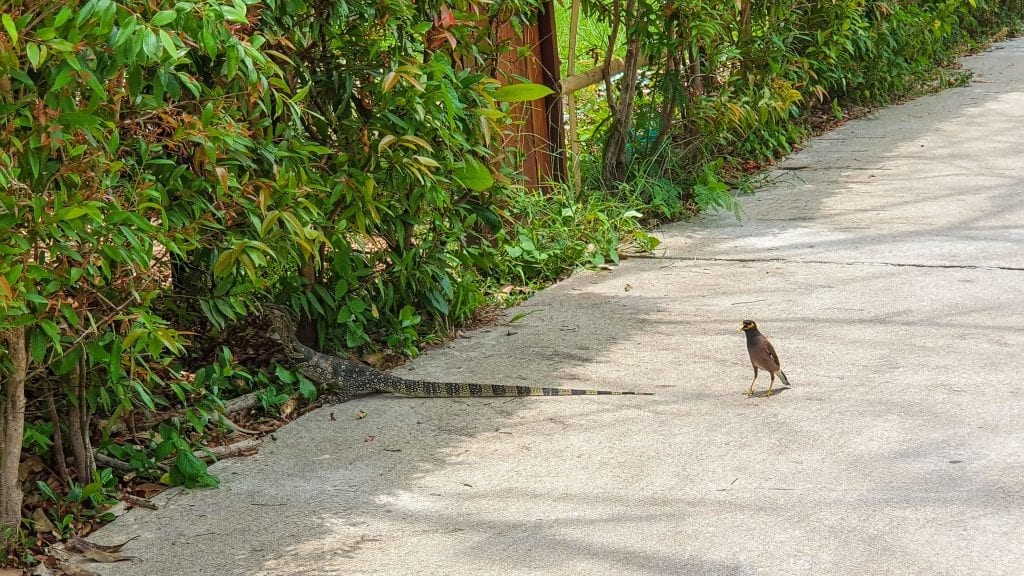 I could have used photos of beautiful rooms, but the photo above made more sense to me. Twin Lotus Koh Lanta is located on a huge property (12 acres!) in a natural setting. You will hear the birds chirp, see the reptiles pass by. The 3-kilometer-long Kawkwang beach is right at the edge of the property. The breakfast buffet has a handsome amount of options to choose from. It's located on the northern part of the island.
Crown Lanta Resort and Spa
It's a fantastic boutique resort in the northern part of the island, not far from Twin Lotus. They have spacious, sparkling clean rooms. The hotel is surrounded by jungle. You can relax in two big swimming pools in the hotel.
Lanta Miami Resort
This three-star hotel is located right on a beach with plenty of greenery. It is located halfway between the island's north and south ends. You can enjoy a fire show at the bar at night. Lanta Miami Resort has two sections, try to grab a room near the beach because you might find the other part a bit distant.
Lanta Sand Resort and Spa
It's an astoundingly beautiful resort located on a pristine beach in the northern part of Koh Lanta. The rooms are big and well equipped. If you seek tranquility, this is a good place, as the surroundings are quiet. It also has a small gym, spa facilities, and a swimming pool. Some have reported that the resort is a bit dated.
Coco Lanta Resort
This is also a highly rated hotel in Koh Lanta, right on the beach. Pra-Ae Beach is only a short distance away. It's 1/4 the way between north and south, leaning towards the south. The staff of this eco-friendly resort is welcoming and well behaved. The beach in front is not great for swimming.
Lanta Pearl Beach Resort
This hotel is located in the middle of a long beach and offers good value for the money. This bungalow resort is one of the oldest in Koh Lanta but still holds its reputation highly. The rooms are lovely, with good bathrooms, and the staff is friendly. If you want to stay in Long Beach, this is a fantastic option!
Pimalai Resort and Spa
This 5 star hotel is definitely one of the top three most popular resorts in Koh Lanta. If you can afford it, look no further and book your stay in Pimalai. It's located in a tropical forest and has direct access to a 1-kilometer-long beach. You will get all the amenities you could ever imagine from here! They have an outstanding collection of food for breakfast.
Layana Resort and Spa
Most of the hotels mentioned above are located in the northern part of the island. What about a fantastic option in the southern part? Yes, that's Layana Resort and Spa for you. It's nestled in the Mu Koh Lanta National Park. The resort offers beachfront views, the rooms are sparkling clean, and it offers many amenities like yoga. The only downside is, it's about an hour from the Saladan Pier. However, this is a fantastic place to relax and explore the pristine southern beaches nearby.
Koh Lanta Airbnb
If you do not want to stay in a hotel and want to experience staying with locals, Airbnb is a great option. If you do not have an Airbnb account open on using this link, you will get US$50 credit! In many places, my Airbnb experience exceeded far and those were much better than staying in a hotel. Below are the links to the top 5 Airbnb in Koh Lanta, which I curated by going through their reviews. You can book any of them, and I hope you won't regret it!
Best Bars in Koh Lanta
Why not Bar
Majestic Bar Koh Lanta
Cheeky monkey bar
Important Facts about Koh Lanta
When is the best time for diving in Koh Lanta?
The diving season runs from November to April.
How big is Koh Lanta Island in Thailand?
It's 81 km², 25 Kilometers long and 6 Kilometers wide.
Is there any national park in Koh Lanta?
Yes, it's Mu Ko Lanta National Park.
How to Buy SIM card in Thailand?
I always order online from Klook and collect it from the airport. Click here to buy your SIM card in Thailand.
How to Buy Metro/BTS card in Thailand?
You can order your metro card known as Rabbit card online and collect it from suvarnabhumi airport or don mueang airport.
Loved the Things to do on Koh Lanta? Pin it!