Day 3 of ABC Trek
Chhomrong – Tilche – Bhanua – Sinuwa – Bamboo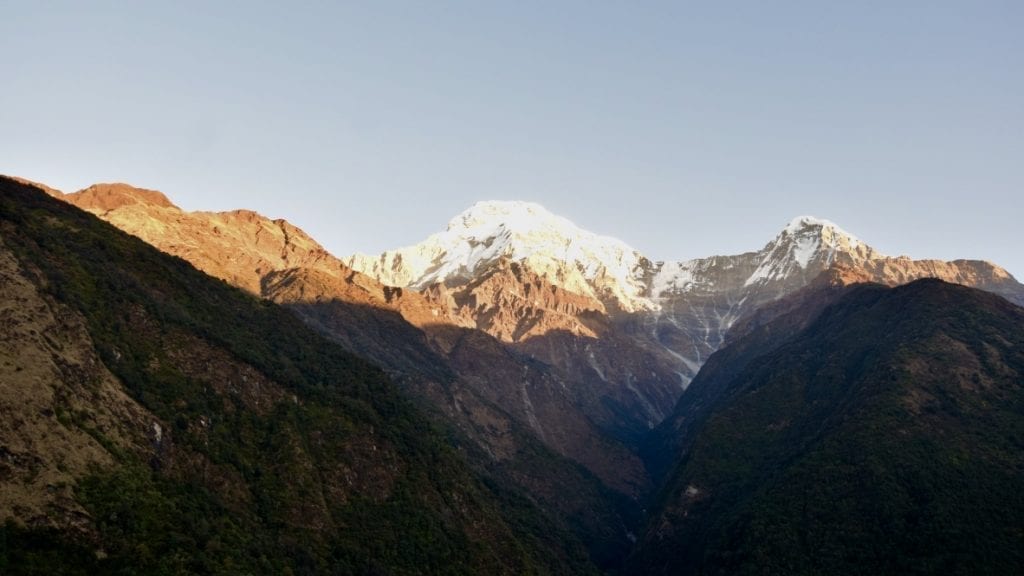 I woke up in the morning with noises outside. It was so unlikely as the surroundings for ABC trek is very calm and quiet. It made me leave my bed. I saw some Indian young people taking shots with their DSLRs and hence the noise. I couldn't blame them. The first ray of the morning was reflecting in the snow caps and the mountains far were looking amazing. I joined the photo capturing frenzy.
We resumed our ABC trek after having breakfast. There are several ways for starting a trek to Annapurna basecamp. But after Chhomrong, there is only one way. That is why there is a checkpoint of ACAP. It's like an immigration system of the airport. I deposited my card to the duty officer. They checked everything, entered my information in their system, and stamped a seal.
Chhomrong is an important place for another reason. This is the last place where you can find groceries (although the prices are higher). If you have a shortage of supply of dry foods, make sure to refuel from there. I bought some nuts and dry biscuits. The biscuits were not of good quality and I had to carry it long. Whenever I saw someone, I offered these biscuits and they flew away from me.
The next two hours were so relaxing. We kept going downwards, it was such fun. We had to compensate for this relaxation once we got back the same day. The downhills now mean the uphills upon our return. I saw a girl crying while going in the opposite direction. I understood her feelings after a couple of days.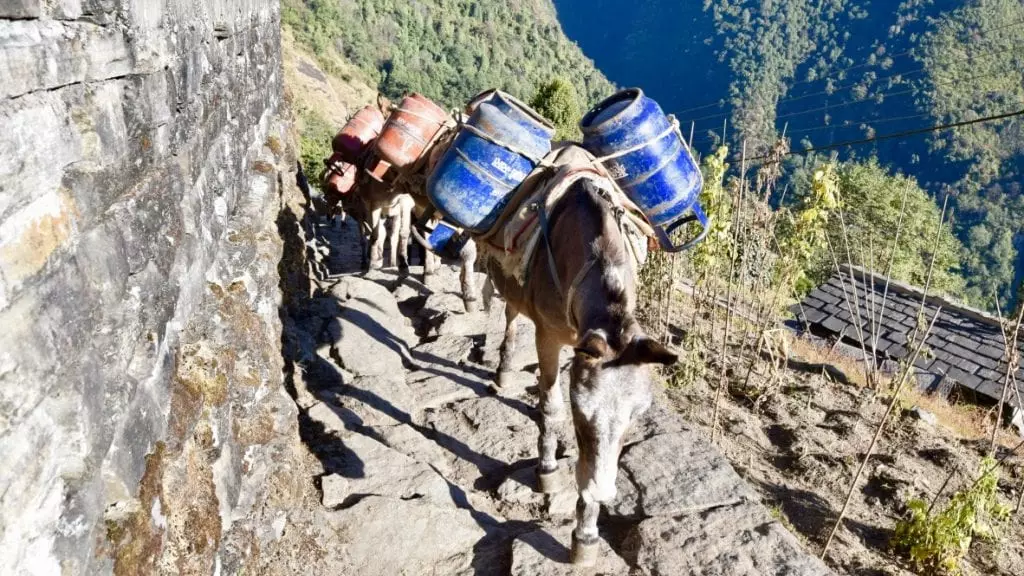 The horses were of great utility in this highland. They were carrying all sorts of things from sick people to gas cylinders. Just look at the narrow street. If you fall sick, who can rescue you without a horse?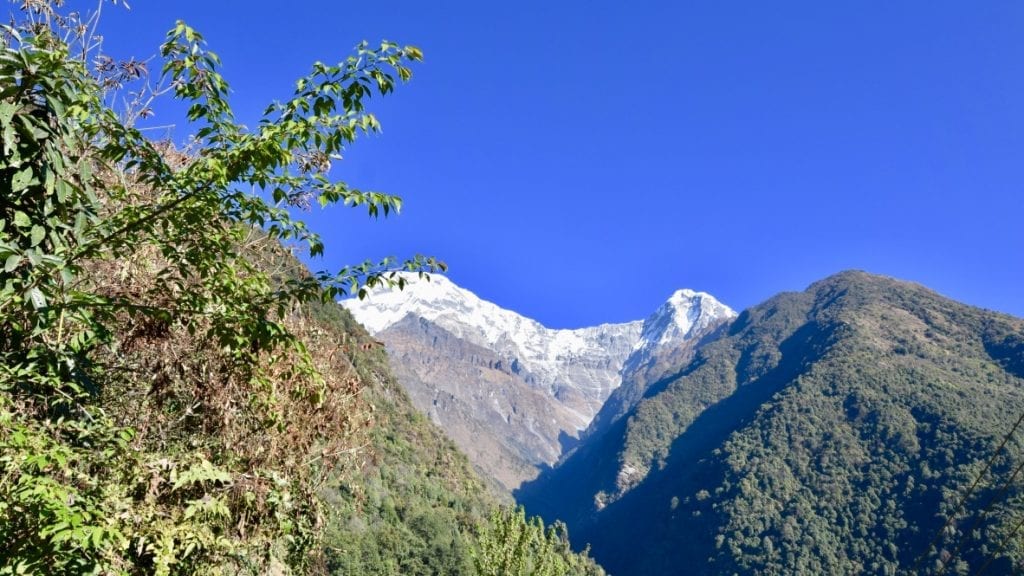 Although we were going through greeneries, the mountains were opening up in patches. It's like, walking through the bushes, climbing up and down the stairs, keeping the rocks as the wall in one side and a hole in the other – and then suddenly, a big white giant in the far has opened up like a beauty unveils.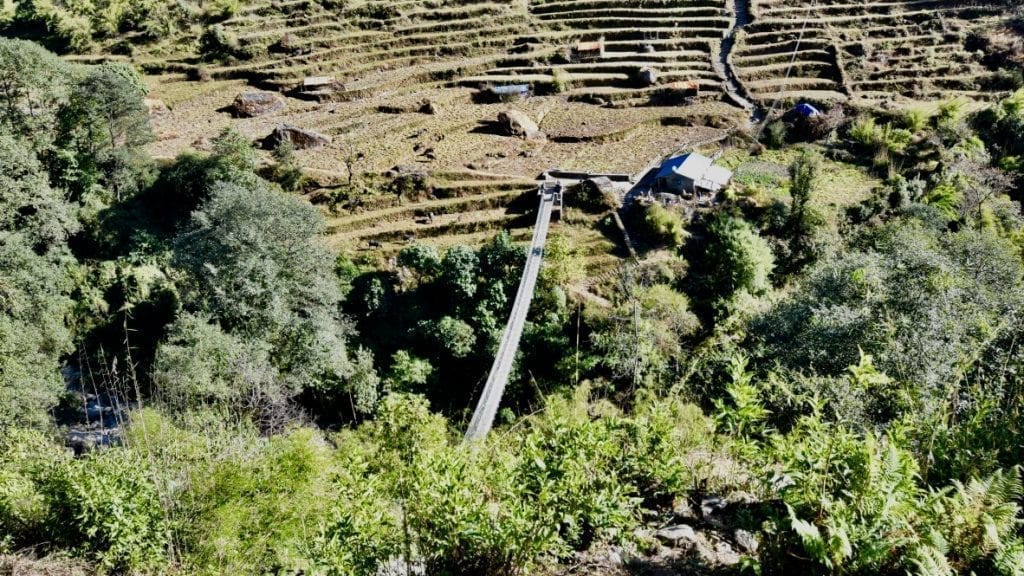 I was excited to see the first suspension bridge yesterday. I was greeted by another this time, bigger than yesterday. And, this time, it looked even more beautiful as I approached it from the top. It's being placed over Chhomrong Khola (name of the river). The swaying gave me goosebumps again.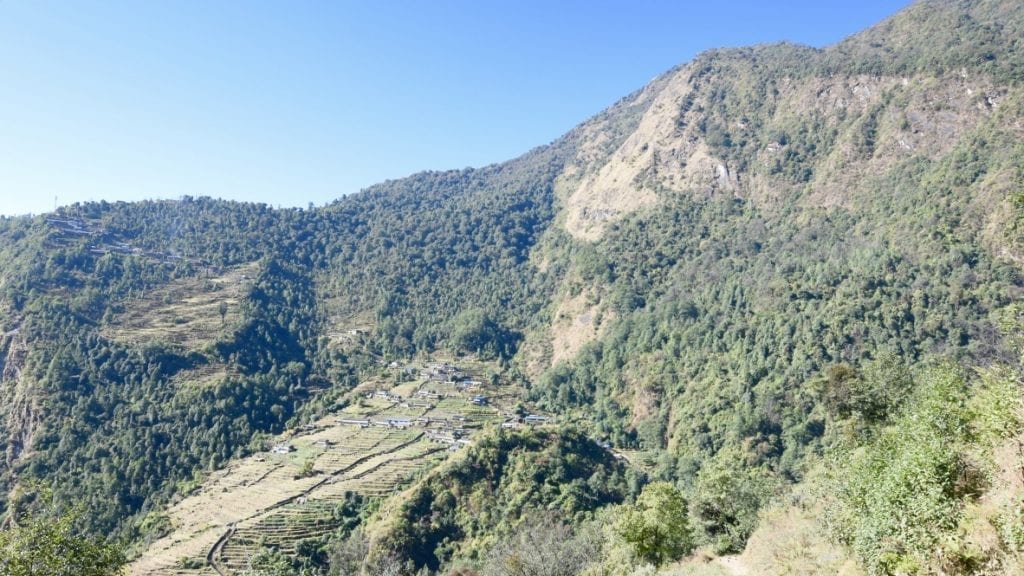 As I was advancing forward, I realized that we were leaving any kind of establishment far behind. The villages were becoming like the size of matchboxes. We could see them from the top. I was wondering, how my life would turn out if I was born in any of those houses?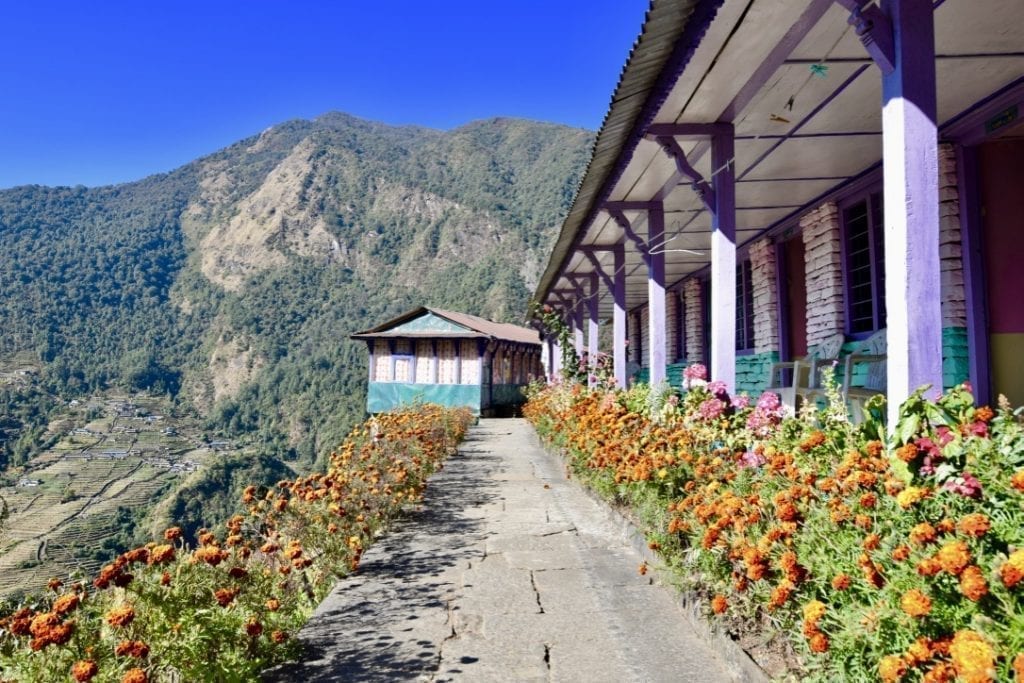 It was a beautiful sunny day. My mood was uplifted by the surroundings. I was still below in an altitude of 2500 meters. A bunch of colourful flowers made my day brighter.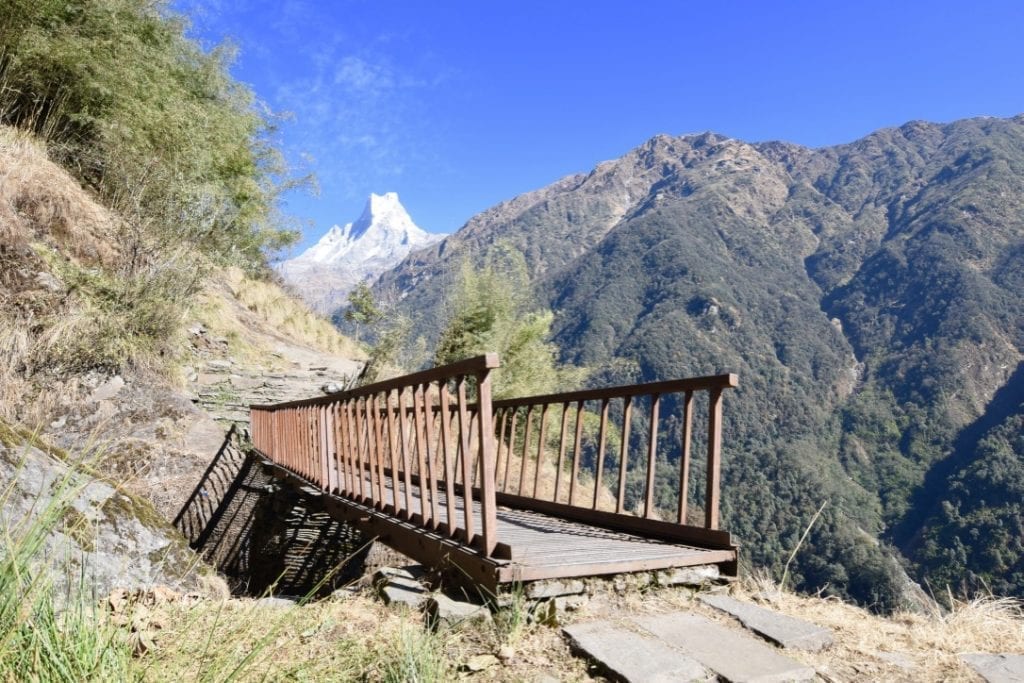 There were rhododendrons, orchids, and ferns on both sides of the road. And, there were fountains. Filling up my bottle was never a problem. The view became nicer and nicer as the moment passed by. The gorgeous fishtail was coming nearer to me. I could see it, I could sense it.
Before reaching to Bamboo there was a long steep descent on slippery stones through a bamboo forest. One can easily understand that he is approaching a place called Bamboo. The valley has five hotels. It's better to get there early as they can be filled up pretty quickly.
We stopped our trekking while there was plenty of sunshine left. We stayed in the Buddha Guest House. Although we didn't have any complaint with the lodge, the stuff there was a bit cold for my liking. I felt like walking two more hours to reach to Dovan. It would have been too much, though, so, I held my ambitions lower.
This was the easiest day of trekking, at least, I felt so. What's in my fate tomorrow?
Summary of the Day 3
From Chhomrong, it's a steep descend
There is an ACAP checkpoint in Chhomrong, where the ACAP card will be checked and stamped
You need to buy dry foods from Chhomrong as you won't get any grocery shops ahead
You will cross a big suspension bridge
Towards Bamboo is a steep descend, too
Overnight stay in Buddha Guest House, didn't like their attitude
Day 4
Bamboo – Dovan – Himalayan Hotel – Deorali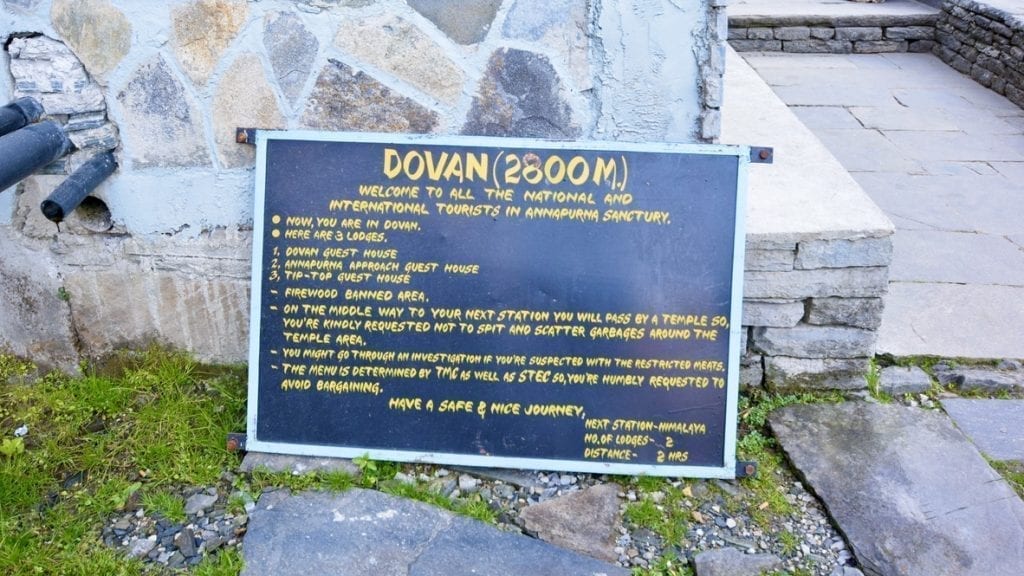 The walk has become a norm for me. It seems unreal if I stop. So, I have been following the norm, I am on the road again after a deep sleep. But, today's challenge is not only to move forward but, also to climb upward. We crossed some streams carefully, walked for an hour, and reached to Dovan. I am now at an altitude of 2800 meters.
I started seeing a lot of fern trees. A change was pretty obvious. The surrounding mountains were opening up in a way that was hard to explain. But, I could feel that we were approaching a different kind of world altogether. We were becoming tinier each moment with the vastness of nature.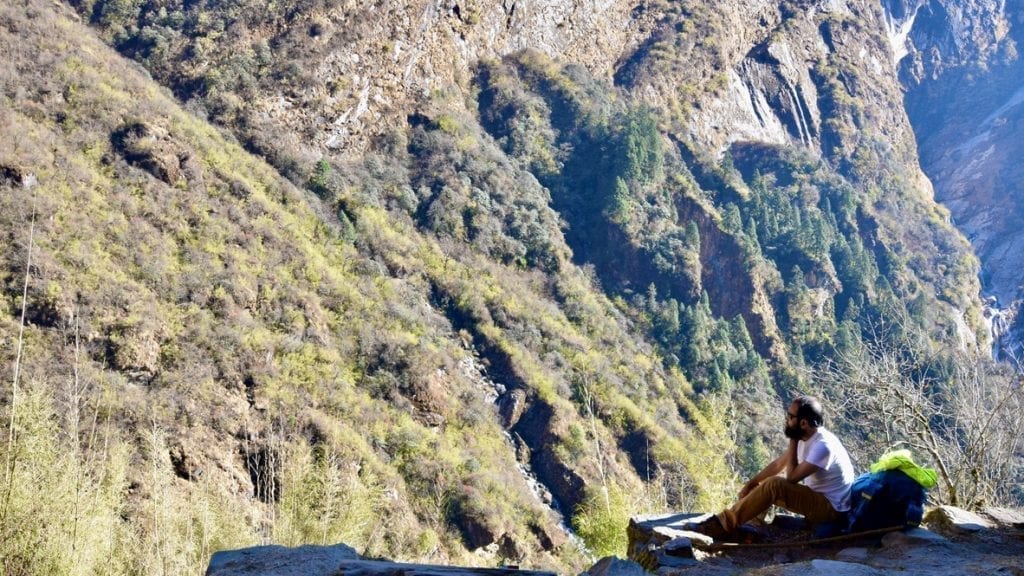 I asked a Nepalese about the name of the mountains. He gave a wry look and said that they don't give a name to smaller mountains. Such an irony! The tallest mountain we have in Bangladesh is 1100 meters, and now, I am in front of at least thrice the size of that mountain with no name attached to it.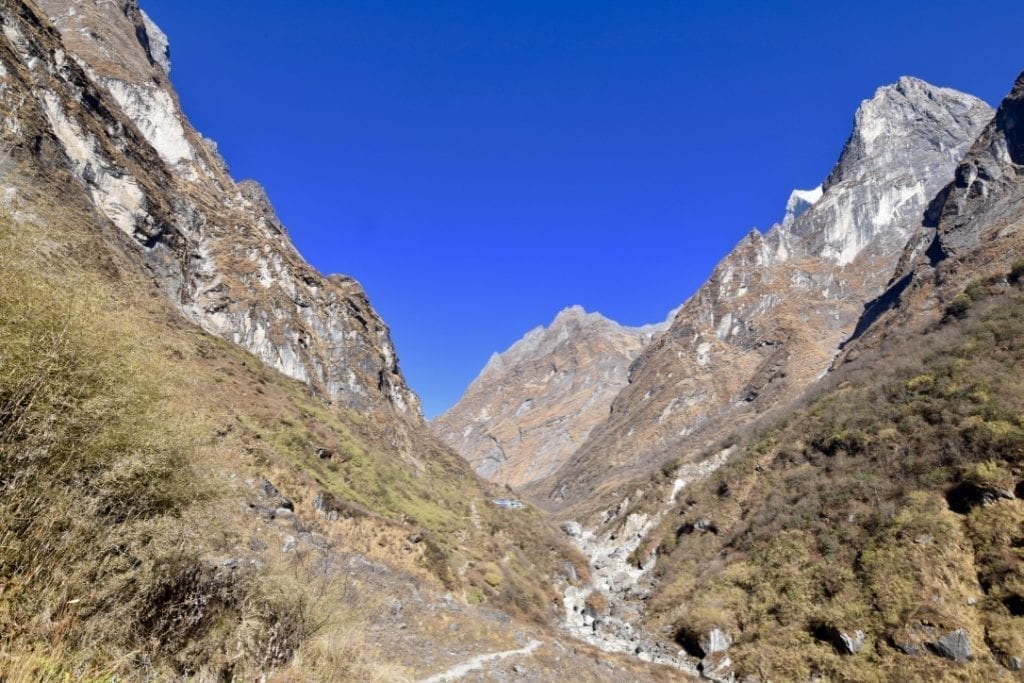 The valley looked barren in December. The valley looked gorgeous in December. I felt like sitting on a stone and feel the beauty. However, I have to move forward, in quest of something more.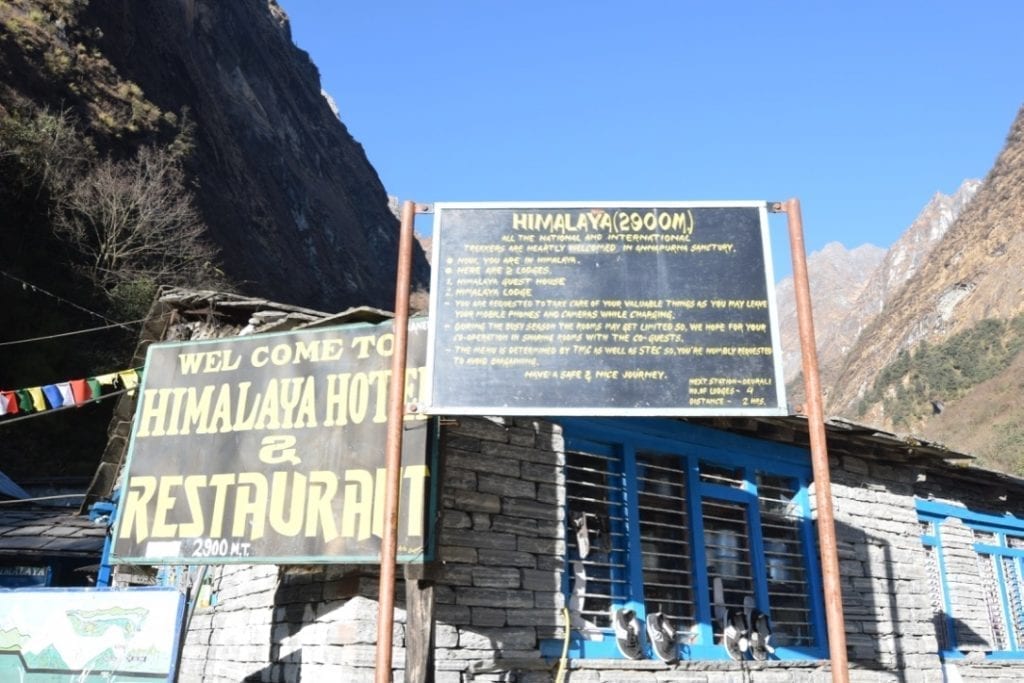 Most of the people stop the day in the Himalayan Hotel. It's a popular destination among trekkers. I saw many people relaxing there. We wanted to march forward to make the next day easier. It turned out to be an excellent decision later on.
We traveled 60/75 more minutes through large boulders and arrived at Deorali just before the sunset. We chose to stay in Dream Lodge.
I woke up in midnight with a thunderous sound. It took me a while to realize that, it was the sound of the Modi Khola river. It was so calm and quite – the flowing water of the river woke me up. I went back to sleep again in the lap of nature.
Summary of the Day 4 of ABC Trek
A lot of ascending, keep your legs ready for the day
Need to cross several streams
There is some avalanche-prone zone, be cautious
You should not carry eggs or meats beyond Dovan, it's to show respect to the local deity
Although many trekkers stop at Himalaya Hotels, we trekked further till Deorali
Overnight stay in Deorali, in Dream Lodge, it was good accommodation