Everything has a limit. Like everything, you can set a limit to the natural beauties, too, at least to some extent! However, the beauty of the remotest places of Nepal has absolutely no limit at all. The best way of experiencing that is to go for a trek in Nepal. I have been to this beautiful country before, however, I never could manage time to go for an adventure. On one day some photos of the Annapurna Base Camp trek popped into my newsfeed.
A little beetle has been buzzing inside of my head to go out for a trek in Nepal for quite a while. I said that; I am not fit enough; I don't have enough courage and I don't have enough time. What if I can't breathe into the thin air? What if I lose my way? What if…..?
But the beetle was relentless. It kept buzzing and buzzing until I could decide on an adventure to Annapurna Base Camp aka Annapurna Sanctuary Trek. Below is my diary for you –
Day 0 of Annapurna Base Camp trek
Dhaka to Kathmandu overnight in Kathmandu
My flight from Dhaka was at 12:15 PM, in Biman Bangladesh. In an hour and a half, our plane landed in the Tribhuvan International Airport. From the top, Kathmandu was looking as congested as Dhaka. It was like a series of matchboxes standing tall, touching each other.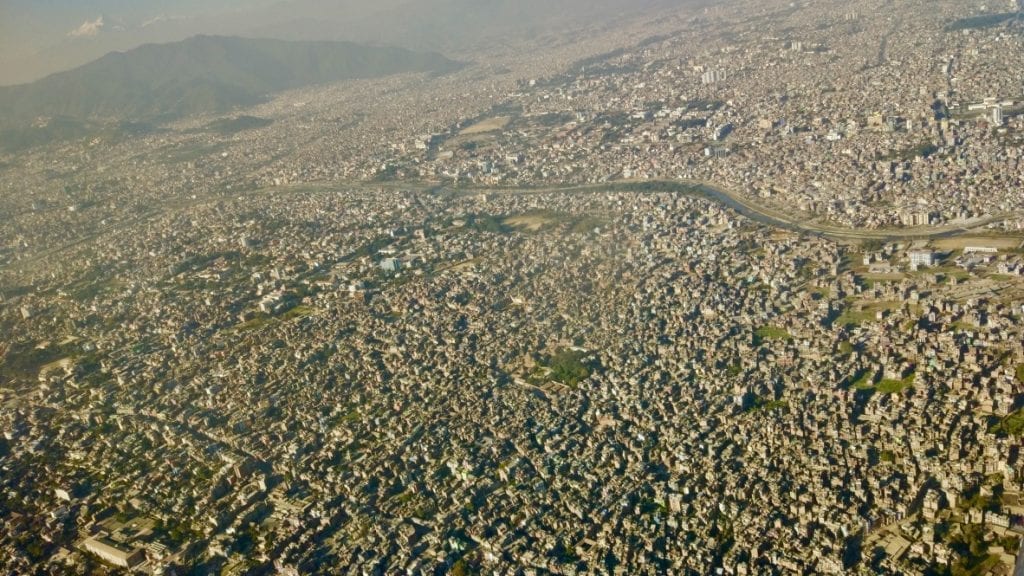 Tribhuvan airport was not a big one. The immigration went like a breeze. As a citizen of SAARC country, I didn't need to pay any visa fee (Yeeee!).
Having crossed the immigration, I exchanged some dollars to rupees. Some Nepalese was asking us the reason for my trip. When I told them about it, they offered us porters and guide. We were three and decided to do it on our own. So, we had to overturn their request, unfortunately.
There are two shops in the airport selling mobile SIM. I wanted to have data connectivity. The shop was pretty crowded. It took us 30 minutes to get a SIM of NCell. We hired a pre-paid taxi from the airport and headed towards town.
If you want to do any kind of trekking in Nepal, you have to take a card from the Trekkers Information Management System (TIMS). They keep the information of the trekkers in a database. On top of that, if you want to trek in the Annapurna region, you need an Annapurna Conservation Area Project (ACAP) card. Both of them are available in the office of the Nepal Tourism Board near Thamel in Kathmandu. Although, those two are available from the same office, the counter for providing ACAP cards stops giving them early. I was nervous as I had little time in my hand.
I reached their office at 3:45 PM. I ran with my heart in my mouth to enter the office complex, filled up two forms, took out photos and money and handed over the forms to two separate counters. The formalities were quick, and I had my visa for the Annapurna Basecamp Trek.
The light was fading by the time I reached Thamel, the bustling center of Kathmandu. I kept my bag to my hotel and went out to roam around. It's quite an experience to walk through the narrow streets and alleys of Thamel.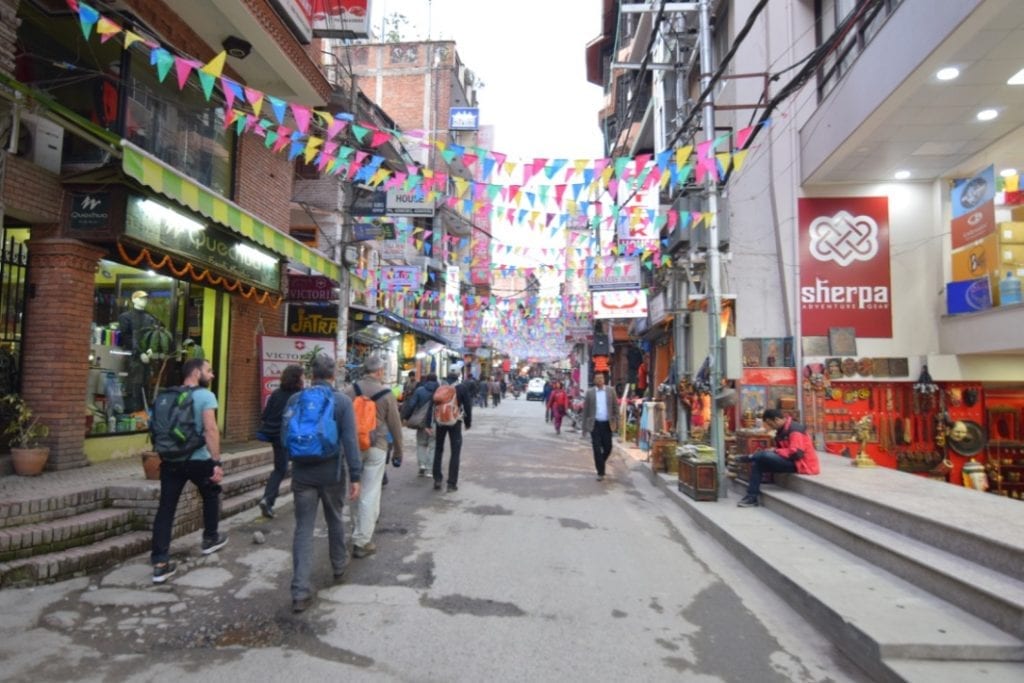 In 2015, an earthquake of 7.5 Richter scale hit Kathmandu, leaving 9000 people dead. I could see some clear marks of the earthquakes. Life goes on, I could see the street vendors selling their products. Unfortunately, there were few tourists compared to when I came to Nepal for the first time. As a whole, I felt sad. There are some good bookstore in Thamel. I spent some time skimming through those. I can't afford to put more weight on my bag – I have to carry it all along. I restrained the temptation of buying one.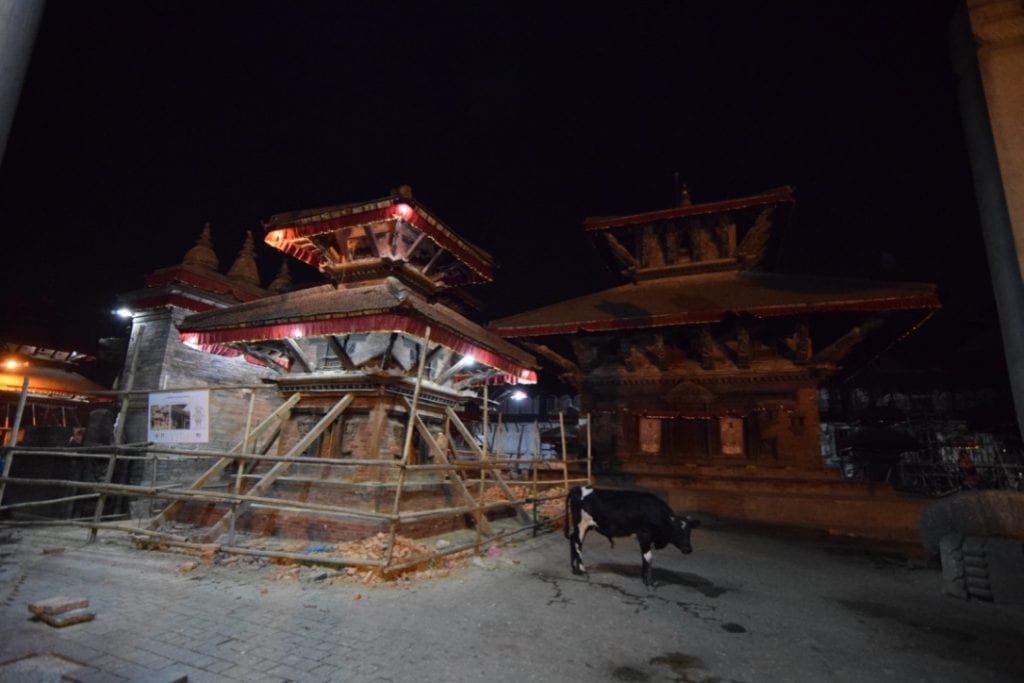 I took my breakfast from home and ate some snacks in the plane. I felt hungry. I entered the famous Yangling Tibetan Restaurant. Like always, there was not much space there. I shared my table with a couple and at Momo and Soup.
That's it for the day zero, I came back to the hotel, and went to sleep. I have a long day ahead.
Summary of the day 0 of Annapurna Base Camp trek
Flew to Kathmandu from Dhaka by Biman Bangladesh Airlines
Took permission of ACAP and TIMS
Had my dinner in Yangling Tibetan Restaurant
Stayed in Adventure Home at night, at $6 a night, it was a stellar deal for me
Day 1 of Annapurna Base Camp trek
Kathmandu – Pokhara – Phedi – Dhampus – Pothana – Priyom Deorali – Tolka
The starting point of trekking towards Annapurna Basecamp is near Pokhara. Pokhara is 200 Kilometers/125 Miles away from Kathmandu. Although the distance does not sound much, it takes over 8 hours by bus. I wanted to save some time, so; I flew.
At the check-in counter, I requested the desk crew to allot me a window seat. She nodded and smiled. I didn't realise its meaning until I saw our plane. It was a tiny piece of toy! The stair of the plane will fall apart if over two persons try to get into it at once. So, I waited for my turn. There were 18 seats in the fleet. 9 in a column. Everyone had a window seat. And, for the first time in my life, I could see the pilots and the cockpits. I could touch them if I wanted to.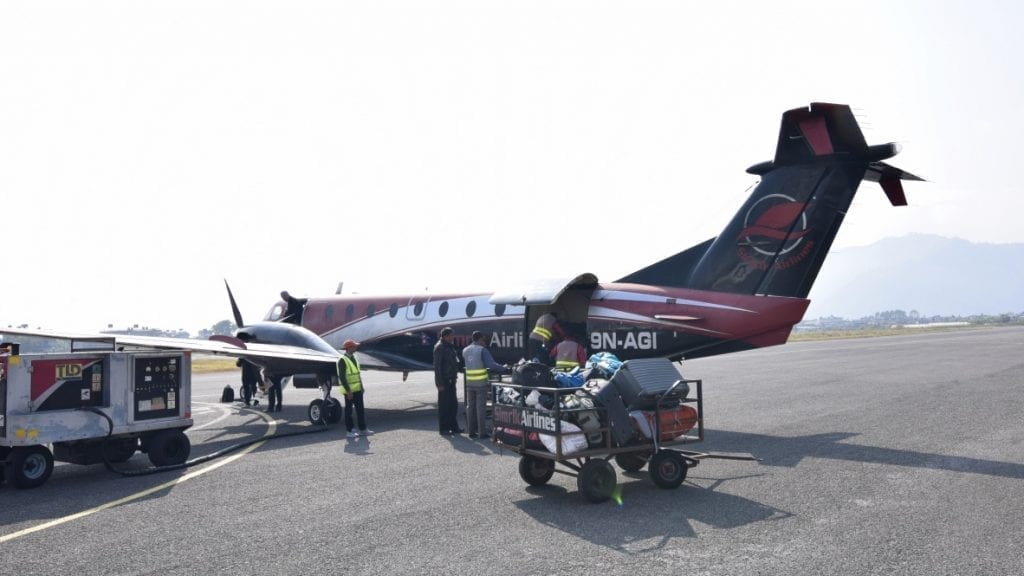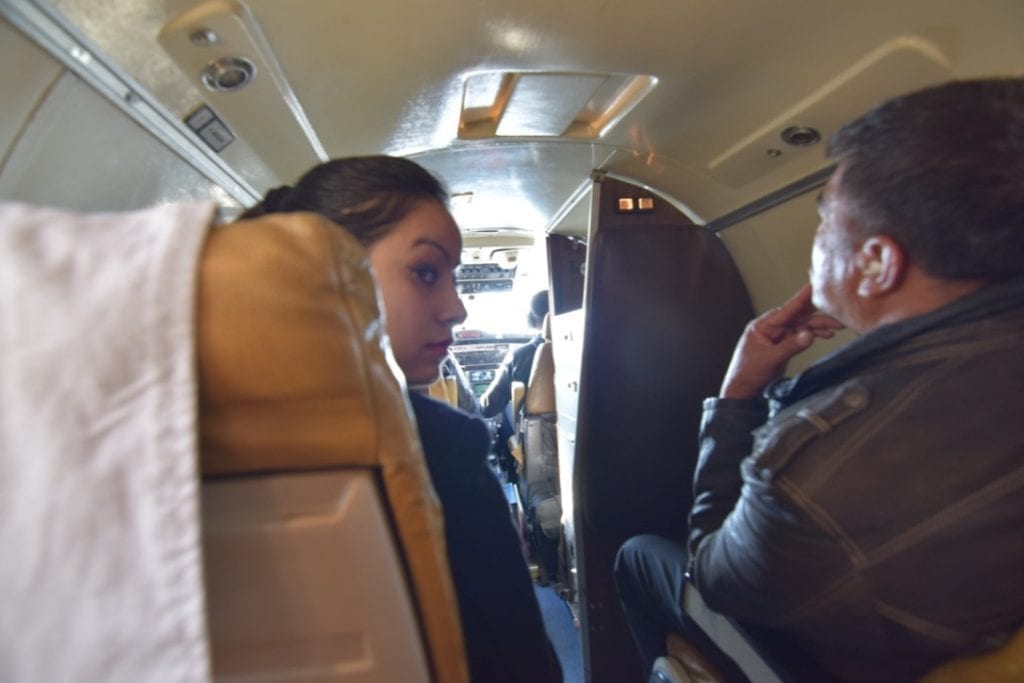 The flight was scenic. We flew between mountains (To me, every mountain is Mount Everest, so I don't dare to say their names). In about 30 minutes, we landed at Pokhara Airport. It's a cute little airport. Once I had the luggage in my hand, I was out.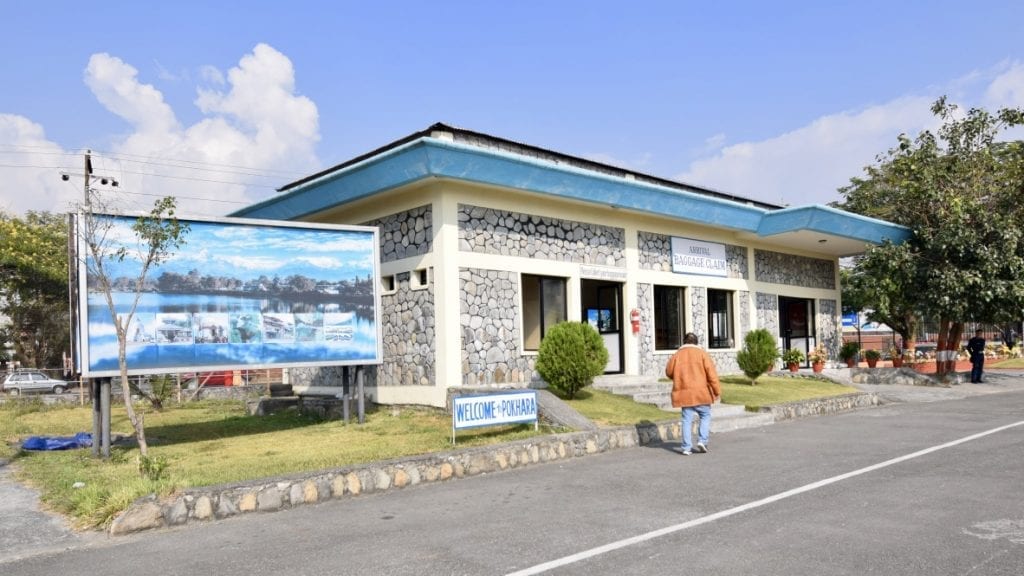 Our trekking will start from a place named Phedi, it's about an hour away from Pokhara. I could take a taxi but decided to save some bucks (as I got hit by the expense of the flight :-)). I went to Pokhara Baglung Bus park and caught a bus. In less than an hour, I arrived at Phedi.
The bus left us right at the starting point of the trekking. I could see a staircase going to heaven. It gave me a chill. Do I have to climb these big stairs for the next several days? Suddenly, a restaurant came to my rescue – I ate Paratha, Eggs, and Lentils to gain some energy (Physical or Mental?).
I didn't have any fancy trekking pole with me, so I bought a bamboo stick from the shop there. I realized later that it was a fantastic decision. This piece of bamboo stick (trekking pole of the poor) was the witness of my happiness, sorrow, struggle, pain, and excitement for the next few days.
I started the trek from 1:00 PM. The initial stairs were steep.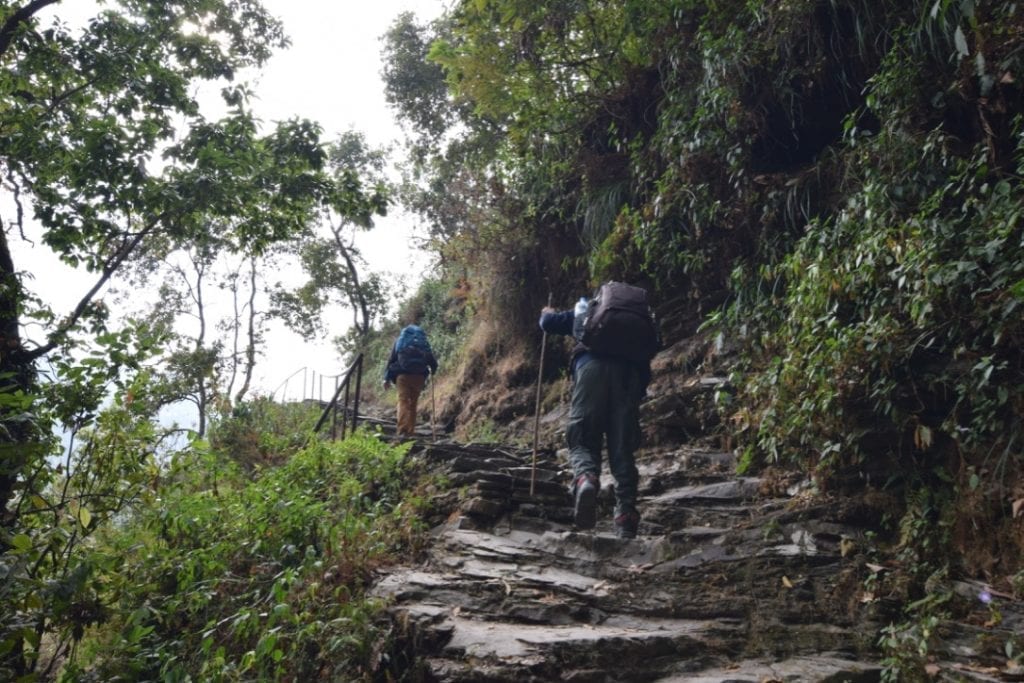 I started climbing those with the utmost vigor. I didn't have any guide or porter with me. I was carrying a backpack which was about 9 KG in weight. My vigor lasted for 15 minutes at most. Then I started struggling to breathe. I was wearing a layer of clothes. Thank you for my research in different mediums. I started to sweat and took the outer. I was considering going back – when I looked back; I felt dizziness! The roads we traveled on were looking a lot thinner. I could see a river flowing in full flow. I realized that my journey has begun.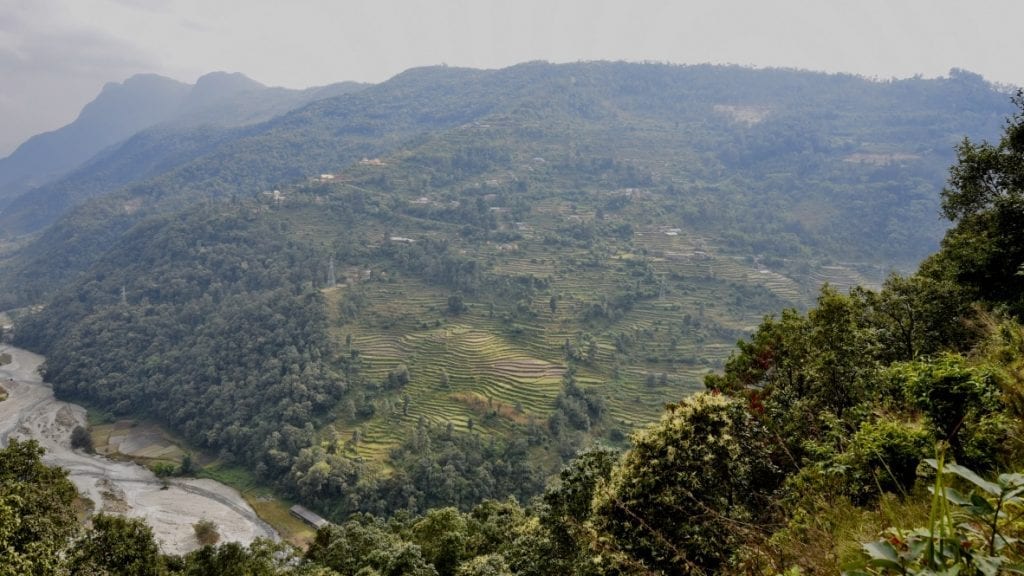 I mentioned earlier that I did not have any guide with me. This was not causing any issue, the paths were well marked with symbols.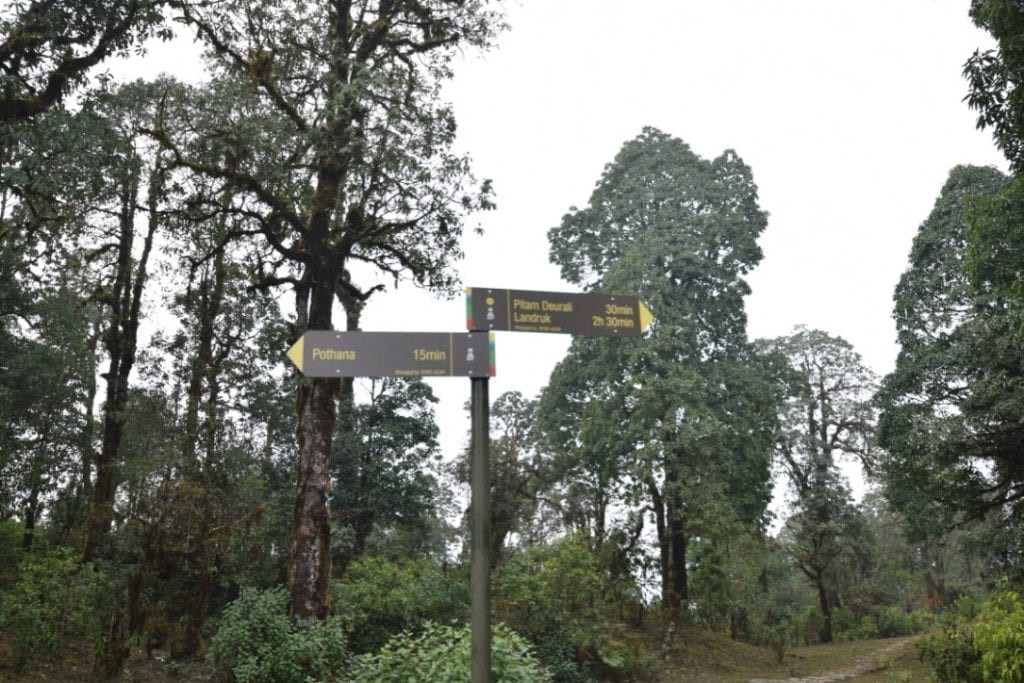 I met a group of Nepalese students who were going to the Australian Base Camp. When they knew that, I am a Bangladeshi, they tried to speak out "I love you" in my language (probably the only sentence they learned from somewhere). We found some muddy roads, flat roads. It was a relief. We crossed some villages, too. The temptation to stop was real.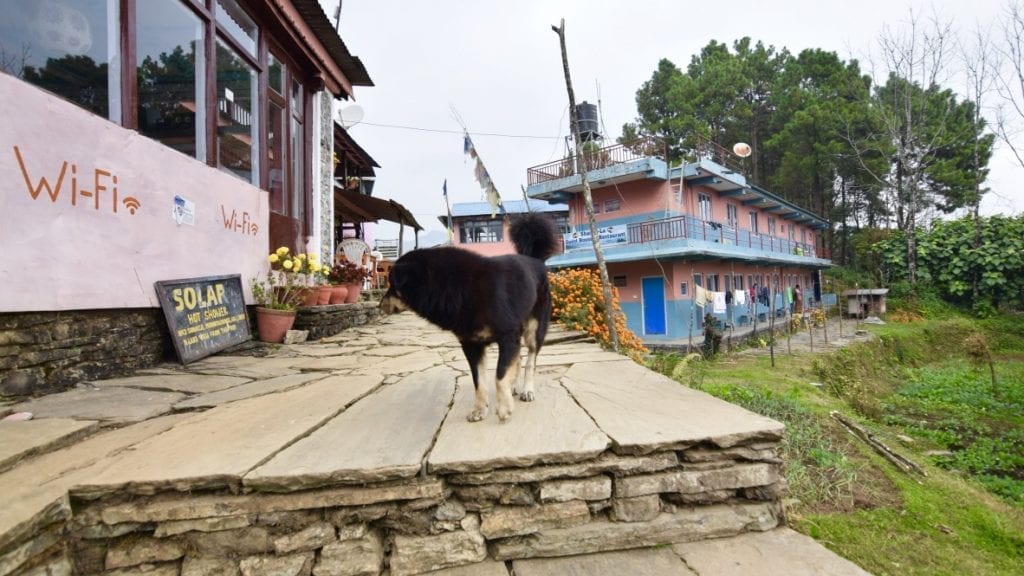 We faced the first checkpoint after a while. The officer in charge wanted to see my TIMS card. He also entered our information in a book. It's already evening. Before starting the trek, we decided on a target. The target for the day was to stay in Tolka at night. We were already late, so; we tried to walk faster. Then came the trouble. The sun sets quickly in the mountains. With no prior notice, it just disappeared. The darkness engulfed us within the next five minutes. We were inside a jungle. We had a small torchlight; I took the help of the light of my mobile, too. There was plenty of big-sized stones, we had to find our way. On top of that, we were at the edge couple of times – a single mistake, we will be gone in the abyss. What seemed fairly easy during the day seemed impassable in the night. It became cold suddenly, I was shivering.
When we were not sure about what to do, and how to survive, we saw a ray of hope – yes, literally. We saw some fainted light in the near distance at 7:30 PM. We knew that there are people there and we can stay if they allow us. Yes!! It was Tolka. And, it was a lodge! And, there was a bed with a quilt. And….guess what, they greeted us with warm rice, lentils, and eggs. I never felt so grateful for a while in my life.
I didn't waste a single moment after my dinner. I just jumped into the bed and disappeared below the quilt. My body was aching, I don't know what's ahead of me tomorrow. I tried to think of it, but failed, I went into a deep sleep.
Summary of the Day 1 of ABC trek
Kathmandu to Pokhara flight by Simrik Airlines
Took a bus from Pokhara Baglung Bus park and arrived at Phedi
Started our trekking from Phedi
The first inspection of the TIMS card was done, they recorded our information in a book
Stopped at Tolka
Stayed overnight in Maya Gurung Lodge
Liked this post? Pin it!