Day 5 of Annapurna Sanctuary Trek
Deorali – Macchapuchare Base Camp (MBC)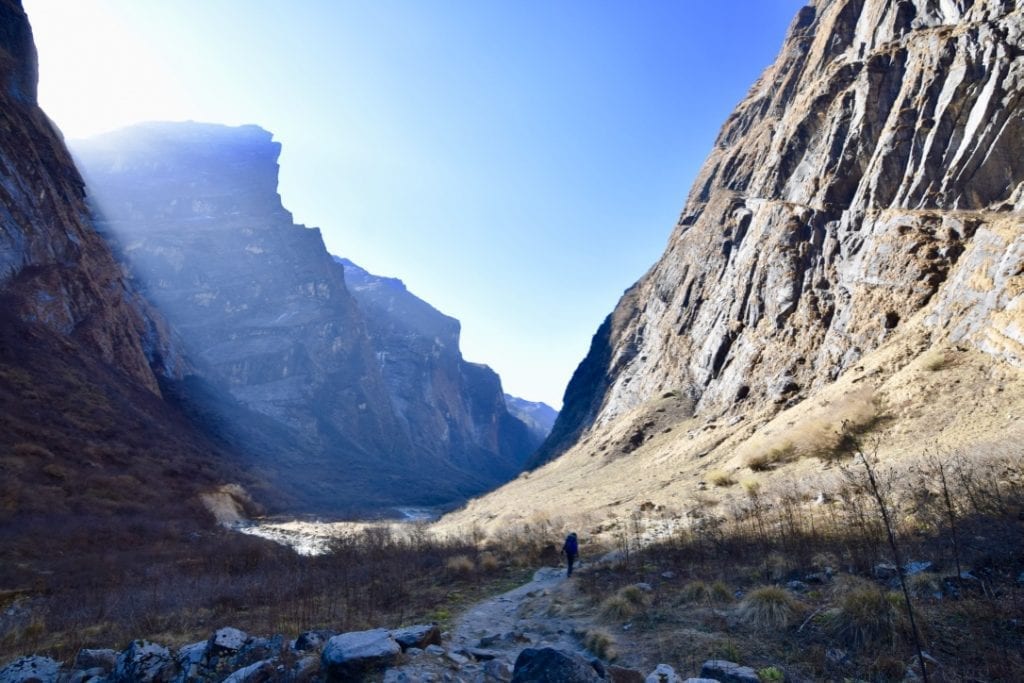 When we go up from the sea level, the amount of oxygen in the air lessens. Higher altitude means less oxygen. Our body is not familiar with this thin air. So, as we go up, we face difficulty in breathing, our headaches, our digestion process slows down. All these issues start to surface above 3500 meters of altitude. How high are 3500 meters? Chances are if you are an average male, your height is 1.74 meters. If 2000 of you go on of each other from the sea level, we will reach 3500 meters. Our body needs to know that, we are gaining altitude, it needs to get familiar with this scarcity of oxygen. This process is called acclimatization. In order to acclimatize, you need to gain altitude slowly. Give your body a taste of it. If needed, you need to go down and then go up a couple of times. Many people do not pay attention to it, mostly due to their egos and invite troubles.
The distance between Deorali to Macchupichare Base Camp was not much. However, my body is not advancing forward by much. The more step I am taking, the more I feel like a snail. My legs started to become heavier – my backpack suddenly gained tons of weight.
The views have become no less than dramatic. It feels like we are entering through the gates of the sanctuary and in every curve, there is a twist of nature. It's dramatic.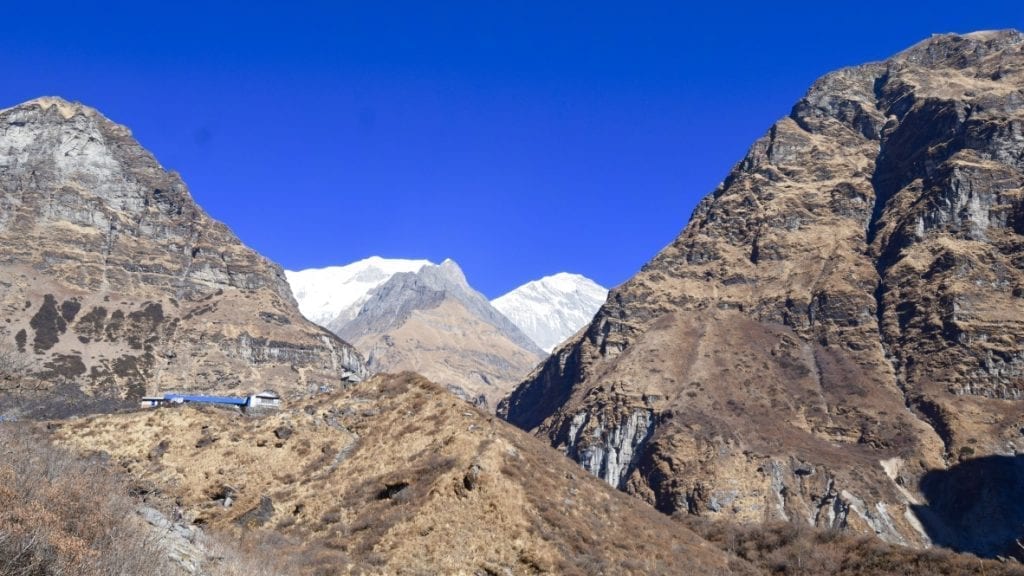 And, the hotel in the far at Macchupichare Base Camp has been hanging in the distance for years. I have been walking since eons and not covering any distance at all.
If the weather is not favourable, this patch of the path is avalanche prone, so, the suggestion is to cross this during the early morning.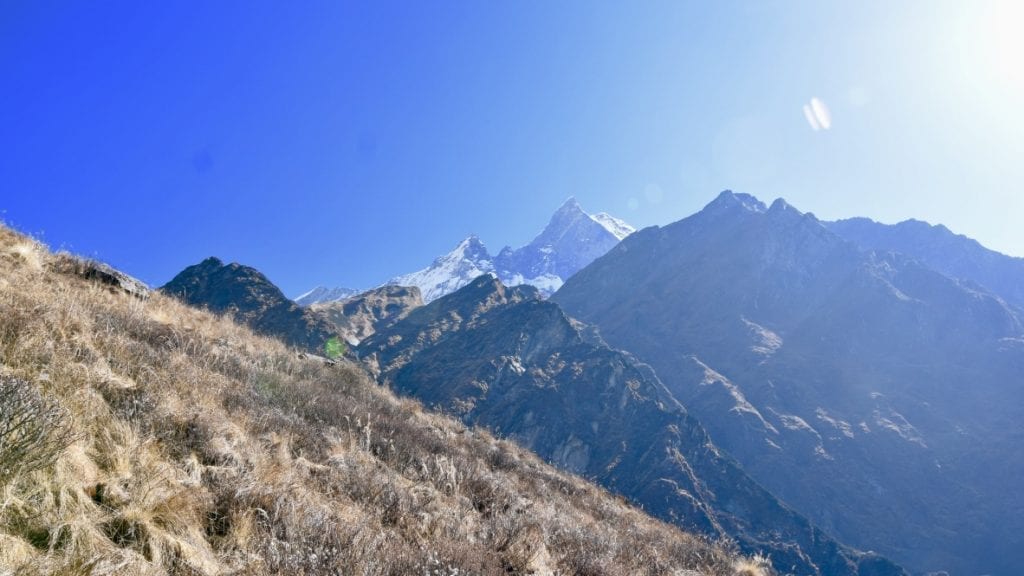 My journey of Annapurna Sanctuary Trek continues. I am literally inside of a stadium, in an amphitheater created by God. Instead of the spectators of the gallery, the giant mountains are seeing us. In each step, I took a spin to see it all. I wish I had eyes with a 360-degree view. Ah! I got a glimpse of the majestic. It's not that, I didn't see those before, but, those were from far, very far. Now, they look so close to me.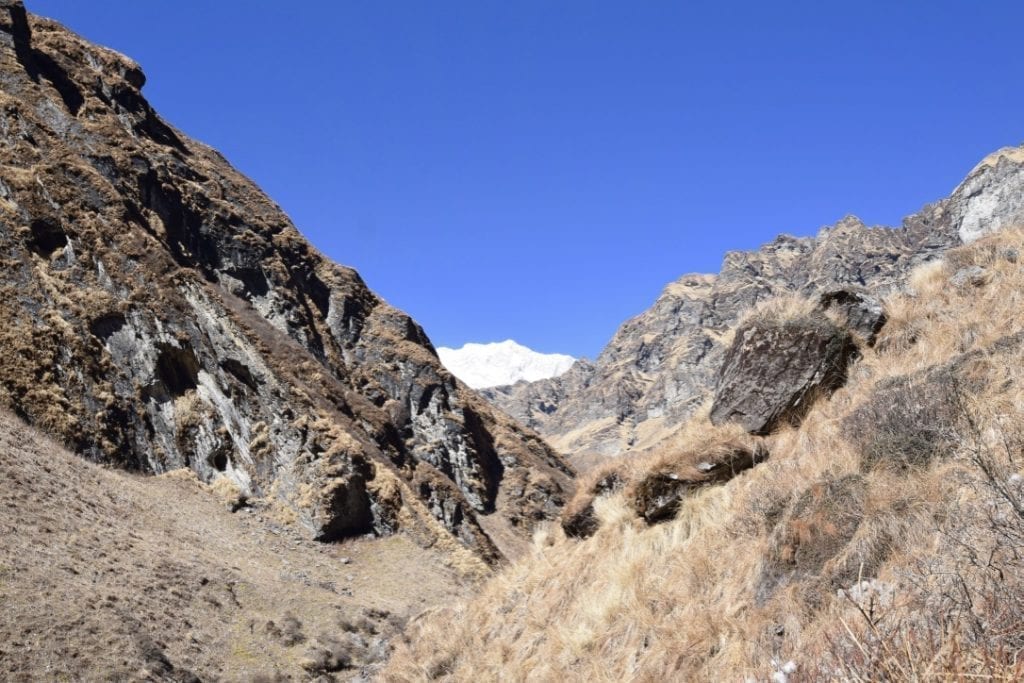 And, the landscape? Sorry, I can't explain it enough.
Finally, at around 12:00 PM, we have arrived to the Macchupichare Base Camp at an elevation of 3700 meters. Yahoo! Like a kid has got a toy, I started to jump ups and dows with joy.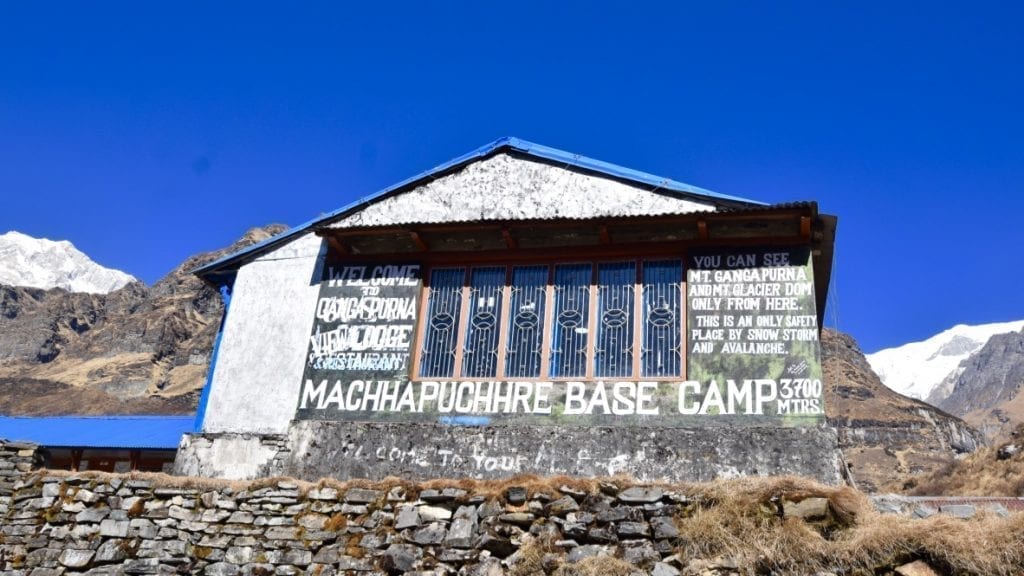 The Annapurna Base Camp is in an elevation of 4130 meters. I didn't want to gain a further of 430 meters in a single day. So, I decided to stay here.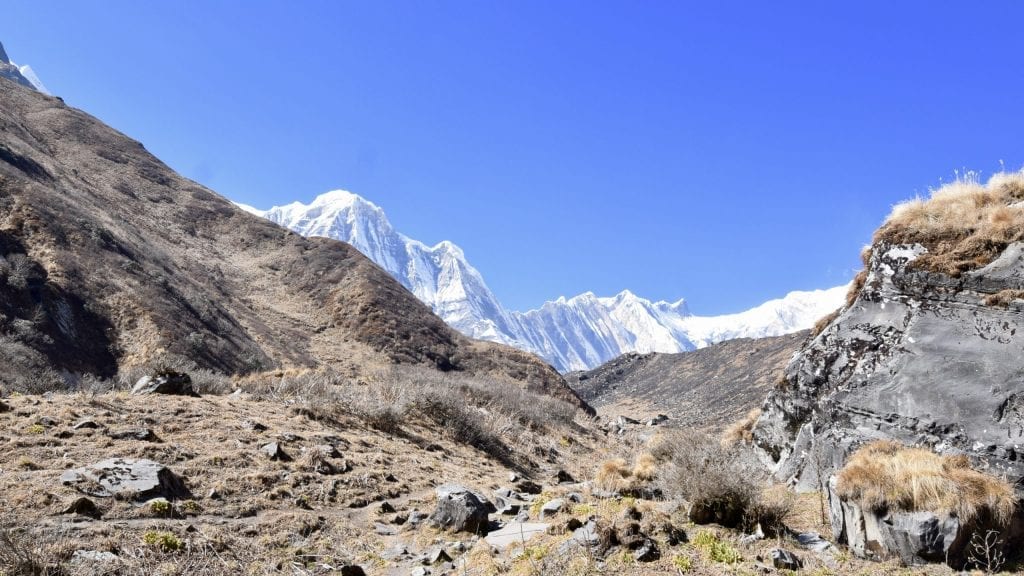 Oh God! It was such a beautiful day. It was sunny. The sky was so clear that, I could see the moon. It was so blue that, one could easily misunderstood with a paint of a painter can criticize him for painting such an unrealistic sky. I kept going in different directions to see this unbelievable beauty of natures and taking photos. Let the photos talk now.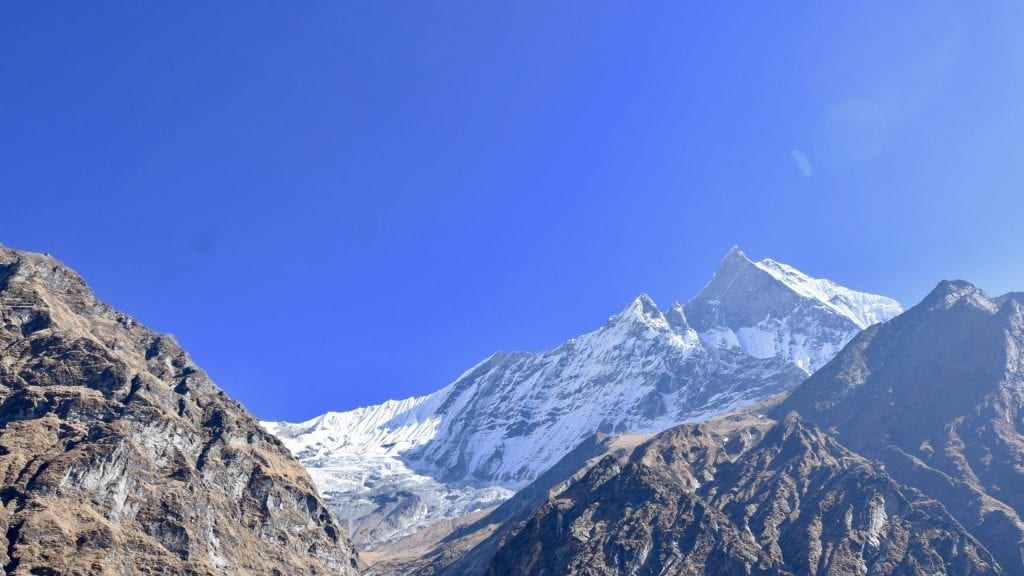 It was a panoramic views of the mountains. The mountains surrounded us was Annapurna South, Hiunchuli, Annapurna I, Annapurna III, Gangapurna and Machhapuchhare.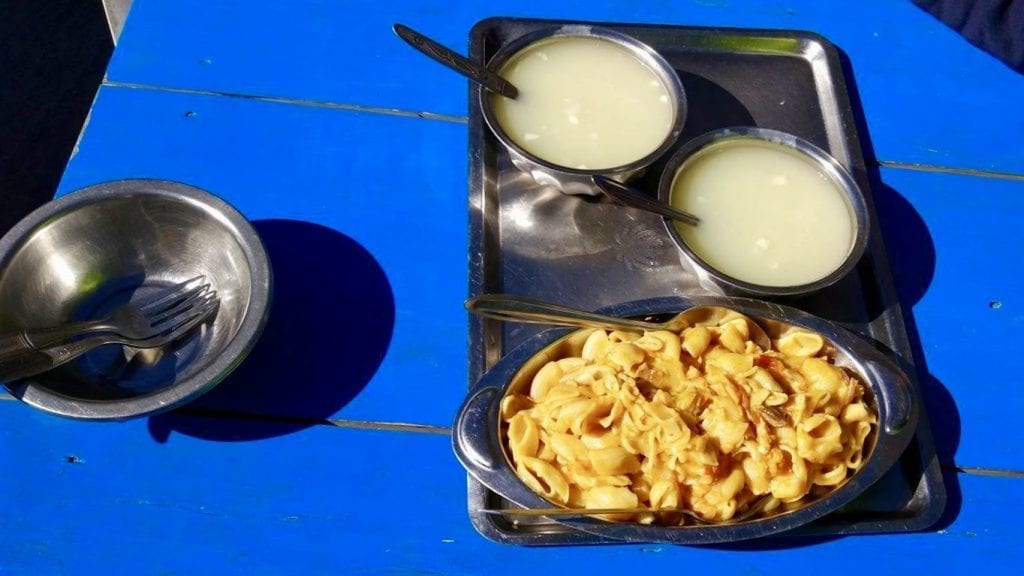 Don't let the sunny weather fool you. It was cold, very very cold. For the last several days, I didn't have my lunch – only breakfast followed by a dinner. I ordered everything I could find in the menu for the lunch (Just kidding, it was only a plate of pasta and onion soup). I tried to charge the battery of my camera and cellphone. It was of course not free.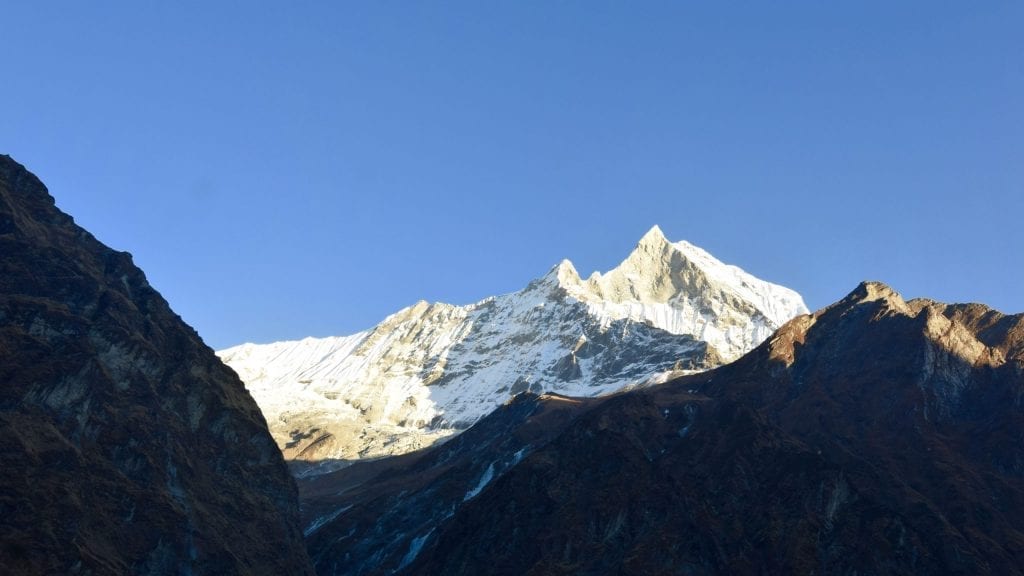 I started to feel a bit dizzy during afternoon. However, I didn't take any medicine. As, the sun was about to set, the color of the mountains started to show it's magic. I wish, I could show you all the photos with a gap of 2 minutes. I am not posting it here incase you feel annoyed. But, believe me, I am a kid right now, I wanna show you everything (but I won't)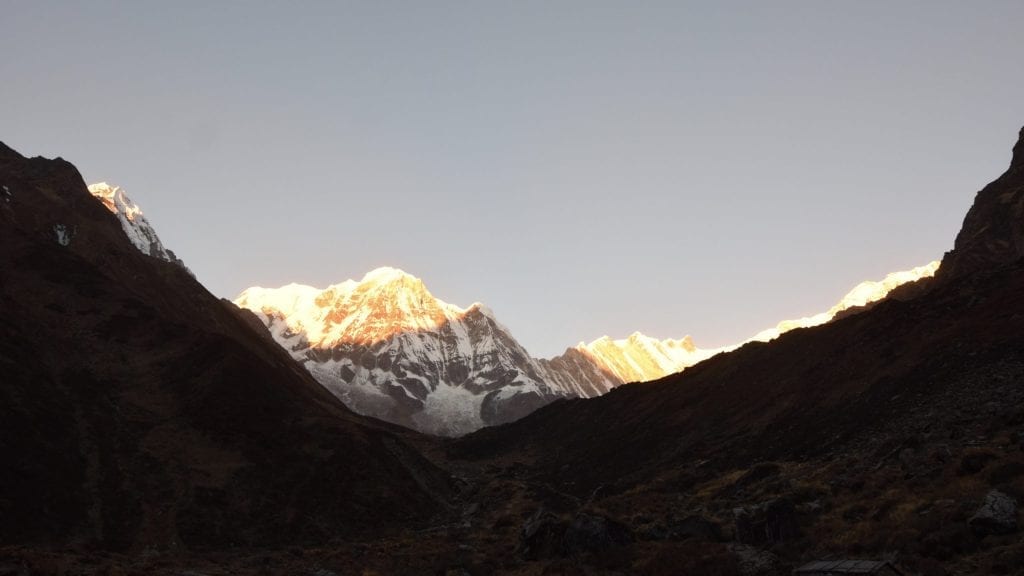 The sky was full of stars at night, if you take a needle, you couldn't find a space to pinch the sky without pinching a star.
I couldn't sleep much, may be due to altitude sickness, may be due to the excitement of the day, may be due to the anticipation of tomorrow. But, I don't care, I am so near.
It was a day of wonder, it truly was!
Summary of the Day 5 of Annapurna Sanctuary Trek
Started our journey towards Macchapuchare Base Camp (MBC) from Deorali
There are some avalanche prone zone, so, it's better started early before the sun rises and snows start to melt
The started to become more width with the mountains nearing
The view from the Macchapuchare Base Camp was faboulous, one can get panoramic views of Hiunchulii, Annapurna South, Annapurna I, Annapurna III and Gangapurna
Although, it was bright and sunny it was very cold
I could see the moon during the day – the sky was so clear
Many people go to Annapurna Base Camp (ABC) from Macchapuchare Base Camp (MBC) on the same day. I wanted to acclimatise by staying there
If I go there again, I will stay couple of days in ABC, not to acclimatise but to enjoy the surroundings
I started to feel dizziness in the altitude of 3500 meters and couldn't manage a proper sleep at night
I stayed in Shankar Lodge. The Gurung co-operative had a better view, but it was full
Day 6 of Annapurna Sanctuary Trek
Macchapuchare Base Camp (MBC) – Annapurna Base Camp (ABC) – Deorali – Himalayan Hotel – Dovan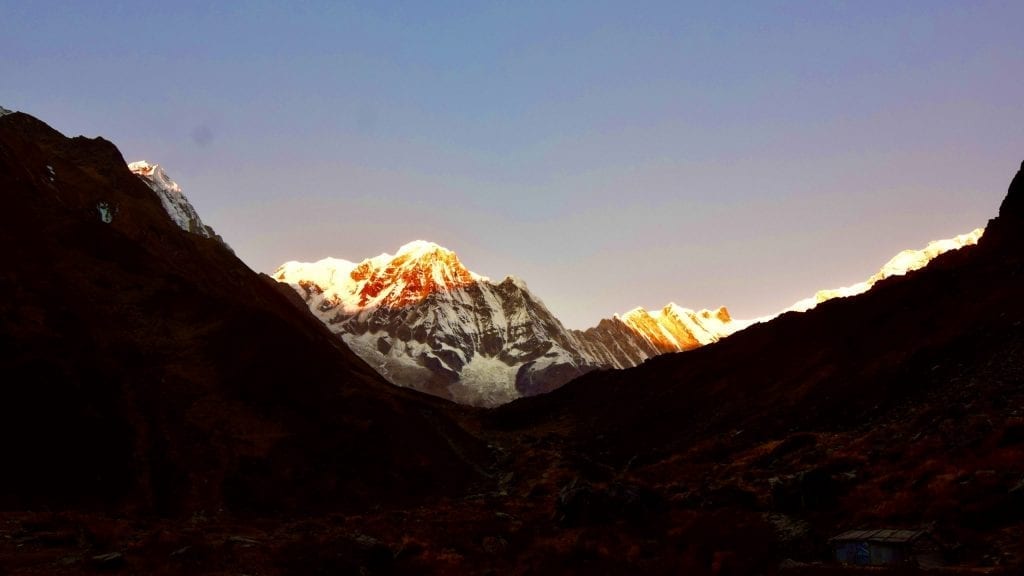 Finally, the day has arrived. The day for which we have been walking for the last five days. We started right after the sun rises. I didn't have much control over my body. I was moving like a machine, like a robot. I am stopping and looking back. Annapurna is in front of us, Macchapuchare is behind of us.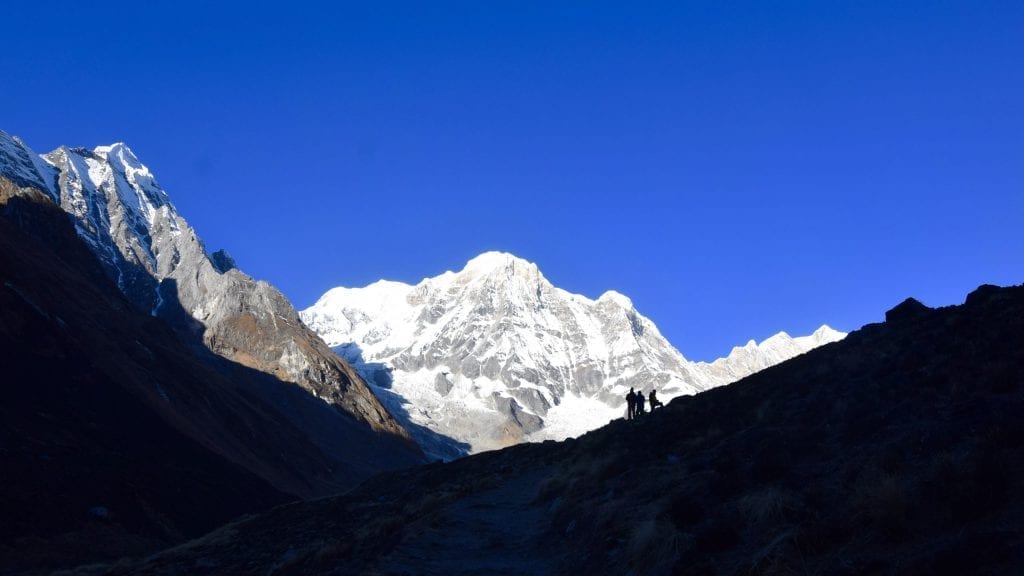 "Come on! Good job. You are almost there" – people who are coming back kept patting on my back. It was not helping me much, or was it? I was falling behind.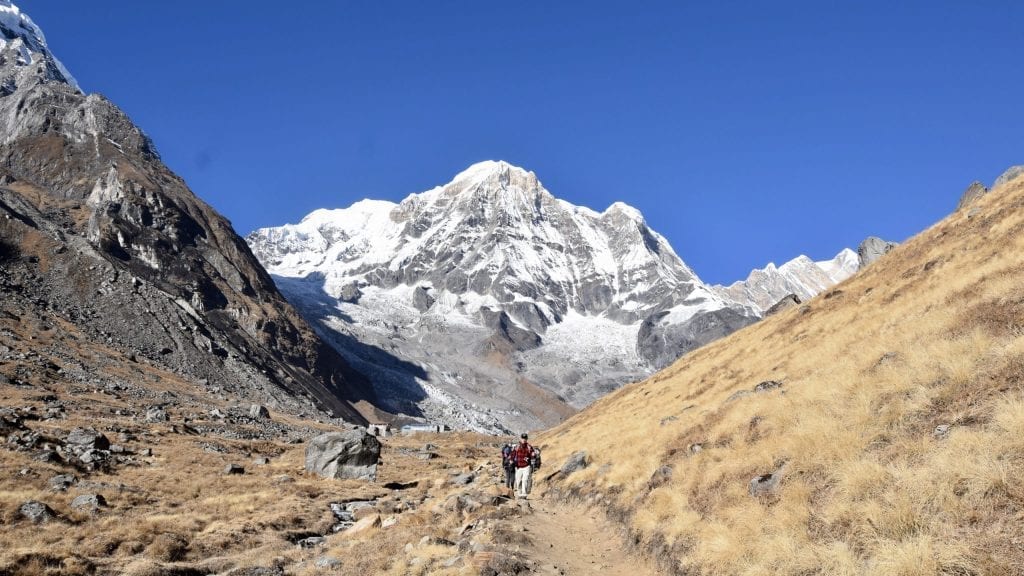 The road was fairly easy. There was not stair to climb. It was almost a flat land with slow ascend.
After 90 minutes of walk, I could see the lodges in the basecamp. Be assured that, the views are deceptive. It looks closer than it was.
After a bit of huffing and puffing, the moment has finally arrived.
I have made it!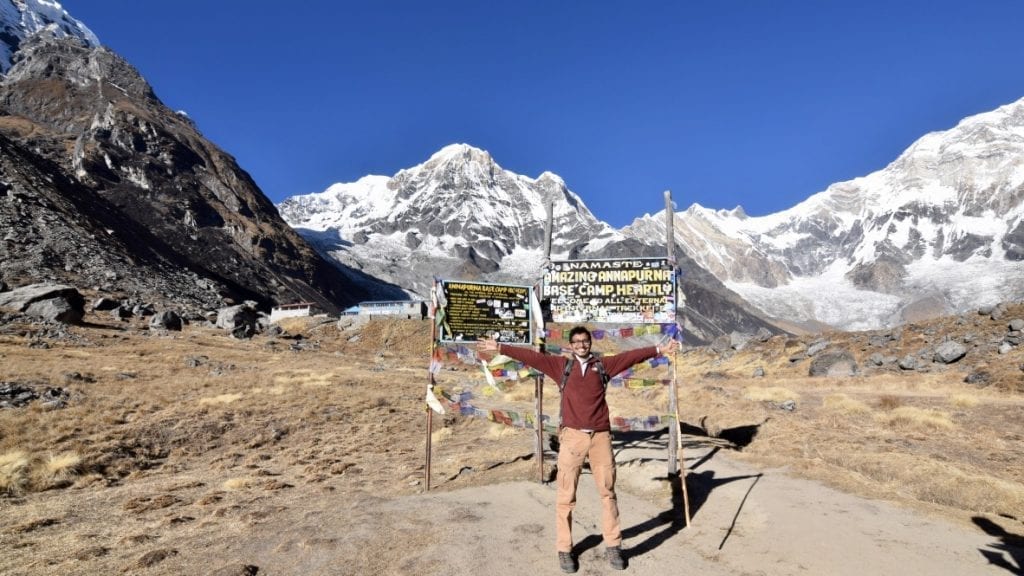 Well! How to describe it now? Again, let the photos speak on behalf of me.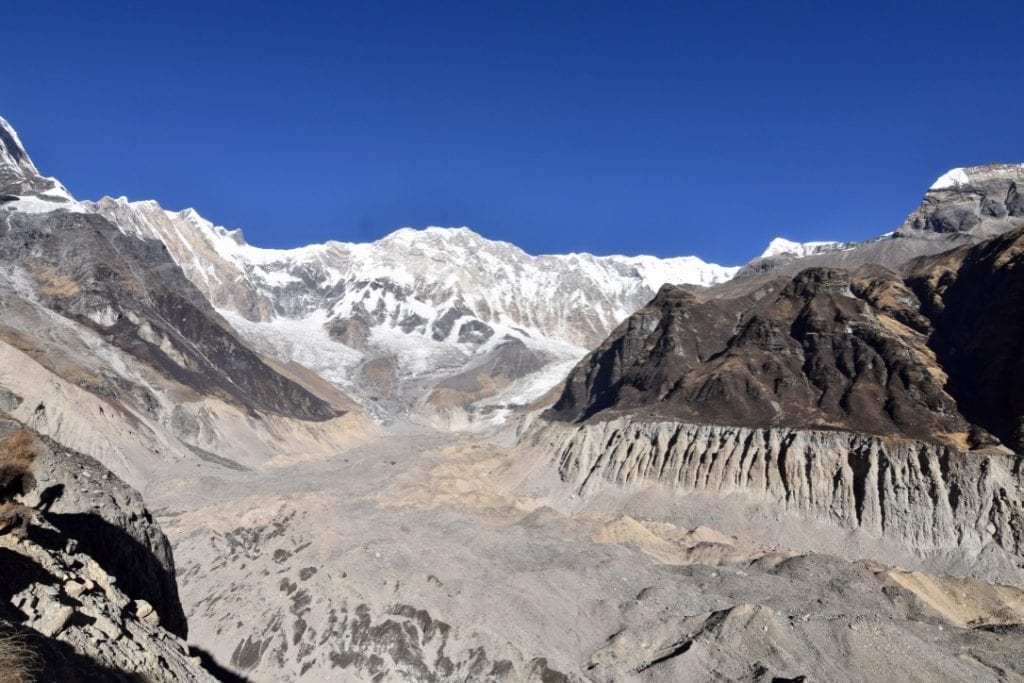 We were surrounded by several 7000 meters high mountains. The Annapurna is 8000 meters high and extremely dangerous. Only about 125 people could conquer it.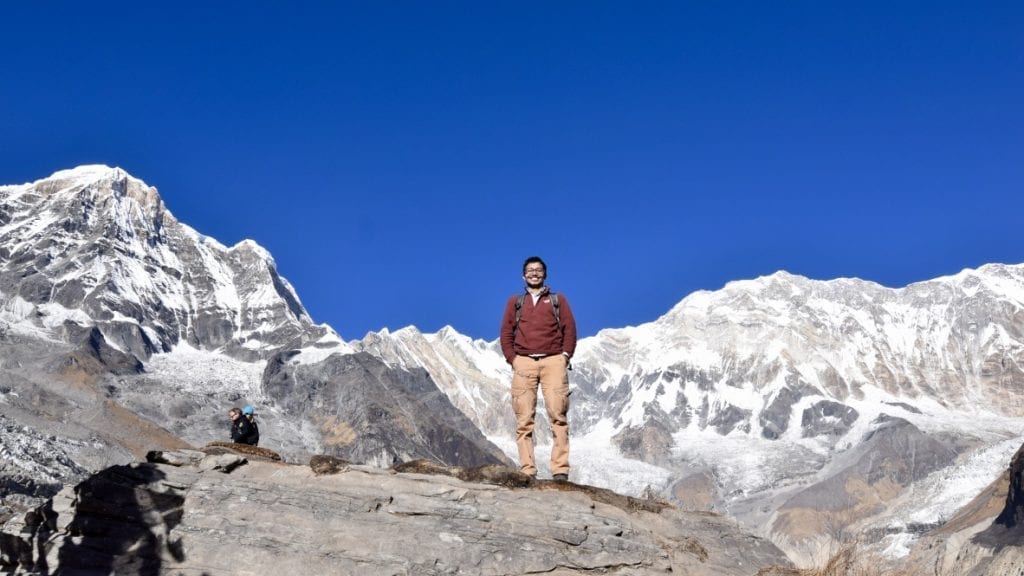 I found a volleyball court and prayer flags. From there, a specular view of the mountains can be enjoyed.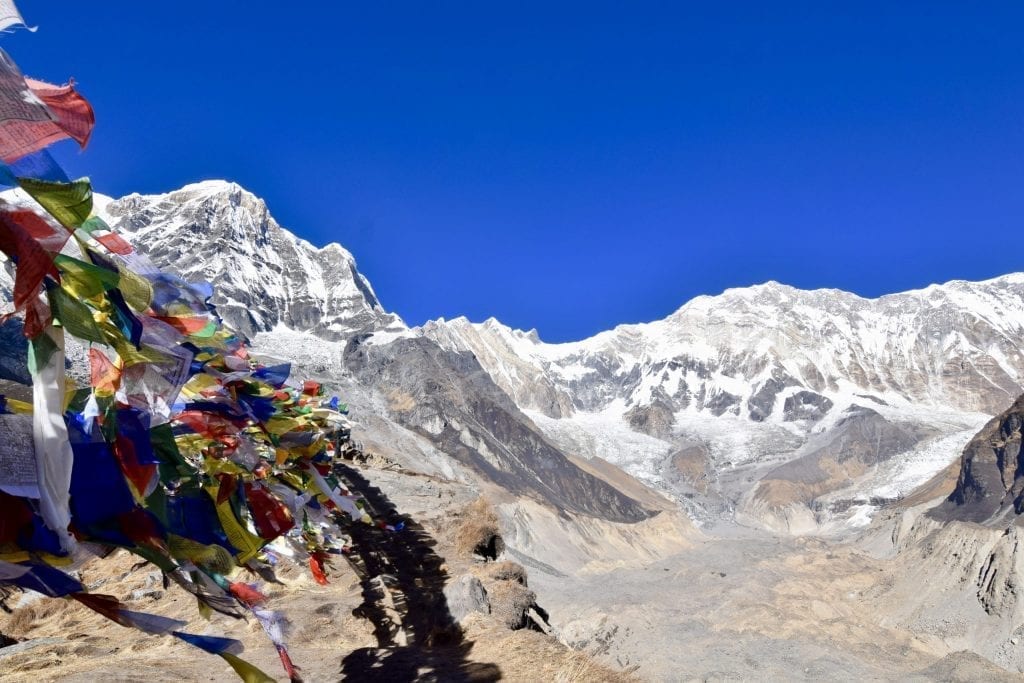 There was a mark in the memory of the famous mountaineer Anatoli Boukreev. When he was trying to climb the mount Everest in 1996, he survived the infamous avalanche. Unfortunately, during the Christmas in 1997, he was trying to climb Annapurna and couldn't survive an avalanche. From Annapurna base camp one can climb to Annapurna, Tharpu Chuli(5663 meterrs), Singu Chulii (6501 meters) and Hiyun Chuli.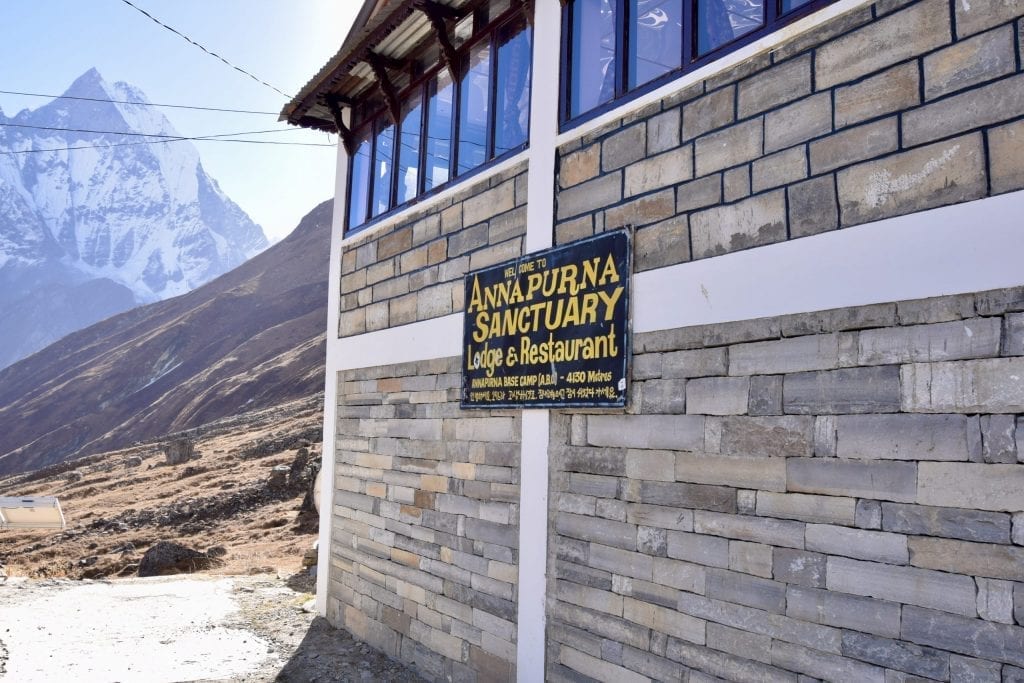 There were couple of lodges there. You can stay there at night or order your food.
I kept roaming around and was fulfilling my senses to the utmost. Then, we ordered our breakfast. I never had the opportunity to having my breakfast surrounded by such magnificent backdrops. It was huge, peaceful, magnificent and breathtaking. I am pretty sure, who defined the word "breathtaking" came to such a place before defining it.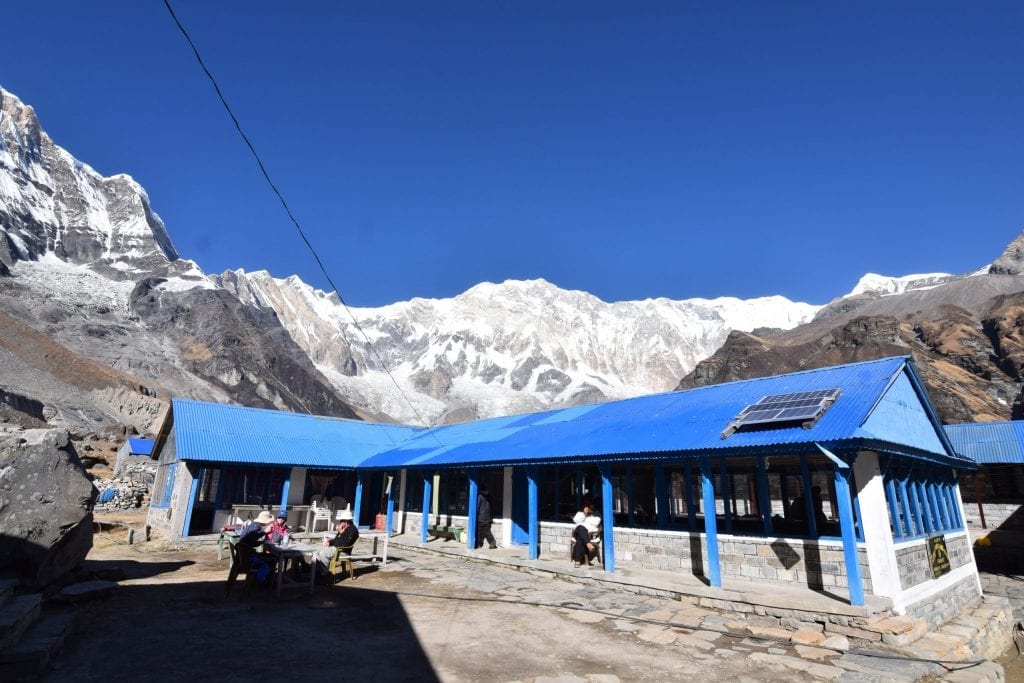 I spent an hour more there and started out descend.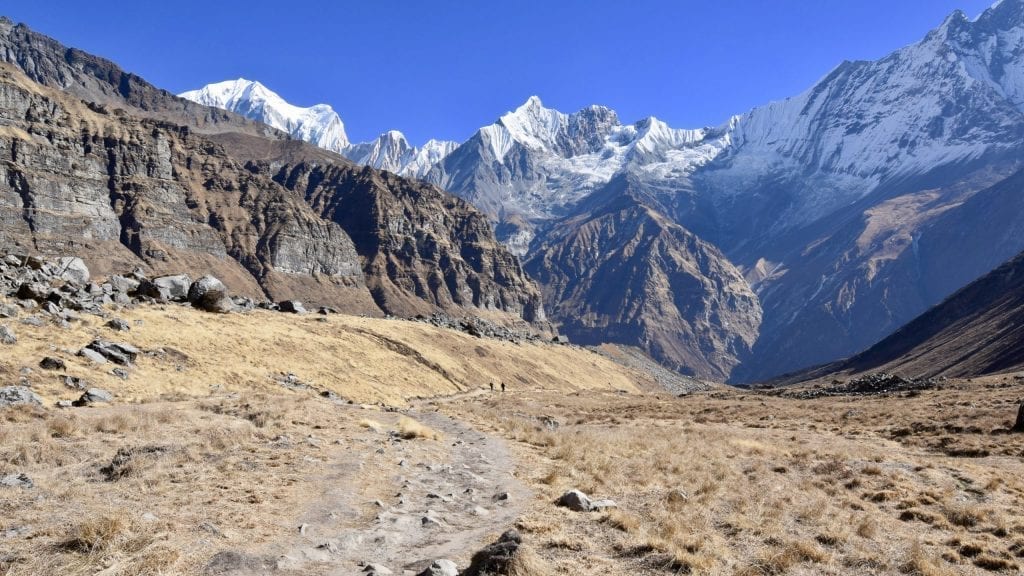 I stumbled upon the most beautiful house of the world there.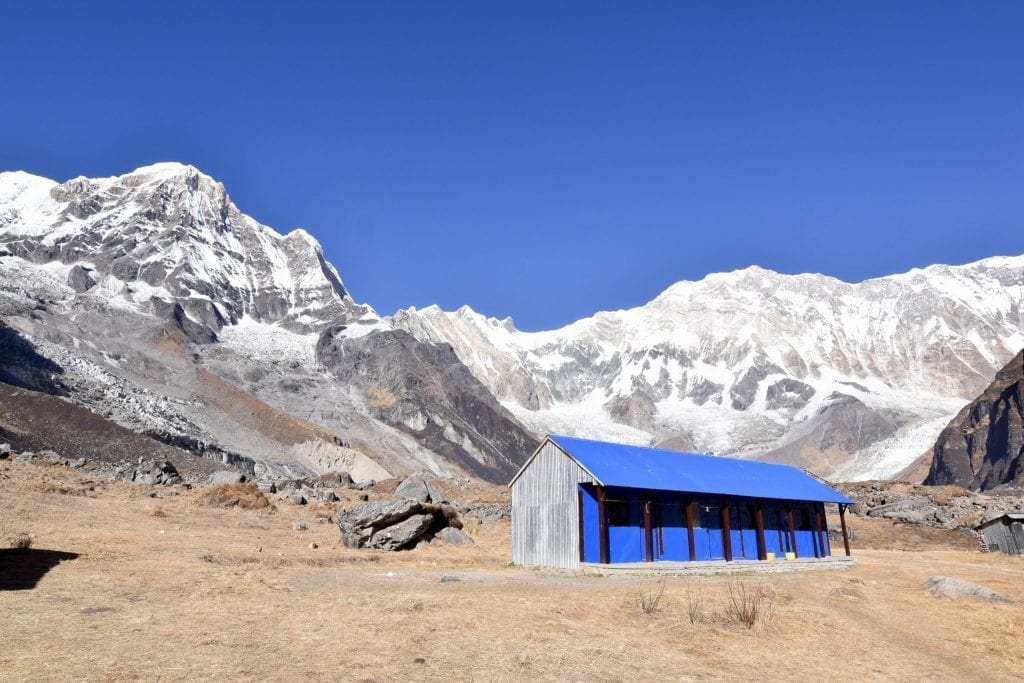 I kept my backpack in the lodge of Macchupucchare Base Camp. I collected it from there. My descend starts from that moment, and, I didn't want to stop anywhere, I didn't want to see anything. I have seen everything! One thing I was noticing, though, I am seeing more greens. The brown landscapes has turning into greener as I was progressing.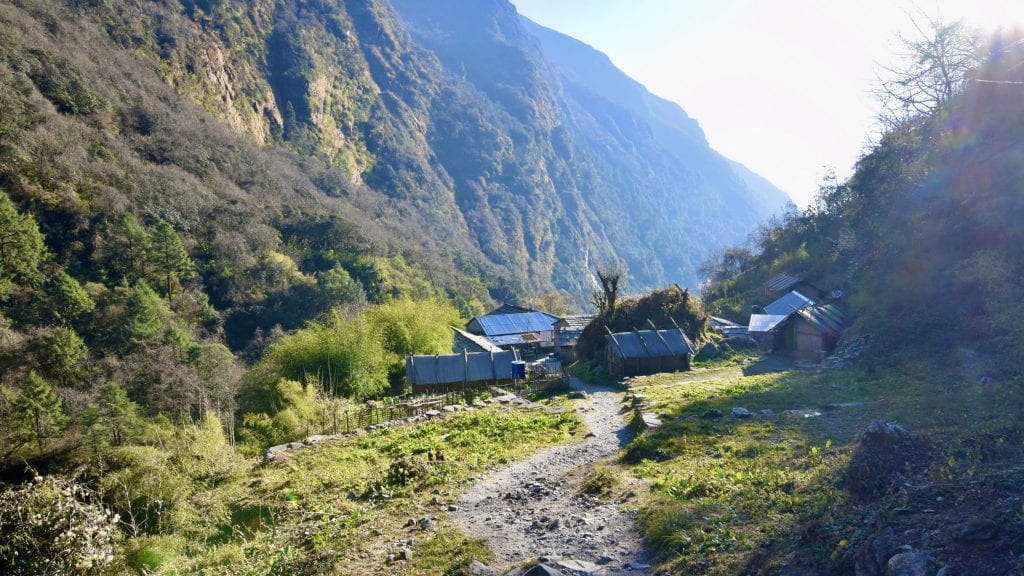 So, it was a non stop walk towards the plain. I could reach to Dovan by crossing Deorali and Himalayan Hotel. I snored a lot to compensate the sleepless night.
Summary of the Day 6 of Annapurna Sanctuary Trek
Started toward Annapurna Base Camp (ABC) from Macchupucchare Base Camp early in the morning – before the sun rises
The road was easy, but I was getting tired
I left my backpack in Shankar Guest House and was only carrying my bottle of water along with the camera. It was an excellent decision.
I arrived at the Annapurna Base Camp (ABC) in about 90 minutes
The lodge in ABC might look closer than they are, so don't be very excited if you see them in the distance
There is a signpost in Annapurna Base Camp stating its name, altitude, and prayer flag
Annapurna Base Camp is in an altitude of 4130 meters, I have never been to this high before
There is a viewpoint surpassing a volleyball court
I ordered and ate my breakfast, enjoying the panoramic view
I stayed there for a while and descended
I didn't stop anywhere and reached Dovan before night
Overnight stay at Annapurna lodge in Dovan
Liked the post? Pin it!