Day 2 of Annapurna Base Camp Trek
Tolka – Landruk – New Bridge – Jhinu Danda – Chhomrong
I woke up in the morning in extreme chillness. I was thinking about the previous night – nature called me at midnight – I came out of the quilt to do my work, and I nearly died. I could see a bit of cloud in the sky. Maybe it's still early in the morning. I was not feeling comfortable with all the dust in my body from my previous day of trekking. The more I will go forward, the colder it will get. As soon as I thought about it, the sweats and dust started bothering me. However impossible it might sound, I wanted to take a shower. I went into the washroom – it was a structure made of corrugated tin. I didn't find anyone who can give me some hot water. I filled the bucket with water from the tap. When I touched the water, I felt like a knife pinched me in my hand. I waited in front of the water – a minute, two minutes, the time was passing by slowly. Suddenly, I took the mug, filled it with water, and before my head reacted, I started pouring the water in my body. I was on the verge of having a heart attack or something of that sort. By the time my brain started giving my body a signal to stop, my hand emptied the bucket. I am clean now. Oh! It was such a soothing aftermath. Before the beginning of day 2 of our Annapurna base camp trek, we need to have our breakfast.
Maya, the owner of the lodge arranged it, she gave me an egg and chapati (one kind of bread). The tea tasted better than any tea I ever took in my life. It's time to hit the road. I said goodbye to Maya and my journey began.
When I reached Tolka last night, it was dark and I couldn't see how Tolka looked. It's daytime now, and I had the fortune of seeing the majestic Macchapuchare in the distance. The meaning of Macchapuchare is fishtail (Maccha – Fish, Puchare – Tail). The mountain looks like the tail of a fish. For the next few days, we will be seeing Macchapuchare in many directions, to our left, to our right.
Hence the day 2 of our Annapurna Base Camp Trek started. We were advancing through the curvy mud road. We saw some colorful houses made of tin, passed mustard fields and all were surrounded by the green.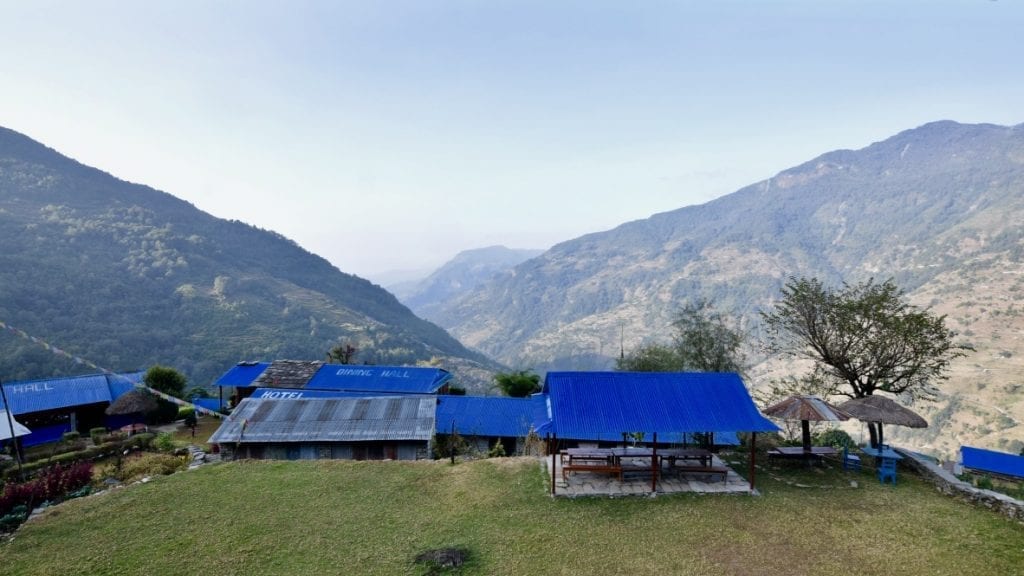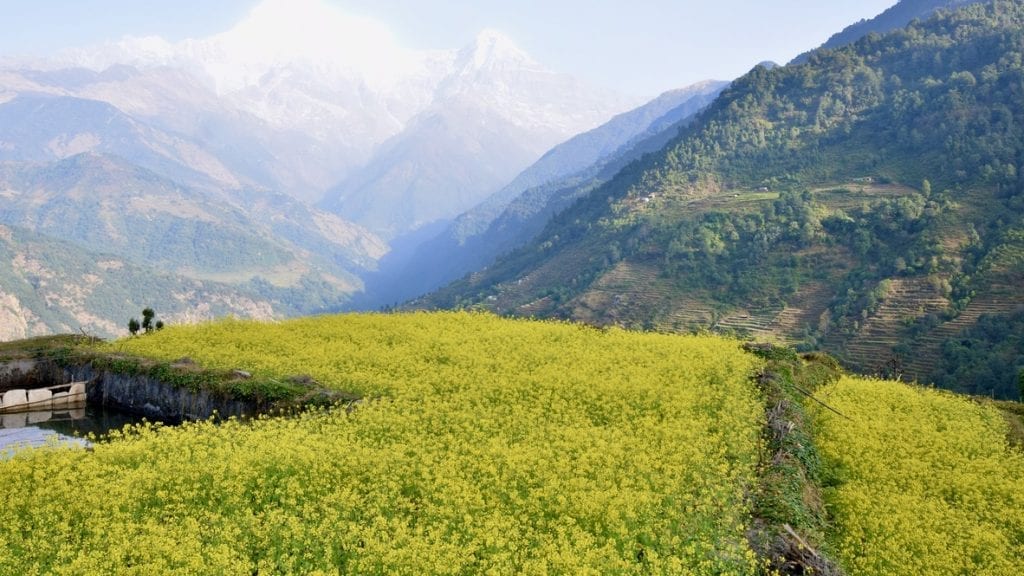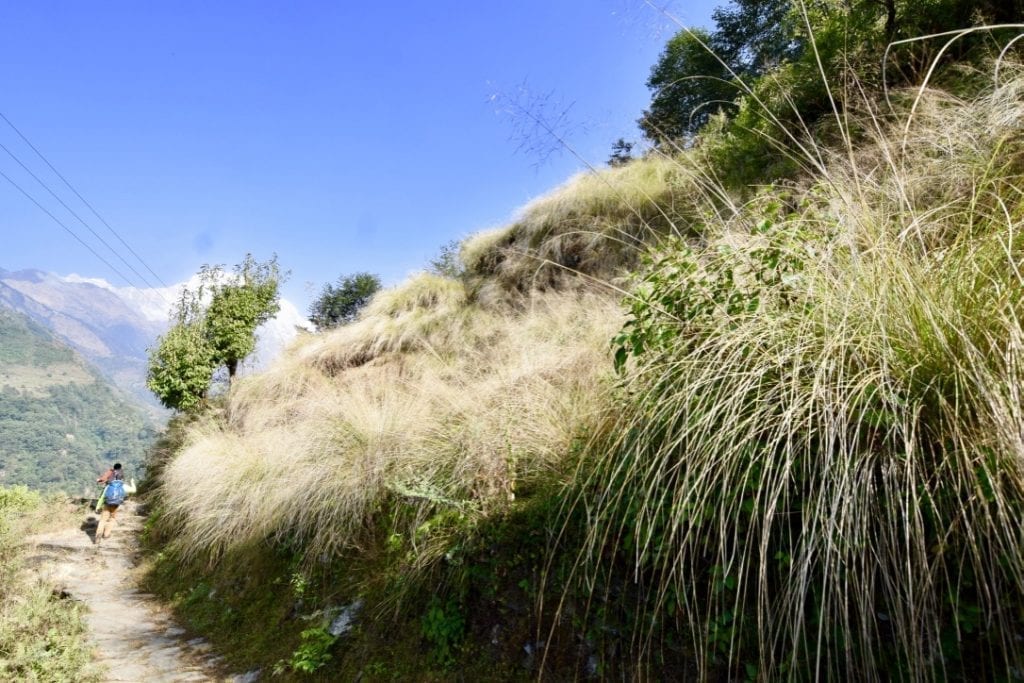 There were more kids on the road compared to adults. Two such little angels blocked our way and demanded extortion. We nodded, laughed, and could barely escape (or embrace) it.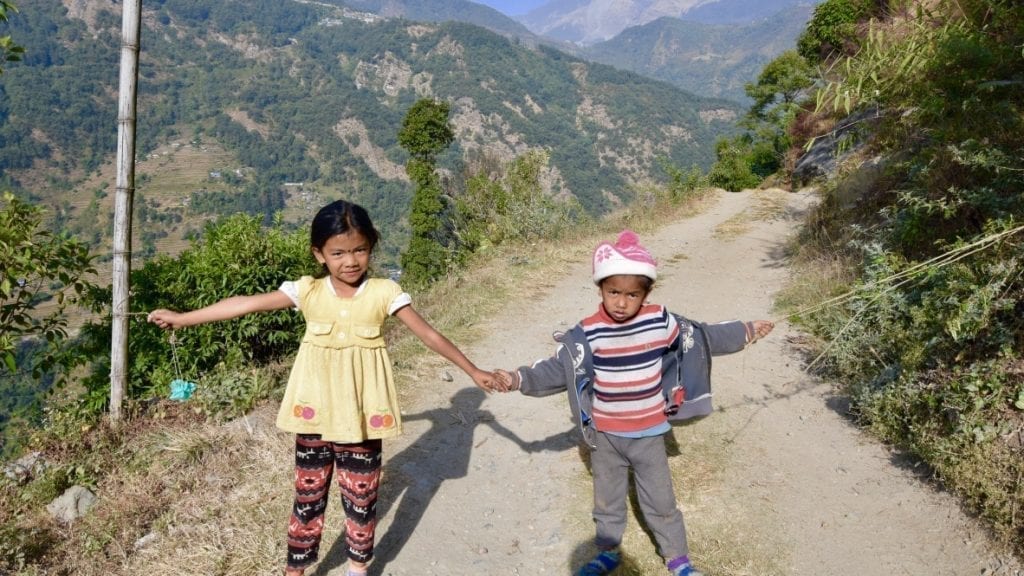 The sun has become hotter by the moment. It was necessary. We needed warmth. We were surpassing villages. Each of them has lodges. Those are known as Tea houses, too. Many call the trek tea house trek for this.
We started seeing waterfalls and crossing bridges. I was carrying a Lifestraw water purifier with me, I hate taking chlorine tablets. The springs and waterfalls were making my task easy. I was refilling from those sources and using my Lifestraw to drink. A common mistake people make in cool weather. They don't drink enough water. However, the body needs water, and it's important to be hydrated even if the weather is cold.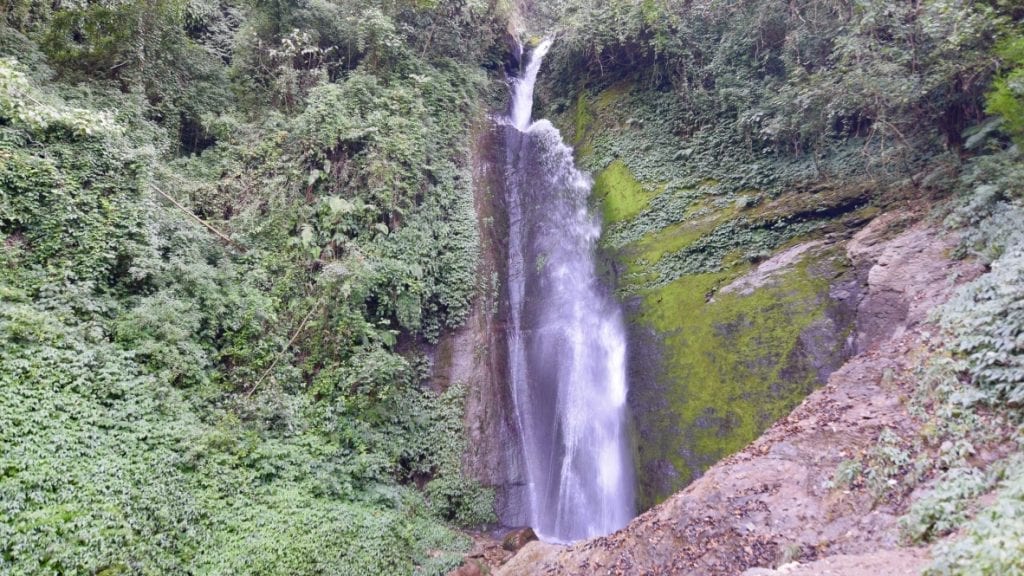 The water coming from the waterfalls was crossing through tons of stones. Those streams would make a river somewhere for sure. We were crossing those streams. I had to be careful when I was stepping on those stones. If you slip, you can get injured. In some places, the streams were deep enough to make it impassable. In those cases, there were bridges made up of leaves and bamboo. Some of them were made of stones, too.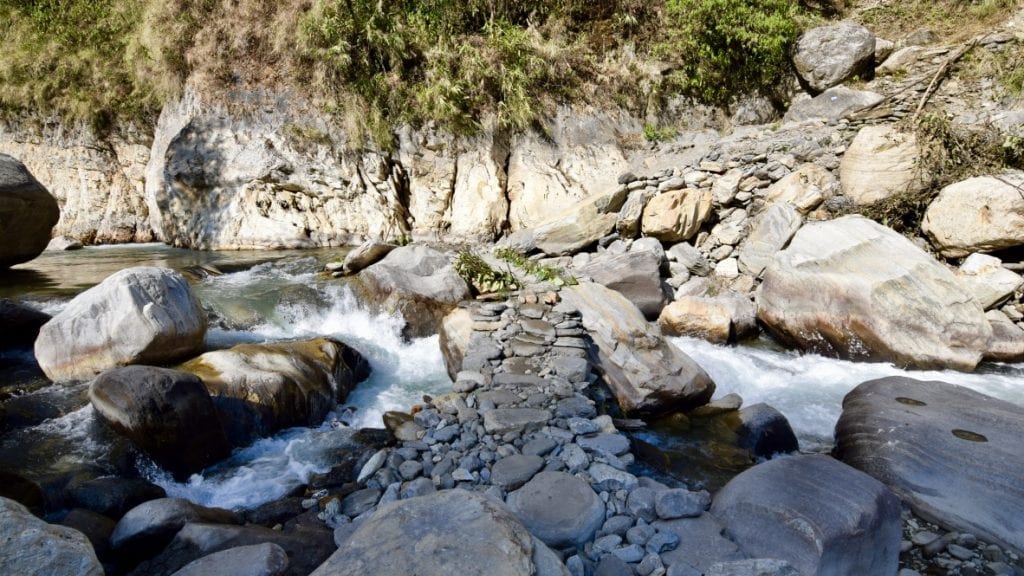 It's been a bright sunny day. I can't think of better weather during the month of December anywhere else on earth. The sky was so clear, I could see the stars 🙂
It was an unfamiliar world. Hours after hours, I didn't see anyone except a few trekkers. Wherever I placed my eyes, I could see nature – nature at its best.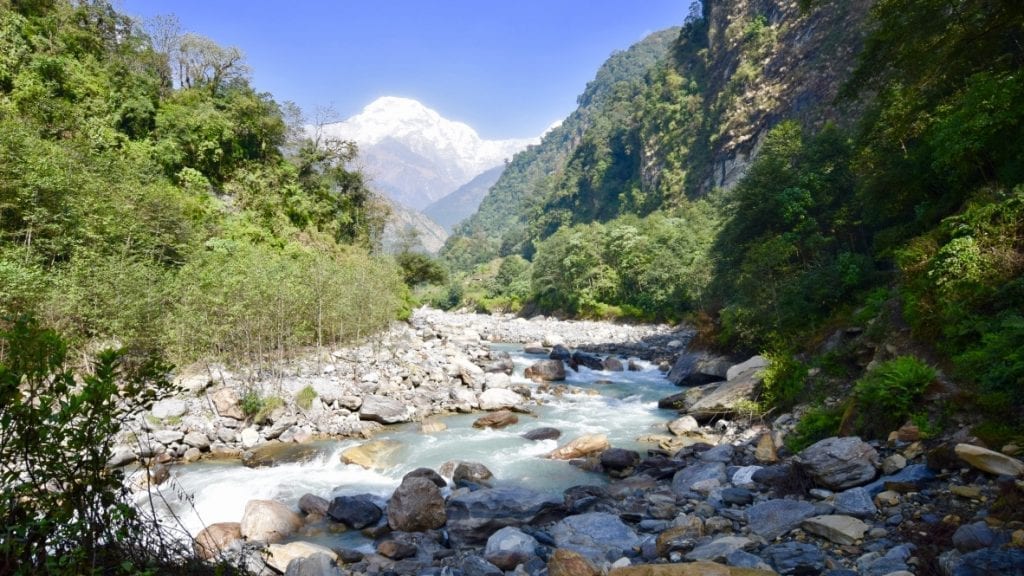 Then came an aha moment. I was absentminded, and suddenly, I could see a long bridge ahead of me. A suspension bridge – out of nowhere to take me to the other side. The river was flowing with its madness just beneath of it. When I hopped into it and started walking, it's started to shake. At one point, it was shaking badly, giving me goosebumps. It felt like it will fall apart any moment.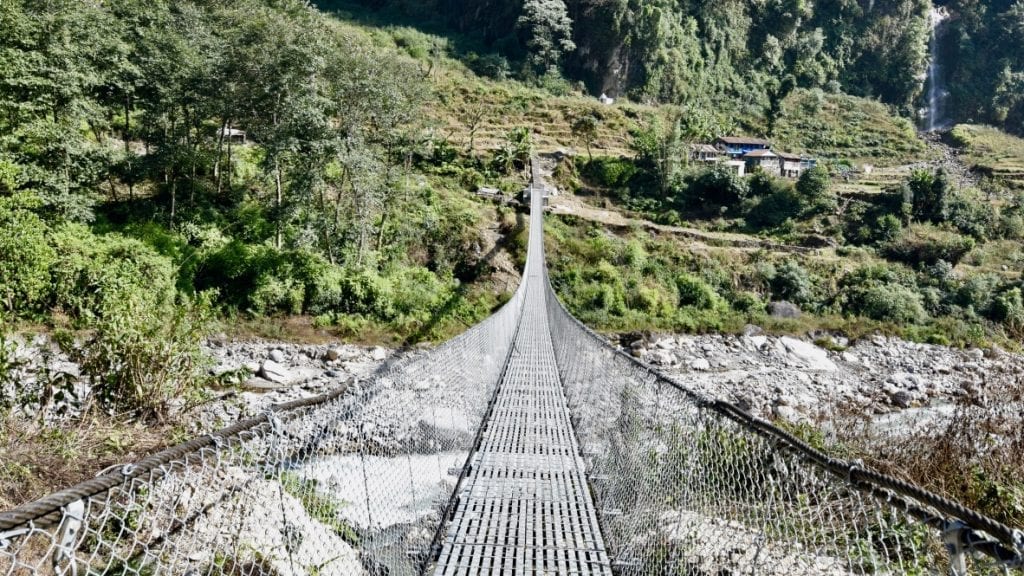 I didn't stop anywhere to take lunch; I was only taking dry foods. I was getting tired. Different types of stairs – big, small, curvy, straight up, straight down – and what not was not helping the cause either. The stairs which took our patience and stamina to take us way up were following up by the stairs which were taking us further down. What was the point of climbing up if we had to go down in 10 minutes? But such was our life.
At times, the pathway was becoming very narrow. On top of it, we could not see what's lied ahead of us because of the extreme curve. On one side, it was a wall of the mountains and on the other side was it was deep vacuum ready to take you down by a thousand meters. If you are not careful enough, you will leave no trace behind.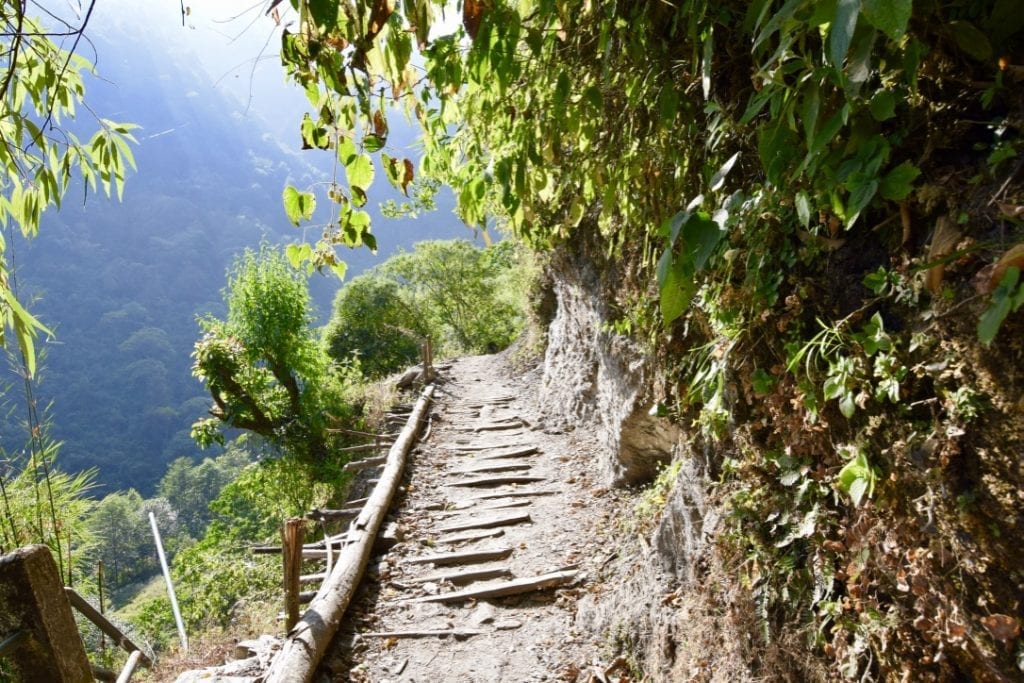 We arrived at Jhinu Danda at some point. The real trouble started on our way to Chhomrong from Jhinu. We were experienced climbing big stairs. But, this time, it was steep stairs. I could hear the rattling sound of my knees while I was performing the impossible task of moving forward. I can bet that I climbed thousands of infinite stairs before arriving at Chhomrong. A sigh of relief came out of my mouth as I saw the signboard of "Excellent View Lodge". I surrendered for the day, I didn't want to go any further, I didn't have the strength.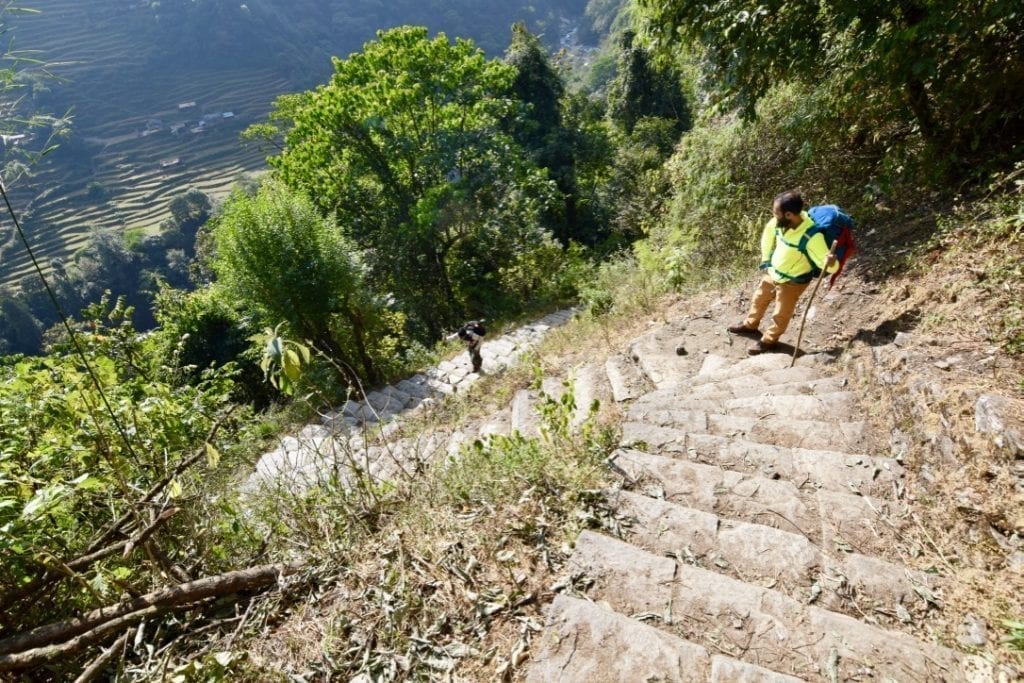 This Excellent View Lodge was excellent. This is the last lodge where you can get warm water paying nothing. However, you need to wait till afternoon as the solar panel hits the water through electricity. If you expect a hot shower in the morning, you will be disappointed.
I sat in their nice little dining hall to enjoy the surroundings. The snow-capped mountains were just in front of me. The arduous effort has paid me dividends. As the sun was setting, the mountains glittered.
I felt fortunate to be born as a human being. This is how the day 2 of our Annapurna Base Camp trek ended.
Summary of the Day 2
Started the day from Tolka during early morning at around 6:30 AM.
Crossed the village of Landruk, New Bridge – Jhinu Danda and arrived at Chhomrong
The mountain view has opened up
We saw plenty of waterfalls, small bridges
Crossed the first suspension bridge
Refilled water from the streams
Crossed a lot of streams
The path from Jhinu Danda to Chhomrong was difficult
Last chance of getting warm water for a shower for free
Overnight stay at Excellent View Lodge – it was the best hotel during our trip