Agartala is in the northeast part of India under the state of Tripura. Surrounded by Bangladesh, this capital city of Tripura is not a very famous tourist destination. However, there are many things to do in Agartala. This is an ultimate travel guide to Agartala to plan your trip.
If you look at the map of Bangladesh and India carefully, you will see an interesting thing. India is a vast piece of land to the west of Bangladesh. That's the part of India everyone visits. However, there is a chunk of India to the east of Bangladesh, too! There are in fact seven states there. We know them as the seven sisters as they are far from the rest of India and rely on each other to survive. I live in Dhaka, the capital of Bangladesh. One day when I was looking at the map, I found that, Agartala, the capital of one of the Indian states Tripura is less than 140 kilometres from Dhaka. I didn't know what are the things to do in Agartala.
However, I felt very excited for a reason! Agartala Conspiracy Case is a historic incident in Bangladesh which in course of time contributed for the independence of Bangladesh. I decided instantly to go there one day.
Book a guided full day Niagara exploration tour
Train from Dhaka to Akhaura
I was not sure until early morning if I should head out to Tripura. It took me an hour to pack my bag, get out of my house and take a three-wheeler.
My initial destination was Kamalapur railway station, the largest train terminal in Bangladesh located in Dhaka. I need to go to Akhaura, which is only 4 Kilometres from a designated land border between Bangladesh and India.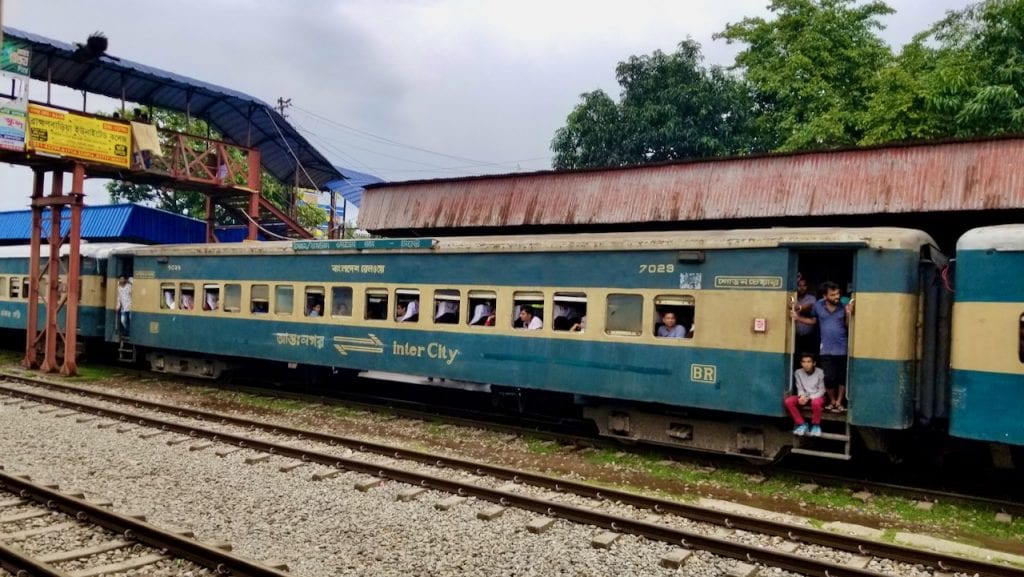 Akhaura railway station in Bangladesh is a junction. That means trains heading to several directions from Dhaka go through the station. At least 12 trains go through Akhaura from Dhaka per day.
I arrived at the railway station at 10:45 in the morning. Unsure of the train schedule, I rushed to the ticket counter. I learned that there is a train leaving at 11:00. I stood behind a lengthy queue. My turn came at 10:58 and the ticket man at the counter said that the software stops issuing tickets 2 minutes prior to the departure of a train. So, I cannot purchase a ticket now, it's too late!
Suddenly, I realized that, rest of the people in the queue started running towards the platform. The guy right behind me said that I should hop in the train and try my luck buying a ticket from inside. Although it did not sound like a good plan, I did not have any option. So, I ran like there is no tomorrow and by the time I reached the platform; I saw that the train was moving. I took a risk, and jumped in.
The Journey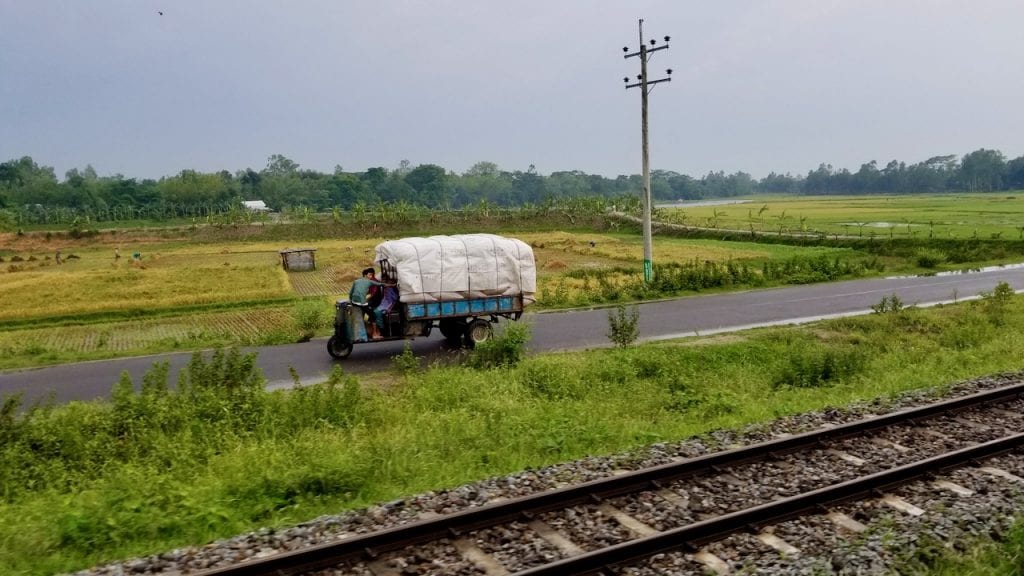 During this trip, there was a long weekend in Bangladesh. So many people were going home to take an advantage of it. The train was absolutely jam-packed. Not only the seats were taken, I did not find a place to stand properly. I moved my way acrobatically to a coach where foods are sold. I tried to get close to a canteen boy, ordered some food and gave some money. In return, I got a square shaped box made of wood. That was my seat for the rest of the journey journey. Although it was low, I placed it right beside a window. Bangladesh is pretty green for most of the time a year. I was enjoying the view from my window. I am not sure if I dozed off, but the rest of the journey was unremarkable.
Akhaura (Banglaesh) Railway Station to Border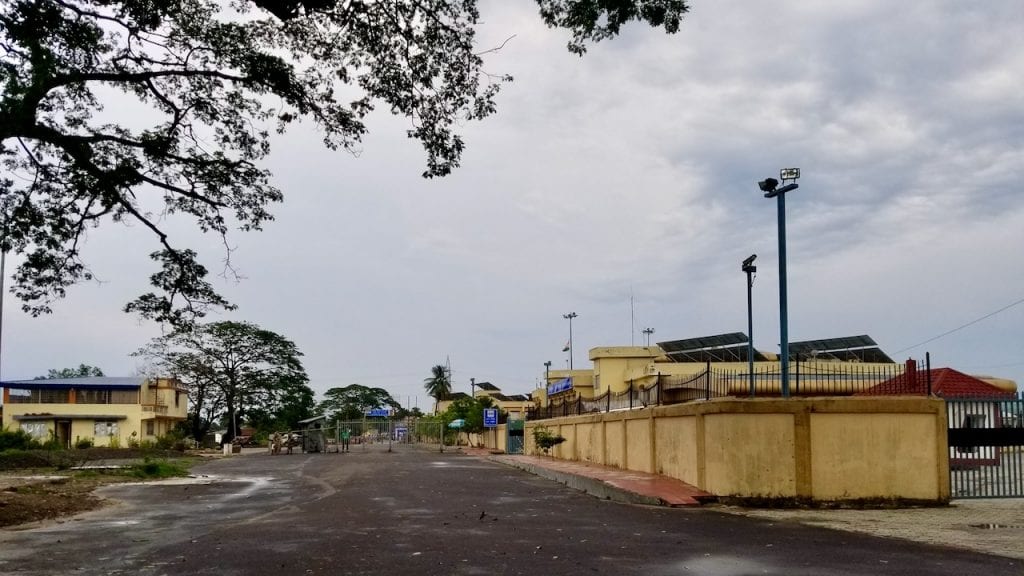 Within 3 hours of the journey, I arrived at the Akhaura railway station. A lot of people alighted with me in Akhaura.
I found a lot of battery driven three wheelers outside. Most of them were ready to take the passengers who are going to the border. I tried to find some people to share my vehicle. It will make the cost of my journey lower. It was an instant success, I started our shared journey with 2 people. The journey from Akhaura station to the border took me less than 15 minutes.
It was a quiet land border. The formalities of immigration and customs did not take long. Interestingly, they had a luggage scanner in place where they were scanning the luggage.
In Agartala, Tripura
It took me less than half an hour to cross the border. I discovered myself in Agartala in no time.
When I looked at my watch, I realised that it took me a little over 5 hours to arrive in India from Bangladesh, including the commuting time from my house. Even if I took a plane to Kolkata, which has the shortest flight time from Dhaka, it would have taken me 6 hours to reach the city center. This is because of the lengthy formalities in the Airport. In both the cities, the airport is outside of the city. Hence, a longer commute time.
On the border, I found some shared vehicles, too, to reach the city center of Agartala. It was damn cheap, less than US$0.5!
From the border, it's only a 15 minutes ride to the city center!
Hotels in Agartala
As I did not do my prior research, I relied upon my scooter driver to find me a hotel. Sadly, most of the hotels were pretty basic. So, I chose a random one. The WiFi hardly worked in the hotel. They said that this is pretty normal in Agartala.
Later, I did some research and found that there are some moderate hotels there. But those are very few! Forget about any 5 starts hotel, choose from the below list for at least a decent stay.
Agartala Attractions and Things to Do
I immediately went out to explore the city! This is how it went –
Ujjayanta Palace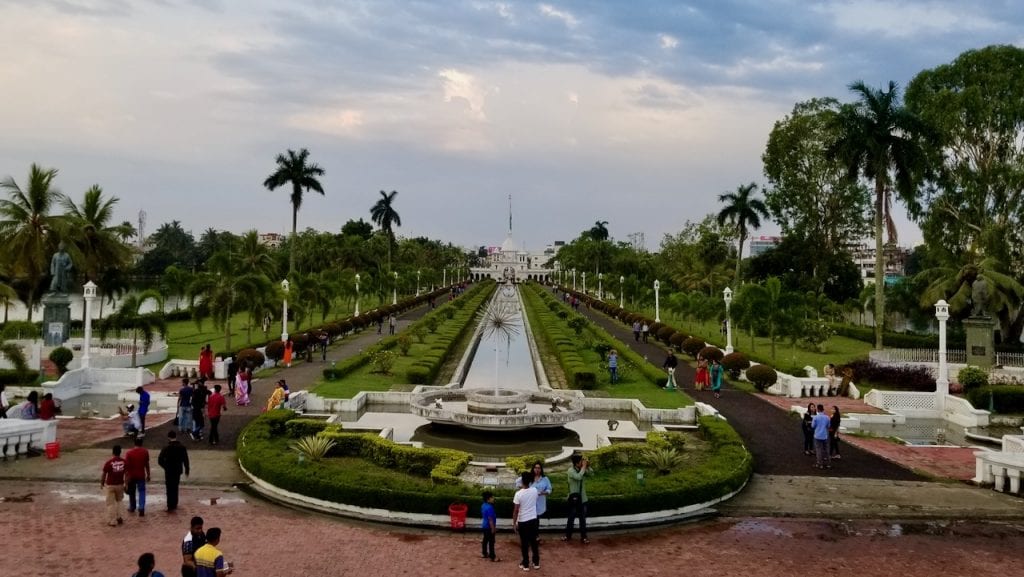 This is the number one attraction in Agartala. I took a vehicle from the city center and within 15 minutes arrived at the gate of the palace.
Let me tell you something, this palace is beautiful! It's a shame that it does not get much attraction. I didn't even know about it before visiting Tripura.
If you want to know about this palace, you need to know a little bit of the history of Tripura. Although Tripura is a state of India now, it was a princely state during the period of British Raj. You can call it a Kingdom.
Radha Kishore Manikya, the 12th king of Tripura built this palace between 1899 to 1901. It acted as his palace during that time. Since then it was the home of every ruler of Tripura. Tripura merged with India during 1949. Later in 1972, the government of India bought this house from the royal family.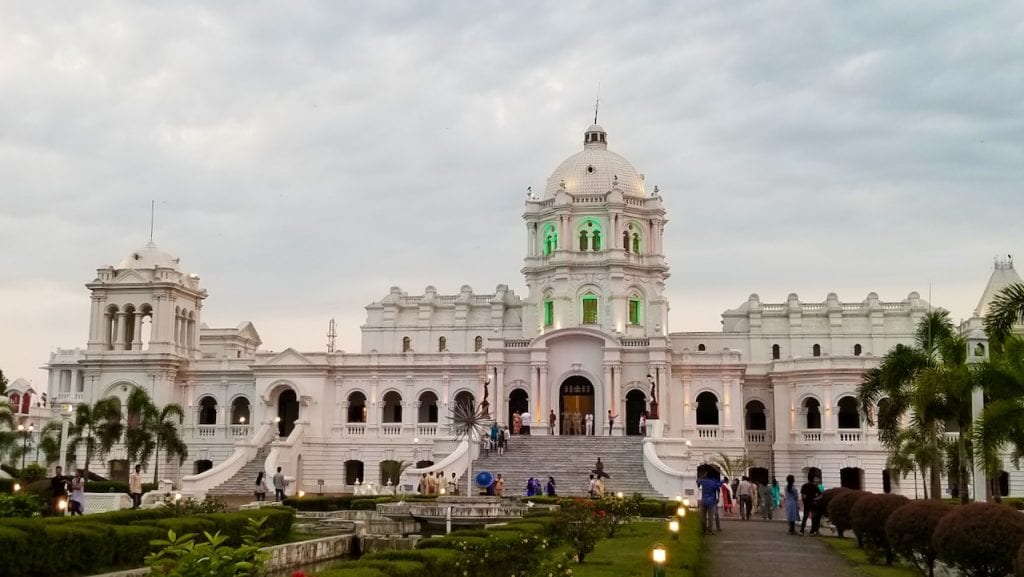 The compound is about one square Kilometer in size. It's white and gorgeous. You will find two artificial ponds inside the complex. The design of this building is inspired by the British, Roman and Mughal.
There were quite a lot of local visitors in the palace. I walked around it and entered the museum inside. The museum was nothing remarkable.
I came out without spending much time in the museum. It was getting darker, and the lights were turning on. The two storied white buildings along with three magnificent domes were looking splendid in the twilight.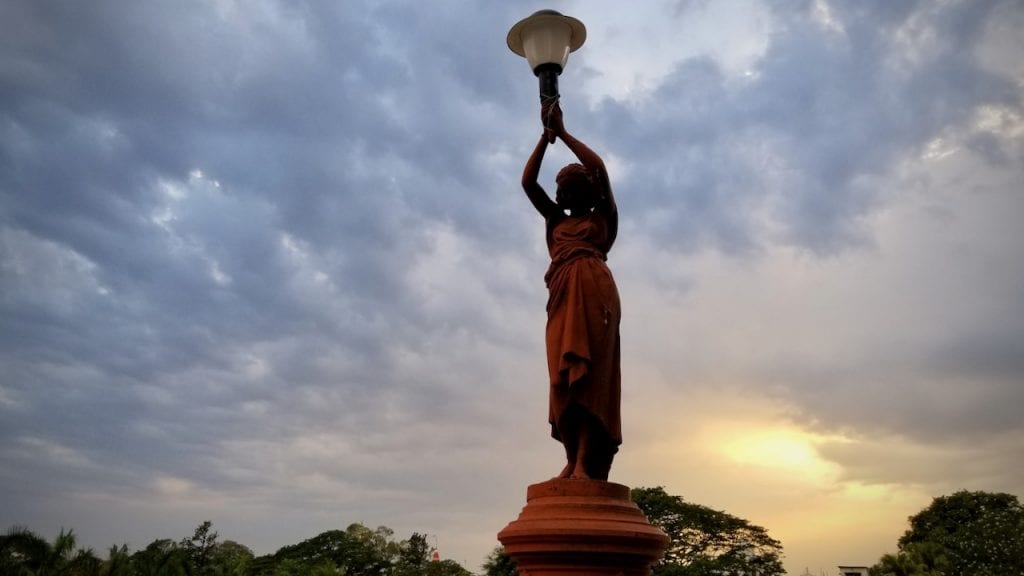 I didn't want to leave this beautiful angel, but the day ended and I had to move.
Sipahijola Wildlife Sanctuary
I went to Sipahijola Wildlife Sanctuary the next day. My intention was not only to see the wild lives, but; I wanted to take a drive away from Agartala to get a glimpse of the rural places in Tripura. Sipahijola is 25 Kilometers away from Agartala.
I went out of the hotel, walked over and spoke to a taxi driver. I agreed on paying him a fixed amount plus an unit amount per kilometer. It was quite an interesting burgain for me as I never booked a taxi without a meter like that before.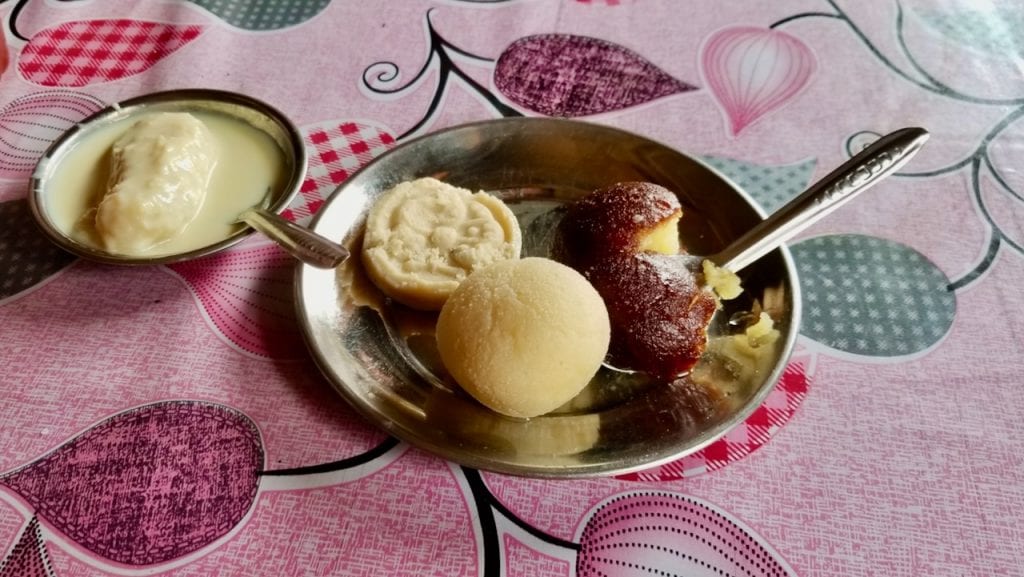 We started our journey, and our car rushed through the road of Tripura. I was hungry, so we stopped in a roadside restaurant to eat some food. The people I met in Tripura understood Bangla, the same language I speak with. Many of them speak in Bangla, too. I ordered Paratha and sweets from them.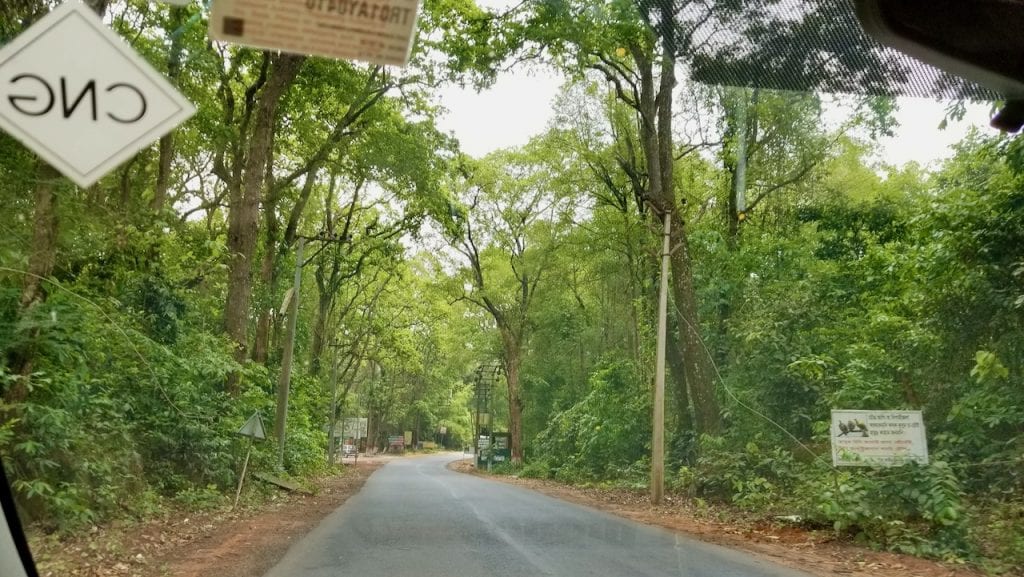 The road was not very wide. But there was a soothing calmness in the air. There were green trees on both sides of the road. Tripura is famous for Agarwood, I crossed several of them.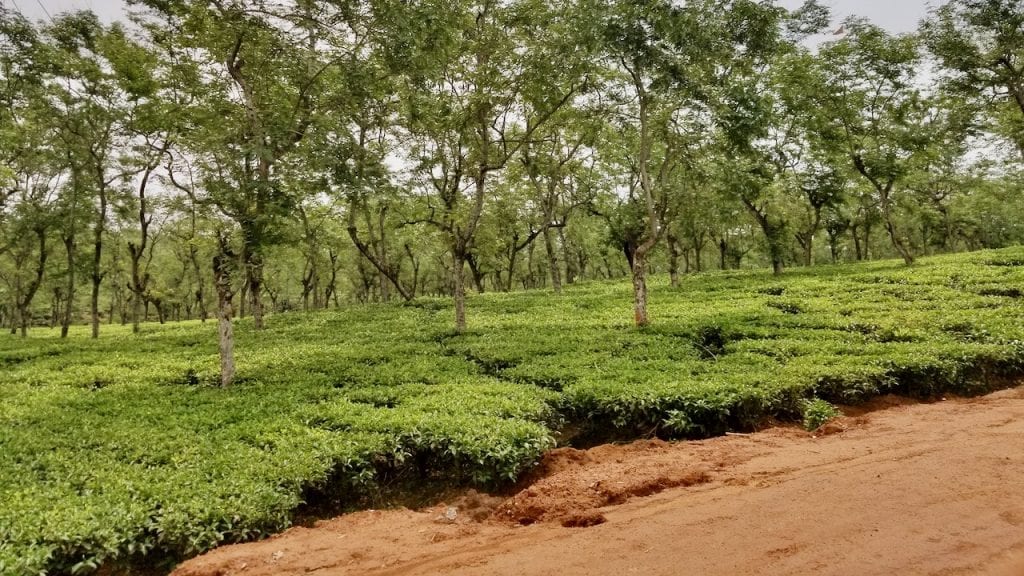 I saw tea gardens on my way. It was a bit surprising for me as I used to see tea gardens in hilly area. The part of Tripura I saw did not look like hilly to me. I later learned that, Tripura has an interesting tea plantation history. While, the British took lead of planting teas everywhere in India, it was the king of Tripura who initiated it here way back in 1916. More interestingly, tea is the second largest industry in Tripura after rubber.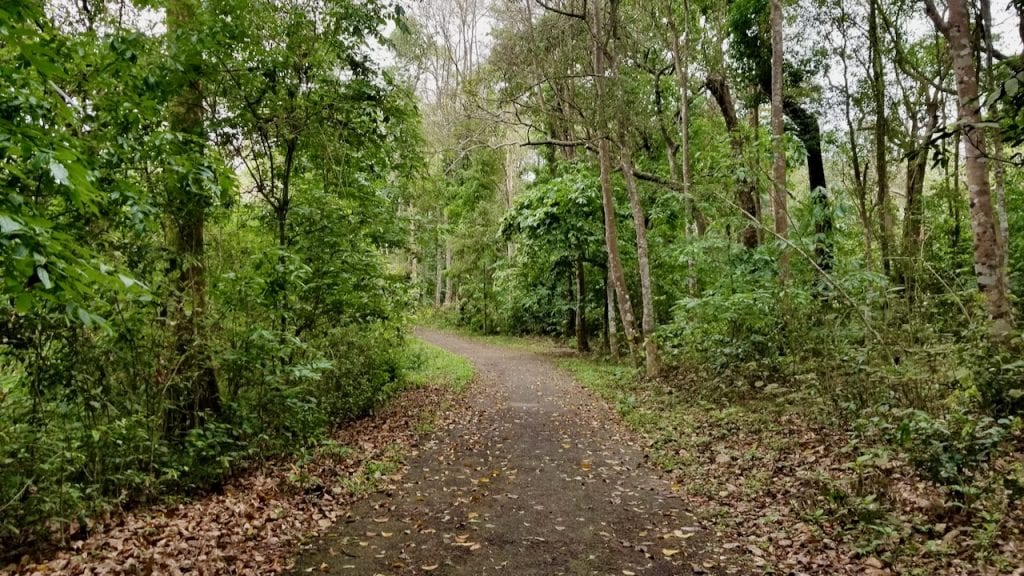 I arrived at the Sipahijola Wildlife Sanctuary in an hour. One needs to buy a ticket at the entrance. They will take a separate fee for taking cameras. I liked the place as soon as I entered there. There were animals in different places. However, the whole compound comprises trees and soothingly green. There was a smell of nature in the air. It was very quite like the road I took.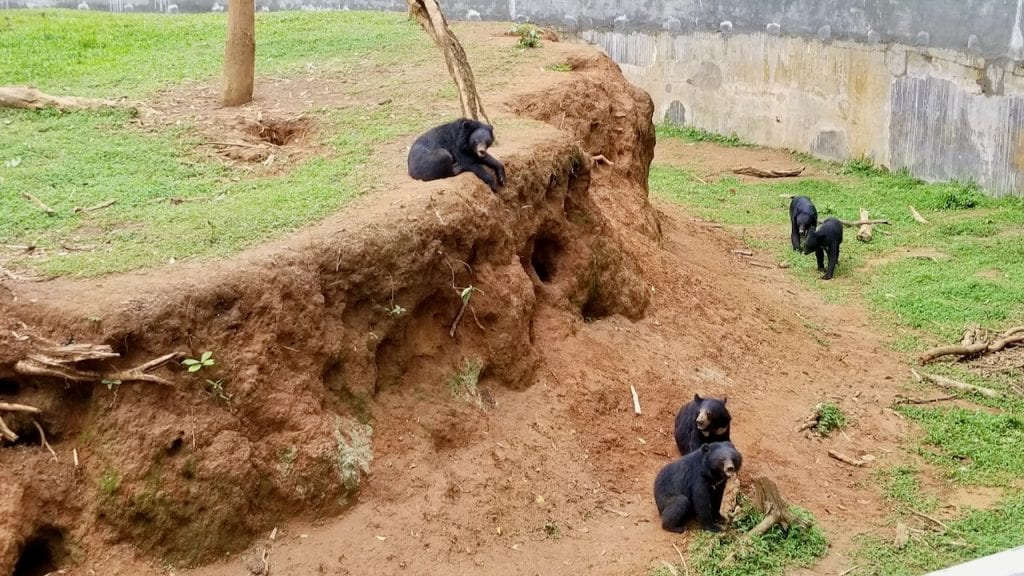 I roamed around to discover some animals. My first meeting was with several cute looking bear. A family of them was playing together. They were so cute, I wanted to hug them. Next time, alright?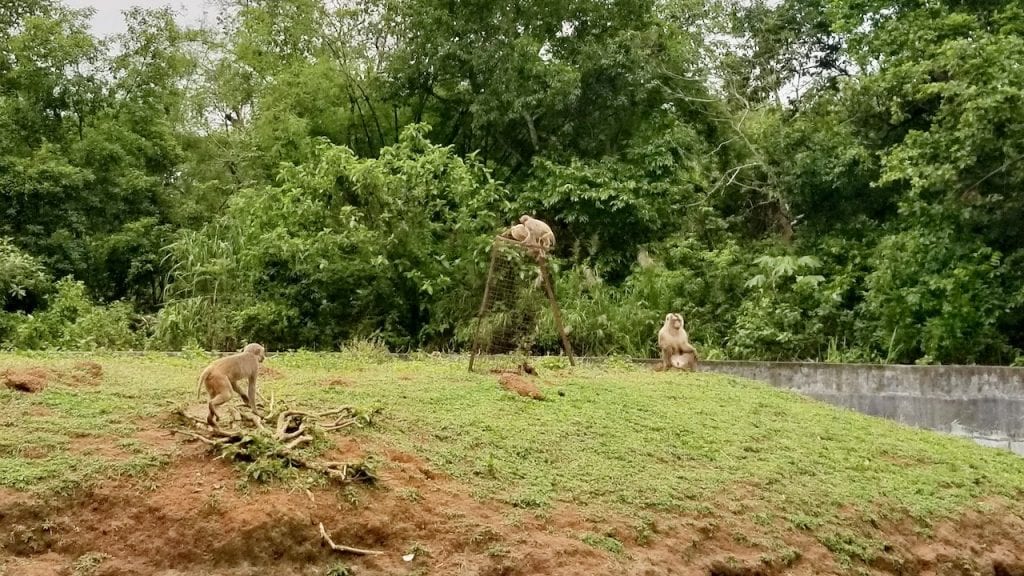 Like everywhere, the monkeys were in a jolly mood. They were playing around and was full of life. This section accommodated four species – rhesus macaque, pig-tailed macaque, capped langur and langur. I am not an expert, so, I could not identify the separately.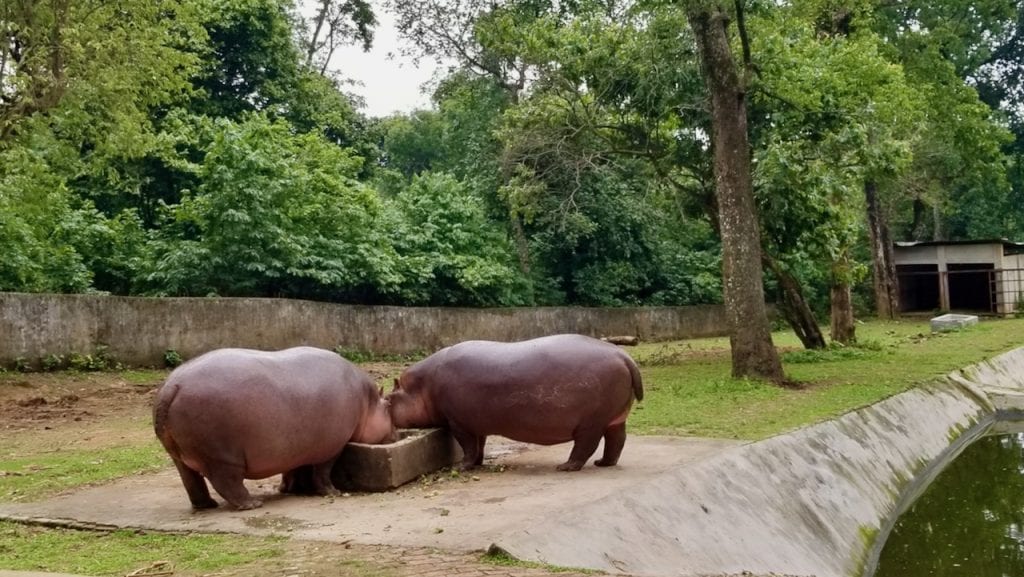 The hippos were busy eating. I don't remember seeing any hippo anywhere in the world, not eating. I felt a strong resemblance with them.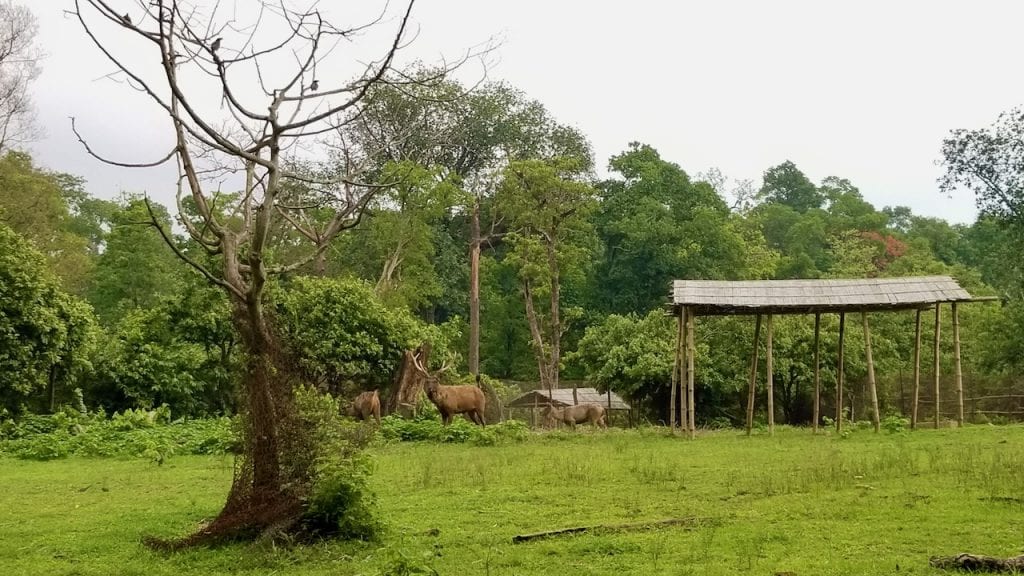 There were a bunch of lovely deers or elks, maybe. Whatever they were, I loved their presence. They were far from me, I tried to catch their attentions by waving, they were unmoved.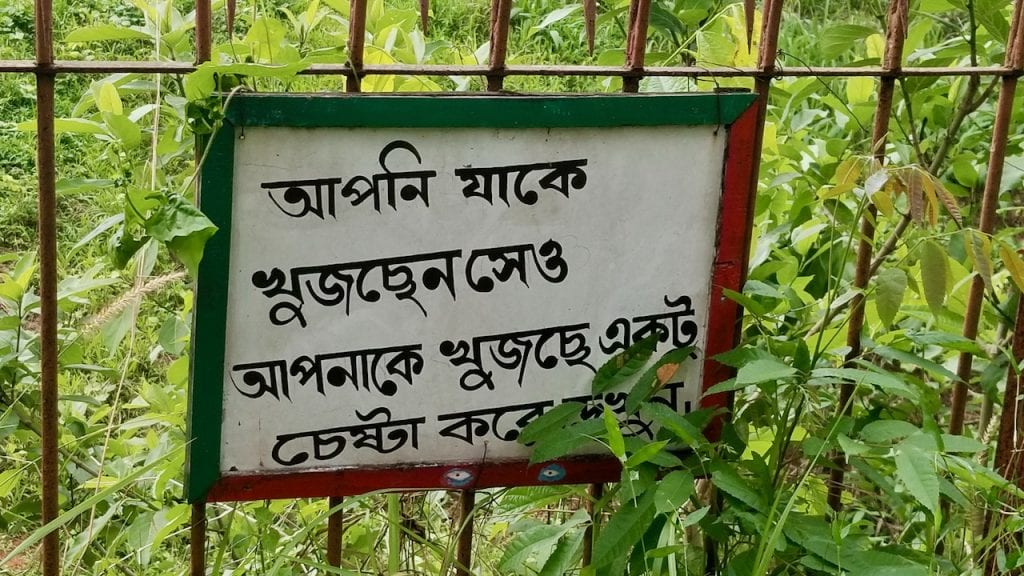 The main draw of the sanctuary was clouded leopard. It was surrounded by grills. The areas inside was huge. I doubt if there were any tigers inside as I could not spot a single living thing. However, someone with an excellent sense of humour put a signboard there to calm the visitors (Read the caption above to know about it).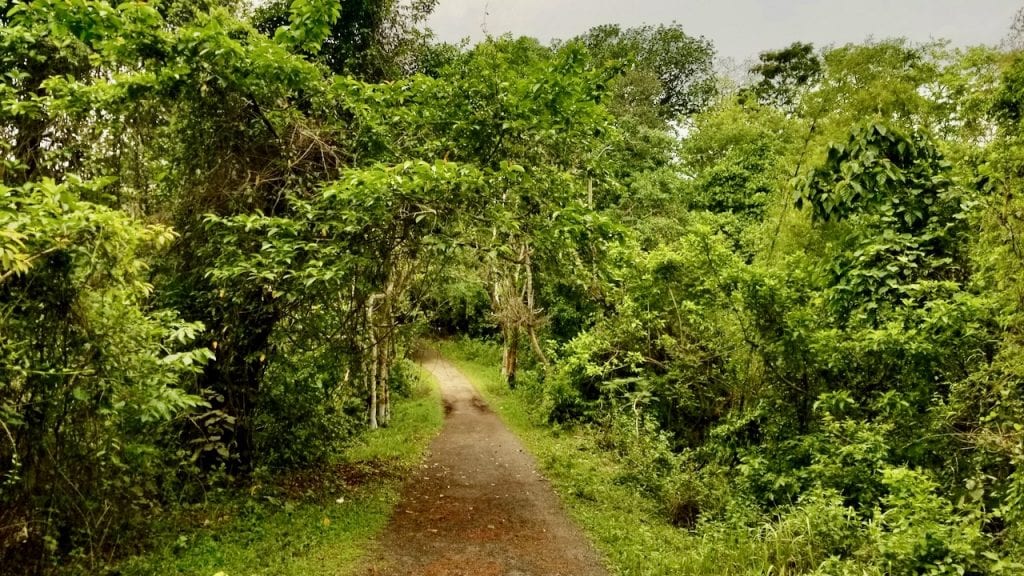 Once I had enough time with the animals, I took my sweet time to explore rest of the areas. There were many trails within the sanctuary. Although those trails were not leading towards any specific attraction, they announced soothingness. I spent some time of my own pondering there.
Khumulwng Park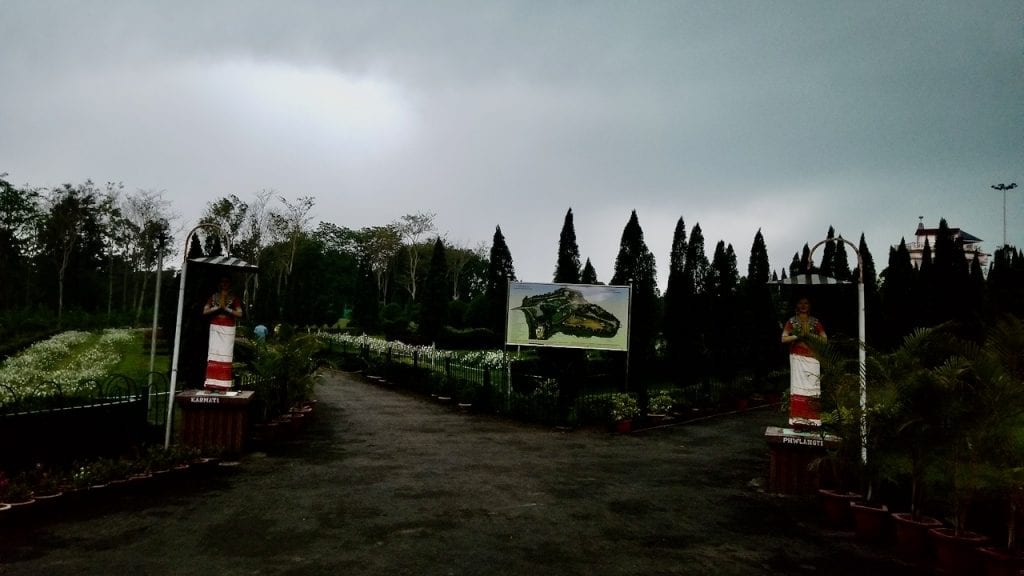 The sky turned grey when I got out of the sanctuary. My next destination was Khumulwng Park. Khumulwng is a town in the West Tripura district and you will find this park adjacent to the town hall of Khumulwng. This is a popular attraction for the local people, specially they love to go there with family for a picnic. It's surrounded by artificial lakes in three sides. The word Khumulwng means "valley of flowers". Although it was not particularly a valley of flowers, it was well planned, clean and quiet.
As soon as I reached there, it started drizzling. It didn't deter me from exploring around. After 10 minutes or so, the rain became heavy, and I had to take a position inside a shade. The rain kept falling for eternity and did not leave much time for me to explore it further.
Back to Agartala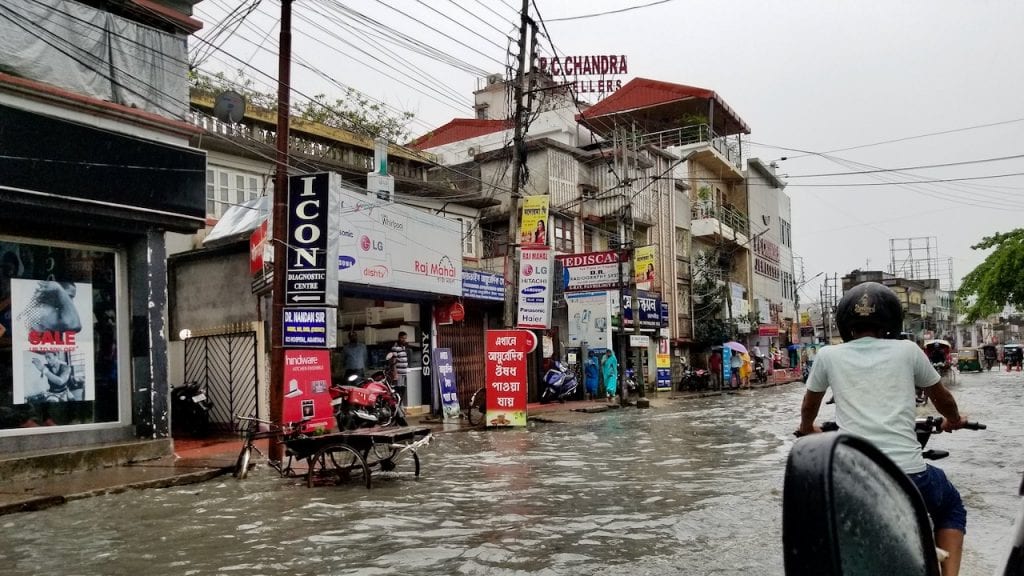 The town was a mess when I came to Agartala. It was flooded everywhere with water. I am not unfamiliar with this, so I was not surprised. But I was not sure what to do in the evening with so much water around. That particular moment, I saw a poster of a Bengali film.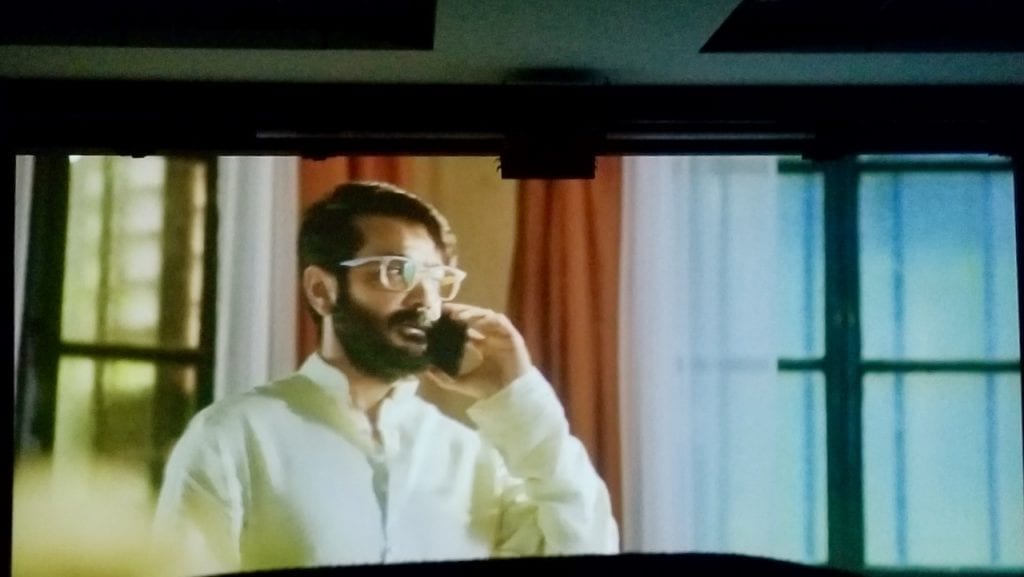 I did not want to lock myself in the hotel. As roaming around was not an option in water, I chose to watch the film. DS Balaka Cinema hall was in the city center, I had to enter through a shopping market. It a decent theatre. I didn't regret the decision. Drishtikone was a good film.
Back to Akhaura from Agartala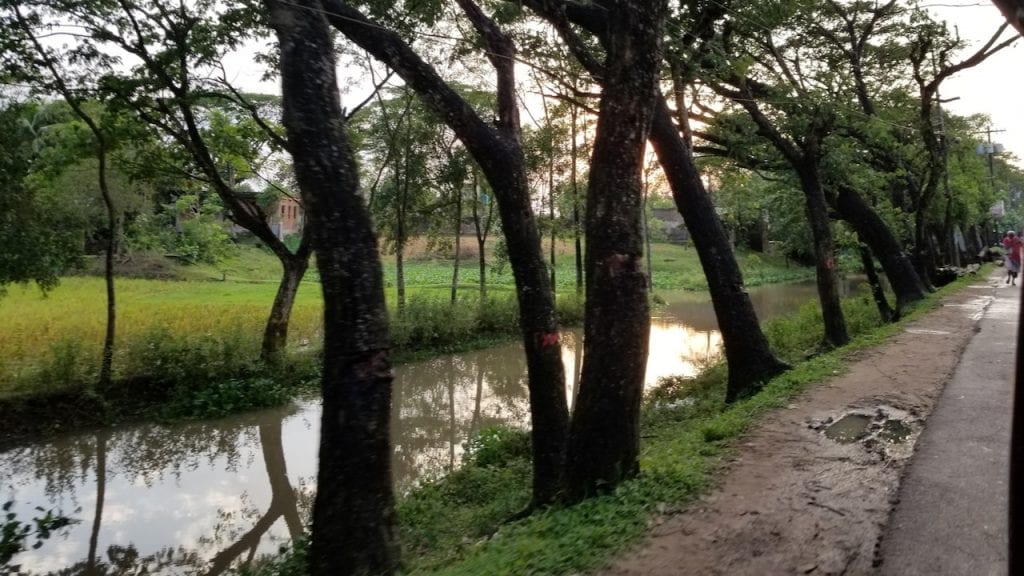 I took the same route back. Hired a three-wheeler from Agartala, reached the border, crossed it, hired another three-wheeler, and arrived at the Akhaura station in Bangladesh. I did not have any pre-booked ticket for getting back to Dhaka. So, I stood in the queue and bought a ticket for the next available train to Dhaka. It was a special ticket named "standing ticket". The concept is interesting, I cannot avail a seat, but I can get inside the train and commence my journey standing.
Back to Dhaka from Akhaura
When I saw the train from outside, I got scared. It was full of people. I could barely make it inside. The journey was more than unpleasant. I was standing in the isle and there were hundreds of people all over the place. The worst part came when the train stopped in a station. People who alighted had to cross me to go near the door. That crossing was very unpleasant in the narrow passage. This cycle continued for an eternity before I reached Dhaka.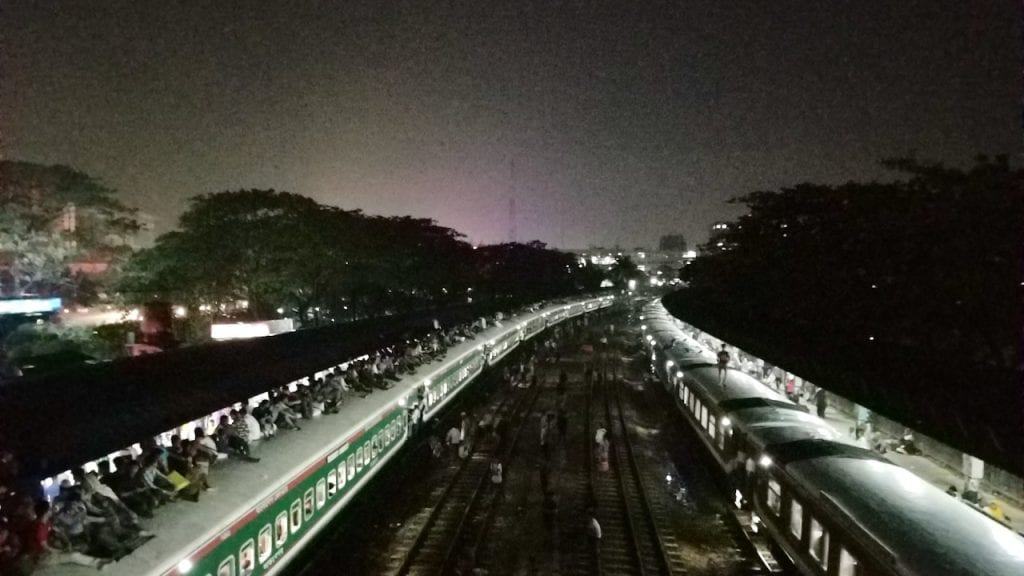 When I was crossing the station, I took a photo of a train from top to give you an idea about how it might look like inside.
Final worlds about Agartala
It was not only one of the shortest overseas trips in my life but also the cheapest.
How was it?
It was interesting.
I got to see the capital of a state in India, which is underdeveloped compared to other states in India. I realized how deprived they are by seeing the infrastructure and speaking to people. I bought a mobile SIM there. The data did not work properly.
An hour of rain put the city in a dire state. The city almost stopped functioning.
There is only one highway in the state to connect with rest of India.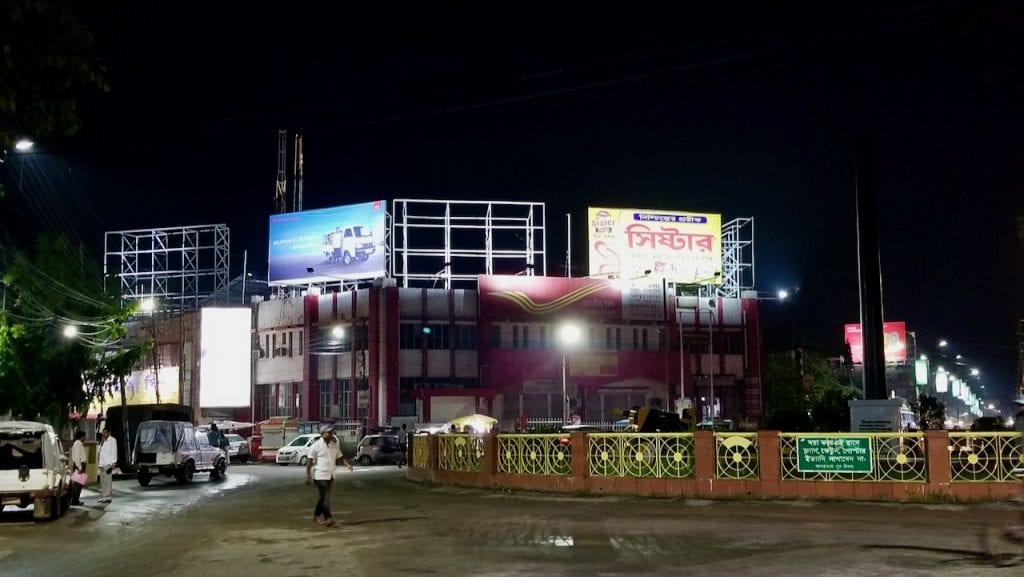 You do not have much to do after the sunset. The town becomes very quiet at night. You won't find any nightlife there.
However, I liked the simplicity of the people. I loved the serenity when I drove only 30 minutes away from the town.
Will I visit there again?
Maybe I won't go there only to see Agartala. However, this might be a suitable gateway point for visiting the seven sister states. Some of them like Arunachal Pradesh or Nagaland have fantastic landscapes and fascinating festivals. It's my dream to visit there.
So, I won't be surprised if I end up going to Agartala again!
Interesting Facts
In which state is Agartala?
Agartala is the capital of an Indian state named Tripura.
How big in Tripura?
Tripura is small, it's the third smallest state in India.
Are people in Tripura literate?
Tripura has a top literacy rate comparing to other states in India, which is over 90 percent.
How expensive is the education in Tripura?
Children aged between 6 to 14 can avail education for free in Tripura.

Which country surrounded Indian state of Tripura?
Tripura is surrounded by Bangladesh from 3 sides.
Where is Agartala airport?
Agartala airport is only 10 Kilometers from the Agaratala city center.
Can I go from Kolkata to Agartala?
It is very easy to visit Agartala from Kolkata. There are several direct flights between Kolkata and Agartala which take only an hour.
Tripura Tourism Map
Liked the blog? Pin It!