Goa, the smallest state of India is one of the prettiest of all; This southwestern coastal state offers some beautiful beaches. The ease of access, fantastic weather and cosmopolitan environment attract a lot of tourists from home and aboard.
When you think about the beaches of India, you think of Goa. Goa is arguably the most popular beach town in India. In terms of beauty, it will give a good contest with beaches of Andaman. Saying so, Andaman does not have so many beaches as Goa. You will find 35 beaches within a span of 160 Kilometers of coastline. Apart from fantastic beaches, which makes Goa more fascinating are its varied accommodation options – you will find 5-star hotels as well as backpacking hostels, wild nightlife, cheap alcohols, and delicious seafood. I will describe the most fascinating places to visit in South Goa in this Goa travel guide.
Book a guided full day Niagara exploration tour
North Goa or South Goa for a visit?
Before planning for a Goa trip this is the most important question for every traveler. If you are on a short trip, you have to choose either of them.
North Goa is for you
If you are looking for a more different type of hotel options including backpacking hostels.
If you like partying and interested in nightlife.
If you love to be among crowds and don't have any issue with sharing beaches with crowds.
If you want to do a lot of water activities.
If you want to stay closer to the airports.
South Goa is for you
If you do not like crowds and prefer tranquility over partying.
If you want to stay closer to the cleaner, whiter, and best beaches in Goa.
If you want to go out for frequent scenic drives.
If you want to visit rivers, thick forests and watch wildlife.
Top places to visit in South Goa
I chose South Goa because I had only 2 days on my hand to explore it and I wanted to stay in a tranquil environment. I was not disappointed. I expected a lot of tourists like other parts of India, however, South Goa was devoid of people. As if I was not in India at all!
Palolem Beach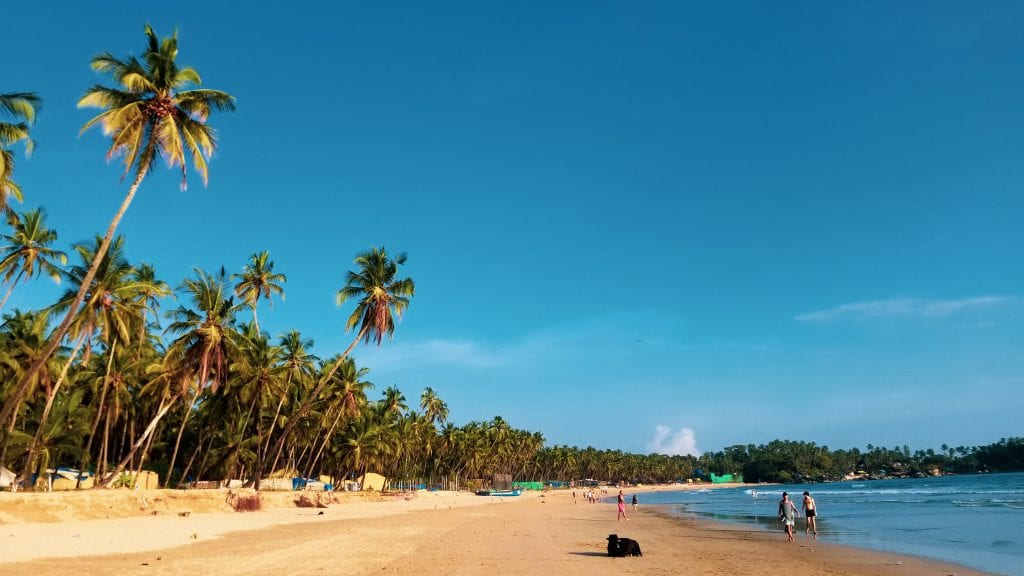 Palolem Beach is a picture-perfect destination, right out of the postcard! Fringed with palm and coconut trees and sugary sands, this jewel is the main attraction of South Goa. It's also popular for backpackers as well as families to stay here due to the diverse availability of accommodation options. This beach is not only beautiful but a fantastic place to swim in. It had perfect waves to be submerged and it took my spectacles away leaving me blind! Don't miss to drink the large coconuts from the street, you won't regret it. During the night, you can enjoy a romantic dinner with your partner on a starry night.
Agonda Beach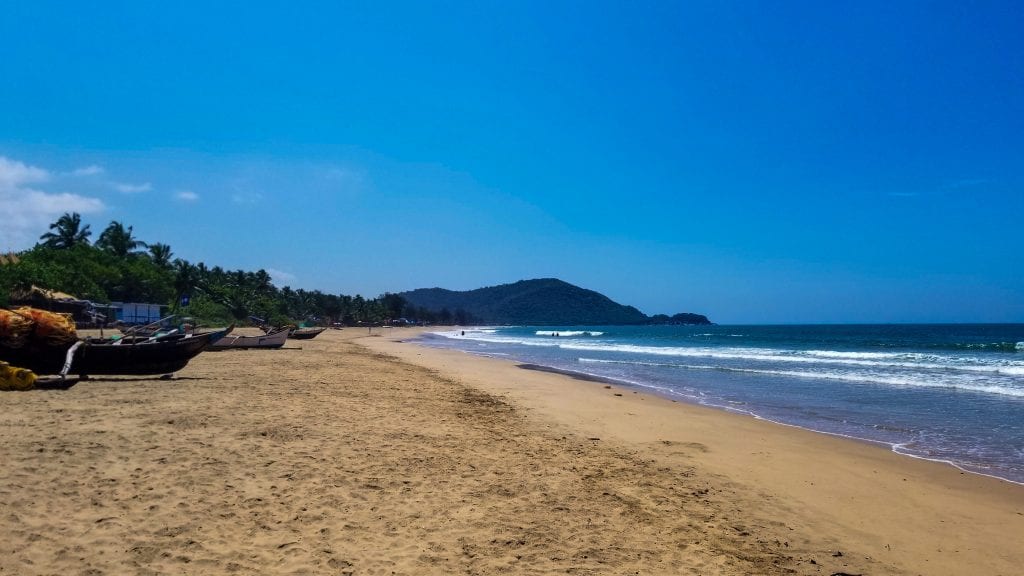 Although in the South, Palolem beach was developed. Just drive 5 Kilometers to the further south of Palolem and you will find this perfect tranquil spot. To many, Agonda beach is the best beach in India. It's a wide, white, and picturesque beach devoid of any crowds. When I went to Agonda, there was not a single visitor except a bunch of dogs and a few cows.
Cola Beach
Cola beach is a hidden gem and one of those off the beaten track destinations in South Goa. This crescent-shaped, forested beach is blessed with a dramatic emerald color lagoon. It's not easy to reach Cola beach however, it's worth the trouble. You can stay here from November to April as the cottages operate during that time.
Boat ride in the Forest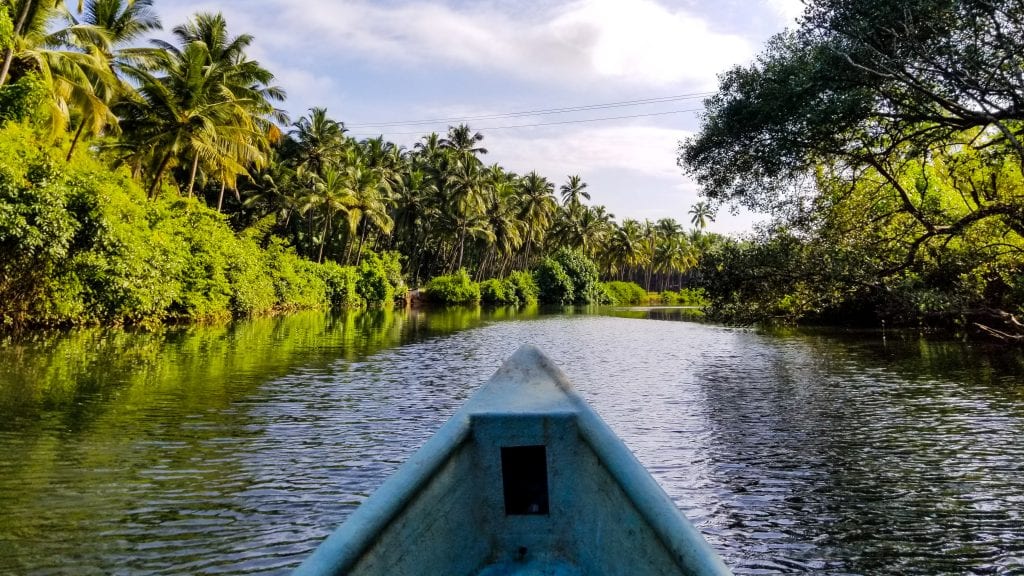 Goa is full of beaches but it's not all about beaches! In south Goa, you can rent a boat and go out for an excursion in the river. The boat will take you through lush green jungles. You will enjoy the reflection of the coconut trees on the water. The chirping of birds and glimpses of animals will add icing to the cake. The time will stand still as your boat will navigate through the jungle. I felt so peaceful, I fall asleep at one point!
Exploring South Goa by a Bike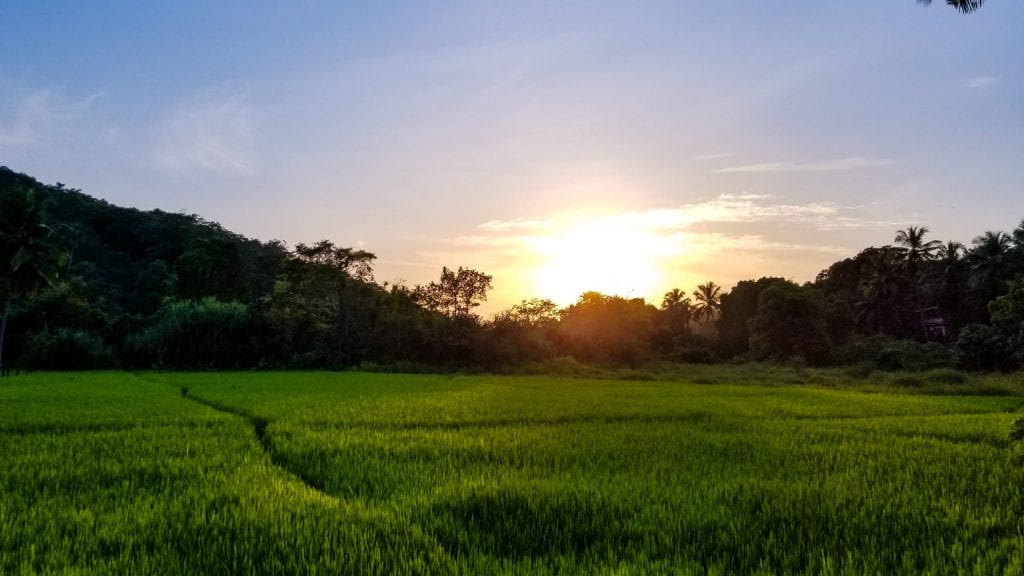 India is crowded, you all know that, and it's not always easy to ride a bike in the street. South Goa is an exception to this. The roads are empty for a joyride. Riding a bike makes it easier for beach bumming but that is not all. The landscapes on both sides of the roads are pleasing for the eyes. Lush green fields of crops, coconut and palm trees, and mystic roads make it an absolute must to travel through the roads of South Goa with a bike.
Book a Guided South Goa Tour with a luxury coach
Mesmerizing Dudhsagar Falls
If you are familiar with Hindi films and have watched "Chennai Express", you are already familiar with Dudhsagar Falls. Although, it's located at the border of Karnataka state (70 Kilometers from South Goa and takes about two and half hours to reach), this is one of the best places to visit in South Goa. This fall is located in the Bhagwan Mahavir Wildlife Sanctuary and splashes white water from 603 meters. The meaning of "Dudh" is milk and "Sagar" is the sea. It literary creates a sea of milk. October is the best month to enjoy this mesmerizing waterfall.
Book Dudhsagar Falls trip from Goa
South Goa Hotels
Sterling Goa- Varca
This 5-star hotel is located in Varca, just 15 Kilometer from Vasco da Gama, a major city in south Goa. Varca Beach is a short walk away from this hotel. They are highly rated for their service, quality of rooms, amenities, and tasty foods.
Holiday Inn Resort Goa
This is located in Cavelossim, not far from Sterling Goa, they are 10 Kilometres apart. It has direct beach access to Mobor beach. Holiday Inn Resort Goa is huge, offering 203 rooms and suites. You can choose the sea view and enjoy it from the balcony. The rooms are big and clean and it is a highly rated and popular hotel in Goa.
Om Sai Beach Huts
This is one of the best budget hotels in South Goa if you love tranquility and quietness. These are a collection of 18 huts, half of them offer a sea view. Do not expect luxury from here, however, you will get basic amenities like an attached washroom, hot water, and restaurant. The staffs are nice and gentle.
Lazy Frog Guest House
Large room, big shower, clean, air-conditioning, 24×7 hot water – it has everything which is needed for a decent stay in a guest house. They have a reasonable restaurant in case you wanna dine. The pool is small, don't expect a lot out of it.
Majestic Beach Comforts
This is a fantastic inn in Varca. All the rooms are made of woods. This remotely located inn will give you tranquility and calmness. They have a swimming pool, restaurant, and bar. The internet gets patchy at times in the room but you will get a good signal around the restaurant area. Varca beach is adjacent to the Majestic Beach Comforts has direct access to the Varca beach.
Royal Orchid Beach Resort & Spa, Goa
This is a fantastic 5-star property in Utorda. A good place to stay with kids and families as it has playgrounds for them. Utorda beach is not far away, a 5 minutes walk will take you there.
The Bay Agonda
The bay Agonda is located just beside the Agonda beach. This is a boutique hotel and located in the middle of a lush green mini jungle. The rooms are big in size with a large bed. The bathroom is open-air, you can enjoy the stars while you take a shower. Moreover, you will be able to enjoy a fantastic view of the surroundings of the restaurant.
Getting around in Goa
Uber doesn't work in Goa. The popular Ola cabs do not work either. So, resorting to expensive taxis or renting a car is most common. However, a new service named GoaMiles has started its operations. This is an app through which you can call a taxi just like Uber and costs much less than if you hire a taxi directly.
How to Go to Goa
How to go to Goa by Train?

Goa is easily reachable by Train. There is a major railway station in Margao which is close to Colva beach.
Book your private transfer from Goa Airport to Town
Important facts about Goa
When is the best time to visit Goa?
November to March (winter and beginning of summer) is the best time for visiting Goa when the temperature is cool but days are bright and sunny without rainfall.
What kind of architecture can I enjoy in Goa?
The Portuguese ruled Goa for over 400 years. So you will see Portuguese architecture in many places.
Liked the Blog? Pin it!