Radhanagar beach in Havelock island is the most beautiful and scenic beach in India. If you love tranquility and serenity, this is the go to place without any doubt.
I was in quest for the the most beautiful beach in India for a long period of time. When I think of India, beaches do not show up to my mind. India means endless histories, beautiful architectures, diverse cultures, colorful people, bustling cities, rugged and remote mountains. If I think of beaches in Asia, Thailand, Indonesia, or the Philippines appears to my mind. Even if I consider beautiful beaches in India, the first thing that comes to my mind is Goa! Goa means beaches and parties. But I don't like places swarmed with people where all I can gather is noise. I thought I won't find a place in India where I can see a wonderful beach with no crowds.
Is it even possible in India? A place without people which is worth going?
I was wrong! I found a place in India where the sky is blue; the ocean is vibrant; the beach is sugary, dotted with palm trees on a vast expanse of land. The beach is so big, you will always find a place for yourself. The place is so remote only a handful of people visit there.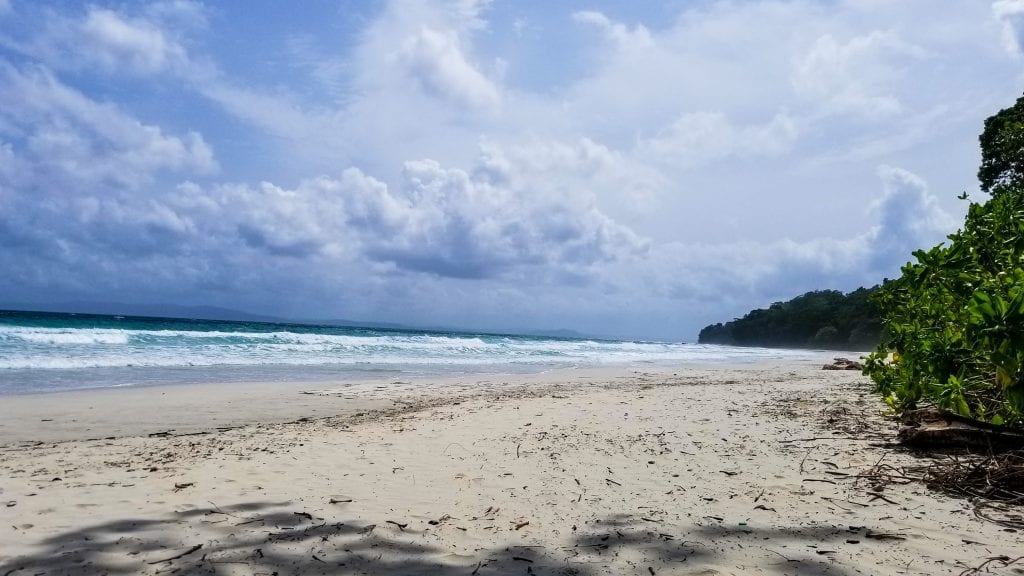 Introducing Radhanagar Beach
It was a tough task to reach Havelock Island in Andaman. Radhanagar beach is half an hour away from the city center of Havelock, making it even farther. However, the moment I laid my feet on Radhanagar beach; I found tranquility. The long stretch of beach is spread over a vast area. It was difficult to resist jumping to the emerald color water. The plush greenery around was pleasing for the eyes. The landscape had similarities with the landscape of Thailand and there is a valid reason for that. Andaman island is closer to Thailand than to India geographically. Krabi, one of the most famous tourist destinations in Thailand, shares the same sea in Radhanagar beach – the Andaman sea!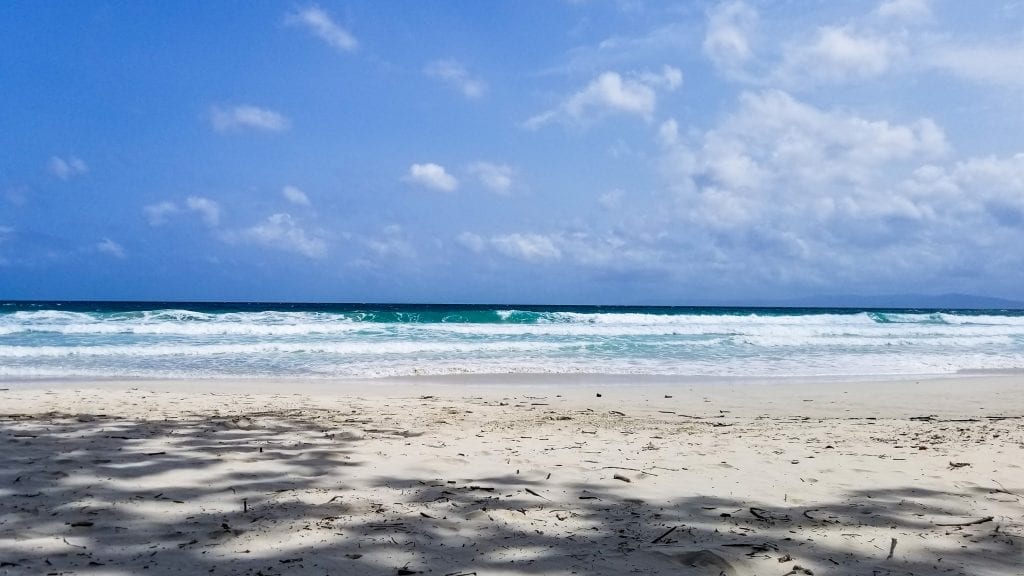 I decided to walk on the beach and it seemed endless. After a while, I was looking backward to see how far I moved. This kept reminding me how big the beach was! I never saw such an uninterrupted beautiful beach in any other place except in Lombok in Indonesia. The Cox's Bazar in Bangladesh is also an uninterrupted one but not as naturally beautiful and remains crowded all the time. I should have brought a mat with me. There was no chair or place to sit on the beach. I found a tree and fixed myself there. The time stood still, and I just looked into the horizon to see the endless waves approaching the shore.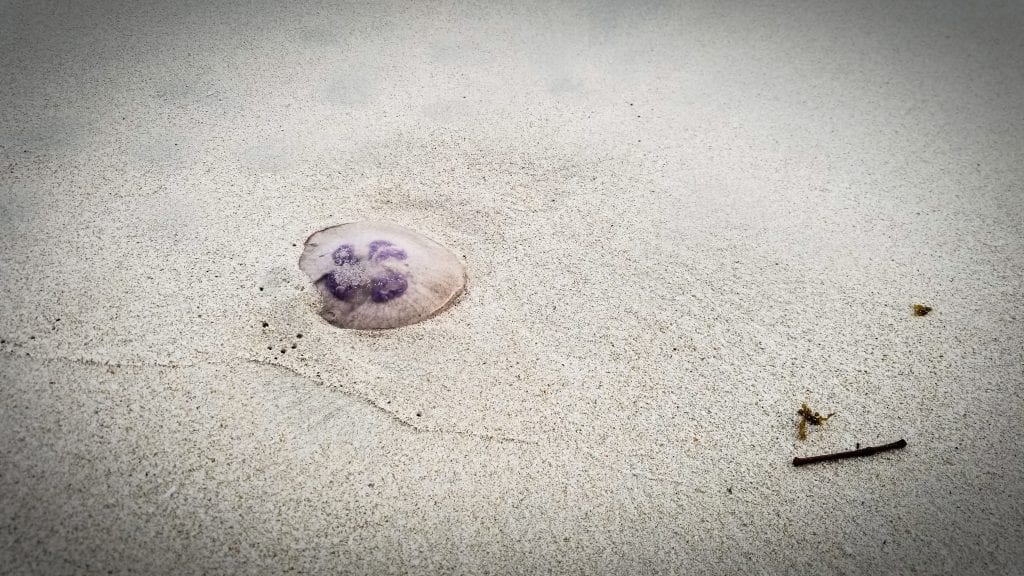 At last, I found a company on the beach. It was a colorful jellyfish. I felt immense sadness for it. Maybe it has lost its life out of the water. I wanted to take it to the water, however, it was too late. The loneliness is contagious, so I kept moving. If you are adventurous, you can go to the nearby elephant beach from Radhanagar beach. They are connected with each other. The sun above my head was relentless. It was so hot; I got sunburned and had blisters later. As much as I wanted to stay, I had to leave because of the heat. I became hungry, too.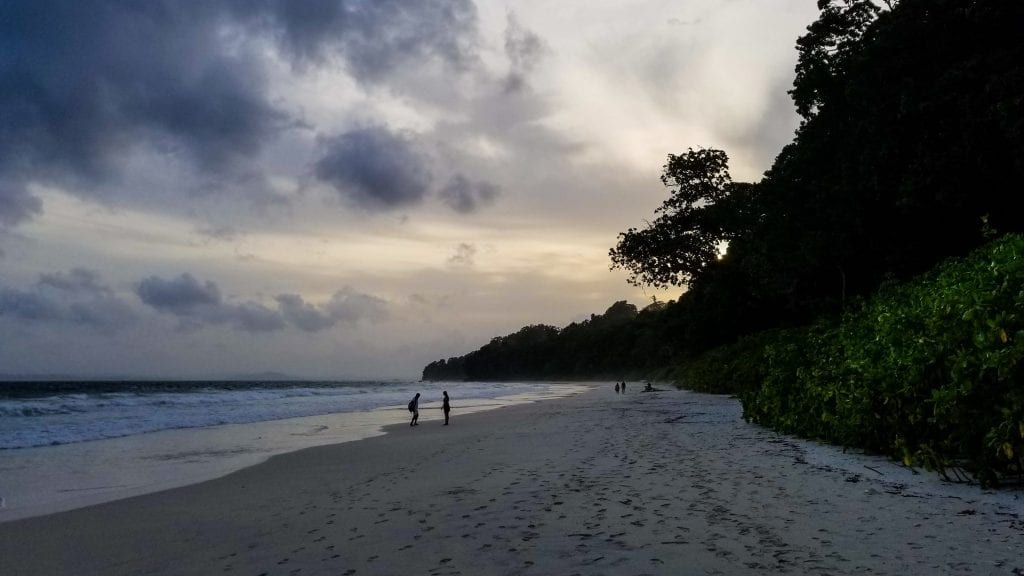 I came to the hotel to take a shower and cool myself down. When I had my lunch, I felt like going to Radhanagar beach again. So I rented a three-wheeler in the evening and headed toward Radhanagar beach again. This time, the weather was different. A gentle breeze welcomed me to the beach. It was looking different compared to the morning. The soft light with the sound of the wave made a wonderful orchestra. I found a tranquil place to enjoy the sunset, which was no less beautiful than the beach itself.
I thanked myself again for visiting here, keeping Agonda beach or Palolem beach in my mind, to me, Radhanagar beach is the most beautiful, serene, and scenic beach in India. 
Book a guided full day Niagara exploration tour
How to Reach Radhanagar Beach?
You can reach Radhanagar Beach in 3 not so easy steps!
Arriving at Port Blair

Reach to Port Blair, the capital of the Andaman and Nicobar Islands in India. The best direct flights go to Port Blair from Kolkata and Chennai. You will find several more connecting flights, however, Port Blair is a small airport, few flights operate there. 

Going to Havelock Island

From Port Blair, you need to buy a ticket to a catamaran which will take you to different small islands of Andaman. You should get down on Havelock Island.

From city center of Havelock island to Radhanagar Beach

Once you are in Havelock Island, you rent a three-wheeler which will take you to Radhanagar beach. It's about 30 minutes from the city center of Havelock Island. 
Hotels in Radhanagar Beach
If you want to stay right beside the beach, the only great option is Barefoot Resort. It's expensive compared to India but have tons of fantastic reviews. Alternatively, you can stay in the center of Havelock island which is about 12 Kilometers from Radhanagar Beach.
Quick Facts
In which state is Radhanagar Beach?
Radhanagar Beach is in the Havelock Island which is also known as Swaraj Dweep. Havelock Island lies in the Andaman and Nicobar Islands which is not particularly an Indian state but a union territory.
Is there any internet connectivity in Radhanagar Beach?
No. Internet connection is patchy throughout the Havelock island.
Is there any mobile network in Radhanagar Beach?
The mobile network is close to non existential in Radhanagar beach. You will be extremely lucky to get any mobile network.
Is there any shower facility in Radhanagar Beach?
Yes. You will find a shower facility and toilet nearby to the beach, it's paid and public. So, you can clean the salty water and change after you enjoy your time in the ocean.

Can I visit Radhanagar Beach at night?
The beach closes after 6:00 PM. So, you cannot stay or visit after 6:00 PM.
Can I swim in Radhanagar Beach?
You can swim till 5:00 PM. After that, the guards will not allow to stay in water due to security reason.
When is the best time for visiting Radhanagar Beach?
Early morning. If you go there early in the morning, you might have the entire beach by yourself! Do not forget to share with me the story.
What is the number of Radhanagar Beach?
In Havelock Island, the locals call the beaches by number. Radhanagar beach is beach number 7.

Should I take sunscreen lotion in Radhanagar Beach?
Absolutely! The heat can burn your screen in Radhanagar beach, its can be so intense.
What is the ranking of Radhanagar Beach?
The ranking is done by multiple organisations and it changes each year based on different criterions. Radhanagar beach appeared in TripAdvisor's top 10 World Traveller's Choice award during 2016-2017.
What language in mostly used in Radhanagar Beach?
Majority of the people in Havelock island are Bengali and Tamil. While they understand Hindi and a bit of English, if you know Bengali or Tamil, you will get an edge.
Is there any restaurant on Radhanagar Beach?
Not really. The food availability in Radhanagar beach is limited, so plan to leave the place before you get hungry. It's best to bring some dry food with you. 

Will I find any hammock or chair on Radhanagar Beach?
There is no chair or hammock on the beach. Although it might sound bad to you, it is in fact not. You will not find any obstacles on the beach. Bring your own towel or mat if you plan to stay longer.
Is Radhanagar Beach right for me?
No, if you are looking for nightlife and partying on the beach. If you love to be in nature and seek tranquility and peace, Radhanagar beach is a heaven for you.
Can I find elephant on the Radhangar Beach?
I heard that you might find an elephant on the beach; I didn't find any though. Try your luck if you are interested.
What are the activities in Radhanagar Beach?
You can mostly spend a peaceful and quiet time in Radhanagar beach. You can swim in the ocean, the waves are big. If you are interested in marine life, you can also do the scuba diving. Do not forget to watch sunset in Radhanagar Beach, it's mindblowing!
Is Andaman a good place to visit?
Andaman is an excellent place to visit if you are fond of landscape, beach and tranquility.
Radhanagar beach is the most beautiful beach in India. What are some other beautiful beaches in India?
I would say Agonda beach and Palolem beach in Goa.
How to reach Radhanagar beach from Port Blair?
You need to buy a ticket to a catamaran from Port blair which will take you to Havelock Island. Radhanagar beach is in Havelock island, you need to ask a three wheeler or a car to take you to Radhanagar beach.
Did you find Radhanagar beach in India Beautiful? Pin it to share it with your friends!