Agra is an unremarkable city in India only couple of hours away from the capital Delhi. However, every person on this earth should visit Agra at least once in their lifetime to see the majestic Taj Mahal and the Agra Fort. Read further to know about a list of places to visit in Agra through this ultimate Agra travel guide.
A trip to India is incomplete without visiting Agra because, The Taj Mahal, one of the seven wonders of the world has been standing here since 1632. Although Agra is famous for the Taj, it's not the only thing you can enjoy while in this city. There are many more things to look at. This is your ultimate travel guide and itinerary about the places to visit in Agra in one day.
Where is Agra?
It's in Uttar Pradesh in India. There is no airport in Agra, you require going there by bus, taxi or train. Most of the people visit Agra after spending two days in Delhi. However, you can visit Agra from Jaipur, too, as part of your golden triangle (Delhi, Jaipur, Agra) trip.
How to go to Agra?
Agra by Train
Over 50 trains run between Delhi and Agra. The fastest of them is the Gatimaan Express (Train number 12050) which takes only 1 hour 40 minutes to appear at Agra from Delhi. The word Gatimaan means speedy. It leaves from Delhi at 8:10 AM and arrives Agra at 9:50 AM.
To see a complete list of train schedule, you can visit this link.
Agra by Bus
I do not suggest going to Agra from Delhi via bus because it takes roughly double the time comparing to the train. However, if you are skewed about taking this option, you can see this link for a comprehensive bus schedule.
Agra by Car
If you wish to visit Agra by car without spending too much money, you can take Gozo Cabs. With them, you can choose a car type, set up a leaving time, your pickup and drop off point.
Book Delhi to Agra Ticket
Prelude
I arrived at Agra from Jaipur via train. My arrival station was Agra Fort. It was around 10 in the morning. As soon as I got out of the train station, at least 10 to 15 men followed me by urging me to have them as a guide, or promising me to provide the finest hotel in town, or inquiring about the name of my country, or offering me a taxi, and so on. I was uncomfortable with this chase. I was requesting everybody to leave me alone. It was all in vain; they grinned at me and yelled at me to an extent where my brain stopped performing. I kind of ran and grabbed a three-wheeler and requested him to take me to the Agra fort. When I was in the gate of Agra Fort, the driver with a sardonic smirk told me I can't take the bag inside. However, I can leave it to his vehicle and he will watch it for me.
Really? Sure! I was cursing my luck and my choice of visiting Agra on my own without fixing a hotel. Fortunately, I noticed a locker facility in the rail station earlier. So, I requested my driver to take me back to the station. Every individual I avoided 10 minutes ago was delighted at seeing me come back! Oh, my God! Such a dreadful start in the city.
I dodged another wave of mobbing, this time with no pack in my back, which made me relatively relaxed. I found my three-wheeler driver, Bali Muhammad in the crowd. I was happy seeing him because I could jump into his three-wheeler instantly, leave the rail station area and inhale the open air outside. Using my pathetic Hindi and some jargons in English, we jotted down a plan for the day. We were momentarily routing towards our initial stop in the polluted, unremarkable city of Agra.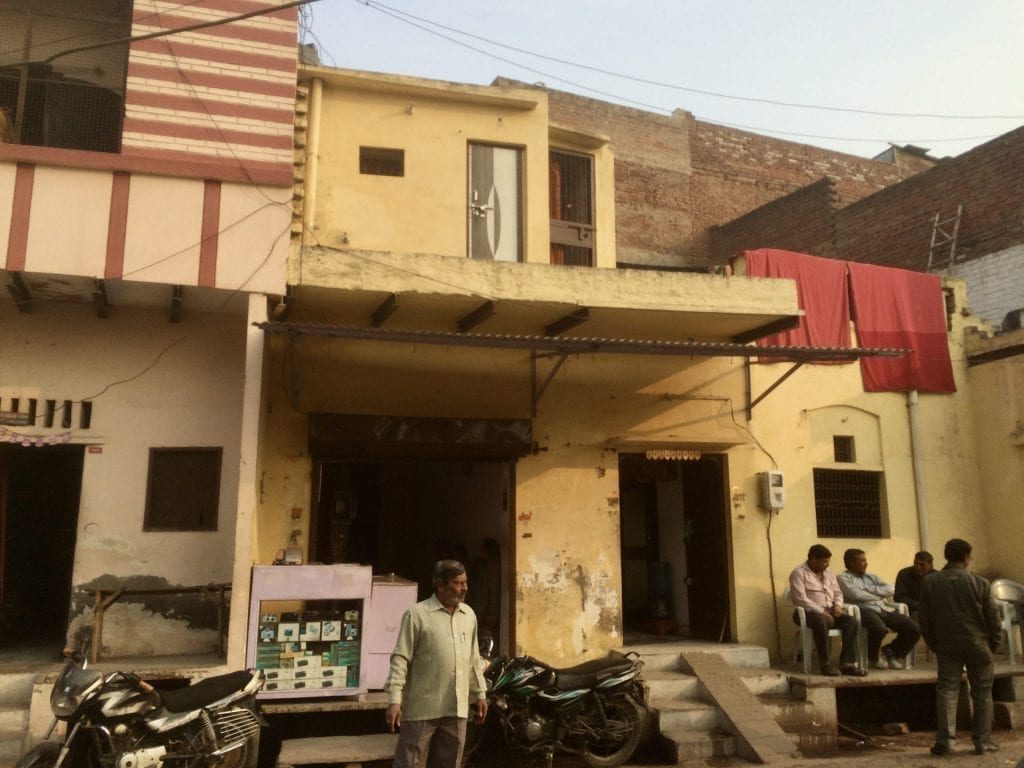 Book a guided full day Niagara exploration tour
Top Sights in Agra
Itmad-ud-Daula
My exploration in Agra takes off at the tomb of Itmad-ud-Daula. Many call it a baby Taj. So, who was Itmad-ud-Daula? Itmad-ud-Daula is actually a term – it means pillar of the state. And they handed over this title to a man named Mirza Ghiyas Beg who was the parent of Nur Jahan and grandfather of Mumtaz-Mahal (Shah Jahan built Taj Mahal in her memory later). Now, you might inquire, who was Nur Jahan? Nur Jahan was the wife of Jahangir, who was the fourth Mughal Emperor. Nur Jahan, being the companion of the most powerful human during that time, instructed to build this tomb in the memory of his dad. They developed it between 1622 and 1628.
It also looks like a Jewel box and often called by this name. They erected the building in the middle of four sectioned gardens. White marbles will please your eyes there. It was the building block of the tomb. I later learned that they brought those marbles from Rajasthan.
When I went to this mausoleum, there was no crowd at all. I had it all by myself. It's such a shame because this is an architectural marvel which one should not miss. I know the reason behind the slim crowd. All the people have gathered in either the Taj Mahal or in the Agra Fort – the two UNESCO world heritage sites in Agra. It's been eclipsed by its better prominent counterpart. However, I don't have any objections. I devoted considerable time there. Oh! And it's on the bank of Yamuna river, just like the Taj. The Mughals developed every important establishment in Agra, keeping Yamuna in mind.
If you watch at the exterior, you will notice various designs imprinted on those pedestals. Those are wine vase, cup, dish, plant, and flower bouquets. There is a telling that this interior design inspired Shahjahan, who was the son of Jahangir, to make the Taj Mahal later.
Entry Fee in INR
10 for the Indians
110 for the foreigners
Suggested spending time
90 minutes
Agra Fort
From Itmad-ud-Daula, I started for Agra Fort. I read many excellent reviews of the fort. Within several minutes I arrived at my destination. Many people call it the Red Fort because, from outside, the fort looks red. I noticed quite a number of visitors there comparing to Itmad-ud-Daula.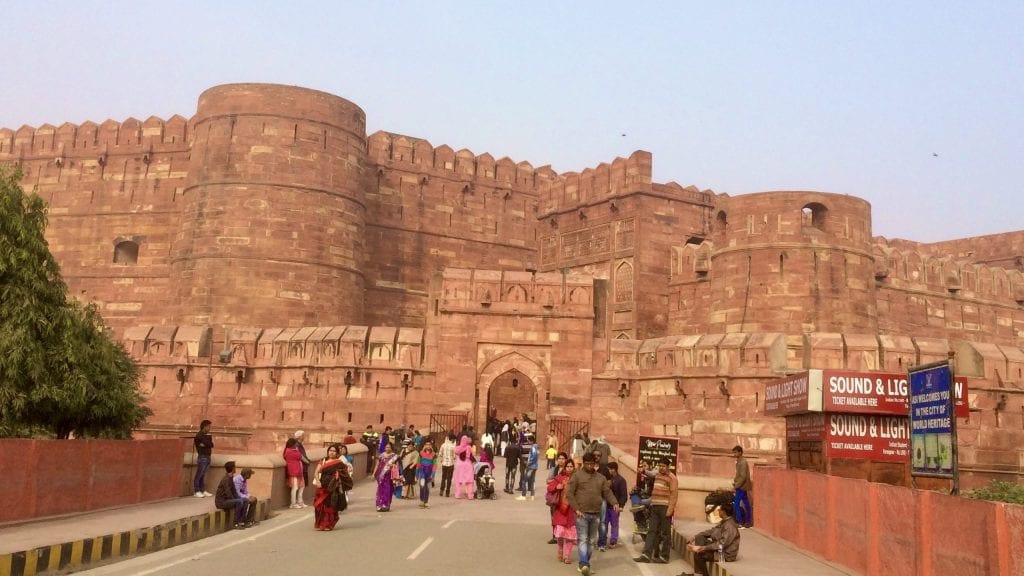 Take my word, this is a city inside a city. It was so overwhelmingly huge and charming that; it blew my mind. If you look at the map carefully, you see that the Taj and Agra Fort is setting themselves apart by the holy Yamuna river. In fact, they are only 2 KM away from each other. It's definitely one of the loveliest Mughal forts in India.
When you will enter through the south gate (also known as Amar Singh Gate and Lahore get), you will see a gradual inclination. It's 60 degrees. They made it in such a way so that the elephants of enemy lines find it difficult to enter the fort.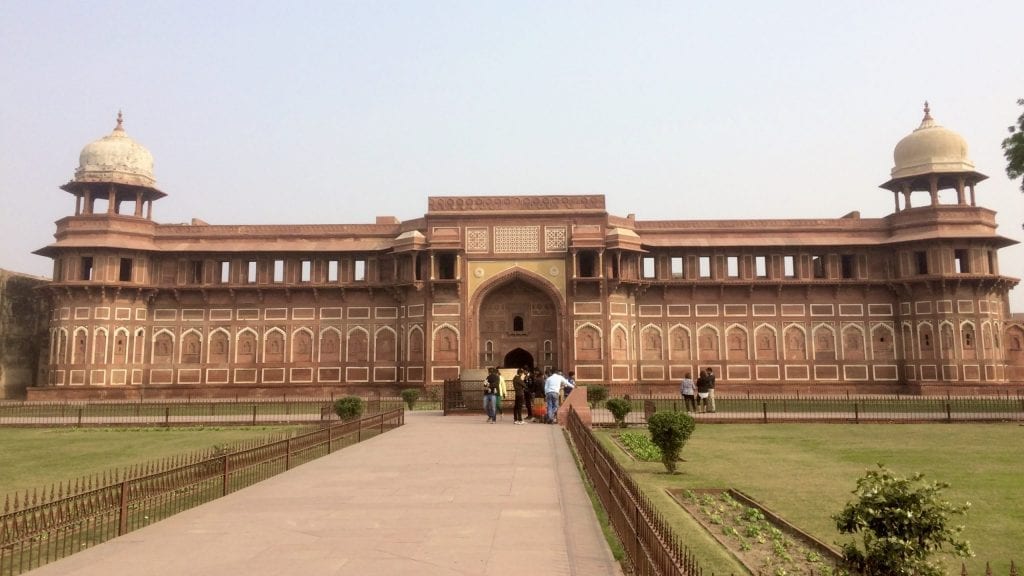 When I was wandering through a myriad number of courtyards, I could see two colors – red sandstones and marble white. The third Mughal emperor Akbar (known as Akbar the Great, too!) started its construction in 1565, that's about 500 years from now. The aim of building this fort was primarily for military purposes. The favorite color of Akbar was red sandstones. So, you can see in some pictures.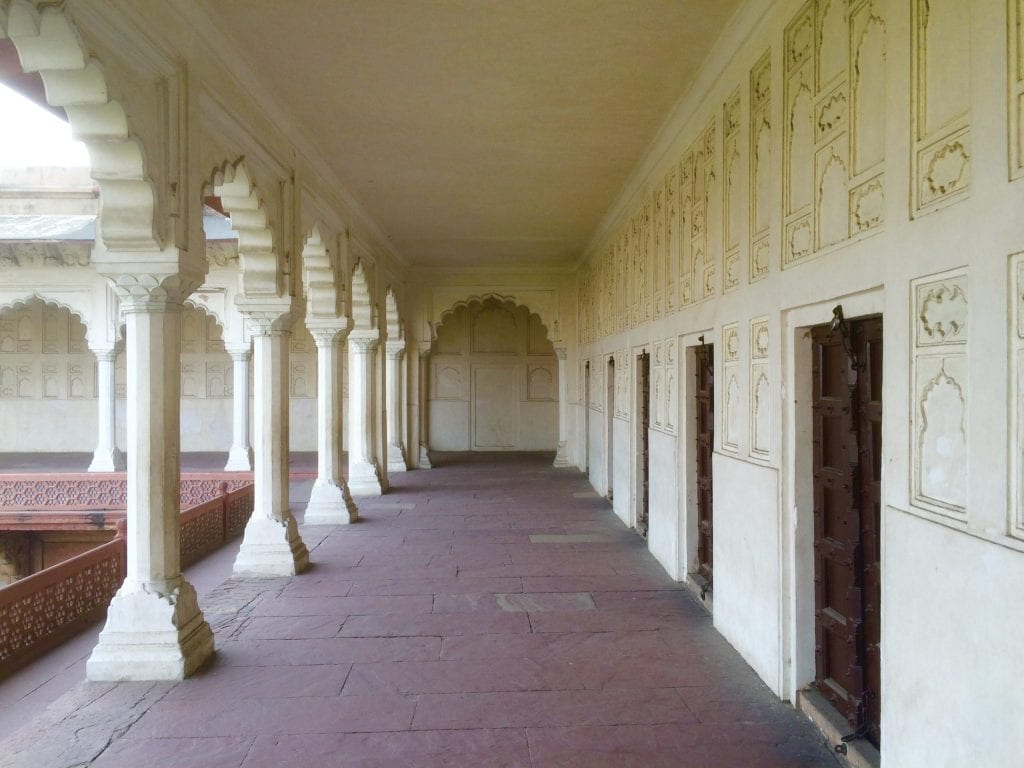 But what's the story of white marbles? Does those resemble anything else? Yes, you are right. The Taj is also made of white marble. Shah Jahan, the grandson of Akbar, was a fan of white marbles. Shah Jahan virtually converted it into a palace from the fort.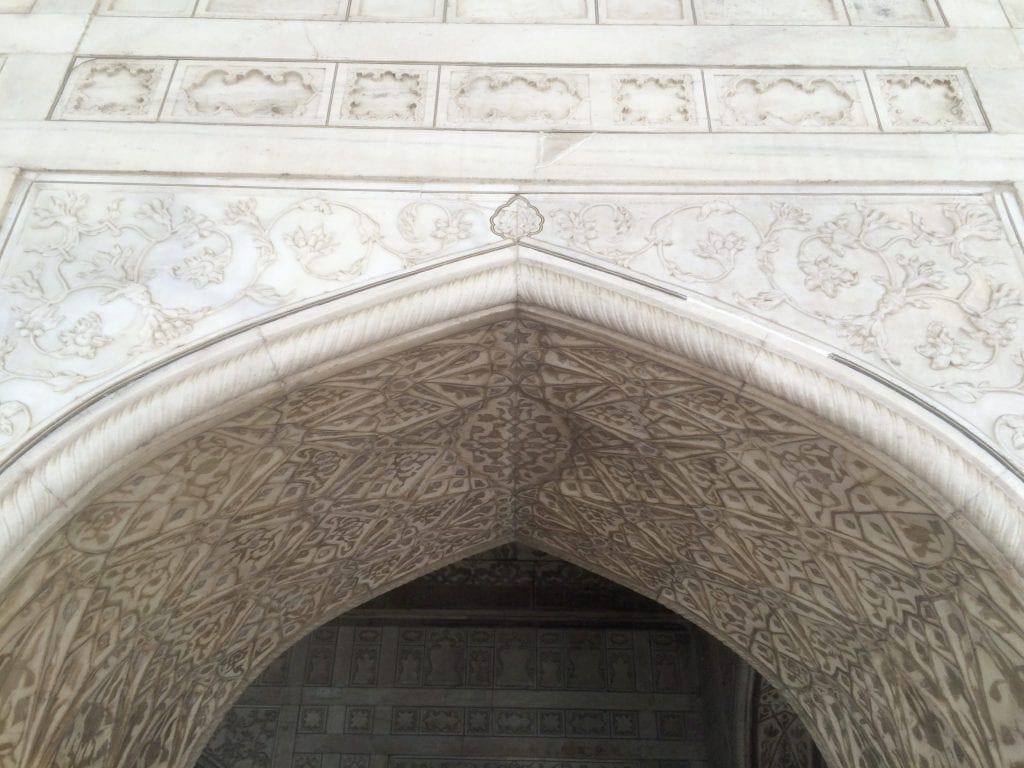 White resembles purity, spirituality. Along with these two, the intricacy produced the designs so gorgeous and beautiful that individuals pay to see them even after a couple of generations.
When I was walking through the fort, I realized that they open not all parts of the forts to the public. A major part of it is used by the Indian army. After all, it's called a fort, right? And it is serving according to its identify even after 500 years.
This place is called the Diwan-i-Am. This means that the hall for the public. When Shah Jahan was in power, he used to sit here and listen to the issues of the residents. So, it can be called a place for holding internal state business. Suppose, someone ransacked the cows of a peasant. So, he would come here in a scheduled day and pursue justice to the emperor. It's a court of some sort. If you look at it attentively, you will be able to find nine arches and three avenues.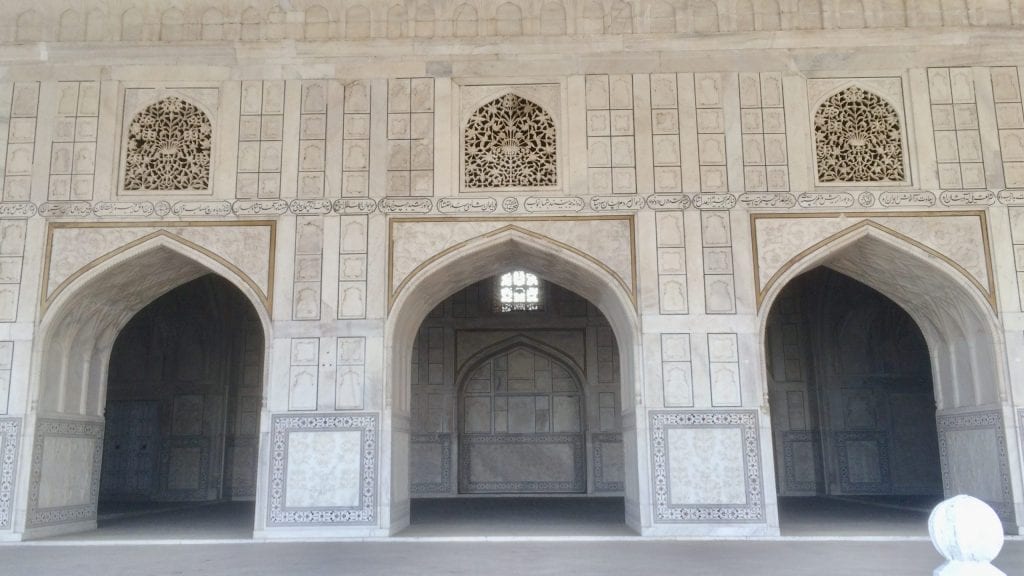 This place is not only an architectural marvel but also an engineering marvel. If you whisper from one side of the area, you will hear from the other side. This is to make sure that the emperor can listen to his men from far. Each of them gather here to present their complaints to the king.
The columns and ceilings of Diwan-i-Am are decorated in gold. It's tough to comprehend that the entire complex was red during the regime of Akbar. Later, Shah Jahan arranged the white marbles on top of the red stones while building some additional parts of the compound.
There is another part of the courtyard which is Diwan-i-Khas. What's the difference between Diwan-i-Khas with Diwan-i-Am? Diwan-i-Khas is more prestigious. When an important delegate visited the emperor Shah Jahan, he used to take them there. It's a hall for private and prestigious audiences.
The wall of the fort is 20 meters tall and has a circumference of 2.5 KM. When they built it, they brought the Red sandstones from Rajasthan.
The history of the Mughal emperor is of bloodshed and brutality. It's hard to believe because family members being killed for the thrones. Aurangzeb was the son of Shah Jahan and became the 6th Mughal emperor. But the story was not a rosy one.
Aurangzeb was not the favorite son of Shah Jahan, Dara Shikoh was. Dara Shikoh was gentle and scholar. Being the eldest and competent, he was all but set to ascent to the throne. Aurangzeb was a militant and used to take part in battles. When Shah Jahan grew old, Aurangzeb betrayed his brothers and imprisoned Shah Jahan. Guess where? Aurangzeb put Shah Jahan into the Agra fort as a prisoner. Aurangzeb was not a big fan of his father's habit of spending too much on establishing fancy buildings like the Taj Mahal. The irony was heart touching. Shah Jahan had to spend his time in Agra fort as a prisoner and from the window, he used to see the Taj, hours after hours. Who knows, maybe he stood at this window 400 years back from where I took the same photo of the Taj. I am sure that the wind was not polluted at that time and he had a much better view than what I had. How would you feel, if you are so passionate to build a marvel like a Taj and later be imprisoned by your son only to find out that, you cannot touch it, you cannot visit there, you cannot spend your time there? All you can do is to see it from far.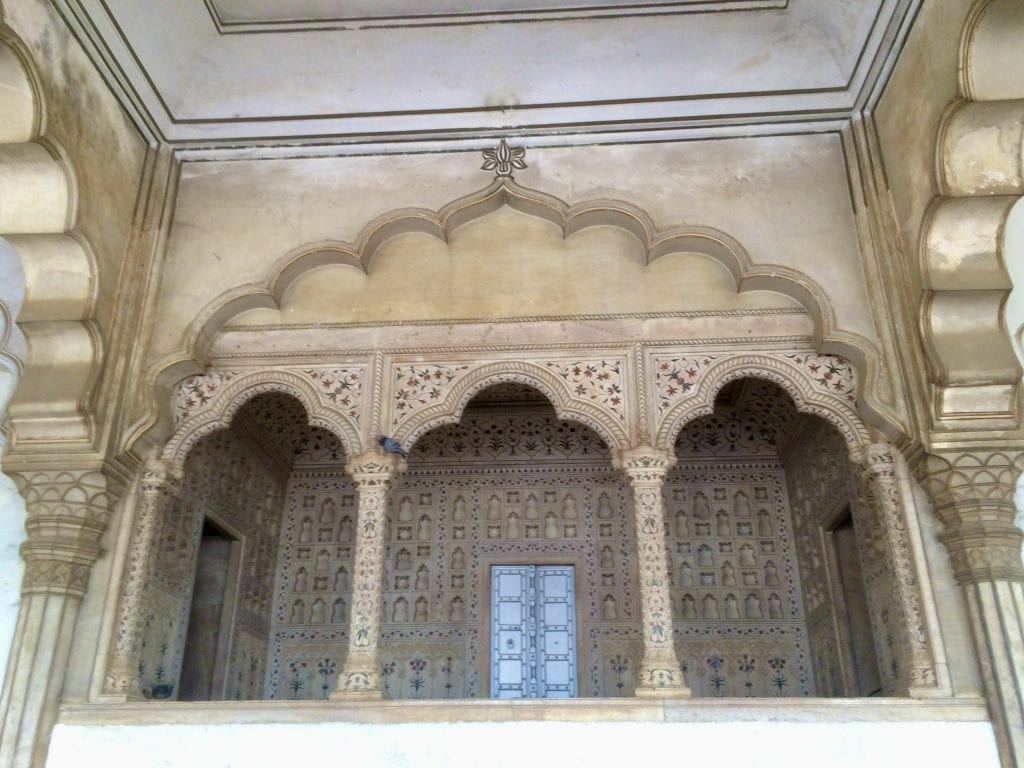 On one of the birthday of Shah Jahan, Aurangzeb dropped him a present. A gift that was covered in a package. The imprisoned Shah Jahan was glad to have it. When he opened it up, in terror, he could understand that the head of his beloved child Dara Shikoh was in the package. Aurangzeb murdered his brother and sent his head to his father to have pleasure only the sadist could explain. Shah Jahan subsequently died in the Agra fort after 8 years of captivity.
It was an interesting several hours for me. I can come to Agra to see the Agra Fort alone. However, I had to leave to my next destination. I am glad that I was there, or I decided to be there before visiting the Taj – it would have been a shame had I missed it.
Buy ticket of Agra Fort online
Entry Fee in INR
40 for the Indians
550 for the foreigners
0 for the children below the age of 15 years
Suggested Spending Time
4 hours
Trivia
Mehtab Bag
As I was done seeing the Agra Fort and the Itmad-ud-Daula, I was waiting for the time! The moment to see the Taj. However, I let the anticipation to reach a new height. I decided to visit the Mehtab Bag from Itmad-ud-Daula. The word Bag means garden. So, Mehtab Bagh was a garden. The garden complex is square-shaped and one of the eleven Mughal made gardens.
This garden is located in a place that one can see the backside of the Taj from there. The Yamuna river is setting the garden and the Taj apart. The idea behind visiting this garden was to see the Taj with no crowd. They built this garden before the Taj. It is said that Shah Jahan chooses the construction place of the Taj in a way that he can enjoy the beauty of the Taj from this garden – he named it "Moonlit Pleasure garden". Just imagine that you are seeing the Taj from here and the river is flowing between you and the beautiful Taj. And it's a moonlight night with no pollution 400 years back.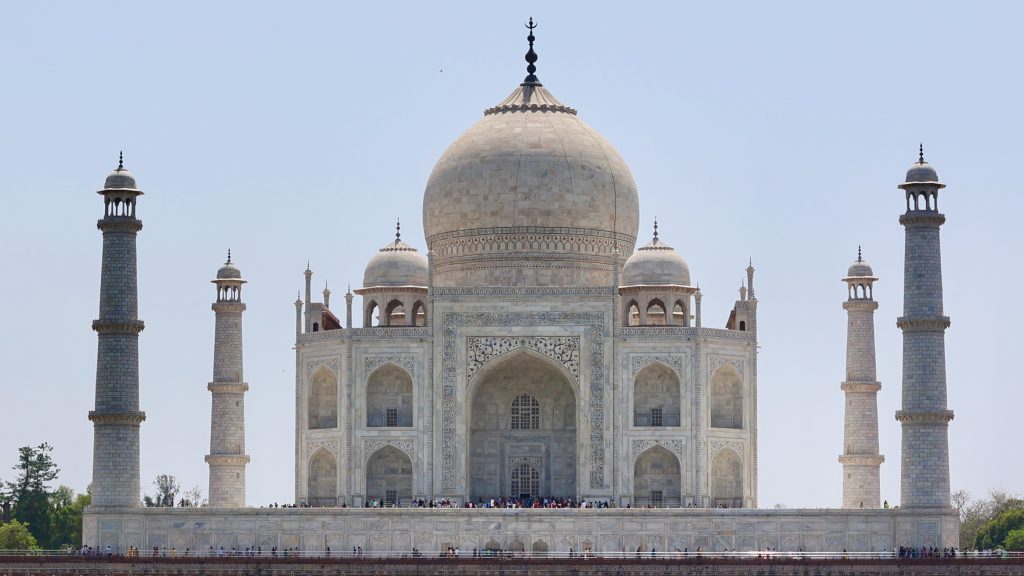 So, here it is, I got the first actual glimpse of the Taj from the Mehtab Bagh. There was a fence made of wire at the boundary. The Yamuna river was narrow during winter. I got the view of the Taj all alone. However, it was the backside of the Taj and it was not polished. Also, I saw millions of small creatures in front of the white marble wonder! Wait, those are humans and I will join with them soon.
I took a tour of the garden. The Taj was even visible in a distance.
The garden itself was not a remarkable one. Or, maybe I was so excited to see the Taj Mahal, everything else became bleak, especially when I already got a glimpse of the Taj.
I was holding my breath and leaving the garden. I will finally visit the place I cherished for years. I felt nervous. Will it disappoint me?
Entry Fee in INR
5 for the Indians
100 for the Foreigners
Suggested Spending Time
30 minutes
Taj Mahal
The sun and the moon shed tears from their eyes.

Shah Jahan, the Emperor who built the Taj
The Taj Mahal rises above the banks of the river like a solitary tear suspended on the cheek of time.

Rabindranath Tagore, Nobel laureate poet and writer in India
When my three-wheeler dropped me near the gate of the Taj – two things happened. Many people approached me to take me as a guide. The rest of them came to offer me to take my photos. Both were equally relentless. I hired a photographer to avoid further disturbance.
I bought my ticket online before to avoid the rush in the ticket queue. Apparently, the ticket man in the gate got confused after seeing it. I think, few people buy the ticket online. Or, may be the man in charge of the ticket was a new recruit. Anyway, I entered with no hiccup. Furthermore, I was given a shoe cover and a 500-milliliter bottle of water which was included with the ticket price (Ask for it if they do not give it to you with the ticket)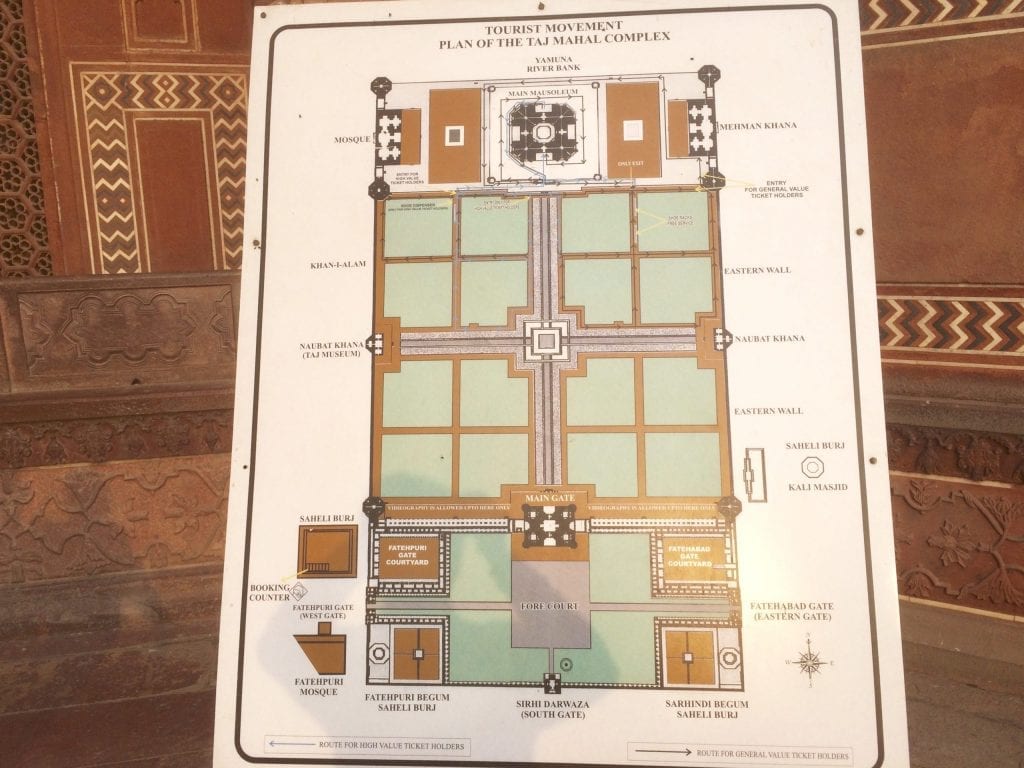 There are three kinds of tickets. If you a foreigner, you are carrying a high-valued ticket and will be directed to a special shorter queue.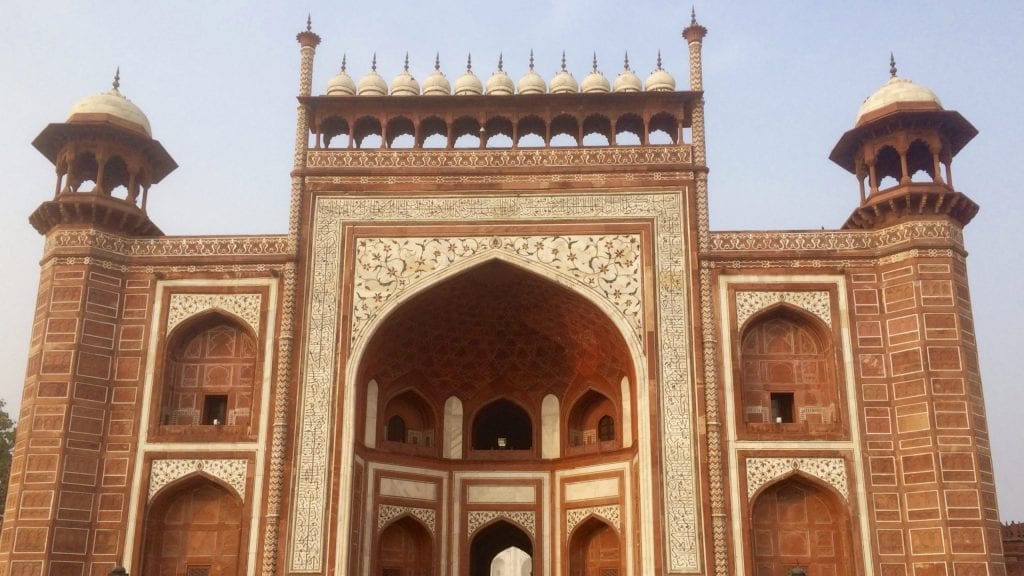 The gate for entering the Taj looked like the Itmad-ud-Daula, although it was much bigger. There were floral designs on the age. I entered through the gate which is called the Great Gate. You will enter the garden through this which symbolizes paradise. Basically, you will enter the paradise through this gate. It means it's an entryway to the paradise. The gate comprises five iwans.
The central one is the biggest with 6 small openings, the main door. Rest are decorative. It was made of bricks and covered with red-colored sandstone.
I am all set to enter paradise – through the gate.
I was born and brought up in Bangladesh; I reside in Bangladesh. It shares borders with India. In fact, we were a part of the Indian subcontinent 75 years ago. Since my childhood, I have been following pictures of the Taj everywhere – on the television, in the books, in a relative's house, in the library, or even on the wall of the hairdresser I needed to go to trim my hair. So, I was uncertain what to expect from this "man-made architecture"!
After so many years, I am about to see it. I closed my eyes for several moments, walked through the gate and opened my eyes.
WOWWW!
I was instantly blown away by the sheerness of this marvel. It didn't matter how many times I saw it in my life in photos, in reality, it was way more beautiful than the photos.
It was buzzing with people. Everyone was taking photos and selfies. And the number of poses was infinite. I started walking closer. Initially, the four minarets – two at the front and two at the back were visible. As I was approaching nearer, I realized that the more you come closer; you lose sights of the minarets, and the Taj looks different.
The pollution of Agra is notorious. The industries, brickfields, emit smoke and are destroying Taj. It's such a shame for us and an enormous loss for us. I was thinking how it looked two hundred or even a hundred years ago. It's looking so gorgeous and beautiful now – even after losing its grace by the pollutions caused by humans.
The immaculate minaret is 40 meters tall. There are four of them. They do not look perpendicular. We are not sure if it was intentional or has leaned in course of time. Some think they build it that way so that, in case of an earthquake, they do not fall directly on the major structure. They will fall outside if such an unfortunate event occurs.
The primary structure of the Taj is laying on a big platform. They made the primary structure of white marble, close to translucent. There is a wonderful design of petals, and flowers embodied with intricate ornaments.
If you look closely, you will see Arabic on the structure. Those are some verses taken from the holy Quran, the scriptures of Muslims. The architects designed it in a way that that every character looks similar in size regardless of their placements. Doesn't matter how far on top they are or how bottom or in the middle, they look alike.
Taj Mahal is an example of perfect symmetry. There are five domes. One central big dome surrounded by four smaller domes. The Taj changes its color depending on the variations of light. It means that it looks different during different times of the day. The softness of the morning equally influences the mood. It's a perfect place to enjoy the moonlight. That is why the Taj accepts tourists during the nights of the full moon and many exclaimed it as an amazing experience. Unfortunately, I could not plan my trip according to the schedule, and now I have a perfect cause to visit it again.
There is a beautiful garden on the campus. It's called Charbagh, means four gardens. In the garden, there are also fountains. When the fountains are nonoperational, one can see a reflection on the Taj on the water. And it looks fabulous with the reflection. The British have changed the current structure of the garden of the Taj to look like the British lawn. They invaded India and took control of the management of the Taj, too. The garden previously was wilder and full of flowers.
I took the photo above from the platform, keeping the Taj on my back. It means that I took the photo from right in front of the Taj, keeping my back towards it. This frame shows a better view of the garden, fountains and the entry gate at the far.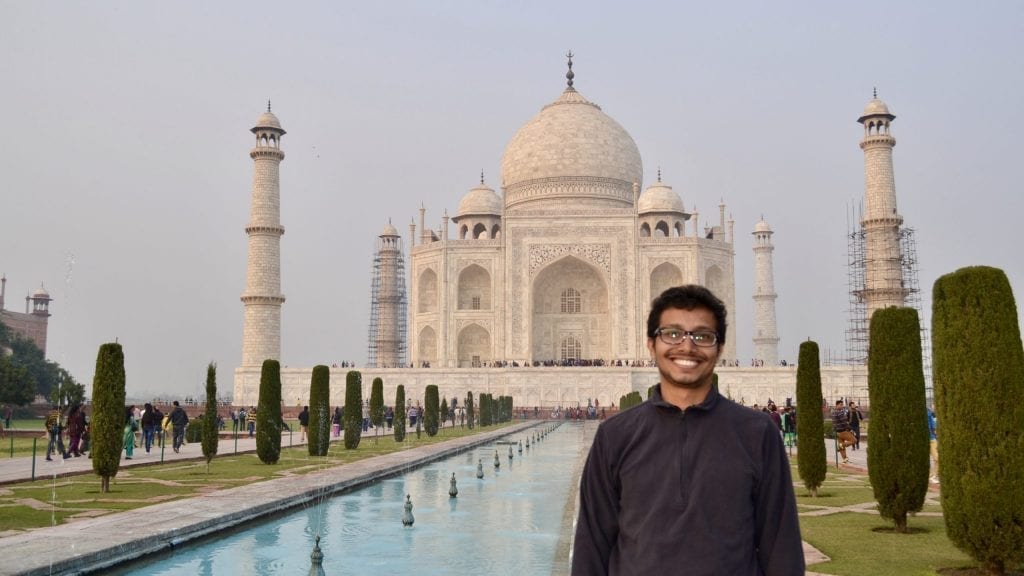 It places two false tombs of Shah Jahan and his wife Mumtaz Mahal inside the main chamber. However, their veritable tombs are laying underground. The campus also makes up a guest house and mosque.
I felt a sadness mixed with excitement. I don't know where did this sadness came from. Maybe, I felt for the emperor, Shah Jahan who was so grieved so see his wife die that, his hairs turned grey overnight. He wanted to make her wife famous and built the Taj immediately. Maybe because Shah Jahan could not cherish this masterpiece long enough because his son imprisoned him in the Agra Fort. Maybe because, this giant structure was a witness of so many things on earth while people perished. Maybe because I felt so insignificant in-front of this. Maybe because a long-cherished dream of seeing it closely is ending as the darkness looms.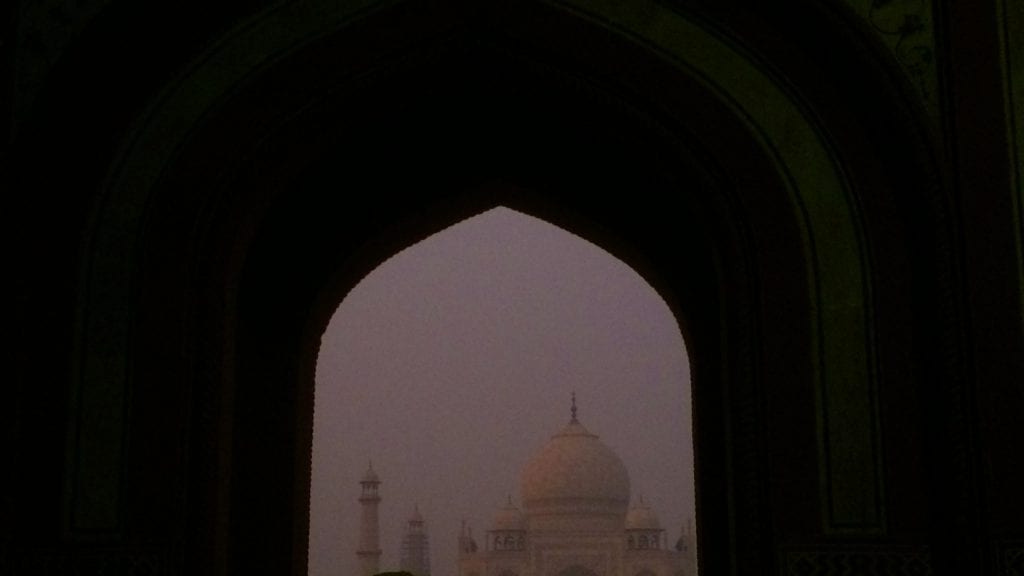 And my time to leave the complex appeared finally. Every stride I drew towards the exit doorway, I virtually stopped and glanced back. I stared for a lengthier time back once more before disappearing through the door. I felt that the Taj is not a lifeless object but can see people like me coming in and leaving each day.
I whispered to it – "Take wonderful care of yourself, you are a true illustration of what humans can make – through their sheer imagination, intelligence and willpower. Humans need you – to look at you, to meet you, to feel you, centuries after centuries."
It couldn't nod, however, I am sure; it smiled at me like it always has been – for the last four centuries.
You can buy the ticket of Tajmahal online from here.
Entry Fee in INR
50 for the Indians
1100 for the foreigners (includes the price of a show cover and a bottle of water)
540 for the citizens from SAARC and BIMSTEC countries (includes the price of a show cover and a bottle of water)
+ 200 for visiting the main mausoleum
Suggested Spending Time
Eternity
Important fact about Taj Mahal
It's a UNESCO World Heritage Site.
It's one of the new seven wonders of the world.
The Mughal emperor Shah Jahan built it in the memory of Mumtaz Mahal, who died while giving birth to a child of his.
They buried Mumtaz there. After the demise of Shah Jahan, they also buried him beside his wife.
20 years, 20,000 workers, 1000 elephants worked from 1632 to 1653 to build it.
The full height of the Taj is 171 meters.
The height of the main dome is of around 35 meters.
The dome symbolises of leaving the soul to heaven.
It is said that Shah Jahan has a plan of building a black version of the Taj. He couldn't do it as his son captured him.
You will get some of the best views of the Tajmahal from outside of it.
Practicalities
You cannot enter there with a bag, so just keep a moneybag with you. You cannot even enter with snacks, cigarettes or lighter.
It's closed on every Friday to the visitors. Muslims offer their prayers in the mosque inside the campus.
You cannot fly a drone operated camera within 2 KM radius of the Taj. Kindly don't try to do that.
There are three gates through which you can enter – West, South and East.
Tour groups usually enter through East and West.
Solo backpackers usually enters through South as it is near to the backpackers' heaven in Agra, Taj Ganj.
There are separate queues for men, and women watch out for it.
Book your all inclusive Day Trip/ same day Agra Tour to Taj Mahal, Agra Fort and Baby Taj from Delhi by Car
Best Places to view the Taj
Rooftop of Saniya Palace Hotel.
Metab Bagh.
Agra fort during sunrise.
South bank of the river during sunset, take a boat to enjoy it to the fullest.
Tour Map for Agra
Hotels At Agra
Following are some top rated hotels in Agra. If you are not a frequent traveler and visit India for the first time, you should not book a cheap hotel in Agra as the city is notoriously infamous for the frauds.
Agra Airbnb
If you do not want to stay in a hotel and wanna experience staying with locals, Airbnb is a great option. If you do not have any Airbnb account open on using this link, you will get US$50 credit! In many places, my Airbnb experience exceeded far and those were much better than staying in a hotel. Below are the links of top 5 Airbnb in Agra which I curated by going through their reviews. You can book any of them, I hope, you won't regret!
Liked the Places to Visit in Agra in One Day? Pin it!