Mount Fansipan is the highest peak in the Indochina peninsula. You can go for a hike to mountain from a Vietnamese town named Sa Pa. Here is your ultimate guide fora hike to Mount Fansipan on your own.
It was a misty day in December. I was in the Northwest region of Vietnam in a village named Sa Pa. There I met a young and energetic German gentleman named Mert. We both were alone and backpacking. Our chemistry matched, we formed a team, stayed together, roamed around the town with a bike. It was a lot of fun. However, we were insatiable. We decided to try something more adventurous. Suddenly, I found that the highest mountain in Indochina (Vietnam, Laos, and Cambodia) is near Sa Pa! We started digging deeper. This is how the idea of the Fansipan trek came to my mind.
Read: How to go to Sa Pa from Hanoi by a train
What is Fansipan?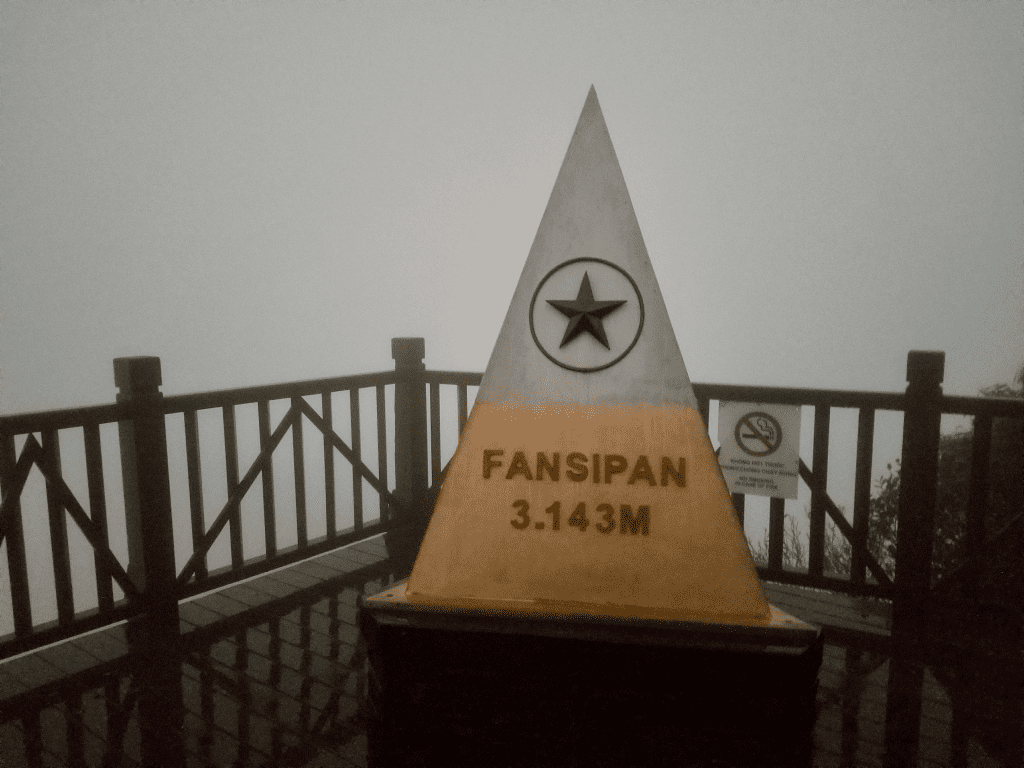 I found the name of the mountain interesting. It has a kind of rhythm that makes me utter repeatedly.
The Vietnamese call it Phan Xi Păng.
If you consider the height of Fansipan, it's rather disappointing. I could not believe that a 3,147 meters high mountain can top in three countries. When I went to Annapurna Base Camp in Nepal, it was at an altitude of 4,130 meters. Then again, the highest peak of Bangladesh is only 1,063 meters.
We were not sure if it would add a feather to our cap, but who cares! We decided to climb it.
The Challenge behind Fansipan Trek
Both I and Mert were backpacking. We were not in any mood of spending any handsome amount of money. Apparently, local people told us that we need permission and a guide to go on top of Mount Fansipan. Multiple people died and went missing while climbing this mountain. So, the authority made it compulsory to take permission before climbing. We could not verify the news, but it was rather disappointing for us.
I climbed to Annapurna Base Camp on my own with no guide. That was about 8 days of trekking. I could not digest the fact that I had to take a guide for a trek that lasts 2 days or even possible to do in a day.
Taking a guide means less flexibility and freedom. So, I hate it!
Impulsive Decision
Sometimes, humans take unpredictable and impulsive decisions. We made that kind of decision that evening, which we might not have. Sa Pa becomes cold at night. Ideally one should start the climb early in the morning. We discussed a lot about whether to do it or not. The discussion killed our time, and it was already late. Despite all the odds, we decided to start our trek to Mount Fansipan on our own. We asked people to show us the path for starting the hike. Based on that, we started our journey.
We Started to Trek Mount Fansipan
I never have been so underprepared for a trek. We didn't take any bags with us. Can you believe it? There was no food with us. We didn't know how long it would take to reach the base camp where we can stay. Everyone said that we need to pre-book accommodation in the camping ground through a guide.
We marched forward through forests. The weather was not great and there was no one on the trail. Well, it's not entirely right. The spiders and worms welcomed us.
The trail was diverse. We started it on a wooden platform along with railings. Then there was a steep ascent. Interestingly, the authority put on stairs made of steel. It made our journey easier, but the trail less authentic.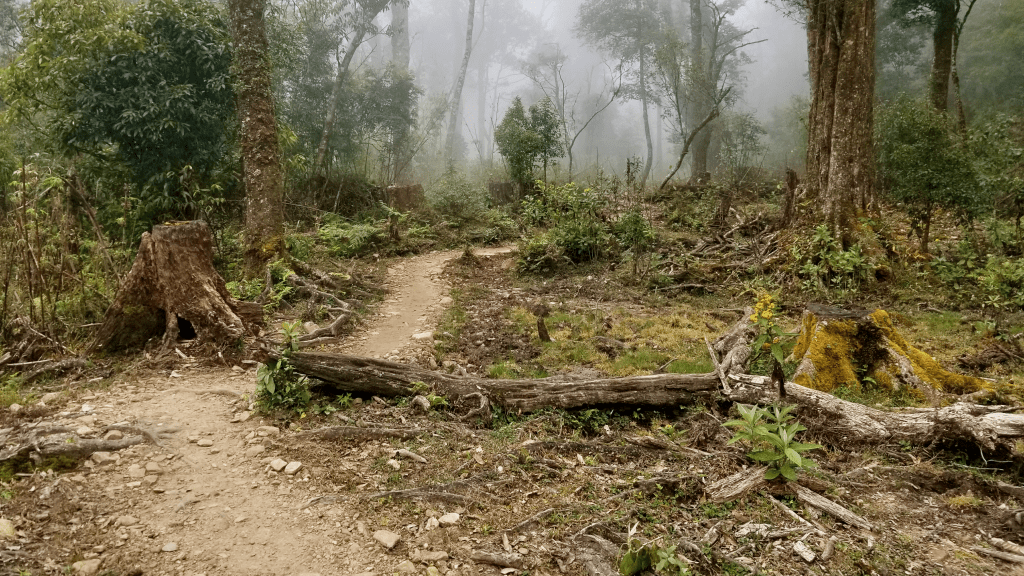 It was not all about ascending. We walked through the jungle, which was thick in patches. There were tall trees in both ways. Some of them didn't survive and resting flat on the soil. There was no shortness of green trees. It was kind of wild.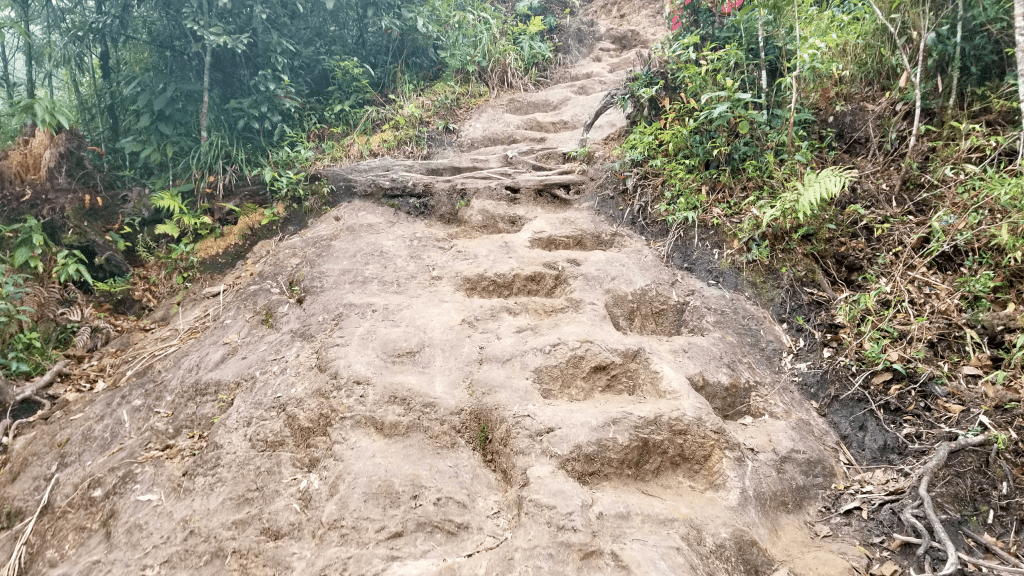 Then came the straight, almost vertical climb on granite stones. My lungs felt the absence of air. My heart pumped faster.
I was cursing for not bringing enough water with us. We were only carrying a liter. Whenever I climbed a rock or stair; I wanted to have a sip. We didn't know if there was any place on our way to grab water or take food.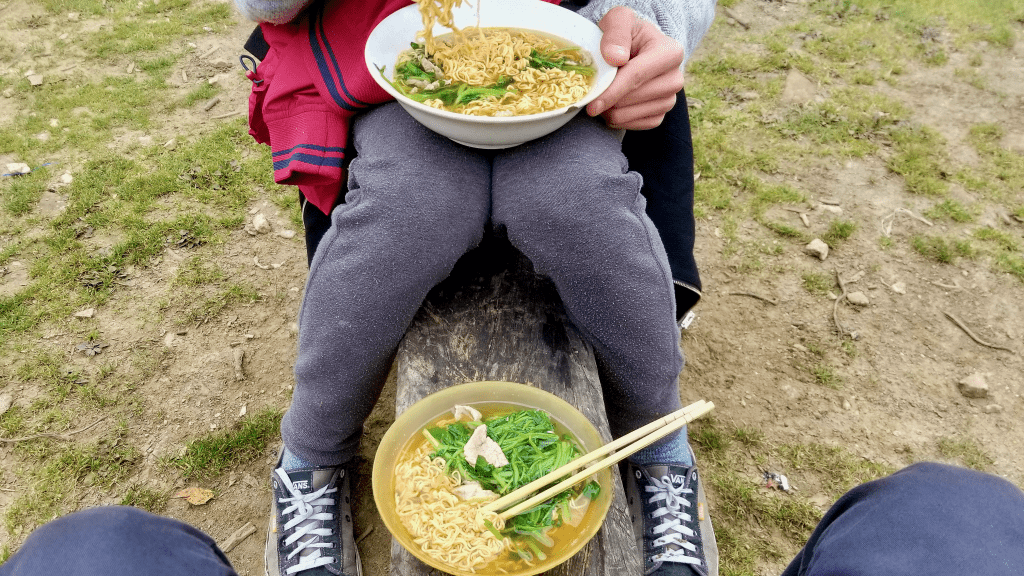 This thought of dying in hunger or thirst instills more hunger and thirst. Suddenly, I saw a painted house and a restaurant. I thought I was hallucinating. Fortunately, Mert could also see that. We were so happy; we ordered the only available food from the menu – one for each of us. We were happy; we got a fresh life!
We could not afford to spend much time there. We have to find a place to stay before the sunsets. Although there was no sun within our eyesight, the visibility was not bad.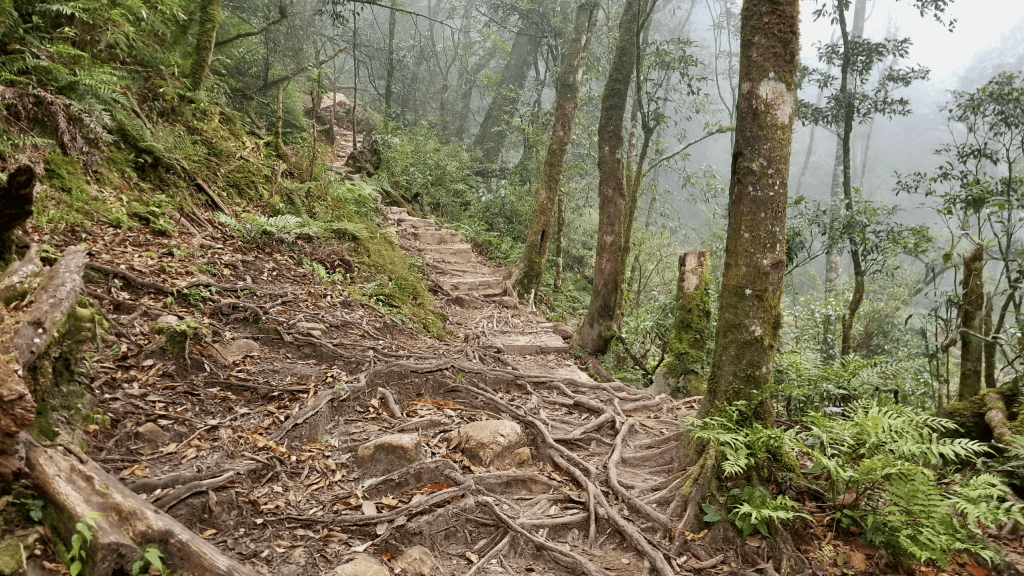 The roots of the trees were so strong, I stumbled upon them twice and about to lose balance. I don't blame the trees; they were devoid of soils and did not have any option but to spread their roots for survival. It was difficult to guess the time of the day. We were relying upon our watches to keep track of our time.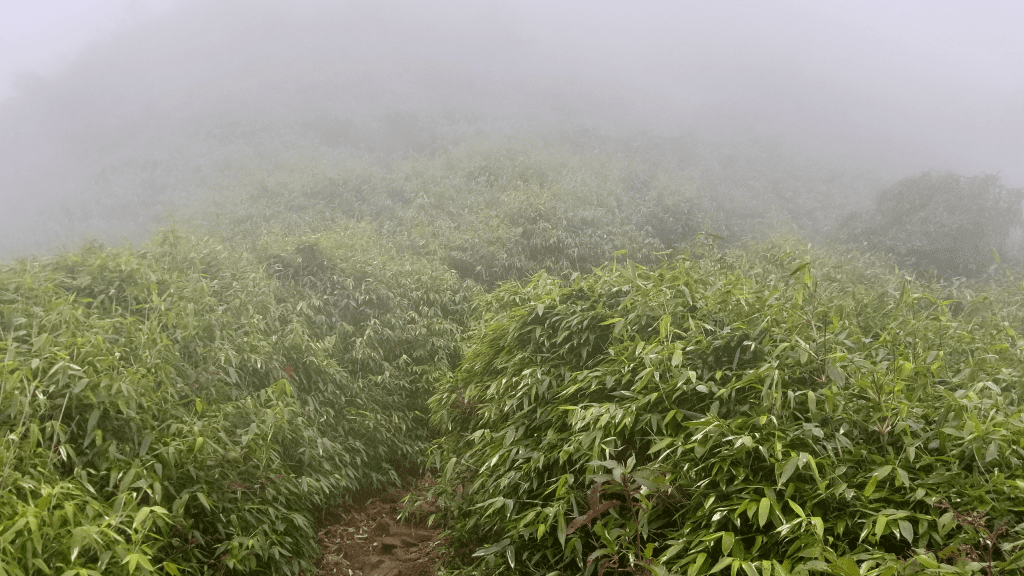 The trail kept transforming over the period. It was full of surprises. Sometimes, it was taking us up through slopes or stairs, and sometimes; it was putting us down to a flat piece of land. After a while, we were going through bushes. Those were confusing as the trail was hard to get by. However, we made our judgments and tried our luck. The show must go on and we must march forward.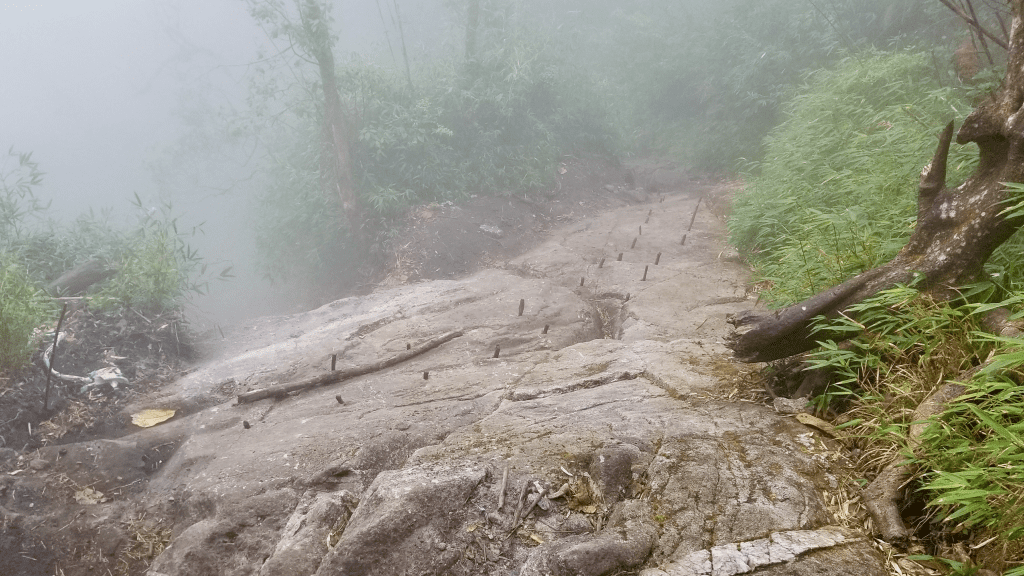 My heart sank a little when I saw this enormous boulder. It was blocking our way. I thought we lost track. Then, we realized that there are some nails put on the body of those boulders. I saw people climb it using ropes in the movies. We did not have any rope with us. So, the time came to assess the situation. I didn't know who took the lead, but one of us crawled. Fortunately, we could manage some supports from the screw on the boulder.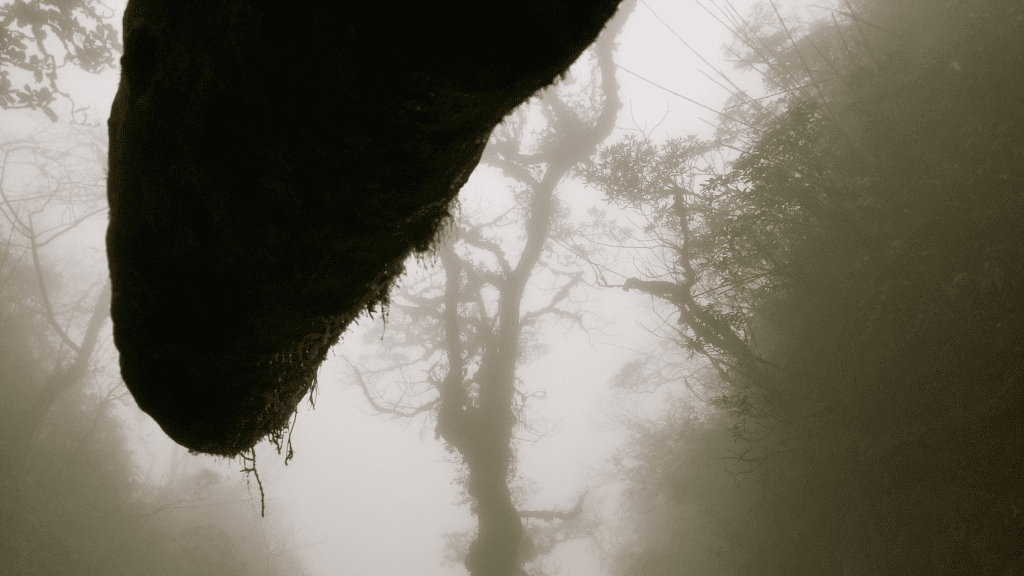 Time was running out of our hands. The weather was turning grey dramatically. The bitterness of cold was stinging through my newly bought jackets. It was damn cold and misty. Our unknown journey to Mount Fansipan continued. Before starting the trek, I thought about enjoying a 360-degree unobstructed view. Instead, I entered a shooting set of dramatic setup. The light, darkness, mists, and dews created an enigmatic surrounding.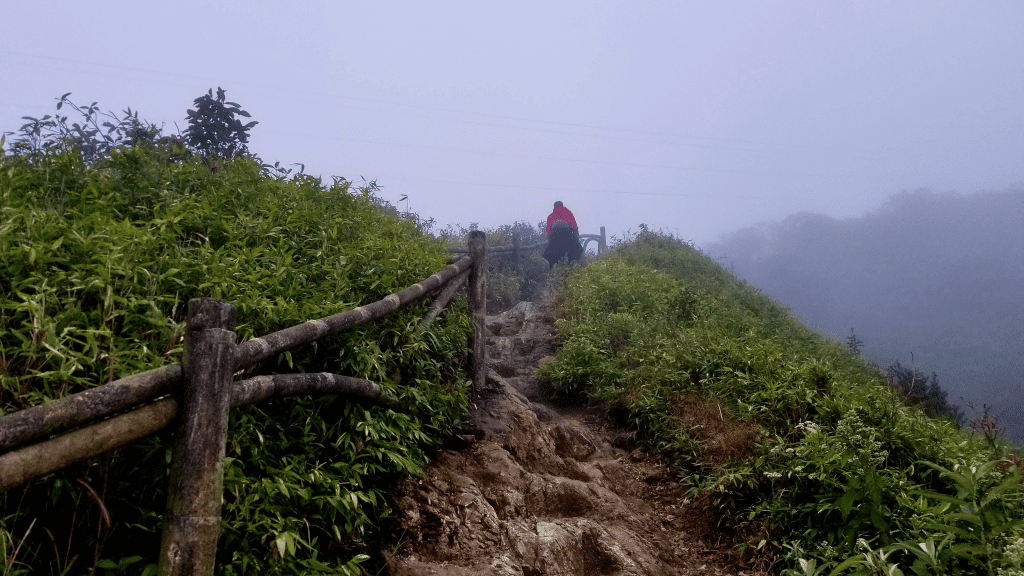 My body was demanding rest, my mind instructed to move. We need shelter for the night. Forget about a sleeping bag, we didn't even have a spare piece of cloth with us. It rained in Sa Pa before. So, the trail was all muddy. It was not helping us, but that is the life of a hiker. There is not much to complain about, though. At least there was not any ice on the trail.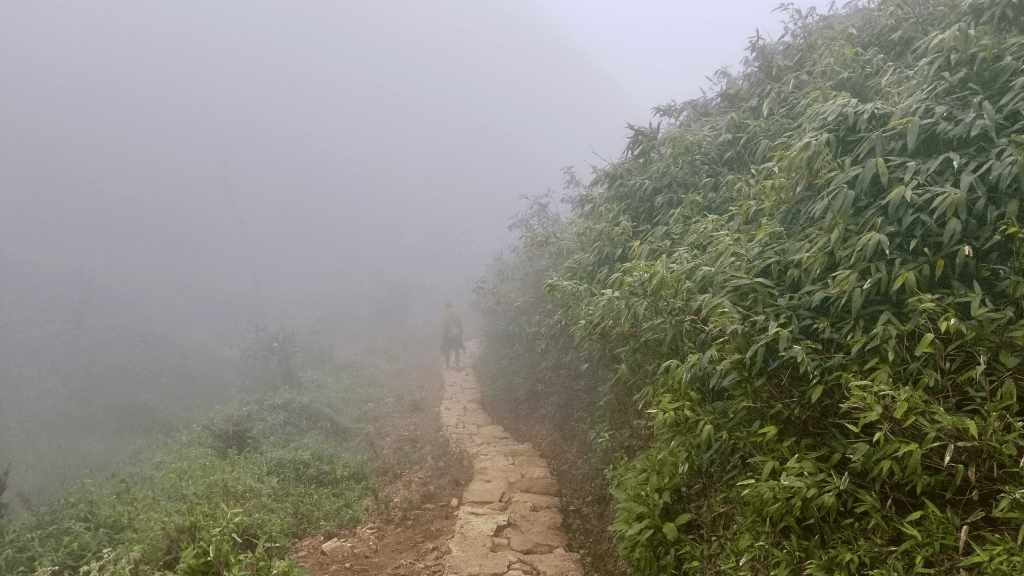 Doubts like mists were clouding my thoughts. All the negative news like accidents, missing persons, and deaths got into my head. The physical and mental stress was getting to me. I was fortunate to have Mert with me. We chit chatted the whole time. As I mentioned, there was not a single soul on the trail. It would have been dreadful to hike there alone.
A Ray of Hope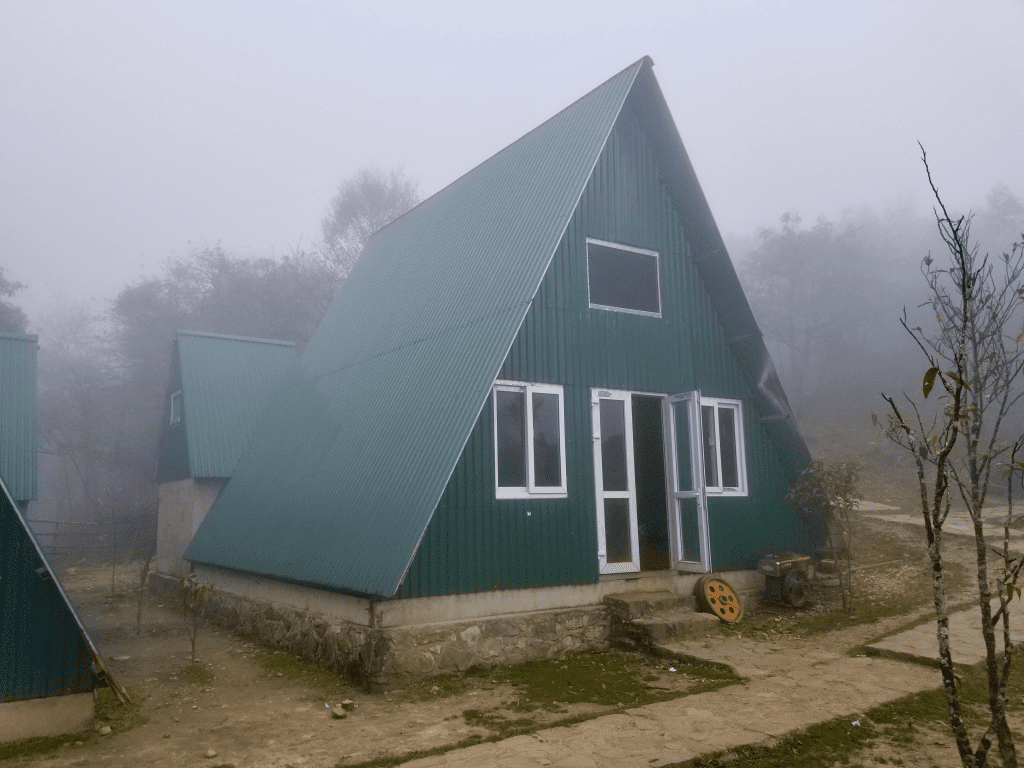 Just when we thought we wouldn't find any place to stay at night, we found a set of huts from far. I was so relieved; I shouted in joy (and jumped!). We rushed into it. There were multiple beds placed in those huts side by side. I found the caretaker of the camp and began our conversation.
Dissapointment
"We need a room for the night" – Fuad and Mert
"Sorry there is no room available." – Caretaker
"Not a single one?!"
"Sorry. Not a single one, a group of Vietnamese students pre booked all of them."
"Can I find any accommodation if I go ahead?"
"No, there is none. You should have pre-booked."
So, our hope of getting a roof on top of our head disappeared. But, we did not move anywhere from there, that's the only place where we could survive the chilly night.
Kindness and Friendship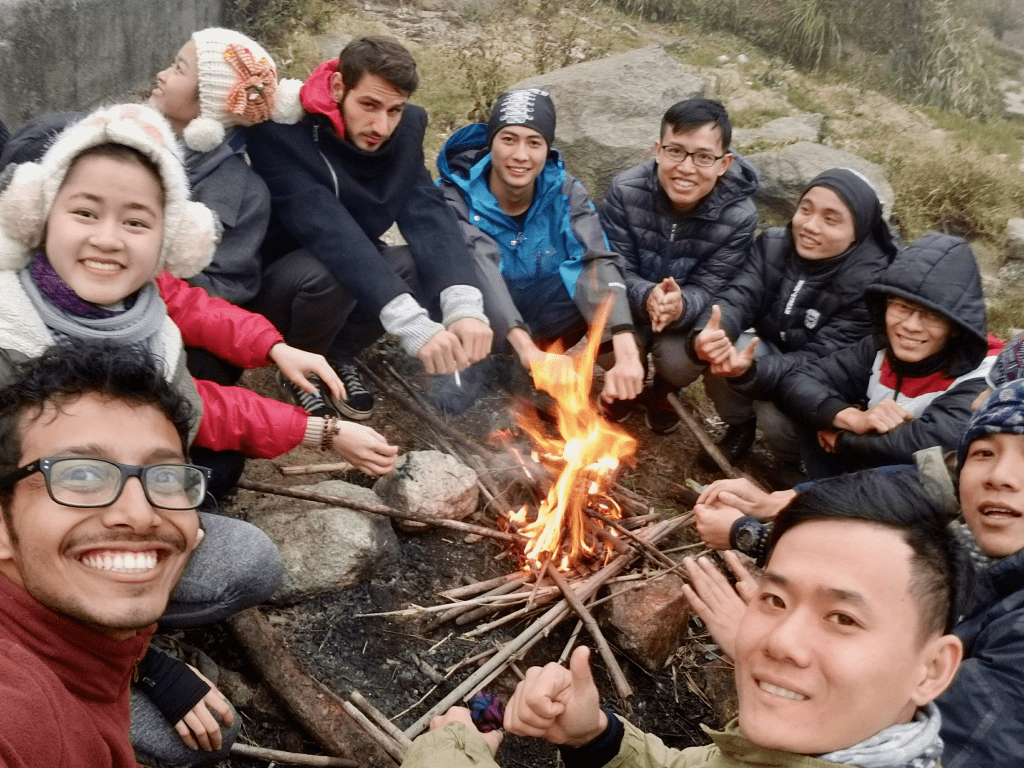 We found a group of Vietnamese people nearby. A bunch of boys along with some girls. They were enjoying their time during the weekend. We tried to mingle, and it was easy. They do not get to see a (white) German and a (dark) Bangladeshi together every day. It was extremely cold and windy. Several layers of jackets could not protect me from shivering. So we joined them where they lit a fire and had fun.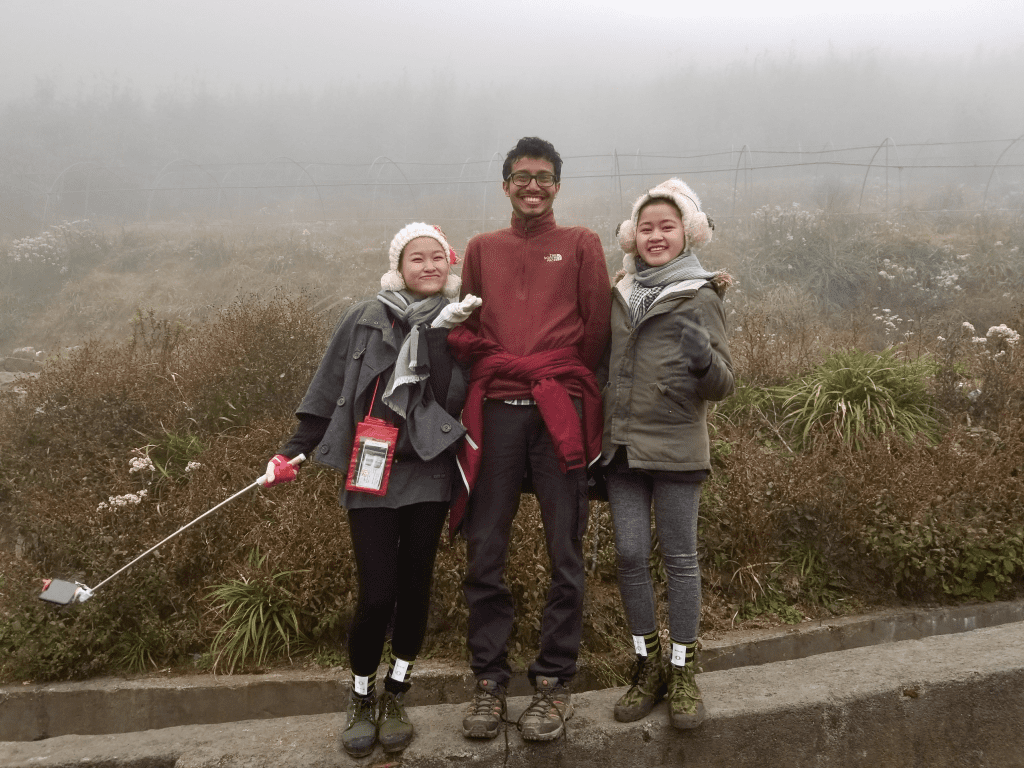 The group of people came from Hanoi. They were from the same college and came here for an excursion. I forgot the name of the girls, but they were experts at taking photos. They were shooting photos from every angle with such facial and bodily expressions that I could not help laughing. At one point, one girl asked me to sit down. I was not sure about what's happening. But I obliged. Then, she jumped onto my shoulder and the other girl clicked photos!
The Night
Now is the hardest part.
We had no other way but to ask them to take us inside so we don't freeze to death. They set the cots adjacent, and one room contained multiple of them in a different orientation. So, while it was not pleasant, it was possible to sleep altogether.
They discussed among themselves keeping us on an edge.
Finally, we got permission to stay. I immediately rushed inside and went under a quilt! Enough of adventure for me for the night. The dinner was mostly noodles, and we went to sleep right after having it.
I slept in a hostel before, but sleeping all together with unknown people at once was something new to me.
Before Sunrise
We woke up and resumed our hiking very early in the morning. It was dark outside. We were using torchlight and hiking in a group this time. After half an hour of hiking, we got separated from the group. There was some gruesome ninety-degree climb. It was not very difficult but had to be done carefully. I saw some ugly bases there, along with cables on top. Here is the thing I hated about the place. The cable car! Seriously? I am glad that places like Nepal did not implement one yet. It kind of ruins the wilderness of such a beautiful place.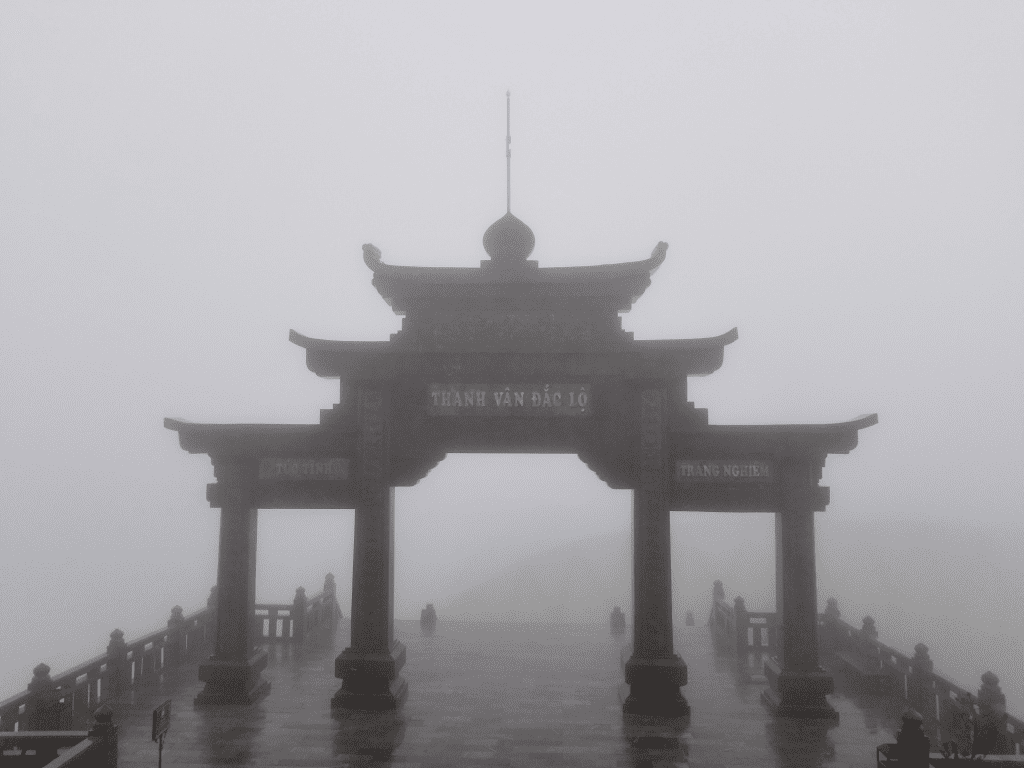 At the end of our hiking, we climbed a series of stairs made of woods. They made it to mark the entrance to the peak. It was kind of funny to me; I saw nothing like this while hiking to a mountain. Then again, I imagine, some people arrive using cable cars and expect structures like this to take photos.
At the Peak of Mount Fansipan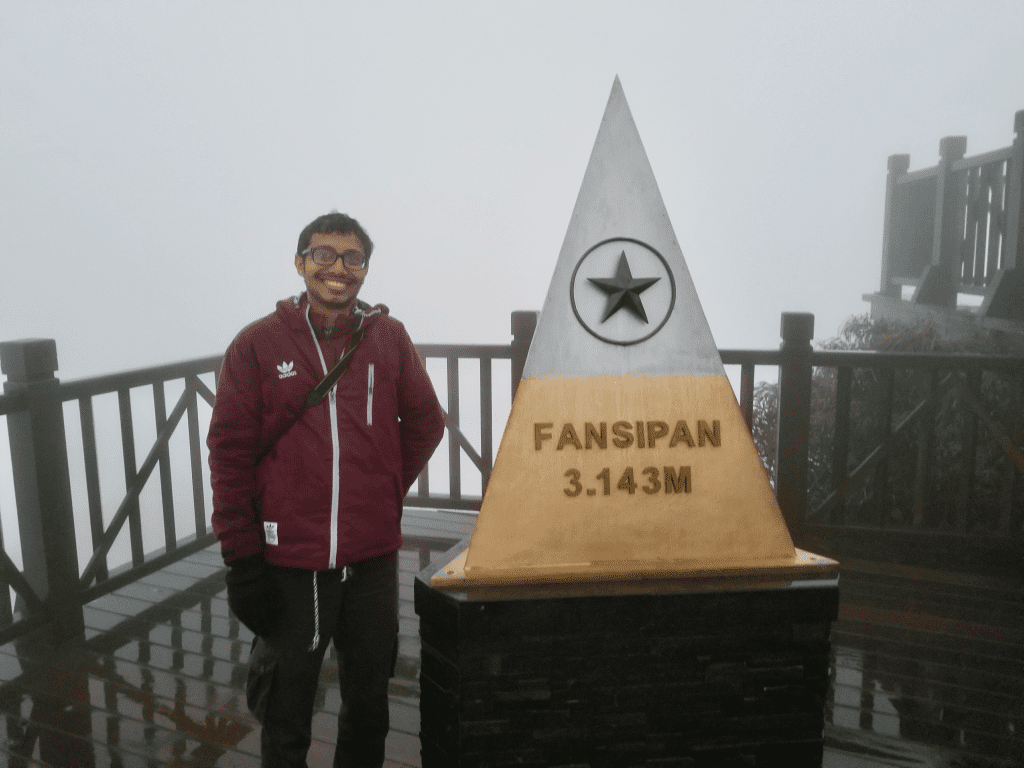 Finally, the moment arrived. I reached the top of the Indochinese peninsula which is often called the Roof of Indochina. However, I was not standing on top of a stone or grass or a mountain. It was a nice observation deck made of woods protected by a railing. Flag of Vietnam was proudly announcing its presence. There are multiple observation decks from where you can enjoy the panoramic view. Unfortunately, it was drizzling, and the fogs killed the visibility. We waited for the sunrise. Sadly, the sun never appeared.
Shivering Cold
I roamed around to explore the area. There was almost no one there. Who wants to be there in such bitter weather? So we left after a while. I wanted to do a video when we were going through the stairs. You can see it from the top. The whistling sounds are from both the wind and me. It's up to you to decide which is more prominent!
Descend by Sapa Cable Car
As much as I hated the cable car, I wanted to use it for the descent. I did not want to take the same route back to Sa Pa to save some time on my trip. The car was not operating that early, or maybe it was because of the weather. So, we waited there until it opened. The Gondola dropped us near the town; we took a shared taxi to reach the city center of Sa Pa. You can book the cable car ticket online ahead.
Thus our adventure of climbing on top of Mount Fansipan ends in the morning.
Wanna do the Fansipan trek with a guide? Book from here.
How to Reach to the base of Mount Fansipan
Travel to Sa Pa by bus, train, motorbike, or car. Once you are in Sa Pa, either hire a guide (recommended) or do the trekking as we did.
Fansipan Trek Facts
What is the trek distance to Mount Fansipan?
It's about 12 to 14 Kilometres one way.
How much time is needed for going on top of Mount Fansipan?
You can do it in a day if you are used to hiking or fit. However, it might not be a bad idea to break it in two days. It will give you an opportunity to stay at the campsite at night and mingle with people. More precisely, it takes 6 to 7 hours for the ascent and 5 to 6 hours for the descent.
Which trail to take for a trek to Mount Fansipan?
While there are several trails that will lead you to the top of Mount Fansipan, the Tram Ton Pass trail is the easiest.
Will I Suffer from altitude sickness during my trek to Mount Fansipan?
I don't think so. People actually struggle over 3600 meters. Mount Fansipan is way below that.
Do I Need a Permission for a trek to Mount Fansipan?
I heard from the locals that, it's mandatory to obtain a permit. But I did not find any concrete information anywhere. I climbed without one and did not face any trouble. It does not mean that I am encouraging you to do the same. I am asking you to be sure about the rule before making your decision.
Tips for a Fansipan Trek
Avoid rainy days or winter. When I went there in December, I did not get a pleasant view of the surroundings. I heard that October to April is the best time.
If you do not want to hike, you can take the cable car. It will deprive you of the adventure but will give you the excitement of standing on top of the mountain. The cable car in Fansipan operates from 7:00 AM to 6:00 PM.
Regardless of the season, take some warm clothes, it can become cold anytime at the top.
If you trek alone, don't forget to take water and snacks with you.
Wear a good hiking shoe with grip.
A trekking pole or stick will surely make your life easier.
Liked the Fansipan Trek Article? Pin It!
Further Reading
2 Awesome Days in Cat Ba Island in Vietnam