Cat Ba is an island in Vietnam mostly famous for its jaw-droppingly beautiful landscape. Cat Ba island has so many things to offer – enigmatic Lan Ha bay with limestone curst, beaches and hiking to mountains. This is your ultimate travel guide for visiting Cat Ba Island.
During our trip to Mount Fansipan, we met a Canadian in the base camp. We stayed in the same place for the night. The guy had been travelling in Vietnam for several weeks. We were having a regular conversation, a conversation travellers always have among them. I asked him which is his favourite place in Vietnam and he responded, its Cat Ba!
Cat Ba?
I never heard of it before!
"Mert! Did you? "
"Yes, I did, he's the third person who told me about Cat Ba."
I immediately searched that in Google, and that night I kept dreaming about going to Cat Ba.
The next morning when I came to the town after our two day's trek to Mount Fansipan, I immediately went to the bus counter to enquire about a bus from Sa Pa to Cat Ba. They told that there is a bus leaving at night from Sa Pa to Cat Ba. It will be an overnight journey and the bus will take us to Cat Ba next morning. I was happy for several reasons. First, I need not pay for the hotel rent for the night because I will be in in the bus. Second, it is a sleeping coach, and I wanted to experience it.
Sa Pa to Cat Ba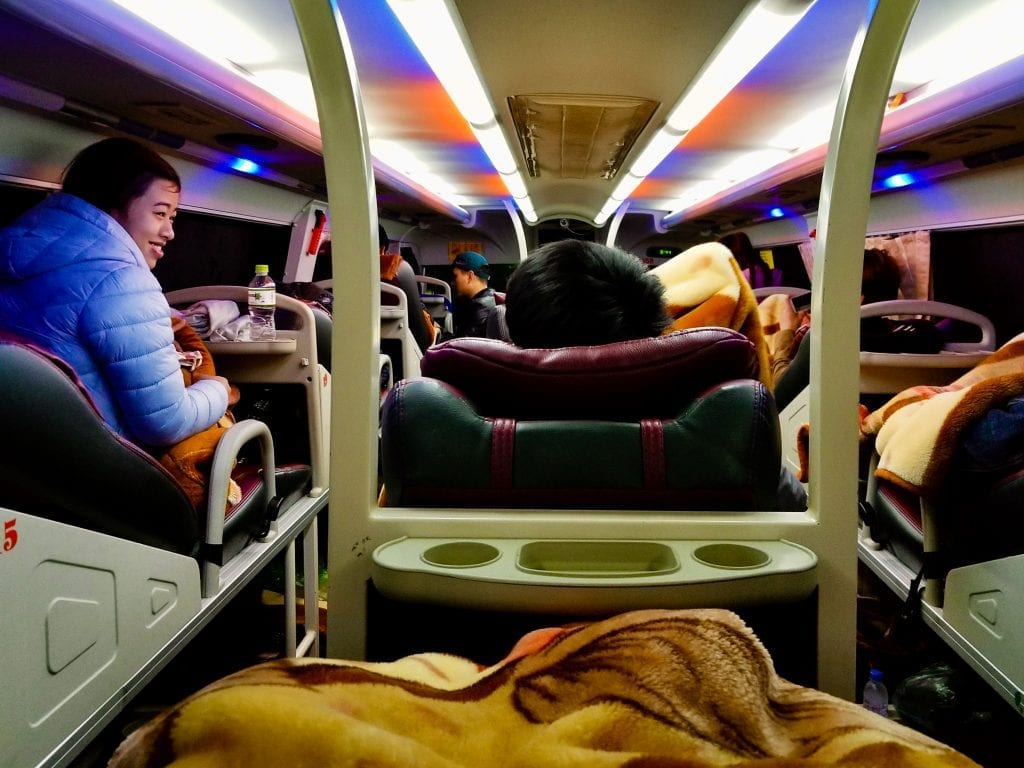 We went to the bus terminal, and the bus started its journey almost on time. I had a prior experience of traveling in a Train in Vietnam when I went to Sapa from Hanoi, however, this was going to be my first bus riding experience in Vietnam. The arrangement was more comfortable than I expected. I could lie down on the flatbed. They provided a blanket for us since it was air-conditioned. The road condition in Vietnam is amazing. The road from Sa Pa to Cat Ba was no exception. When the light was turned off, I fell asleep quickly.
During midnight I woke up and for a long period I gazed in the horizon out of the window. Not very long ago Vietnam suffered a terrible war. It is fascinating to see the infrastructure they made after the war. I dozed off again. When I woke up, I could realise that I had entered a different place. Sa Pa was a mountainous valley. On the other hand, Cat Ba is an island.
Buy bus ticket from Sapa to Cat Ba
Pursuit of a Hotel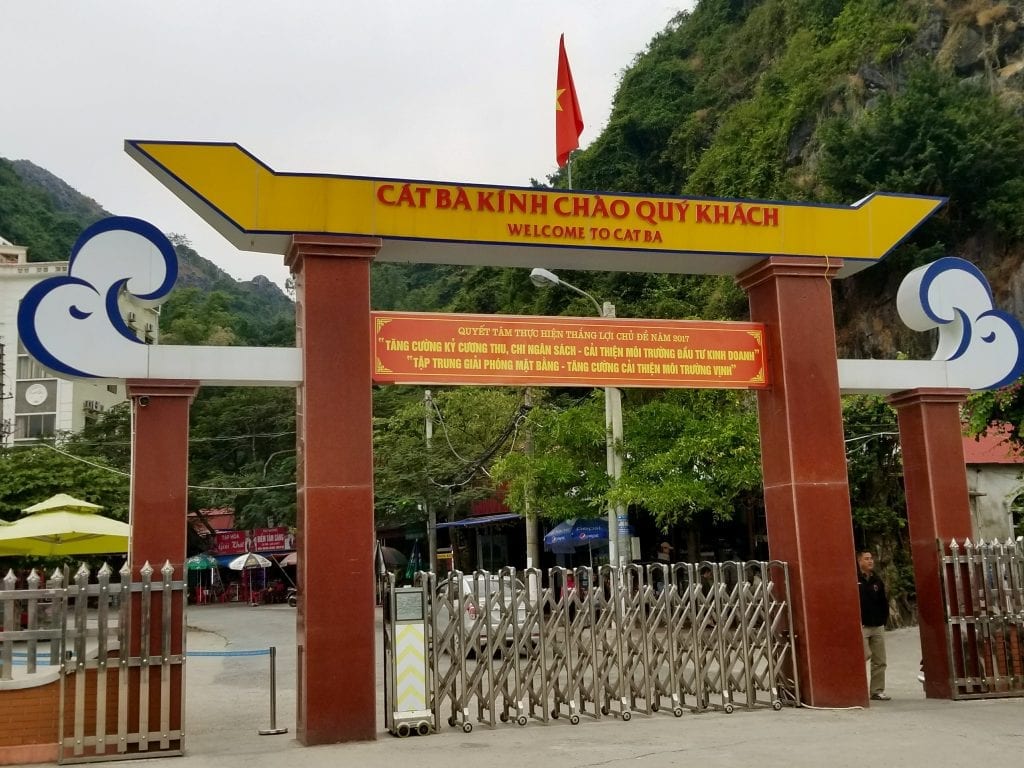 When we got down from the bus, it was early morning. The Sun was breaking through the cloud. Most of the passengers from the bus were backpacking. We did not have any hotel booked. Before we can enjoy the beauty of Cat Ba, we need to find accommodation. Unfortunately, we didn't know where to go. So, we stopped some tourists and asked where can I find a cheap but good accommodation. We got a suggestion from someone, so we went there. Sadly, it was full. They suggested another hotel, which was a little above our budget. Our aim was to stay in cheap! At last we found a newly constructed hotel which had plenty of vacant rooms. The guy at the front desk told us about the price, and we negotiated hard.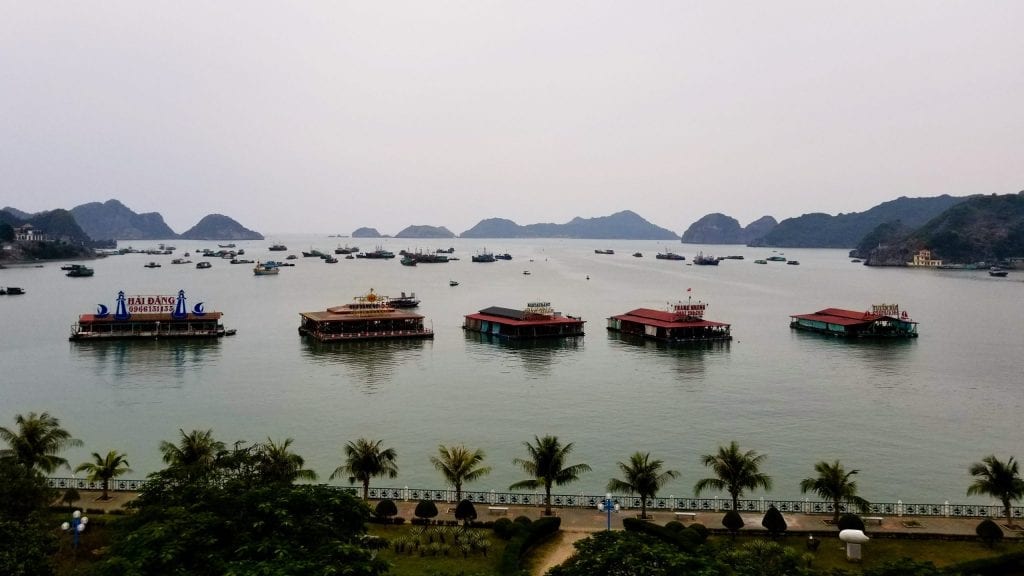 Then we asked them to show the room. When I entered the room, I was exceedingly surprised. The view we got from the room, by paying $10, was worth at least a $100.
Breakfast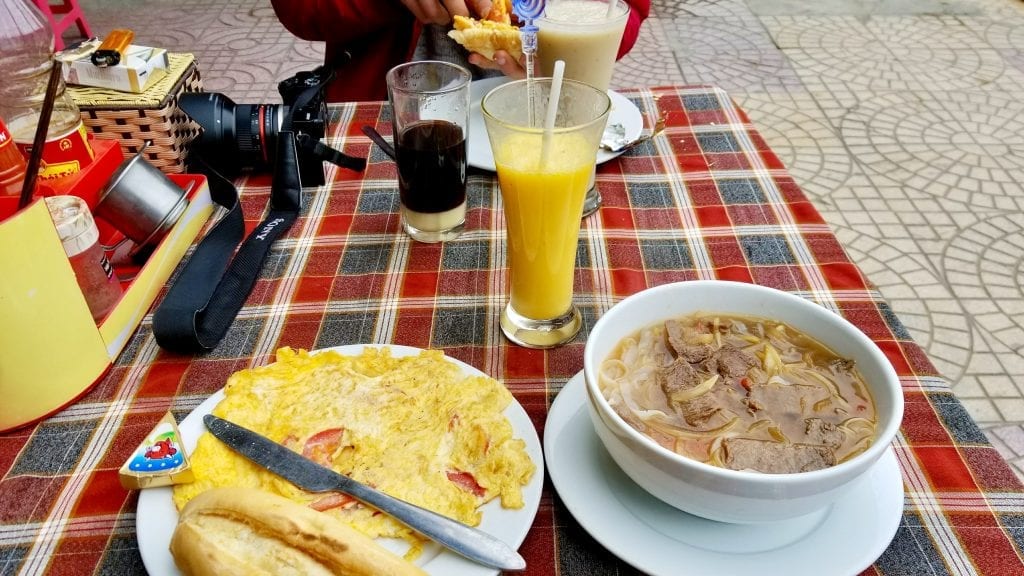 I took a quick shower and went down to have my breakfast. I was so hungry, I could eat an entire elephant on a single go. As usual, Mert was happy with light food. I ordered egg with bread, spicy mushroom soup and mango juice. The soup came in a vast bowl! On a typical day, I need an entire day to eat such an enormous amount of meal. However, I could not but wait to start our journey and my soup disappeared quickly.
Renting a motorbike
If you are in Southeast Asia, rent a motorbike to get the utmost freedom of travelling. When we are done with our breakfast, we rented a bike. Like all the other places in Vietnam, the motorbike was right in front of the hotel. It's cheap. We paid less than $3 a day to rent a bike. We took the fuel from nearby and started our journey.
Never forget to buy a travel insurance before your trip, see my bike accident incidence in Philippines. I suggest Worldnomads for travel insurance, they are reliable.
Day one in Cat Ba Island
Cannon Fort Cat Ba
Before starting our journey we asked locals about somewhere we can see the best panoramic view of the entire Island. We got an anonymous answer; I have to go to Cannon Fort to get the best view of the town. Hence our journey started. It was an uphill ride. Our bike was going to the beautiful road of Cat Ba. Mert was driving the bike and I was navigating. At one point the road became so steep, I had to get down. Finally, we reached there. It was still early in the morning around 10:00 or 10:30 maybe, and we got the place all by ourselves.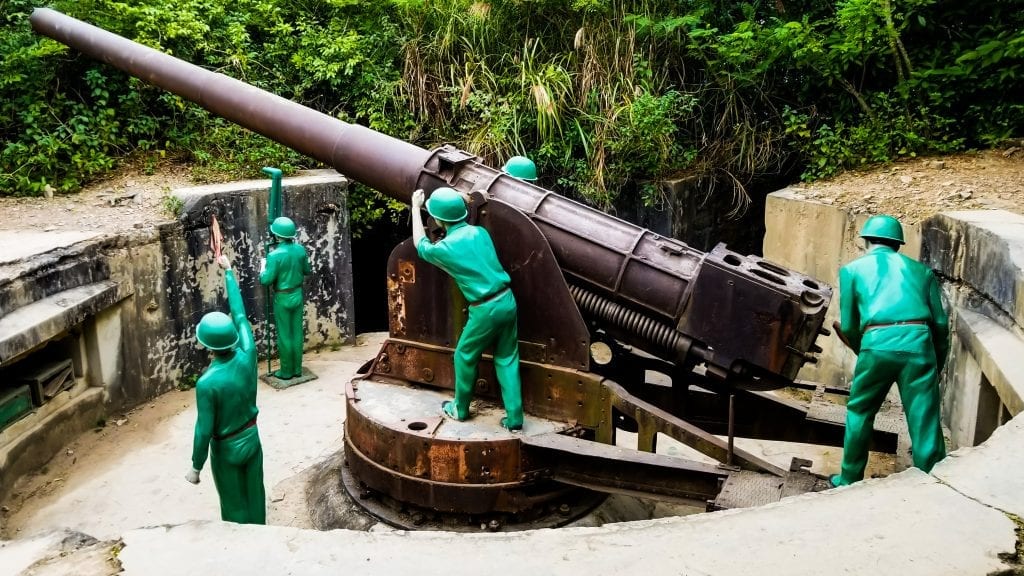 The cannon fort is 177 meters above the sea level. As one gets a panoramic view of the bay, during the second World War, Japanese built this fort as a watch post. However, when the French invaded Vietnam, they took control of the fort. Ultimately, the Vietnamese could successfully throw the French away. Before retreating, the French tried to destroy the cannons. The Vietnamese soldiers immediately fixed this cannon and shoot fires to their ships from above.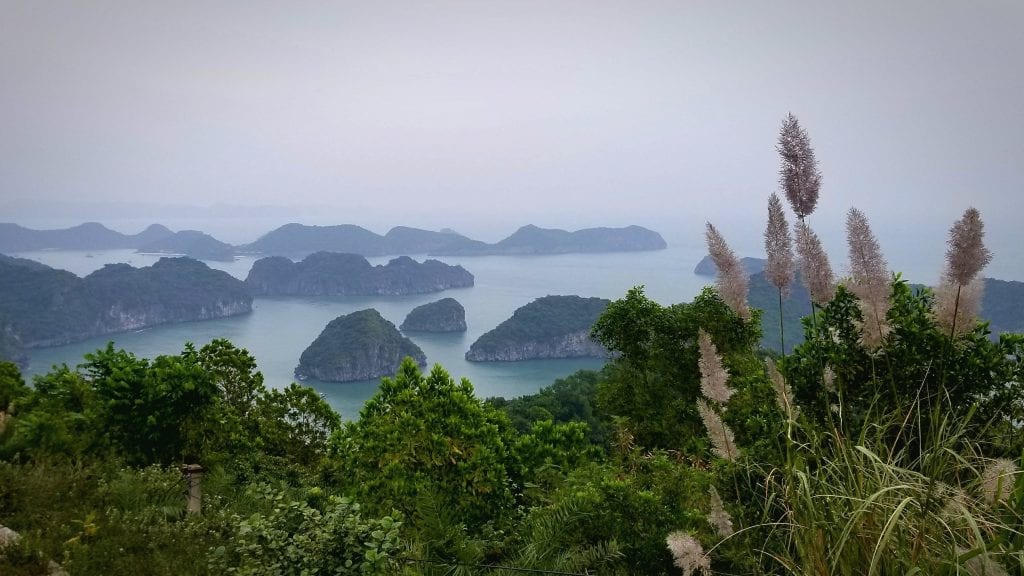 Nowadays, the cannons are non-functional and symbolic. In that fort, the cannon is the last thing you will notice because your eyes won't go anywhere but at the horizon. As far as your eyes can go, you will see dots of limestones hills appeared out of nowhere. They are observing the world through their eyes. It's so beautiful, it's so enigmatic and mysterious, my eyes glued on the horizon for hours.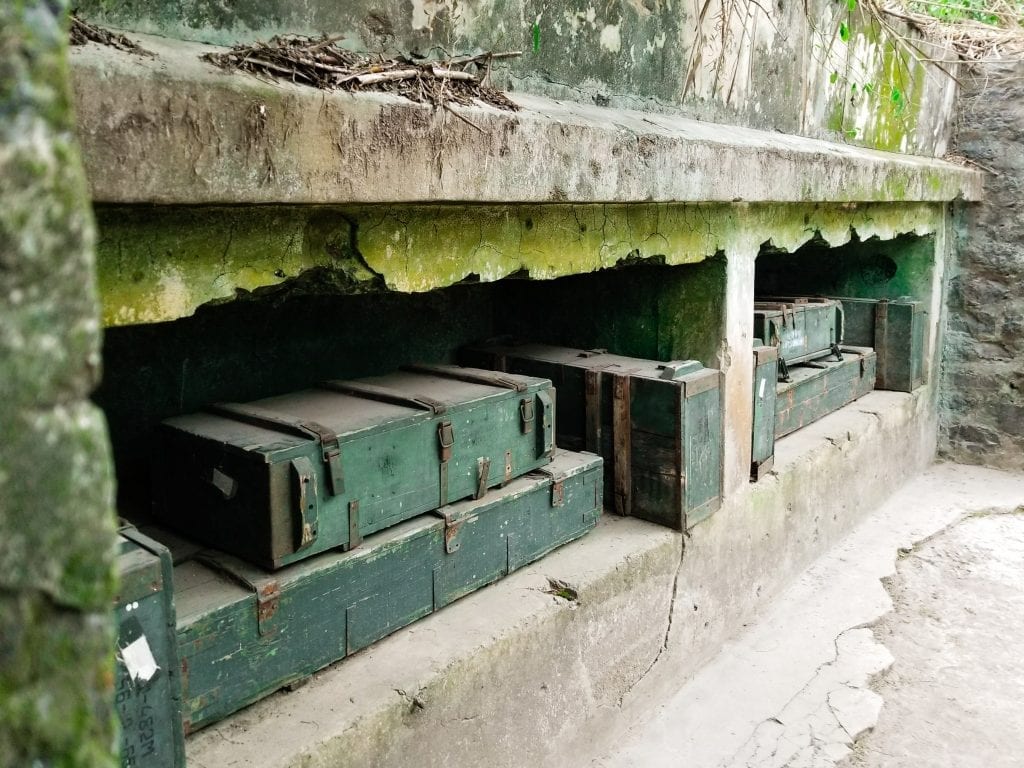 I roamed around the place. There are labyrinth of passages through which you can go to different corners of the fort. Going through those passages gave me a weird feeling.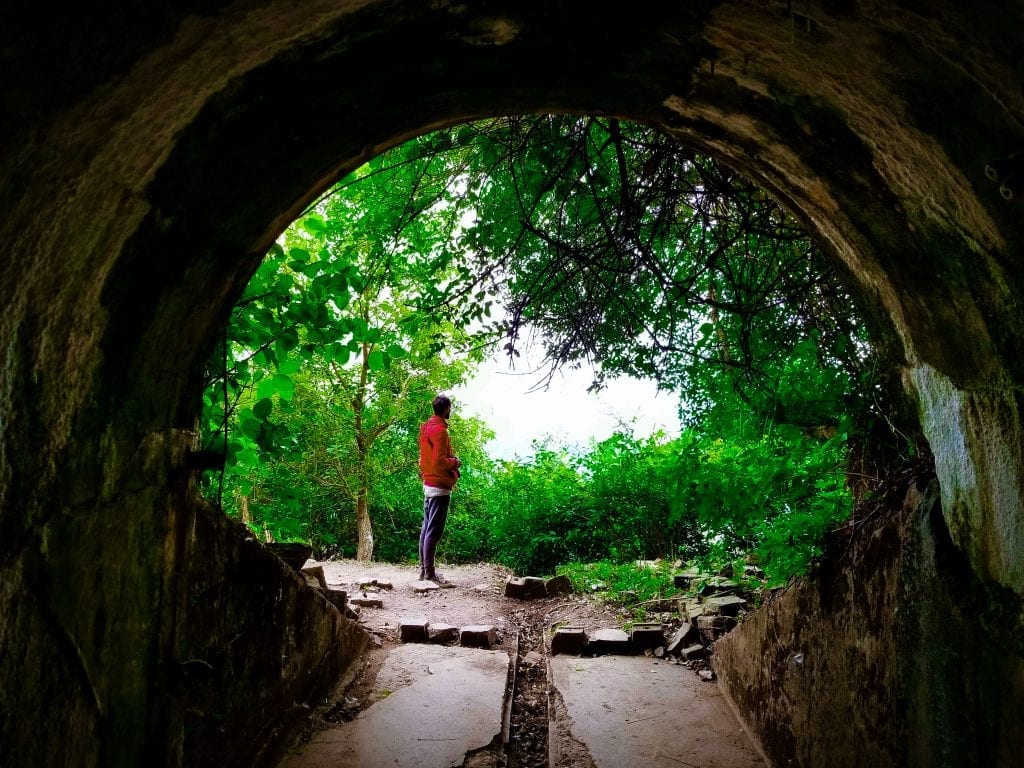 Suddenly, I came across a tunnel. I was hesitant about entering there, but the excitement of seeing through it was irresistible. I got a panoramic view of the sea at the end of the tunnel. Maybe many soldiers took shelters in this tunnel 80 years back, maybe some of them died there. I am glad that we are way past those horrible times.
Although I went there during morning, I heard that the view is amazing during sunset. You should plan for a visit there during a sunset and let me know how was it.
Road trip in Cat Ba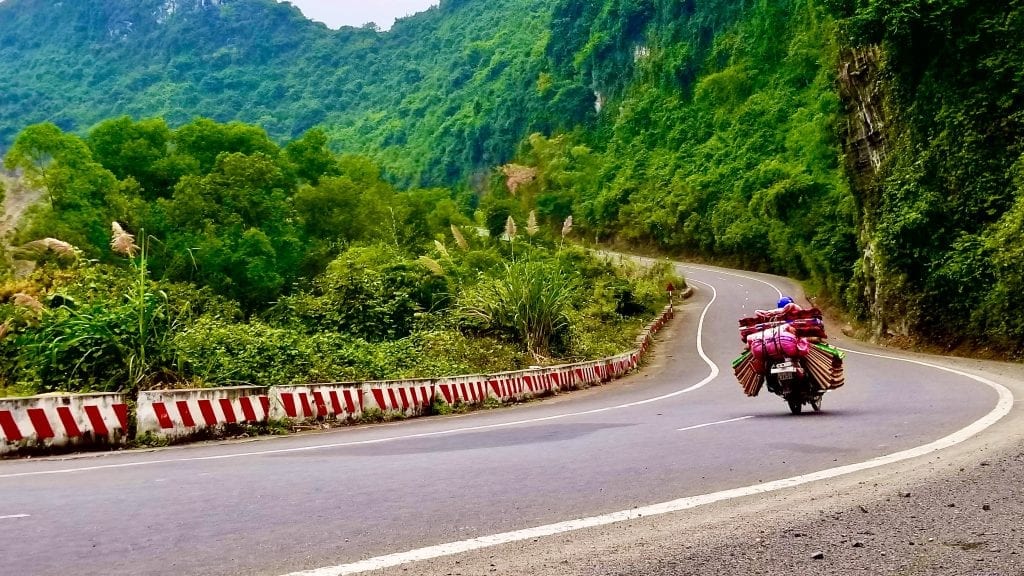 From Cannon Fort, we rode bike randomly. It was worthwhile. Some roads in Vietnam are astoundingly beautiful. Among them, Cat Ba will be on top of my list. The Vietnamese built curvy roads keeping mountains on one side and lush valley to the other.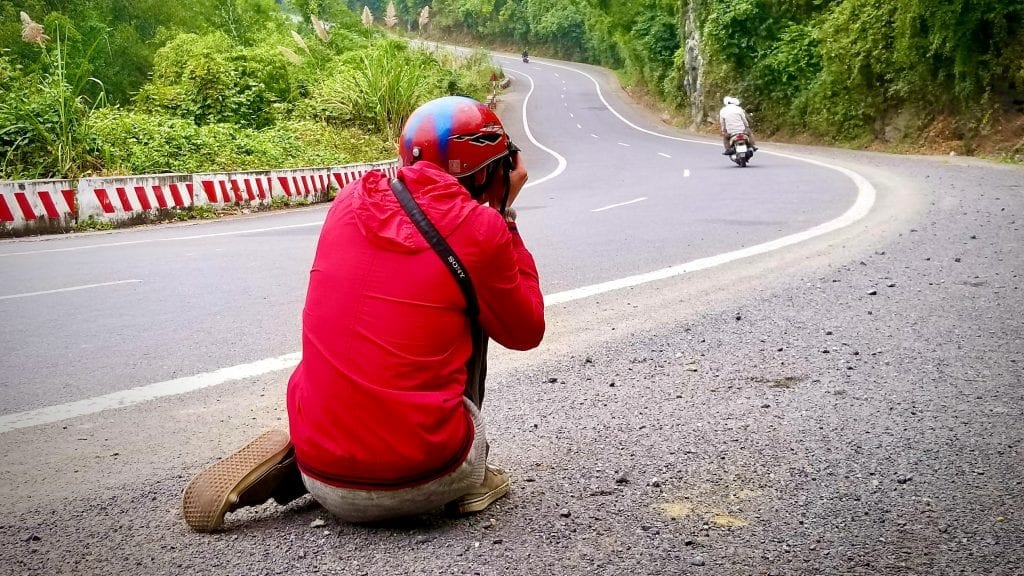 We were marching forward slowly. It was difficult to overlook the temptation of stopping to enjoy the surroundings. It was not always convenient to stop the bike, park it, and take photos with the helmet on. But we kept doing that.
Hiking to Ngu Lam Peak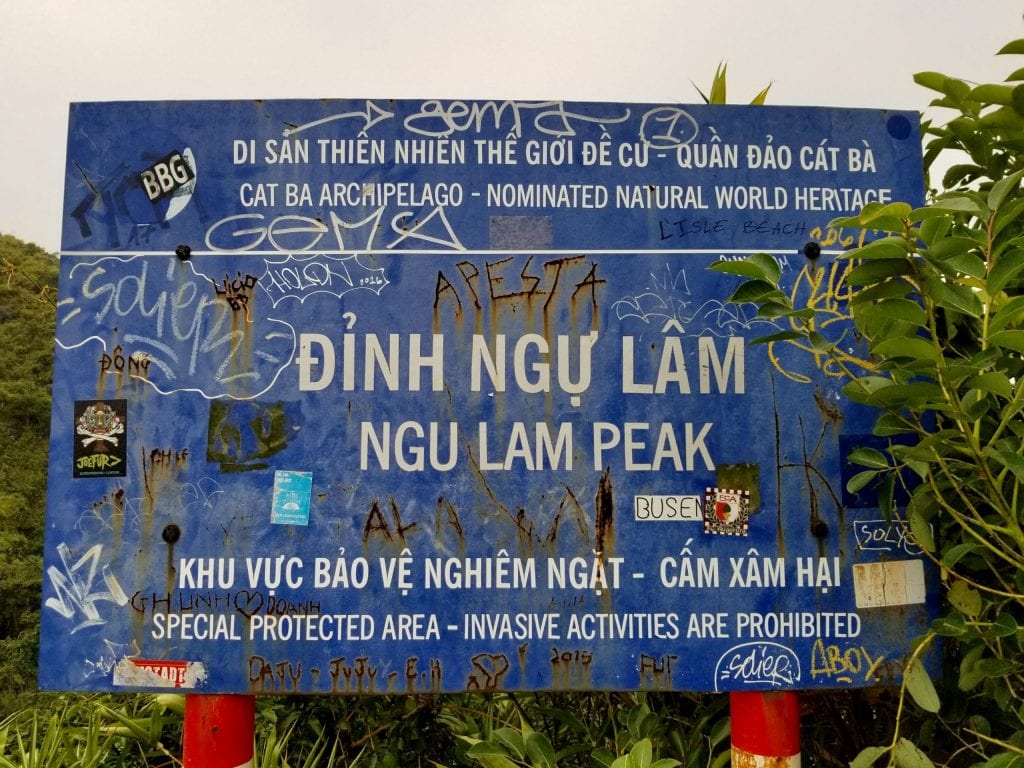 We were having a great day in Cat Ba. We went to Cannon fort to enjoy the best panoramic views of the bay; we explored the beauty of the valley by riding our bike.
What could be next?
Yes! We decided to hike Ngu Lam Peak. Hiking to Mount Fansipan, the highest peak in Vietnam was not enough for us, we were up for another mini adventure.
Ngu Lam Peak resides inside Cat Ba National park. We went to the park using our bike.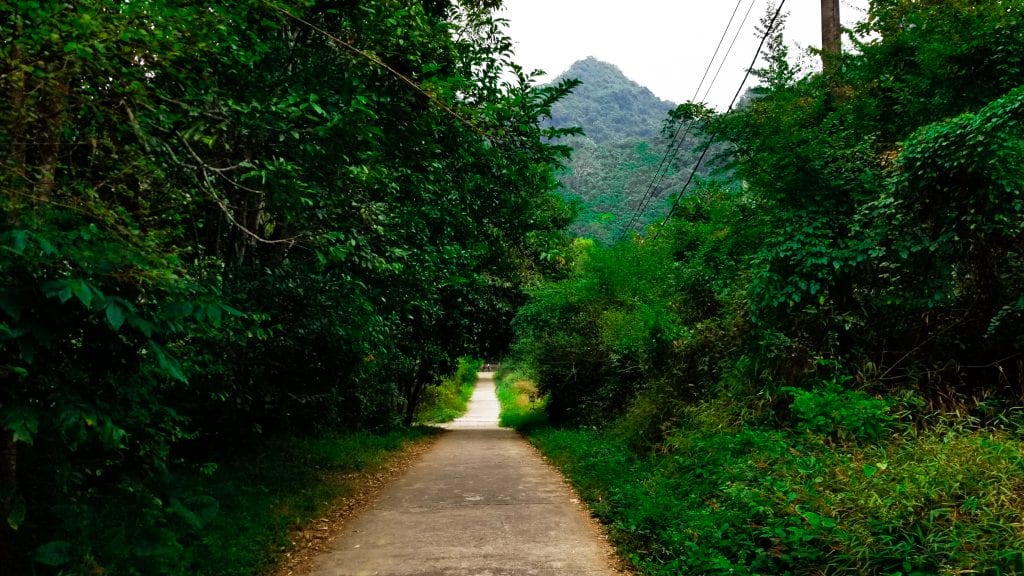 During the initial phase of the hike, there were paved roads with green vegetation. We followed the path.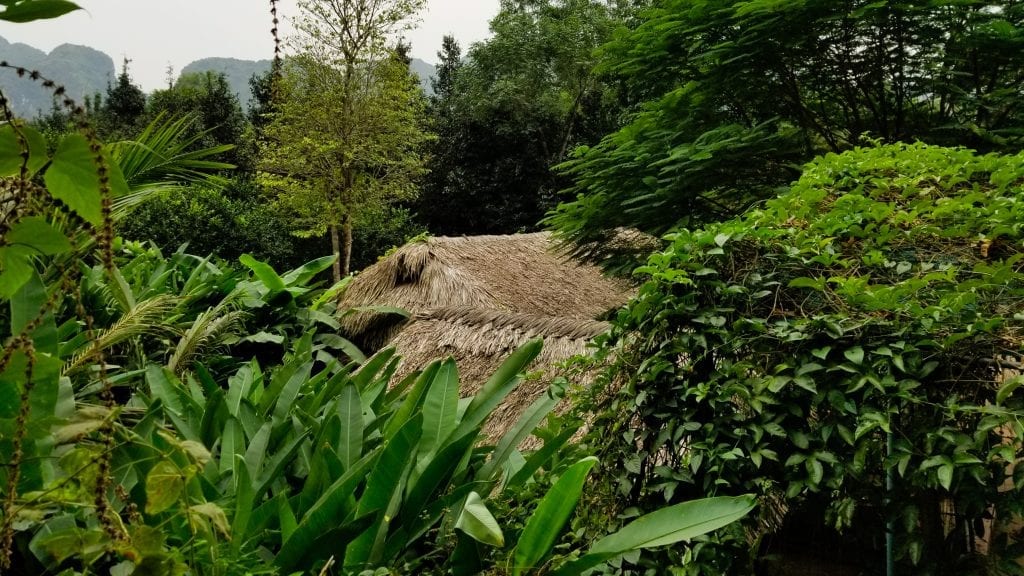 There were some huts made of hay amidst greeneries and banana trees. Those were so tranquil, I wanted to stay there. Alas, I didn't have enough time in my hand. But I will definitely try it out next time.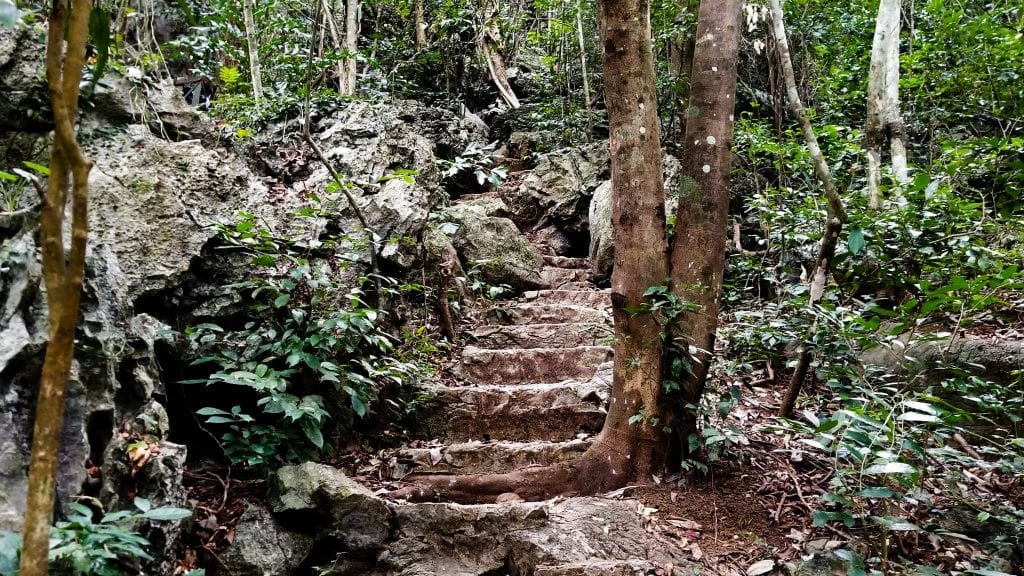 Our journey on the flat path was soon over when we saw these stairs. We started climbing through it and entered a lush jungle soon.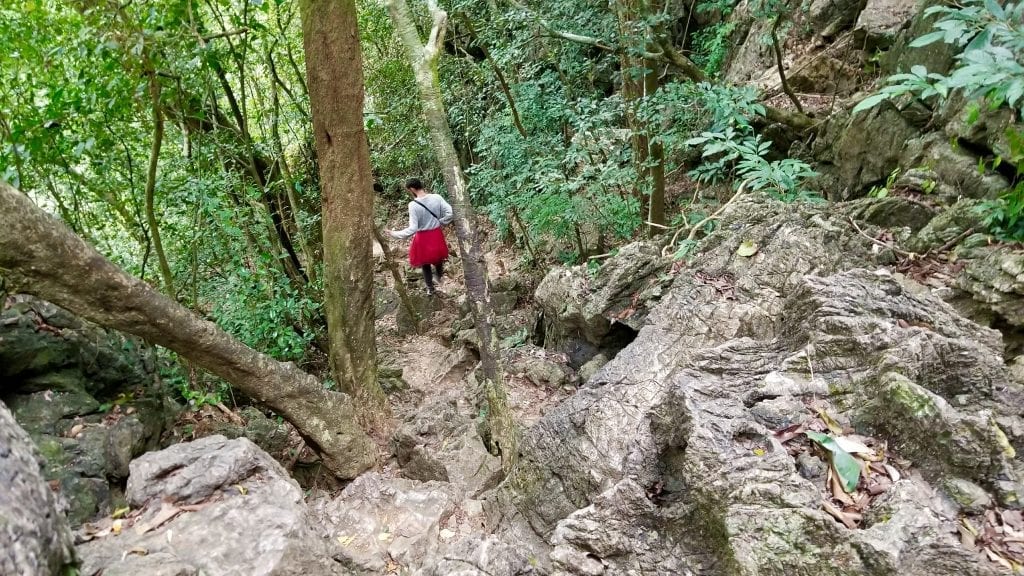 There were enormous boulders in the trail. It was not only about going up, but also about going down. The hike was relatively short; we knew that we would reach the peak at any moment. So, I was not scared of running out of my gas.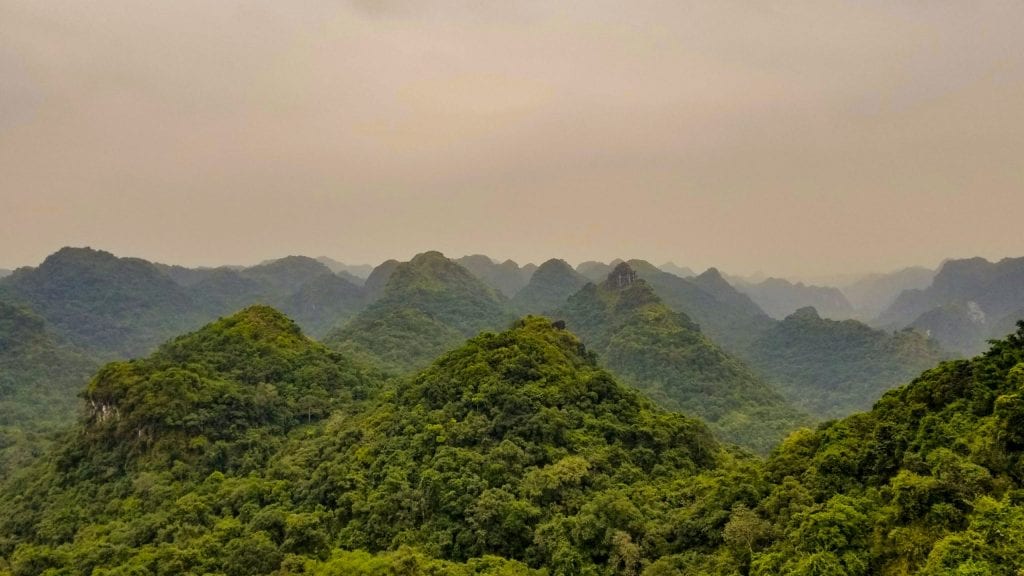 A little over an hour of hike took us to the top. The view there was breathtakingly beautiful. When I planned for visiting Cat Ba, I thought about limestones and bays. I never thought I would see a layer of green hills to the infinity.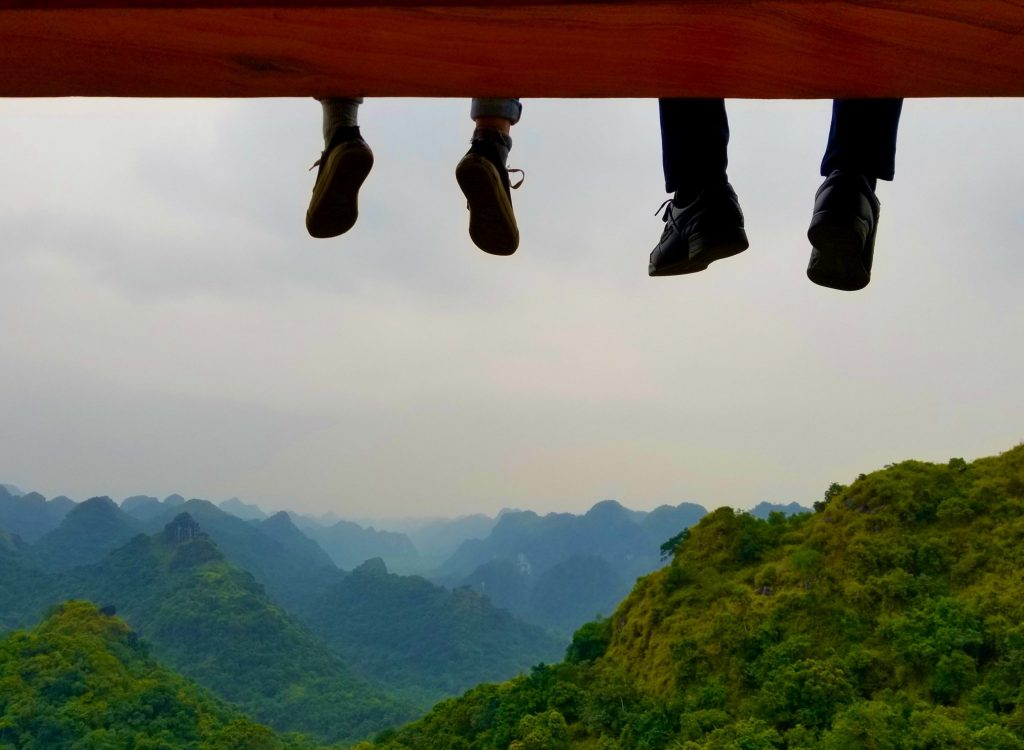 There was a multistories observation deck to enjoy its sublime view. It was free. I saw a couple enjoying their time there together. Where on earth can you find a better place of spending a romantic time like that?
The place was so calm! The only sound I was getting was the sound of whistling wind. I made a panoramic video to show it to the people later. We explored the area. If you go further away from the observation deck, you will find some dramatic cliffs with an unobtrusive view of the surrounding.
There I met two Israeli lads – they were traveling through the South East Asia. They bought a bike from Vietnam, tied all their belongings in the back and had been traveling in Vietnam for several months. One of them, Daniel, was playing a ukulele and singing song. The song and the beautiful instrument echoed in the valley and I realised again how fantastic solo travelling is!
A Stroll in the town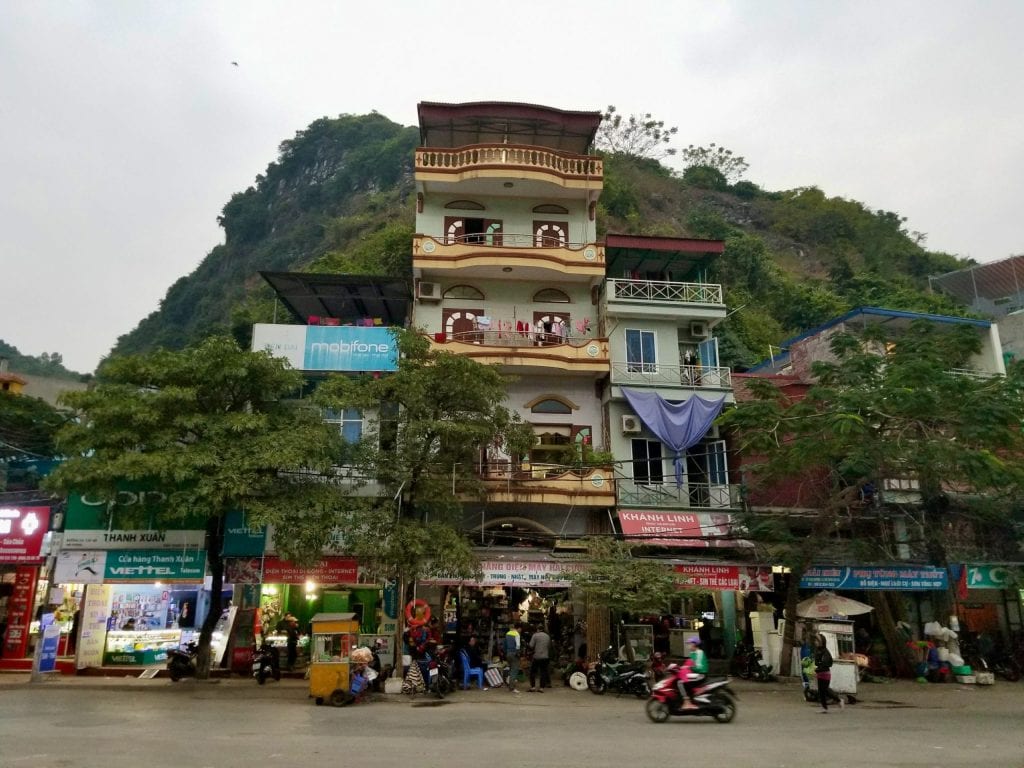 There was still light when I got back to town. We had nothing much to do other than strolling in the street.
There are still houses for locals on both sides of the streets. I imagine in next 10 years or so, resorts will replace those. I am glad; I went there when the town was still genuine.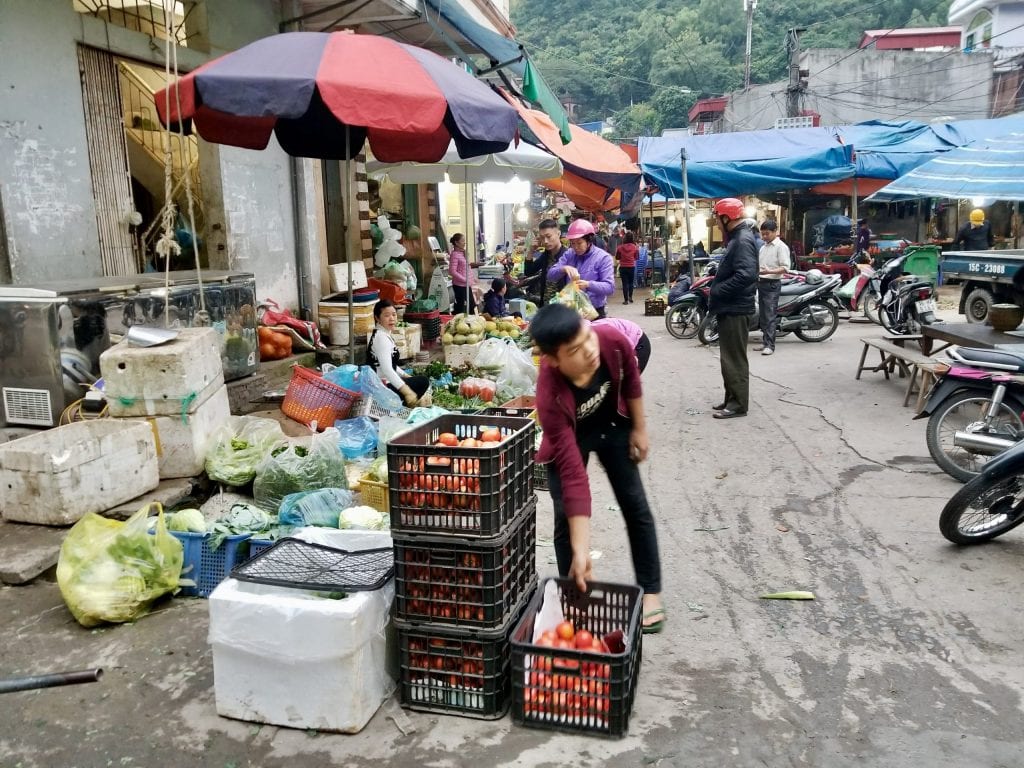 We visited a local market where the vendors were selling fresh vegetables. Interestingly, there was no fixed shop. Sellers selling the vegetables were sitting on floor. This is exactly how we buy vegetables from the market in Bangladesh.
Dinner
We choose a cheap restaurant. They had a table placed on the street. Although we paid less, the food was no less inferior. We ate a lot of food. Rice was a pleasant change after a couple of days of breads and noodles.
Booking a trip for Lan Ha Bay
When we came back to the hotel, we booked our trip to Lan Ha Bay for the next day. It was the same day trip. You can opt out for multi-day's trip where you will sleep in the bay for a night. That is more expensive.
The price for these trips are not fixed; we negotiated to put the price down. The trip will start early in the morning, so we called it a night.
Day two in Cat Ba Island
Lan Ha Bay Cruise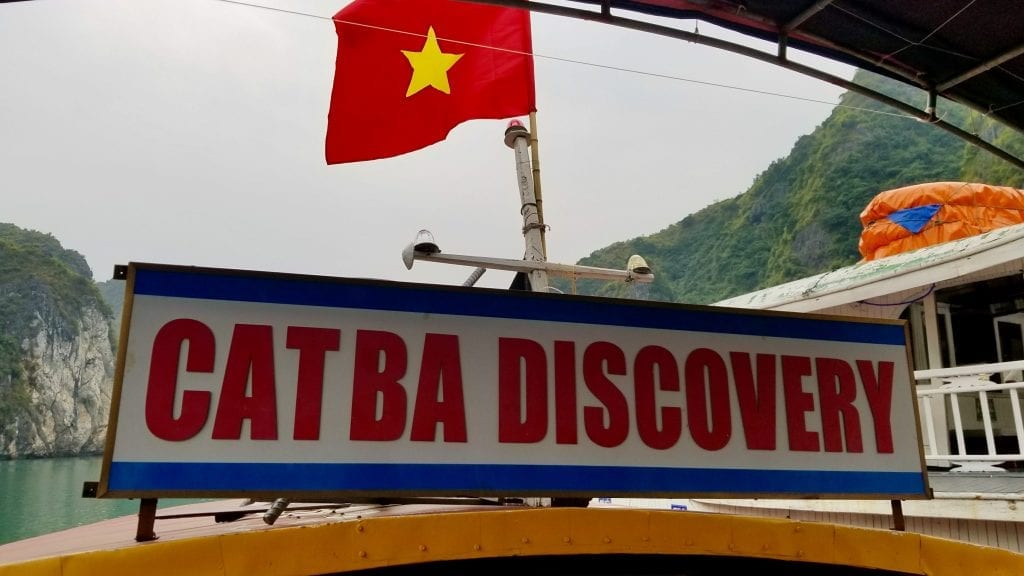 We started the day very early in the morning. A vehicle picket us up and took us to the jetty from where we started our journey. It's a shared boat where several other tourists joined with us.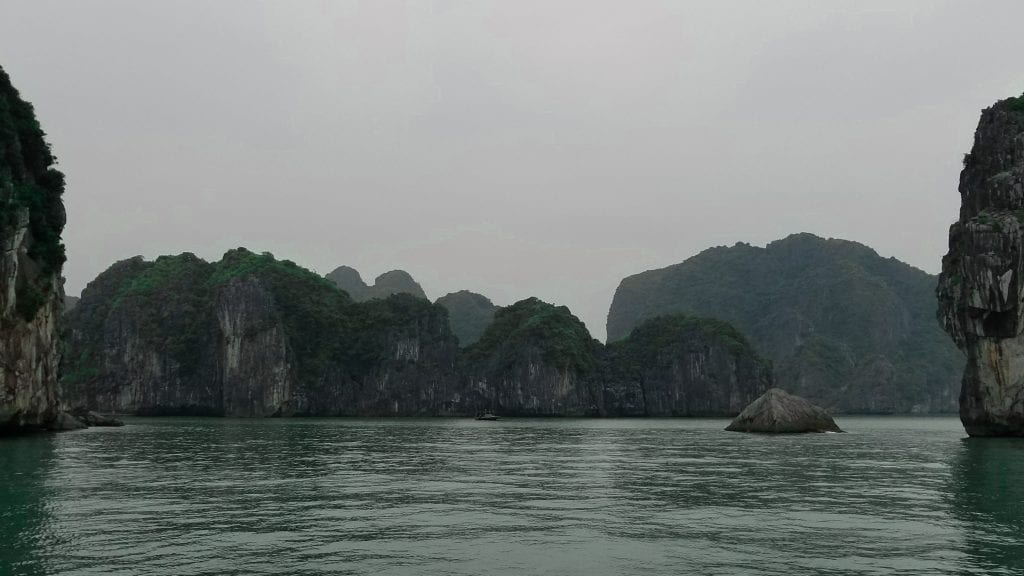 If you see only one photo of Vietnam; you see the photo of Ha Long Bay.
The Lan Ha Bay is exactly the same without crowd and pollution. Within 30 minutes, we entered an enigmatic world where tons of limestone pillars grew from the turquoise green water. If you see it from the top, you will find droplets of green.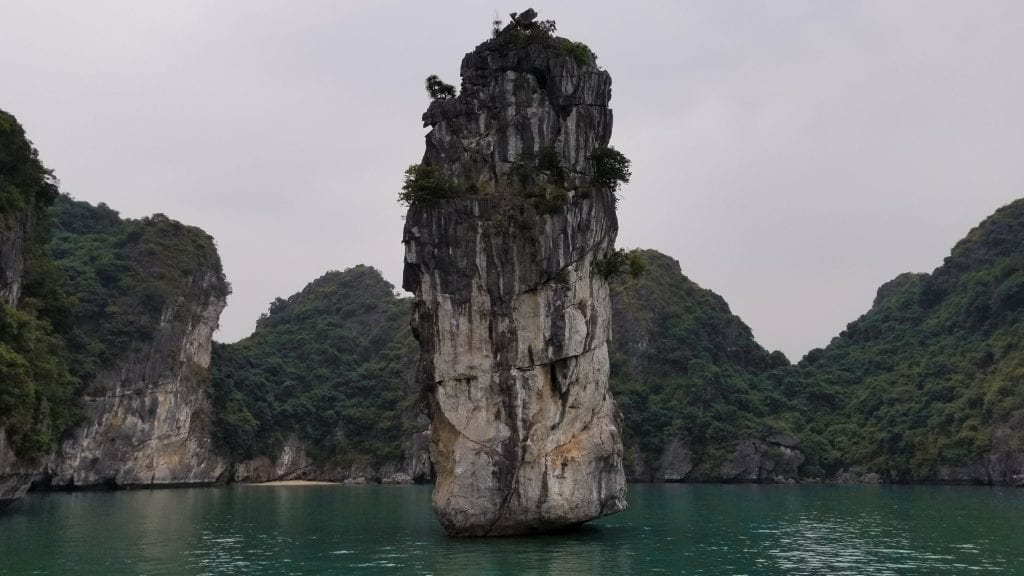 The jaw dropping seascape keeps transforming. You can see the limestones in different size and shapes. The most dramatic feeling is when the boat manages some space and takes turn where you don't know what lies ahead. Keeping the breath inside, you wait to enter another kind of world.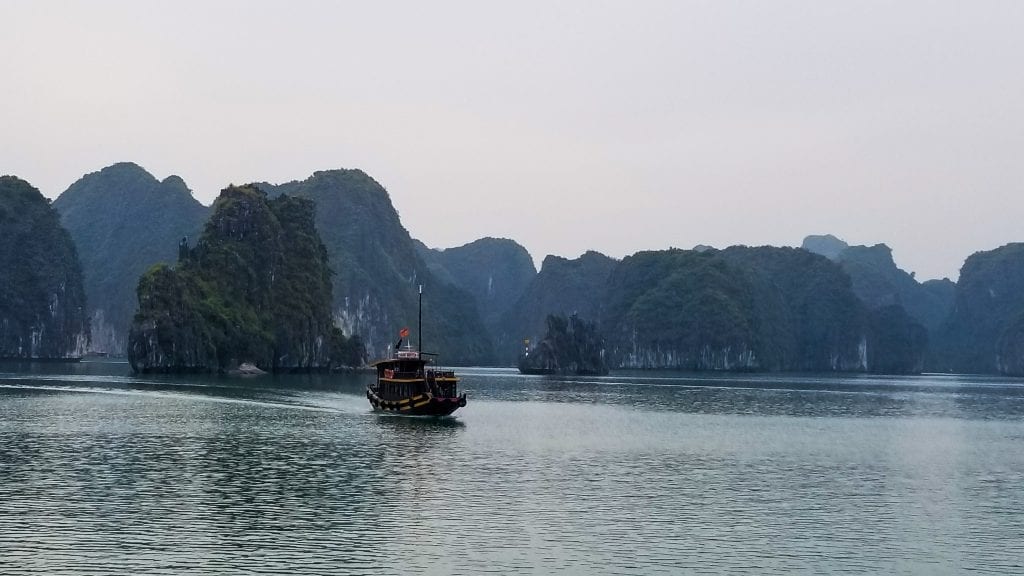 There were few boats around. It gave us an unobtrusive view and tranquility. I didn't see any garbage either. The serenity and calmness was unbeatable.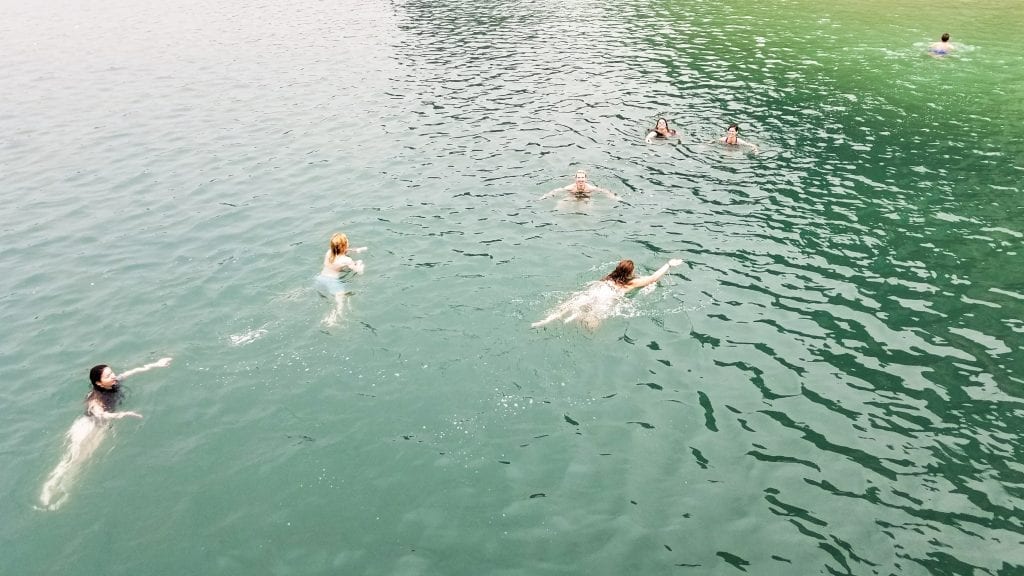 The water was so inviting, at one point someone jumped into it from our boat. That was contagious and allured more people to join. All I could see were some doubtful faces, who eventually took their clothes off and start jumping into the water. It was cold outside; I wondered how would it felt like to be in the water!
Floating Fishing Village of Lan Ha Bay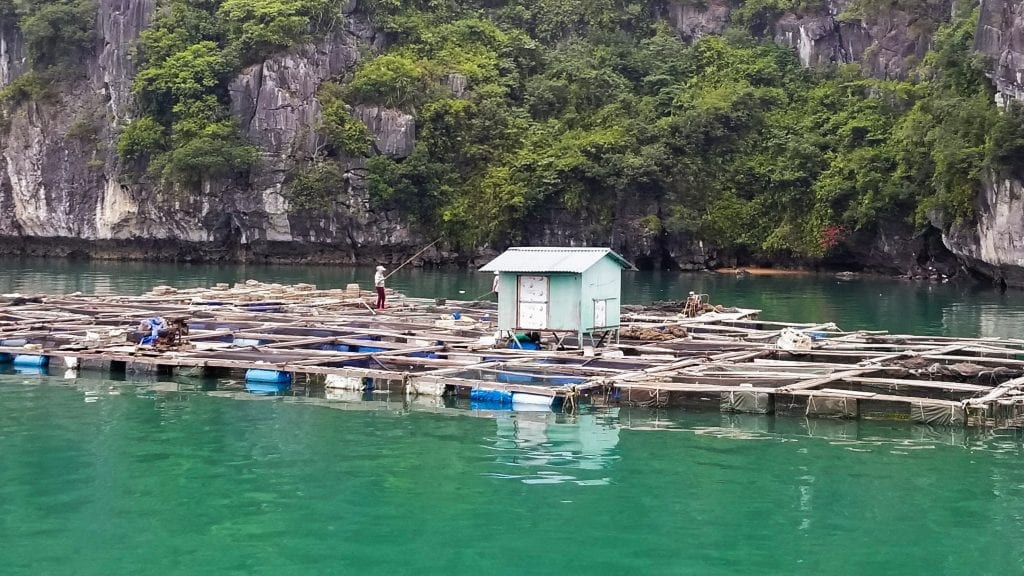 We passed this fishing village and did not stop there. This is Cai Beo fishing village and a famous floating village in Vietnam. Everyone lives there by fishing or fish farming.
Kayaking in Lan Ha Bay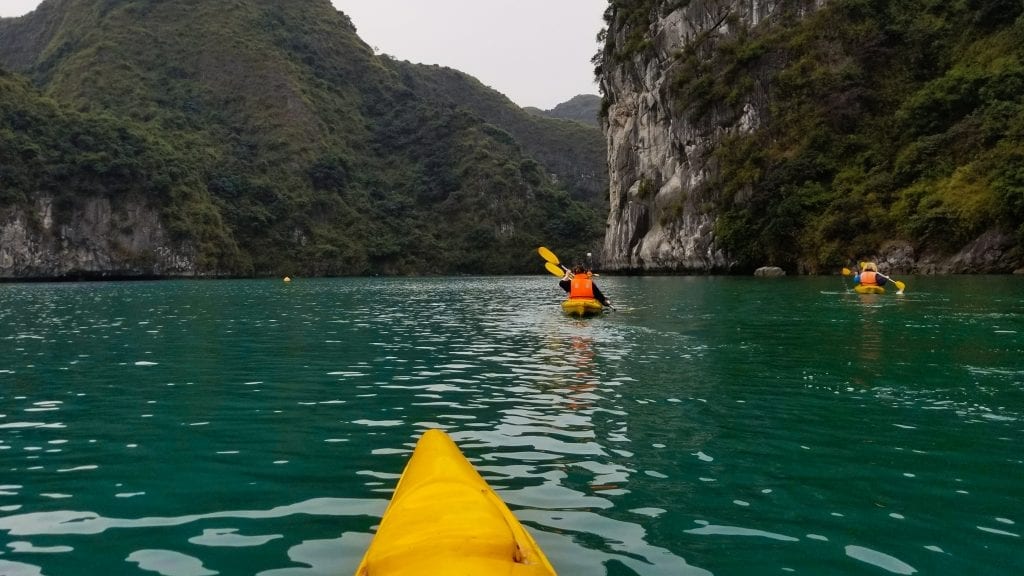 Kayaking was part of our cruise package. So after a certain time, they docked our boat in a place and gave us kayak boats. A boat could take two persons, I and Mert took one to kayak together. Although the water looked calm from the boat, the ocean was rough enough to give me jitters. However, these made the journey more fun, and we got a unique perspective of the bay from the kayak.
The most enjoyable part was to go through a tiny little hole of a cave. When we were approaching towards it, we thought we would get stuck there. The more it approached nearer, the more exciting it became. Finally, we had to stop kayaking and take our head down. The cliff-stones were right on top of our head, everything went black for a while before we could see the sunlight again.
Monkey Island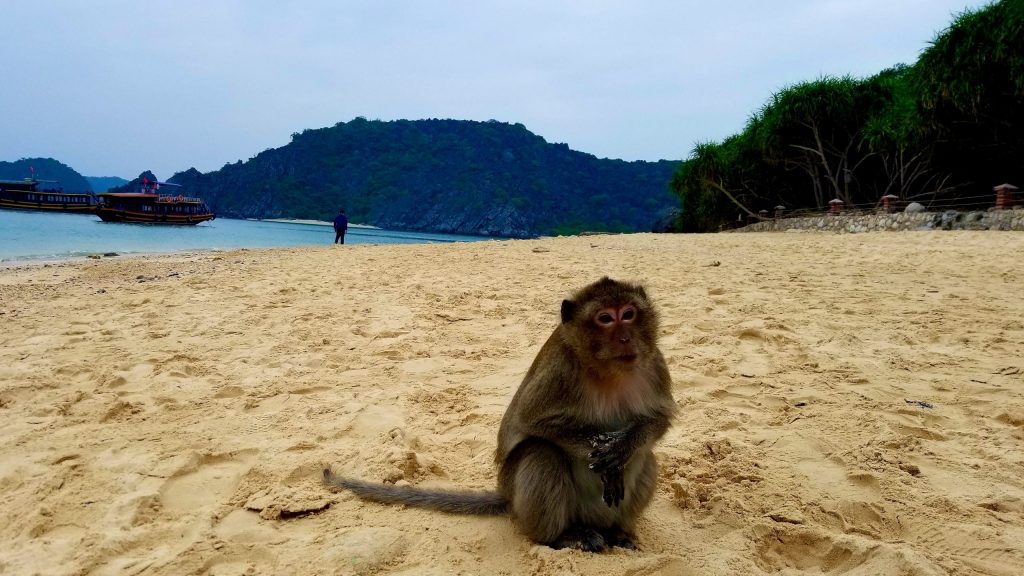 We got back to boat after the kayaking, and our journey continues. I was wondering if we could find any beach as there was ocean all around and I was feeling the absence of sand under my foot. My secret wish got fulfilled. We stopped on a nice secluded beach full of monkeys. Although its official name is Cat Dua Island, people call it monkey island because of their presence. I found some corrals on the beach, which kind of surprised me. I didn't expect them there.
Suddenly, I saw people to hike a hill. I followed them and I am glad I did. The extra effort brought a lot of rewards. There were several viewpoints at the top, I went to the topmost one. When I reached there, I could see the strip of the beach keeping the endless limestone crust in the background.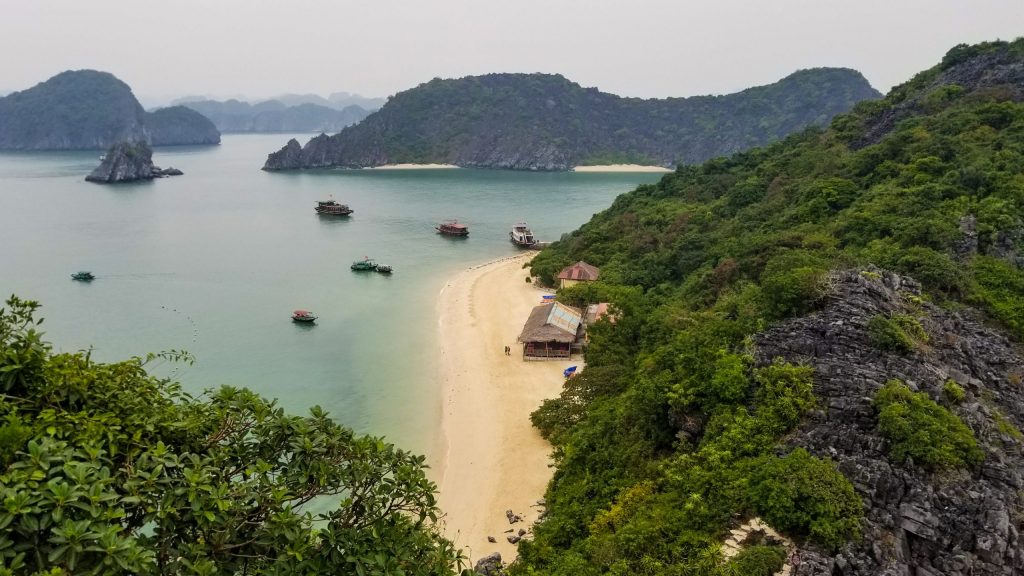 That's only one side of the view. If you wonder what's on the other side, here you go (at the bottom)! It was difficult for me to decide where to fix my eyes.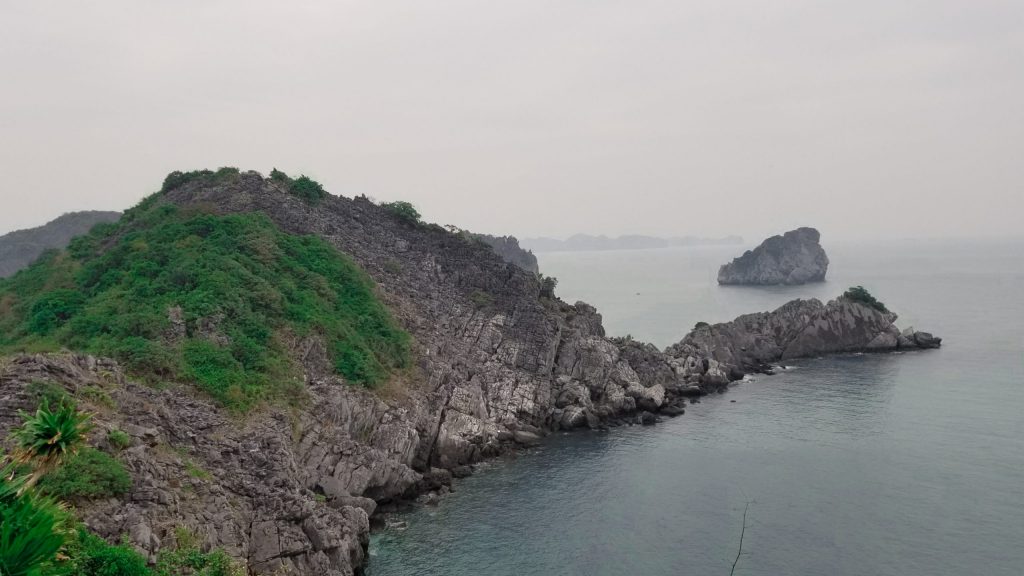 In the meantime, they served us lunch. It was rice and fish, which was nothing remarkable. Ask your tour operator if they would cover this island before booking the package. If they do, take a good pair of hiking shoe with you. You cannot miss hiking on top of there and you are better with hiking shoe.
The End of our Cat Ba Trip
This beach was the last stop of our boat. We started going back to the island of Cat Ba and reached there at 3:15 PM. Later; we caught a bus to Hanoi at 4:30 PM, leaving a lot of memories behind.
I went there in December, and the weather was not great. It was misty. I did not get the best of the views. Saying so, what I saw was amazing. To me, Cat Ba is one of the most beautiful places in Vietnam if not the best. I hope it remains the same when I will visit it next time – untouched, calm and serene.
Practicalities
Where is Cat Ba Island?
Cat Ba island is the largest of the 367 islands that comprise the archipelago with the same name. This Cat Ba Archipelago makes up the edge of Lan Ha Bay. Which is basically on the North-West coast of Vietnam, in the gulf of Tonkin.
It is 160 Kilometres from Hanoi and 370 Kilometres from Sa Pa.
Hai Phong is the nearest city to Cat Ba which is less than 35 Kilometres away.
How to get to Cat Ba Island?
From Hanoi via bus will take 3 to 5 hours (includes a short ferry ride).
From Sa Pa via overnight bus – will take around 8 hours, however the journey is comfortable in a sleeping bus.
You can buy tickets from Baolau, which is a fantastic site for buying train and bus tickets in Vietnam, I often found them cheaper than the official site. I am providing you a widget through which you can book the ticket for going to Cat Ba online ahead of time.
How to Get Around Cat Ba?
Motorbike will give you the utmost freedom. You can rent a bike from literally anywhere by paying 100,000 VND, which is less than US$4.5. The fuel cost will be less than US$2.5 per day. So, you can explore the island as much as you want by spending only US$7!
Where to eat in Cat Ba?
The following restaurants serve fantastic food in Cat Ba. You can try each of them when you will be there.
Cat Ba Island Accommodation
Cat Ba Hotels
If you are a backpacker, just go to the town, find a hotel, see it and negotiate. However, if you find it uncertain, below are some good options to stay in Cat Ba.
Cat Ba Airbnb
If you do not want to stay in a hotel and wanna experience staying with locals, Airbnb is a great option. If you do not have any Airbnb account open on using this link, you will get US$50 credit! In many places, my Airbnb experience exceeded far and those were much better than staying in a hotel. Below are the links of top 5 Airbnb in Cat Ba which I curated by going through their reviews. You can book any of them, I hope, you won't regret!
5 reasons to visit Cat Ba Island
Cat Ba is a backpacker's paradise, It's cheap and affordable.
You will get the similar scenic beauty of Halong Bay without a crowd. You can enjoy endless relaxing time here. The life in Cat Ba is slow but enjoyable.
Even if you want to go to Halong Bay, it's near to Cat Ba and you will get the best deals from there.
Cat Ba has some beautiful curvy road to take amazing photos.
In Cat Ba, you can hike to Ngu Lam Peak or Cannon Fort to get diverse views of bay and valley. The hike is easy and the views are unparalleled.
What's next?
Vietnam is such a wonderful country, you can spend couple of weeks in Vietnam easily without getting bored. The natural destinations after your trip to Cat Ba Island, is Sa Pa or Hanoi.
Did you like Vietnam?
Liked the Article? Pin It!