The writer takes us to his journey towards a day in Cairo – mostly in the Egypian museum.
After a jam-packed day in Giza, it was time for me to go to Cairo. If you are also visiting Cairo for a day like I did, this itinerary will help you to make the best of your short stay in Cairo!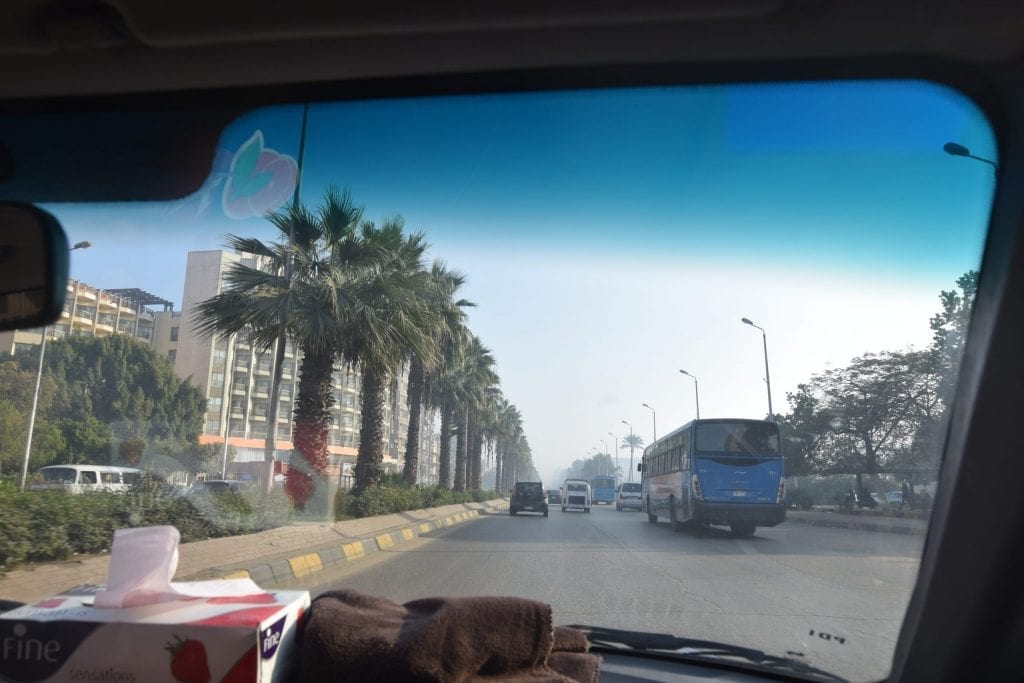 When I packed my bag and came outside of my hotel, people approached me to convince me to take a taxi from them. Having done some quick searches, I found that it was much cheaper for me to take an Uber. I was a bit hesitant at first due to the language barrier. However, I went ahead and called it. The car arrived and my journey began. My driver was an engineer and was riding Uber on his way to the office.
In the car, I was trying to pull together an itinerary for a day but I got overwhelmed by all the things there are to do in Cairo! I tried my best to prioritise and pick the best ones to fit in a day.
My Time in Cairo
I arrived in Cairo at 9:45 in the morning. The journey from Giza to Cairo took me 1 hour and 5 minutes and costs 40 Egyptian Pound (which is less than 3 USD).
My hotel in Cairo was Pension Roma. I got a recommendation from Lonely Planet. Overall experience was good, I will share it with you at the end of this write-up.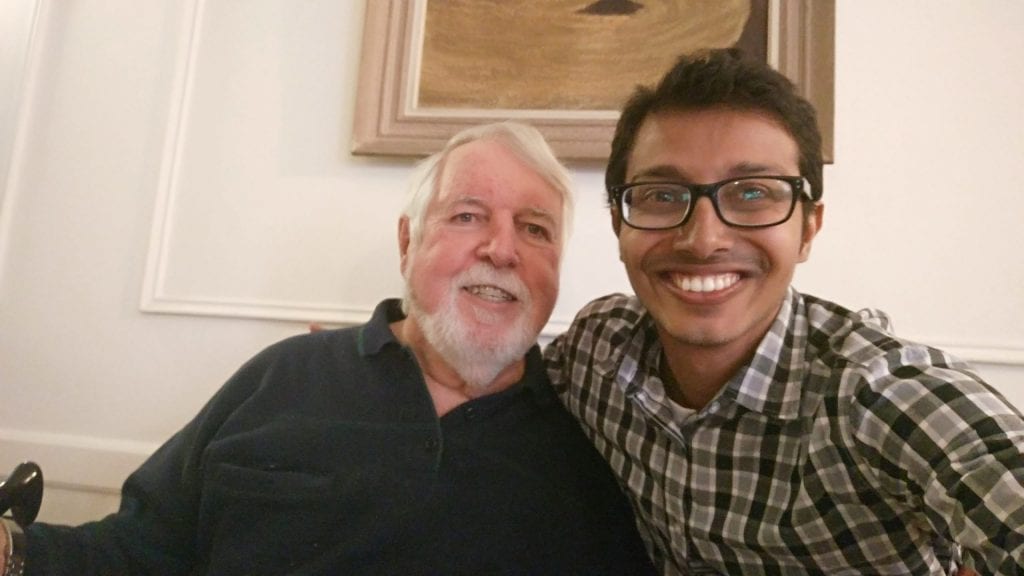 One of the key features of my stay in that hotel was a wonderful person who came from the US. He had been staying there for more than a month. We had our breakfast together. He gave me some tips about Cairo which turned out to be very helpful later.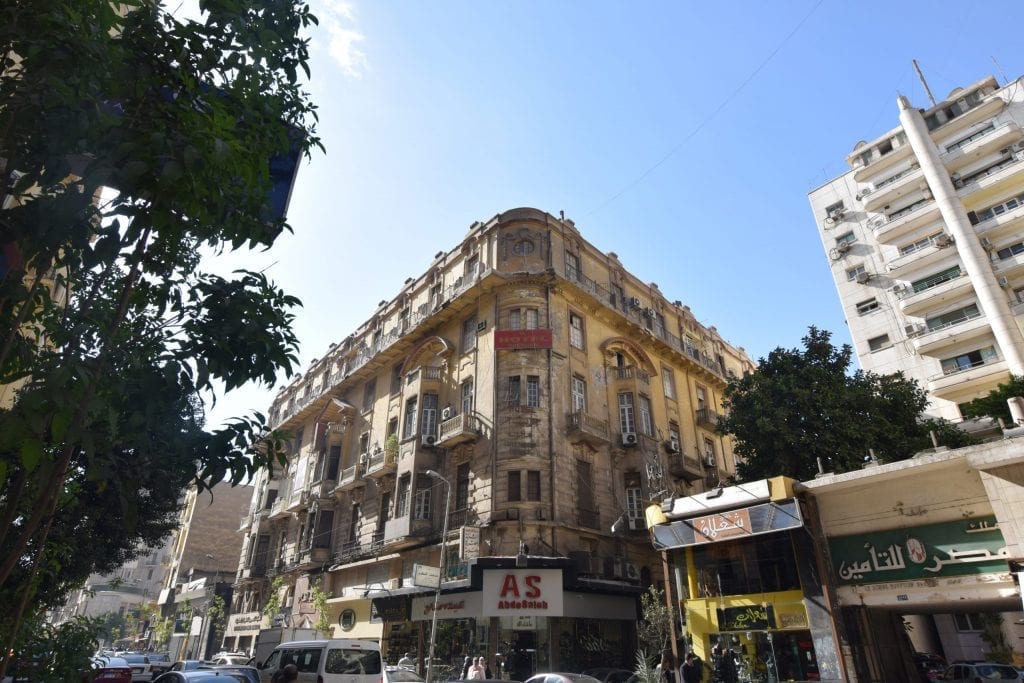 I went out at 11:30 in the morning and decided to walk. The roads were busy, people were working and I was getting a call every now and then. As I don't understand Arabic, I could not get what they were saying. But, whenever someone approached, I walked faster 🙂
Cairo can become very warm during day time. I started to feel tired and thirsty.
Egyptian museum was at the top of my itinerary in Cairo. I always try to keep the best to do at the end. However, I thought it would not be wise to waste any time for seeing the best. Till now, I have already taken a taxi and Uber in the city. I took the Metro this time, the nearest metro station was Sadat which took me to the famous Tahrir Square.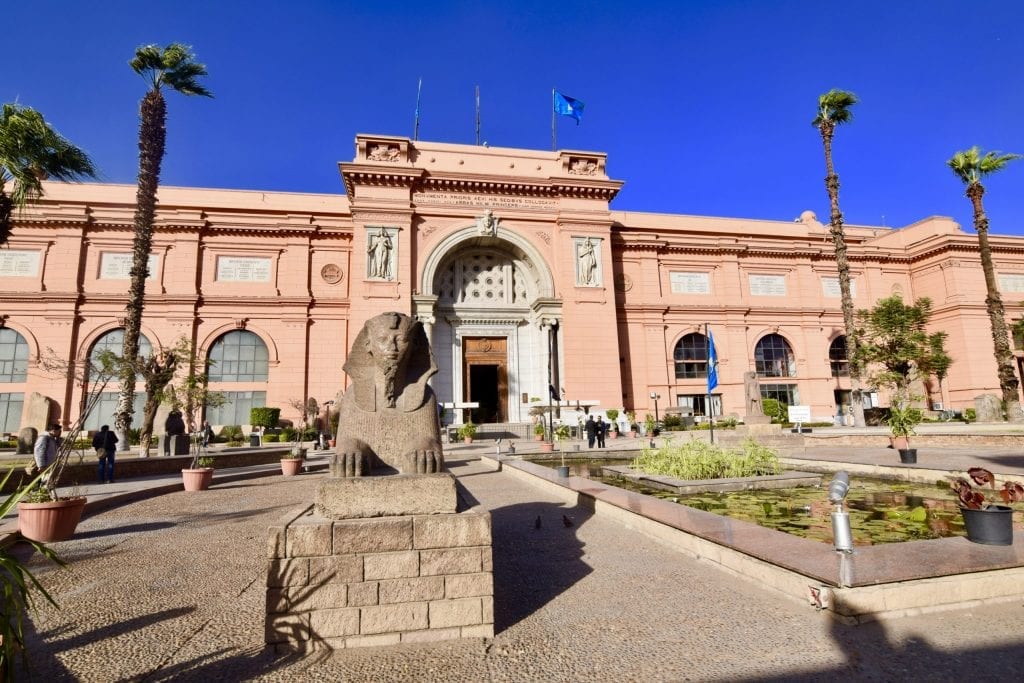 The Egyptian museum was a stone's throw away from the Tahrir square. The entrance to the museum was gorgeous. A replica of Sphinx was in the front. The museum itself was pinkish.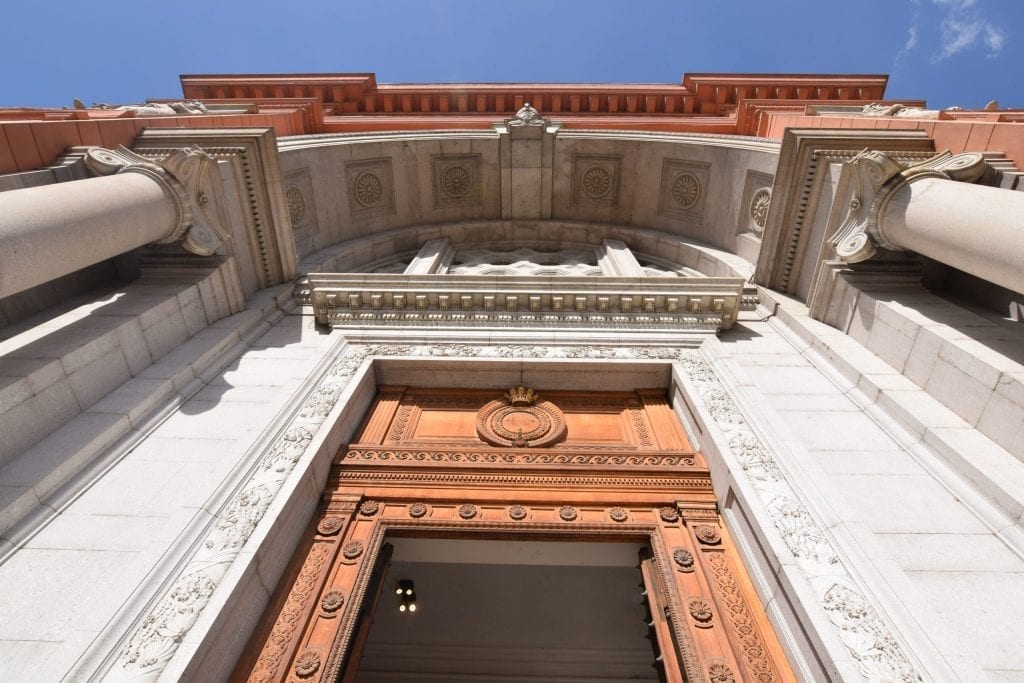 Up until 2015, nobody could take his camera inside for photography. Fortunately, for me, I went there after 2015 :-). In order to go inside the museum with a camera, I had to buy a separate ticket along with my entrance ticket. Don't hesitate to pay extra for this, taking a camera inside the museum is an absolute must!
Buy skip the line ticket for Egypt Museum
For the next couple of hours, I just got lost inside the museum. It was so rich and full of histories.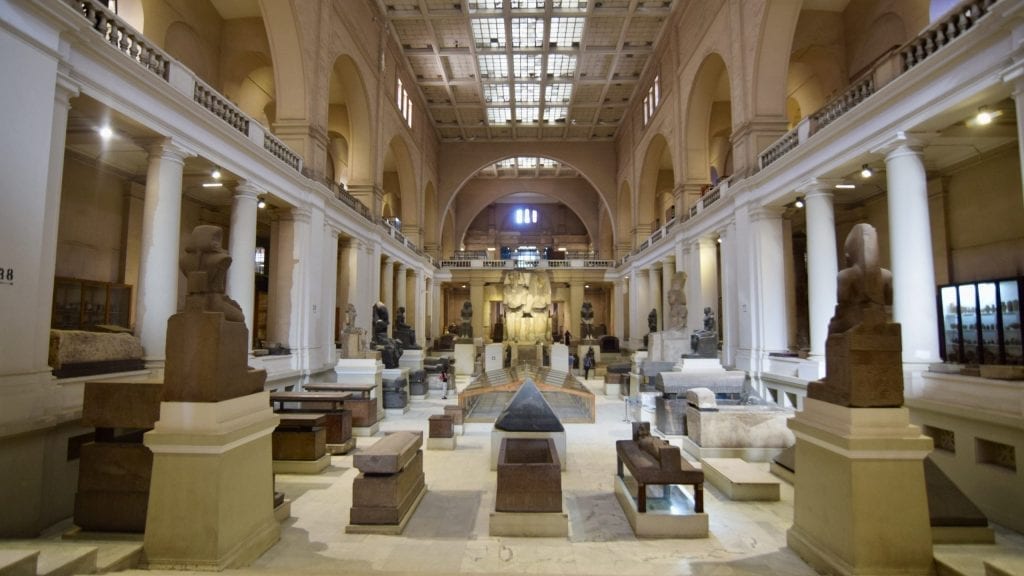 Wherever I went, I tried to read the histories of it a bit. After a while, it became overwhelming for me.
Interestingly, there were not many visitors compared to museums like Louvre.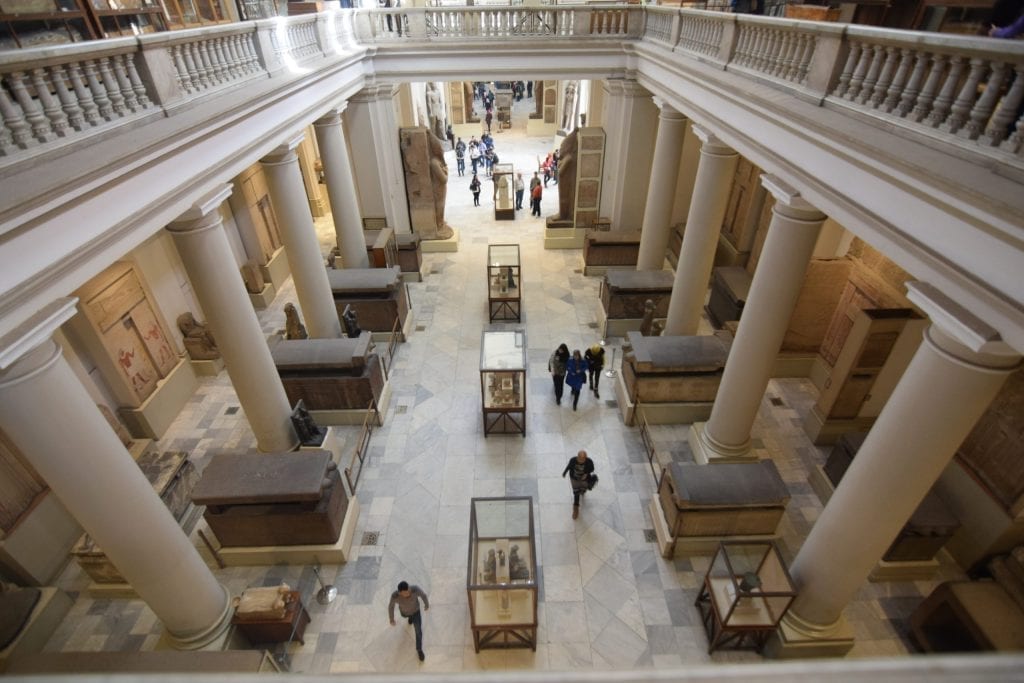 The interiors were no less impressive. There were two floors in the museum and the ceiling was high.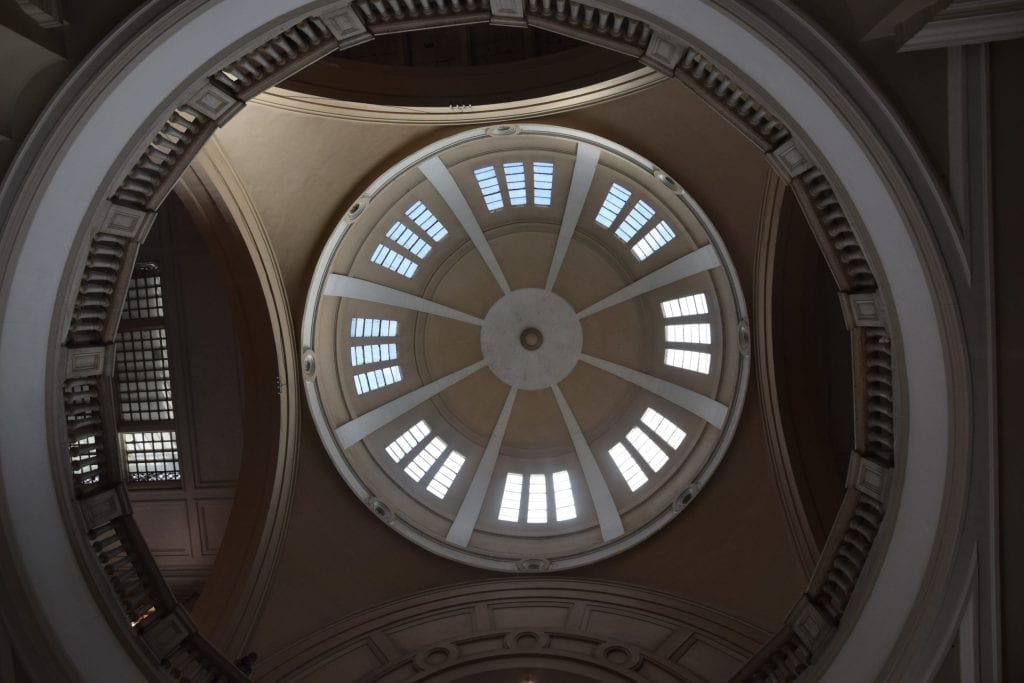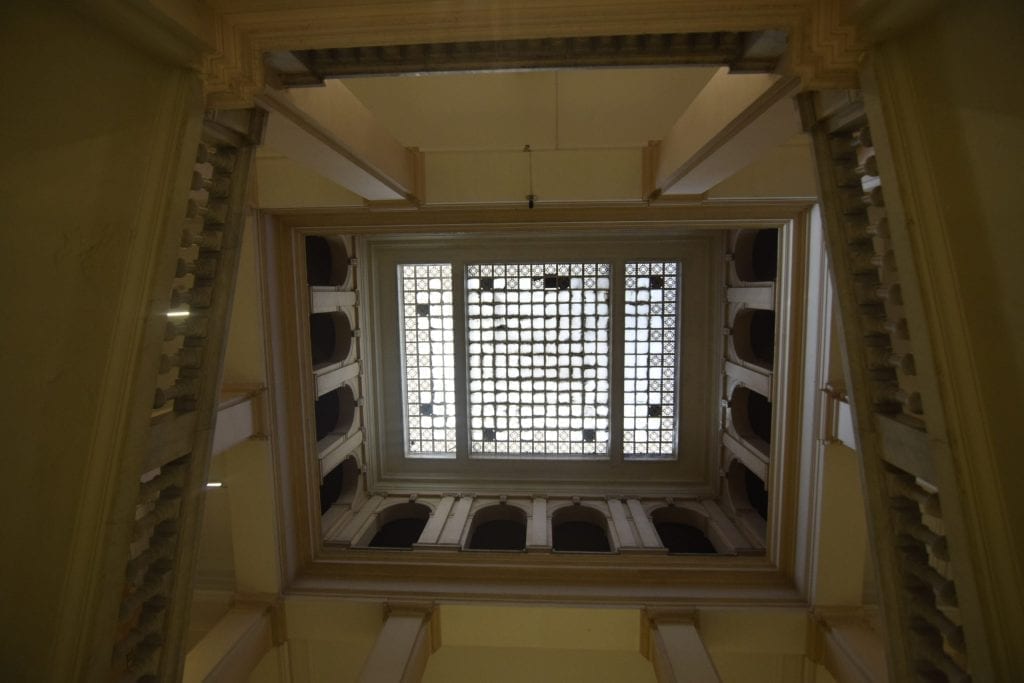 There were sphinx, statues, masks, mummies, papyrus, coins all around.
A special room (the Royal Mummy Room) was dedicated to the most famous mummy of Rameses II. One cannot enter that room using the regular ticket. Another separate ticket was necessary for visiting that room. I saw a lot of people queuing up for that attraction. As all the mummies looked similar to me, I decided to skip it.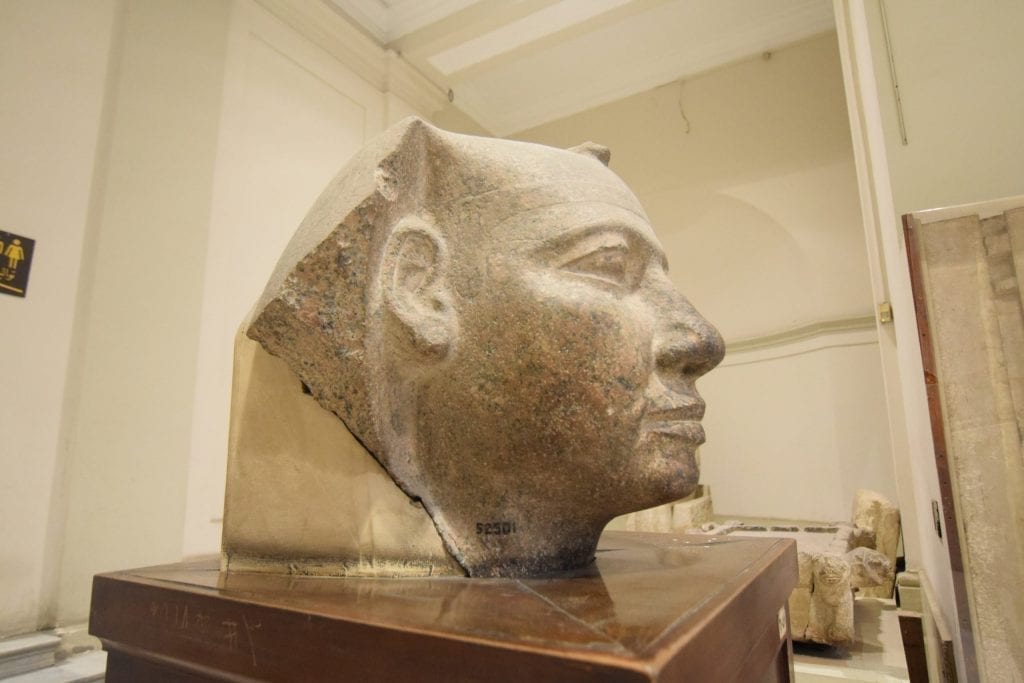 At times, I was worried about toppling into a relic as some of them were pretty congested. I later learned that there are supposed to be 120,000 artifacts in the museum.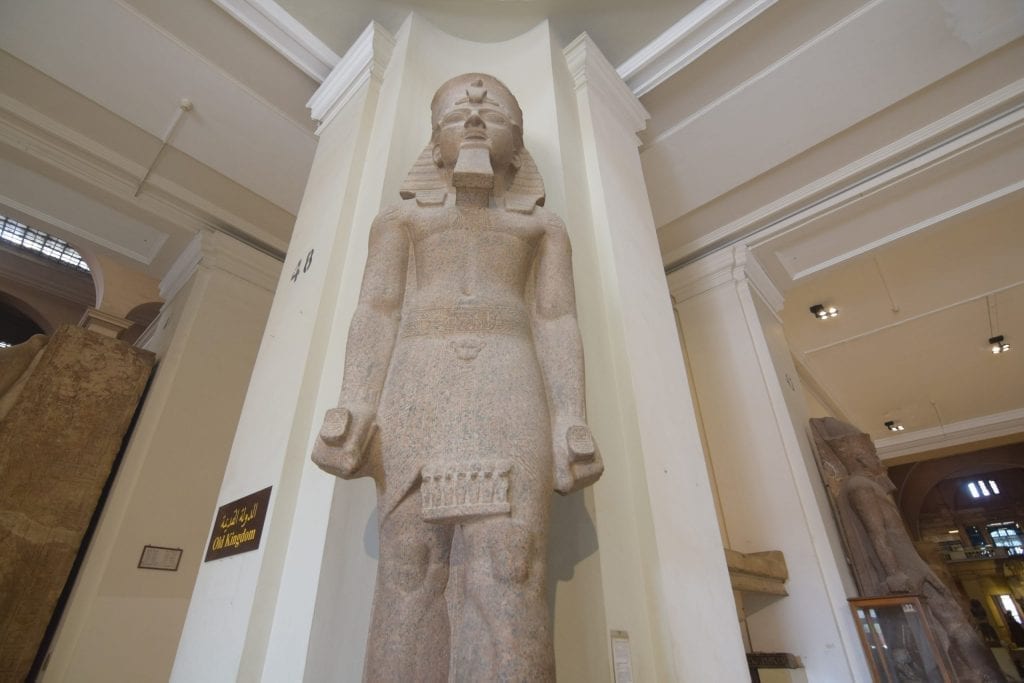 When it was 6:30 in the evening, I realized that my time was up for the day – the museum is going to be closed. 5 hours just vanished from my life and it was 5 hours well spent.
I was very hungry by the time I came out of the museum (I didn't want to waste any time by leaving the museum for lunch, so I skipped it). It was never a challenge to find a good restaurant in Cairo, there were plenty of options to choose from around that place.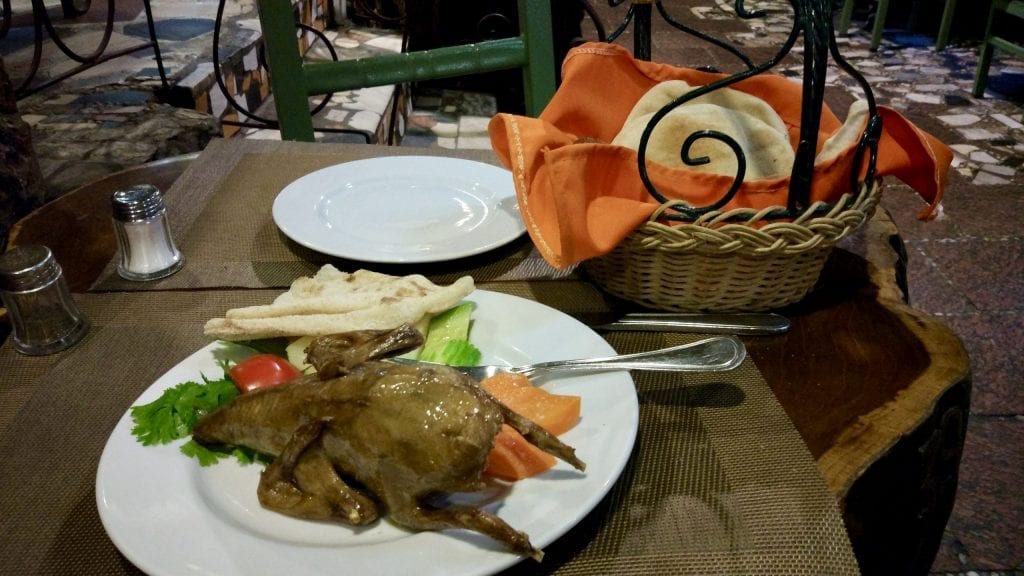 The night was still young and I decided to go to the Wasat Al Qahera street– a must-visit place to add on your itinerary if you want to explore the lively night life of Cairo!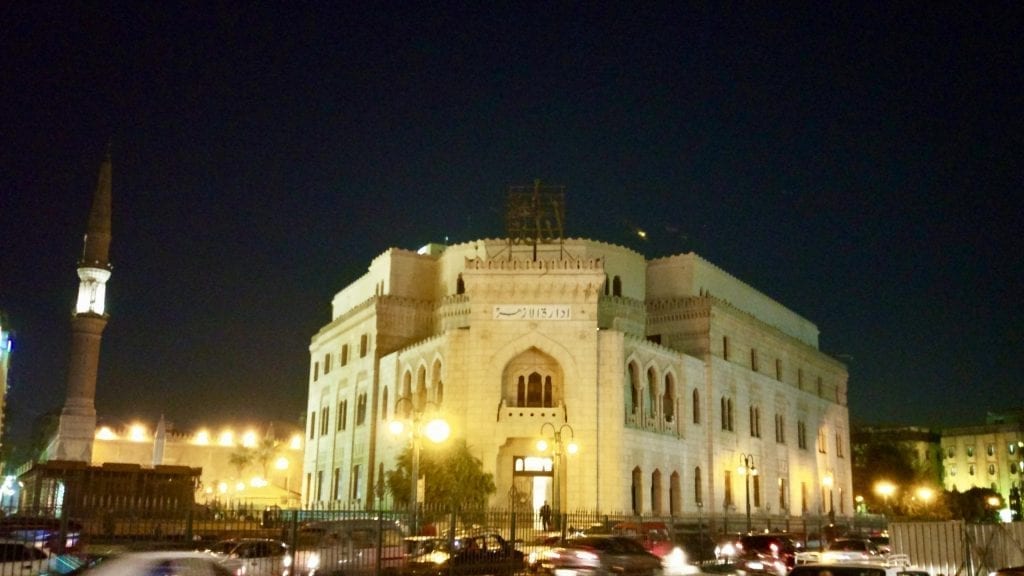 Khan el-Khalili souk (market) was right there. Vendors were selling their stuff on the street. It was vibrant and chaotic.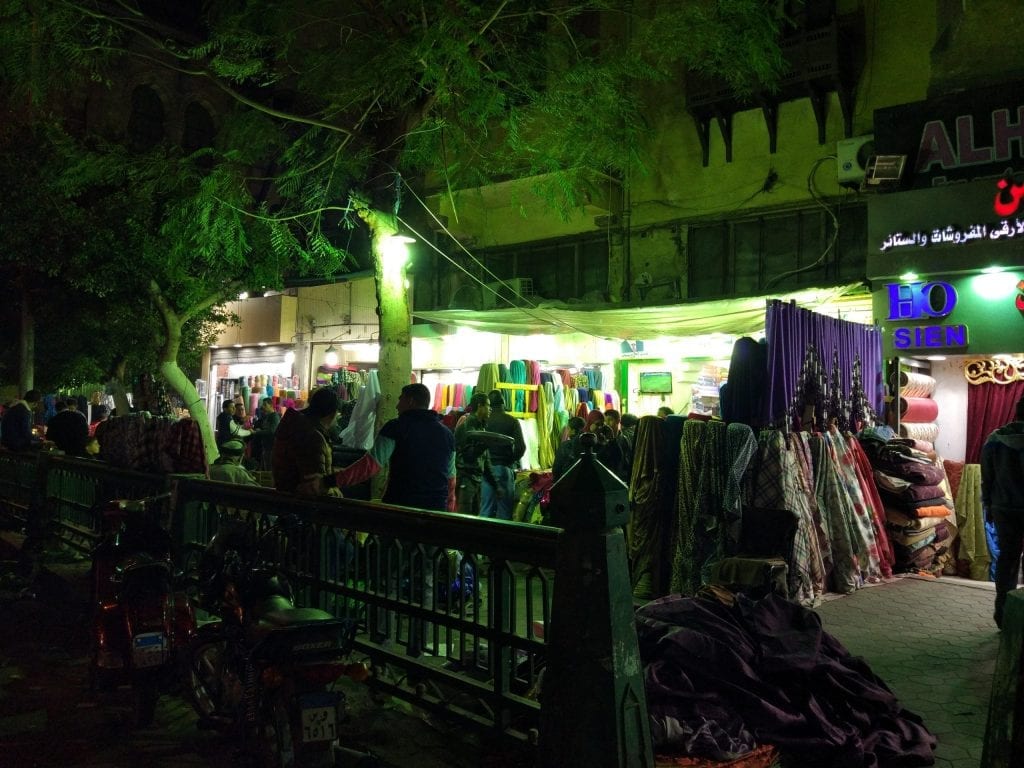 Some of the most famous mosques of Cairo named as Al-Azhar mosque and Al-Hussain mosque were also there. I loved the architecture of those. Al-Azhar is the oldest mosque in Cairo and was built more than 1000 years ago.
The famous Al-Azhar park was very nearby, too. It's a public park and free for all.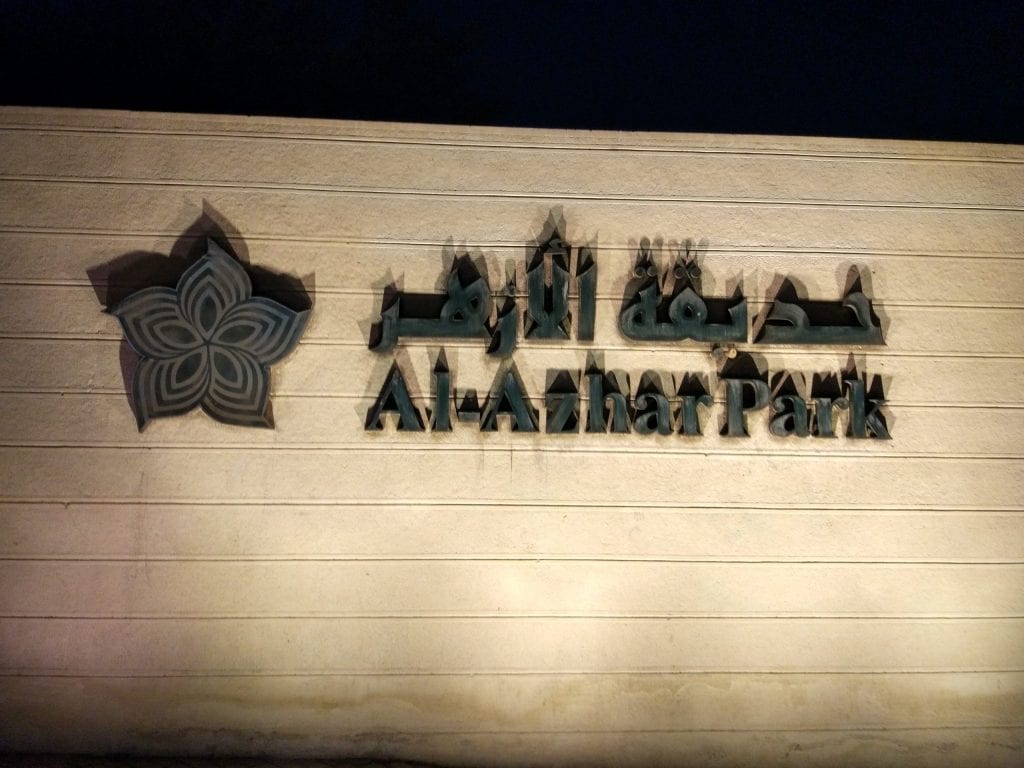 My feet were starting to betray me and I had an early morning flight to Aswan on the next day. I was going back to the hotel. On my way, I found a wonderful shop which was selling clothes for the kids. Unfortunately, it was closed during that time, I wish, I could step inside.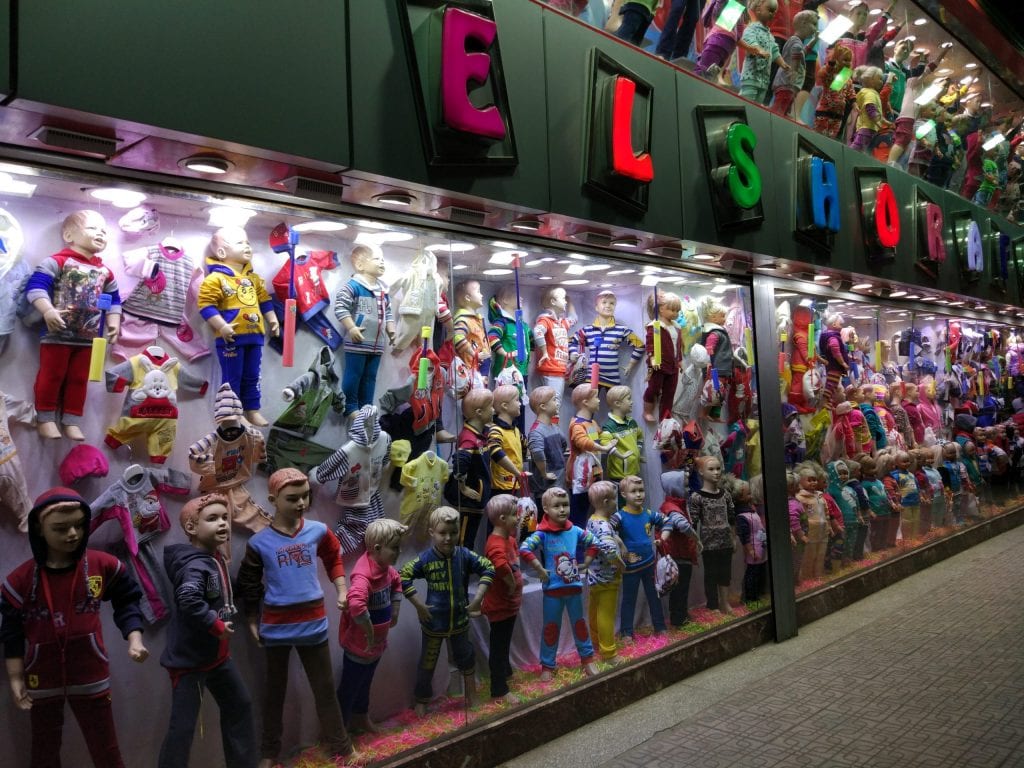 Summary of one day itinerary in Cairo
Hotel in Cairo/ Where to stay
I stayed in Pension Roma hotel in Cairo.
What I liked about this hotel
If you are a backpacker and want to enjoy the full amenities of a hotel, look nowhere else
It was reasonably priced with breakfast included
The building has a gorgeous old vibe with high ceiling
Only 1400 meters from Tahrir square and the Egyptian museum
Well-behaved owner
What I didn't like about this hotel
It's an old building, if you like modern buildings, you might not like it.
Didn't like the hotel mentioned above? Don't worry. From this link, you will find some other recommendations to stay in Cairo.
Places to visit
Egyptian Museum
Tahrir square
Al-Azhar mosque
Al-Hussain Mosque
Al-Azhar park
Khan el Khalili market
Tips
Carry a lot of water with you, Cairo can become very hot
Although a separate ticket is necessary to take your camera, it's worth spending
If people try to approach to you, smile and go away, don't stop and listen to them
Do not forget to hop into the metro train, it will give you a glimpse of the people of Cairo
Liked the Cairo itinerary for a Day? Pin it!