The land of philosophers like Aristotle, Socrates, Plato, king like Alexander the great, poet like Homer, scientist like Archimedes or the musician like Yanni – Greece is one of the best countries this universe ever have! If you want to visit only one country of the world to get a sense of history, Greece should be on top of your list. This travel blog will guide you through the best of Athens, the capital of Greece, the mighty empire from the past.
Only one day in Athens! You have to be kidding me! That's what everyone told me when I shared my one-day itinerary in Athens with my friends. Their amusement is quite natural, and I was not surprised by their reactions. Athens can be viewed as one of the most historic cities in the world, along with Rome. It's true that some of the other countries, like Egypt, are also rich in history and can compete with Greece. Truth be told, all of these great places make our world fascinating. Once upon a time, Athens was the most important place in the most powerful civilization of mankind. So it's not ideal to explore this historic town in a day. However, if you do not have much time in your hands, you can still explore Athens in a day.
The Acropolis: A Top pick for One day in Athens Trip
If you want to visit only one place in Athens, the Acropolis should be that definitive place, without any doubt at all! You will find some of the most famous ruins of the world in the Acropolis. Sitting there, you can go back thousands of years and imagine how civilizations around the world were taking shape in the same very place you are just in! The Acropolis is a symbol of the world, and the Acropolis is a symbol of civilization. The Acropolis is a UNESCO World Heritage Site.
Parthenon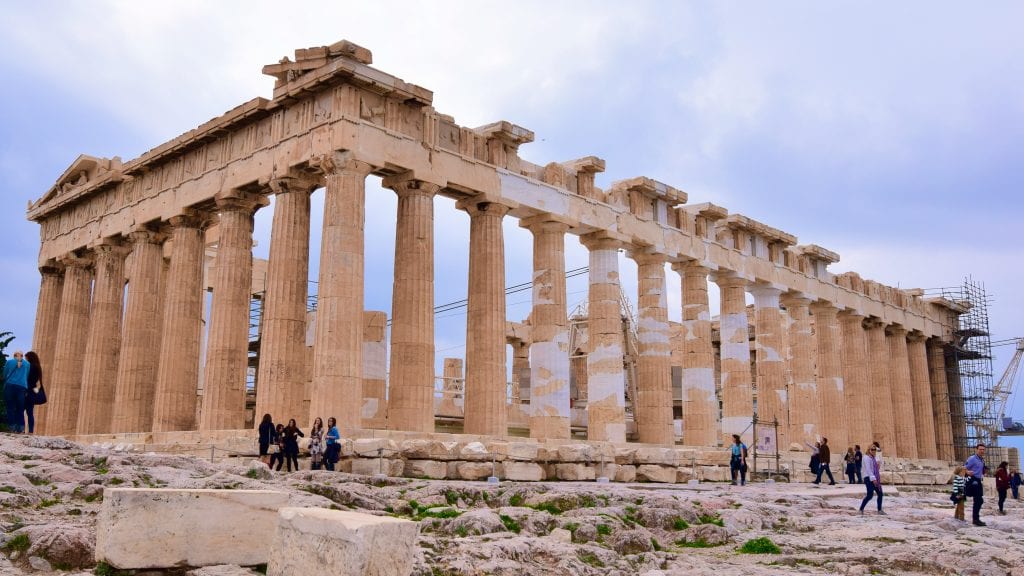 Athena, the Virgin, was the name of the Greek goddess during the mid-5th century. Parthenon was a temple on top of a hill dedicated to Athena and presumed to house the statues of Athena. When you visit Parthenon, you will observe an almost-destroyed ancient ruin. They are trying to renovate it. One important aspect of the Parthenon is that it's open. I believe the ancient Greeks did not have permission to go inside the temple, and they used to see the goddess from outside.
Erechtheion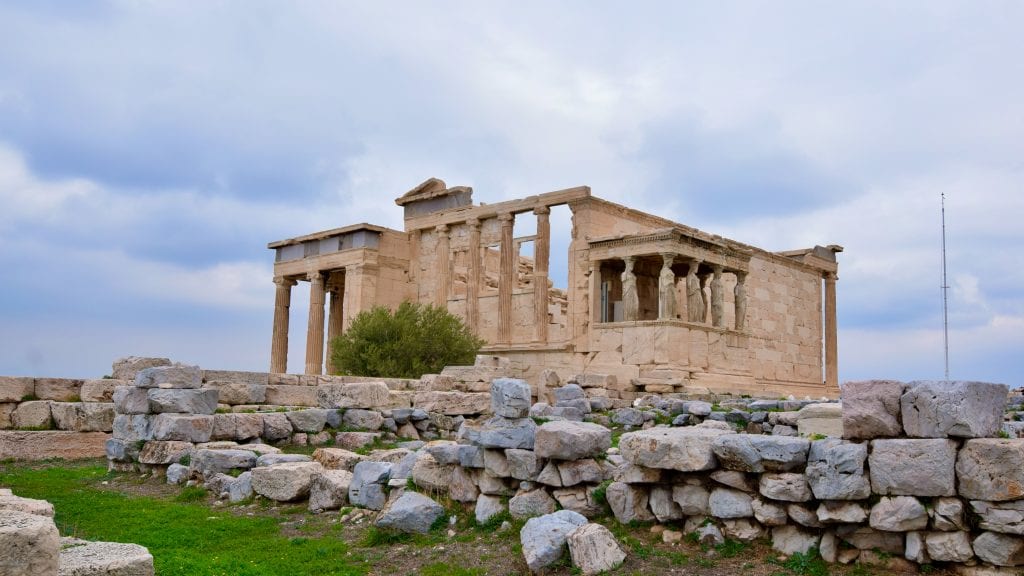 Only a short distance from the Parthenon, and located to the Northside of the Acropolis, The Erechtheion(aka Erechtheum), is another temple in the complex. This temple is about 2500 years old and named after a legendary king Erichthonius. If you read the Iliad of Homer, you will find his name. You will find some beautiful angels standing and looking outside in the outer part of the temple.
The Odeon of Herodes Atticus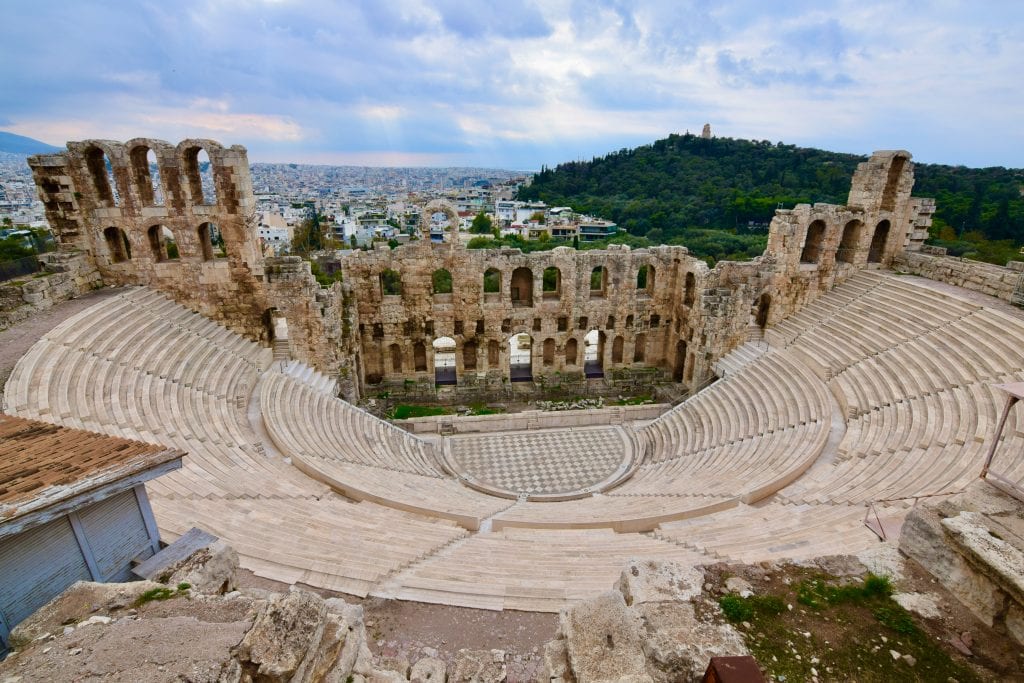 Having seen two ancient temples, it's time to lay your eyes to this lovely stone-made Roman theatre in the same compound of Acropolis. This theatre was built more than 2200 years back by Herodes Atticus. This half-moon-shaped amphitheater was renovated in 1950 and since then many famous artists performed in this theatre. To name a few are Frank Sinatra, Yanni, Sting, and Yann Tiersen.
Buy a guided tour in Acropolis
Temple of Olympian Zeus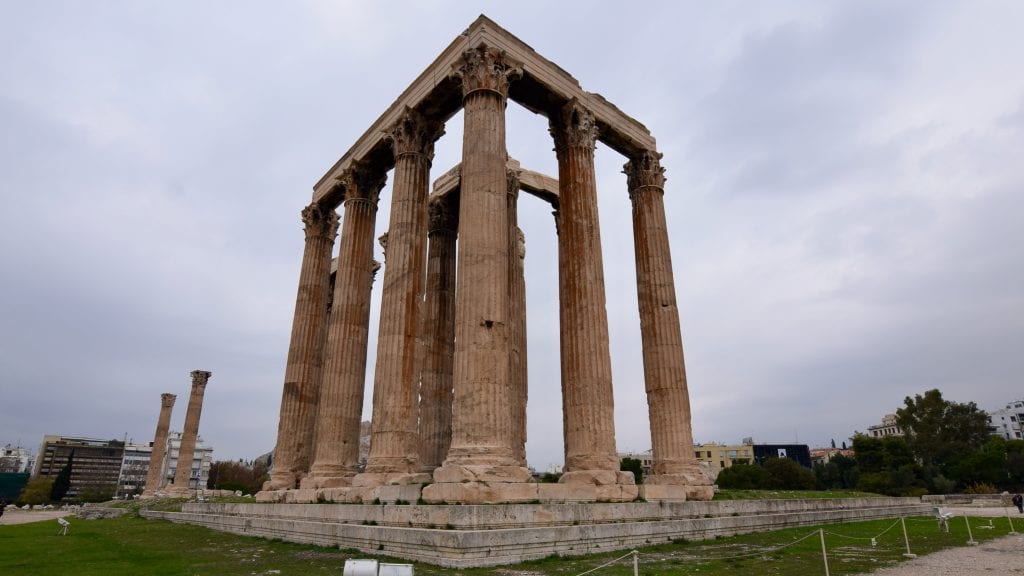 The Temple of Olympian Zeus is another major landmark in Athens along with the Acropolis. The arch of Hadrian accompanied it nearby. Once upon a time, the temple of Olympian Zeus was the largest in Greece with 17 meters high Corinthian columns. Sadly, this is just a shadow of glory from the past. Only a set of ruins in a mid-sized complex, and I didn't find it very appealing. However, don't listen to me, you should visit this place as this is located to the center of Athens and its ticket price is included with the ticket to Acropolis.
Panoramic view of Athens from the Acropolis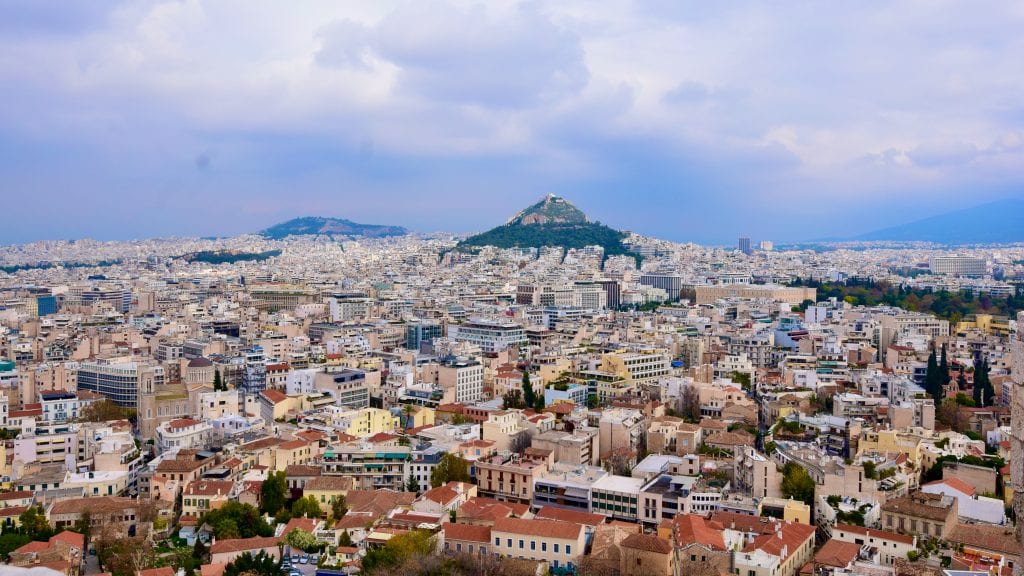 The word Acropolis means the highest point of the city in Greek. No wonder Acropolis is located at the top of a hill. From Acropolis, you will not only enjoy the ancient ruins of Greece but also get a panoramic view of Athens. You will also realize how crowded the city has become over the period of time.
Ancient Agora of Athens
In ancient Greece, the agora was an open space used for the gathering of citizens as a meeting space. Once upon a time, people from all over Athens used to gather in the ancient agora of Athens to discuss democracies, listen to the lecture of wise men, and enjoy performances. You can view it as both a political, cultural, and business hub of Ancient Athens.
Temple of Hephaestus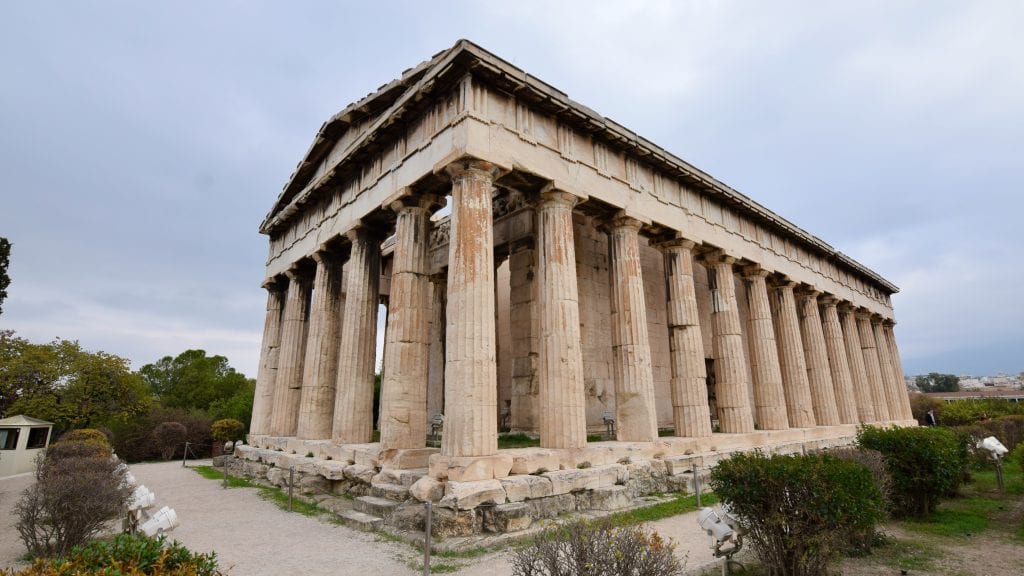 The Temple of Hephaestus is located inside the Ancient Agora of Athens. Hephaestus was the Greek God for craftsmanship and pottery. Unlike most other temples in Athens, the temple of Hephaestus is in good shape. It's made of marble and a marvelous example of ancient Greek architecture. To me, this was one of the best places to visit during my one day exploration in Athens.
Stoa of Attalos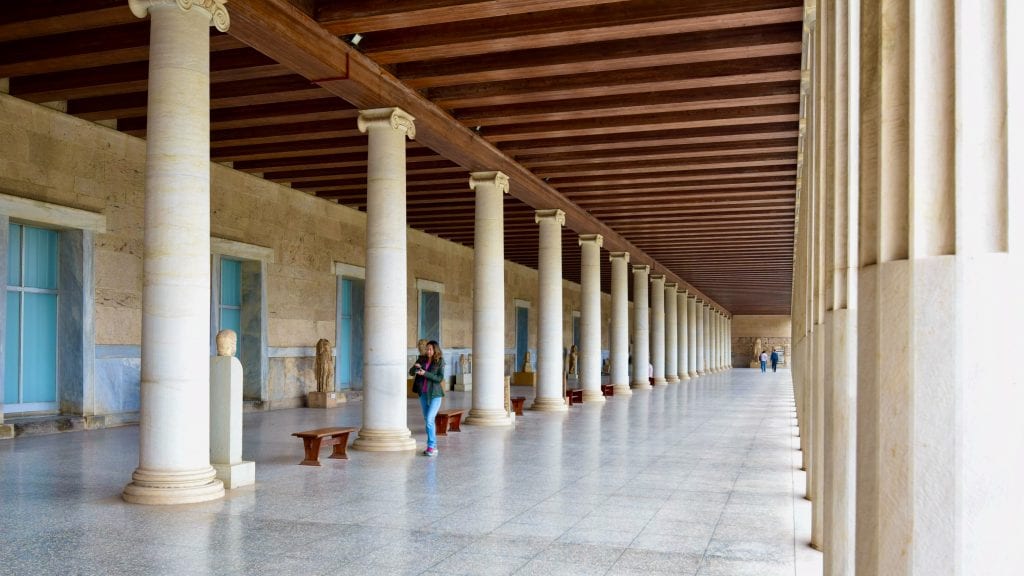 You will find a museum on the same campus. The Museum of the Stoa of Attalos is also known as the museum of ancient Agora. The building of the Stoa of Attalos is 2200 years old, later reconstructed, and now works as a museum. It mostly hosts the valuable objects found in the compound of Agora. For me, a walk inside the corridor of this museum was fascinating as it gave me a notion of time traveling. High ceiling made of wood, gigantic column, empty space, and quietness – I loved this place!
Panathenaic Stadium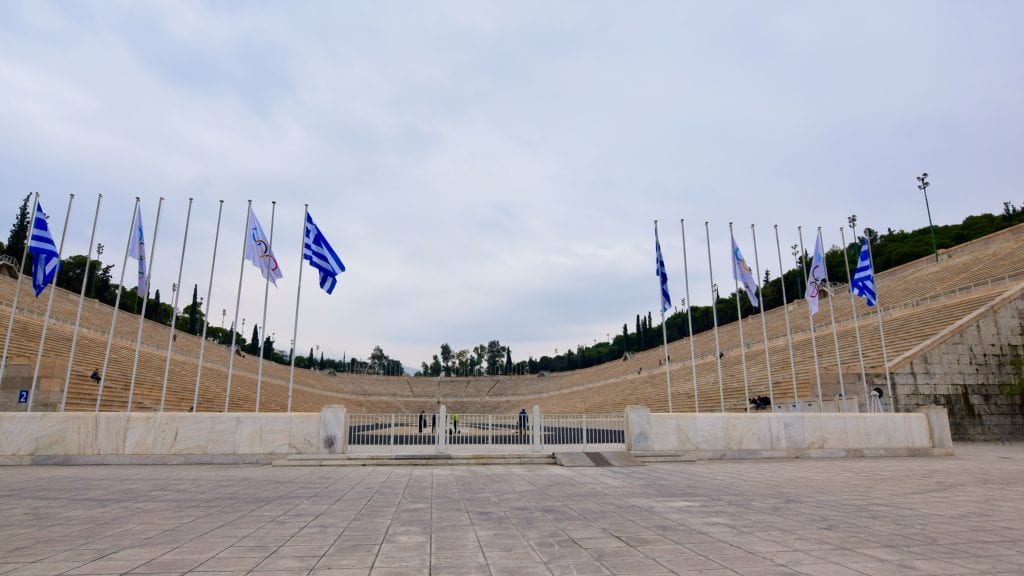 In Greece, one thing is certain. Everything is ancient here, so is the Panathenaic Stadium! This marble-made multipurpose stadium hosts so many historic events. It is estimated to be built in the 4th century BC. The Panathenaic Games, a festival which used to take place after 4 years in ancient Greece in the honor of Greek goddess Athena took place here. It was reconstructed later and worked as the Olympic venue in 2004.
Hadrian's Library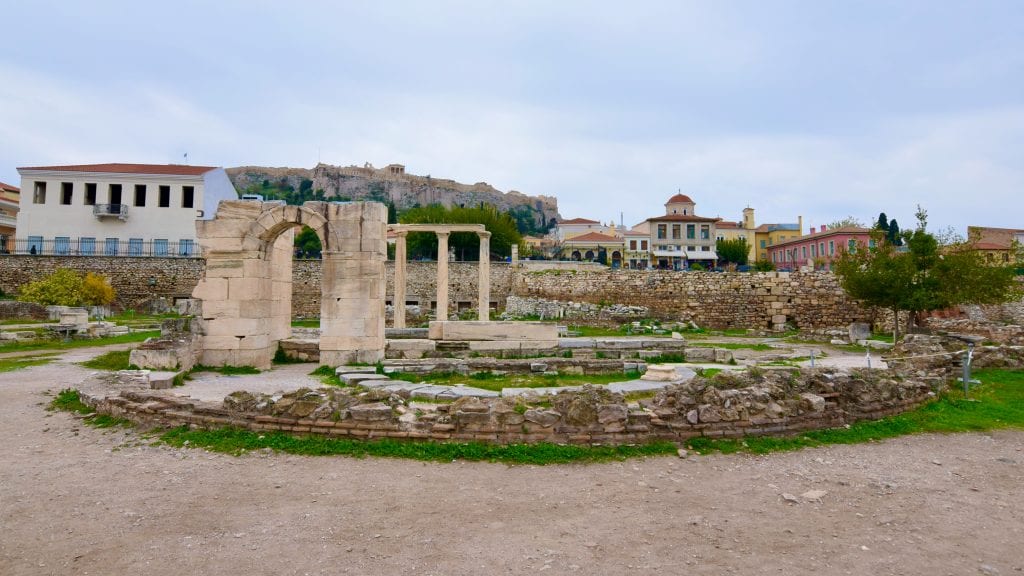 Between Agora and Acropolis, you will find Hadrian's library. If you think that, you will find books there, you will be wrong. This ain't a library anymore, it's more of a ruin. The Roman emperor Hadrian built it in 132. Once upon a time, this complex was made of library, lecture rooms, pond, gardens, music rooms and walking paths. During 267, it got destroyed by the invasion of Herculis. You can enter here with the ticket of Acropolis.
Academy of Athens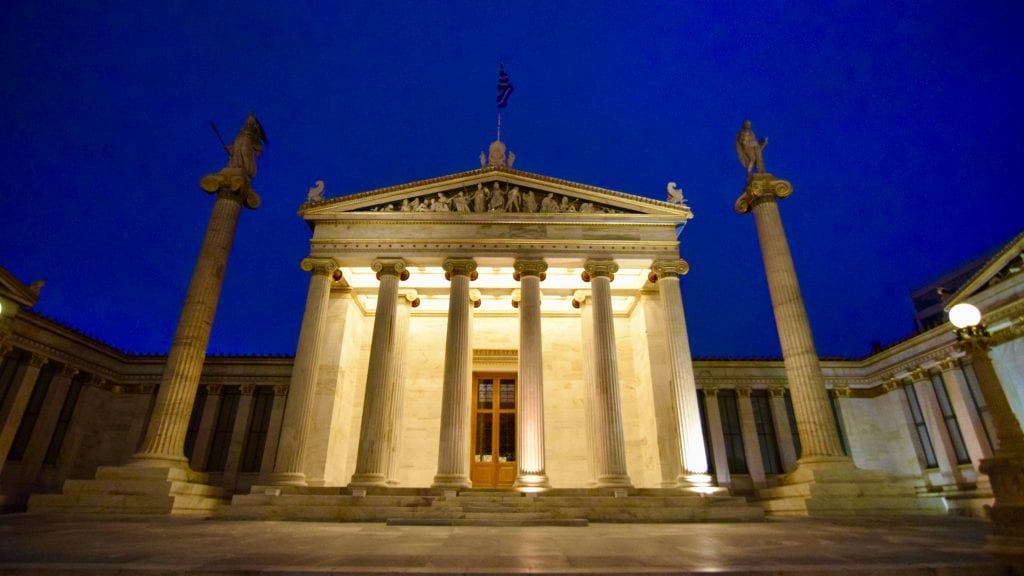 Now that you are in front of the Academy of Athens building, and awed by the beauty of the building, take a look at your surroundings carefully. You will find two similar type of majestic buildings nearby. One of them is the National Library of Greece and the other one is the National and Kapodistrian University of Athens. They call these three as the architectural trilogy and designed by a Danish architect named Theophil Freiherr von Hansen during 1859. Academy of Athens works as the most famous research institute of Greece, however the reason I visited there is to appreciate the architecture and it was worth my time!
National Library of Greece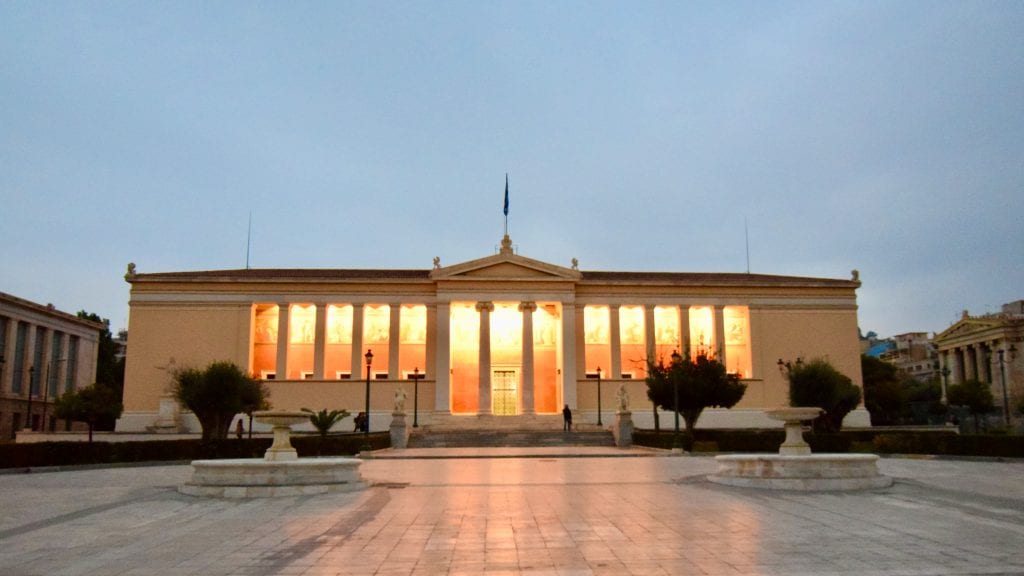 You will find National Library of Greece just beside the Academy of Athens building. The core functionality of this institute is to find, organize and preserve the endless treasures of Greek civilisation. As of today, the library is enriched with 4500 Greek manuscript. You surely should pay a visit even if you don't understand Greek at all!
Book a fantastic half day Athens tour
A Walk in Athens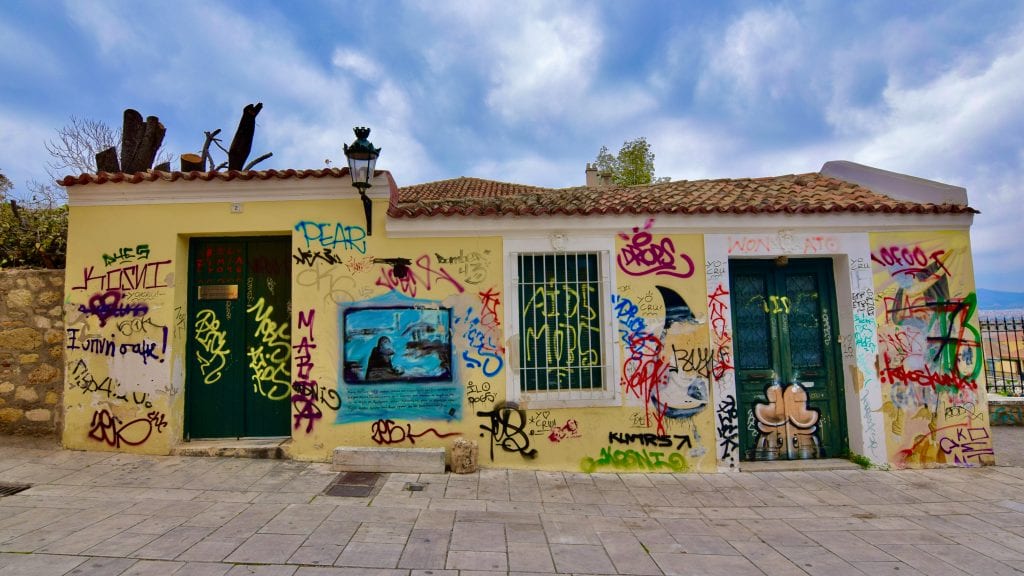 I got tired of seeing the ancient ruins of Greece in Athens. My brain could not process any further. I decided to take a walk in the streets of Athens. I am glad I did it. I found interesting alley, beautiful architectures, and colorful buildings. It was contrasting to see a glimpse of Greece of 2000 years back as well as the modern Greece. I am sure that, 2000 years from now, someone will also walk on the same streets, savour old establishments in his fresh eyes. That's the beauty of travelling!
Best Hotels in Athens
Map for One Day in Athens
Liked One Day in Athens? Pin It!