Previous Reading
Day 7 of Annapurna Base Camp Trek
Dovan – Bamboo – Sinuwa – Chhomrong – Jhinu Danda
When I desire to reach somewhere, my excitement keeps me moving. When I reach there, and everything gets over, the path of coming back becomes very tiresome for me. As I was getting down from Annapurna Base Camp, I couldn't wait to reach Pokhara and get into a pleasant hotel. The last time I took a shower was on Day 2 in Tolka. I want to eat like a king; I want to take a hot shower as much as I wish to; I want to sleep under a quilt in an enormous bed; I don't want to suffer in the cold. I have to go back to Pokhara, NOW!
It's much easier to down compared to climbing up. However, most of the accidents take care of this time because of complacency. And, if you twist your ankle or injure yourself in any other way now, it will be difficult to rescue you in such a remote place. I knew it, however; I slipped in a place and fell down. Thankfully, it was nothing major.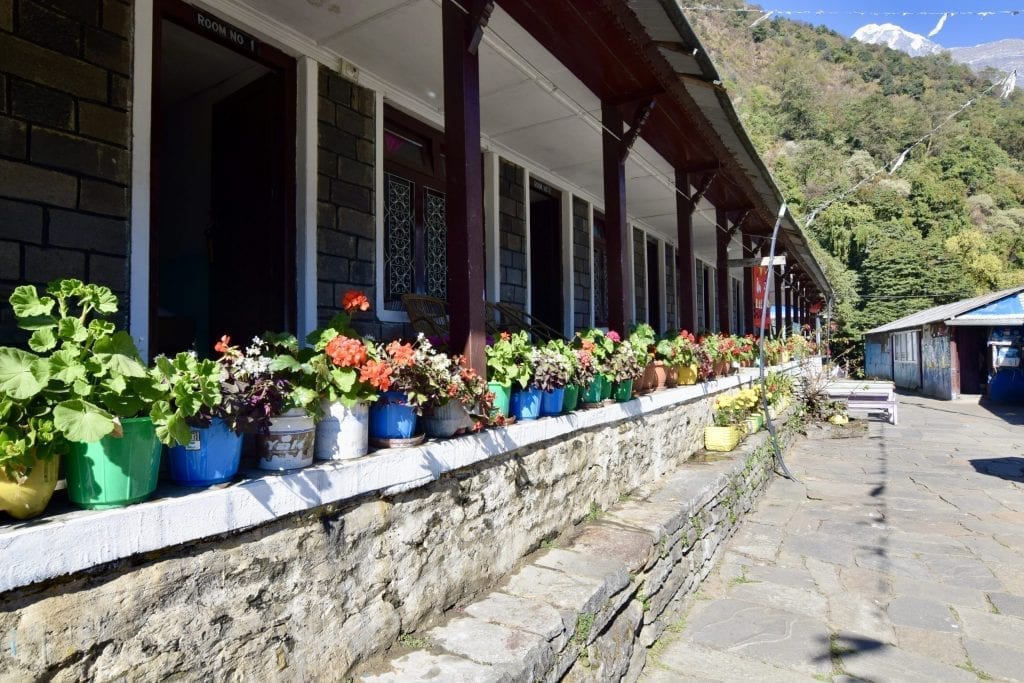 Starting from Dovan, crossing the village of Bamboo, I arrived at Sinuwa at 11:30 AM.
My thought process was set in a way that I have to only climb down. This was not always the case, I had to climb up in some places, too. I will not be able to forget the stairs of Chhomrong in my life. It was so steep and so hard. It was endless; it was painful; it was gruesome.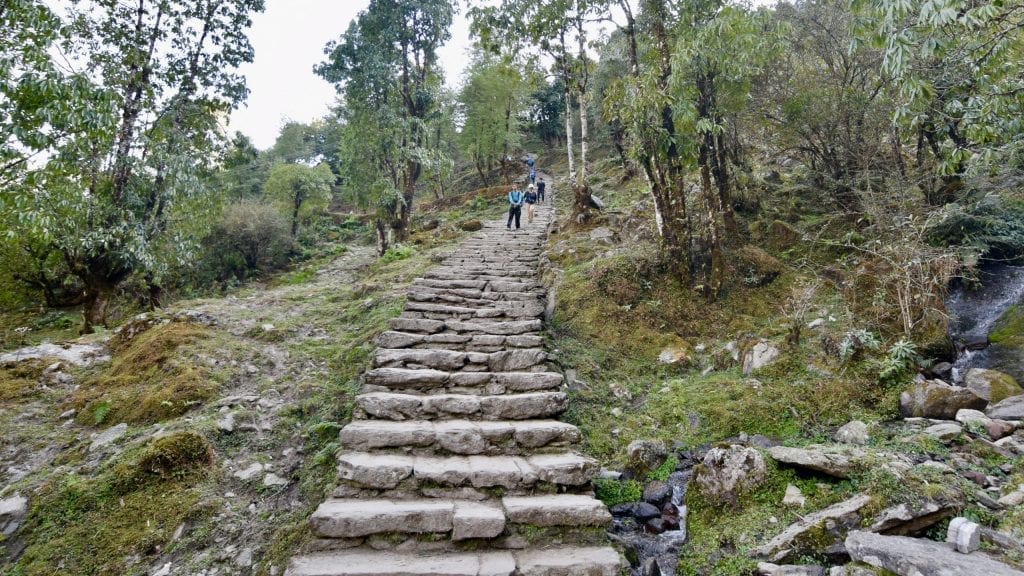 We crossed the check post of ACAP and had to show our papers to them. They are keeping track that we crossed this place. This is an important formality during the Annapurna Base Camp trek.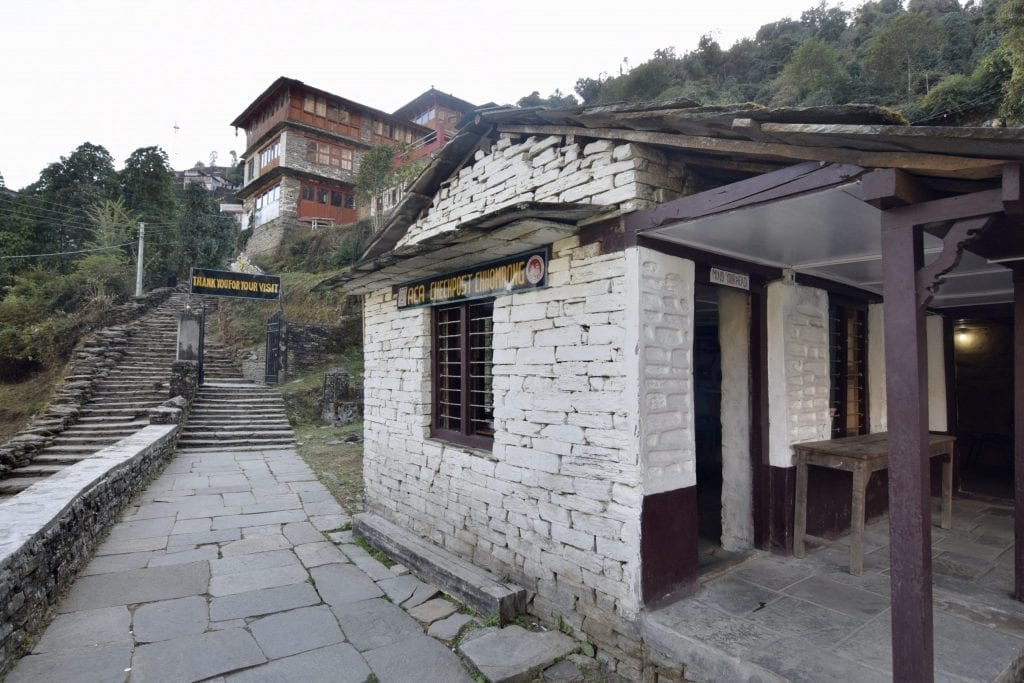 If you are fine with an hour of a detour from Jhinu Danda, you will enjoy a hot spring. Many trekkers were going to that hot spring. As I mentioned earlier, I was not in a mood for wasting a couple of hours more.
We stayed in the Gurung Lodge in Jhinu Danda. The wife of Mr. Gurung went to town. So, he cooked us food for the night. Although the accommodation was below the standard, I could see a nice sunset from my window with a glimpse of snowcapped mountains on the horizon.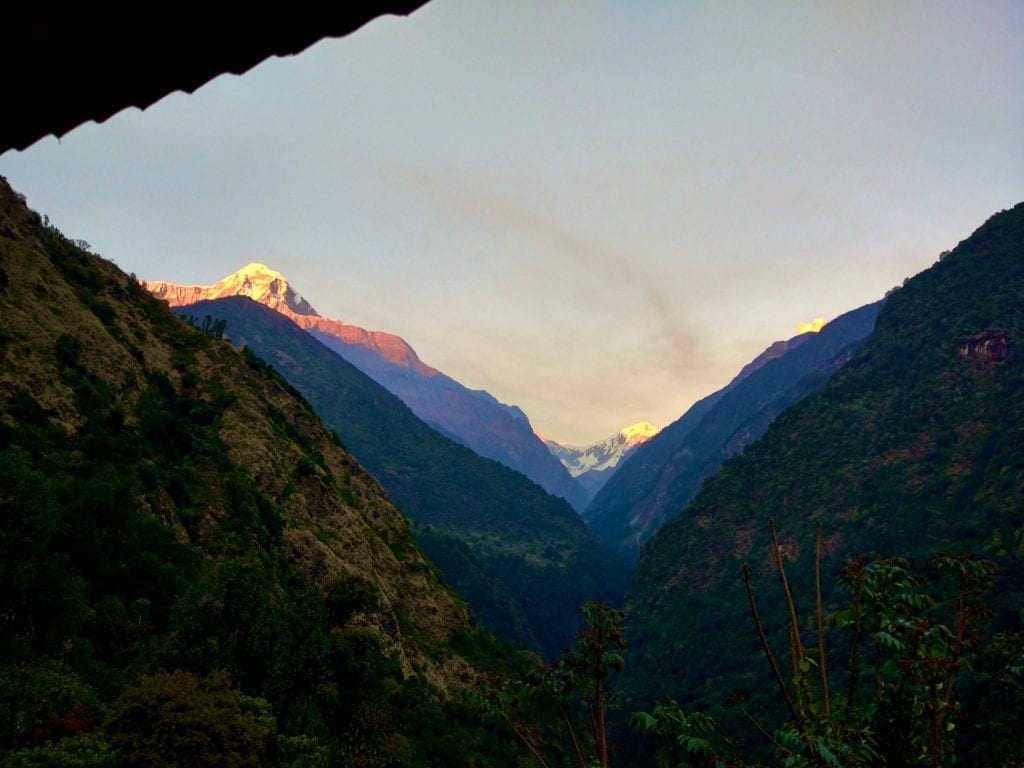 Summary of Day 7
The journey of getting back to Pokhara continues from Dovan
The journey was mostly downhill
There were thousands of stairs for going uphill in Chhomrong, it was grueling
We had to report and show our ACAP card in the checkpoint of Chhomrong
One can take a detour from Jhinu Danda to enjoy a natural hot spring
I stayed in Gurung lodge at night, very basic accommodation with a good view
Day 8 of Annapurna Base Camp Trek
Jhinu Danda – New Bridge – Siwai – Pokhara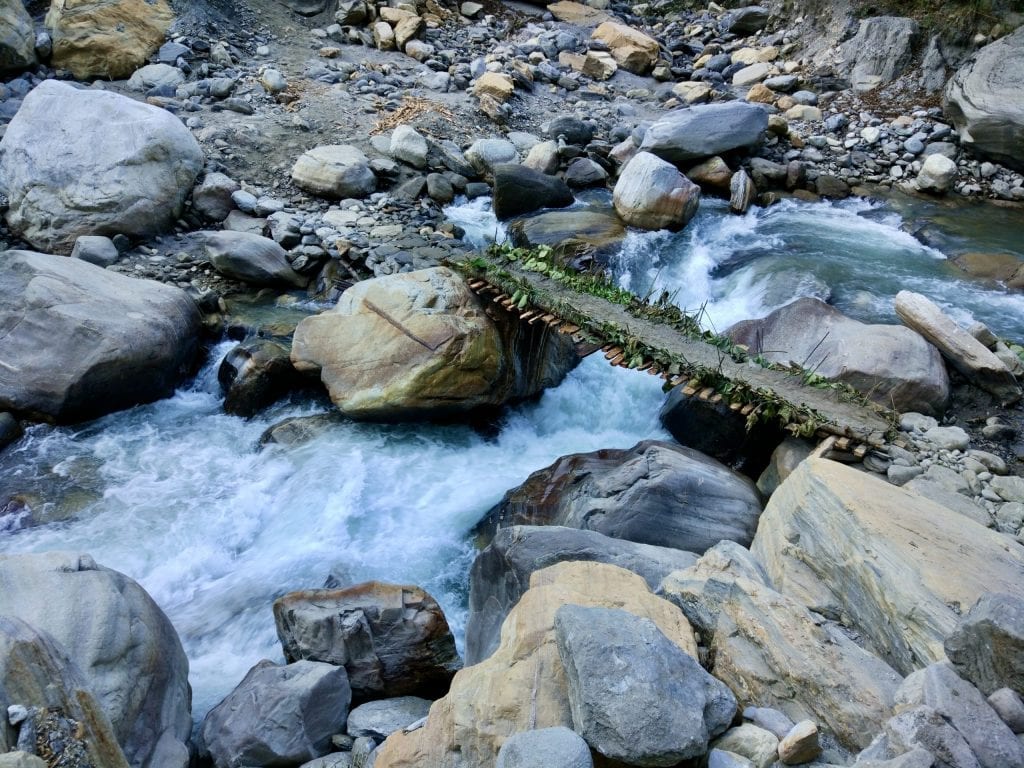 In most of the guidebooks or blogs, I found that it took them 10 days to get back to Pokhara. We were also unsure. If we follow the same route, it will take longer for sure. We kept asking locals about how to reach Pokhara in the shortest possible time. Everyone was saying that there is a place named Siwai and if we go there we might be able to catch a bus.
So our quest for Siwai begins. We were crossing bridges. I lost count of the number of waterfalls we saw during this trek.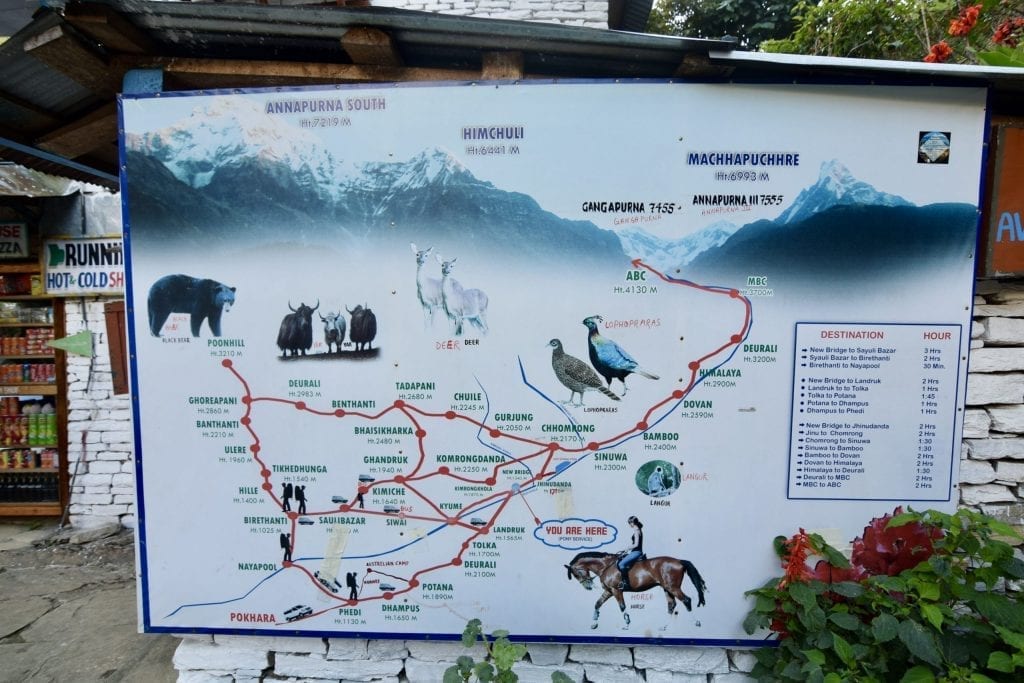 I could see a lot of wildflowers in both ways of our way. At 9:00 in the morning, I arrived in a place called New Bridge (with a temptation of pony service, he he he).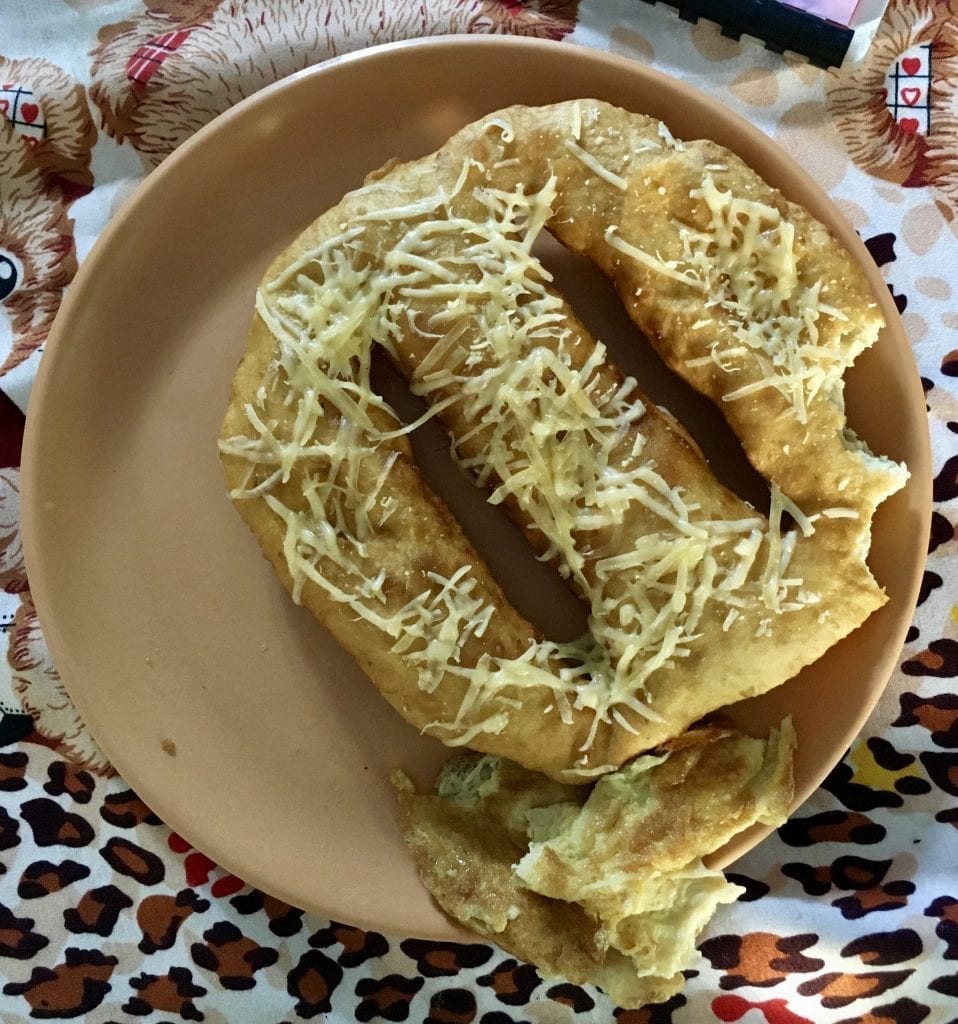 For the last several days, I was very cautious about taking food. I was afraid of stomach upset and mindful about gaining more energies from the food I was taking. Now that I reached my goal; I was free like a bird. So, I ordered an unknown food from the menu from a boutique shop in New Bridge. Its name was Gurung Bread. It was neither a Paratha nor a Luchi, but somewhere in the middle. It was served with eggs and cheese. The food was not particularly bad, though it was oily. The problem occurred after half an hour, then the Gurung bread started sounding "Gurung, Gurung" in my stomach, which was not a promising sign.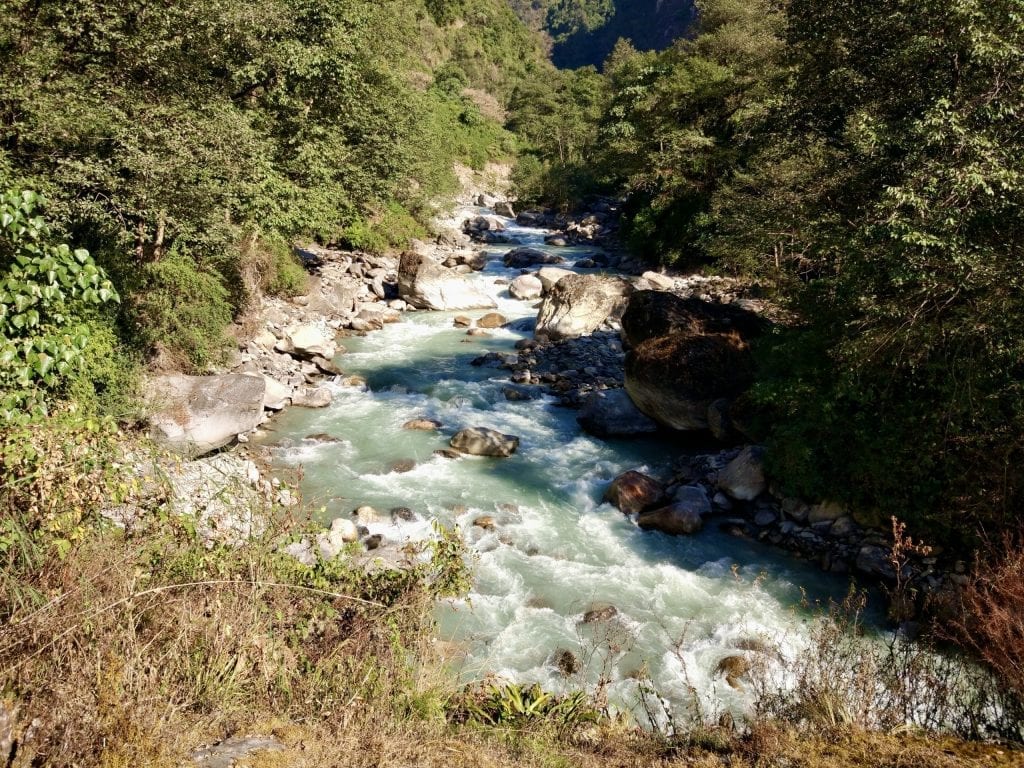 Modikhola river was accompanying us in different form and shape.
One could easily see that this was a pathway made by the locals. That is why this way is not very common in the travel guide.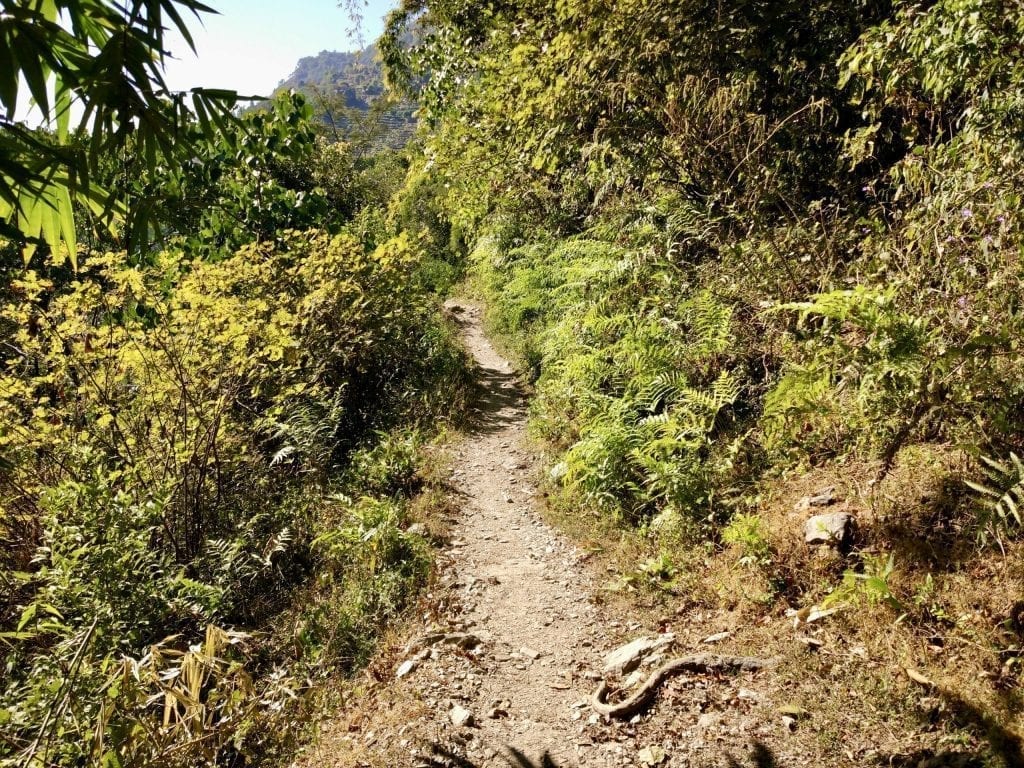 At around 12:00 PM, I screamed with joy – I could see a road that looked like a road made for a motorized vehicle! Finally!!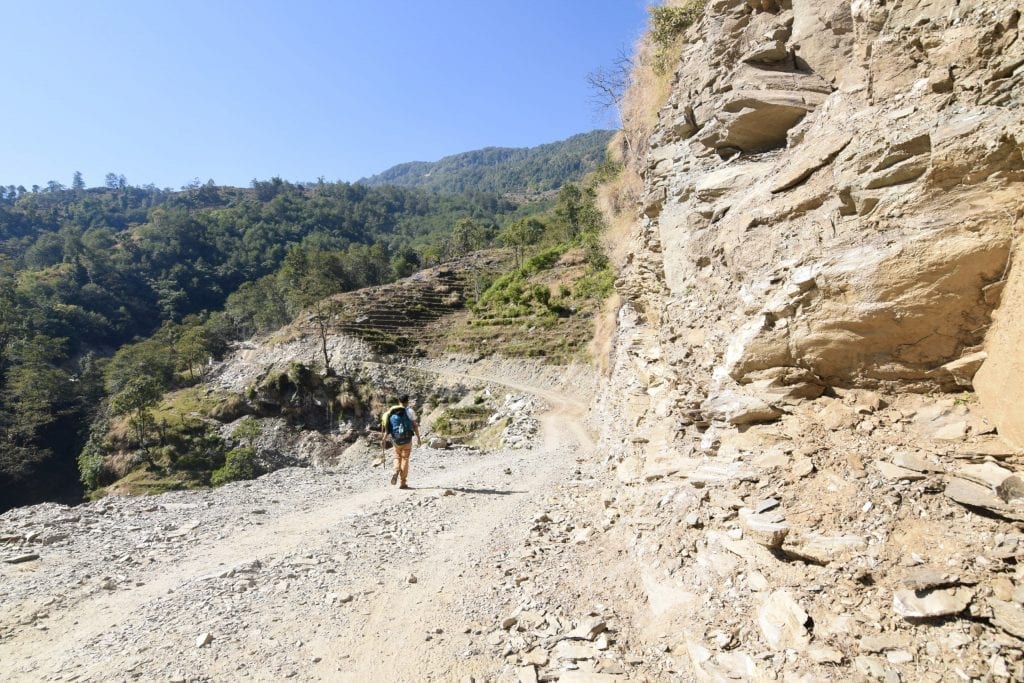 We walked further for 10 or 15 minutes before reaching to Sinuwa. Several trekkers and Jeeps were waiting there. We asked the people about our bus and nobody was sure about its arrival time. In fact, most of them were waiting for it. A local informed us that the bus operates infrequently and one needs to call the driver of the bus informing him that there are enough people waiting for it. We collected the number of a bus driver from a shop owner and tried to reach him with no luck. I was growing impatient and started haggling with a Jeep driver. I gave up the hope for managing a bus A Jeep can take 8 persons; we were 3. So; I managed the rest of the 5. It took me less than 10 minutes to convince those people they were sharing the same feelings as I do.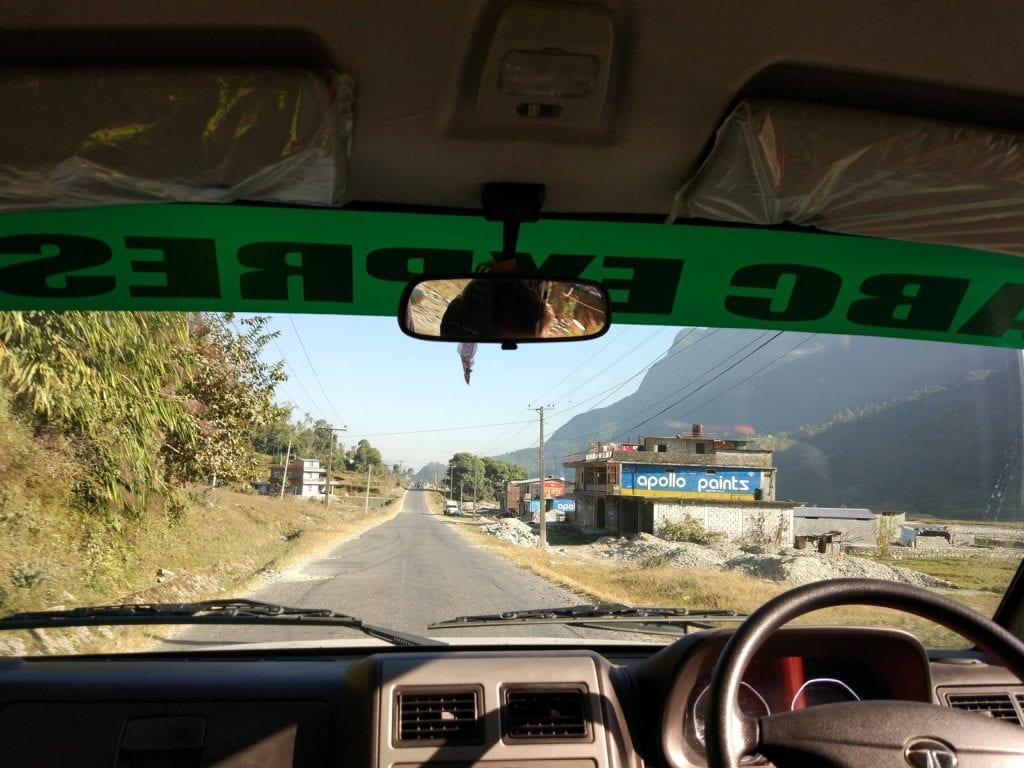 Our cramped journey towards Pokhara started. Everyone was so excited. Everyone seems to have tons of stories to tell. Someone was telling about his trip to Sri Lanka, and the other was asking for a lot of information. Or how badly someone was missing the beaches of Thailand. I took part in the conversation, too.
The Jeep was going through a road. I was sitting in the back. I was not sure what was in my mind. I am heading towards the town of Pokhara where the amenities of a standard world awaiting me. I surely was looking forward to it as soon as my mission was over. But was I? I felt a kind of emptiness. The chirping of my fellow passengers fainted. I became sad momentarily. The reality hits me badly I am now going far from those mountains, rivers, waterfalls, flowers; I am going away from that quietness – I am going away from the heaven – where no motorized vehicle could take me; I had to earn it through a walk – through a walk in the world.
Summary of day 8
We asked locals about reaching Pokhara in the fastest way cheaply. People suggested catching a bus from Siwai
We started from Jhinu Danda at 6:45 AM and arrived at a place called New Bridge at 9:00 AM
We took the breakfast at New Bridge asked the locals about Siwai and followed their direction
We were not sure if we were going in the right direction
We saw vegetations, rivers, flowers
The road did not look like a trekking route but more of a pathway created by people themselves
We reached Siwai at 12:00 PM. We could see Jeeps waiting there for going to Pokhara.
We waited for the public bus, but, it never arrived
I rented a Jeep with a capacity of 8 people. I managed those people and started for Pokhara.
In several hours we arrived at Pokhara, which is a major town in Nepal. This is how our 8 day's of adventure ended.
THE END OF ANNAPURNA BASE CAMP TREK
NB: Many people asked me, what's next for me? I might go to the Everest region, the EBC trek is everyone's dream. Besides, there are some wonderfully beautiful places like Gokyo Lake in the Everest region which presents with some amazing views. If you go to Nepal once for a trek, it will attract you like a magnet ever since, it's so addictive! Don't believe me? Try once!